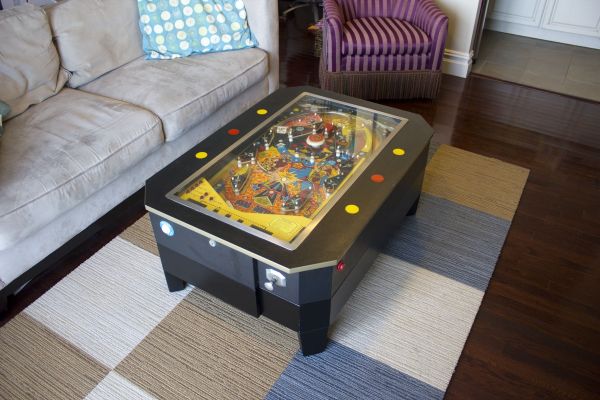 When it comes to the realm of coffee tables, we have been fortunately witness to a myriad of exciting designs ranging from tables comprising of real car engines to tables built with authentic piano components. And, now the innovation trend is righteously carried forth by the Pinball Coffee Table, a custom made furniture piece by Stephen Jornov. In this regard, the designer ingeniously utilized the client's old pinball machine, which was fitted on the top of the table's wooden framework to resemble an original pinball setup.
As for the wooden framework, the base structure (along with the stunted support legs) was crafted from sturdy 3/4″ poplar joints. This timber component was then treated with two coats of primer and then with two coats of Black Satin Lacquer paint, with each coat followed by an intermittent process of sanding. The finishing touches also involved the tapering of the short support legs from the sides, and from front to rear. Finally, the old pinball machine was safely screwed to this base framework from the inside, so as to form a collective structure for the Pinball Coffee Table. And, the best 'cost saving' part about the custom made conception is that the coffee table didn't require a dedicated glass top, as it was provided by the pinball machine itself.
Price range – $400 – $500 (for more details on the product, please check out this link).