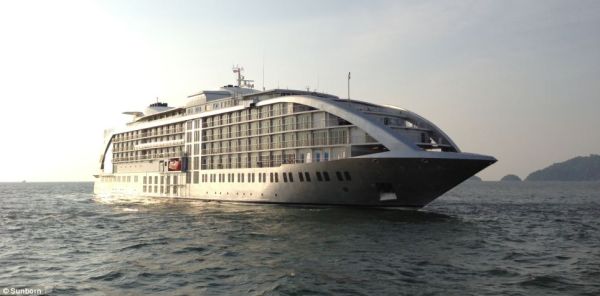 While South Korea's Sun Cruise Hotel might boast of its 'land based' credentials, the opulent yet gargantuan SunBorn Yacht Hotel is the real deal when it comes to ocean based accommodation. Envisaged as a 142 meter super yacht that will be permanently moored in Gibraltar's Ocean Village Marina, the impressive behemoth of a structure/ship will cost around a whopping £130 million (around $201.5 million) to be constructed. Of course, with all these superlative features it is not too hard to imagine that the moored yacht will function as a full fledged 5 star hotel. And it will do so with 189 luxurious rooms (167 of them guest rooms) accompanied by a sumptuous ball room.
Gibraltar (a British overseas territory located at the southern tip of Spain) over the years has already proved its paradisiacal worth to tourists around the world. And now the hospitality scope will be seriously notched up to a high-class level with the addition of the SunBorn Yacht Hotel. In that regard, the seven storied floating structure will have around 15,500 sq m of floor space, all zoned into credible user circulation areas. We have already mentioned the guest rooms (ranging from $300 and $3,000 a night) and the ball room; and they will be complemented by a myriad of other areas, including – banquet rooms, bars, restaurants, casino, spa, gym, cocktail lounge, swimming pool and of course a expansive sundeck.
Now these collective areas do not actually intrude upon the essence of the 'personal experience'. According to the designers, all the guest rooms will have panoramic glazed windows, while 90 percent of them will also boast of accessible outdoor areas (much like a veranda set-up). This intrinsic nature of spectacle is finally emphasized by the gorgeous entrance planned for the SunBorn Yacht Hotel – which will comprise of an ethereally crafted glass bridge.
All images are courtesy of SunBorn.
Via: SunBorn