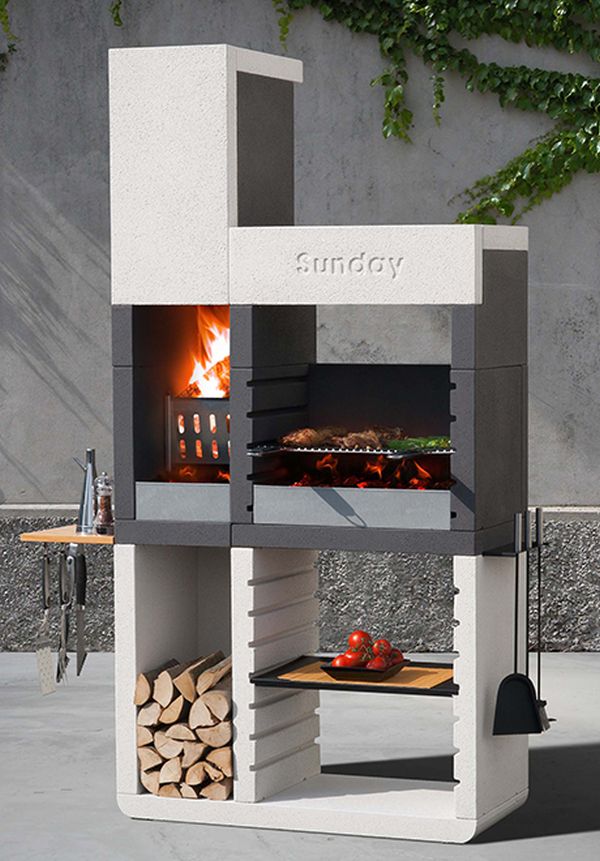 Barbecuing grills and accessories are fine and good when it comes to popular culture. However, the activity of outdoor cooking itself can be pretty tiresome and time taking, especially if you do not possess the right set of items or the convenience of the barbecuing scope. The One from Emo-Design (part of MCZ group's Sunday brand) is set to go beyond all of such predicaments by exhibiting more accessible and modular features of its own. Envisaged as a contemporary outdoor barbecuing system, the first great attribute of the ergonomic conception is the ease with which it can be arranged by just a flick of a button. This benefit is further complemented by a slew of other advantages that makes the Sunday One stand apart from the crowd.
The first of these advantages is the One's capacity to cook your juicy meat with the option of using both charcoal and gas. This dual mode of function allows the contrivance to be used as a conventional barbecuing apparatus in the Sundays by utilizing charcoal, and also as an unconventional cooking appliance utilizing gas on the weekdays. This ambit is further improved by the inclusion of several accessories like multi-functional shelves (available in both wood and metal), a variable lid for indirect grilling and a safety apparel set for the user.
As for its modularity features, this is where the One really shines with its flexible credentials. We did mention before on how the entire contraption can be arranged by the user by just the use of a single button. On top of that, the grills and the lids can be adjusted in accordance with your height, thus conveniently facilitating your cooking as well as BBQ endeavors.
Via: Emo-Design