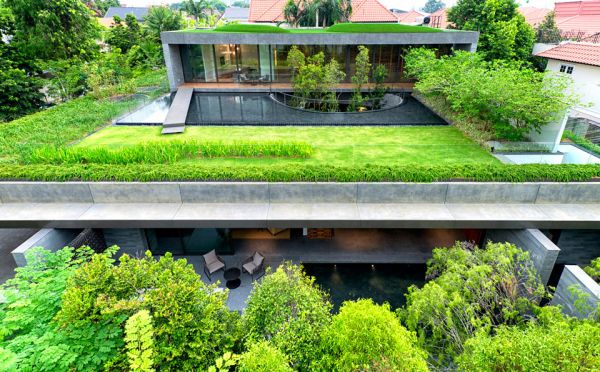 Semi-detached house planning is not exactly a new thing in architecture. However, the scope of uniqueness always lies in the approach to the design. In this regard, the semi-detached 'Wall House' is certainly novel in its ambit. Designed by Singapore architectural firm FARM, the project entails two independent homes which are envisaged as spatial parts of a larger yet singular superstructure. The name Wall House itself  comes from the prevalence of a concrete constructed facades that are simply interspersed by glass draped tall windows.
As with the majority of semi-detached plans, the homes together span two blocks; but are segregated spatially and circulation wise as per the wishes of their retired inhabitants. Architecturally, the Wall House structure is pretty simple with an essence of Modernism, which is evident from the usage of rectangular facades, panels and divisions. Within such a simplistic bearing, the circulation zones of the houses are divided into an upper story and a ground level. One of the upper story comprises of the main living and master bedroom area, while its corresponding ground level contains the entertainment area.
Finally, the meeting point of the two separate sections has a courtyard-style open space (the oculus being slightly organic shaped), defined by some indoor landscaping. This is complemented by a lush terrace lawn which is flanked by an outdoor pool situated along the roof.
Via: Design-Milk