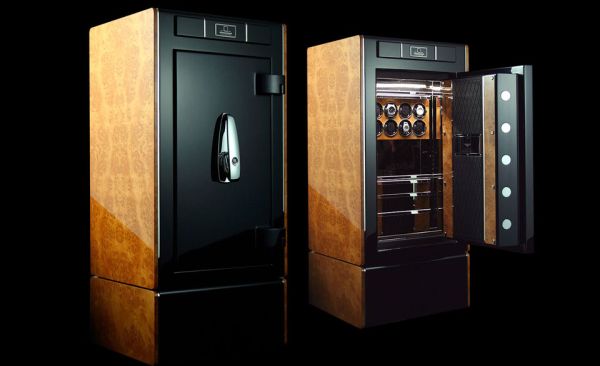 We have had our love affairs with the likes of Döettling and Buben & Zorweg. And, now we have come across yet another German made safe which epitomizes the virtues of safety and luxury. We are harping about the Stockinger's magnificent safe with watch winders. Exhibiting a classy bearing, the elegant facades of the Stockinger safe are derived from the combination of the lustrous paint finish (on the front side) and exotic hardwood veneers (on the flanking sides). Of course, the features of the specimen are not just limited its exquisite aesthetic value; the safe also works like a full fledged bank vault to protect your valuables and precious collections like watches and jewelry.
These safety attributes are upheld by some special design considerations that have went into the construction of the Stockinger safe. For example, the walls of the core structure is made from thick steel, and further strengthened by layers of polymers and rocks (the polymers actually support the rocks). So, we imagine a scene from a bank heist movie, the rocks would help in dulling the points of the drill bits. Moreover, as per the physical property of rocks, they can dissipate the heat all over the safe's surface in case of a cutting torch being used. And finally, even if the burglar tries to use brute force to open the door, the 'connected' glass plate shatters which triggers some sturdy bars to lock into their places.
These hardcore design features are complemented by technological features like the integration of retractable keypad and other electronic mechanisms that can be synced with your home's security system. This keypad can be further used to input codes that can send discreet alerts to the local police station in case of a break in.
The Stockinger safes are available in many sizes and weights (ranging from 125 kg to 650 kg). For more details and prices, please refer to Stockinger's home site.