Christmas jumpers might be jazzy to look at but these are surely distasteful. However Juliet Sear, founder of Fancy Nancy bakery in Essex, has collaborated with baking company Dr. Oetker to give delicious makeover to these seasonal sweaters. Together they have created the world's first completely edible Christmas jumper, complete with a tasty red-nosed reindeer.
The 100-percent edible jumper took over 50 hours for completion and is loaded with 10 kilograms of icing, five kilograms of marzipan and one kilogram of chocolate. It also features attractive garish design that's usually expected from the average seasonal sweater. The cake jumper has red, white and green zigzag-pattern with edible ball bearings and iced gem decoration around the collar, sleeves and bottom.
Julier used a gingerbread base covered in a thin layer of icing, plus dark and milk chocolates are used for the reindeer's face and marzipan for the antlers. She has made the jumper in two sections, which were molded together so her 18-year-old daughter Lydia could try it on.
After wearing this cake jumper, Lydia stated that it feels heavy but she literally enjoyed the feeling that no-one ever had tried something like this before. It is truly a treat to watch this colorful sweater that's totally edible and filled with various delicious ingredients. Sadly, the baker has created only one jumper so far. But we definitely would have loved to try it on and taste this mouth-watering Christmas treat.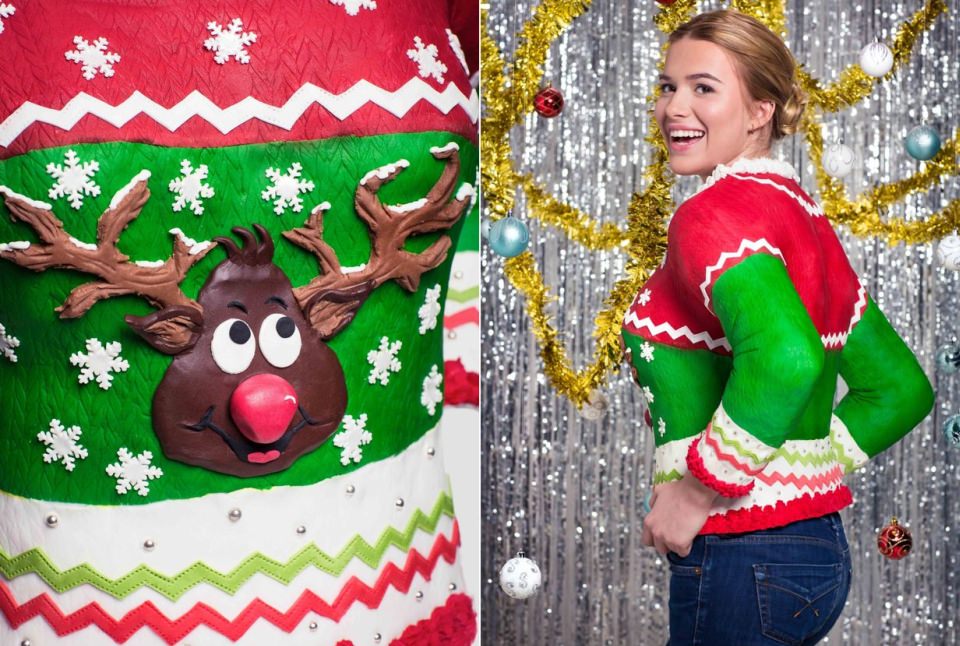 Via: Mirror