Winters are coming and it's time of the year when you want to bask in the sun, sipping hot coffee and enjoying a good read. In this situation nothing can be better than lying in a beautiful hammock swaying back and forth in your backyard. The best thing is the wide choices of hammock designs and freedom to hang them nearly anywhere. All you need is two stable posts or trees to tie up the hammock.
If you are one of those who love that sleepy state of wakefulness while swinging in midair, check out these awe-inspiring hammock design ideas that look no less than sculptures.
Also read: More Than Just a Hammock
#1 Hertfordshire Hammocks
These creatively steam-bent, Hertfordshire hammocks are made from sustainably sourced English oak wood. Designed by Richard Foxcroft, it offers maximum comfort through its curved shape. They can also be hung using a stand.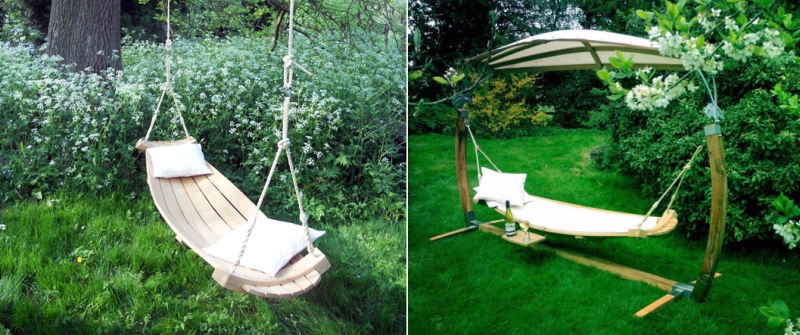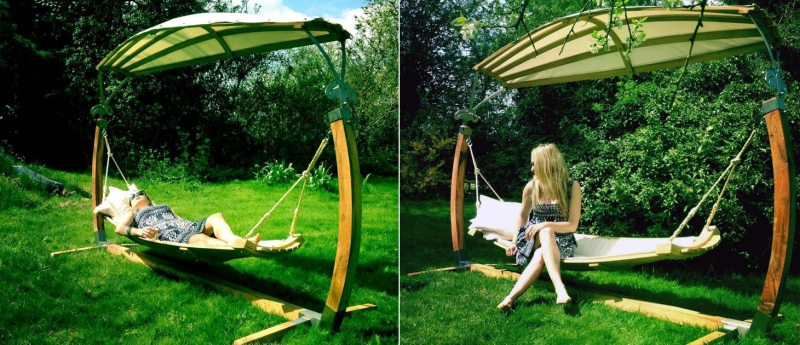 #2 Wave Outdoor Hammock
Designed by Swedish designer duo Erik NYBERG and Gustav STRÖM, the Wave hammock stands on a single point of support but can hold a person comfortably. It is made from electro-polished stainless steel and perforated fabric available in different colors.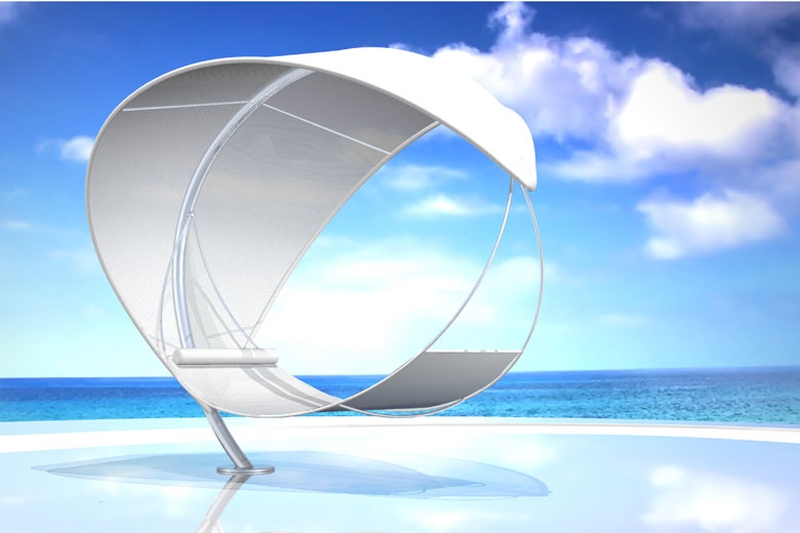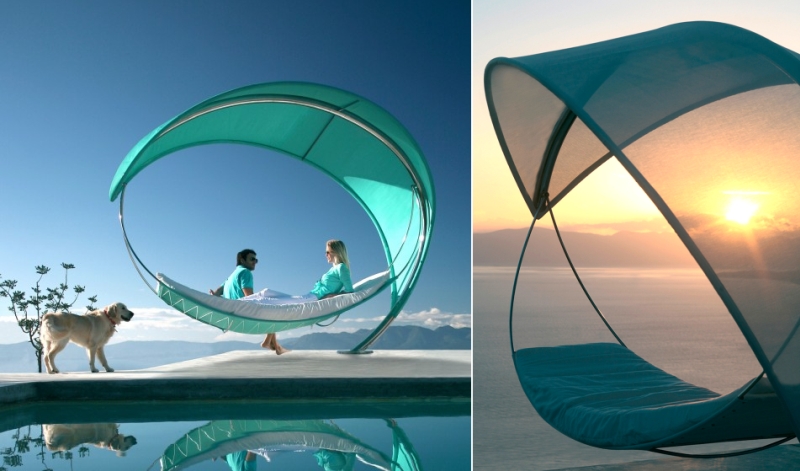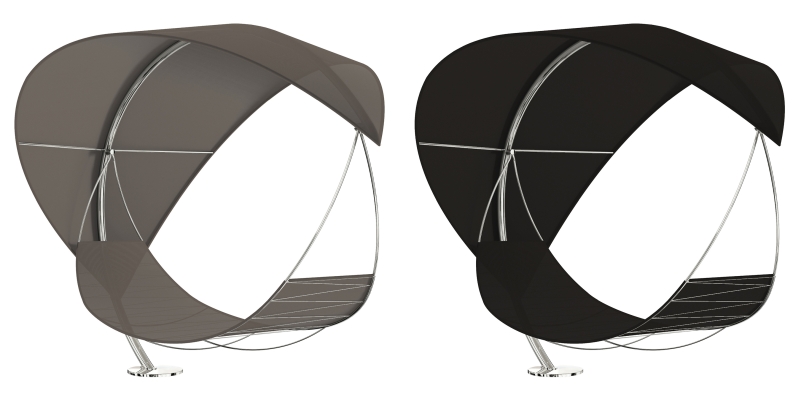 #3 Tuuci's Air Lounge Outdoor Hammock
With its durable Ultra Dry-Core Comfort Mesh and hardwood stretcher bars, the Tuuci's Air Lounge freestanding hammock offers a style and comfortable spot to enjoy swinging in the air. Its legs are fitted with anti-slide shock-absorbing pads for safety.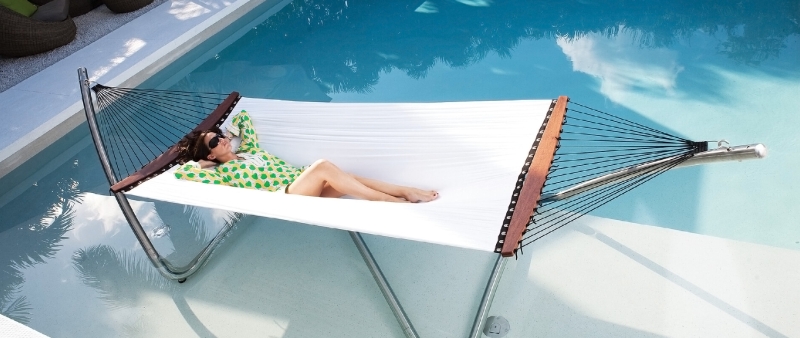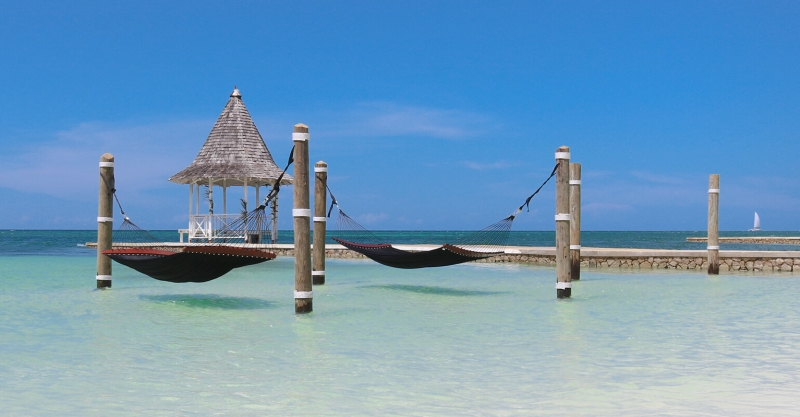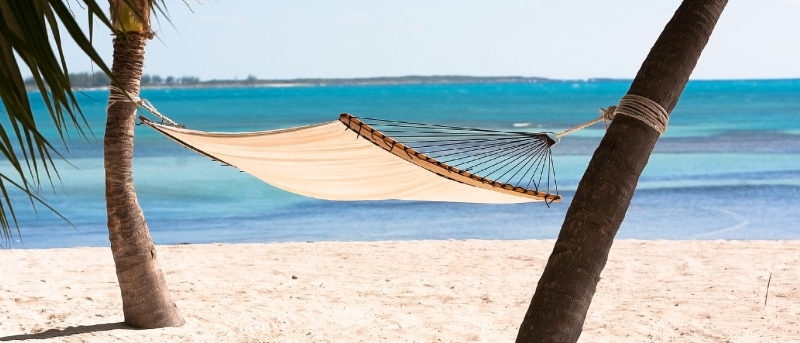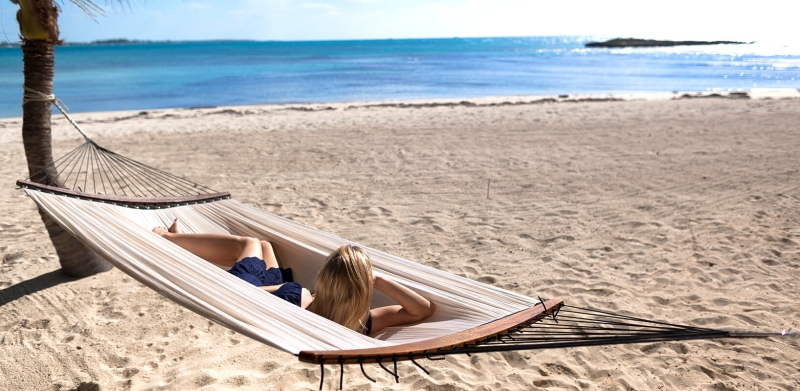 #4 Infinity Triple Hammock
Infinity is a freestanding hammock designed for three persons, offered by Trinity Hammocks. Its main stainless steel structure consists of two circles that creates enough space for three breathable mesh fabric hammocks. It makes hammocking a sharing experience rather than a solitary activity.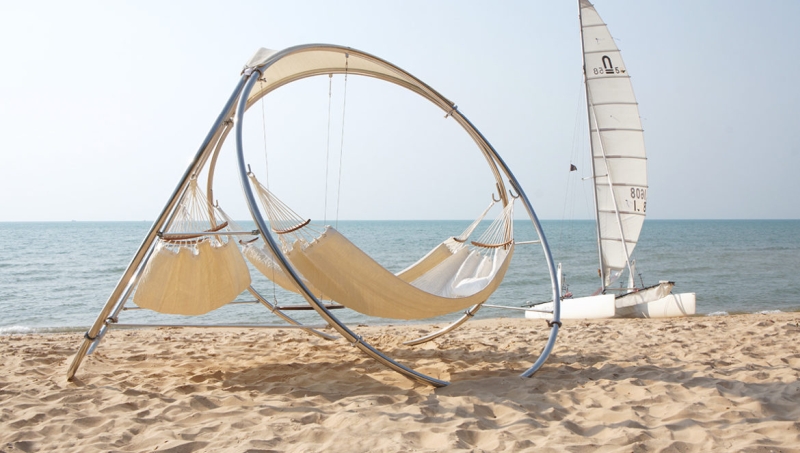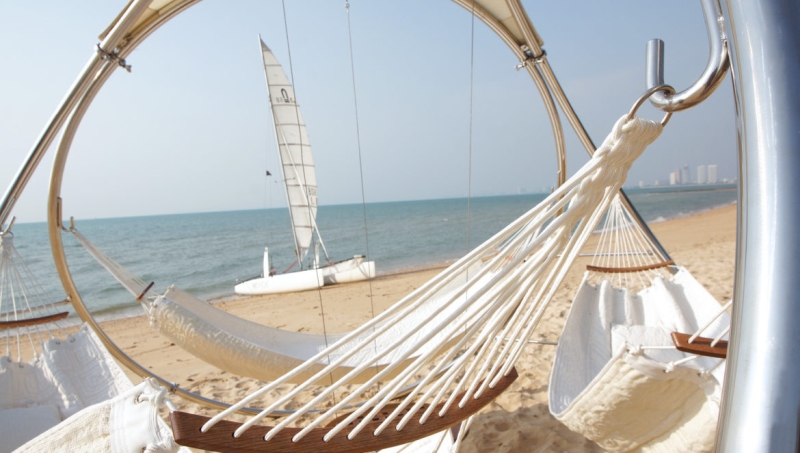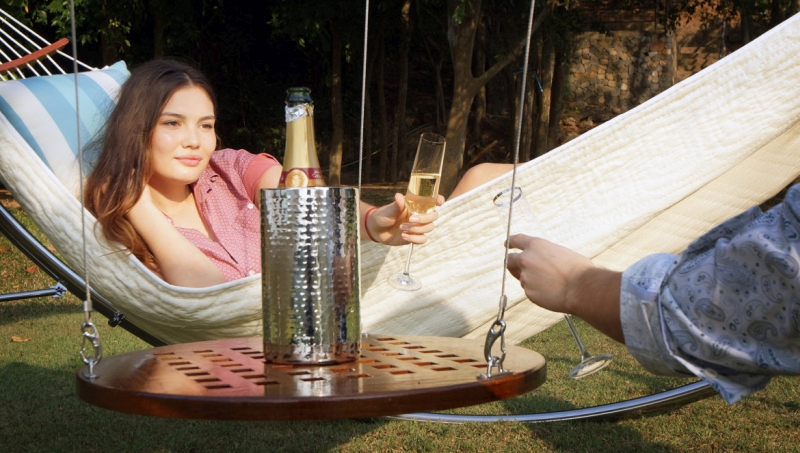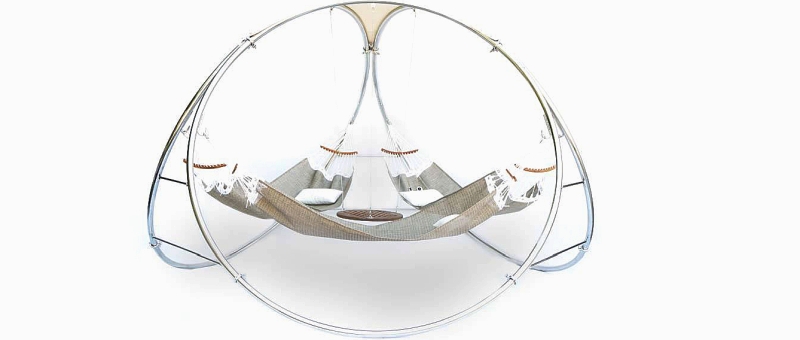 #5 Satala Hammock
Designed by lighting and furniture atelier Tel Aviv-based Aqua Creations, this eye-catchy hammock consists of galvanized metal frame, painted in a bronze-like shade. Its unique design makes it able to stand on a single leg with a rubber coated metal ball at the end of the single foot. It comes with removable down-filled cushion and a removable cushion cover.




# 6 Woorock Hammock Swing
The Woorock hammock swing by Austrian architect Georg Betcher folds/unfolds easily for quick installation and transportation. It consists of two wooden slats that unfold to create a lightweight rocking swing that can also be taken outdoors. It just looks like a quarter moon.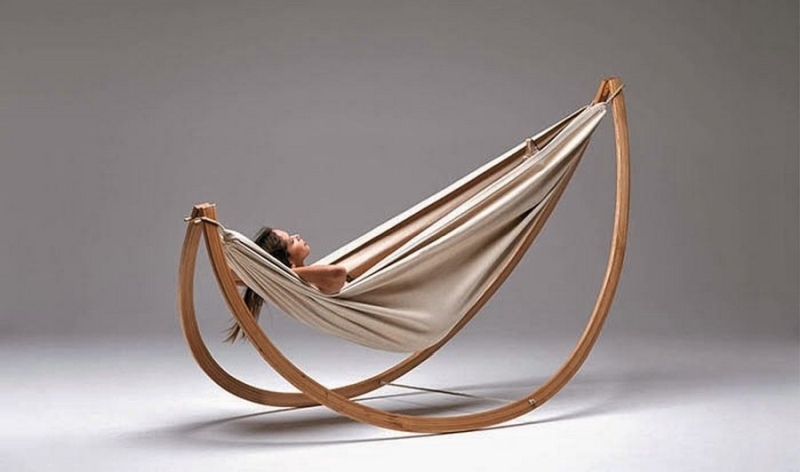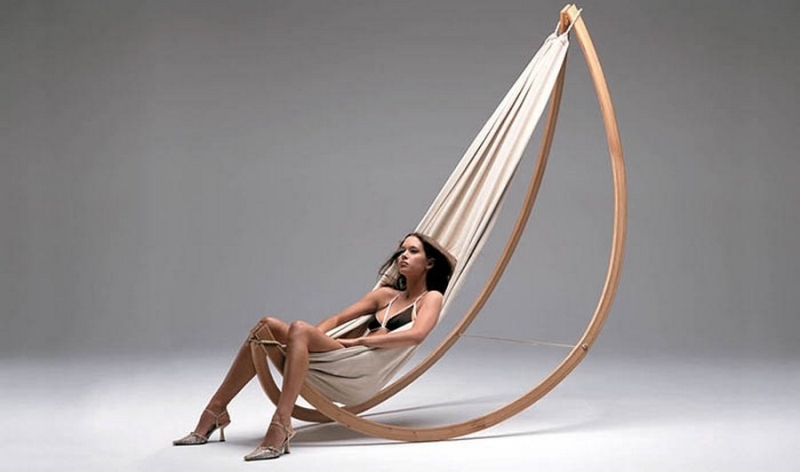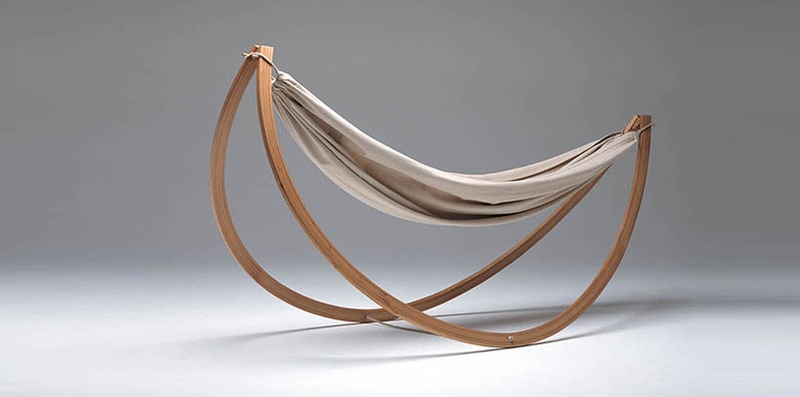 #7 Indoor Sling Hammock by Jim Zivic
A curved stainless steel frame with leather link sling and metal mesh make this hammock up. With its jewel chain suspension, suede cushion, shearling pillows, and felt head/footboards, it is a must-have item for luxury buyers. It is available in two different sizes.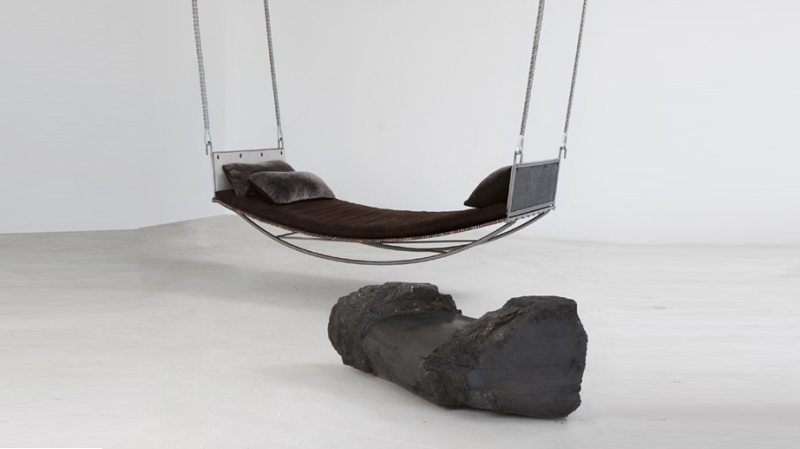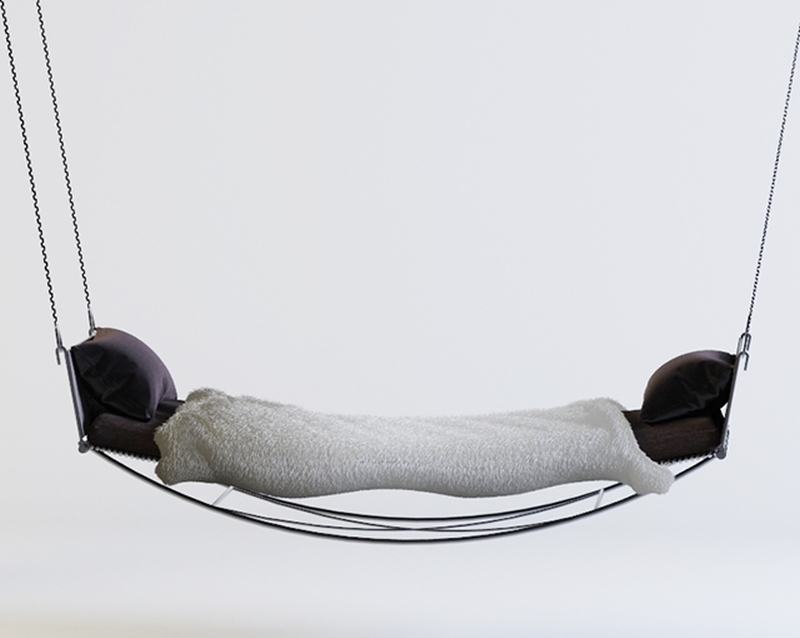 #8 Cocoon Hammock
Standing on four legs, it is a huge hammock by Henry Hall Designs. The hammock can be draped all around with curtains for privacy. Its teak wood frame and electropolished stainless steel components create a luxurious appeal.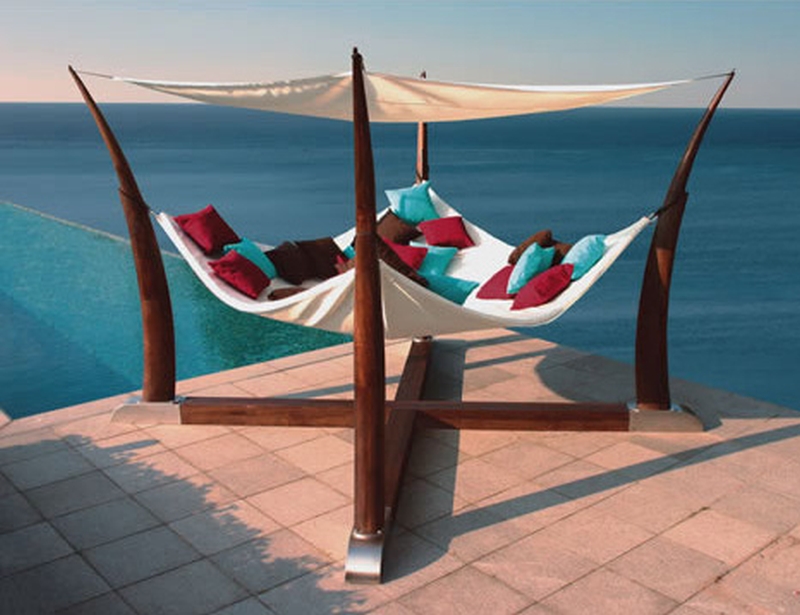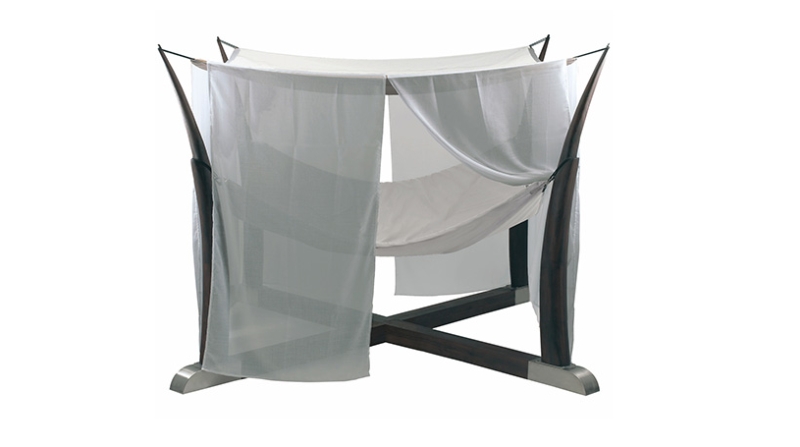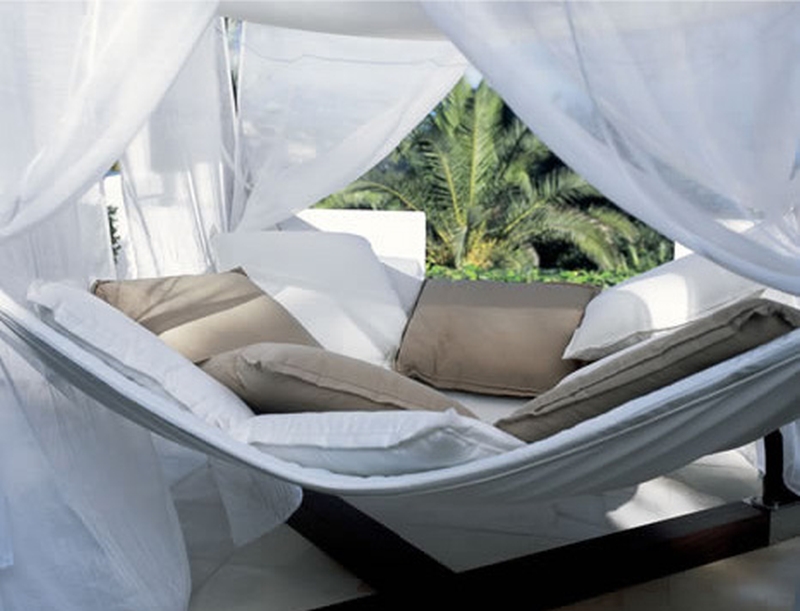 #9 Flex Wooden Hammock by Adam Cornish
Designed as alternative to standard cloth hammockss, this one is enough flexible and comfortable thanks to the rubber vertebra that allows the wooden segments to move, contract and expand, offering an ultimate relaxing experience. It is suspended by steel cables.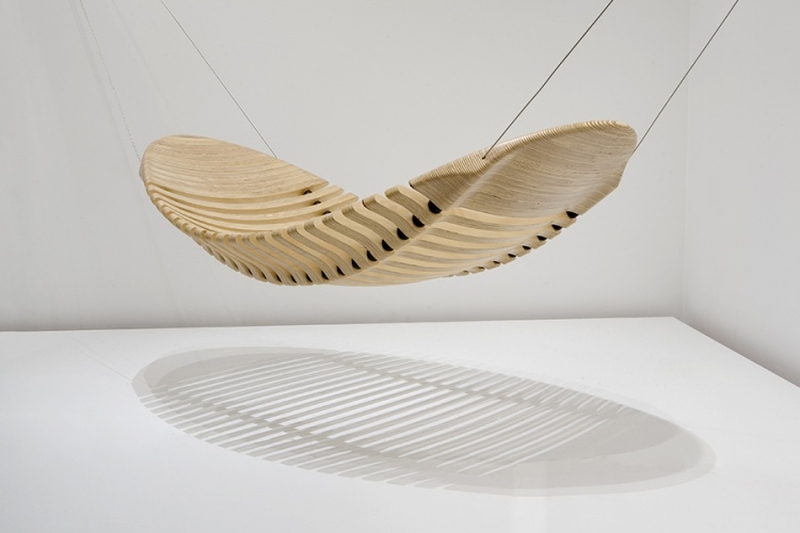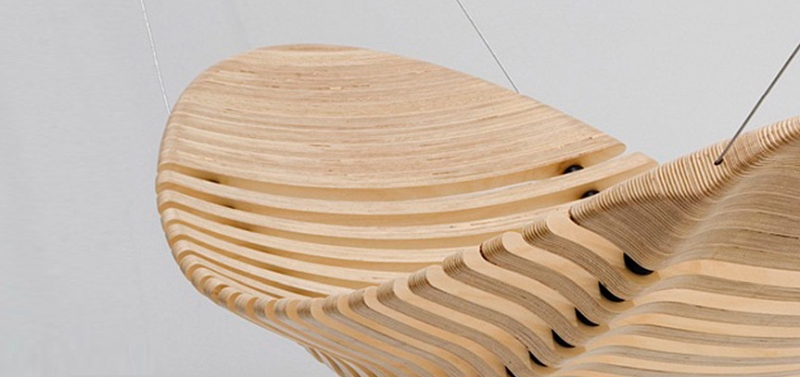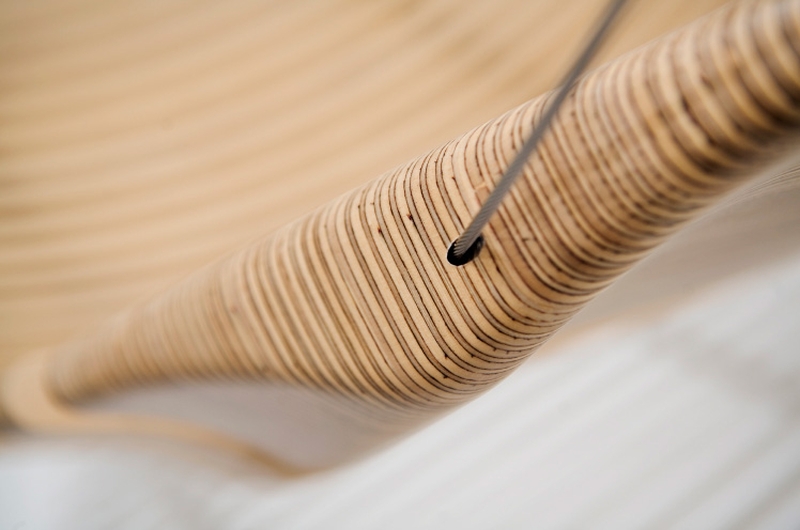 #10 Dreamweaver Teak Hammock
It is a double-size freestanding hammock handcrafted from sustainably sourced reclaimed teak dowels. Offered by Nusantara Teak, it works like a cradle that changes shape according to different bodies, allowing better air circulation. There are adjustable chains and stainless steel components for extra strength.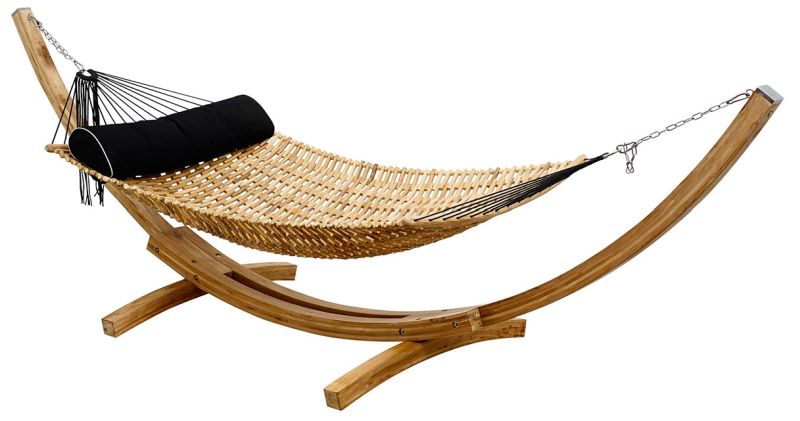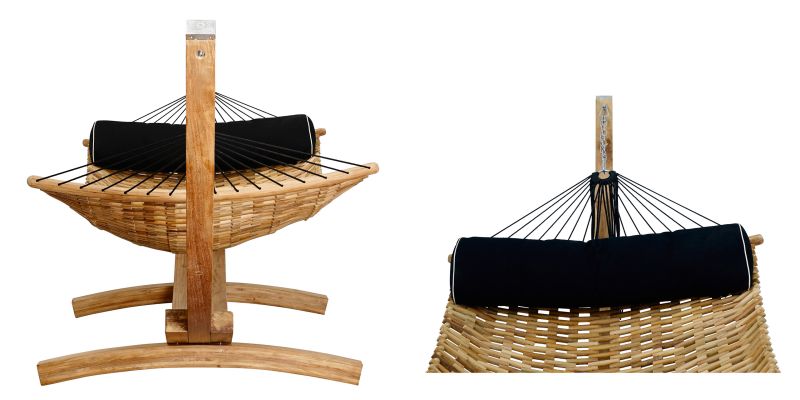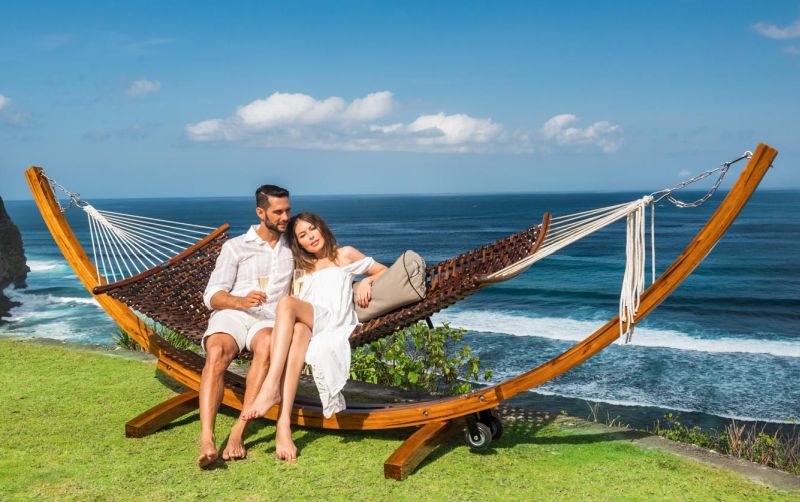 #11 Remissio Hammock
It is a self-supporting hammock designed by Felix Schwake for Rechteck. It consists of an open frame with room to accommodate lying surfaces made from fabric or leather. The attachments are located on the frame. For quick and easy swapping, the mounting pad is kept simple.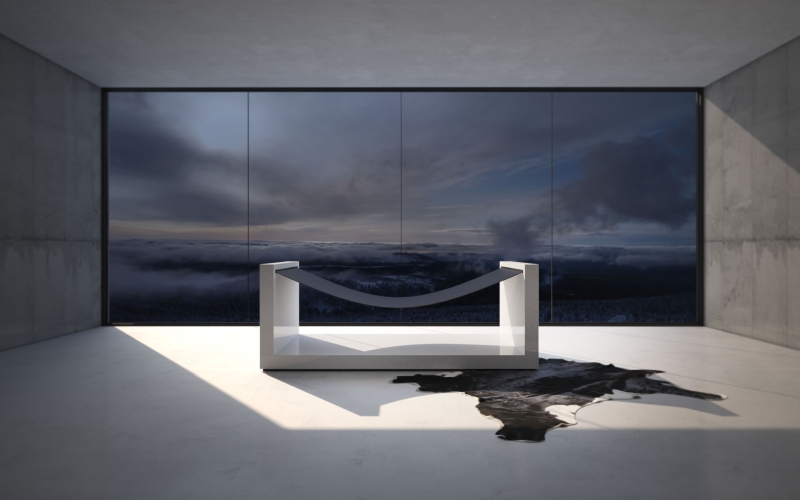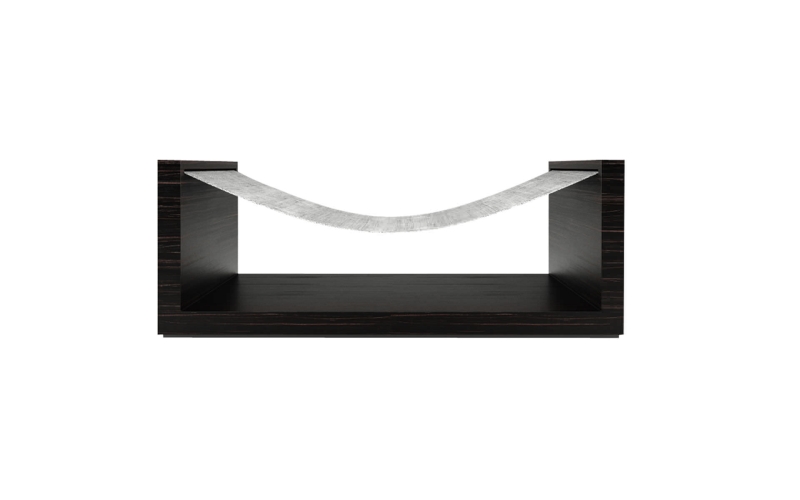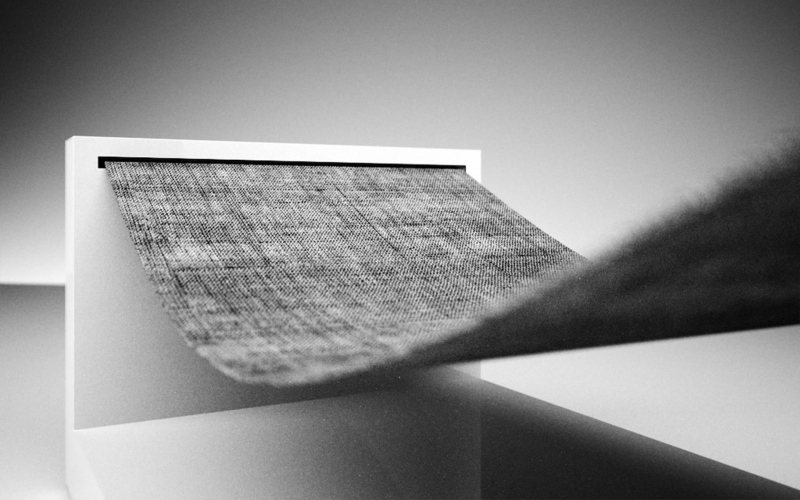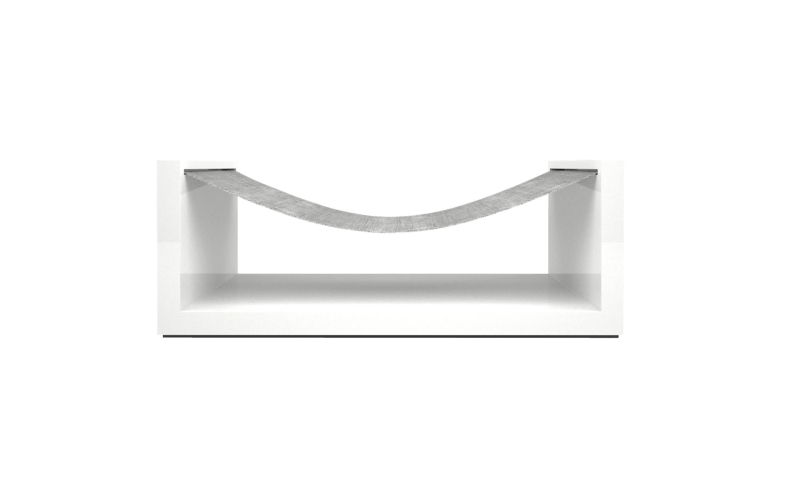 #12 Bench Hammock
Playing with a bench design, the Italian designer Emanuele Magini has created this one-of-a-kind hammock for Campeggi. It is made from green, white or light blue epoxy varnished metal structure pared with white nylon sprung base.

#13 Mua Hammock
With appealing design and functionality, Mua is an insanely luxurious hammock designed by Victor Aleman in shape of a heart. It is specifically designed for couples to spend time together in comfort. Adding covers and cushions of your personal taste will add even more individualized aspect. It can be used both indoors as well as outdoors.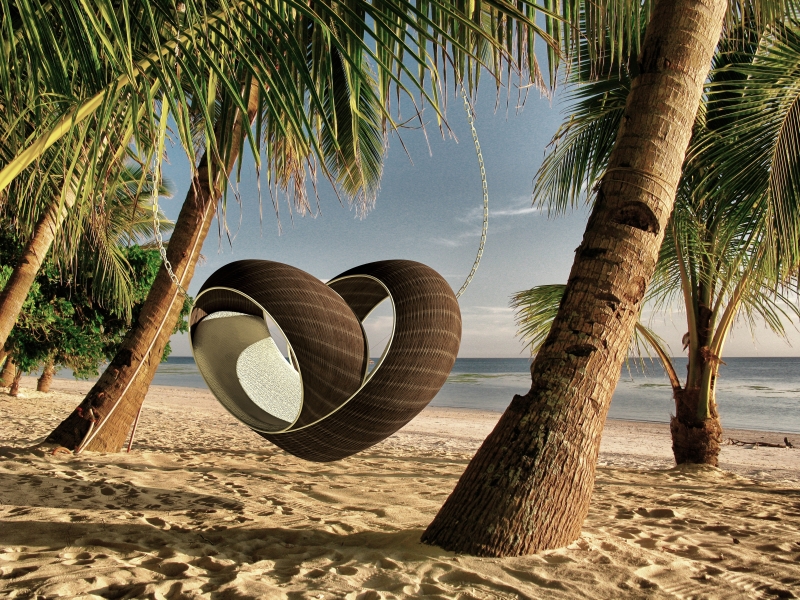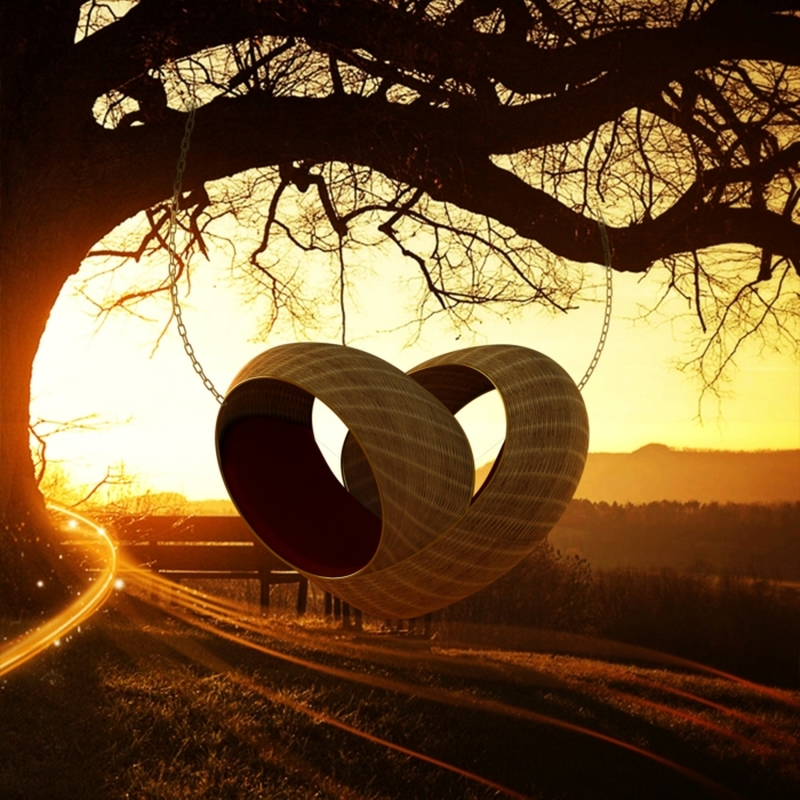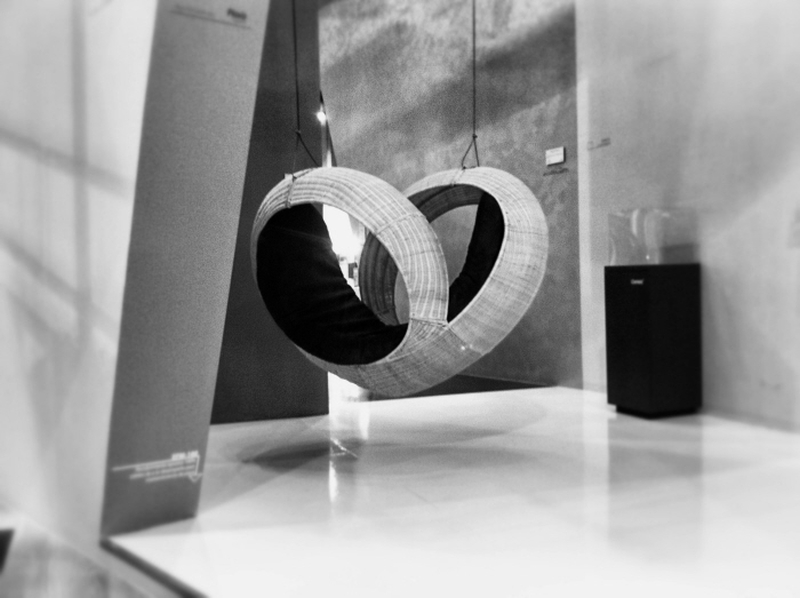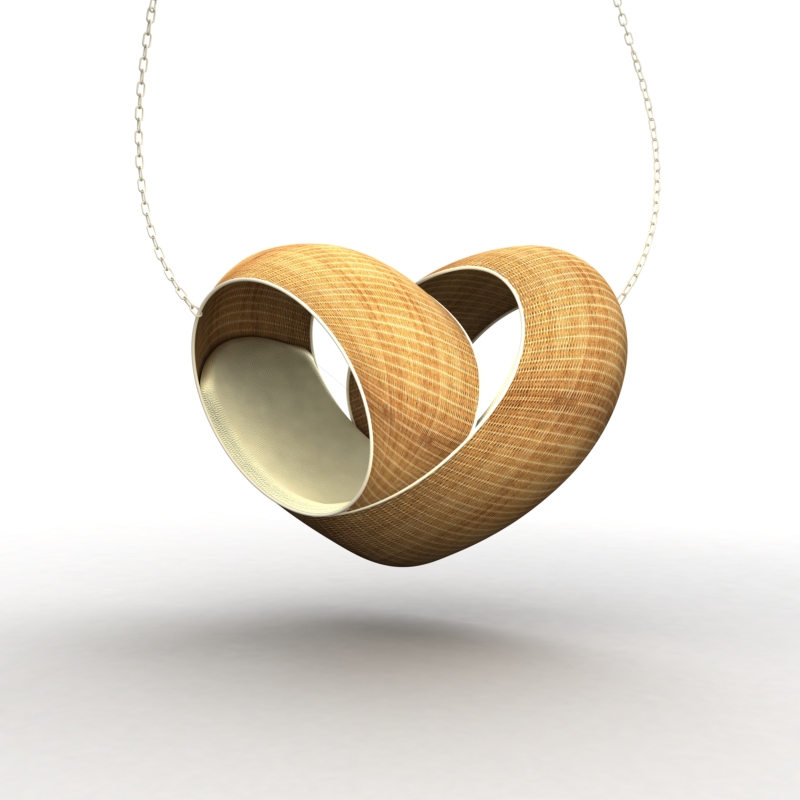 #14 Sculptural Hammock
Art turned into functionality! This amazing hammock is a vivid sculpture in Vancouver. Made from cast iron, it is strong enough to withstand any weather conditions.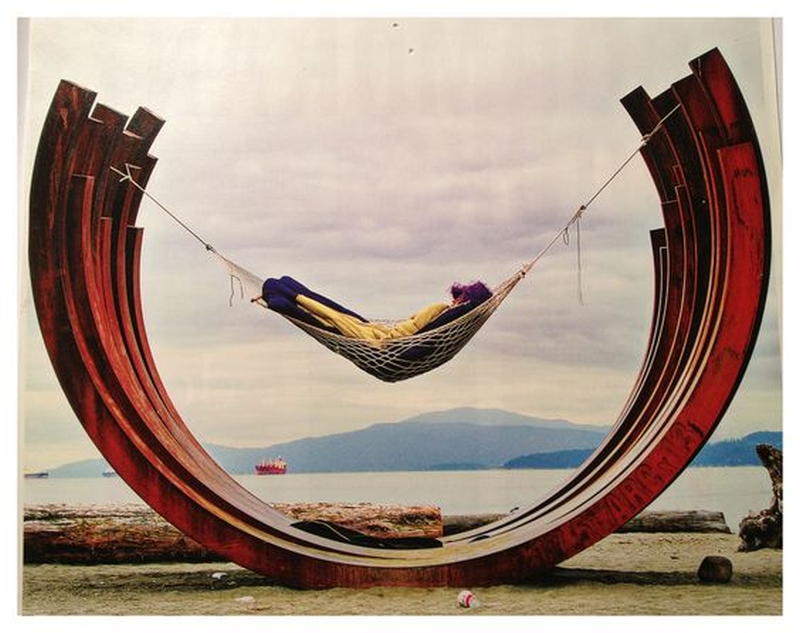 #15 Miss Amaca Hammock
Designed by Angela Missoni for Riva 1920, the Miss Amaca hammock consists of two tree trunk posts and brightly colored net of jute, nylon or cotton. It is a great idea for people looking for ways to create something useful from reclaimed wood.