Whether it's Christmas, Halloween, or Thanksgiving, we celebrate every occasion that gives us an opportunity to be together and happy. The holiday season is, however, much more than just being together and distributing sweets. Holiday cheer starts with decorating homes and buying gifts. As a matter of fact, what good is your Christmas, if you don't have a worthy treetop to glitter and shine on top of your Christmas tree?
We are weeks away from celebrating the birth of Christ and this is probably the right time to check for the best Christmas tree toppers. Below is the list of the 20 best Christmas tree toppers of 2022 you should plan on buying to add a finishing touch to your tree.
Rotating Snowflake Projector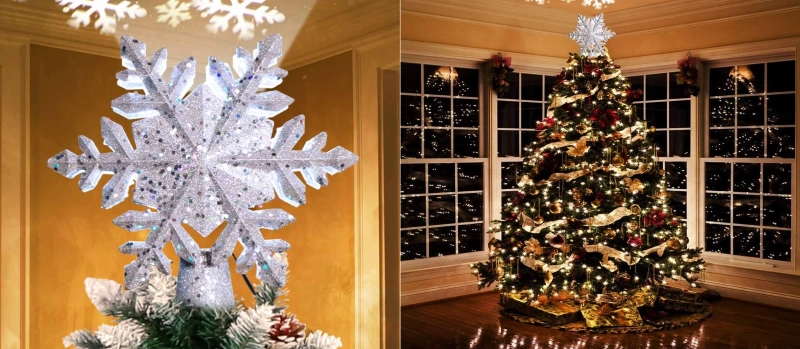 Need something funky as a tree topper, here is your ideal choice. The 3D snowflake design comes with an LED projector lamp inside. The lamp adds sparkling light to your Christmas tree and produces gorgeous snowflake effects.
Buy: $26
Sliver Starburst Tree Topper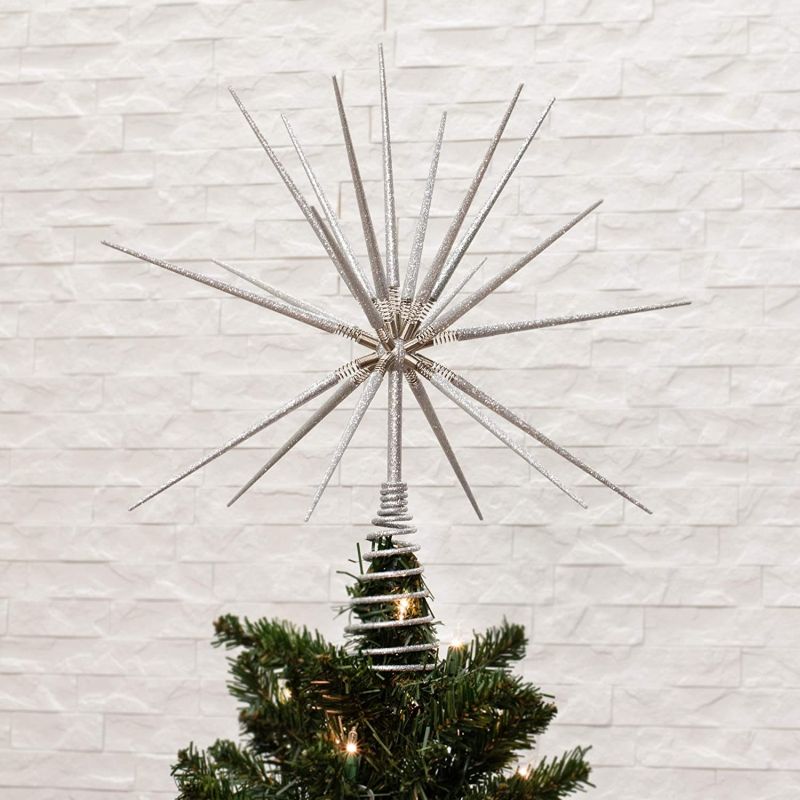 All that shines may not be silver but will surely add a radiant touch to your Christmas tree. This starburst tree topper is aesthetically pleasing and fits in easily with vintage, bohemian and modern tree styles.
Buy: $33
Bow With Tail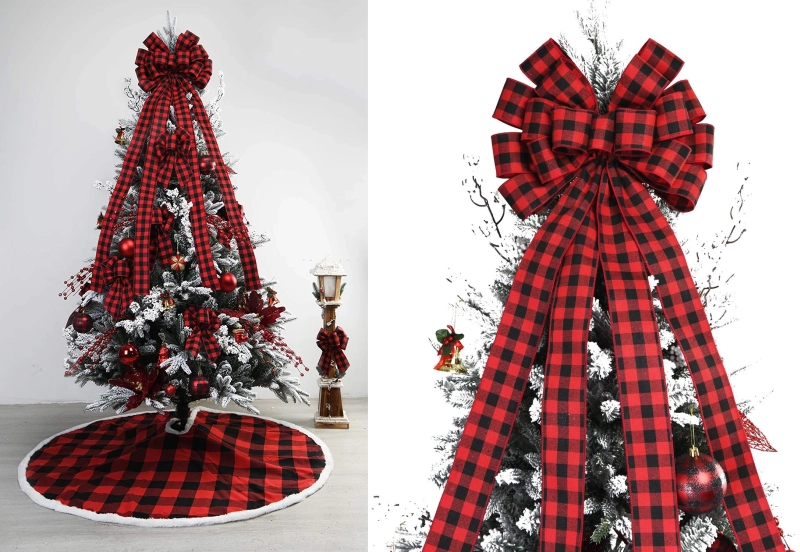 This has to be my personal favorite. The exquisite design of red and black plaid Buffalo will be a great addition to your treetop. The decorative bow comes with a 48-inch-long tail made of cotton lines that can be reused.
Buy: $14
Also Read: DIY Ornaments for Christmas Tree
Clear Frosty Stained Glass Star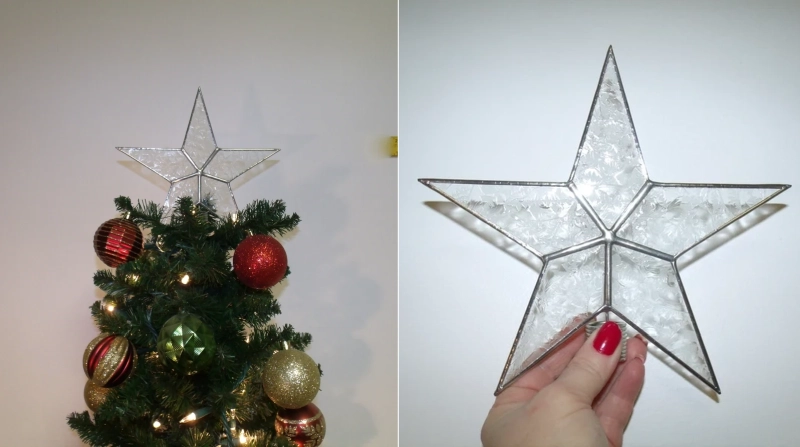 To add flair to your Christmas tree, try these tree toppers made of glue chip glass that look like a frosted wintry window.
Buy: $40
Star Wars Darth Vader Tree Topper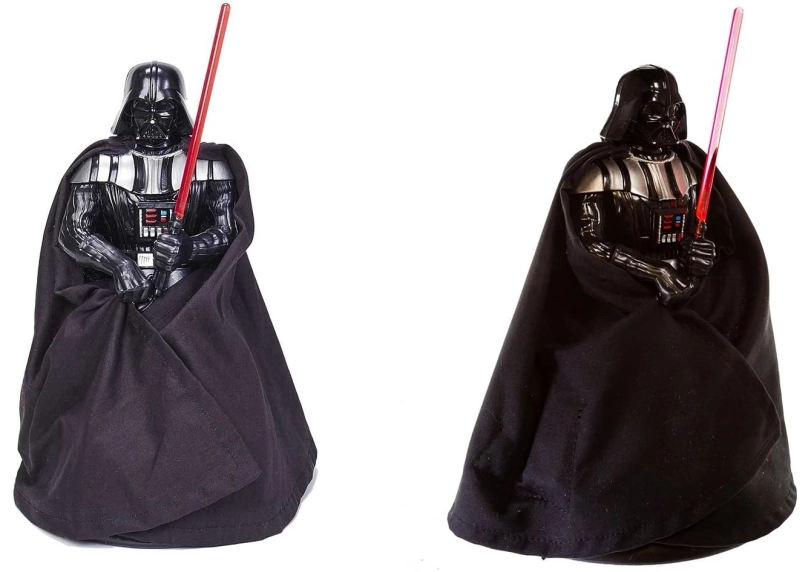 Add a touch of Star Wars to your Christmas tree this year with Darth Vader mounting on the top with his lightsaber. Made of plastic and battery-operated, this tree topper will indeed be a sci-fi addition to your Christmas decoration.
Buy: $55
Elf Legs Tree Topper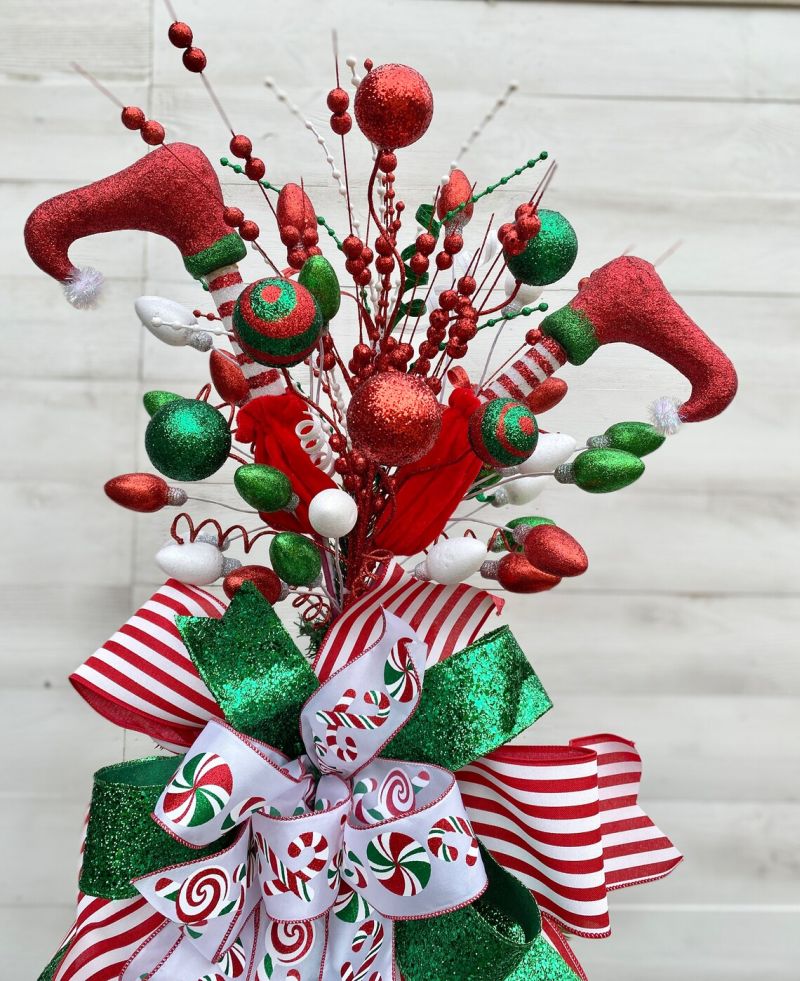 This pretty pair of elf legs is a great addition to your Christmas tree. Available in red, the elf topper adds a gracious touch to your Christmas party and creates a winter wonderland for your kids. Elf legs are accompanied by ornaments and ribbons.
Buy: $180
Swedish Gnome Tree topper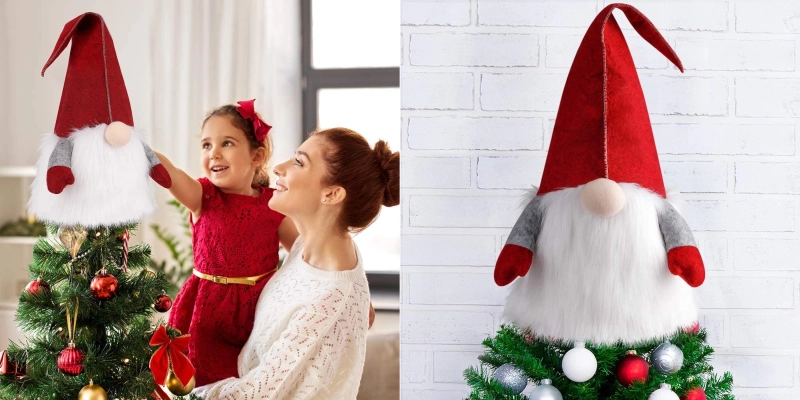 Carefully sewn with love, the Swedish Tomte features a red/grey hat that's 25 inches tall and carries a furry beard. Perfect for your treetop, the gnome is cushy which makes it super fun for Christmas parties.
Buy: $22
Santa's Sleigh with Banner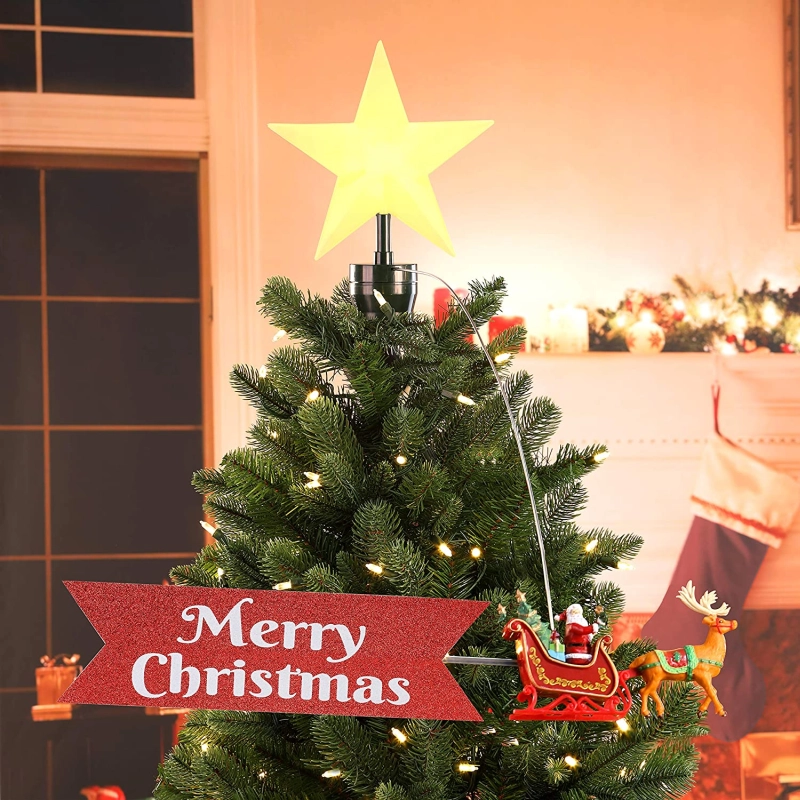 It mainly contains two items. One is Santa Sleigh carrying a banner that says 'Merry Christmas.' Another item is an illuminated LED star that goes on the treetop. Available in multiple colors, the animated tree topper is made of plastic.
Buy: $58
White Wooden Christmas Star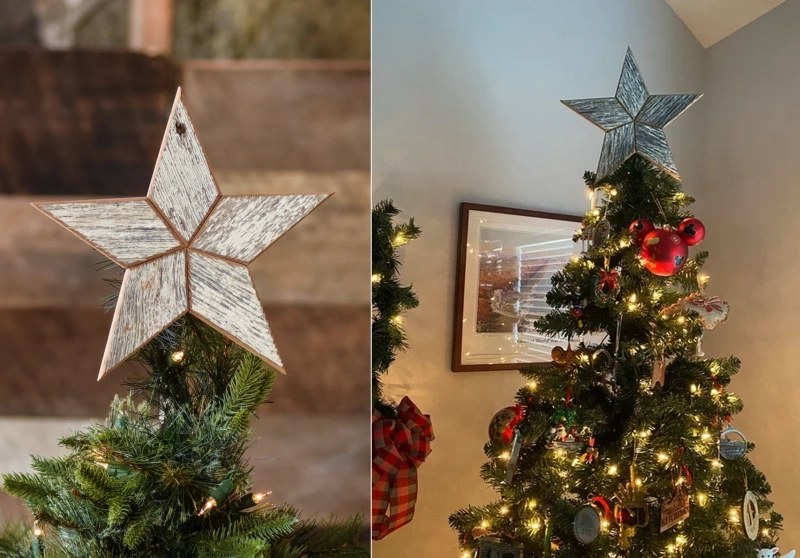 Made of reclaimed wood sourced from local barns, the wooden Christmas star is simple yet very intriguing. The local wood would bring the scent of countryside to your apartment. A leather circle attached to the back of the star holds it in place atop the tree.
Buy: $38
Starfish Tree Topper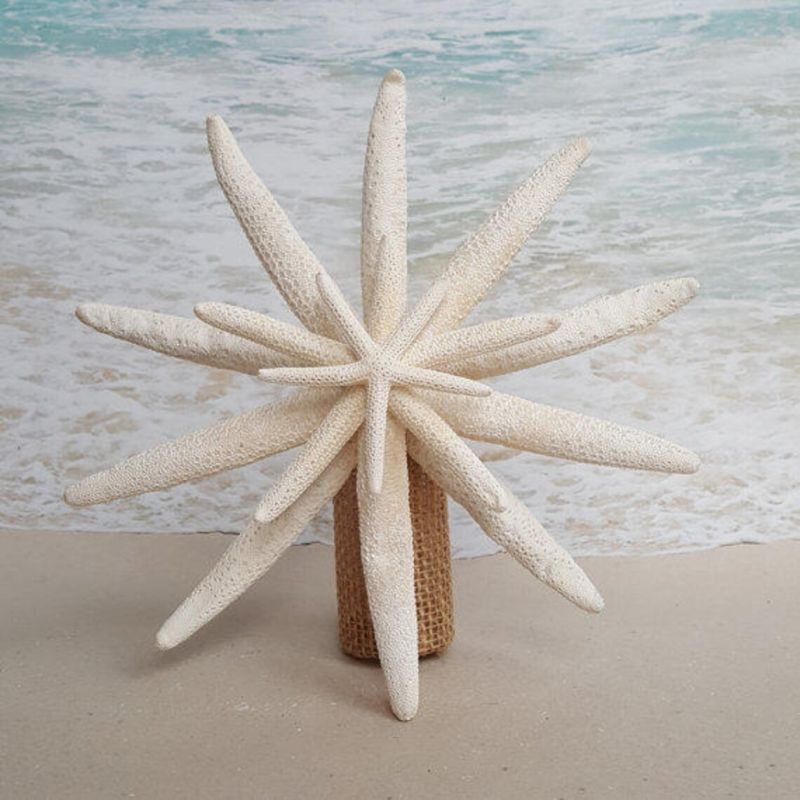 I bet you won't find anything more beautiful than this Starfish tree topper on the internet today. Sitting on a lightweight base covered with burlap, the starfish looks like a carbon copy of the Star of Bethlehem while the legs are a perfect replica of undulating rays.
Buy: $50
Wire Word Tree Topper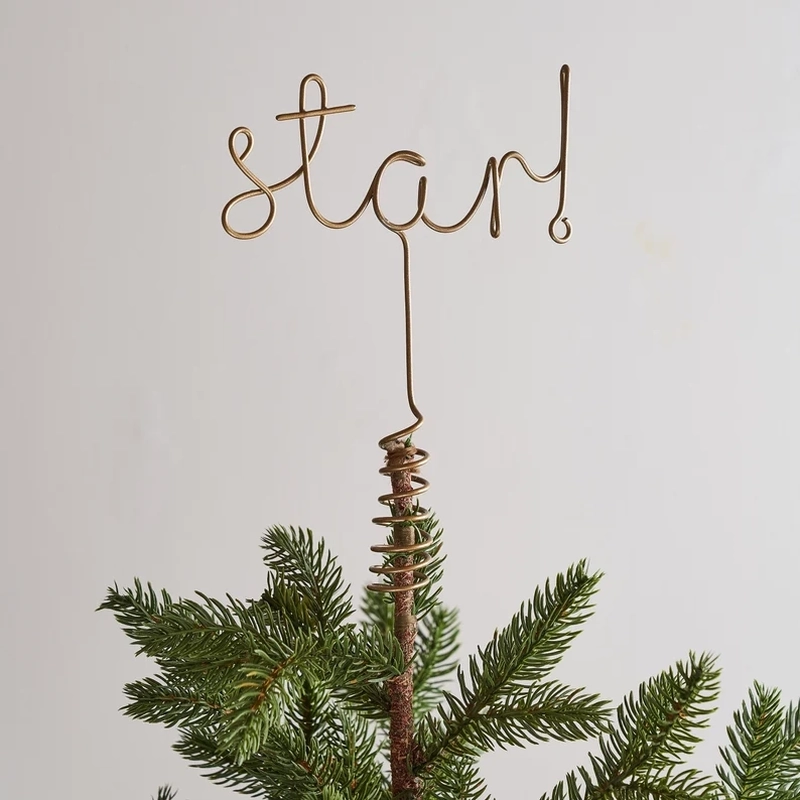 Crafted with stainless steel wire and a personalized tag or family name, this wire word tree topper will make your tree stand apart from the rest. The wire is hand bent, welded, and then painted from the top. You can choose from copper, silver, and gold, and lends a touch of bling to your Christmas tree.
Buy: $35
Multi-Color Capiz Star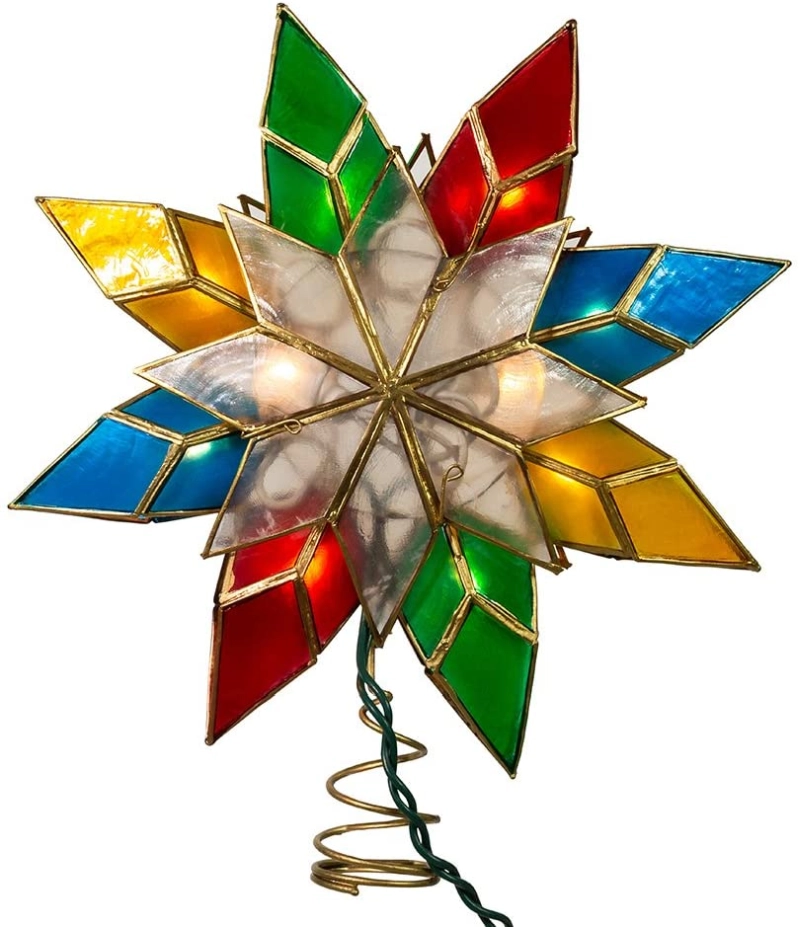 Capiz Star multicolored lights will shine on top of your Christmas tree. The item contains ten multi-colored lights that will flicker throughout Christmas. The body of the Capiz star is made of a brass frame and standard wiring.
Buy: $27
Also Read: Best Christmas Wall Decals for Home Decoration
Felt Dove Tree Topper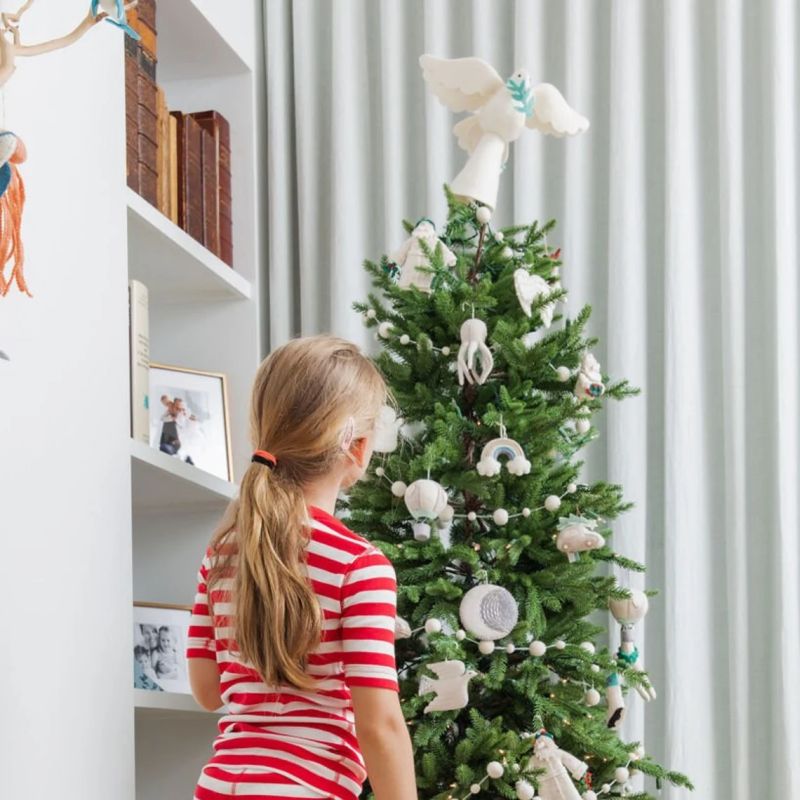 When the world is going through turmoil, it is important for us to find little happiness in life. Decorate your tree with this graceful dove bearing an olive branch in its mouth. Crafted from merino-blended wool, the tree topper is a symbol of peace and light.
Buy: $64
Hat with Bell Bow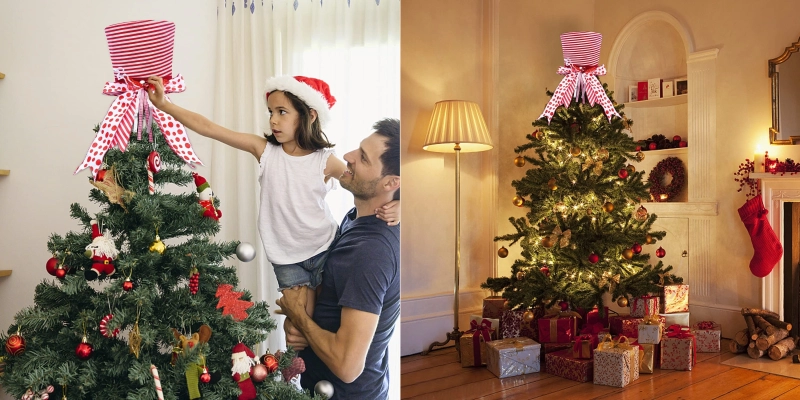 Comprising a bow, ribbon, and hat, this treetop decoration is for the masses. Featuring a spring inside, the hat is compressed and foldable in nature. It is an essential treetop decoration that your kids will fall in love with.
Buy: $26
String Bead Star with LED Lights
Stars are obviously the showstopper of your Christmas tree. Made of silver and iron, this star-shaped tree topper has LED lights to illuminate your home with glittering lights.
Buy: $25
Snowman Tree Topper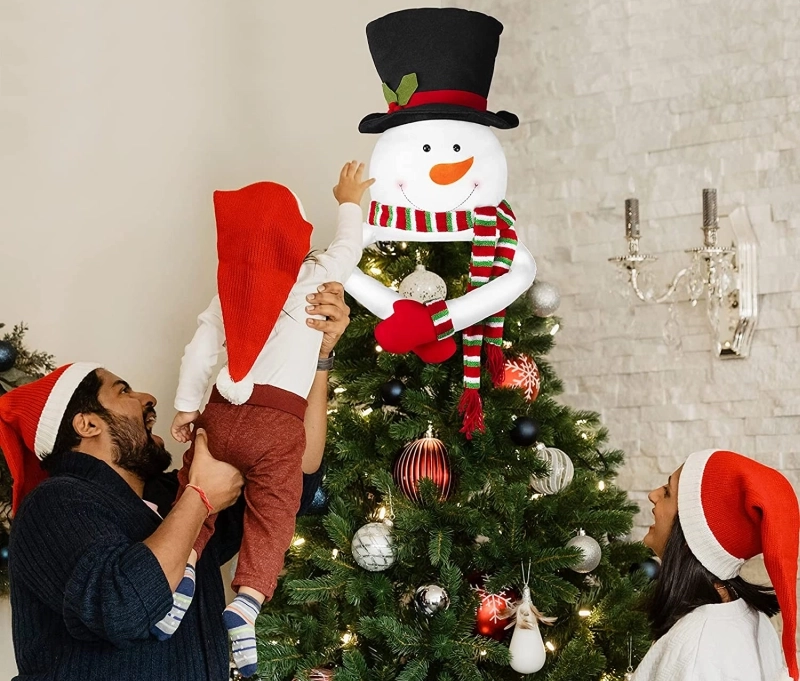 What is a Christmas party without a snowman? This cute snowman tree toper has iron wire in its arms so you can pose the way you want. Moreover, you can squeeze it inside a small box when Christmas is over.
Buy: $18
3D-Printed Super Mario Star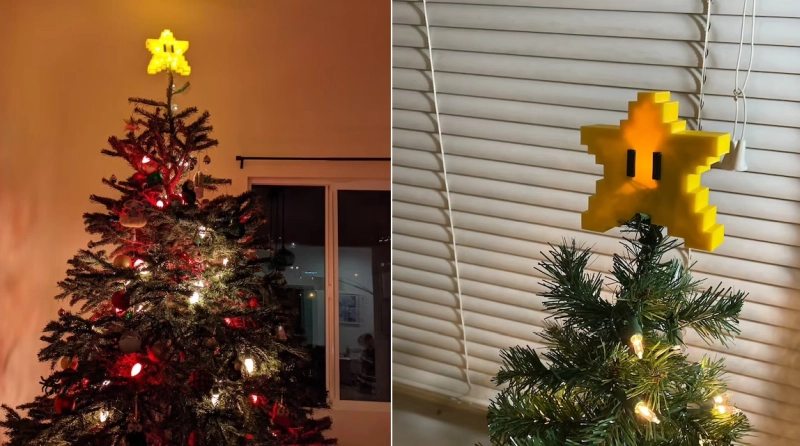 This 3D-printed Super Mario Star treetop décor reminds us of Coldplay's 'Yellow' album released in 2000. Children and oldies at your home will surely like it. It is available in multiple colors and size options.
Buy: $13
Crystal Christmas Tree Topper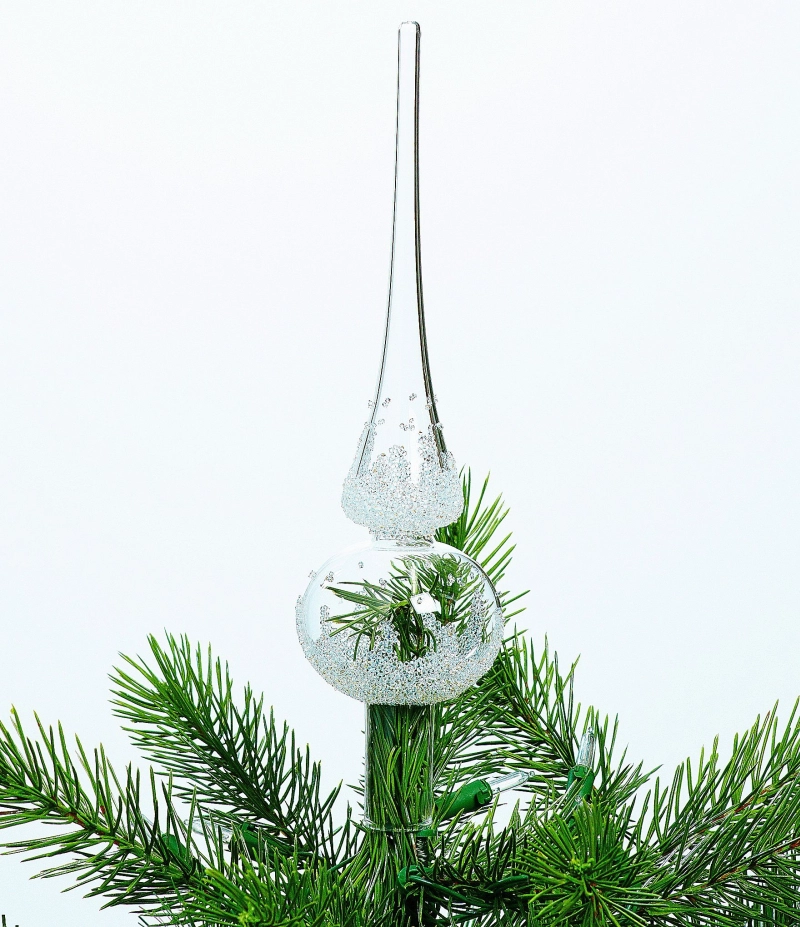 Made of mouth-blown glass and small hand-glued crystal pieces, this Swarovski tree topper will add a crystalline touch to your Christmas tree.
Buy: $350
Santa Tree Topper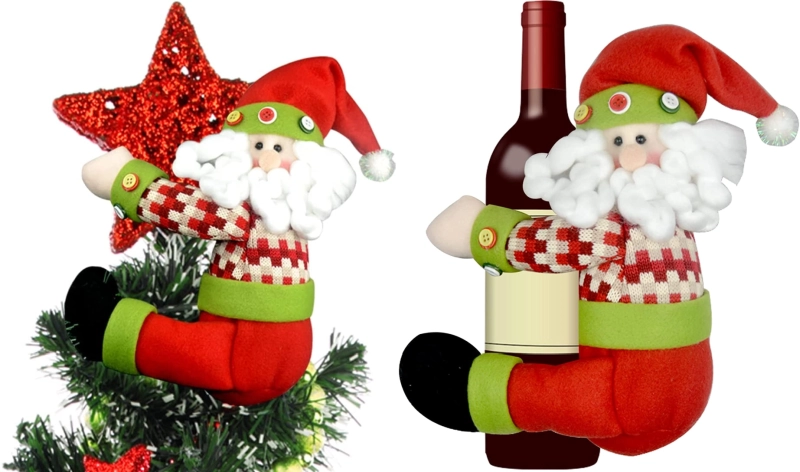 Made of premium quality polyester, this cute, plush Santa hugging the tree is all you need to elevate your holiday decoration.
Buy: $20
Glittering Angel Tree Topper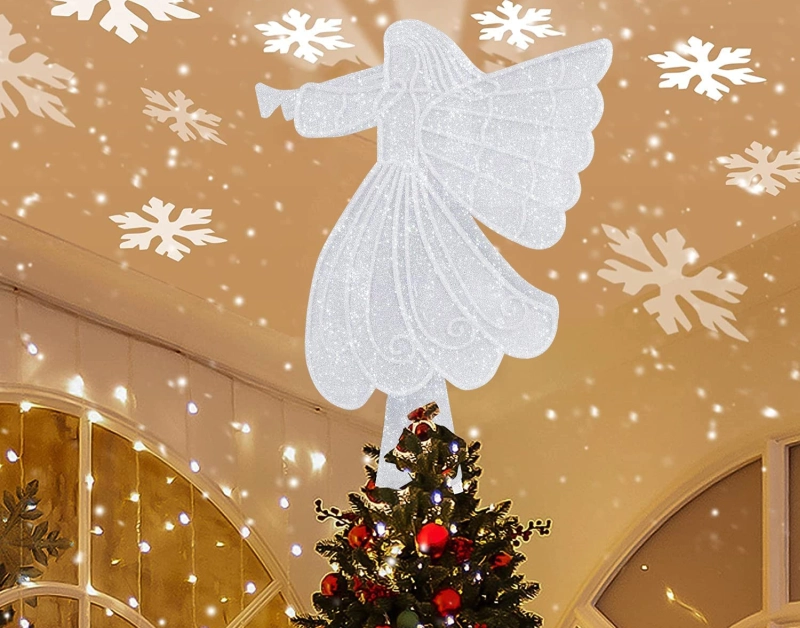 A Christmas tree adorned with the glittering lights of an angel can be a magnificent sight for your little daughter. Made of sturdy plastic, the angel tree topper has a rotating snowflake LED projector that projects beautiful patterns on the ceiling and walls.
Buy: $24