Consumer Electronics Show brings out some of the most innovative and weird smart home technologies every year. These internet-connected products are designed to make everyday life at home convenient and easy. There were a number of smart home gadgets presented at CES this year that vouch to do the same.
It includes innovative smart TVs and security devices to pet care and other household items. We have shortlisted some of the best smart home products showcased at CES 2022.
Masonite Smart Door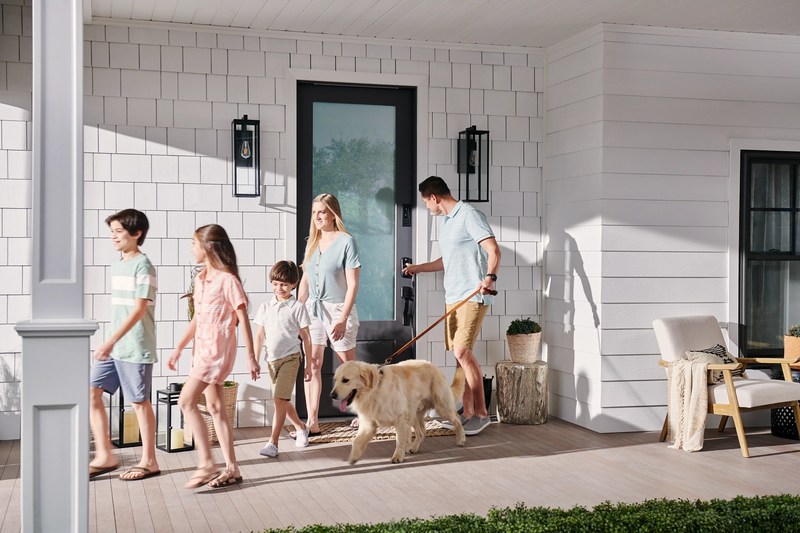 Masonite has introduced a smart door that comes fully integrated with power, lights, video doorbell and a smart lock. Just install the M-Pwr smart door and make your home security smart in one go. The smartphone app enables homeowners to remotely check whether the door is open or closed at any given time. It can also be used to program and control motion-activated LED lighting.
Eufy Dual-Cam Doorbell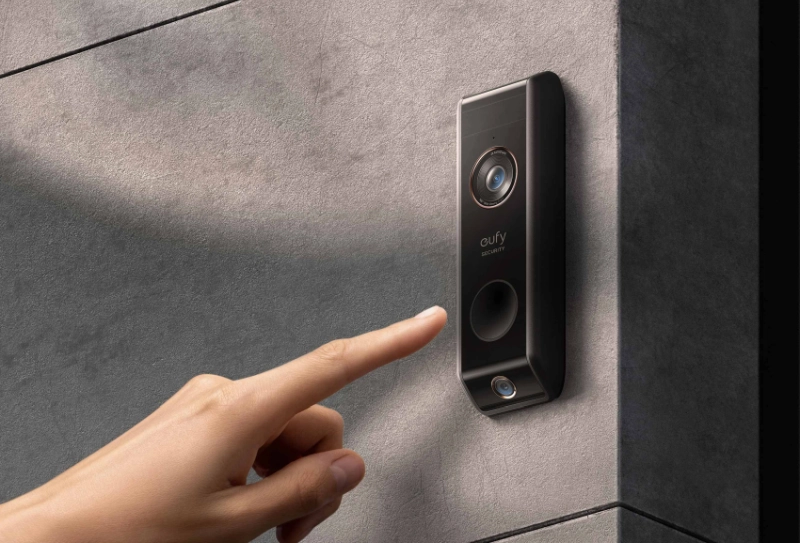 This video doorbell has two cameras and a motion sensor to provide enhanced protection at the front door. It has a 2560 x 1920 Full HD main camera and 1600 x 1200 HD secondary camera that work together to identify people and packages. They come with 16GB storage and support Google Assistant and Amazon Alexa. Eufy dual-cam video doorbell is slated to launch next month.
Ring Alarm Glass Break Sensor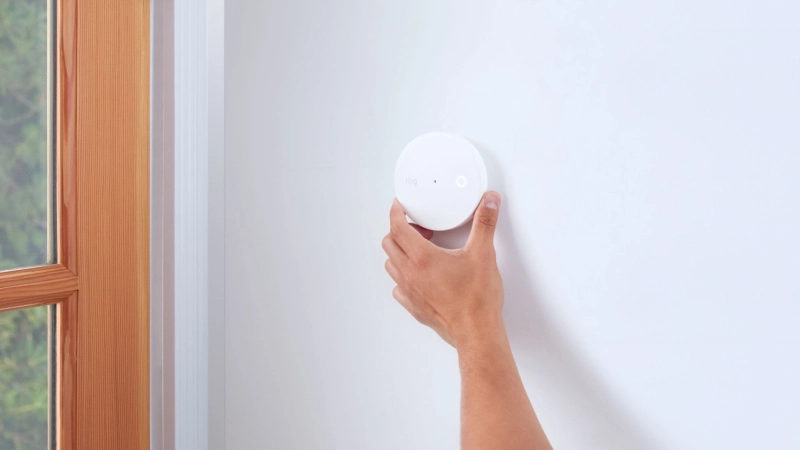 Ring has launched a new sensor for its Ring Alarm or Ring Alarm Pro. It uses AI to detect the sound of glass breaking up to 25 feet away. Users will receive a notification on the Ring App to take the desired action and it can even trigger the Ring Alarm siren. The Ring Alarm Glass Breaker Sensor is available for pre-order right now for $40 and will ship after February 16.
Sengled Health-Monitoring Smart Bulb
This smart bulb is not an ordinary one as it can help you monitor your health. It is equipped with a Wi-Fi/Bluetooth Mesh Dual Chip that enables users to monitor certain biometric parameters such as heart rate, body temperature, and other vital body signs. The bulb can also notify in case it detects someone has fallen.
Labrador Retriever Assistive Robot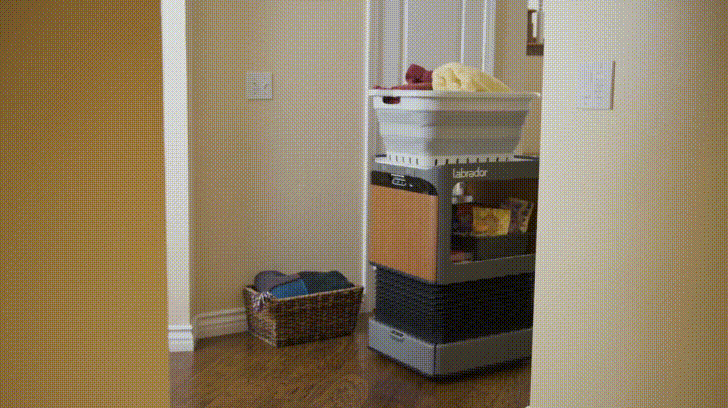 Designed like a self-driving table with built-in decks, this robot is designed to physically assist people with everyday tasks, especially those with chronic pain, injury or other health issues. It can be controlled with the companion mobile app, as well as with voice commands to an Alexa device.
This robot shelf is equipped with wheels and sensors to navigate in the home safely. Apart from carrying things around the house, it can also raise and lower itself. Priced at $1,499, it comes with a self-charging dock and takes approx. 4 hours for a full recharge.
Moen Smart Faucet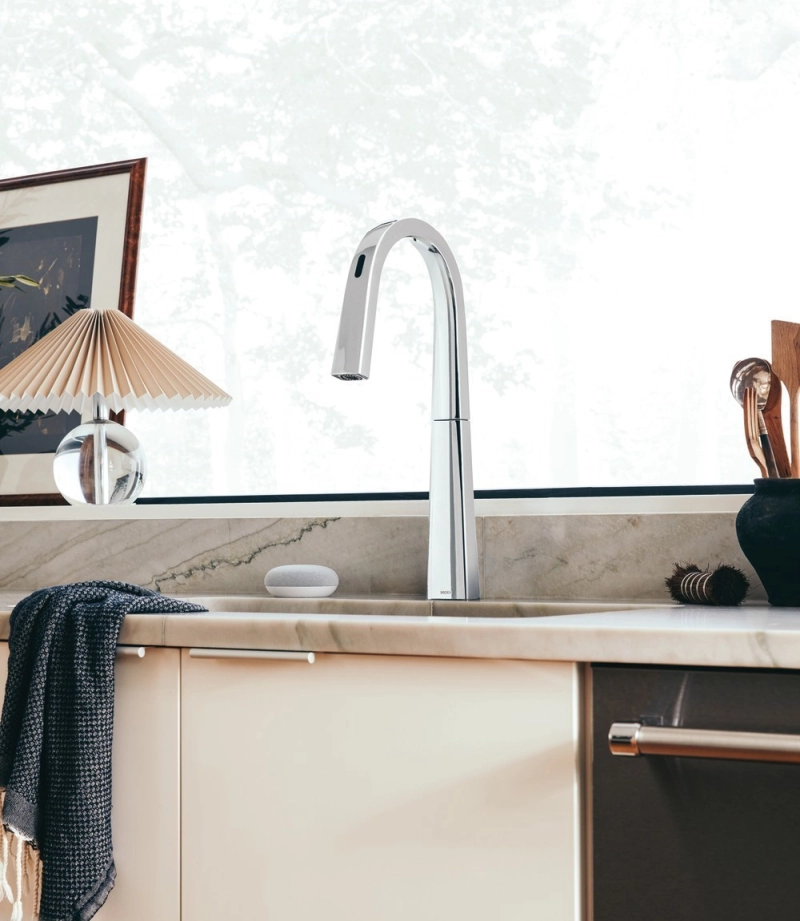 The 2022 Moen Smart faucet features advanced motion controls for more convenience in the kitchen. You can use hand gestures to quickly select the exact temperature and water flow according to needs. It also has a hand wash mode that pauses water for 20 seconds. The faucet also works with Amazon Alexa and Google Assistant.
Adriano Smart Hub by Domethics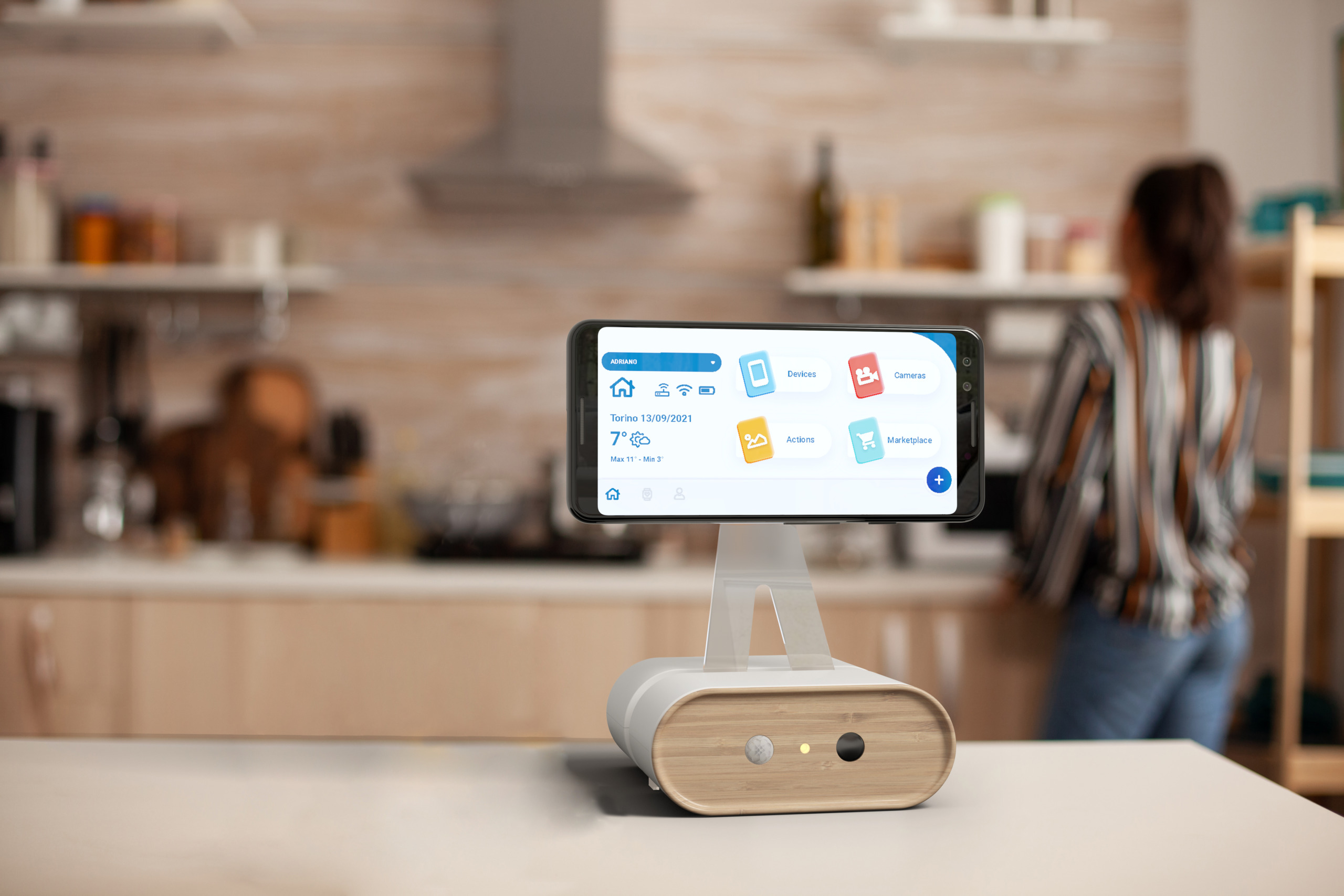 Adriano is an innovative smart home hub that turns old smartphone into a smart home hub to control compatible devices through voice, gestures and the companion app. It uses Z-Wave, ZigBee, Wi-Fi and Bluetooth 5.0 for connectivity. You can pre-order it for €70 (about $80) at Kickstarter.
Flic Twist by Shortcut Labs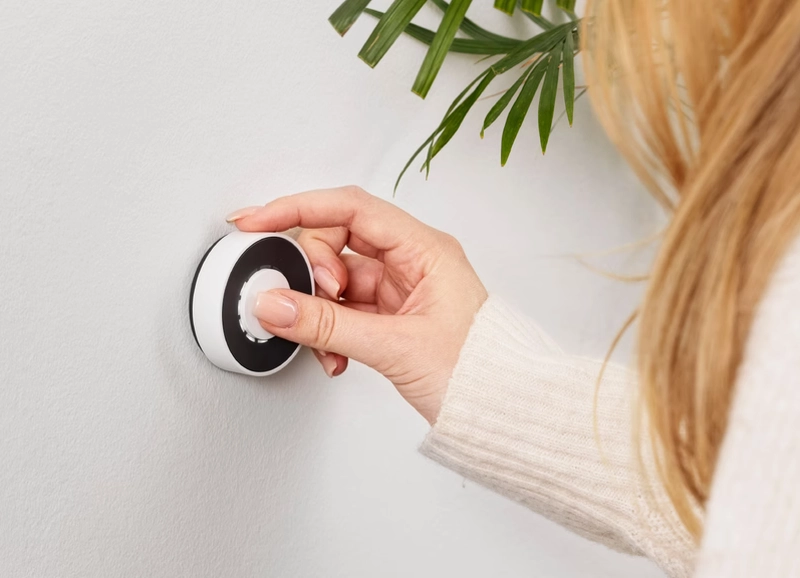 It is a wireless controller that makes smart home control simpler. Just push or rotate the knob to control lights, blinds, music, and more without voice commands or apps. The wireless dial and button mounts to the wall or just put it on a table. Its battery will last for up to two years.
Also Read: Best Smart Home Devices of 2022
Roborock S7 MaxV Ultra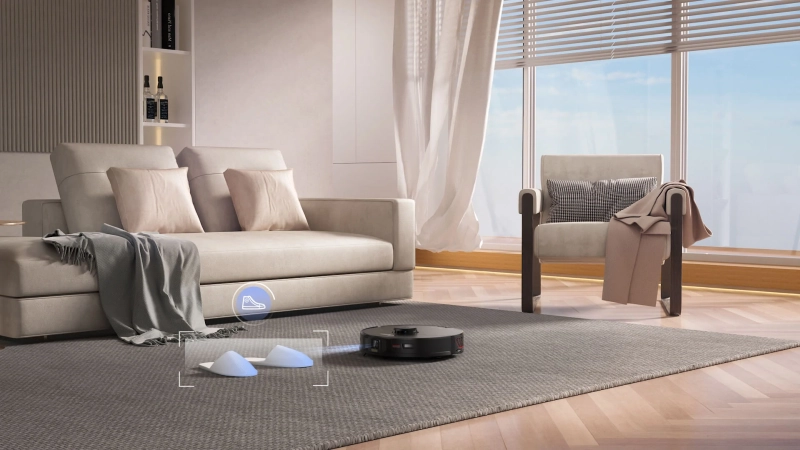 The all-new Roborock S7 MaxV Ultra features sonic mopping and an intelligent docking system that automatically scrubs the mop during and after cleaning sessions. With the auto-refill function, it can mop area up to 300 sqm while a dust bag holds up to 7 weeks of dust.
The combination of RGB camera, 3D structured light and new processing unit helps the vacuum cleaner to find its path accurately. The vacuum cleaner also uses AI to recognize different things. It will be available for about $1,400 in second quarter of 2022.
Samsung Home Hub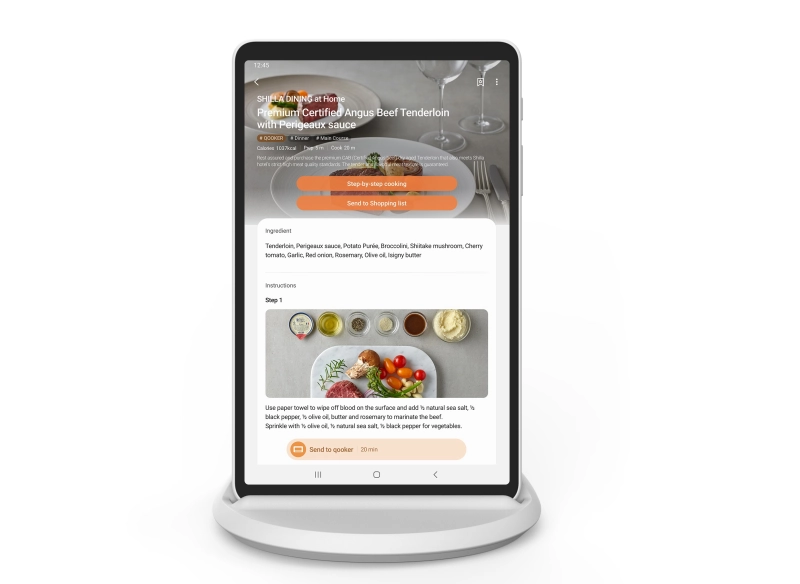 Samsung Home Hub is an AI-driven, 8.4-inch touchscreen that can be used to manage connected home devices. It will be able to connect to products within the SmartThings ecosystem. The hub also includes two speakers and two microphones, plus the Bixby voice assistant.
GE Cync Smart Thermostat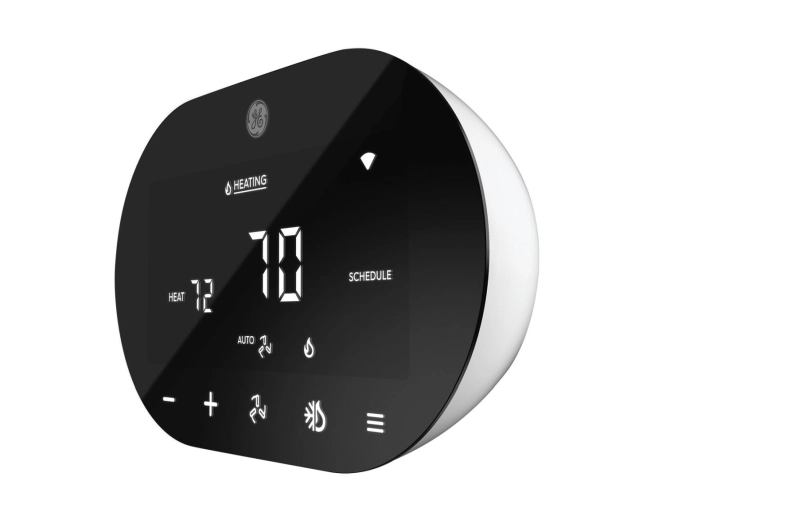 This smart thermostat can be installed without a common wire, which makes it compatible for nearly every home. It features a large and sleek display to make on-site control easier. There is no need for a hub and the temperature can be controlled using the Cync app from anywhere. The GE Cync Smart Thermostat starts at about $120 and will be available to order in this month.