Staffordshire-based startup 'StandardToilet' has created a unique toilet to minimize the bathroom breaks during office hours. This new toilet would make the extended office bathroom breaks a thing of the past as it will make people want to leave the loo after a few minutes.
BREAKING NEWS: Say goodbye to comfort breaks! New downward-tilting toilets are designed to become unbearable to sit on after five minutes. They say the main benefit is to employees in improved employee productivity. pic.twitter.com/lfDbeXJdCX

— Dave Vescio (@DaveVescio) December 17, 2019

According to developer Mahabir Gill of StandardToilet, the seat is sloped forward by 13 degrees to increase strain on the legs, similar to a gentle squat thrust, but it will not cause any health issues. Gill claims that the toilet comes with health benefits such as improved postures, but the primary objective is to reduce the time employees use phones on the job.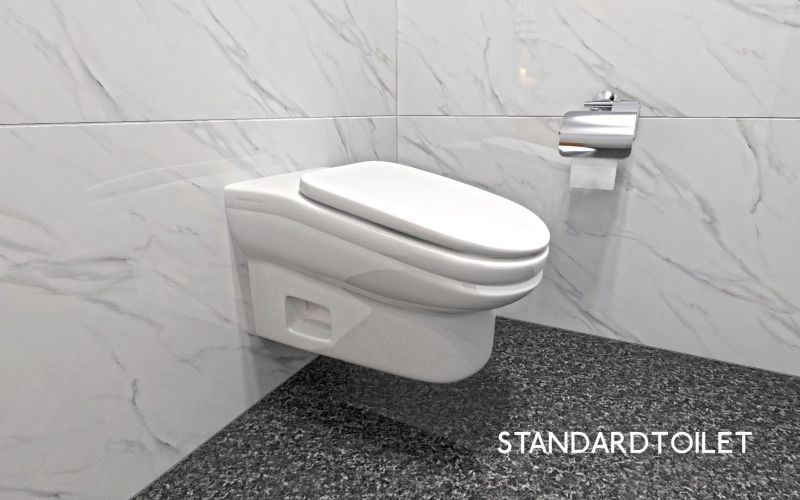 The project has been backed by the British Toilet Association (BTA), a group that campaigns for better bathroom facilities in offices and public spaces. Gill informs the StandardToiler is already garnering interest from local councils and motorway service stations and that the seat is slated to retail between £150 – £500.
Also Read: Hidealoo: Retractable Toilet Seat can be Installed Anywhere in your Tiny House
The idea for the StandardToilet was born after an annoying series of episodes of workers falling asleep on the toilet seat and Gill having to queue up outside cubicles in public toilets. The company says their sloped solution would reduce social media usage by employees and improve their productivity by shortening toilet breaks.
Whereas many offices and local councils are interested in installing the slanting toilets, the product is also facing criticism for forcing people to rush through their loo time.
My mom is a nurse who has IBS and Superior Mesenteric Artery Syndrome (SMAS). Sometimes, she literally can't help it if she's on the toilet for long periods of time. She also has lower back and possible knee problems.

I just wanna smash these slanted toilets with a hammer.? https://t.co/nIDAgLMWdl

— ?Synthroid? (@SynthLloid) December 18, 2019

Some say that they could have stomach issues compelling them to take their time but the installation of slanting toilet would be uncomfortable. It would be interesting to see how people will adapt to StandardToilet in their work place.
Via: Wired