No matter how you decorate your home for Christmas – whether using a real conifer or an alternative tree – one thing is for sure, you need a Christmas tree to complete the decorations. Amid the other options, give some thought to a snow-themed Christmas tree. This is a trend almost any homeowner can adapt to go with their existing decor.
Choices range from a complete snow-covered tree to a pre-lit tree with snow-flocked tips. For reference, snow-flocked trees are also called frosted or snowy trees. Irrespective of the name, these are incredible decorations to turn any living space into a charismatic winter wonderland thanks to their appearance which looks like trees straight out of a snow-covered Nordic forest.
Similar to other variants, you can pick a forested tree with ample ornamentation, such as tree skirts, built-in lights, and shiny baubles to dress up your abode with a warm glow, quintessential for a cozy, homely vibe. If you're interested, here is a list of the best Christmas trees with snow-laden branches to present a frosty feel to your home this festive season:
Floor Standing Snowy Christmas Trees
Vickerman Artificial Snow Flocked Pine Christmas Tree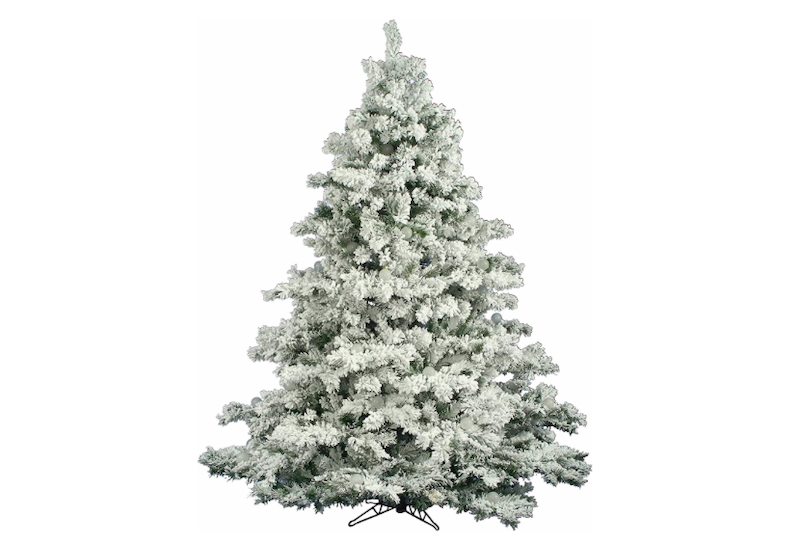 Complete your festive home decor with this 4.5ft Alaskan pine Christmas tree with 349 PVC tips on metal hinged branches and stand. It boasts almost realistic snow-covered branches to add a winter feel to your home. Stunning to look at and easy to use, this tree will add holiday cheer to your living room.
Buy: $150
Goplus Christmas Tree with Lights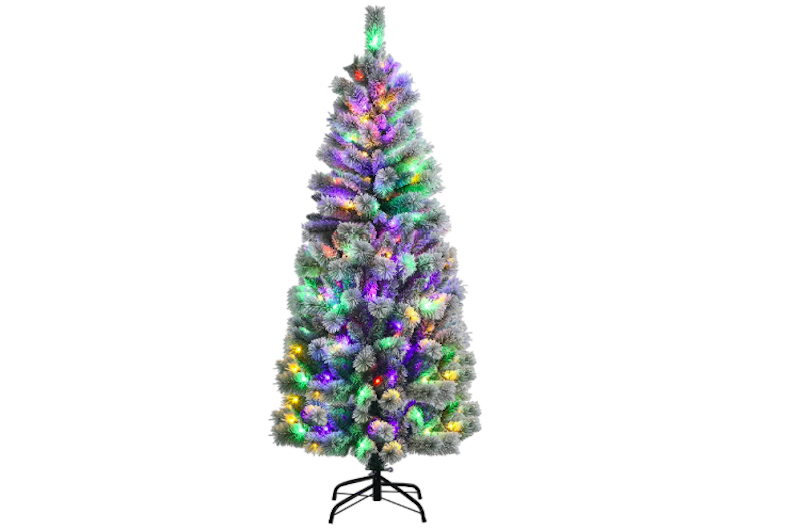 The Goplus 6ft frosted Christmas tree with 200 color-changing lights is a lush entrant for the exquisite look to your interior. There are nine lighting modes to choose from, which you can toggle using the provided remote control. The tree has 423 snow-flocked branch tips and leaves. The tree has plenty of room to hang ornaments so you can decorate it the way you like.
Buy: $100
SHareconn Snowy Tree with Lights
This 6ft tall Christmas tree boasts multi-colored lights that bring a visual feast to the space where it resides. It comprises 688 branch tips and 240 pre-installed warm white and multi-color lights. It is something that you must consider to add a festive vibe.
Buy: $100
Haute Decor Lexington Christmas Tree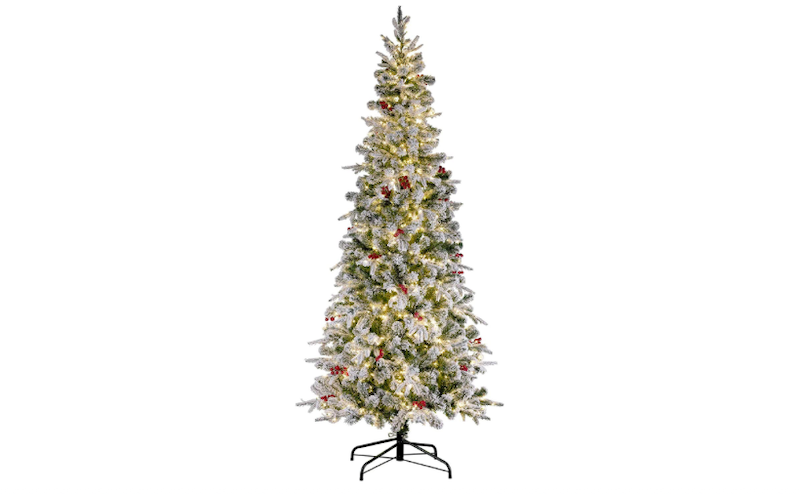 This 7ft artificial flocked Christmas tree gives you an easy and quick way to deck up your home for the holiday season. It comes up with 1400 warm white LED lights on 1022 flocked branches and 34 red berry clusters that are perfect to offer a stunning seasonal look to any space where you keep it. Plus, its slim-profile construction makes it easier to tuck into even in smaller spaces with convenience.
Buy: $270
Fraser Hill Farm Christmas Tree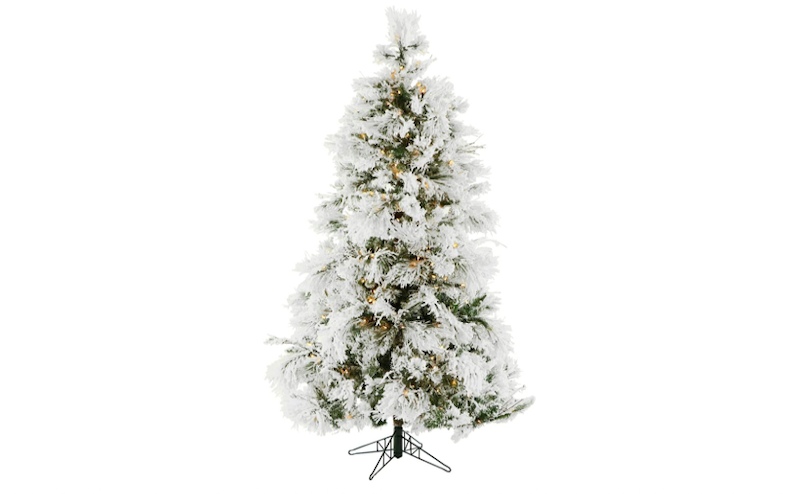 This 6.5ft Christmas tree has a classic silhouette, incredibly realistic foliage and metal-hinged branches. It comprises 599 snow-flocked, lifelike tips in varied shades of green to provide a natural impression. The densely flocked finish simulates recently fallen snow that is appropriate for the holiday season. There are also 450 clear lights on the tree.
Buy: $205
Also Read: Best Gingerbread House Kits to Buy For Christmas
Perfect Holiday Artificial Tree with Frosted Branches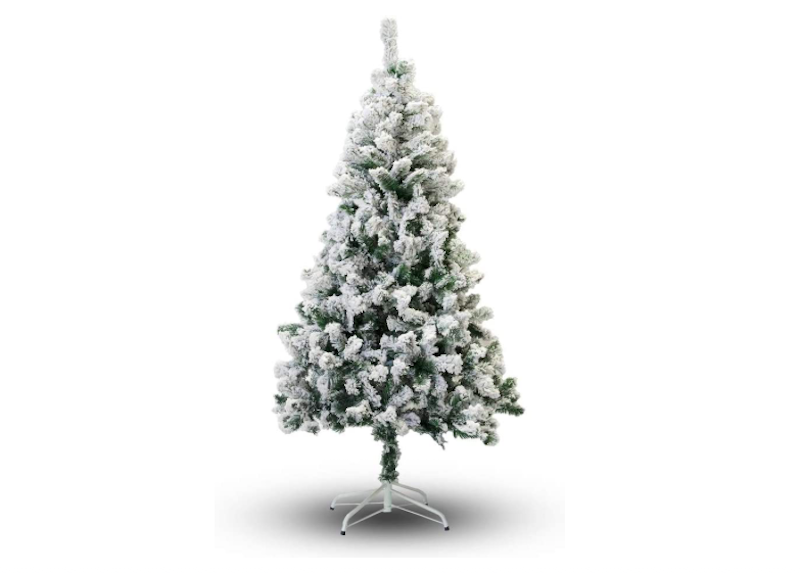 Beautifully crafted with 231 PVC tips, this 4ft snow-dusted pine tree comes with hinged branches for simple assembly. It stands on a metal base that's finished in white. The flocked white on green branches give the tree an exquisite look. With its striking color, the tree can be used on multiple occasions – Thanksgiving or Valentine's Day – in addition to the holiday season.
Buy: $50
HomeKaren Pencil Christmas Tree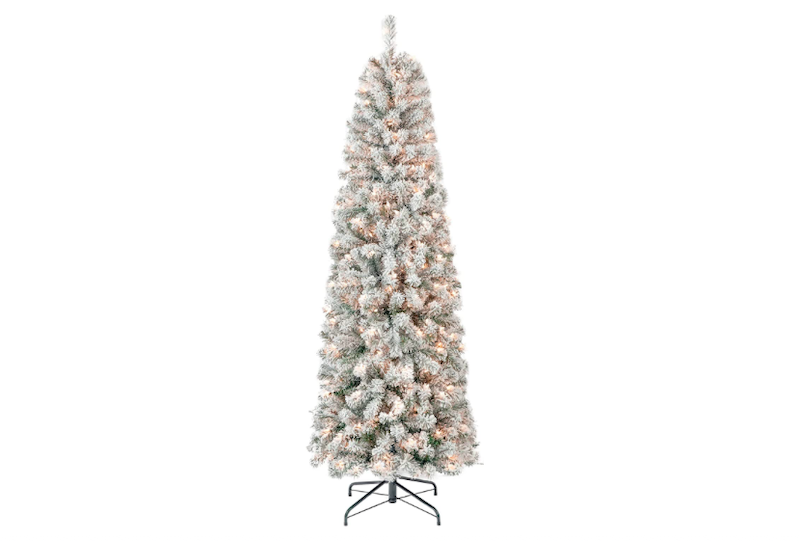 Thanks to this 6.5ft pencil Christmas tree with 500 tips and 250 clear lights, you can bring the beauty of winter indoors. The peaceful charm of a snow-covered environment is echoed in this Christmas tree, which is made with artificial frozen foliage. You can use it for creating traditional decorations to create a magical setting for an unforgettable holiday time.
Buy: $100
Prextex Christmas Tree with Snow Tips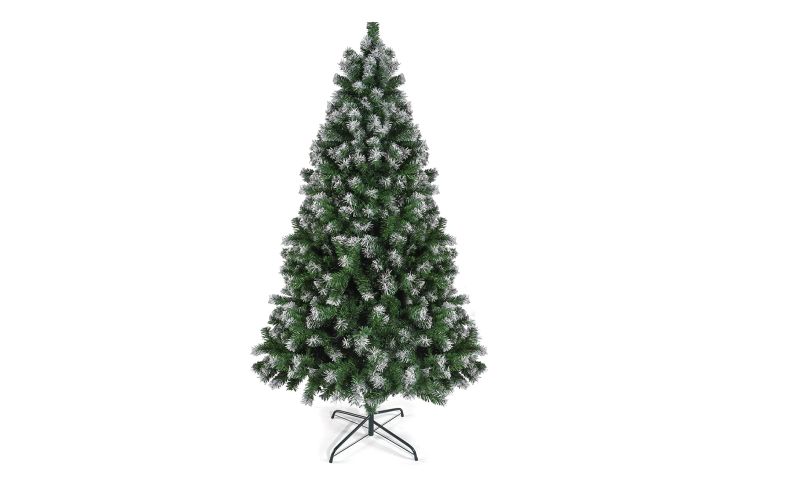 This 6ft tall Christmas tree with 1200 faux pine needle snow tips would be a wintery addition to your holiday room decor. Make sure you display the lovely tree in a prime spot and easily pack it in a storage box after the celebration. We're certain you'd love reusing it for many festivities.
Buy: $60
DOYOLLA Snow Flocked Christmas Tree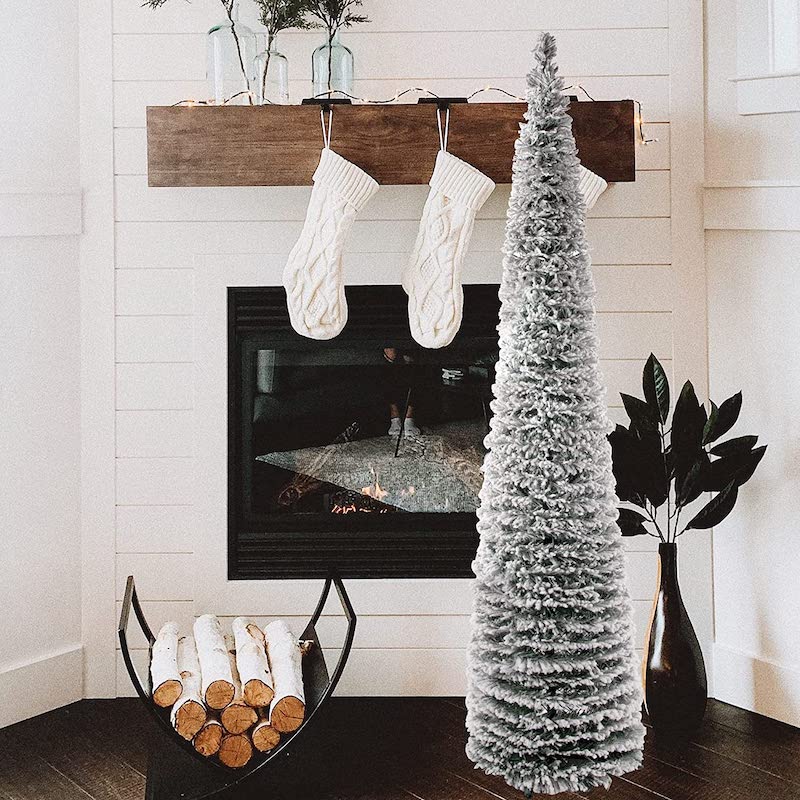 This 5ft snow-flocked Christmas tree comprises snow-covered foliage made using eco-friendly materials. Since it looks realistic, it would appear extremely attractive over the holiday season. Furthermore, its collapsible pop-up construction makes assembly and storage very convenient.
Buy: $40
Senjie Classic Pencil Snow Flocked Tree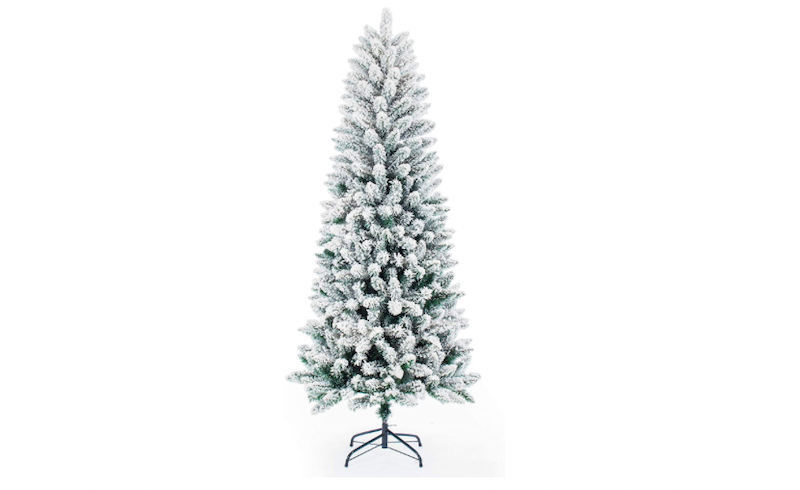 Due to the slim design of this 5ft classic pencil Christmas tree, it's convenient to install it in any corner or small area of your house. The realistic powdered snow covers the 400 faux branches of this tree to bring the joy of snowy winter into your home.
Buy: $66
Also Read: Best Christmas Tree Toppers to Buy
Aneeway Store Ornamental White Christmas Tree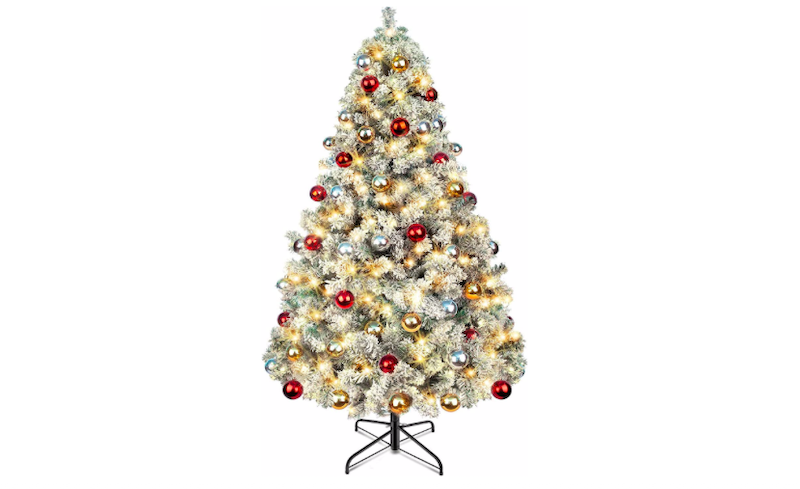 This 6ft artificial Christmas tree with 800 snow branches is covered with 350 LED fairy lights and 50 colorful colored balls. It is perfect to use in the living room for a family Christmas gathering. Besides, you may even use it in a grocery store, hotel, office, and other places for decoration.
Buy: $90
Snowy Tabletop Trees
Puleo International Potted Christmas Tree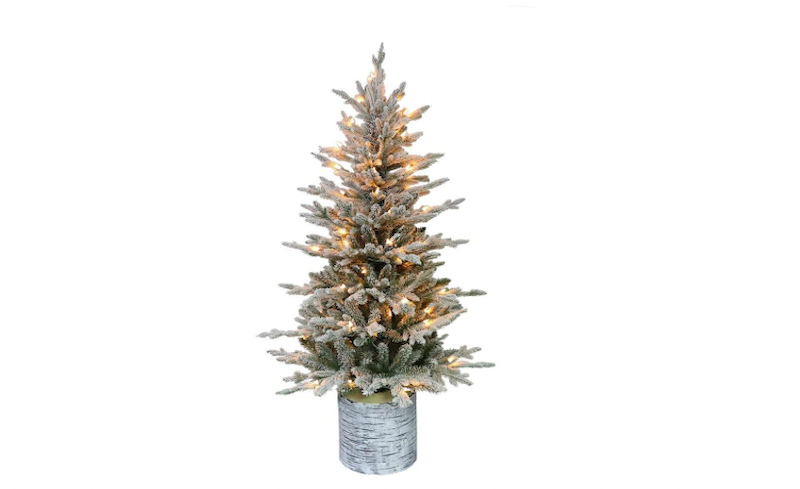 Decorate your home with this 4.5ft pre-lit potted flocked Arctic fir Christmas tree. This artificial tree has been inspired by lush winter forests and includes around 419 branch tips and around 70 incandescent clear lights. Since it comes with integrated lights, you don't have to climb up a ladder to handing lights on the tree.
Buy: $98
National Tree Company Christmas Tree With White Tipped Cones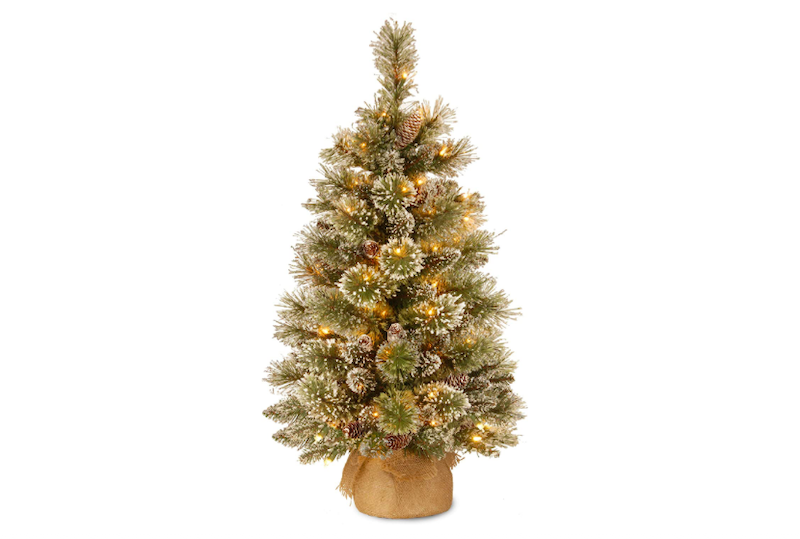 This pre-lit artificial Christmas tree with hundreds of white-tipped cones and 35 white lights is ideal to add a winter forest vibe to your house. Your friends and relatives will be astounded by how well this tree resembles the outdoors. It comes with a 22-inch base, is 3ft high, and features a lean profile.
Buy: $50
LOGAZOO Pre-Lit Snowy White Tree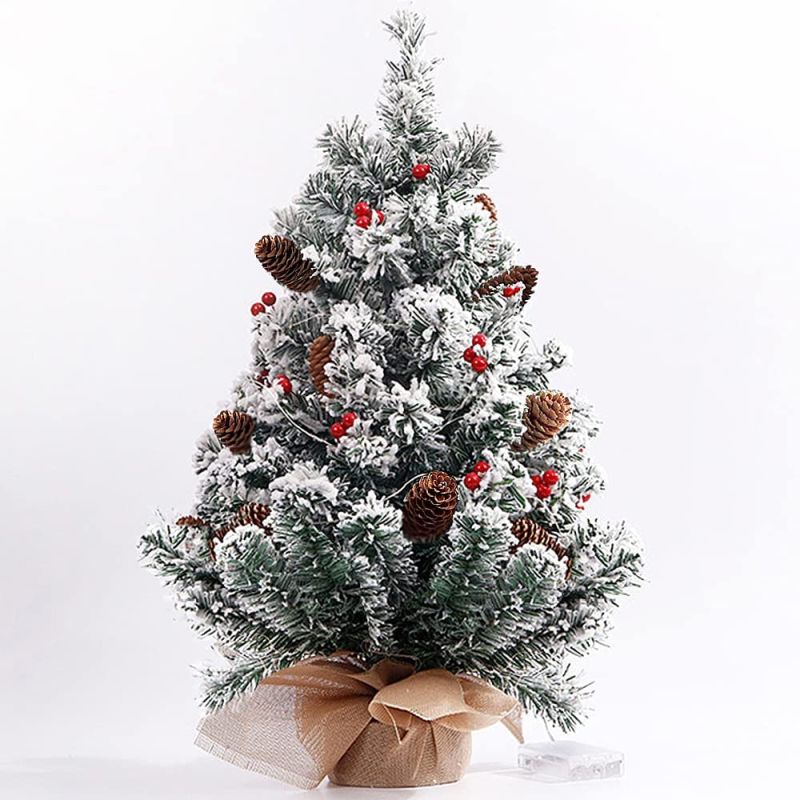 The miniature 1.8ft tall Christmas tree with 70 individually crafted snow-flocked tips is ideal as a table centerpiece or ornamental addition to your countertop, nightstand, office desk, or side table because of its small, adorable form factor. There are 40 LED warm lights as well as rustic pine cones and red berries on this one. No matter where the little Christmas tree is positioned, the fake branches are covered in authentic powdered snow and decorated with real-looking red berries and pine cones to set the mood right.
Buy: $24
Vofuly Tabletop Christmas Tree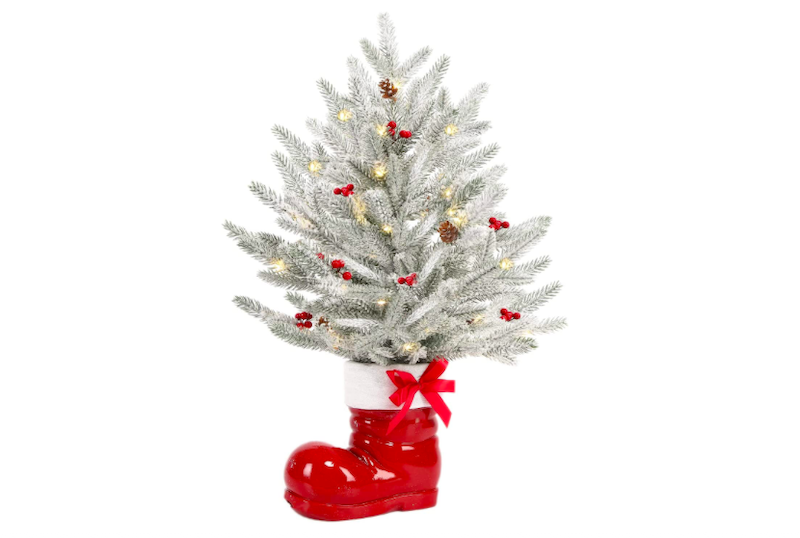 Give your abode a unique feel by placing this decorative 2ft tabletop tree with a red Santa boot base on any table in your room. The tree comes with 50 LED lights to enhance the look. It's best to offer your home a happy winter vibe. You can easily beautify your table using this adorable tiny tabletop tree with lights for red and white-themed interior decor.
Buy: $34