Once a status symbol, bathtubs have evolved as more than just a utilitarian necessity. They are a wonderful addition to your bathroom and offer relaxation to the mind, body, and soul after a tiring day. Bathtubs can be a place of recreation, contemplation, healing, and happiness, but only if you choose the right tub. Available in a variety of shapes, sizes, fashions, and types, bathtubs are majorly divided into two most popular installation styles – freestanding and built-in bathtubs.
Many people go for freestanding tubs (I am a fan of the freestanding installation myself), while many opt for sunken bathtubs. Even bathroom designers are divided on whether to choose a freestanding tub or a sunken bathtub. Both installation types offer their respective advantages and disadvantages that can help you make an informed decision in choosing the perfect bathtub design for your home.
In 2017, The New York Times proclaimed that people were ditching tubs for bigger showers, however, these pampering bathroom fixtures have made a comeback in style. Both freestanding and sunken tub installations can add a distinct charm to your bath space while offering a spa-like experience.
Freestanding tubs are incredibly attractive and they have been quite popular in recent years as they are specifically designed for people who enjoy a lavish bath. On the other hand, built-in or sunken bathtubs have a practical benefit in small spaces; they fit beautifully in most bathrooms and are easy to use and clean. But before you purchase one, you must know what kind of bath person you are. I have made a comprehensive list of the pros and cons of freestanding vs built-in bathtubs to help you make that decision.
What is a Freestanding Tub?
A freestanding bathtub is a tub that has four finished sides and stands on its own, without touching any walls for support. It can be elevated on feet (or claws) or a platform, or be positioned directly on the ground. Freestanding tubs are available in many sizes, from a 55-inch-long and 27-inch deep configuration for a small one to 72-inch-long and 32-inch-deep measurements for a large tub.
The freestanding tubs are extremely elegant and are a favorite for bathroom remodeling projects. They are beautiful, attention-grabbing, and very chic. Clawfoot tubs enjoyed lust-worthy popularity from the 1880s to the 1930s, but still remain a recommended alternative. Let's explore the advantages and disadvantages of this bathtub style.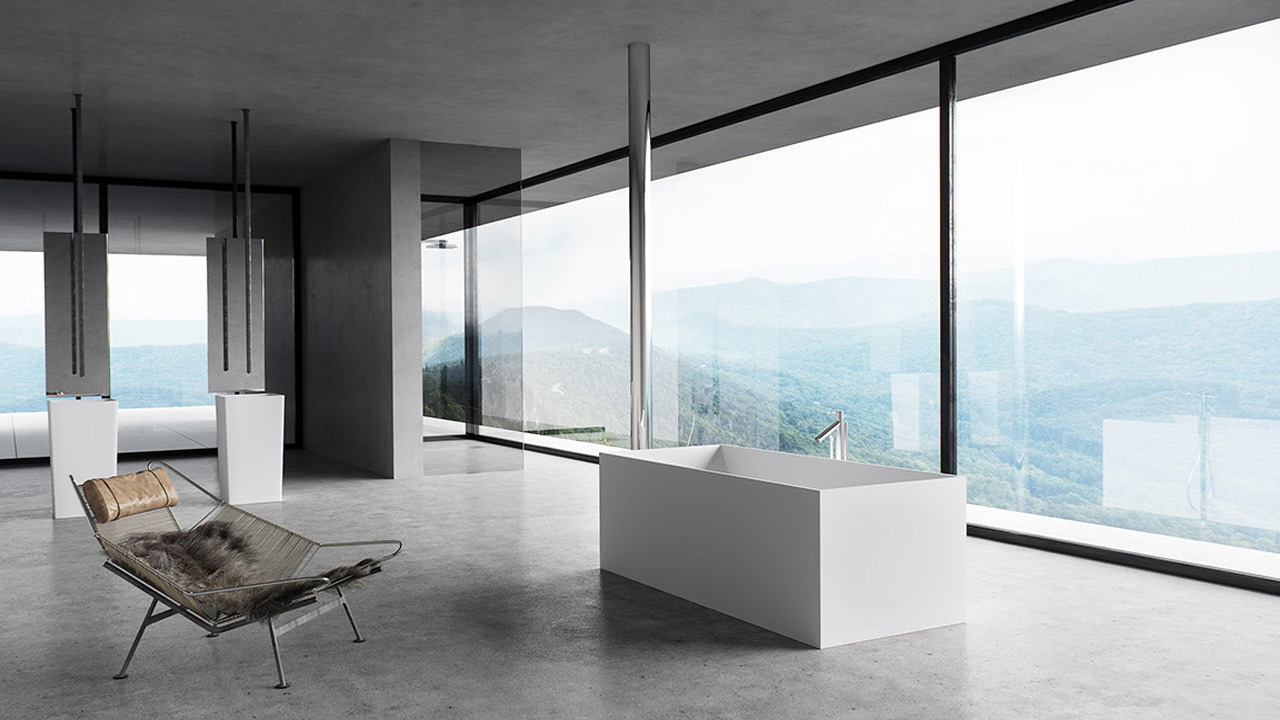 Pros of Freestanding Tubs
There are so many benefits of investing in a beautiful freestanding bathtub, which looks incredible in a spacious bath area. It is a leading choice for modern homeowners. Read on to know more about its advantages.
A Multitude of Possibilities: When you opt for a freestanding style, there is a multitude of possibilities in design ranging from the classic claw-foot to a modern egg-shaped tub to choose from. They offer a creative advantage wherein you use your space imaginatively as freestanding tubs can be placed anywhere and moved around. Given all the configurations, designs, and materials available; the choice is endless.
Aesthetic Elegance and Personality: The freestanding tubs offer unique aesthetic beauty. They make a style statement that is often associated with luxury. This design installation allows you to express your taste, whether you are choosing a vintage claw-footed style or a sleek and modern freestanding tub. Available in a variety of designs and shapes, you can easily find a tub that suits your bathroom aesthetics and personality impeccably.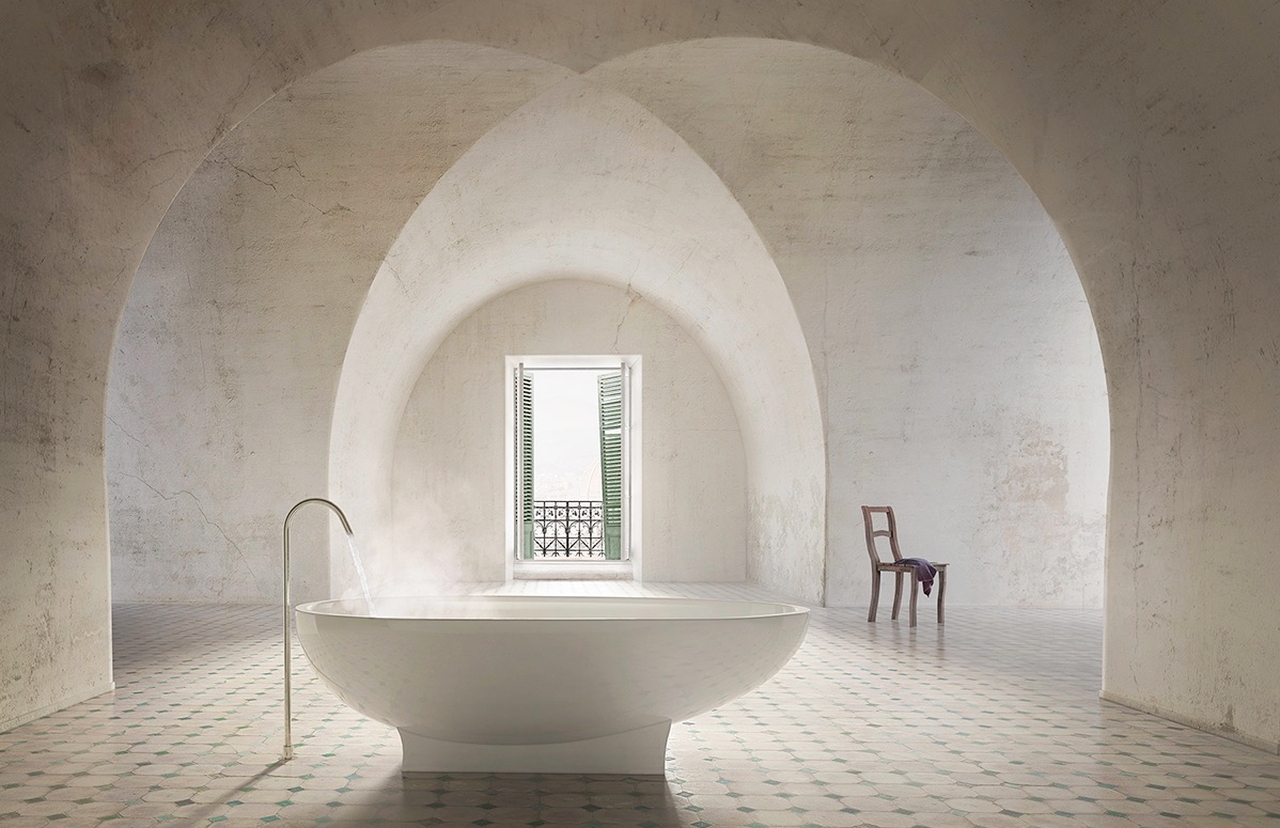 Easy Installation and Maintenance: Unlike its counterparts, a freestanding tub is incredibly easy to install. You don't require a decorator or a contractor, just a plumber to get the work done. Moreover, they are stress-free to clean and maintain. As all corners of this kind of tub are exposed, you will have an easy time cleaning it. Make sure to clean the entire bathtub area frequently to avoid the risk of mildew or mold deposits around the tub. Proper and regular cleaning will also prevent damage due to negligence.
Easily Replaceable: Another advantage of freestanding tubs is that they can be easily replaced should you choose to, without disrupting your entire bath space. As they don't need support from walls or are integrated into the floor, there is no dismantling or reframing when you want to replace the tub. There is a wide array of shapes and sizes for freestanding tubs that can help you mix up things during your bathroom remodeling.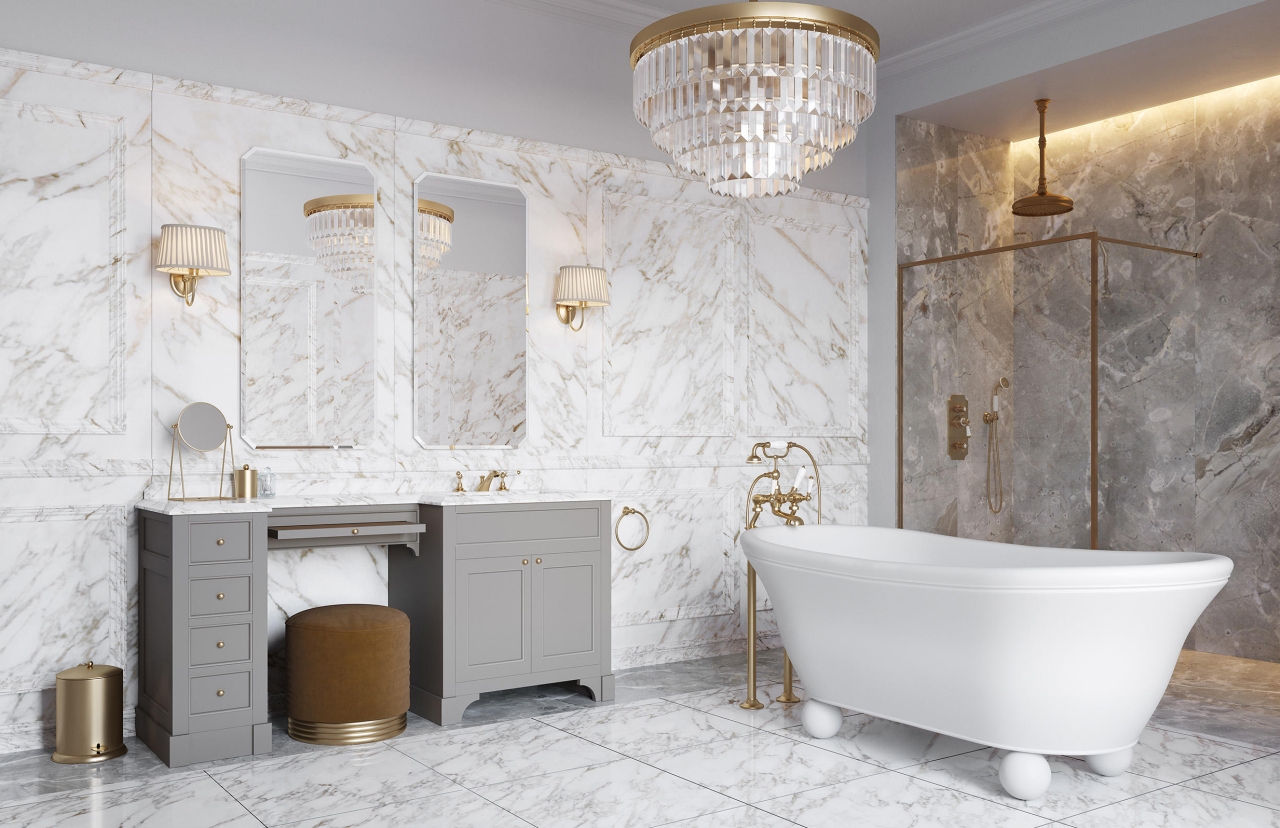 Liberty to Experiment: A freestanding bathtub will always give you the liberty to experiment with your bathroom space. You can place a freestanding tub by a window, under a skylight, or anywhere you want. Moreover, these tubs can be built in any design or material you want and become a sculptural piece of art. Besides you can get creative with your tiles, as freestanding bathtubs can blend in with abstract, monochrome, or polychromatic styles flawlessly.
Cons of Freestanding Tubs
While freestanding tubs have many benefits, they come with certain drawbacks as well. Before getting this tub installation for your home, you should know the cons, too.
Expensive: Freestanding bathtubs are usually more expensive than sunken tubs, even with installation costs included. However, the expense is worth it as the tubs are more complex to construct and come in gorgeous designs and materials that can add a luxurious touch to your bathroom.
Extremely Heavy: Most freestanding baths are quite heavy and often need floor reinforcement, especially cast iron and copper bathtubs. These tubs are also generally larger and they can increase their weight when filled with water.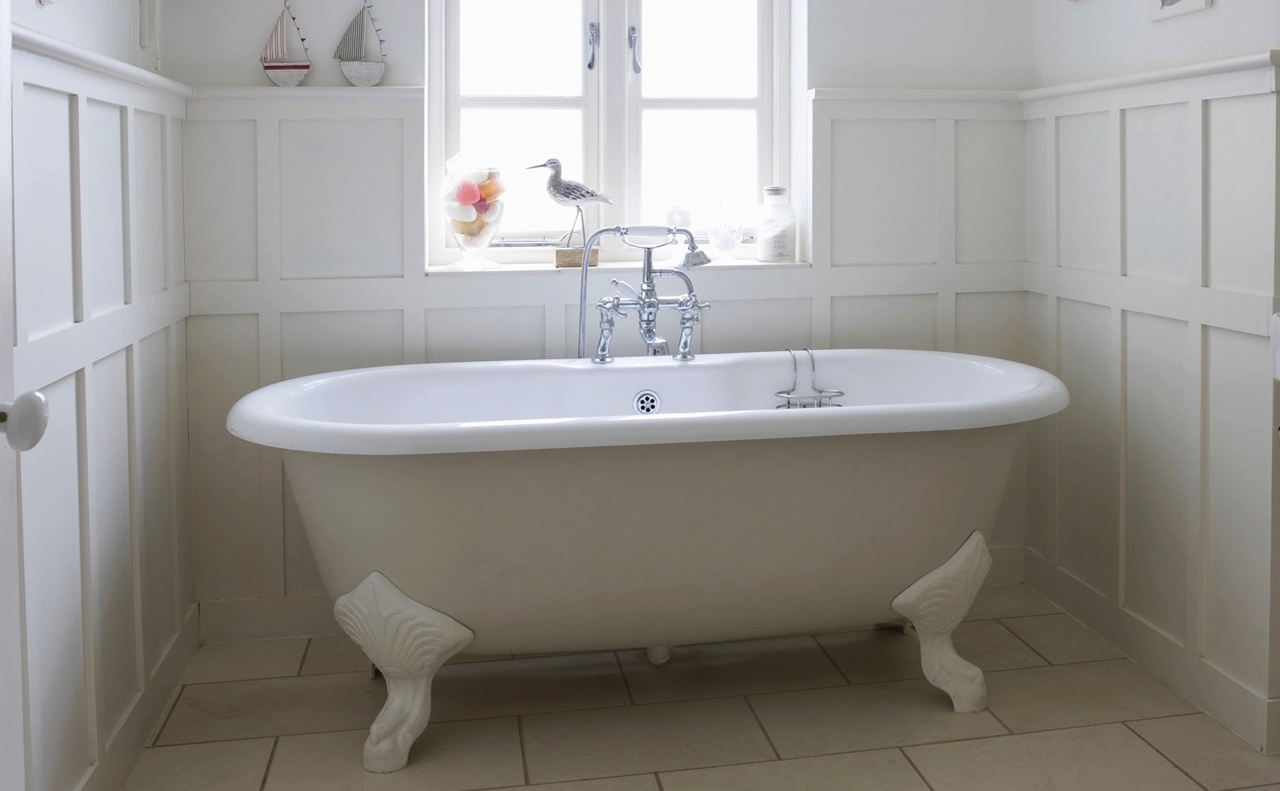 Shabby Shower-Tub Combo: Most people prefer to combine their shower and bathtub to create a flexible bath area. However, freestanding tubs are not the best way to go for a bath and shower combination. You can combine a freestanding tub with a shower but it looks cumbersome, shabby, and unattractive with uncovered plumbing.
No Accessible Storage: With a freestanding tub you're short of accessible storage as there is no ledge to put your bath essentials within arm's reach. Although it can be easily solved with the use of bathtub trays, side tables, or rolling caddies, it is extra space you're counting on.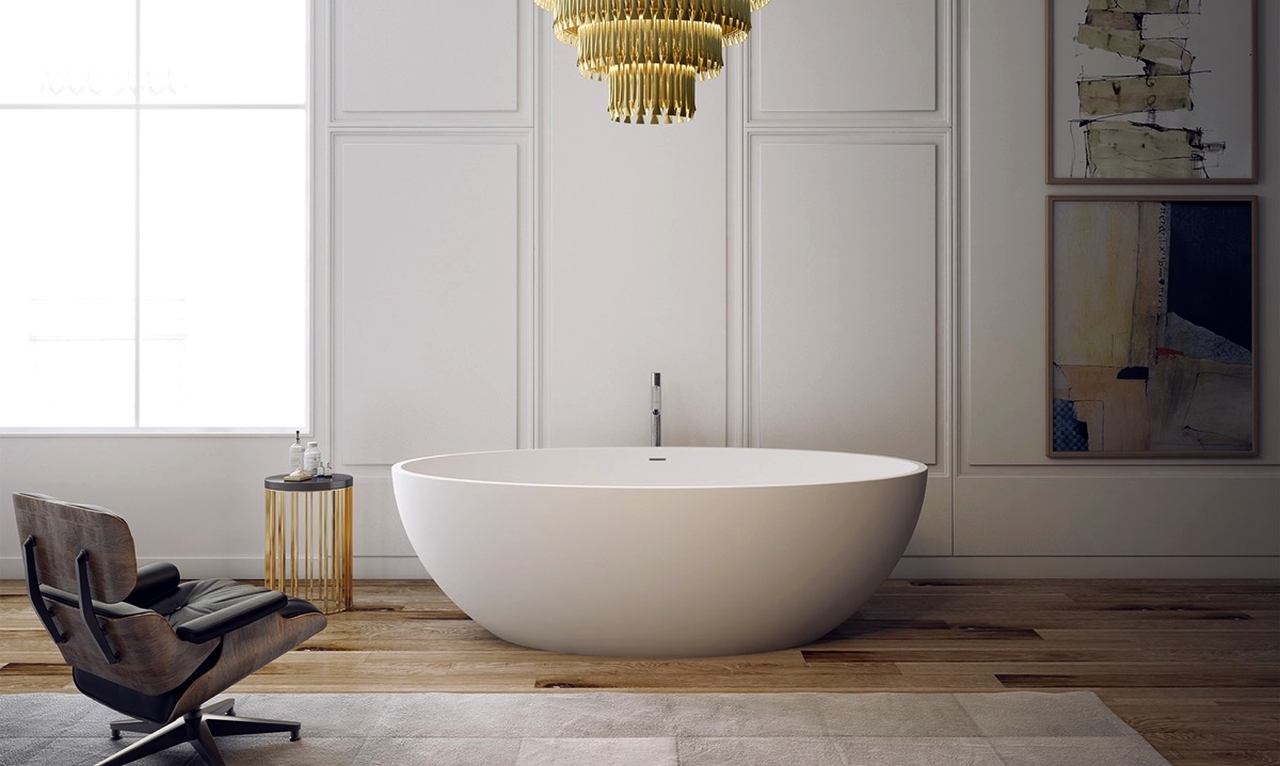 Takes up More Space: If you consider spatial efficiency, freestanding tubs have a big drawback. They take up more space than built-in tubs and some are too tall to lean over the edge, while some are way too small for a relaxing bath time. This tends to make them slightly inconvenient.
What is a Built-in Bathtub?
The trend of sunken bathtubs became popular in the mid-20th century, triggered by a renewed interest in cultures of antiquity. Although not as elegant as freestanding tubs, sunken tubs or built-in tubs are practical, convenient, and incredibly popular among homeowners. A sunken bathtub installation removes the traditional structure of the tub above the floor to become a part of the floor itself.
Sunken bathtubs are built into the floor and the basin sits below the floor line. The sizes for these tubs range from 40-inch-long and 40-inch-deep for a small tub to 75-inch-long and 36-inch-deep for large tubs, with many options in between. They can be installed with steps climbing down, similar to ancient bathhouse tubs, or built into a pedestal. They work brilliantly for the elderly and children as they are easy to use. But this installation type also has as many drawbacks as benefits.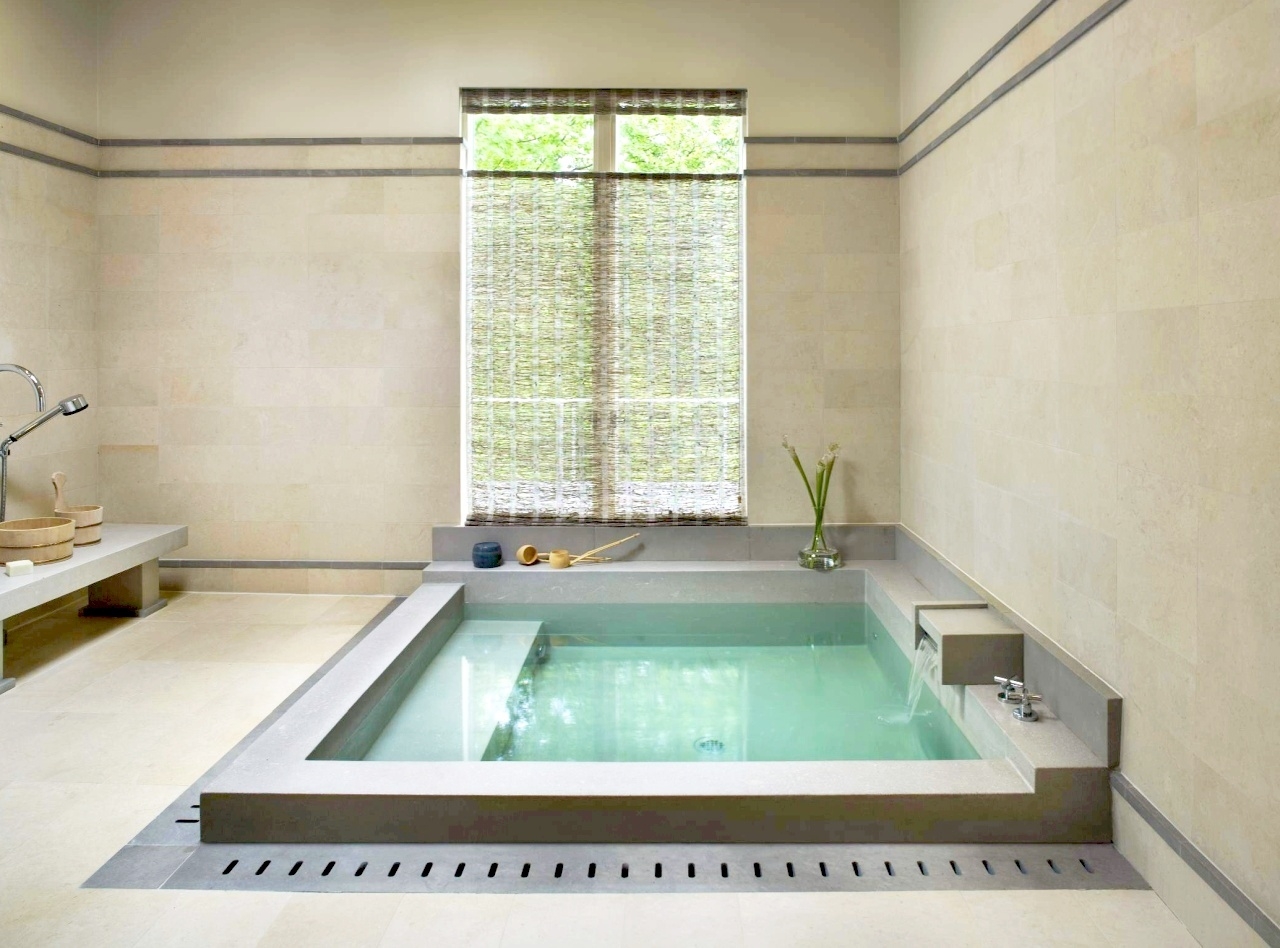 Pros of Built-in Bathtub
Sunken bathtubs provide beautiful aesthetics and prospects to include more elaborate geometric designs and architectural elements in your bath area. Here are the advantages of sunken tubs.
Affordable: Built-in tubs are more affordable than their freestanding counterparts. Even with the increased availability of cheaper freestanding tubs, sunken bathtubs are still the more affordable option. However, the price depends on the cost of the tub surround. Much of the expense is determined by the bathroom design and the procedure of installing a sunken tub.
Space-Saving: Sunken bathtubs are more space-saving than big freestanding tubs. They are usually tucked out of the way along the wall or in a corner. If you have a small bathroom, these tubs can be the most space-efficient choice.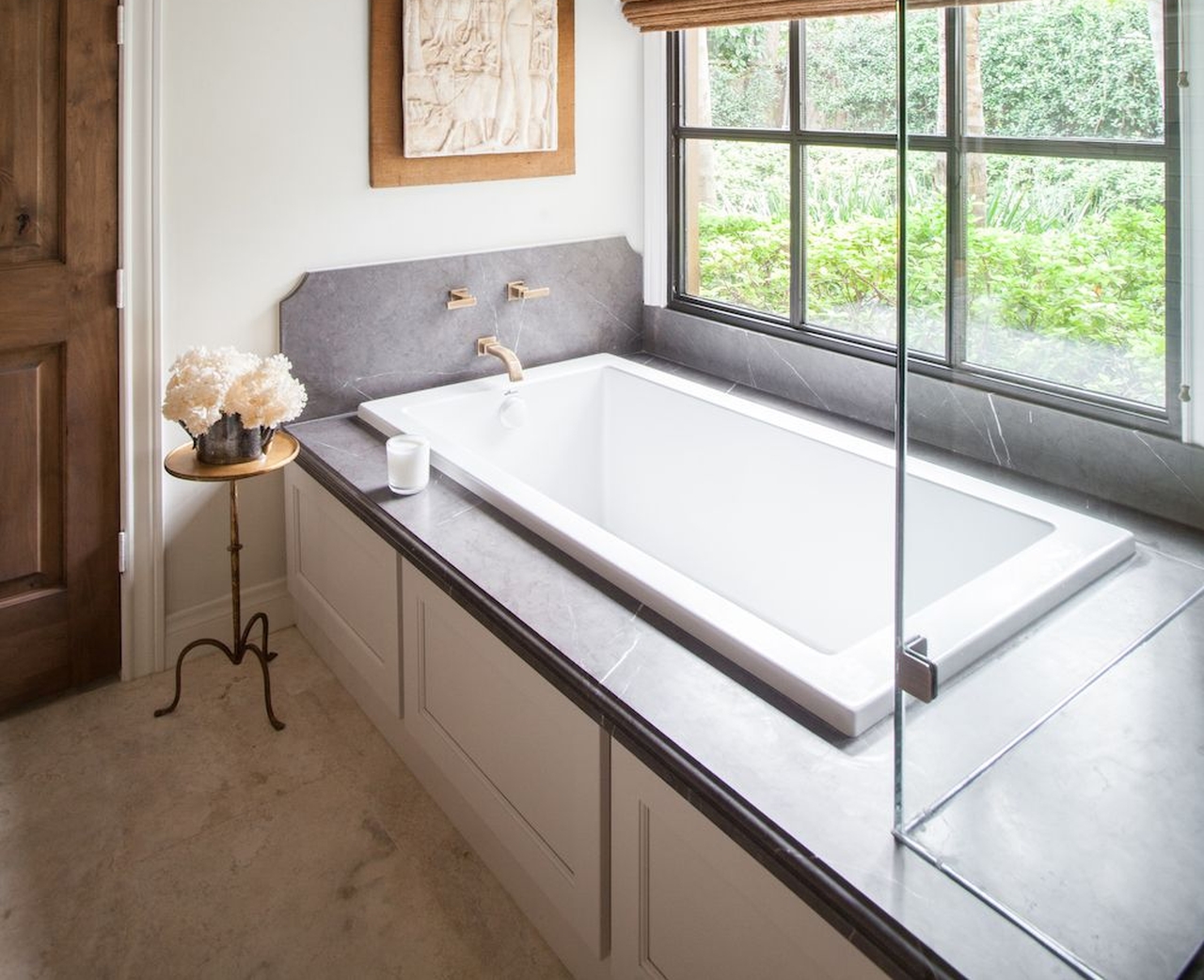 Offer Accessible Storage: These tubs offer plenty of storage space for your bath essentials. You can use the edge of the tub itself to place the bath and shower products. Moreover, shelves can be mounted on the walls beside the tub for bathing accessories. If you have a big bathroom and want a sunken tub, you will be able to use the tub platform to place things.
Hidden Plumbing: Plumbing for freestanding tubs is trickier with pipes running around. On the other hand, many bathrooms are equipped with ample plumbing for sunken tubs and are easier to conceal for a clean and impeccable design layout. The concealed plumbing doesn't ruin your bathroom aesthetic.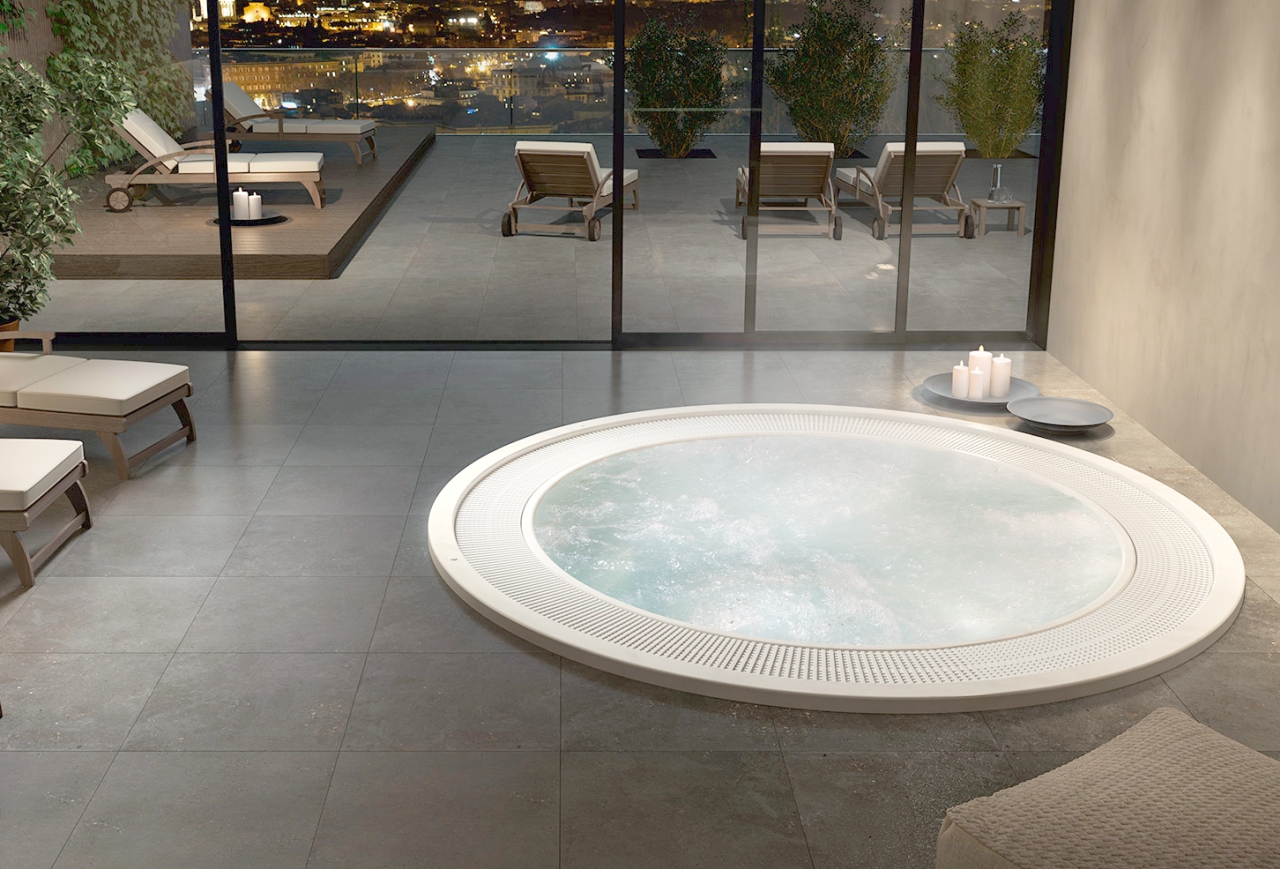 Easy Cleaning and Maintaining: Given these tubs are smaller and don't have many cracks and crevices to clean within, they are exceptionally easier to clean and maintain. As they are built into the floor or the walls, you only need to clean the inside of the tub, and not worry about the outside and the bottom. However, you will want to make sure to clean the entire area regularly to avoid mildew or mold deposits.
Cons of Built-in Bathtub
While sunken bathtubs deliver a sure aesthetic appeal to your bathroom space they are a major tripping hazard. Then there is the flexibility and installation issue. Let's discuss the disadvantages of sunken tubs.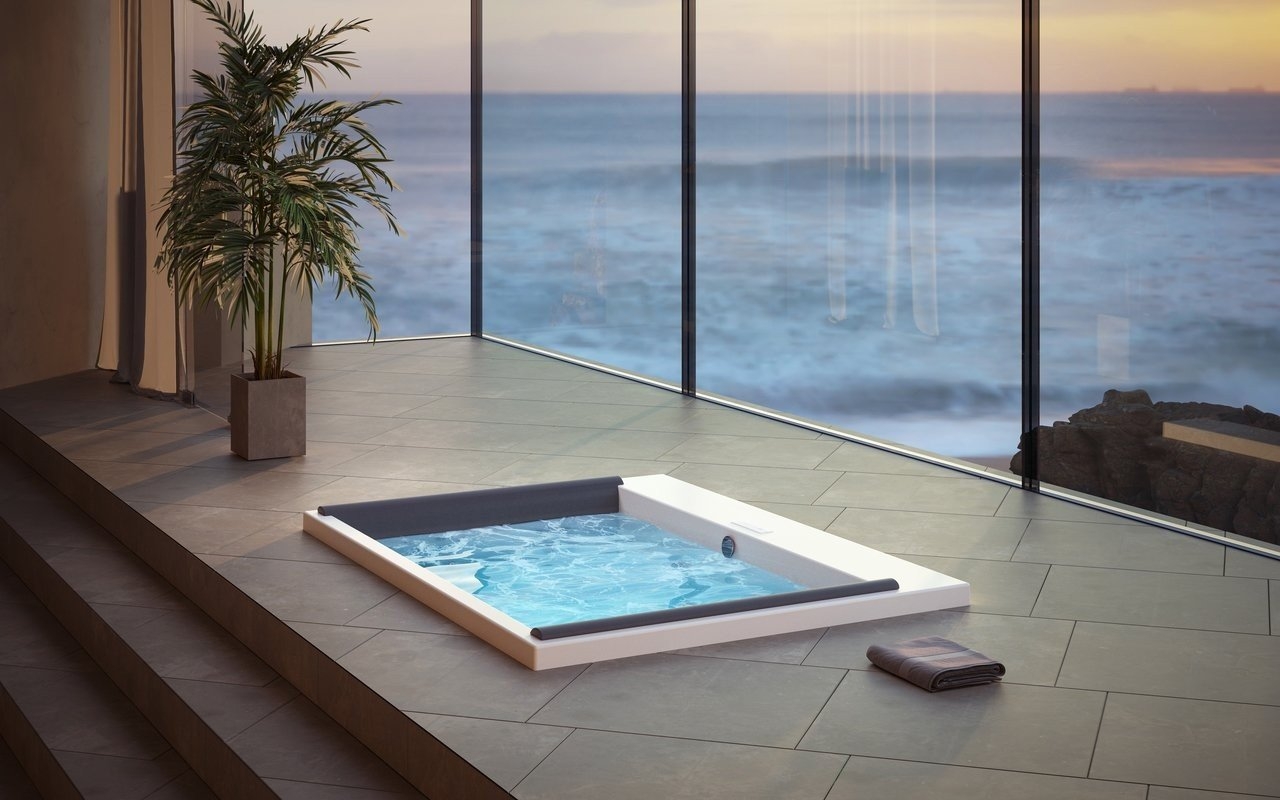 Fixed Placement: The sunken tubs are not as flexible as their counterparts. By design, they are permanent fixtures as they are built with tile, cement, or other similar materials. This makes it quite difficult to move around if you want to change your bathroom layout, and even then, it becomes a headache with all the dismantling and reframing work.
Tripping Hazard: Built-ins are a tripping hazard as they are integrated into the bathroom floor. Since these are flawlessly built into the floor, they become almost invisible and create a safety hazard for you and your family, especially children. You can add night lights to its edges to avoid that risk, but that is an added expense.
Longer Installation Time: Sunken tubs take longer to install than traditional bathtubs. These are constructed into the layout of the bathroom, which requires prior planning, designing, and a longer installation process. Moreover, the complexity of surrounding features also becomes a factor in the procedure, prolonging the work.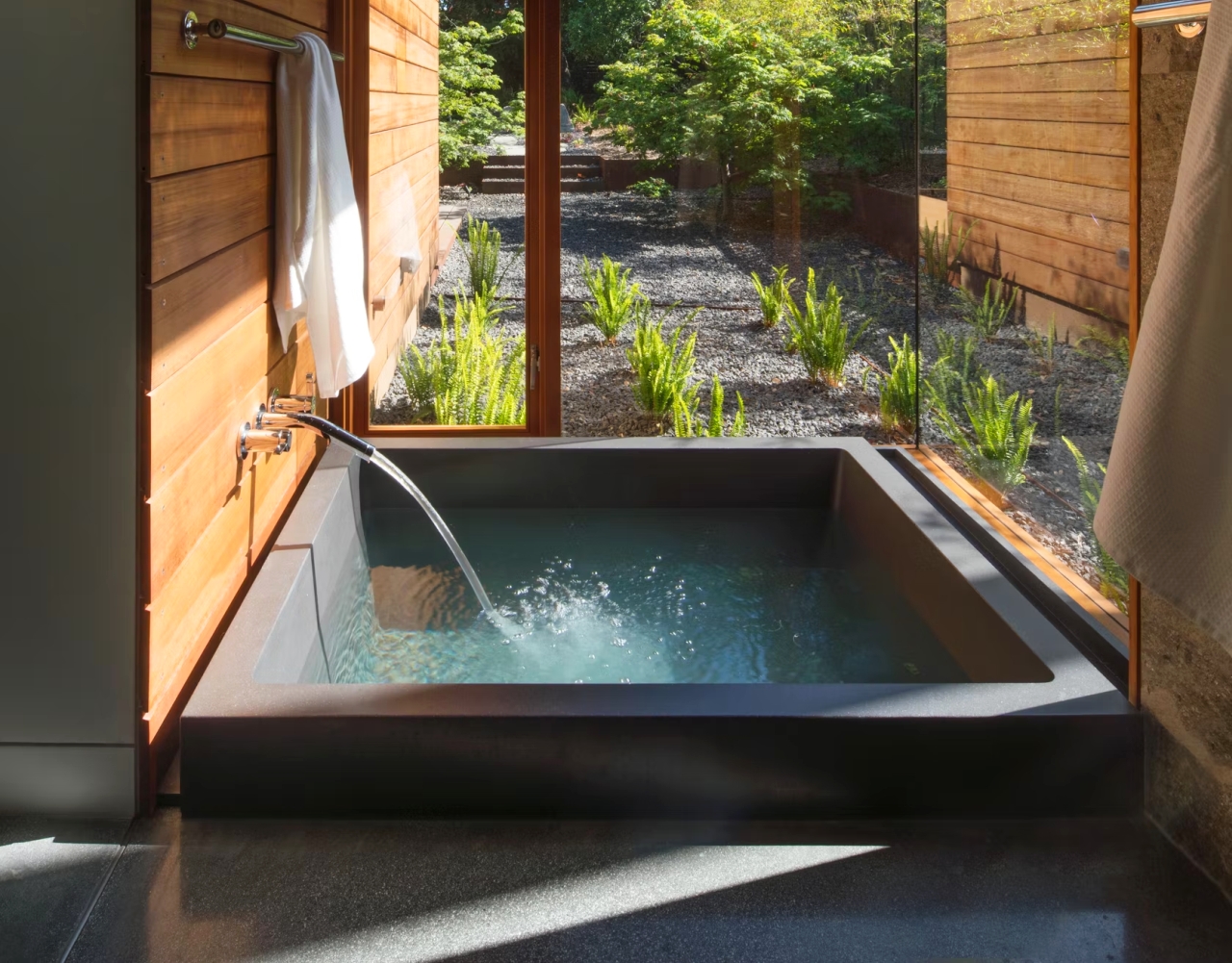 Limited Configuration and Creativity: Unfortunately, these bathtubs do not allow the liberty to be creative and try different bathtub placements. If you want to renovate or remodel your bath space, you will have to pry the tub out of the floor. So if you are not looking for a long-term commitment to your bathtub, a sunken tub is not for you.
Difficult to Replace: A built-in fixture, sunken bathtubs are more difficult to remove, replace, and move when you are looking to renovate your bath space. They are not suitable for every home, especially if you tend to mix up and change the design layout frequently.
Freestanding vs Built-in Bathtubs: Which is the Best?
The choice between a gorgeous freestanding tub and a sleek sunken bathtub is entirely yours. However, the important question is which one of these installation types your bathroom space will support? The pros and cons of freestanding vs built-in bathtubs listed above should help you make an informed decision.
Also Read: Best Stone Bathtubs that will Rock Your Bathroom
Freestanding bathtubs are famous for being more luxurious, particularly because older freestanding baths, also referred to as soaker baths, used to be long and deep for people to completely immerse themselves in the water for a pampering bath. However, both freestanding and sunken bathtubs are built with long and deep configurations, so either one of them can offer you a soothing bath.
Ultimately, the choice is all yours. If you have the space and want the extravagant look of a freestanding tub, you can overlook its cons and go ahead with the choice. If you want a practical and simple tub, sunken bathtubs are for you.
Regardless of whether you pick a freestanding bathtub or a sunken one, there are many quality options catering to your particular needs. Nevertheless, you must first consider the advantages and drawbacks of freestanding vs built-in bathtubs to know which one would fit right in your space and allow you a relaxing bath time.