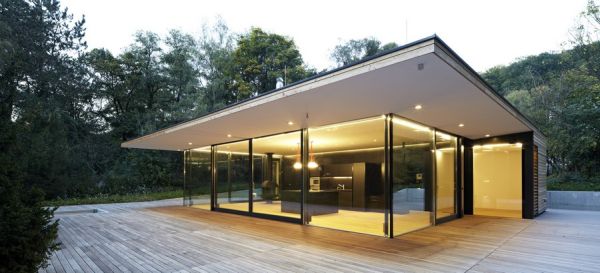 The contemporary trend of architecture has an affinity towards marrying the high points of modernism and nature. We have seen it in projects like the Clearhouse and Lake Rotsee refuge. And, now we have come across a minimalist structure with wood, glass and modernist credentials. Christened as the Haus Hainbach, the residence (situated south of the capital region of Vienna) is envisaged a summer retreat by MOOSMANN Architects. The simple geometry of the building defined by linearity and an easy lay-out serves as a balanced, one story house nestled unobtrusively within a rustic surrounding. However, this pattern doesn't necessarily equate to a seamless scope. In fact, the Haus Hainbach exhibits a unique identity of its own that gives a new quality to environment rather than replicating the setting.
The minimalism and the subtle essence of the retreat does have their own aesthetic value. But beyond just visuals, the architects have intentionally made use of high glass facades and timber components that relate to the notion of 'bare minimum'. This is because the main function of the house entails its seasonal usage as just a holiday home. This architects utilized this low impact mode of usability to create an energy efficient shelter with minimal footprint.
As for the structural credentials of the building, the core form alludes to the combination of two horizontal slab (roof and floor) that coalesce into an enclosed wooden box. This enclosure comprises of two bedrooms, utilities, bathroom and a large living room that serves as the focal point of the interiors. All of these spatial zones are supplied with natural sunlight, with a partially cantilevered roof also acting a shading mechanism (in case of direct glares from low angles).
Via:  Architekt-Moosmann