A traditional Thanksgiving dinner is unfinished without a slice of pie, even when this year's holiday celebrations are looking a bit different than usual owing to the pandemic. After you have devoured the mainstream turkey recipes and helped yourself with several servings of all the Thanksgiving side dishes, there is nothing better than a delectable pie to end such a luxurious meal.
Thanksgiving desserts don't have to be a cause of stress. Moreover, most of these holiday pies can be prepared ahead of time. From classic pumpkin pie to a chocolate pecan pie (and so many others), there is a gorgeous array of Thanksgiving pie recipes for Turkey Day.
Whatever your preference, we have listed 30+ of the most loved and sought-after Thanksgiving pies for a perfect holiday dessert.
Table of Contents
Thanksgiving Pumpkin Pies
Pumpkin is an absolute favorite fall ingredient. Whether it is good old pumpkin pie, a modern twist, or pumpkin pecan pie, we have recipes for all.
Classic Pumpkin Pie
It is a pie infused with nostalgia, a dreamy combination of fall ingredients, and topped with a dollop of whipped cream. Classic pumpkin pie is simply pumpkin custard, sweetened and lightly spiced, baked until creamy in a crisp pie crust. It is the most anticipated dessert for the holiday. Follow the recipe at The Kitchn.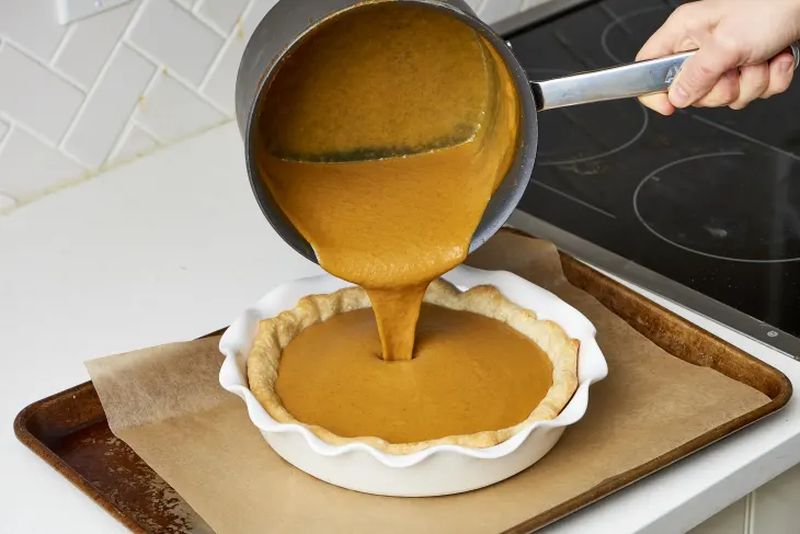 Pumpkin Meringue Pie
This pie is all about the meringue and the pumpkin filling. While most pumpkin pie recipes use evaporated milk, this pie uses cream. You'll have to be a baking expert to make this pie perfectly. Find the full recipe at Dinner at The Zoo.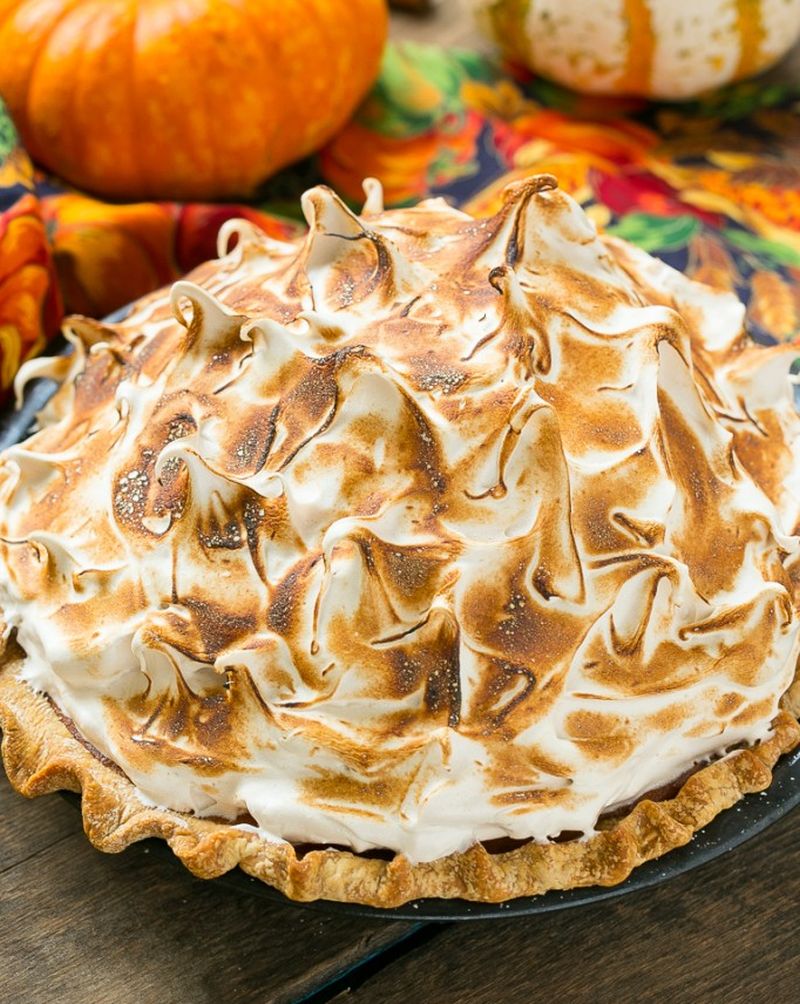 Turkey Crust Pumpkin Pie
Easy to make and appealing to the taste palette, you will have to be a bit more patient while making this adorable-looking pie for Turkey Day. So whip up your magic and amaze your family and friends with this dessert. Check out the full recipe at Kudos Kitchen by Renée. Gobble Gobble!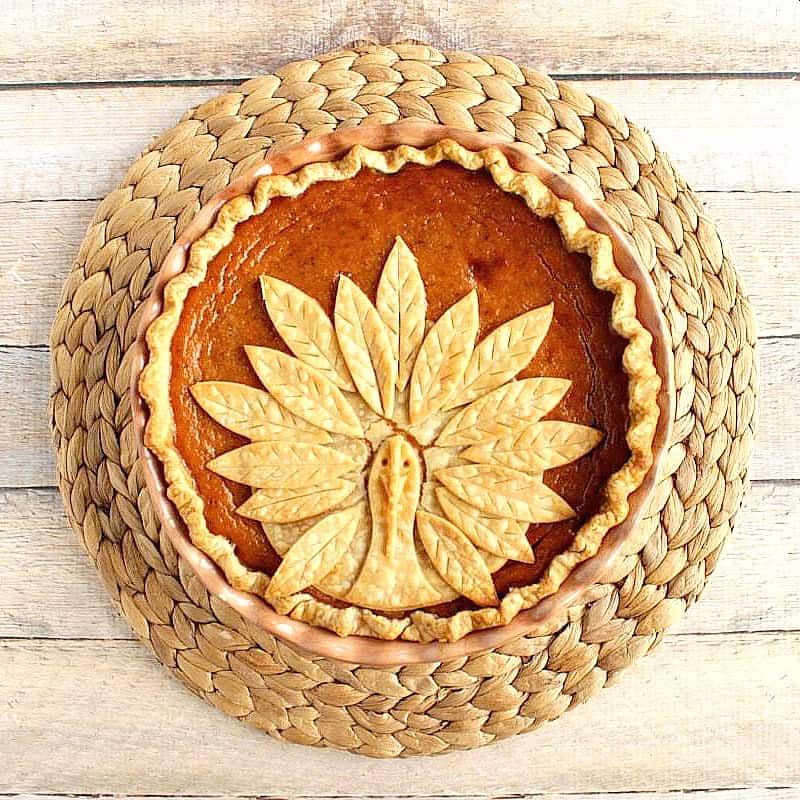 Pumpkin Pie with Oat-Pecan Crust
The goodness of pecans blended seamlessly with the flavor of pumpkin is what you need to spread love and gratefulness this Thanksgiving. Prepare the pie crust with baked and toasted pecans and oats, bake the pie with patience and top it with candied pecans. Get the complete recipe at Country Living.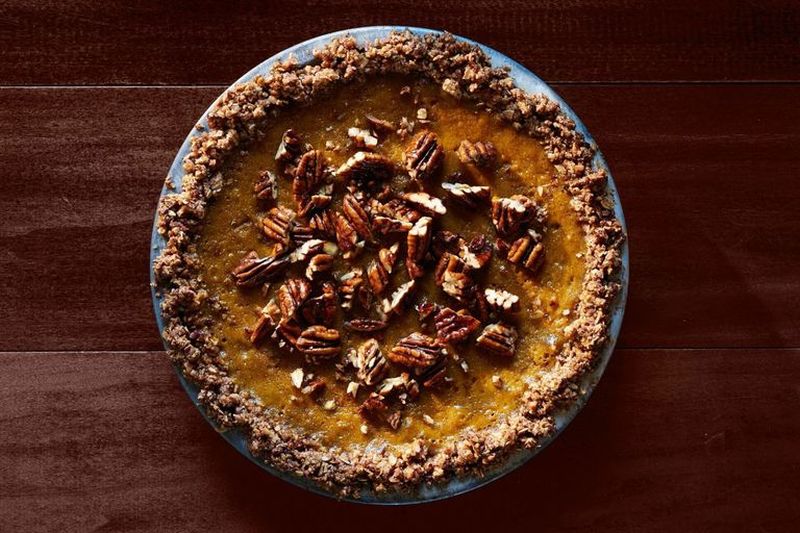 Pumpkin Pie with Pastry Oak Leaves
Pretty much a simple and easy pumpkin pie with fall-themed decorations around it. You'll need basic pie ingredients and a cookie cutter to cut out pastry oak leaves and some cranberries for finishing touches. Follow the full recipe at Country Living.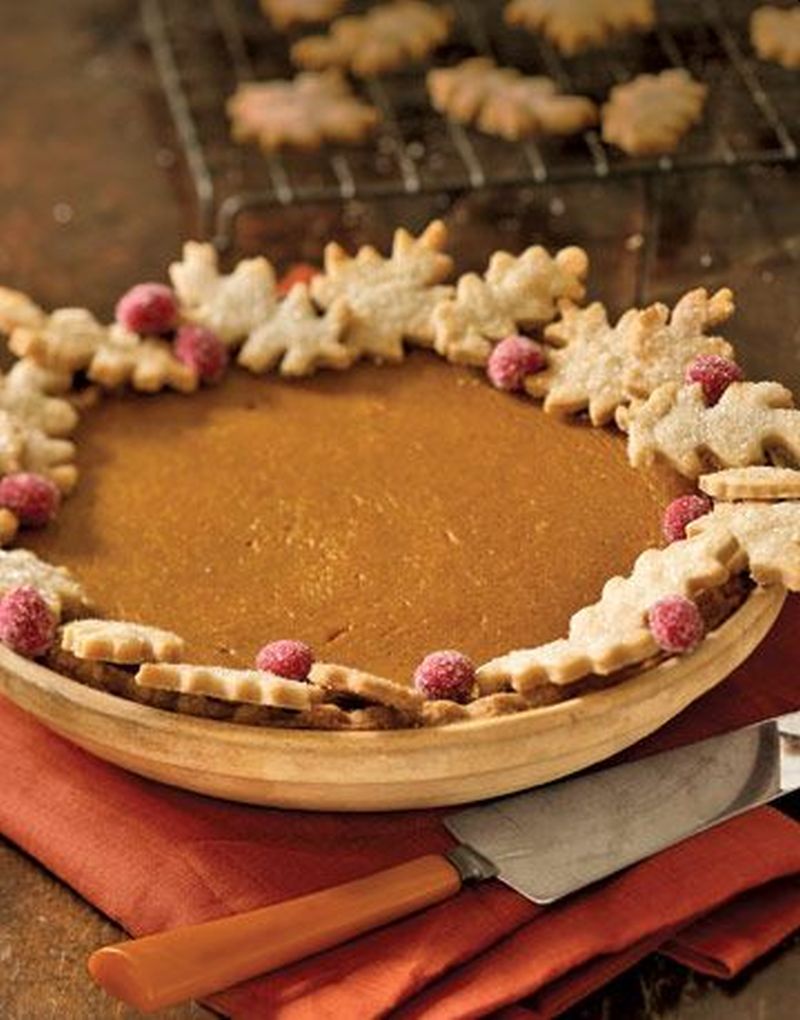 Brûléed Bourbon-Maple Pumpkin Pie
This chocolatey and pumpkin-flavored pie is innovative and delicious. It can also be prepared ahead of time (just remember that you need to brûlée it right before serving). Check out the recipe at Bon Appétit.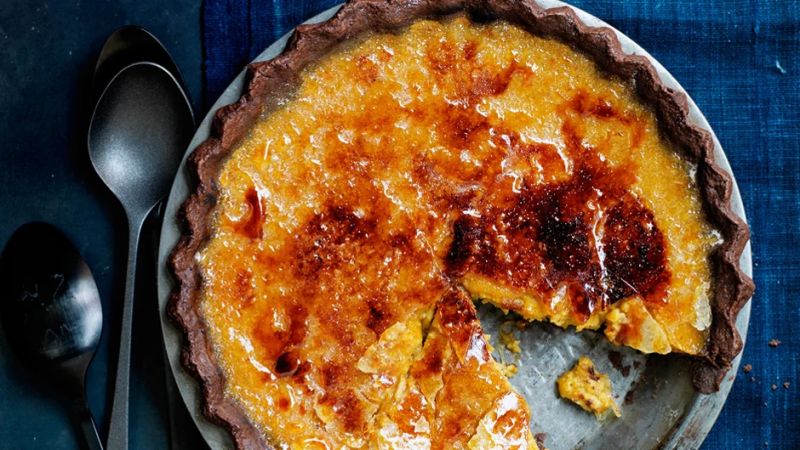 Thanksgiving Apple Pies
Apple pies are undoubtedly delectable and a must for the holiday feast. The healthy goodness of apples and flavors of sugary delights will make you drool over this savory dessert. Here are a few amazing apple pie recipes you can follow this Thanksgiving.
Cheddar Apple Pie
Just look at the end result, doesn't it look absolutely delicious? The crisp, brown crust filled with soft, sweet diced apples and cinnamon is not only good-looking but tasty as well. You are at liberty to create a lettuce design of your liking to top the pie with. Full recipe at Country Living.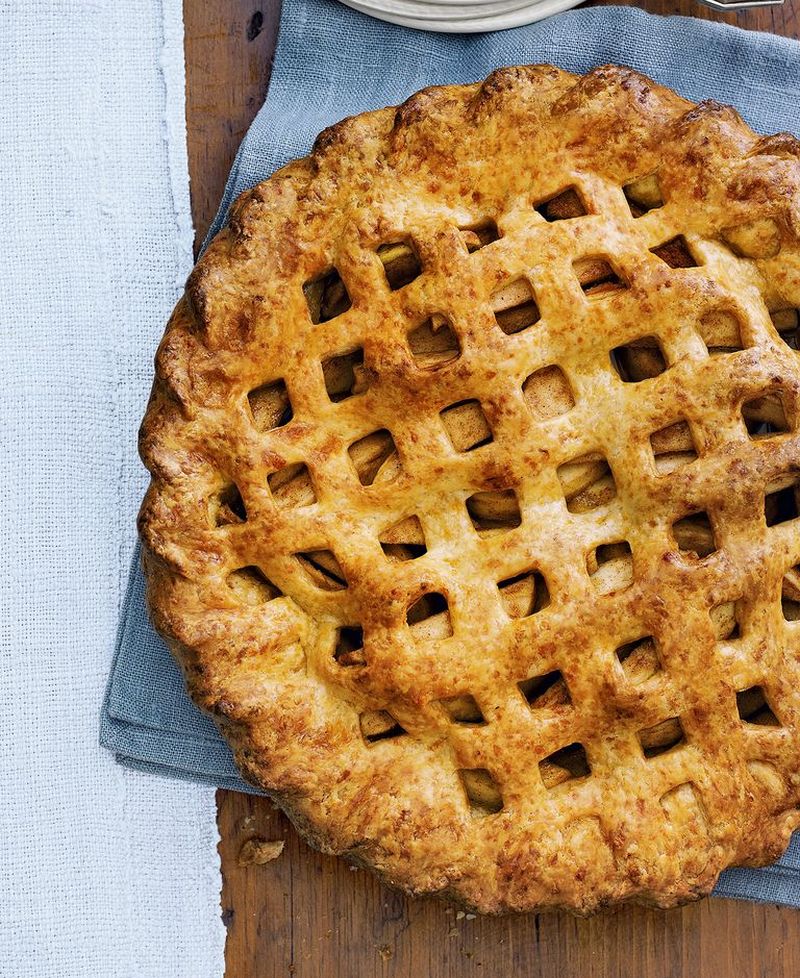 Salted Caramel Apple Pie
This Salted Caramel Apple Pie is infused with juicy apple slices and salted caramel sauce. It doesn't take much of your time and the pie is worth the baking process. Best baked in all-butter pie crust, it is an ideal Thanksgiving dessert. Find the complete recipe at Baker by Nature.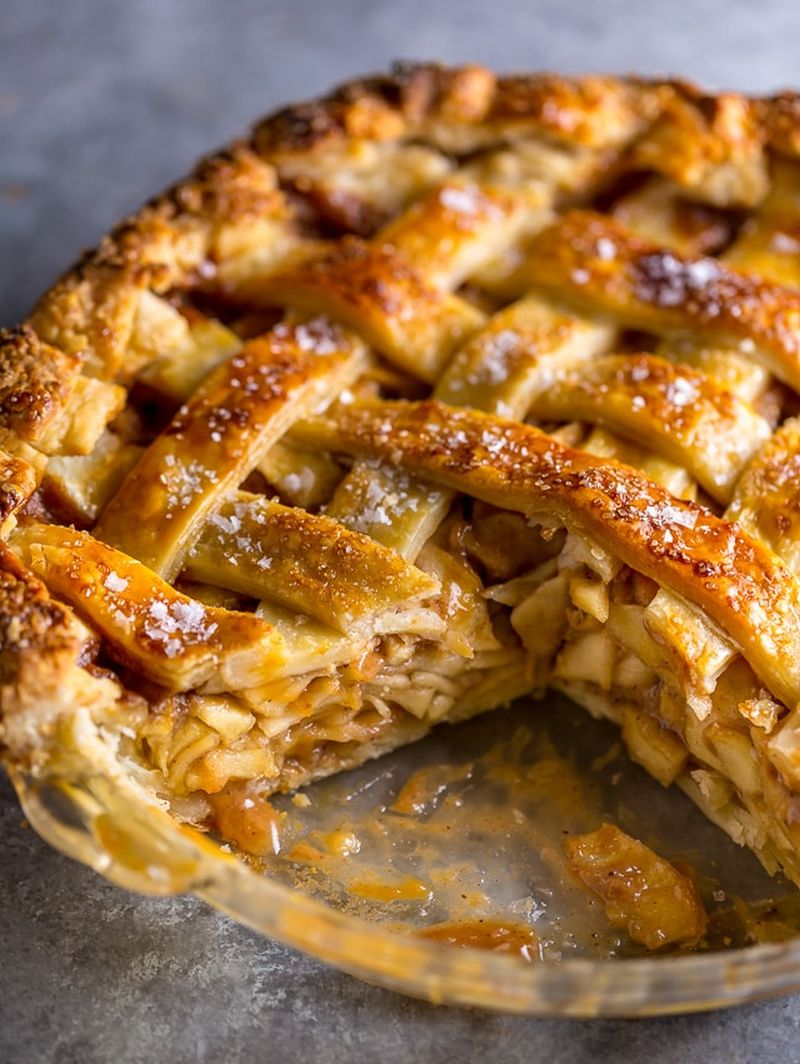 American Apple Pie
With a medium difficulty level, this American Apple Pie takes about 40 minutes for preparation and an hour for baking. All you need is basic apple pie ingredients and a knack for baking, and you're all set. Get the recipe at Kitchen Stories.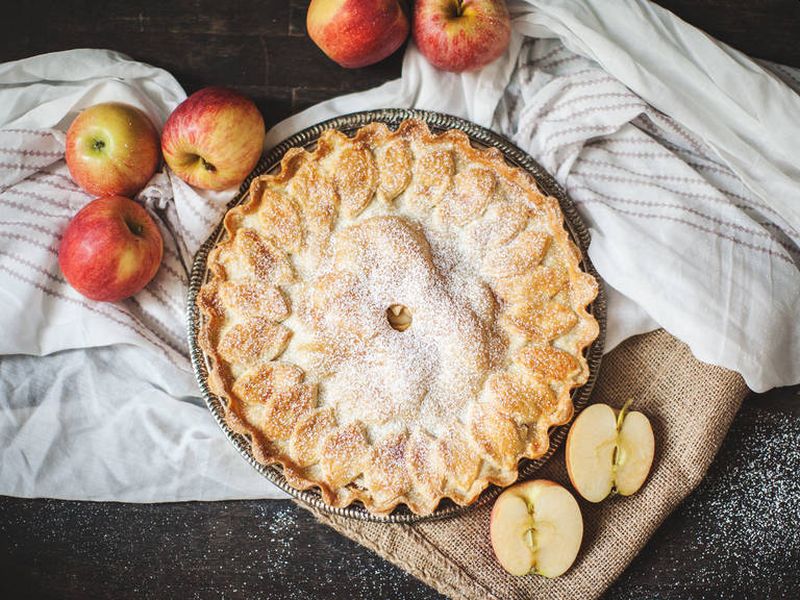 Double-Crust Apple Cheddar Pie
Every apple pie recipe has almost the same ingredients, except for those using cheese and eggs. This double-crust apple cheddar pie has apples (obviously!), brown sugar, cornstarch, lemon juice, nutmeg, cinnamon, and granulated sugar. Follow the steps and you'll have yourself a delicious treat. Full recipe at Country Living.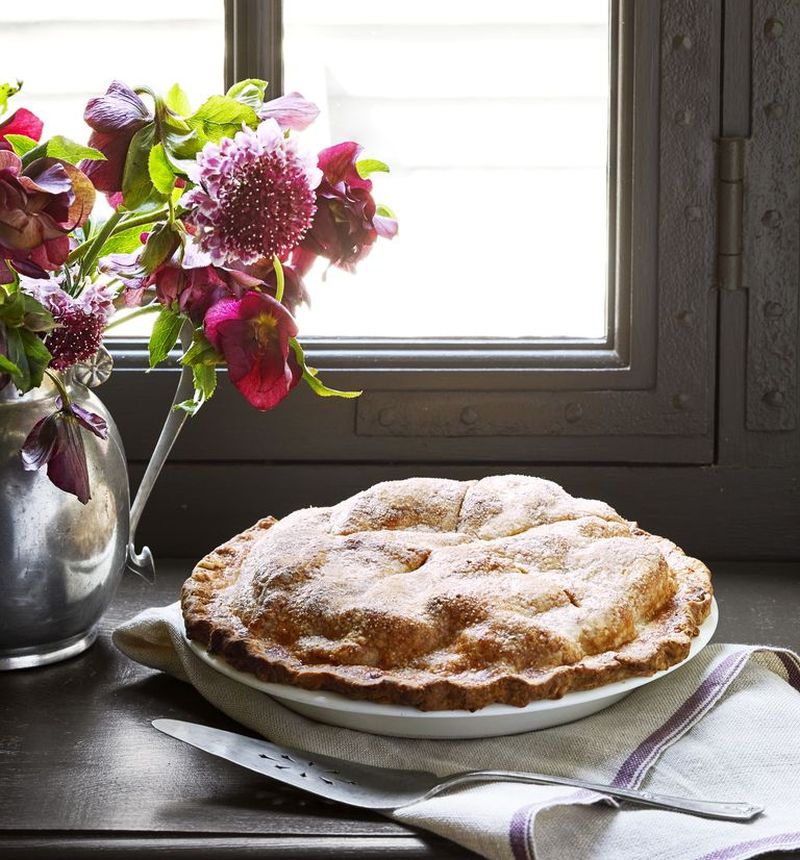 Also Read: Thanksgiving Dinner Recipes
Apple Pie with Cheddar Thyme Crust
Getting the pie crust right can be a bit tricky, though if you are a skilled baker, making a good pie crust shouldn't be much of a problem. This apple pie with cheddar thyme crust is likely to outdo your Thanksgiving dinner. Be sure to try this cheesy recipe. Full recipe is at Baked Bree.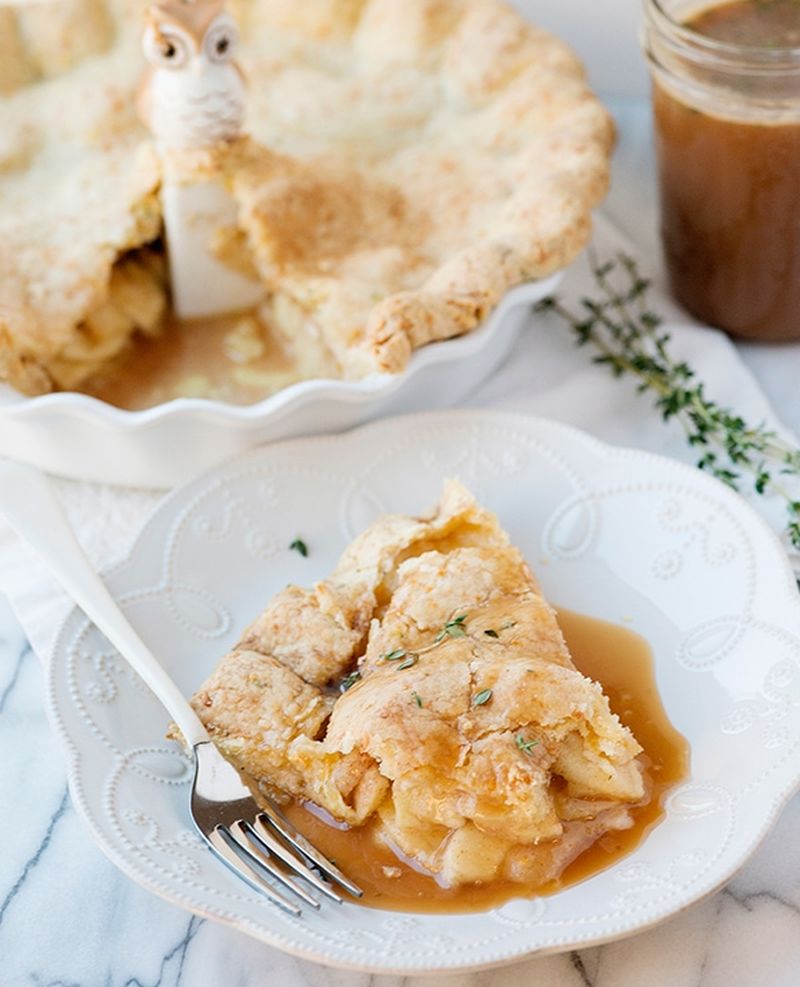 Classic Dutch Apple Pie
The Dutch Apple Pie favors the streusel topping, giving the pie a crispy, crumbly, and delicious twist. This recipe features a homemade butter crust, filled with spiced apples and topped with cinnamon streusel. Get the complete recipe at The Kitchn.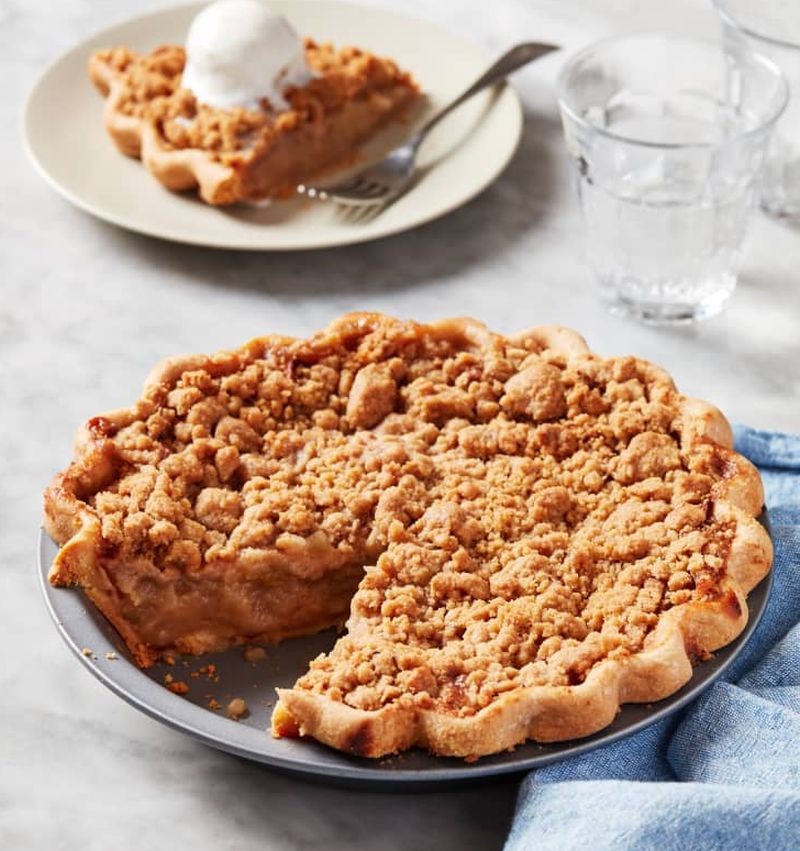 Thanksgiving Pecan Pies
Over the years, pecan pies have gained popularity and a special place in holiday feasts. You can never go wrong with the pecan pie, but the food is all about experiments and innovations. So let's try out these pecan pie recipes with tasty twists.
Traditional Pecan Pie
This traditional pie does not contain alcohol, chocolate, or any hard-to-find ingredient. Pecan Pie has the deep flavor of toasted pecans, a caramel-y custard, and the softest of the crusts ever. Full recipe at Bon Appétit.
Maple Granola Pecan Pie
Give a modern twist to this classic dessert with oats and maple syrup. With a little over two hours for preparation and baking, this pie will provide you the necessary nutrients, along with an unforgettable taste. Complete recipe for Maple Granola Pecan Pie at Country Living.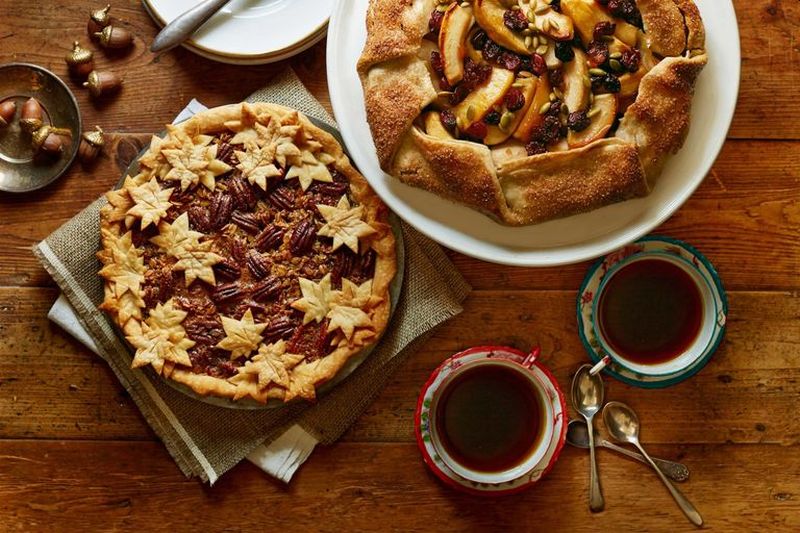 Chocolate Pecan Pie with Graham Cracker Crust
This Chocolate Pecan Pie blends the pecan pie recipe with the wonderful flavors of German chocolate. It is made in a homemade graham cracker crust, and is a perfect Thanksgiving dessert to complete your holiday feast. Follow the full recipe at A Latte Food.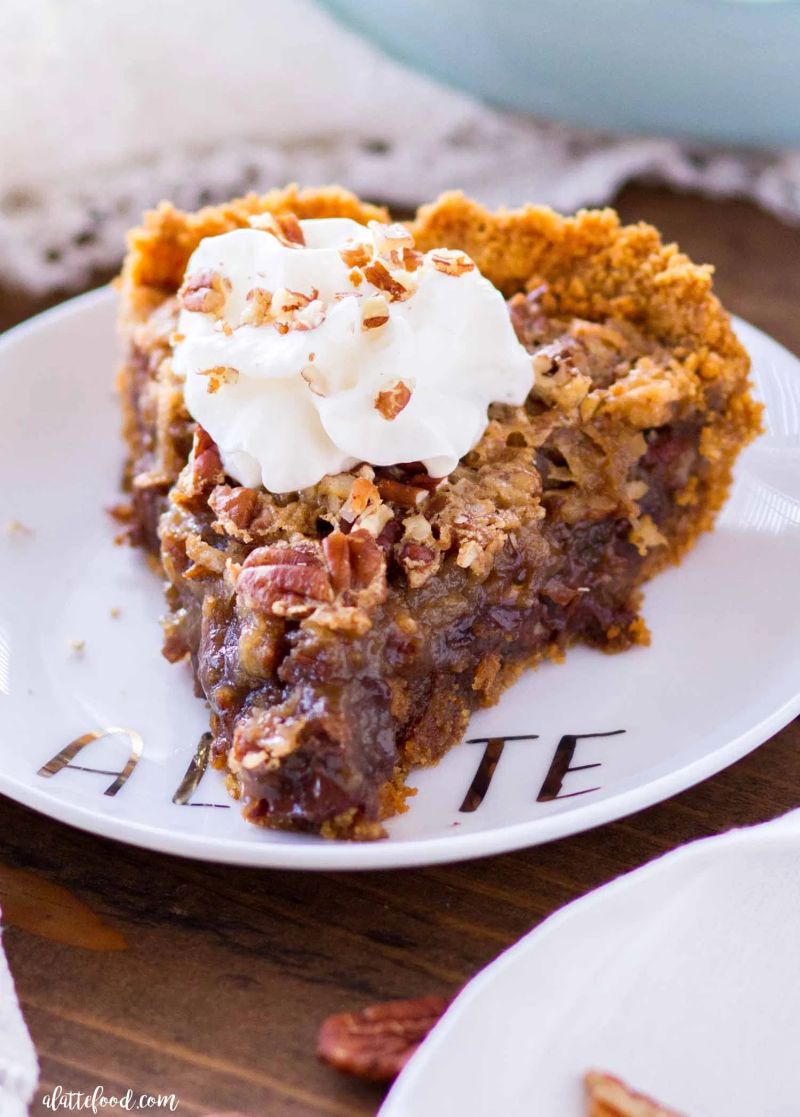 Bourbon-Pecan Pie
This pie has the flavors of dark caramel, toasted nuts, and a little bit of bourbon. Bourbon-Pecan Pie can be paired with a range of less-refined sweeteners, from honey to cane syrup. Give this recipe a try and impress your family. Get the recipe at Food and Wine.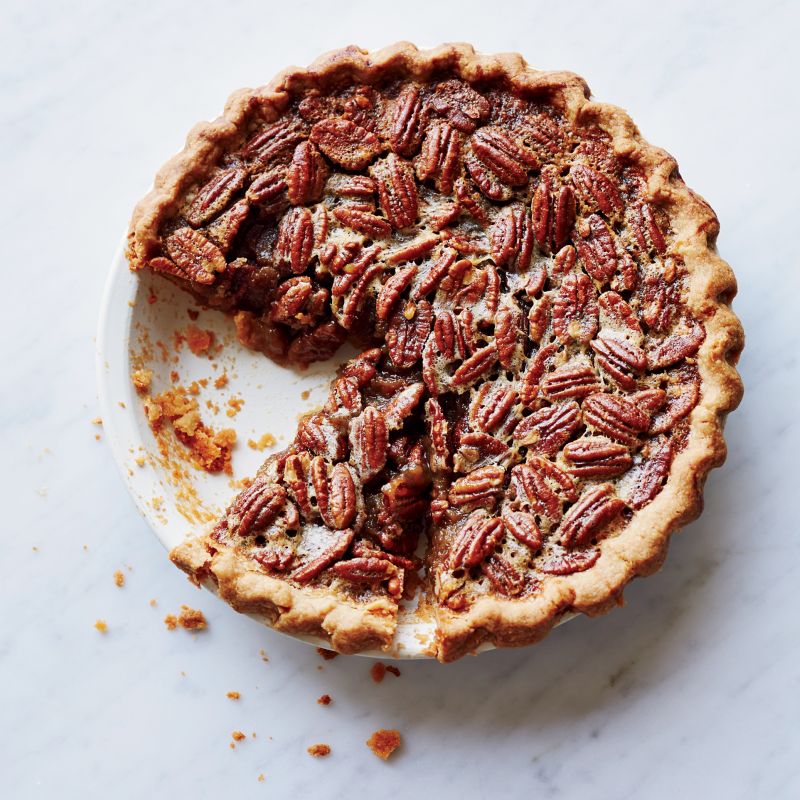 Brown Sugar Pecan Pie
This pie takes about one hour and 15 minutes for prepping and baking. With a dozen ingredients and a knack for baking, you can prepare this delicious dessert for Thanksgiving this year. Get the recipe at Good Housekeeping.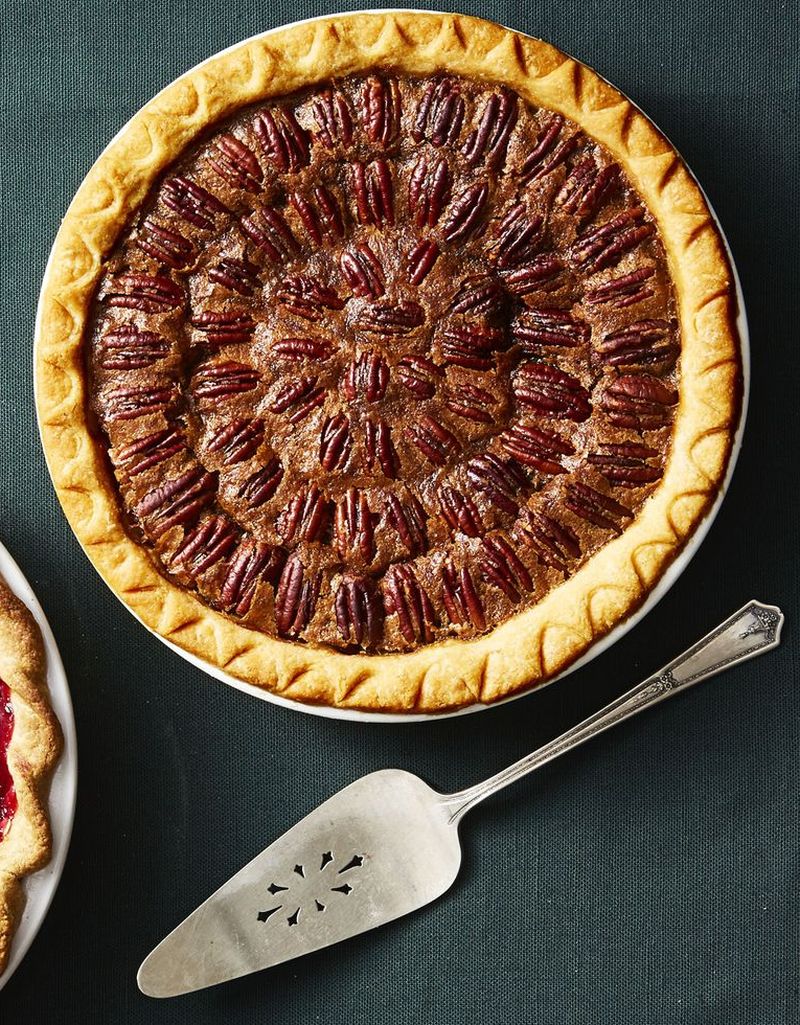 Brandy Pecan Pie
For a perfect holiday pie, one must be familiar with baking skills. The use of ingredients to the scale and addition of booze to balance the sweet taste (so that you could savor other flavors as well), all are required for this Brandy Pecan Pie. Get the recipe at The Kitchn.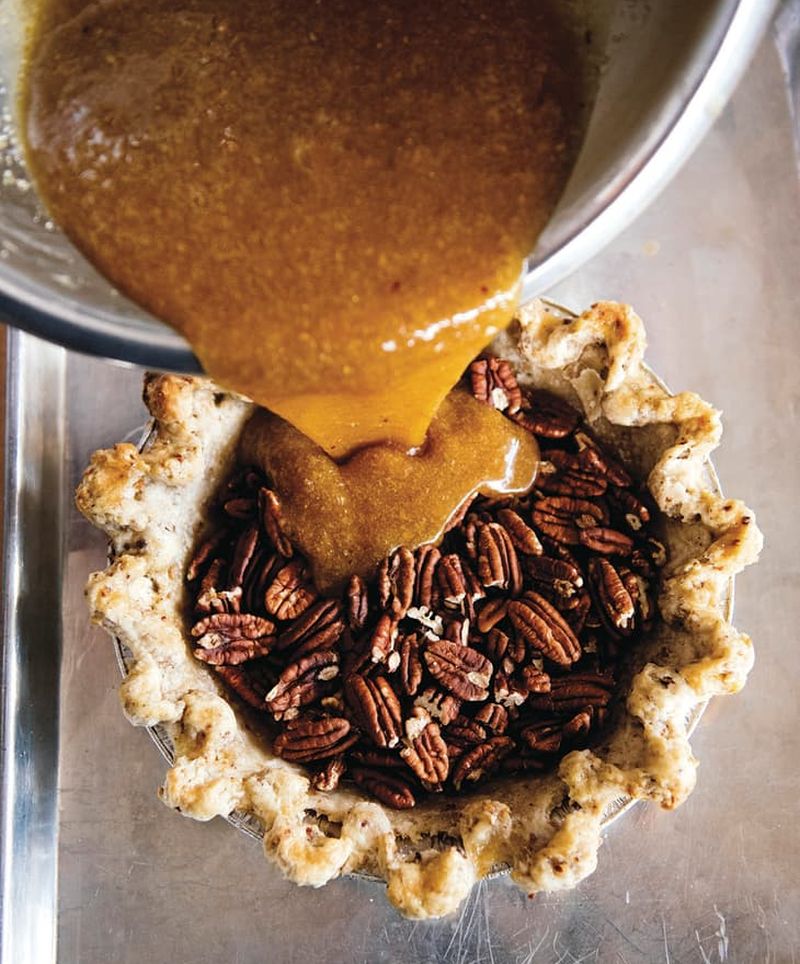 Thanksgiving Pear Pies
When you have plenty of fruit and no time to eat them before they go bad, there is an ideal and tasty solution waiting for you – bake a pie! Pears are nutrient-rich and delicious, and it makes perfect sense to use them in a pie, especially as for a holiday dessert.
Caramel Pear Pie
Pears would usually fade off to the back, while the mainstream Thanksgiving pies (pumpkin, apple, or pecan) would steal the show. Not anymore. With a great silky texture of pears that contrasts the crisp and flaky pie crust, this Caramel Pear Pie shows that pear pies are just as delicious (maybe even more) as other pies. Full recipe at Sally's Baking Addiction.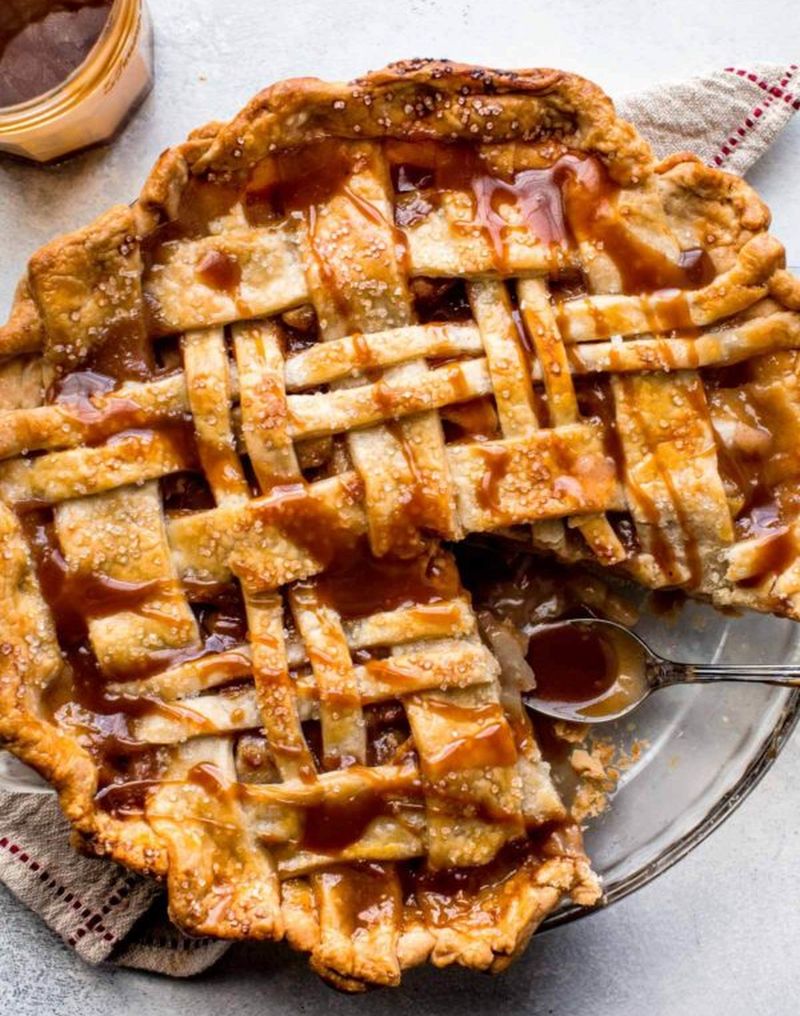 Pear Pie with Red Wine and Rosemary
Giving a modern twist to the traditional pie recipes has become a trend and a good one at that. Take this Pear Pie with Red Wine and Rosemary for instance, with a combination of butter (which gives a rich flavor and flakiest crust), rosemary and red wine. Get the recipe at Bon Appétit.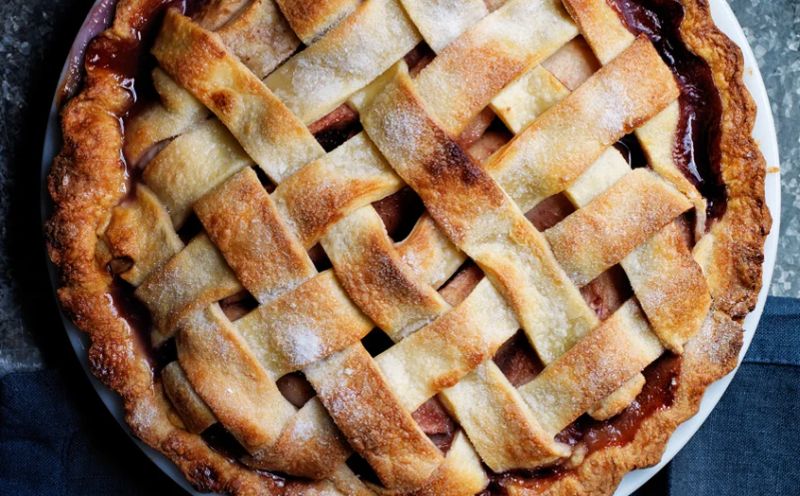 Pear and Berry Crumb Pie
Filled with juicy fruits and topped with berry crumbs, this Pear Pie recipe is an absolute favorite for Thanksgiving dessert. Spicy flavors of cinnamon and cloves make this savory treat even more delicious. Follow the full recipe at Good Housekeeping.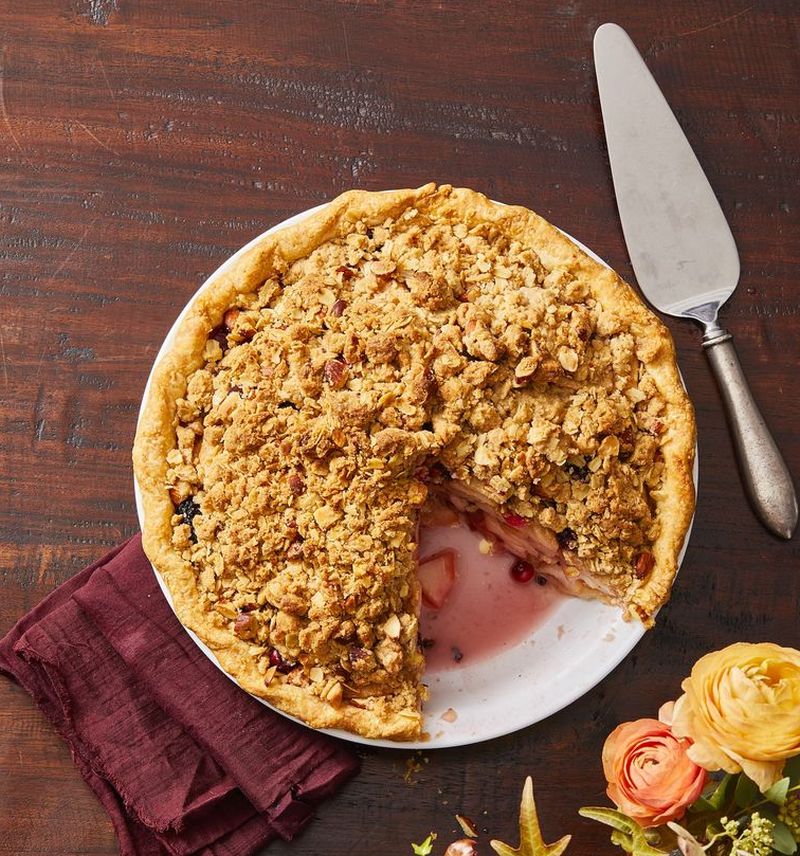 Pear Blackberry Pie
Switch apple for pears as the main filling ingredient for this Thanksgiving. Add blackberries to top it up with rich color and flavor. Once you try this recipe, you are likely to forget about any other pie recipes for holiday dessert. Get the recipe at Good Housekeeping.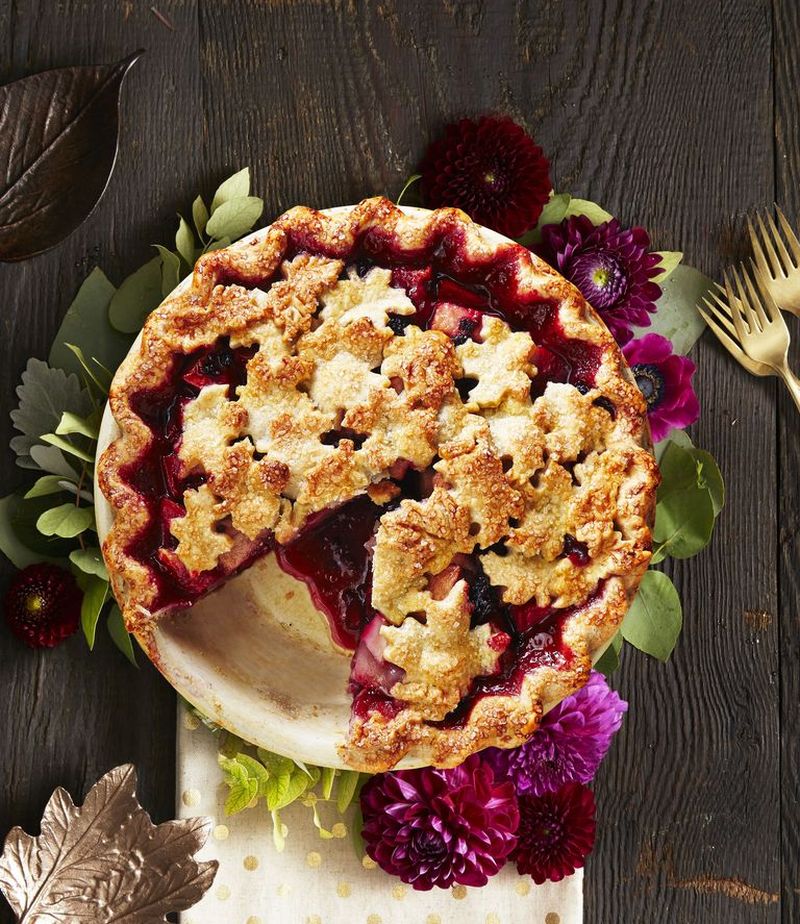 Thanksgiving Berry Pies
Different kinds of berries have bestowed us with distinctive tangy and sweet flavors, and we couldn't be more thankful. So why not try them as Thanksgiving dessert? Here are a few of the best berry pie recipes that are perfect for Turkey Day.
Blueberry-Buttermilk Chess Pie
With the lovely taste and color of blueberries and softness of buttermilk, this Blueberry-Buttermilk Chess Pie is not only aesthetically appealing but tasty as well. Give this delectable pie recipe a try this Thanksgiving. Find the recipe at Bon Appétit.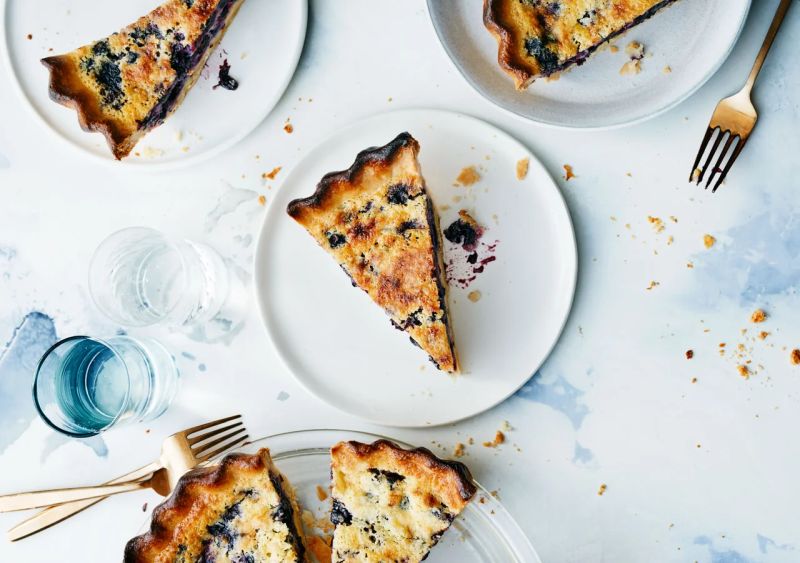 Cranberry Gingersnap Pie
This easy cranberry pie recipe has a spicy gingersnap crumb crust and silky cranberry curd filling that wakes up your taste palette. It has vibrant flavors and colors that are sure to become everyone's favorite Thanksgiving treat. The full recipe is at The View from Great Island.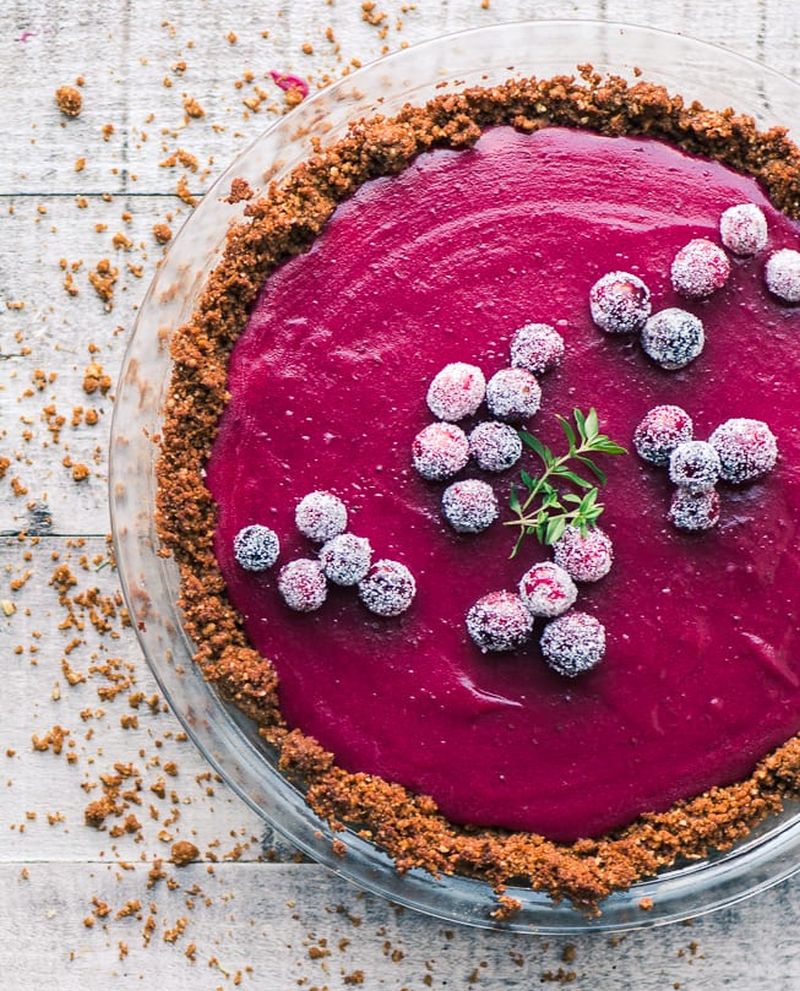 Strawberry-Pistachio Crumble Pie
Infused with juicy fruits and topped with pistachios crumbles, this Strawberry Pie is sure to steal the show this Thanksgiving. The tangy flavor of strawberries is seamlessly balanced with the dried and finally diced nut. Follow the full recipe at Bon Appétit.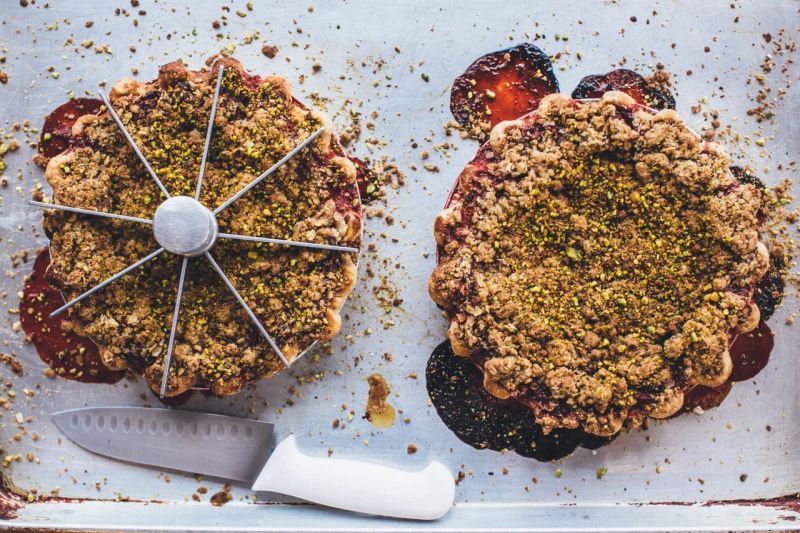 Cranberry-Pear Pie
This pie is loaded with pears, tart cranberries, sugar, and spices. The tart cranberries balance the sweetness of pears and give it a beautiful color. You can experiment with the lettuce design to give a more aesthetic appeal. Get the complete recipe at Baker by Nature.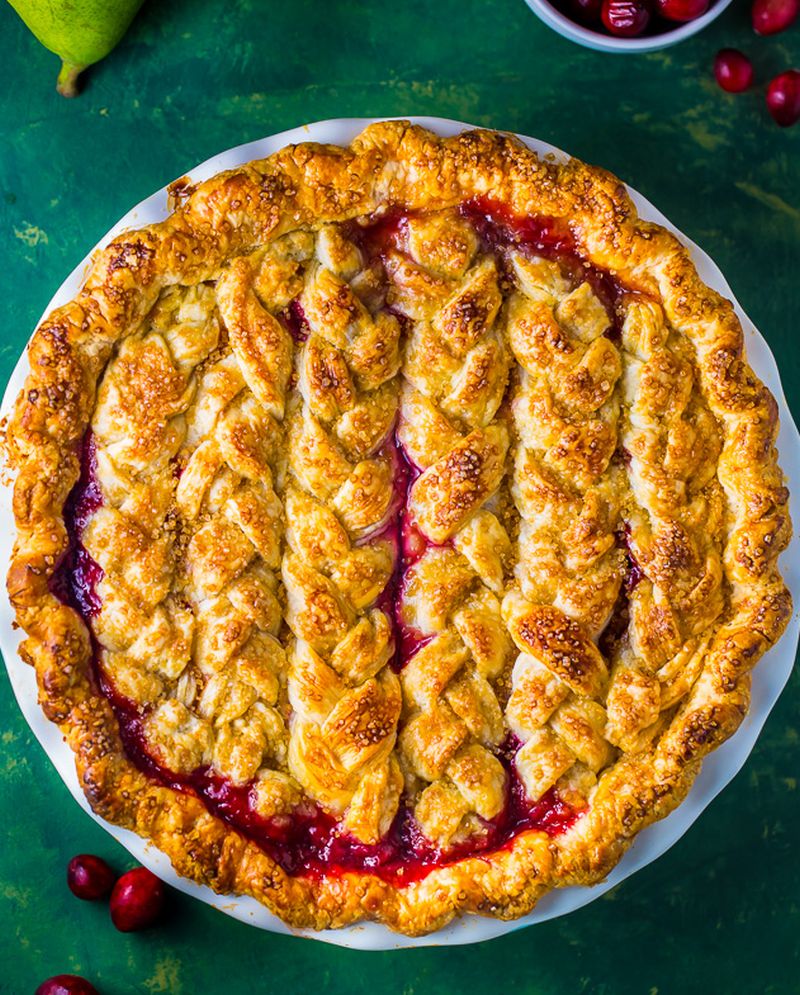 Blueberry Pie
This beautifully baked pie is for all the blueberry lovers out there. Fresh blueberries filled in the flakiest of the crusts are a must for Thanksgiving dessert. Try this Blueberry Pie recipe to show your love of festivities and feasts. The full recipe is on Bon Appétit.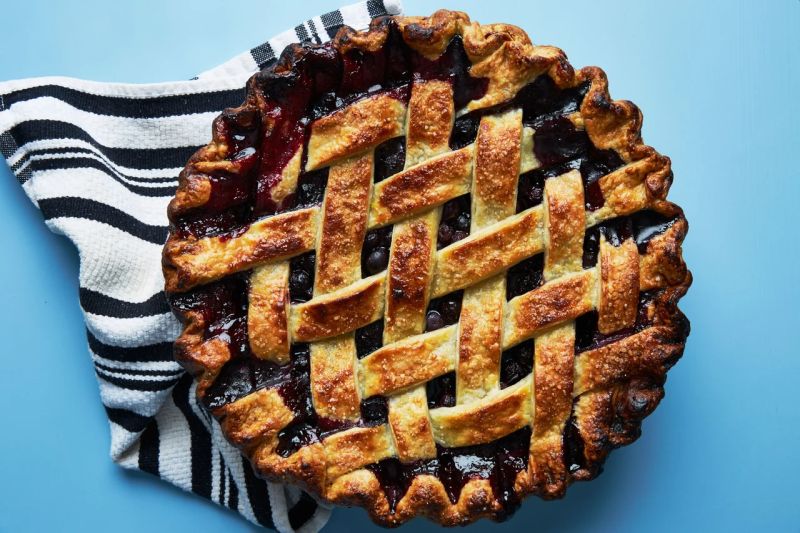 Sweet Potato Thanksgiving Pies
Sweet potato pies have earned a special place when it comes to Thanksgiving pie recipes. With sweetness in the name, the ingredient isideal to try as new recipes for a holiday dessert.
Sweet Potato Meringue Pie
Though it might look like a pumpkin pie, the main filling ingredient is sweet potato. Follow the recipe and ingredient amount to the scale, and you'll have a savory treat that you will make every year for Thanksgiving. The complete recipe is at Food and Wine.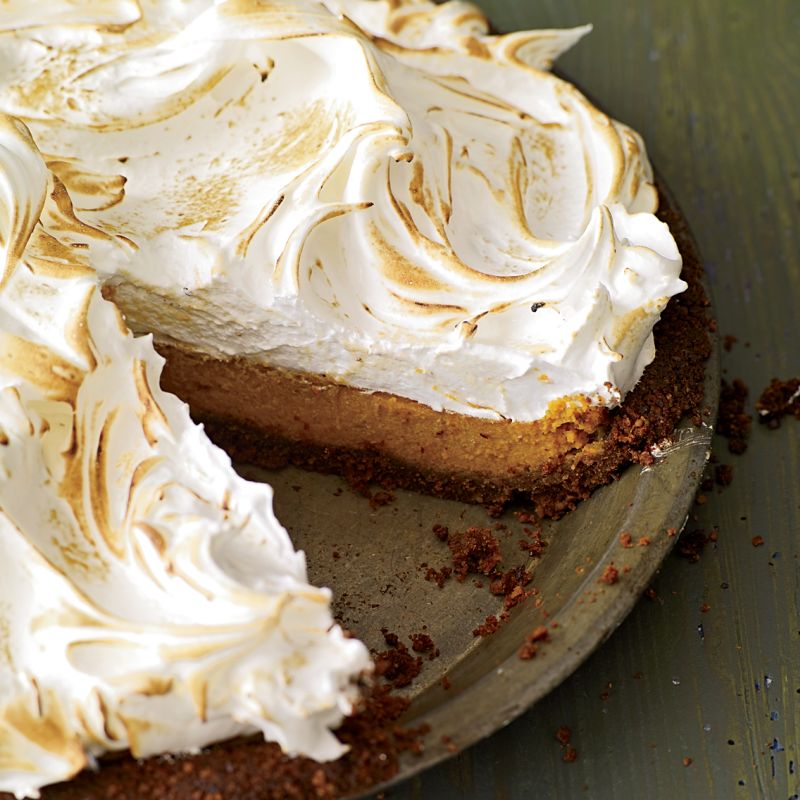 Sweet Potato Pie with Walnut Topping
As sweet potato pie is one of the best Thanksgiving dessert recipes, it is only natural to have this classic dessert on your Thanksgiving dinner table. Try this sweet potato pie recipe that is simple, delicious, and has walnut topping. The full recipe is at The Cookie Rookie.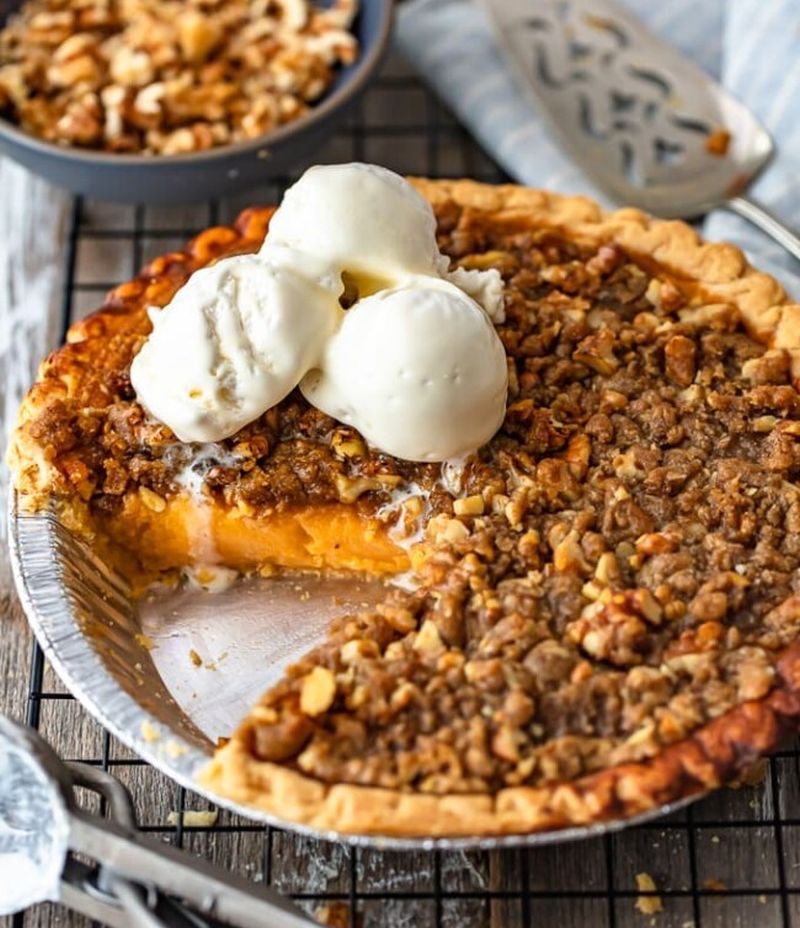 Ancho Chile Sweet Potato Pie
A perfect amalgamation of food and culture, this Ancho Chile Sweet Potato Pie is mouthwatering. With about an hour and a half required from preparing and baking it; this pie will make a good addition to your Thanksgiving dinner table. Full recipe at The Kitchn.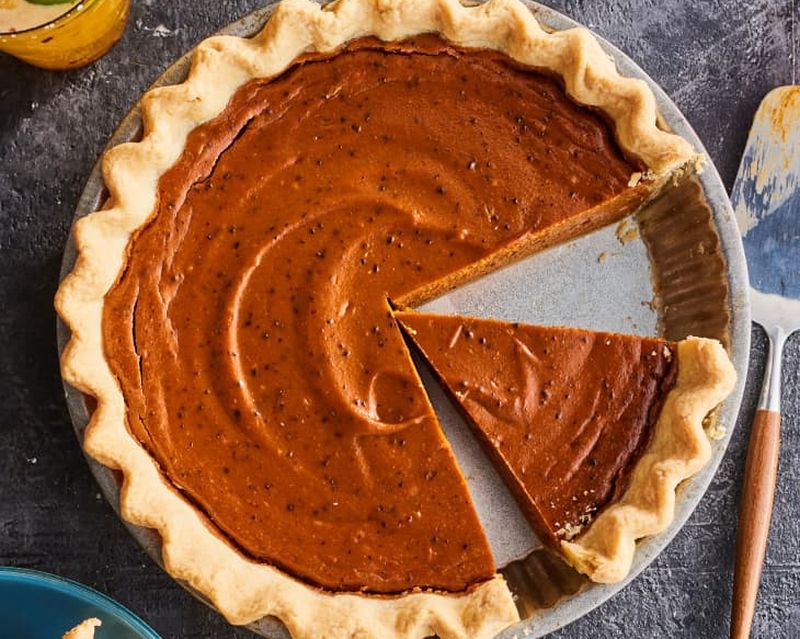 Sweet Potato Pie
This simple and easy recipe is for those who don't have much time to spend on dessert preparation and are not a fan of pumpkin pies. It is lighter, yet creamier than its counterparts. Give it a try this Thanksgiving. Get the recipe at The Kitchn.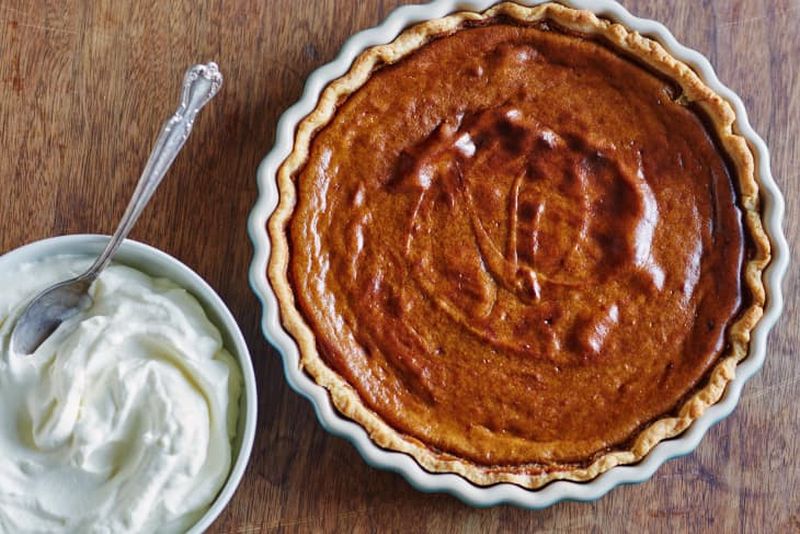 Thanksgiving Chocolate Pies
Easy to make – chocolate pies are delicious and can be made by almost anyone. These are incredibly creamy and sweet, and when blended with untraditional ingredients, they can really surprise you. Check out these chocolate pie recipes for Thanksgiving.
Creamy Chocolate Pie
This chocolate pie recipe comprises rich, silky, and smooth chocolate filling in a flakey butter crust (Yum!) which is topped with dollops of whipped cream and shaved chocolate. This classic recipe is ideal for your Thanksgiving dessert. Get the complete recipe at Preppy Kitchen.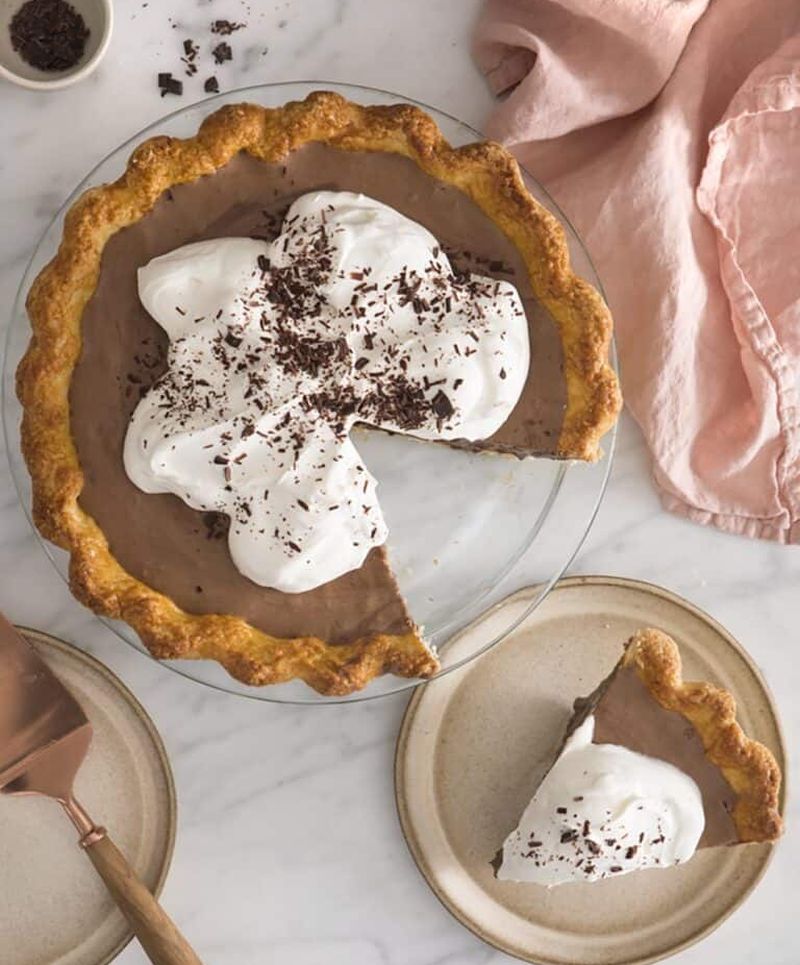 Chocolate Pudding Pie
A stunning chocolate pudding pie covered in plenty of whipped cream is among favorite desserts of all time. Try this recipe for this Turkey Day and impress your loved ones. Follow the recipe at Bon Appétit.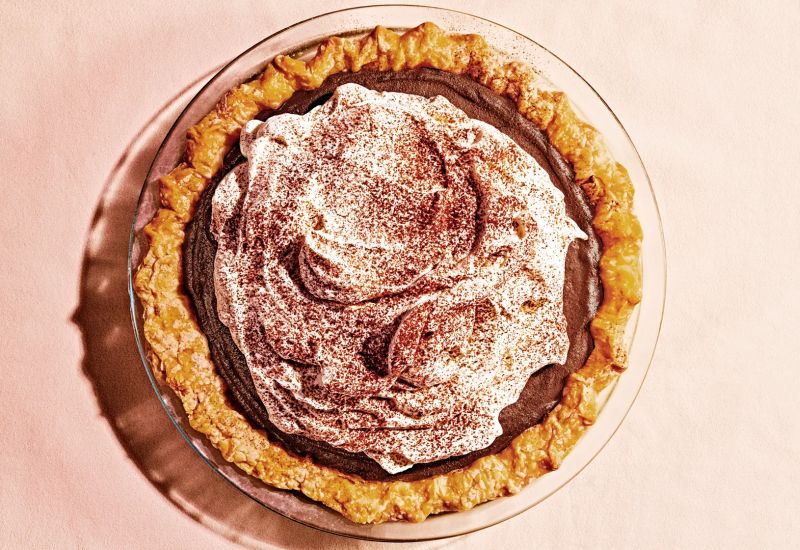 No-Bake Chocolate Cream Pie
This pie looks incredibly delicious, with its four distinct layers of buttery crushed graham crackers forming the bottom layer, a thick layer of creamy chocolate pudding, a dollop of whipped cream, and sprinkled chocolate chips. Yummy! The recipe is at The Kitchn.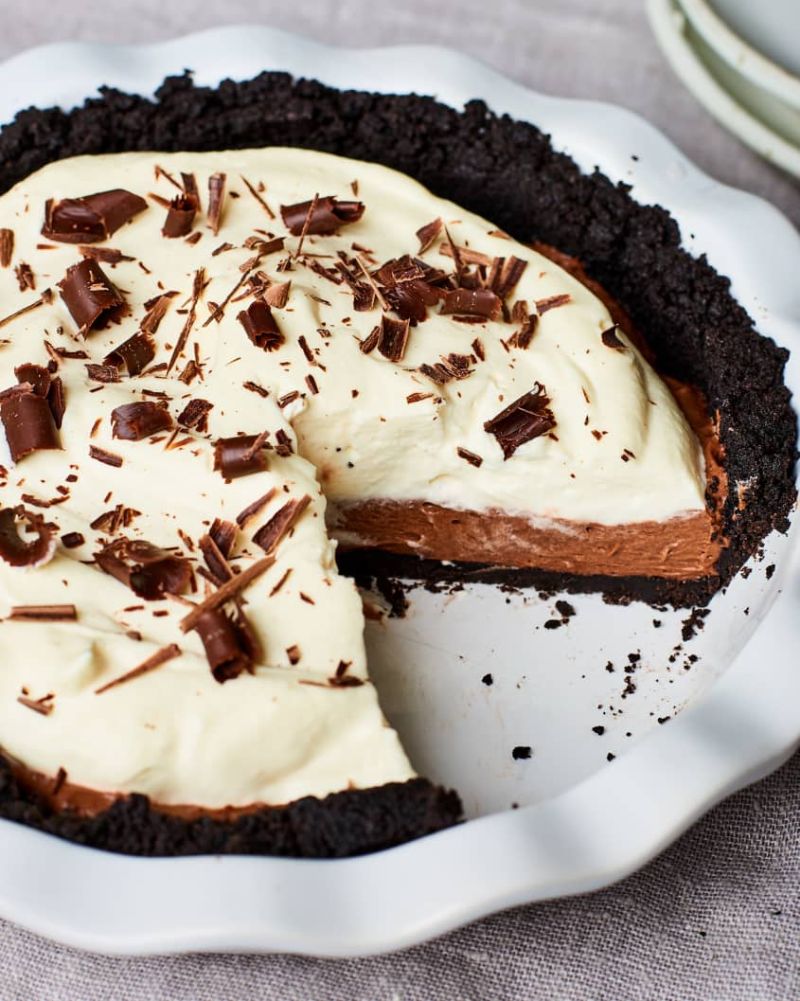 No-Bake German Chocolate Pie
This No-Bake Chocolate Pie recipe features a chocolate cookie crust, decadent chocolate filling, and coconut pecan topping. This recipe makes a perfect pick for your Thanksgiving dessert. Get the recipe at Baker by Nature.