American poet Wilbur D. Nesbit once said, "Forever on Thanksgiving the heart will find the pathway home." Being with family and friends on holidays is all one can ask for, along with mouthwatering, moist, decadent turkey dinners. While you are busy mulling over what appetizers, side recipes, and desserts you are going to make for Thanksgiving, you must look up some recipes for the star of the show is turkey.
A big juicy turkey can double as a dinner table centerpiece. But if you are having a smaller party, preparing an entire bird seems wasteful as you will have plenty of leftovers on your hands the next day. Instead of working on a whole turkey, you can try making one of these best turkey breast recipes this Thanksgiving. They are delicious, small in quantity, and easy to make (well, most of them are); and you won't have to worry about the leftovers.
Also Read: Best Thanksgiving Pie Recipes
Turkey for Two
One of the best Thanksgiving turkey breast recipes, it serves two people with just the right amount of leftovers that can be used in sandwiches the next day. Keep the skin on and bone in.
As you roast the turkey, you need to add aromatics such as thyme, sage, and rosemary, and cornstarch in the pan to infuse in its juices to create a perfectly seasoned gravy. It'll take almost 2 hours to prepare this recipe of two to four servings but it's worth the wait.
Check out the full recipe on Epicurious.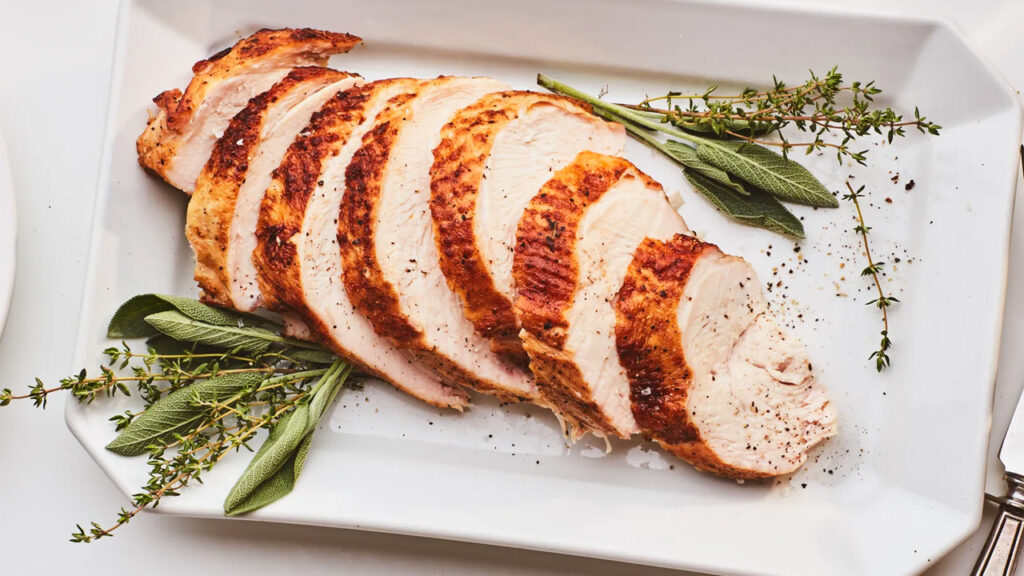 Dry Rubbed Turkey Breast
If you do not have enough time to prepare a lavish turkey for Thanksgiving, then this bone-in breast is a perfect choice. Dry-rubbed turkey breast doesn't need any basting or your constant attention.
However, this recipe does require a preparation time of a day or two, with six hours of cooking time. It gives you eight servings with wafting aromas of coriander, fennel, and black peppercorn.
Try this recipe from Bon Appétit.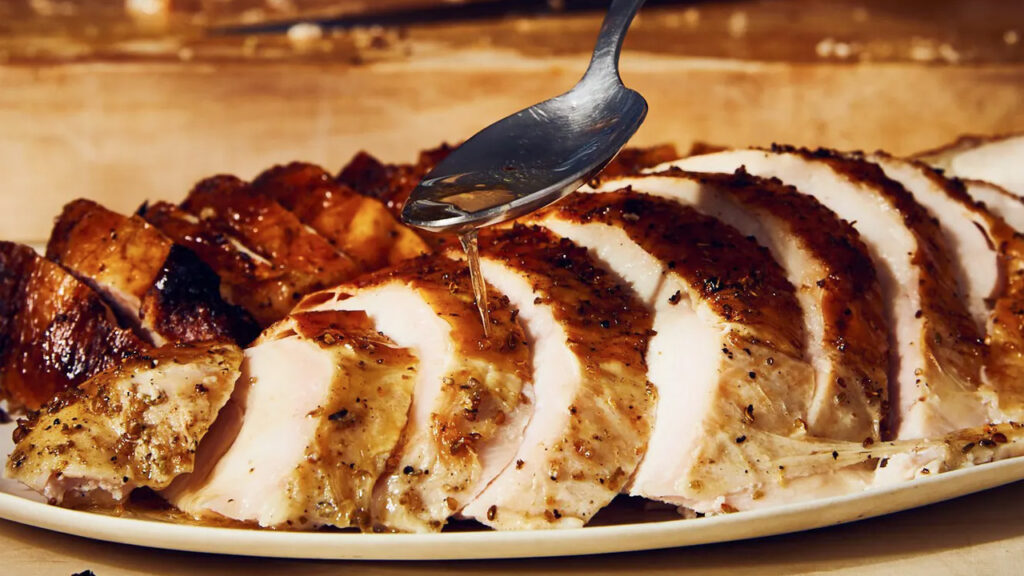 Air Fryer Tandoori Turkey Breast
Turkey breast can get bland and overcooked if you are not vigilant in cooking. But this air fryer tandoori turkey breast recipe is here to your rescue. Keep the bone and skin on the turkey breast so it doesn't get dry in the intense air fryer heat.
Then, soak the bird in a tandoori-style marinade, a blend of yogurt, garlic paprika, turmeric, ginger, and cumin. This way, you will lock in the flavor and moisture. Next, cook it in an air fryer that cuts down your roasting time and delivers a delicious meal within an hour and twenty minutes.
Check out the recipe on Delish.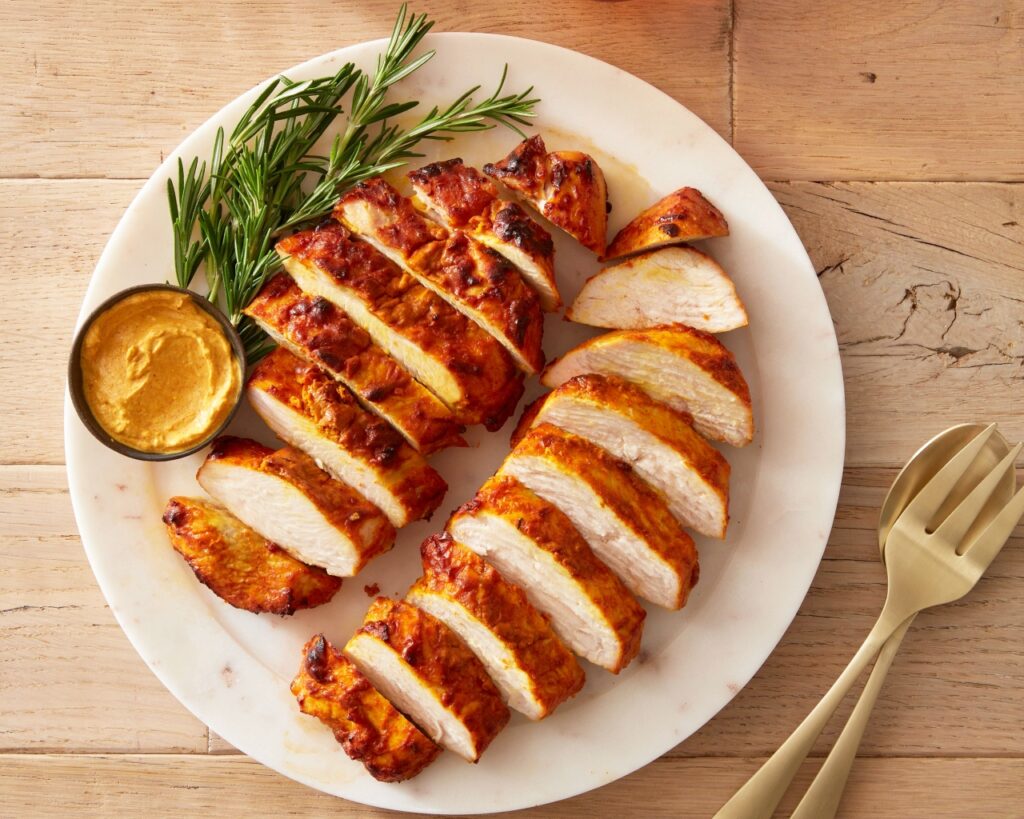 Oven-Roasted Turkey Breast
One of the best Thanksgiving turkey breast recipes, this juiciest oven–roasted bird will have you craving for more. Marinated with a mouthwatering amalgamation of olive oil, maple syrup or honey, fresh lemon juice, garlic, chili, salt, and ground black pepper, this recipe will provide a tender, juicy turkey breast that doesn't require a lot of work.
With an hour of preparation and cooking time, you can have the best oven-roasted bird for your Thanksgiving dinner. Just don't forget to marinate overnight.
Check out the full recipe on Healthy Fitness Meals.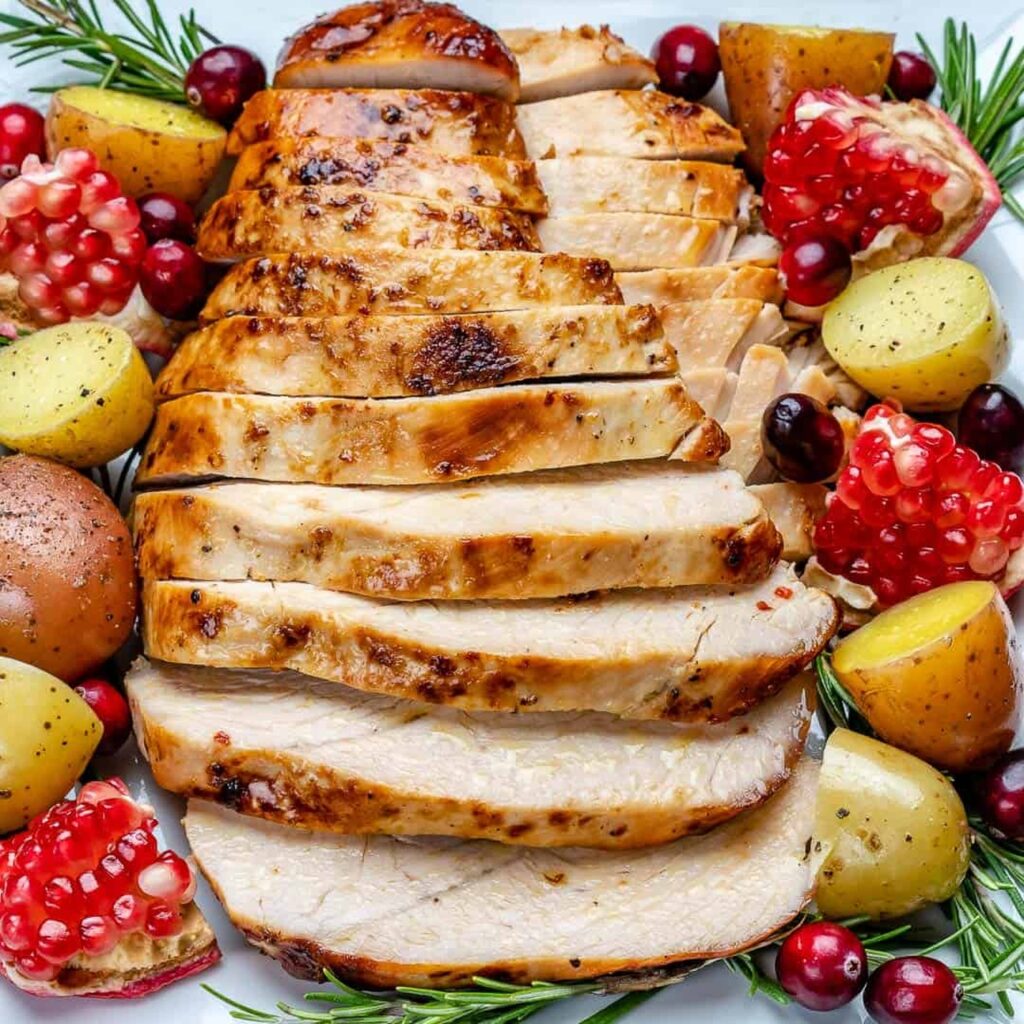 Instant Pot Turkey Breast
This juicy turkey breast recipe is ready in a pressure cooker in merely 35 minutes. It sounds like a brilliant way to save time preparing Thanksgiving dinner. Just put two cups of broth in the bottom of the instant pot along with sliced onion, garlic, and celery.
Then set the bird in the pot and glaze it with spiced and herbed olive oil. Then cook it for a little over half an hour at 165 degrees Fahrenheit. If you want a crispy bird, roast it in a skillet or a baking pan and cook for a couple of minutes.
Follow the recipe on Crunchy Creamy Sweet.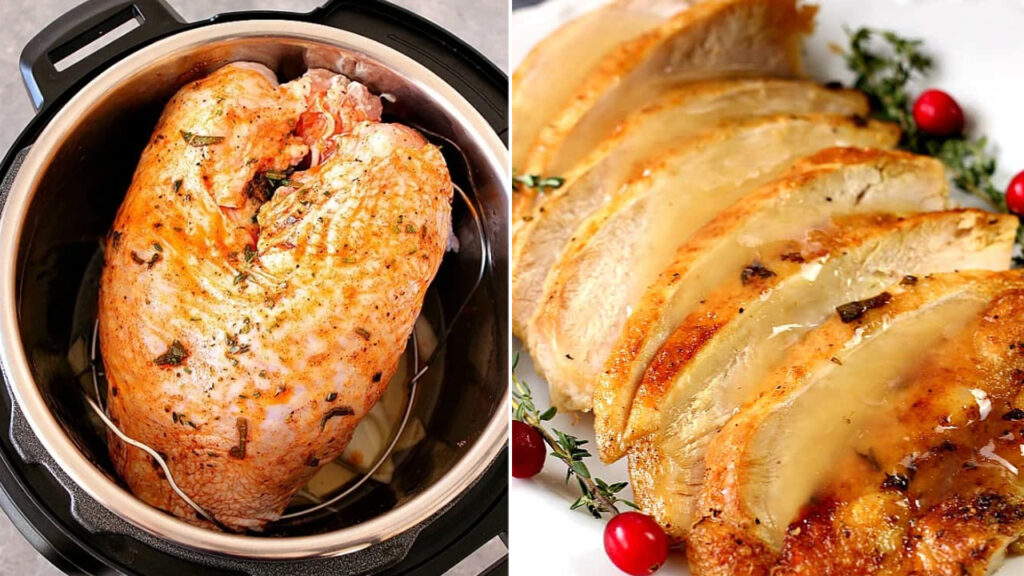 Turkey Breast with Shallot-Mustard
This classic turkey breast recipe is infused with an herb blend of thyme, rosemary, and sage. It needs about six hours of preparation and cooking time. All you need is a bone-in, skin-on whole turkey breast, on which you will have to apply a butter-herb mixture. Prepare a butter-herb blend by stirring butter, thyme, garlic, rosemary, sage, lemon zest, salt, and pepper in a bowl.
Then it is slow-cooked to develop rich flavors, and pairs best with fingerling roaster potatoes and a mustard sauce for a delectable Thanksgiving dinner. It is perfect to serve a party of four people.
Check out the full recipe on Southern Living.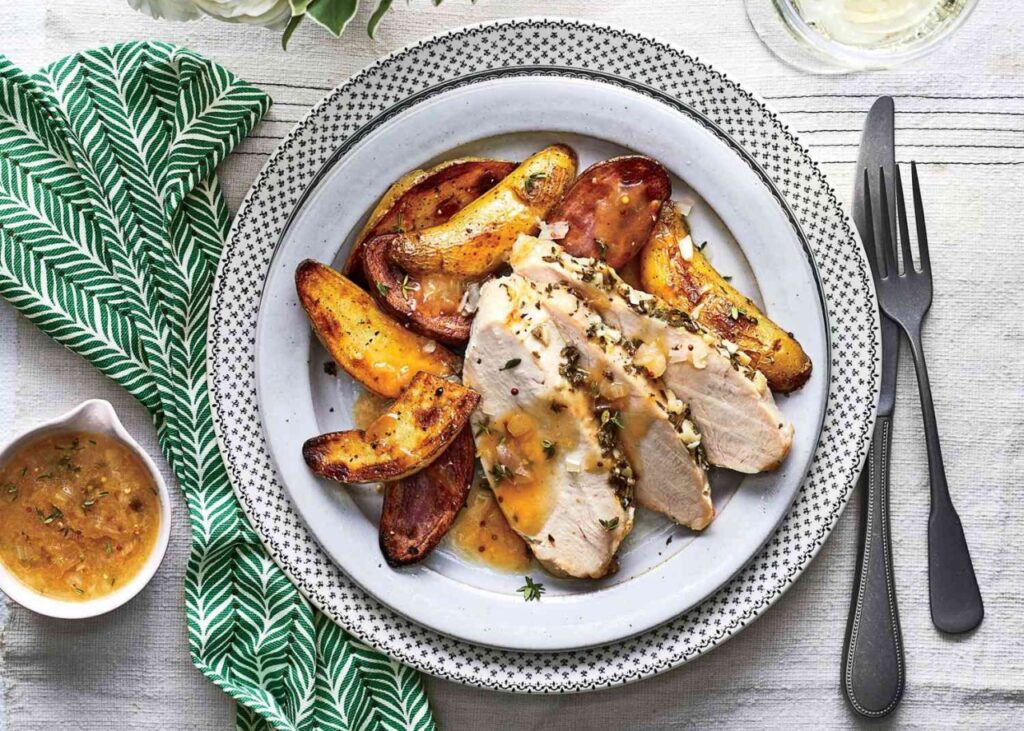 Stuffed Turkey Breast
Check out this herb-stuffed turkey breast recipe that serves small parties without leaving tons of leftovers for you to deal with for a week. Well, this recipe is butterflied and pounded thin to offer a moist and delicious meal. It will give you eight servings within an hour and fifteen minutes of preparation and cooking time.
You will need two skin-on boneless turkey breast halves. Create a mixture of garlic, shallot, parsley, rosemary, orange zest, olive oil, salt, and pepper. Remove the skin, and butterfly and pound each half before applying the mixture to them. Then, roll up each side, wrap it with the skin, tie it with kitchen string, and bake.
Follow the full recipe on Good Housekeeping.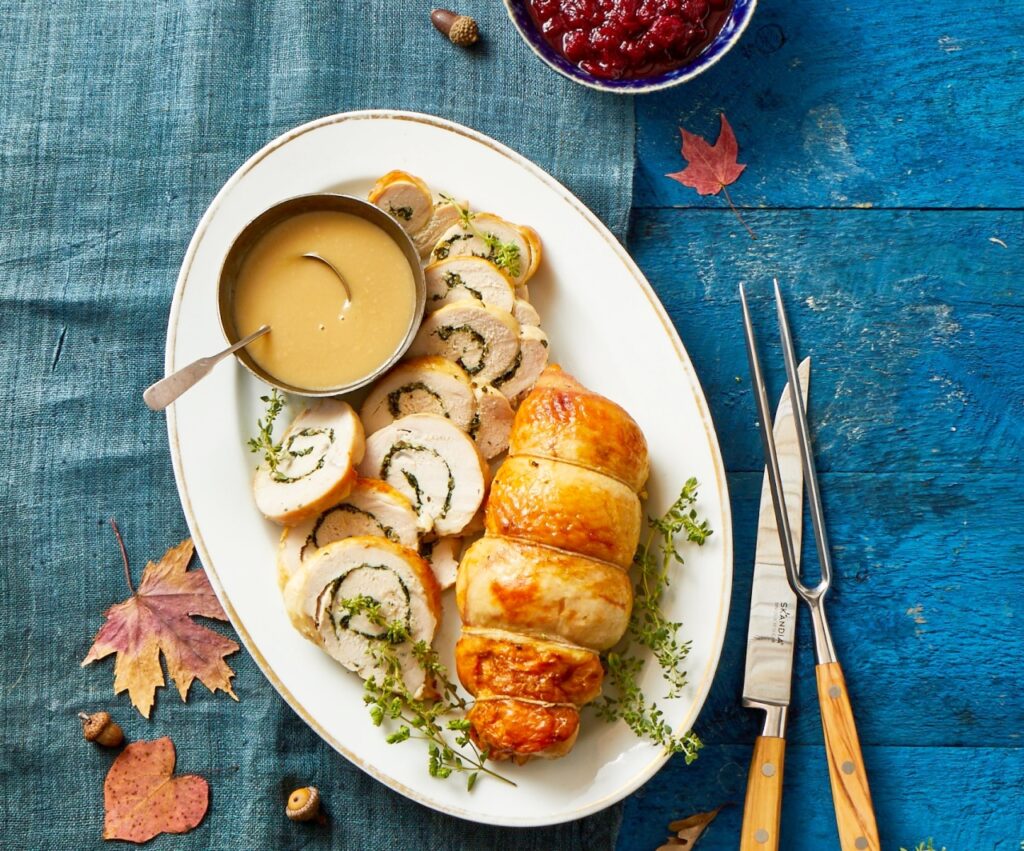 Cranberry Glazed Turkey Breast
Not particularly bound to Thanksgiving, you can make this cranberry glazed turkey breast recipe all year round. It is filled with cranberries, maple syrup, and apple cider vinegar to provide a hint of sweetness.
It takes 20 minutes to prepare the bird with deboning and spice rubbing (which includes butter, dried thyme, black pepper, and salt). Then, place it in the baking dish. As your turkey bakes, you need to prepare your cranberry glaze and your holiday dinner is ready.
Get the full recipe on Craving Tasty.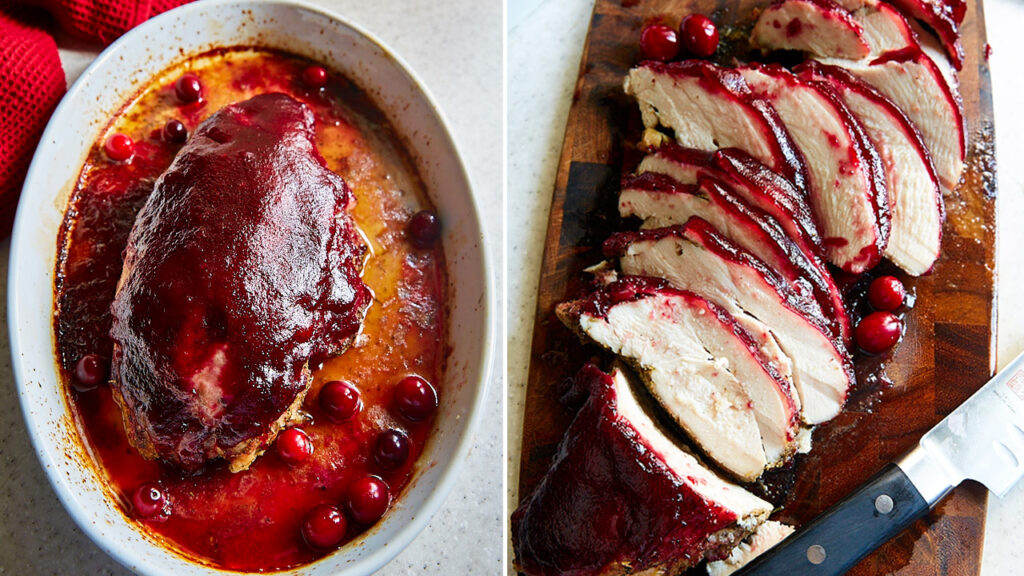 BBQ Turkey Breast Recipe
You don't need to follow a traditional turkey recipe this Thanksgiving; instead, you can grill your turkey. Yes, that's right. With a brown sugar rub and barbeque sauce, this recipe will not disappoint you and will begin a new holiday tradition for you.
All you need is a turkey breast, your favorite BBQ sauce, and a sugar rub comprising salt, brown sugar, chili powder, and ground pepper. You only need 30 minutes to prepare this recipe.
Follow the recipe at A Pretty Life.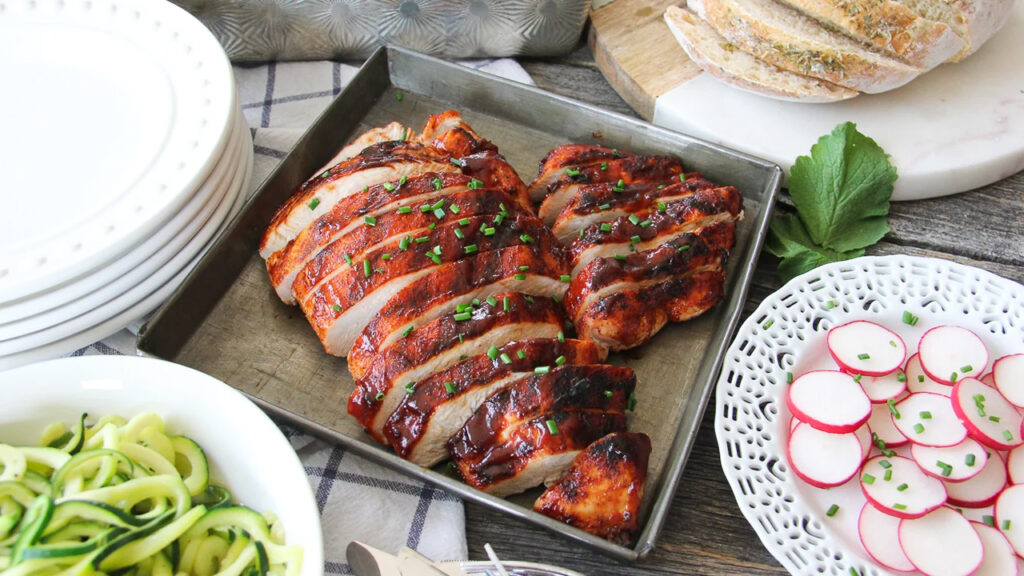 Pastrami-Style Grilled Turkey Breast
One of the best Thanksgiving turkey breast recipes, this pastrami-style grilled turkey breast pairs best with twice-roasted sweet potatoes. It is spicy, mouth-tingling Sichuan peppercorn-seasoned turkey breast that doesn't leave many leftovers behind. It will take about a day or two of preparation time and about six hours of cooking time.
You will need a skin-on, bone-in turkey breast, with a handful of spices including coriander seeds, black pepper, fennel seeds, and salt. Grind the spices and rub them all over with oil on the bird. Marinade for about 12 hours and then grill until the skin is golden brown.
Follow the full recipe on Bon Appétit.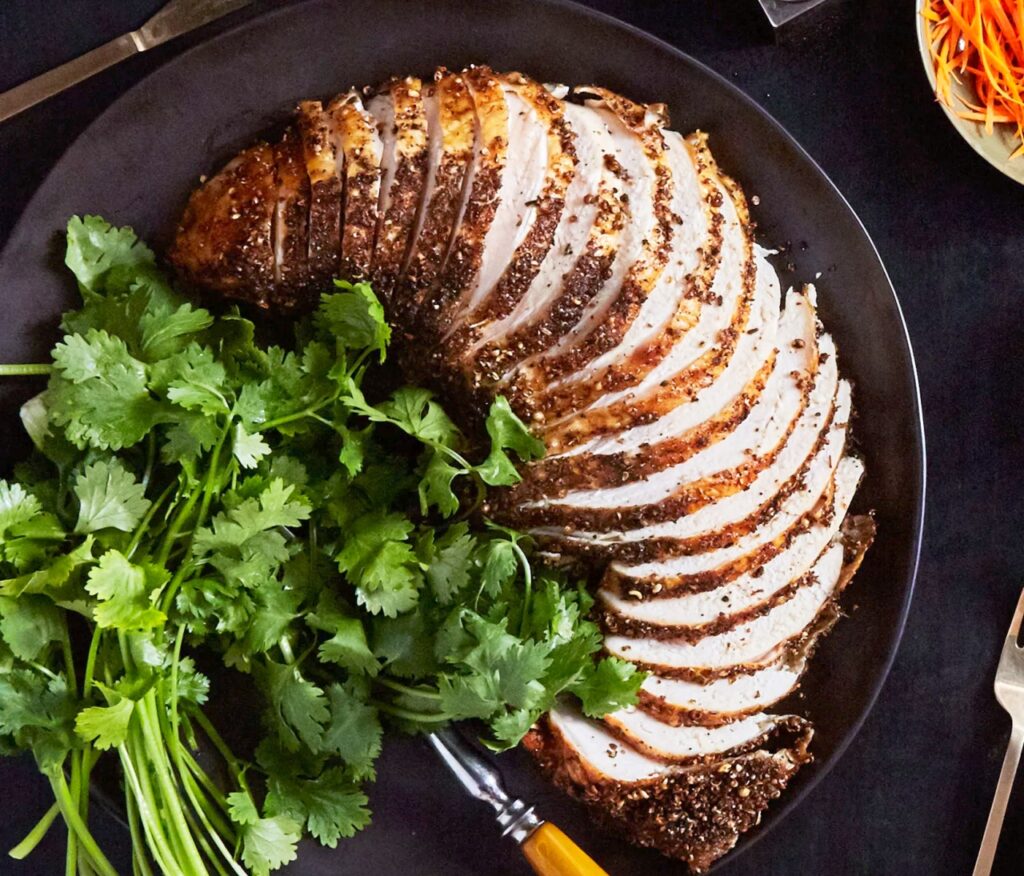 Also Read: Thanksgiving Dinner Recipes
Peach-Glazed Roasted Turkey
Cranberries have taken the center stage when it comes to Thanksgiving meal preparation. But you can also try out other fruits and berries to infuse new flavors such as this peach-glazed roasted turkey breast. It is flavorful with grilled peaches and rosemary sprigs.
Grab a bone-in, skin-on turkey breast, dry brine it in a mixture of salt, rosemary, and pepper, and let it sit in the refrigerator overnight. Roast it in the oven at 350 degrees Fahrenheit for an hour. While it roasts, sauté peaches, honey, ginger, sauce, brown sugar, and apple cider to prepare the glaze. Apply it to the turkey and cook it for a while.
Check out the full recipe on Life Love Liz.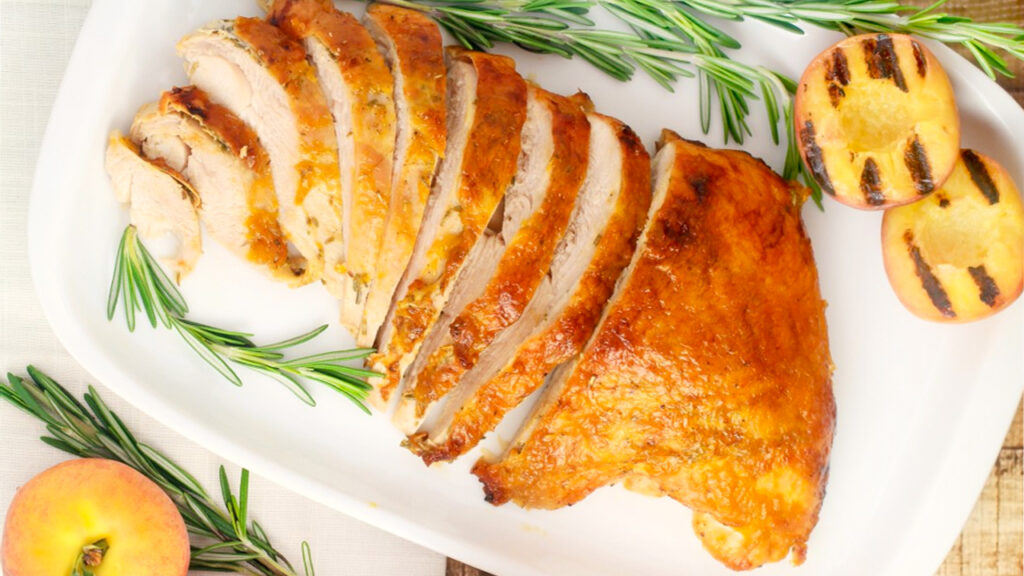 Butter-Roasted Turkey Breast
One of the best Thanksgiving turkey breast recipes, roast the turkey breasts in lots of butter and fresh herbs for a mind-blowing meal this holiday season. It will serve your small party and will have you craving for more beyond Thanksgiving. You need skin-on, bone-in turkey breasts along with a handful of other ingredients.
Grab room temperature unsalted butter, salt, ground black pepper, thyme springs, rosemary sprigs, and peeled and crushed garlic. Season the turkey with salt and pepper, and place it on a baking sheet with scattered spices. Bake for 45 minutes to an hour.
The full recipe is on Bon Appétit.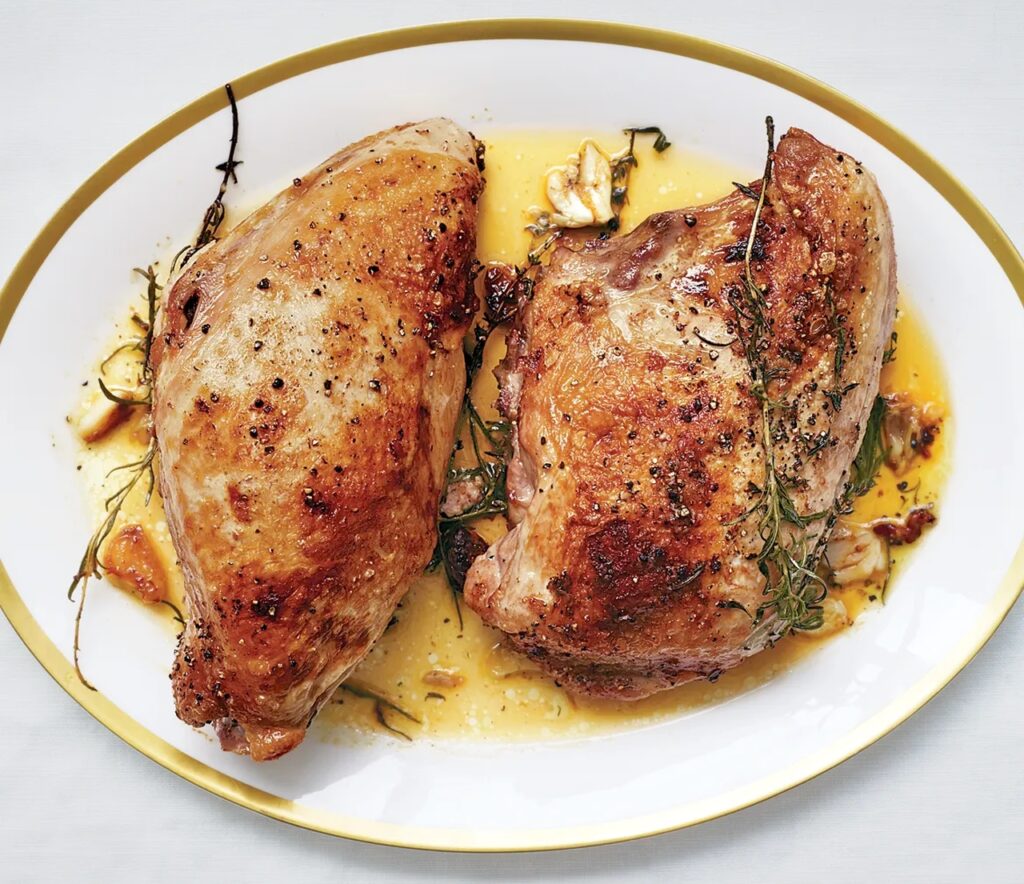 Roasted Turkey Breast with Blueberry Balsamic Glaze
Substitute blueberries for cranberries in this year's turkey breast and we assure you that you will fall in love with this mouthwatering, juicy, and flavorful recipe. It includes a roasted turkey with blueberries, figs, balsamic, maple syrup, and mustard for an eventful dinner.
Sauté onions until tender, add rosemary sprigs around it. Rub oil or butter all around the turkey, place it on a skillet atop the onion mixture, and bake for 40 minutes at 400 degrees Fahrenheit. While it bakes, make the glaze by simmering blueberries, figs, and balsamic vinegar. Then, add maple syrup, whole grain mustard, a pinch of salt, and pepper. Once the turkey is baked, brush it with the glaze.
Follow the recipe on Feasting at Home.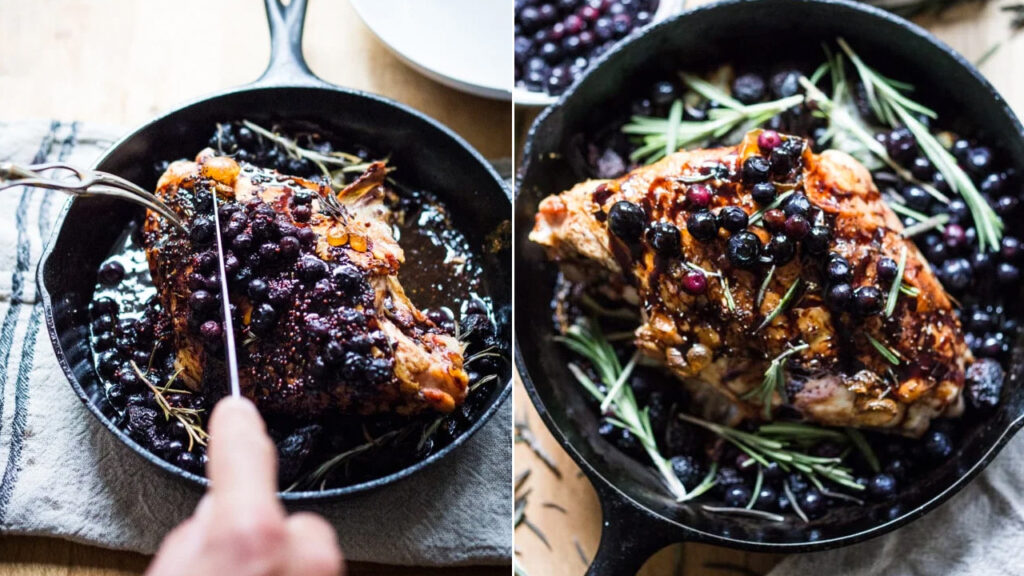 Orange-Honey Glazed Roaster Turkey Breast
Talking about glazed turkey recipes, we have got one more for you. This orange honey glaze gives your roasted bird a citrusy flavor boost that you and your dinner guests will be craving even after Thanksgiving. For a total time of an hour and 35 minutes, this succulent turkey breast recipe needs honey, fresh orange zest, and juice, apple cider vinegar, Dijon mustard, salt, black pepper, herbs, paprika, fresh rosemary, and thyme sprigs.
Place the oil-rubbed turkey in a skillet or baking pan and sprinkle it with herbs and salt and pepper, and roast for 30 minutes. Meanwhile, prepare the glaze by adding honey, fresh orange zest, juice, apple cider vinegar, Dijon mustard, salt, and black pepper in a saucepan as you whisk and bring it to a boil. After 30 minutes, glaze the bird liberally, roast it for 10 minutes, and brush it with glaze again. Repeat twice at 10-minute intervals at 165 degrees Fahrenheit.
The full recipe is on The Cozy Apron.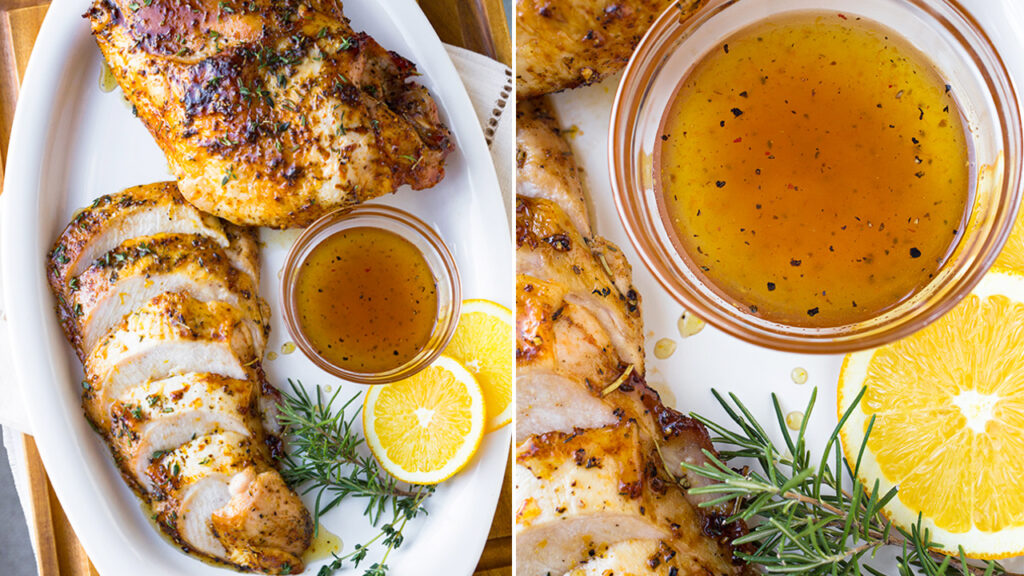 Porchetta-Style Roasted Turkey Breast
This turkey breast recipe involves deboning the breast, but you can have it removed by your meat vendor as well. It comprises flavor cues from the classic Italian roast suckling pig dish porchetta and a bacon wrapping for a perfect holiday meal. You need fennel seeds, red pepper flakes, salt, olive oil, chopped Italian bacon, garlic cloves, sage leaves, parsley leaves, chopped fresh chives and rosemary, lemon zest, and whole skin-on, bone-in turkey breast, bones removed, and sliced bacon.
The turkey roll needs 15 to 20 minutes of preparation time, and 2 hours to set at room temperature or a day. Cook Italian bacon until brown and crisp, add it to a food processor along with garlic, and make a smooth paste. Then add sage, parsley, chives, rosemary, and lemon zest until smooth. Butterfly the bird and sprinkle the spice mixture all over. Roll the turkey and roast it for 45 minutes to an hour at 325 degrees Fahrenheit. Then take it out and wrap bacon strips around it, and put it back in the oven for 30 minutes at 140 degrees Fahrenheit.
Follow the full recipe on Bon Appétit.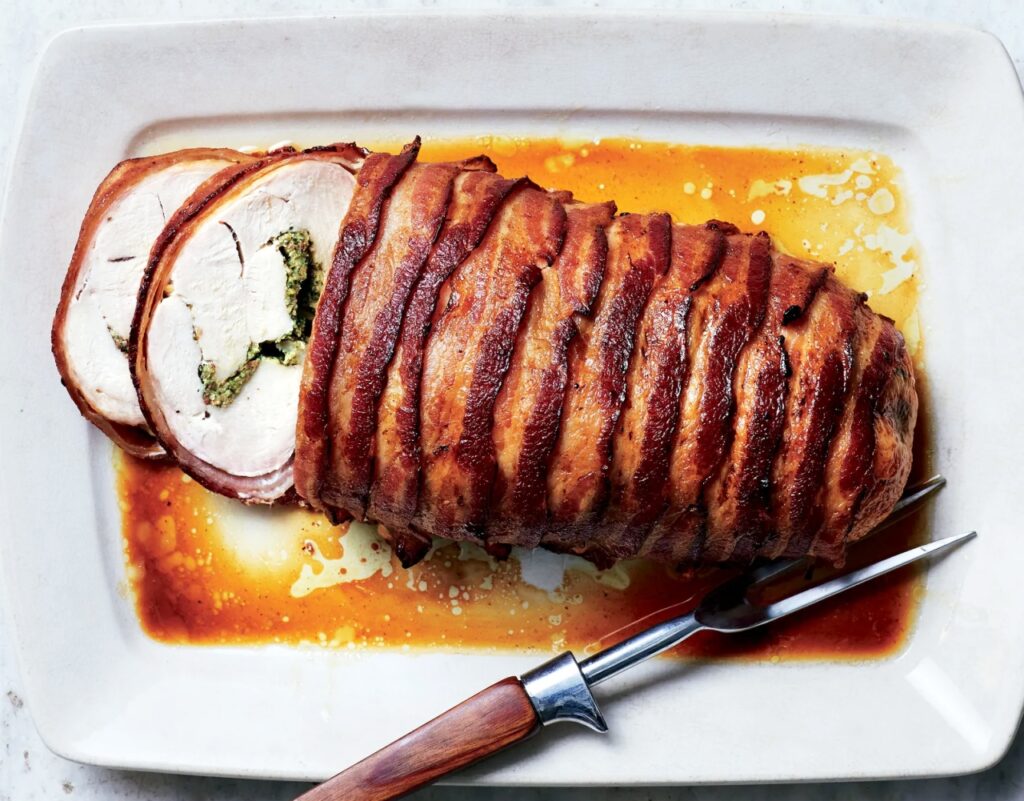 Brined Roasted Turkey Breast
Wet-brine your turkey breast overnight to get maximum flavor and moisture in it. Then baste it in butter and roast it to precision. Trust us, it is one of the best Thanksgiving turkey breast recipes and it will be a hit. It requires a total time of 3 hours and 15 minutes. Wet-brine the bird in a mixture of water, salt, brown sugar, smashed garlic, cinnamon stick, fresh sage and rosemary sprigs, lemons, orange, and ice.
Once the brine is prepared, submerge the bird in it and store it in the fridge overnight. Then, place onions and smashed garlic in a roasting pan along with the turkey seasoned with salt and pepper. Brush the turkey with melted butter, add chicken broth to the pan, and cover it with aluminum foil. Cook covered for 90 minutes, basting with butter every 30 minutes. Then, remove the foil and roast for another hour. Serve it with your choice of gravy.
Check out the complete recipe at Jo Cooks.