There is so much to consider when it comes to hosting a lavish Thanksgiving dinner. Apart from a delectable menu, you need to work on enhancing the ambiance through decorations; and tablecloths are a great way to add a special touch to your holiday dinner table. There is a vast variety of tablecloth options to rummage through for Thanksgiving to give your table setting a fresh touch.
Once you pick out a tablecloth, you can synchronize dinnerware, centerpieces, other linens like napkins, and accessories that need to go on the dinner table. There are many options and it is easy to get confused while picking the appropriate tablecloth for Turkey Day. To save you time and offer some inspiration, we have listed a few of the best Thanksgiving tablecloths, which you can also use for Christmas.
Mccracken Maple Leaves Thanksgiving Tablecloth
Made up of polyester, this tablecloth features a perfect maple leaf print for any given occasion at homes, hotels and restaurants. Mccracken signature fabric is both elegant and durable for Thanksgiving occasions and is completely stain resistant.
Price: $45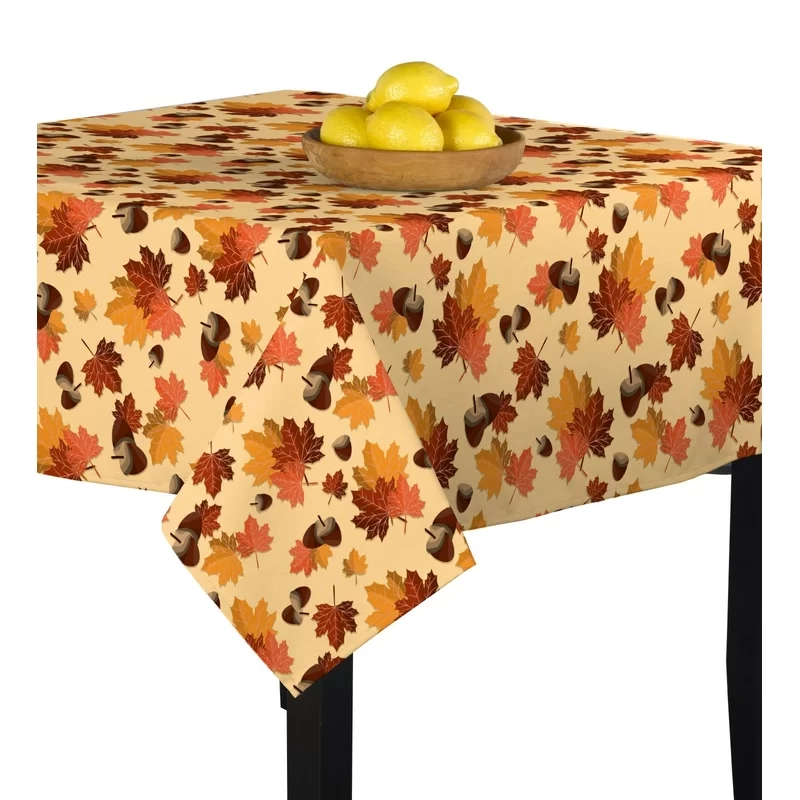 Coello Leaves Tablecloth
Perfect for seasonal decorations, this tablecloth features fall leaves and colorful berries. It is also suitable for everyday use during fall as its gorgeous patterns and colors complement the season flawlessly.
Price: $13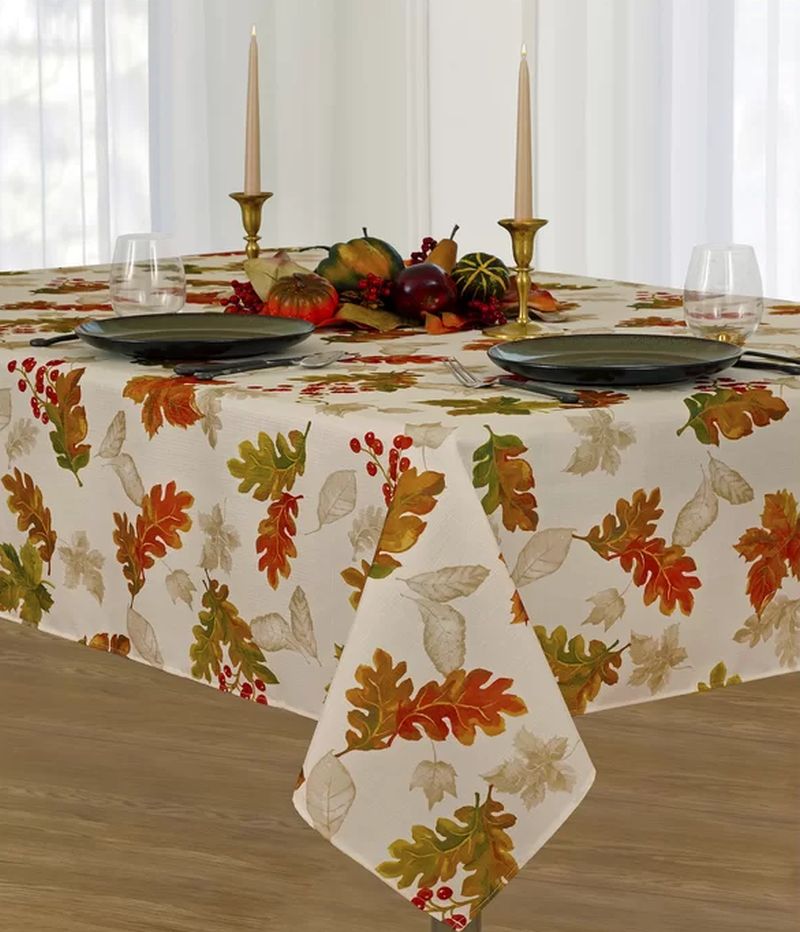 Benson Spillproof Fabric Tablecloth
The best aspect of this tablecloth is that it is spill-proof in nature. Any sort of liquid or solid dripped onto the cover can be cleaned within seconds with a tissue paper. Available in multiple colors, the tablecloth creates a great ambiance during a Thanksgiving treat.
Price: $12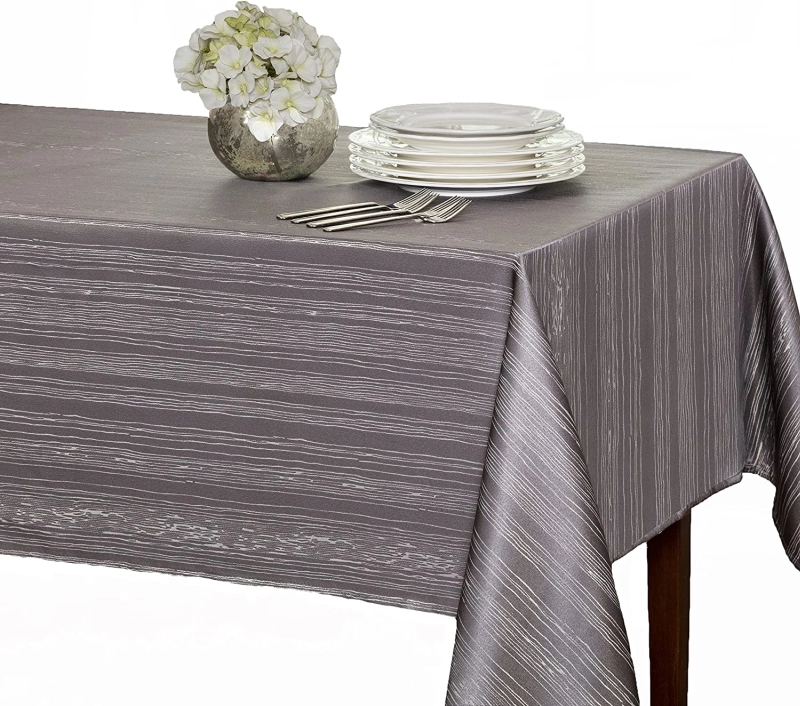 Plaid Thanksgiving Tablecloth
Thankful for a plaid tablecloth? This one is for you. Suitable for Thanksgiving and more casual autumn dinners, you can get this gorgeous piece of fabric for a year-round table setting.
Price: $13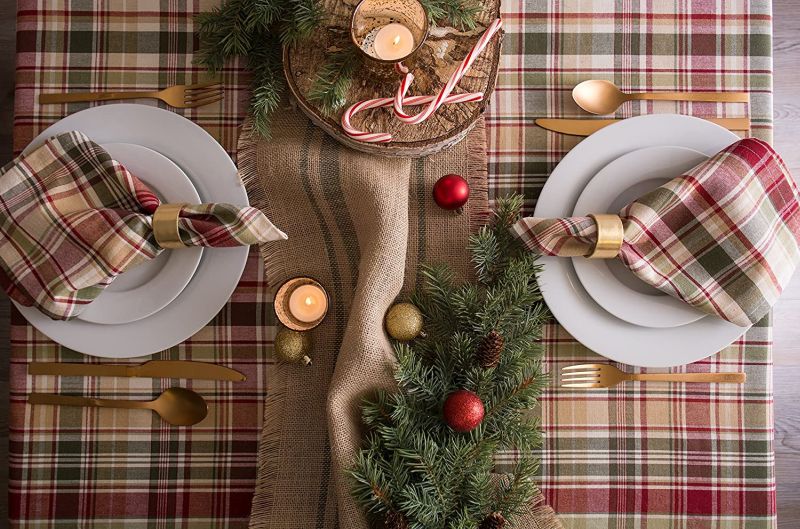 Autumn Tablecloth
The autumn patterns make this tablecloth a desirable option for a lovely and sophisticated Thanksgiving dinner table décor. With plain white in the center and floral print on the edges, the simple design makes it a right pick for all occasions.
Price: $23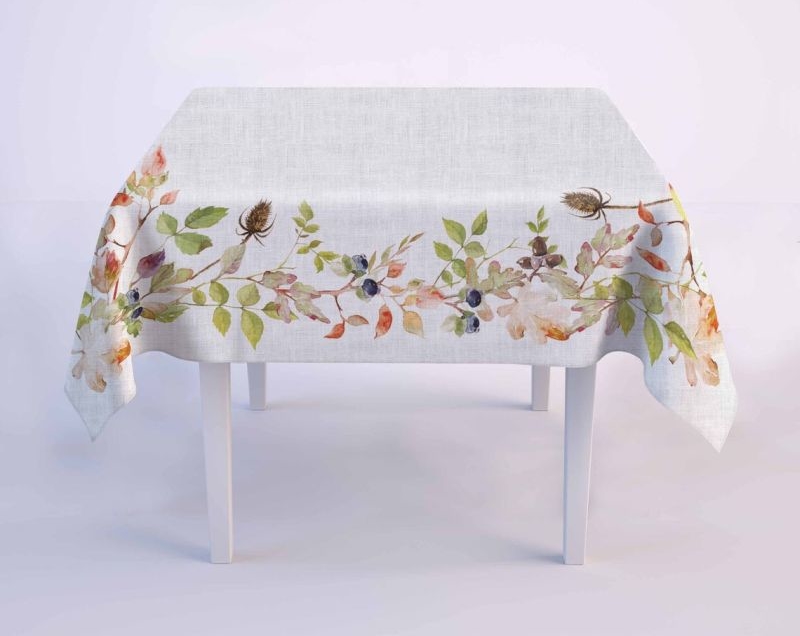 Harvest Table Cloth
This Benson Mills Harvest Tablecloth is perfect for your holiday décor. This luxurious printed fabric is a versatile pick that creates a look of simple, contemporary holiday elegance.
Price: $27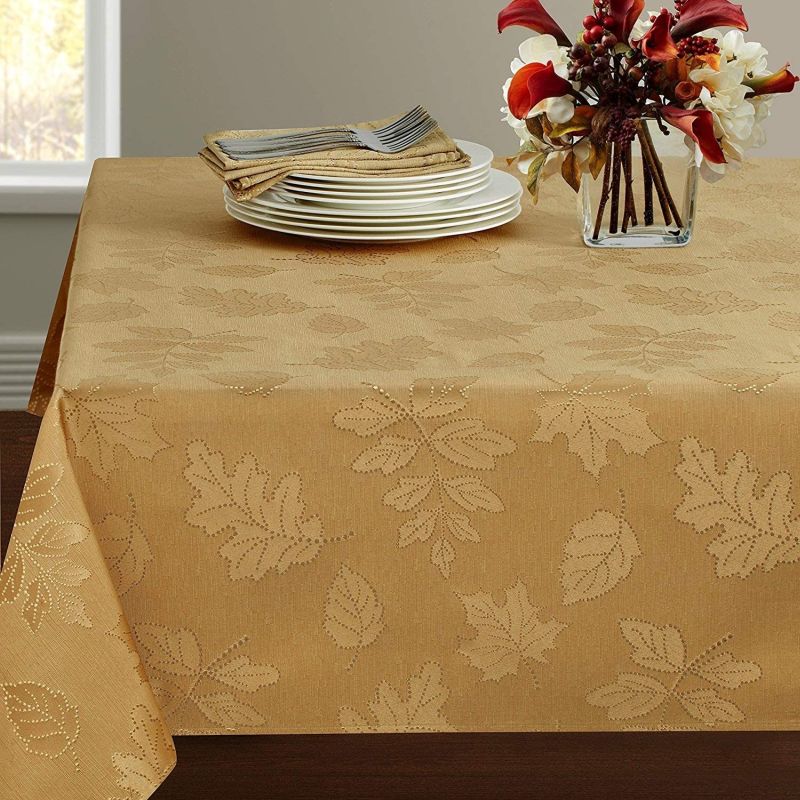 Also Read: Thanksgiving Tablescape Ideas
Buffalo Check Tablecloth
Stylish and beautiful, this tablecloth bestows a rustic look to your dinner table and helps create a shabby chic, modern country home vibe. The sophisticated Buffalo check tablecloth is made of premium quality cotton.
Price: $15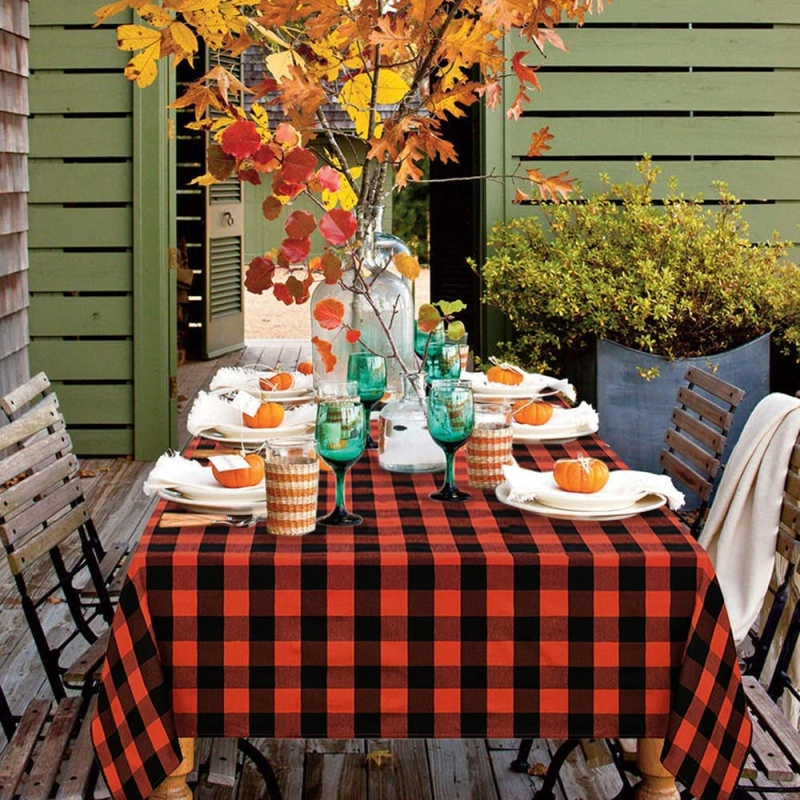 Autumn Spice Plaid Tablecloth
Made of 100 percent cotton, the Autumn Spice Plaid tablecloth is absolutely adorable and a perfect option for people who love plaid patterns. It is ideal for formal dinner parties, as well as intimate family gatherings.
Price: $27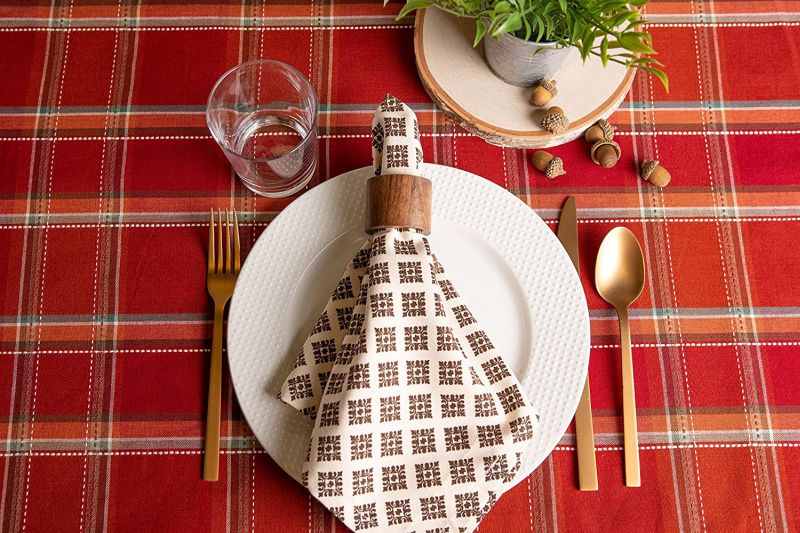 Maison d' Hermine Tablecloth
Made up of cotton and clad in allure color, Maison d' Hermine tablecloth is suitable for a variety of occasions. It is perfect fit for kitchen, dining room, party and tabletop decoration as it creates an effortless style.
Price: $37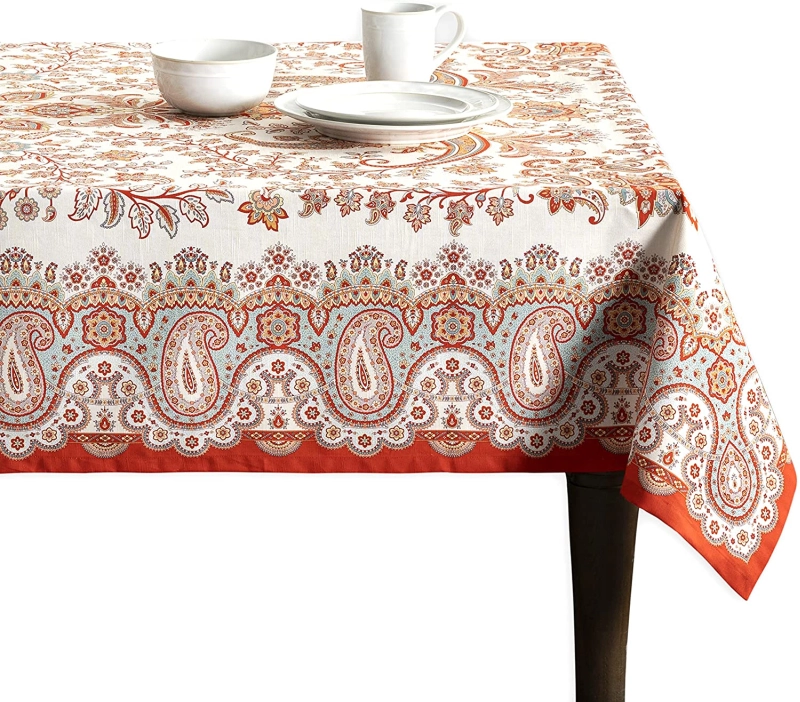 Embroidery Lattice Tablecloth
Opt for a more muted and warm look with this elegantly embroidered lattice pattern on a soft-hued cotton fabric that can work flawlessly in any season and for any occasion.
Price: $31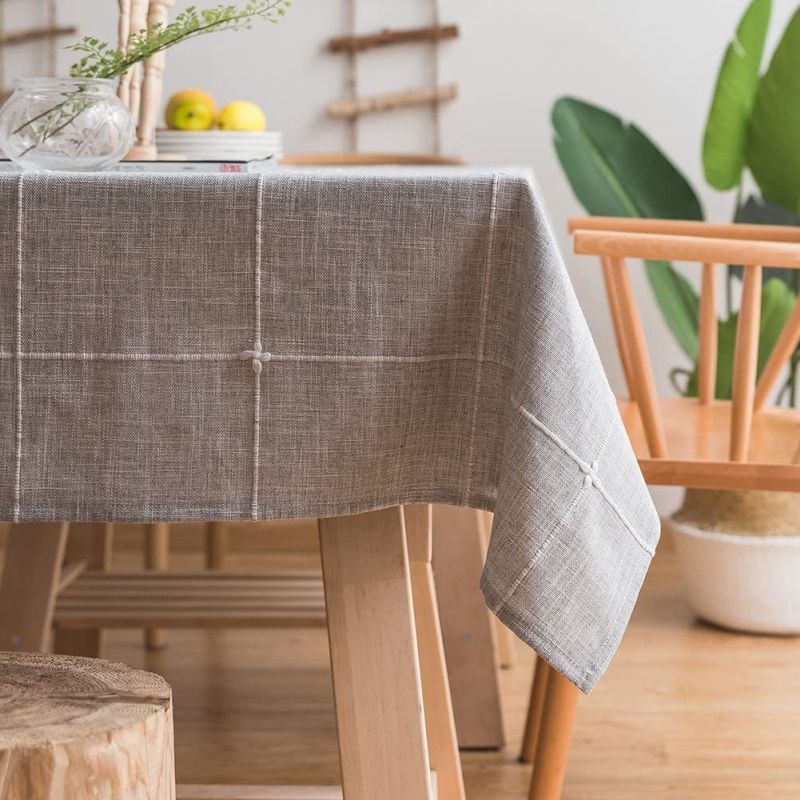 Paisley Tablecloth
Made with 100-percent cotton, this gorgeous paisley tablecloth is sure to brighten up your dinner table. This graceful tablecloth draws on the playful appeal of a lively paisley pattern, gracing the table with beauty.
Price: $44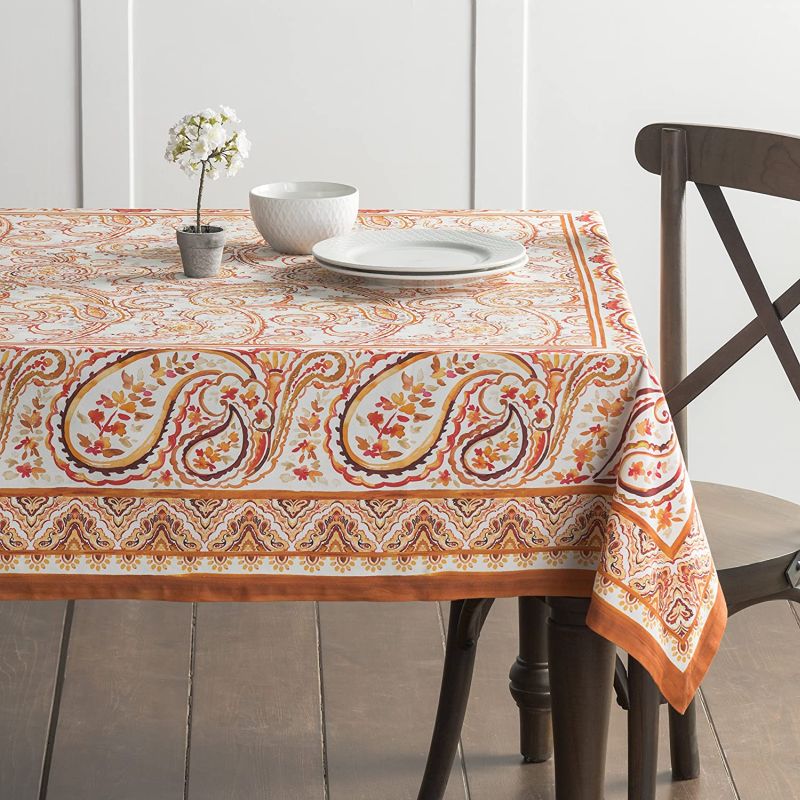 Akins Floral Tablecloth
Drape your tabletop with this beautiful Akins design tablecloth for any special occasion. The lace trimming on this gorgeous tablecloth adds glamor and ambiance to your décor.
Price: $30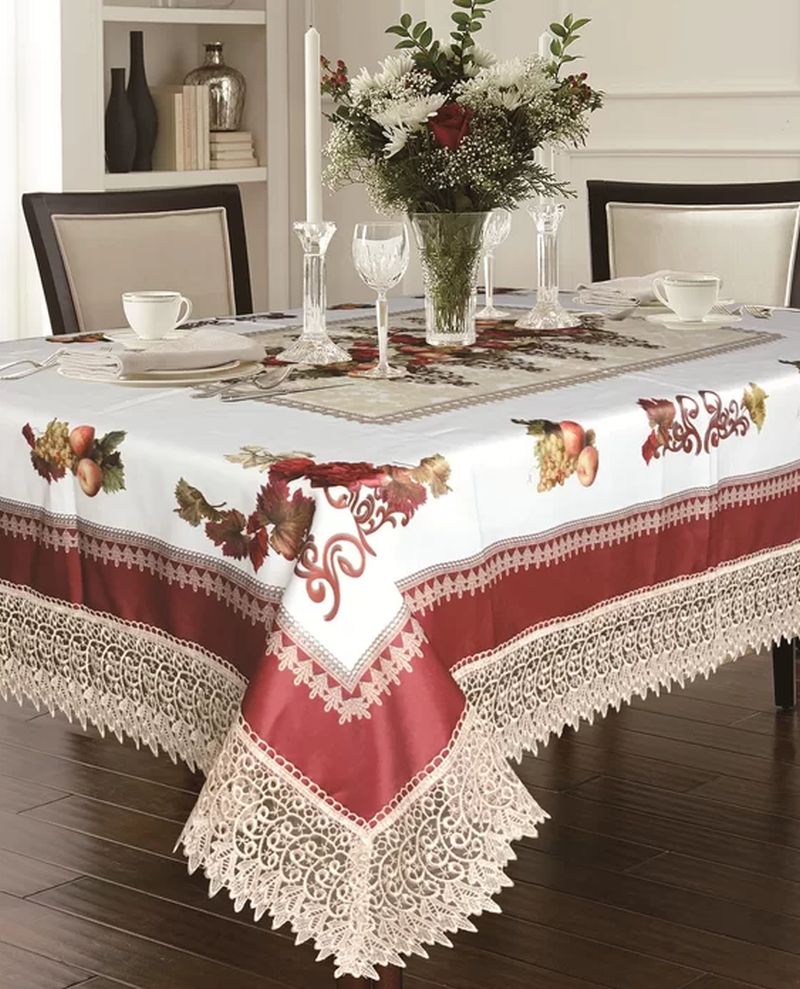 Also Read: DIY Thanksgiving Place Cards and Holders
Coffman Floral Tablecloth
This heat transferable table cloth is made of polyester and adds a fashionable touch to your dining room. The colorful tablecloth adds a vibrant ambiance of the Thanksgiving dinner.
Price: $21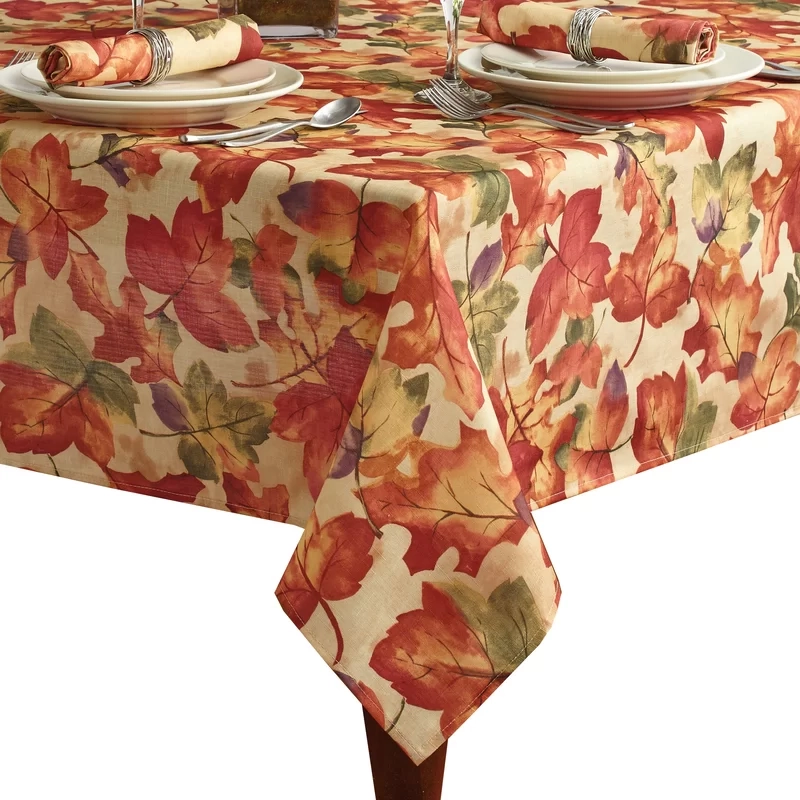 Pumpkin Farm Tablecloth
Recommended for both indoor and outdoor use, the Pumpkin Farm table cloth is best suited for a Thanksgiving dinner party. The pumpkin patches on the tablecloth make it look really cute and adorable.
Price: $35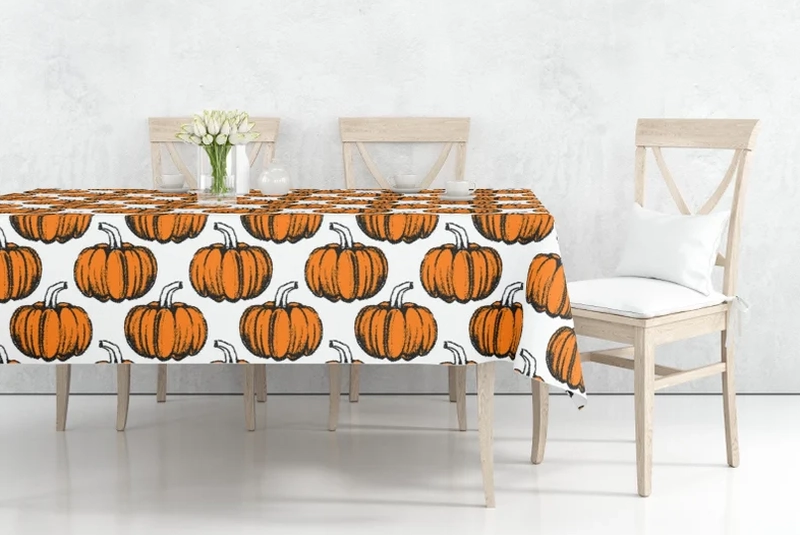 Ruffled Linen Tablecloth
Plain, simple, and tasteful. These are the words that come to mind upon looking at this ruffled linen tablecloth. It is ideal for family dinners and parties; it can also be used every day.
Price: $57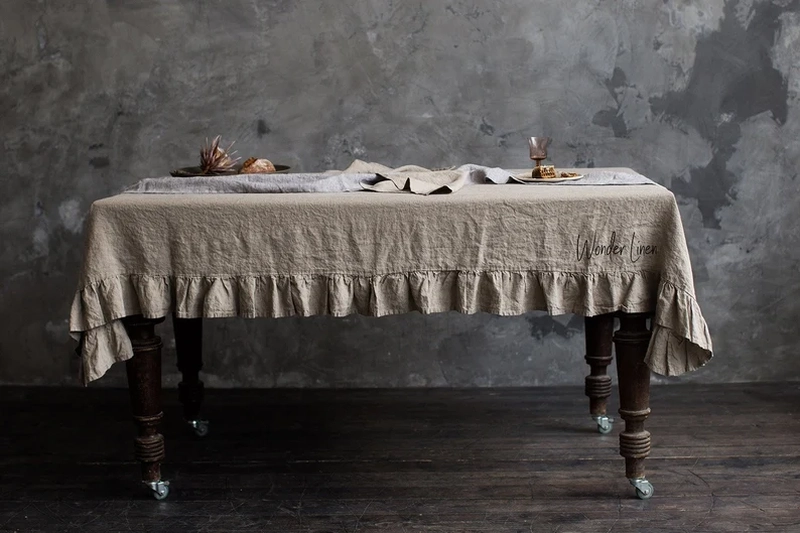 Autumn Plymouth Turkey Tablecloth
These festive linens with imprinted turkeys in full plumage amid a landscape of fall foliage are an absolute favorite for decorating your Thanksgiving dinner table.
Price: $7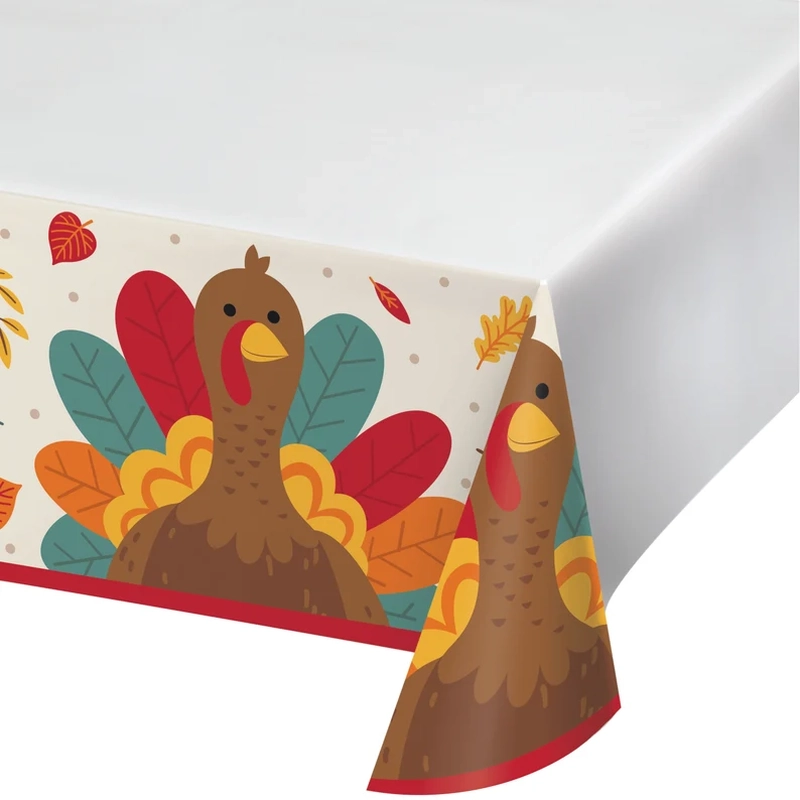 French Vintage Floral Tablecloth
This tablecloth is the definition of soft and subtle elegance. The vintage floral pattern makes it an ideal pick for gracious dining all year round. It is made from cotton, linen and polyester,
Price: $25