Adding greenery is a great way to bring color and vibrancy to your home exterior. It's also beneficial for the environment, as it absorbs carbon and helps purify air. If you're keen on adding plants but are limited by space, installing a window box can be a viable solution.
However, before you start hanging a window box, it's important to assess the space, choose the right plants and planter box, and ensure proper support.
Here are some basic steps and tips to ensure your window box installation is a success.
Assess Your Space
The size of your window planter should be proportional to the size of your window. You don't want a planter that's too small or too large for your window, as this can affect aesthetics and weight distribution of the planter.
A general rule of thumb is to choose a planter no wider than one-third the width of the window. For example, if your window is 36 inches wide, choose a planter 12 inches wide at most.
Consider the weight of a fully watered pot with soil and plants when calculating how many planters you can safely install on your window.
Determine what type of plants will do best with the amount of sunlight coming through your windows as well. Once you have all these factors considered and addressed, you can choose the perfect planter for your window.
Choose Your Plants Wisely
Next, consider what kind of plants you want to grow. This decides the final look as well. Are you looking for lush foliage or something more minimal? Do you prefer greenery, flowers, or both?
One popular option for window planters is herbs. They are easy to grow, require minimum maintenance, and can be used in a variety of recipes. If you need help keeping your herbs stocked, consider planting them in a rotation. This means planting a new batch of herbs every few weeks so that you always have fresh herbs available.
Apart from the plant type, check the light requirements and size of the plants. Most herbs require ample sunlight to thrive, so make sure your chosen spot gets plenty of sun. Some herbs also grow larger than others, so ensure they have enough space to flourish.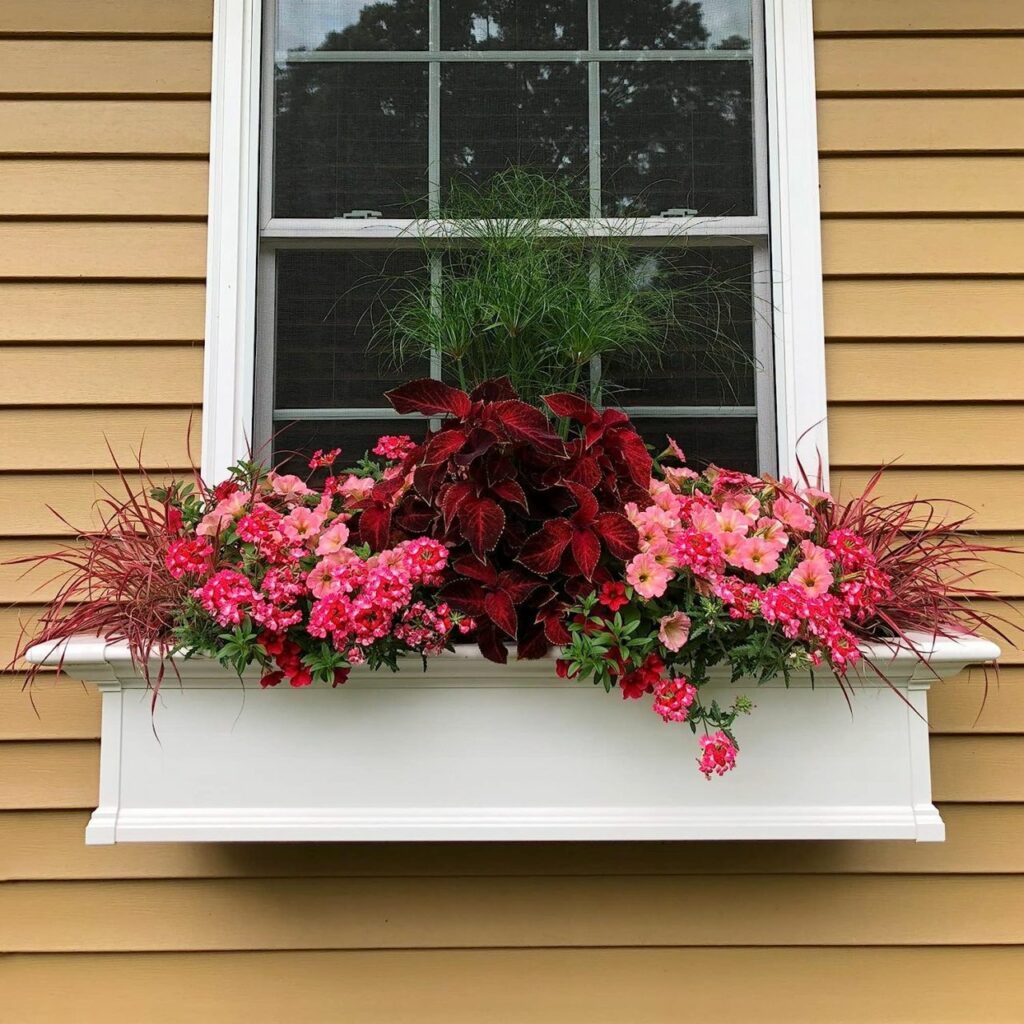 Choose the Right Window Box
Then, choose the right planter box per the size of your window and the type of plants you want to grow. A deeper planter box will allow for more soil and water, which can be beneficial for plants with deep roots or require frequent watering. However, a shallow planter box may be more appropriate for plants with shallow roots or for windows with limited space.
In addition to the depth of the planter box, consider the material it is made of. Window boxes are made from a variety of materials, including wood, plastic, and metal. If you anticipate moving your planters around often, opt for a lightweight material.
Also Read: Indoor Vertical Garden Ideas and Benefits
How to Install a Window Box
The installation process can be different for every type of planter. In general, these are the main steps you need to follow when installing a window box:
Measure the window and planter box to draw marks for holes. Keep in mind the window opening orientation.
Use a drill to make holes in the window.
Attach the planter box to your window frame with the provided screws and hardware. In some cases, you might need to add mounting brackets first.
If possible, consider using galvanized hardware to better withstand moisture.
Attach decorative corbels
Line the bottom of the planter with gravel
Add soil and the desired plants
Keep in mind that the best soil for window boxes is a potting mix specifically made for container gardening. It's lightweight and porous to allow good drainage and airflow to the soil, and contains a balanced blend of nutrients to support healthy plant growth.
How to Install Hanging Planters
Hanging planters are suspended from a support structure, such as a beam, or bracket. They're a great alternative to window boxes if you don't want much hassle. To install a hanging planter, follow these steps:
Measure the width of the window to determine how many planters you can fit
Choose a lightweight material, such as plastic or ceramic, so it's easier to hang. If you need extra support, install anchors or brackets on the wall below the window frame.
Attach hooks to each planter and ensure they're firmly secured. Hang the planters along the window frame at various heights for a nice look.
Finally, fill each pot with soil and your favorite plants or flowers
Also Read: How to Make Vertical Garden from Wood Pallets
Ensure Proper Support
Proper support is important especially when you're installing heavy pots. You don't want to put too much strain on the window frame. Check if all the attached hardware pieces are securely fastened so they don't come loose or fall off the frame. Use screws where possible to keep parts from moving.
Determine the weight capacity of both wall anchors, brackets, and hooks before installation to ensure they can handle the weight. For outdoor installation, use higher-grade materials such as stainless-steel hooks or anchors as they're more durable.
Lastly, regularly inspect and tighten any bolts to maintain the secure positioning of your planters over time.
Importance of Urban Greenery
Whether it's in the form of hanging plants, potted plants, or planters, integrating natural elements into your home can enhance both your mental and physical health. Exposure to green spaces and urban greenery may also help reduce stress levels, increase productivity, and improve overall well-being.
Apart from this, plants also help filter pollutants from the air and reduce noise pollution in cities. That why so many people across the globe have started to show interest in gardening. If you are one of those who feel pulled towards this trend, take note of these steps when planning to install a window box.
Takeaway
Mounting window planters is a simple and cost-effective way to incorporate a touch of nature into your home. Not only will you be able to enjoy the beauty of plants all year round, but you can also benefit from the health advantages of greenery.
So go ahead, choose your favorite plants, select the perfect box, and breathe new life into your home.