Nowadays, you can easily find smart toasters with different degrees of toasting levels; still, it's easy to burn toast on these machines. Maybe that's why various designers have added an element of transparency to the toasting machines for both aesthetics and functionality.
Transparent toasters are not only stylish to look at, but also practical as they let you see your bread being toasted to perfection. Here is a list of cool see-through toasters that allow you to monitor your slice of bread when placed for toasting.
# Morphy Richards Redefine glass toaster
Combining sleek design and see-through features, the Morphy Richards Redefine glass toaster is one appliance begging to sit on your countertop. This transparent toaster having a clear glass front panel lets you watch the bread browning to perfection. It comes with advanced controls for toasting bliss each and every morning. The digital browning control is a big bonus as it allows you to select the color of your toast. Also, if you are putting your bread or snack straight out of the refrigerator into the see through-toaster, it has defrost feature for reheating in a jiffy.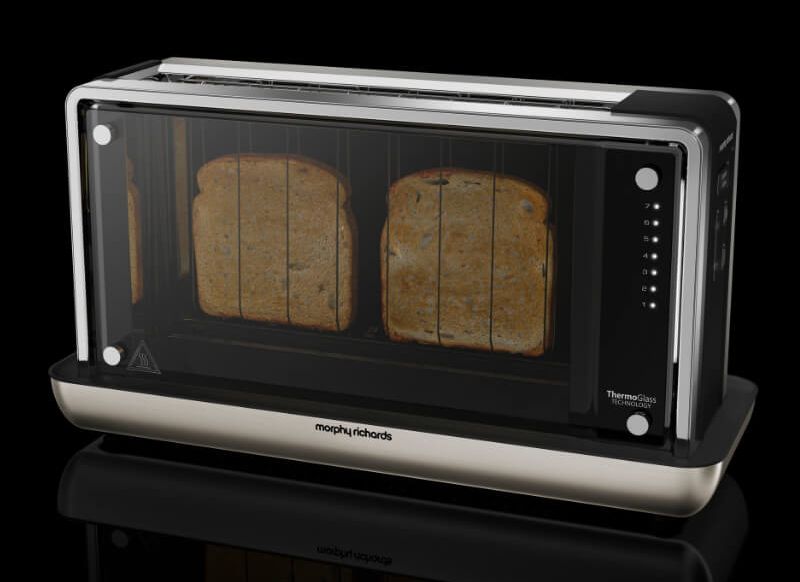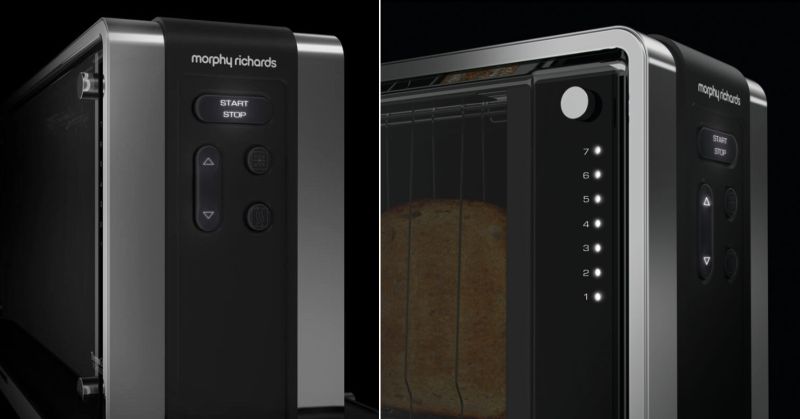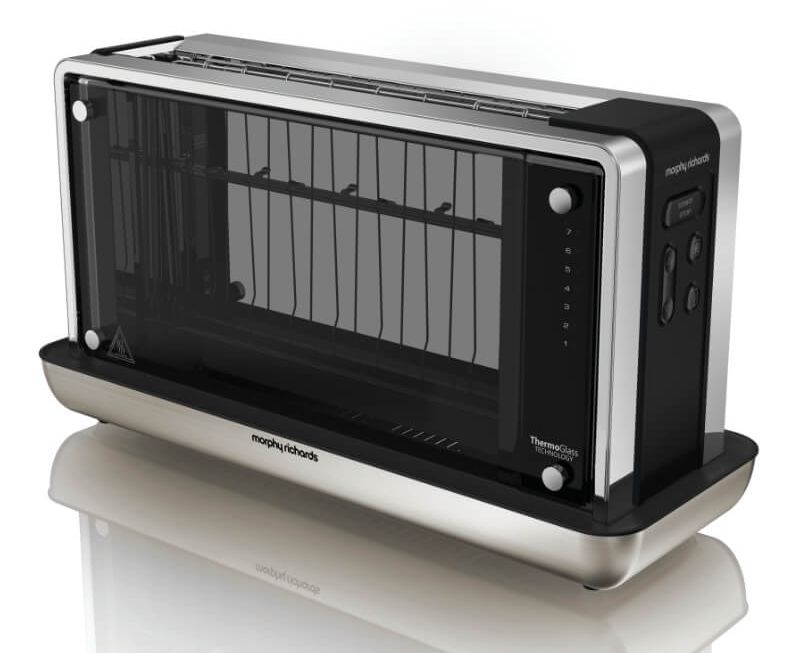 # Russel Hobbs glass toaster
If you are someone who likes shiny design, then Russel Hobbs glass toaster is the one to go for. Just like any other well-designed toaster in this collection, this one too lets you see the toast getting crisp brown, as you take it out just when the sweet spot is hit. The toaster can be used optimally to toast a single piece of bread, although two bread slices can also be toasted at the same time. Despite the odd shortcoming, this see-through toaster has a good price point for budget buyers.
Buy: £39 (approx. $55)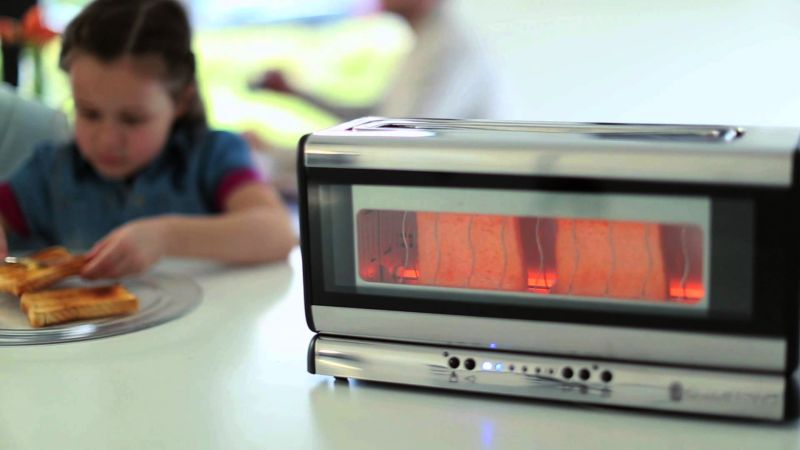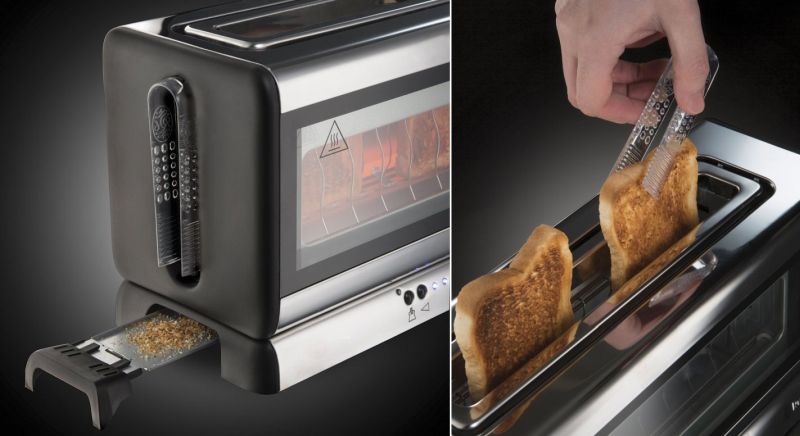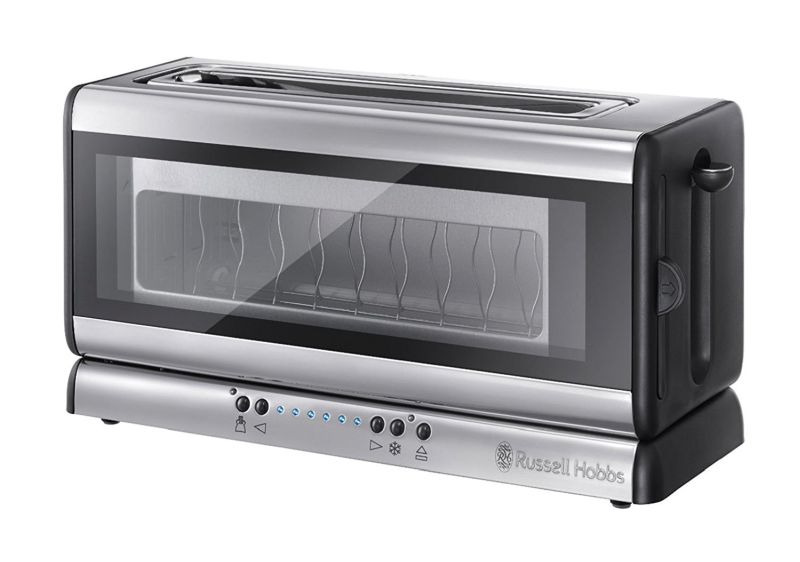 # Klastein Canyon toaster
Yet another transparent toaster which is tailormade for toasting perfect bread slices. Even before you hit the eject button, you'll be able to see your bread being browned to the level you want. Klastein Canyon toaster comes with defrost, bagel function and removable glass panel for easy cleaning. And not to forget that it has a price point which is well within reach.
Buy: £46.99 (approx. $65)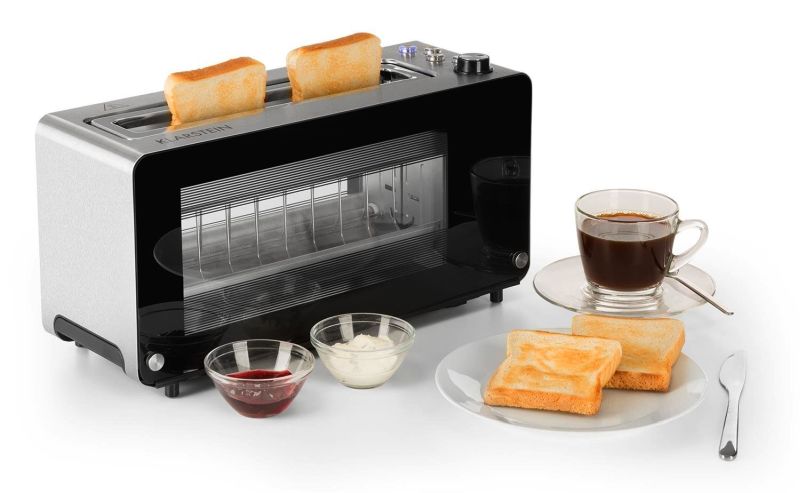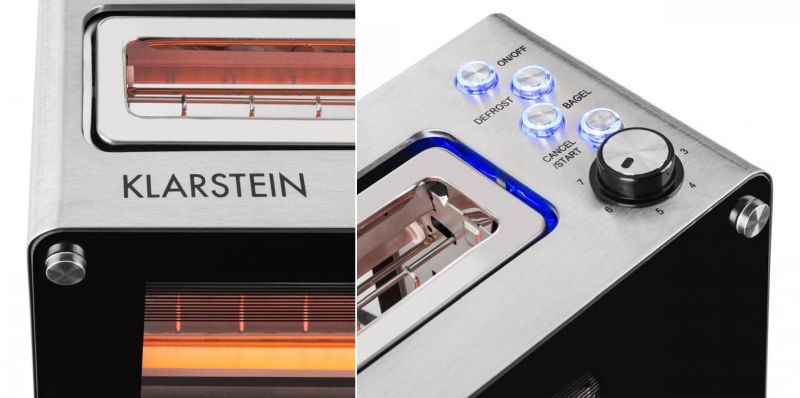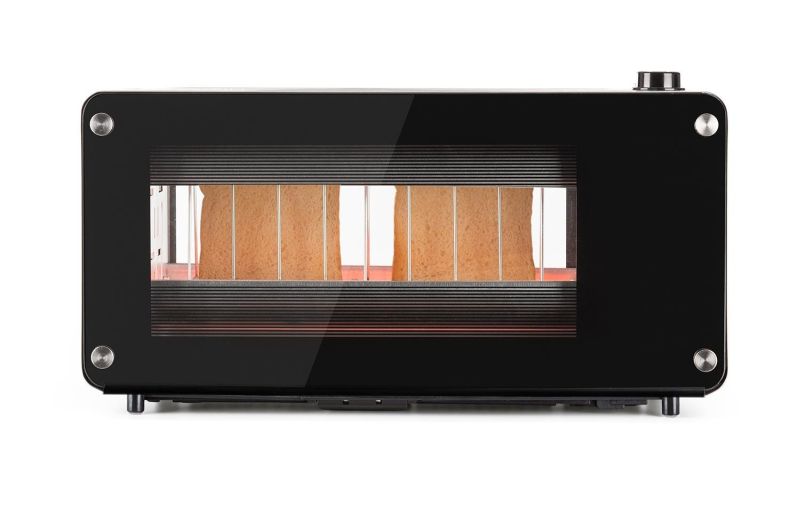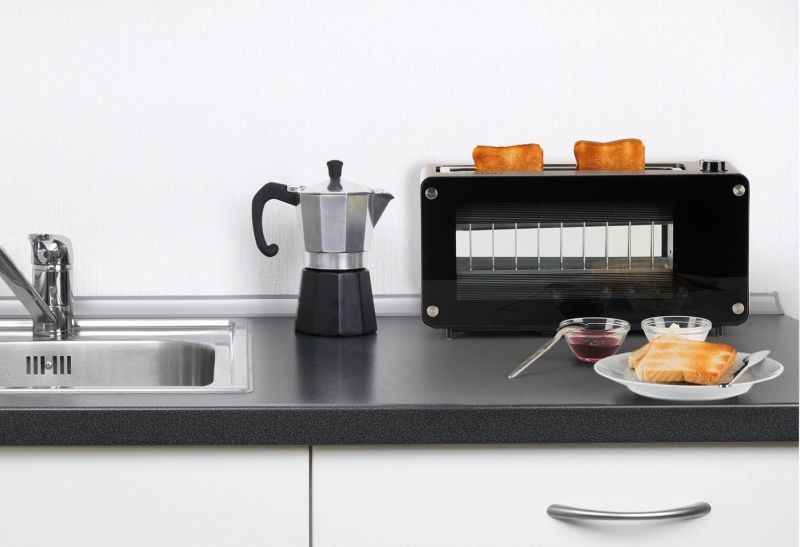 # Magimix Vision toaster
Magimix Vision toaster boasts double insulated clear glass on both sides, providing a clear view of each slice as it cooks. Metal plates are placed behind its long life quartz elements in the corners of the see through toaster. These plates help to deflect heat evenly across the bread. So you get finely toasty and crispy bread slices every morning.
Buy: $290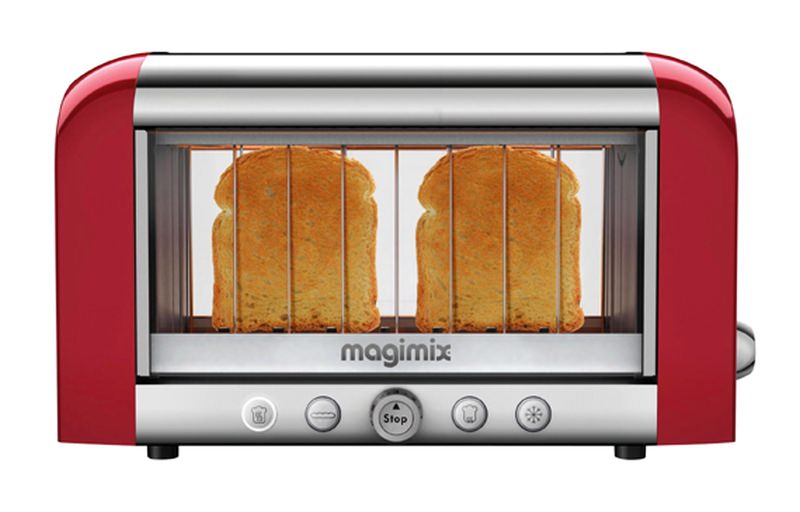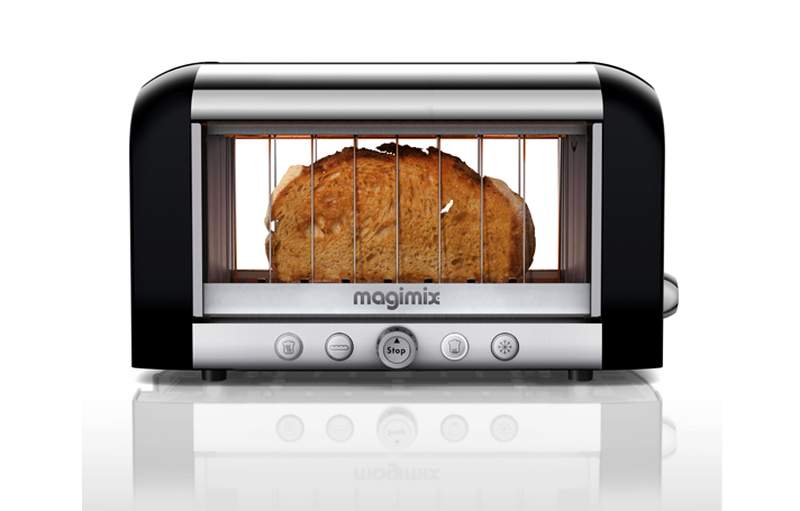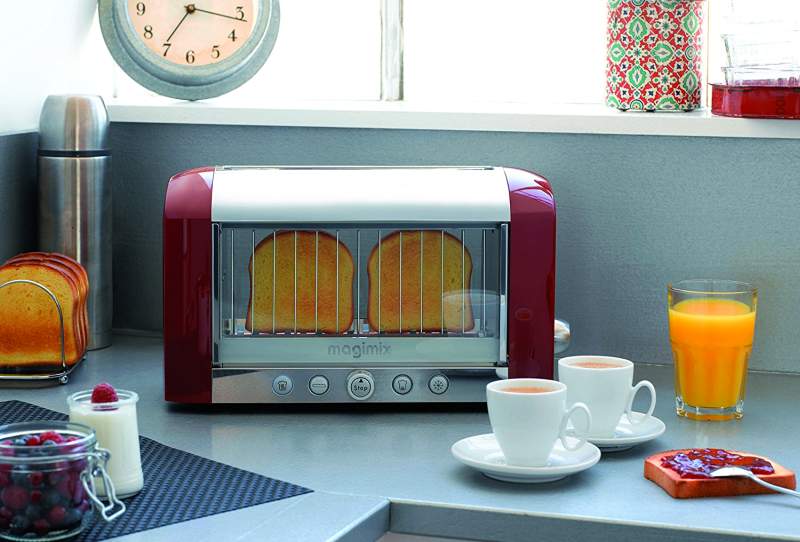 # Kalorik glass toaster
This see-through toaster is one of the coolest buys for your kitchen, as it is practical and looks great. Kalorik glass toaster comes with a plethora of easily controllable functions which makes it a hot selling proposition. It monitors the progress of your bread toasting rituals each morning, promising crisply toasted slices without fail. The heating slot is wide enough to accommodate big slices too which makes it great.
Buy: $60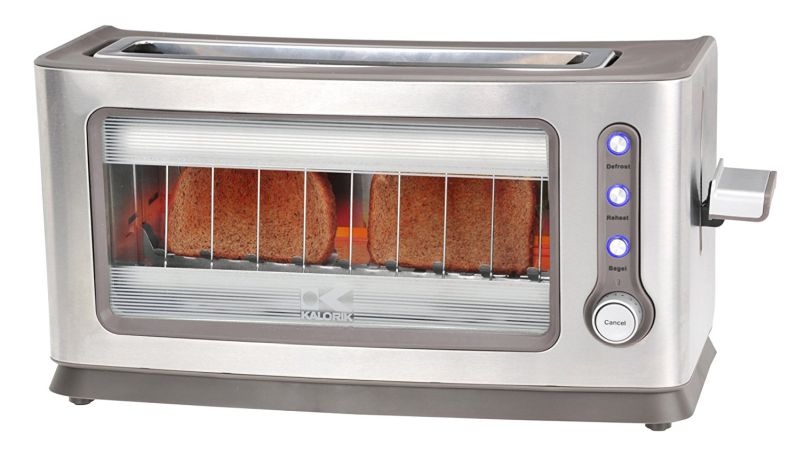 # Smartphone-controlled glass toaster
The glass toaster from Bugatti comes with a companion smartphone app, which allows you to control the appliance from any corner of your home. Designed by Andreas Seegatz, the clear toaster has two ceramic glass plates with built-in semiconductors that conduct heat and cook whatever comes in contact with them, including chicken and steak. Just slide in a pair of bread slices and enjoy a perfect crunch.
Buy: $1,000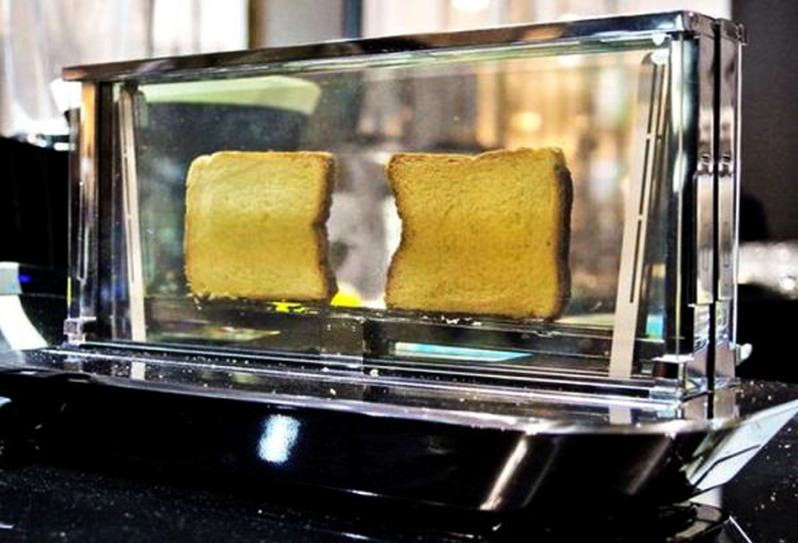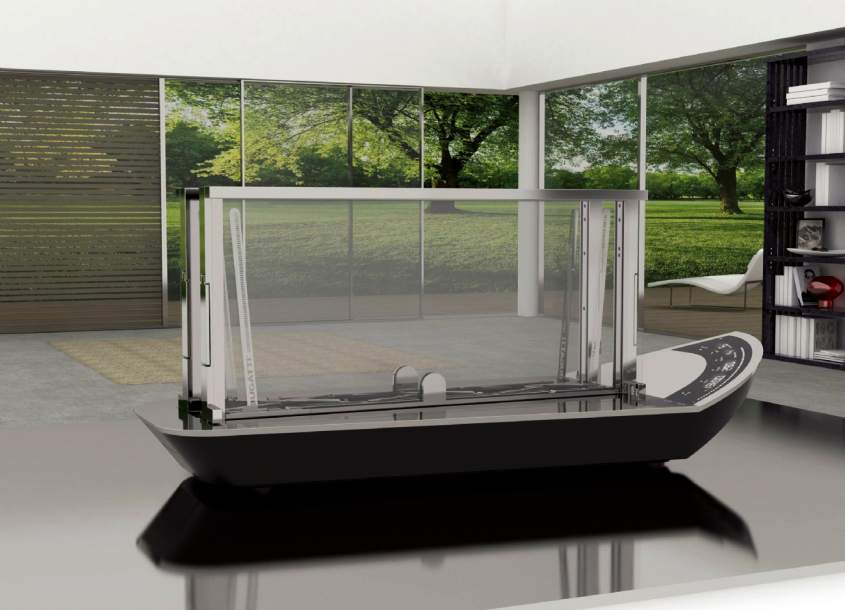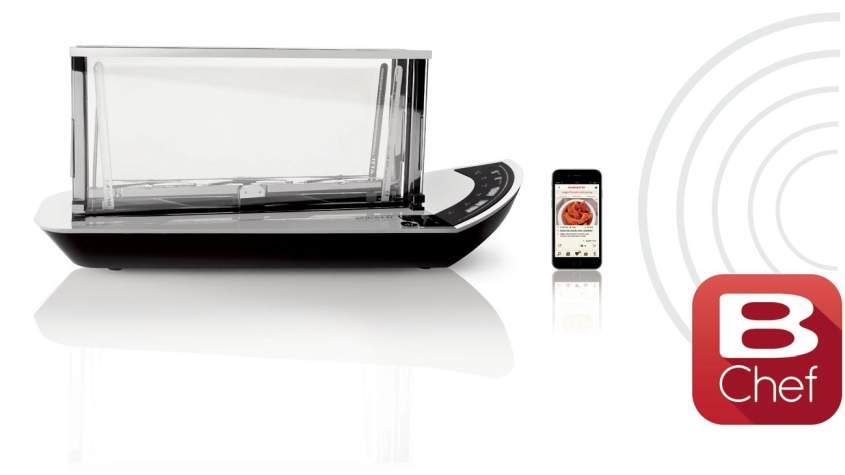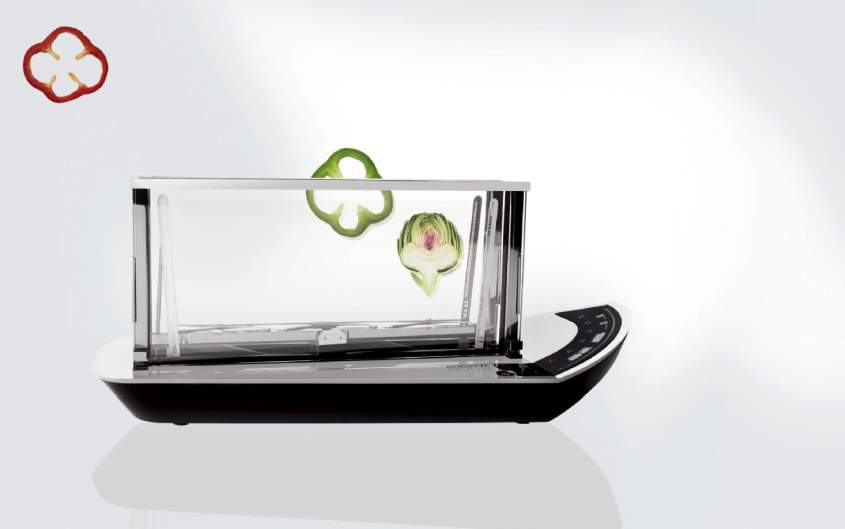 # Kenwood Persona glass toaster
Another glass toaster that impresses with its design and function. This is Kenwood Persona toaster which is made from premium materials, giving it a distinct feel. As far as looks go, it has a bold design with the impressive use of colors. And of course, the see-through glass panel allows you to toast a perfect bread slice every morning. The see-through toaster has a single slot for toasting bread, baguette, rustic bread or artisan.
It also comes with defrost, reheat and cancel functions for easy functionality. Currently, the transparent toaster is unavailable for purchase, we hope it will be up for grabs soon.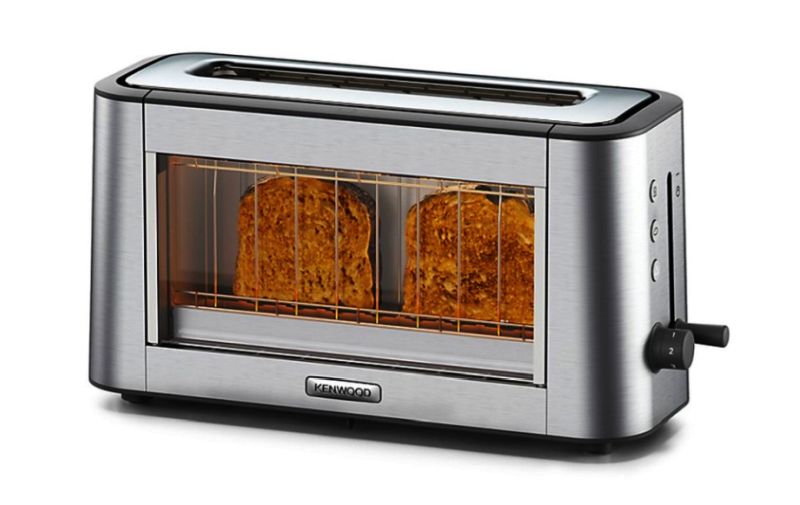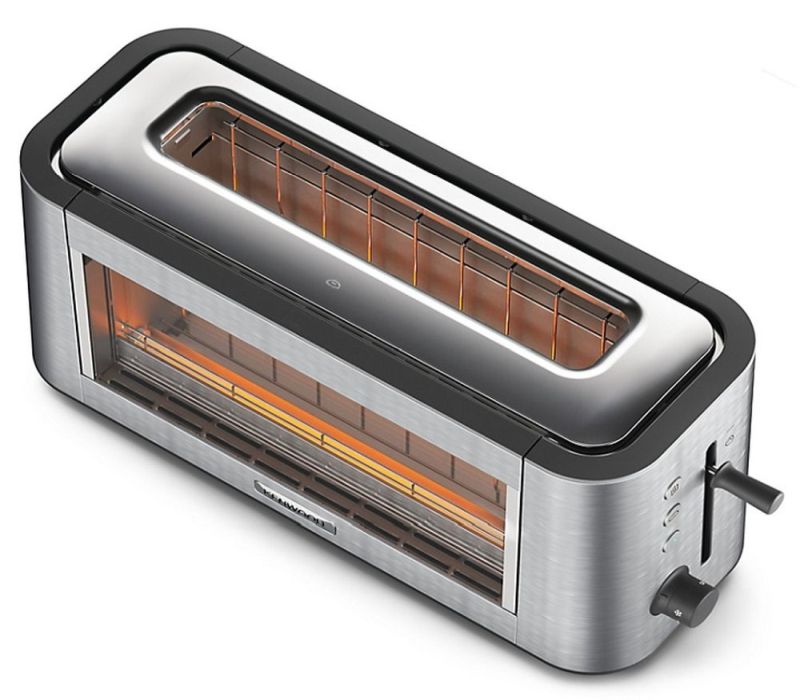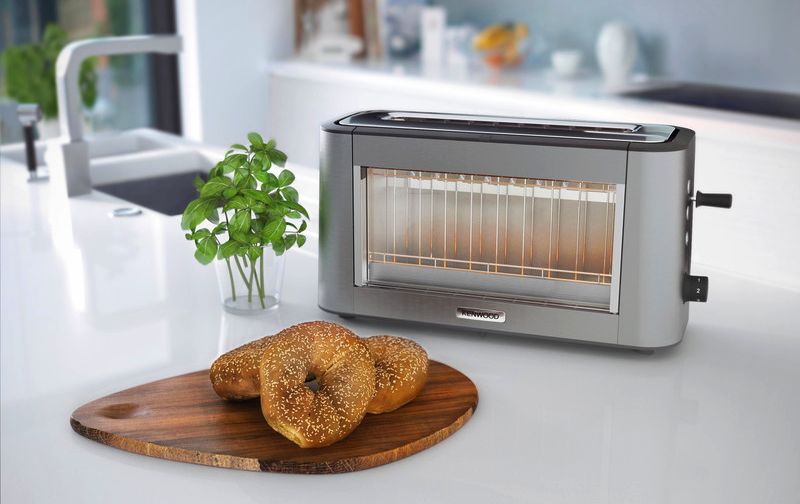 # Toastit
Toastit is a state-of-the-art toaster made with a less energy consuming vertical resistance and two-layer horizontal drawers that use rising heat to toast bread. The toasted bread is ejected horizontally, while the unconsumed toasts can be preserved in its removable bell. In this section, the remaining toasts remain crisp and hot until consumed. The toaster features five LED buttons to indicate five toasting levels and also includes a rechargeable base. Due to this rechargeable base, the see-through toaster becomes mobile and can be taken along with you to any corner of your home.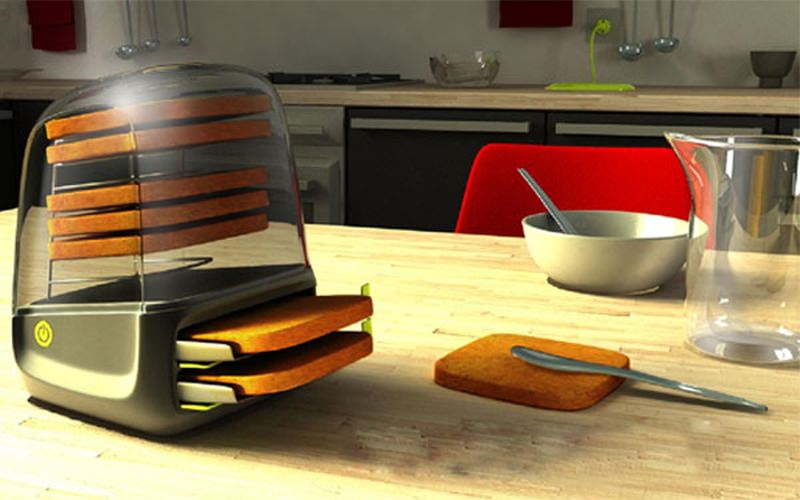 # Bamboo and glass toaster
Conceptualized by designer James Stumpf from StumpfStudio, the Bamboo and glass toaster concept is made from steam-bent bamboo plywood that holds glass toasting trays. Within these transparent toasting trays, bread slices are cooked evenly for perfect breakfast. These toasting trays not only heat up your bread but also feature quick-cooling technology to cool down hot toasts until these are warm enough to eat.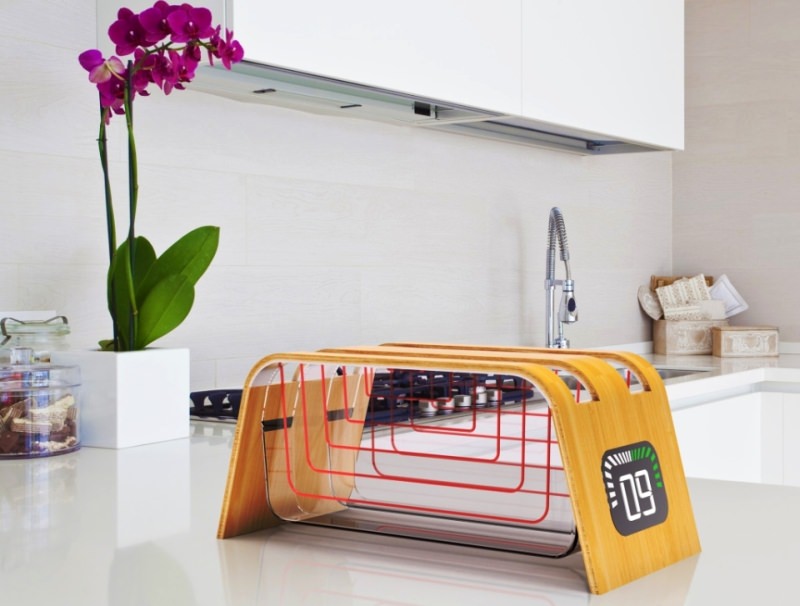 # Compact see-through toaster
This see-through toaster has side panels made from glass, allowing you to monitor your each bread slice. The transparent panels help you to keep a check on your toasts and immediately pop them out when you think it's crisp enough for your taste. The appliance is perfect for those who are really fussy about their toasts and like them crisp n' crunchy without any burn.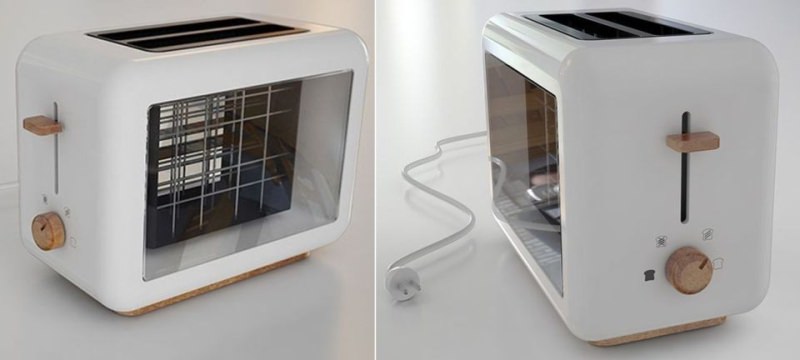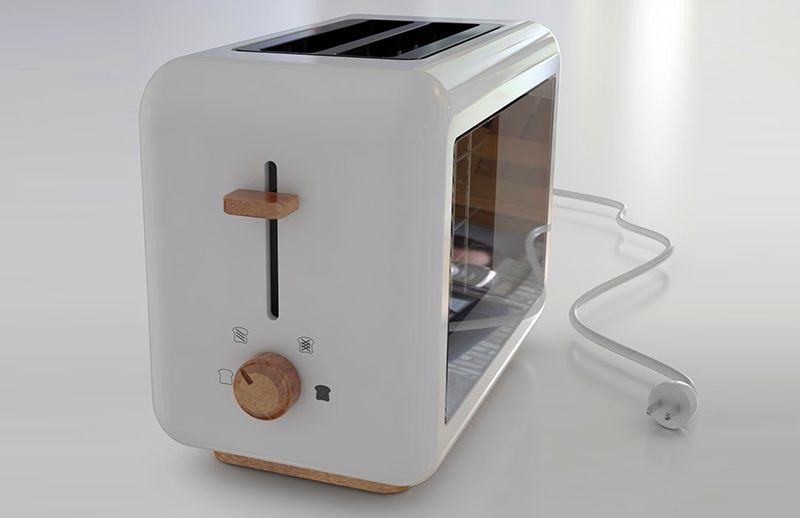 # Roastie toaster
This cute bubble-shaped toaster is designed to toast a perfect slice of bread in a shorter time than most conventional toasters. Its spherical layout is to accommodate one slice of bread at a time, so your bread slice is burned evenly at right sections. Moreover, it will be a fun addition to your kitchen counter, provided it ever gets into the production phase.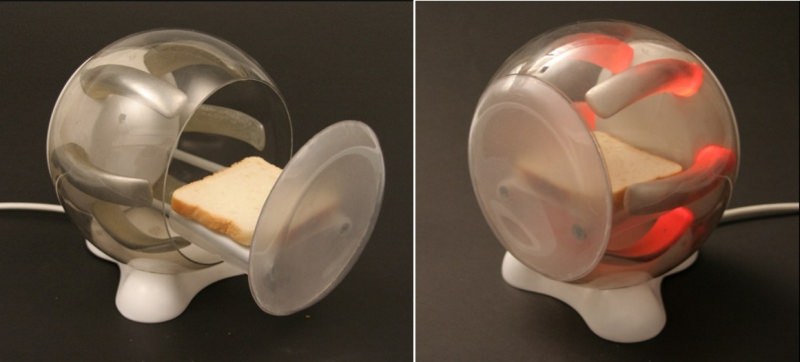 # Joaquin Herlein glass toaster
A concept appliance design which shows how your classy glass toaster will be like in the future. The Joaquin Herlein glass toaster is completely transparent from the inside as you can see the heating element too. There are touch controls to operate the toaster with ease. Perhaps, the app-controlled function is one that the designer seemed to miss out.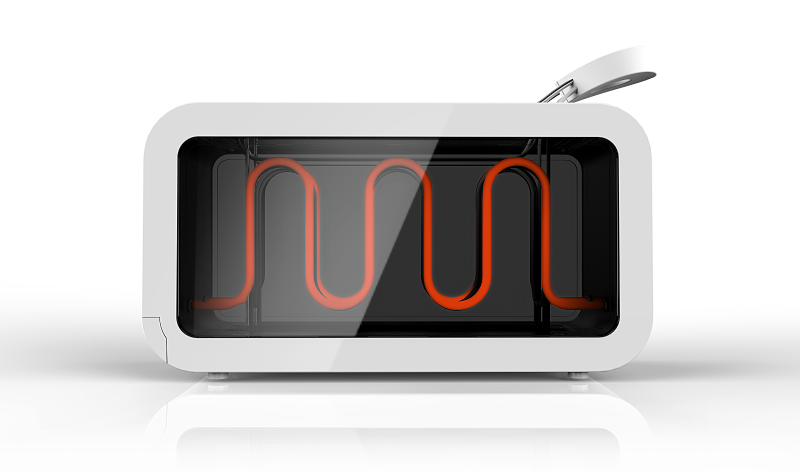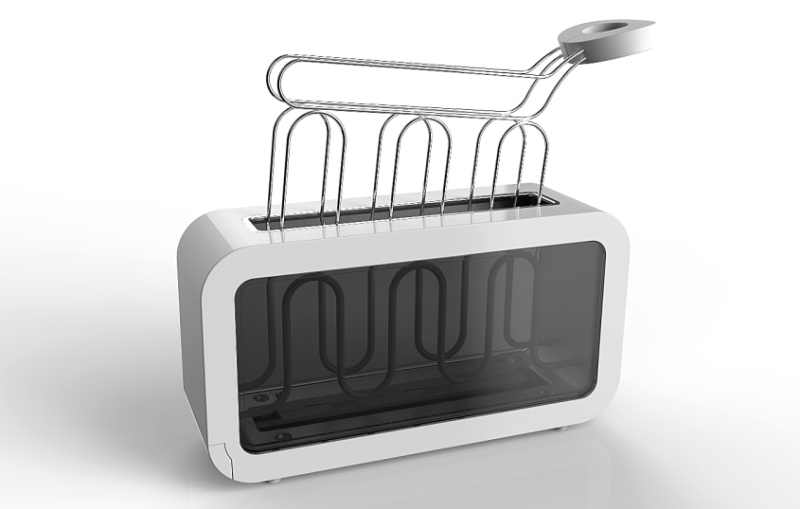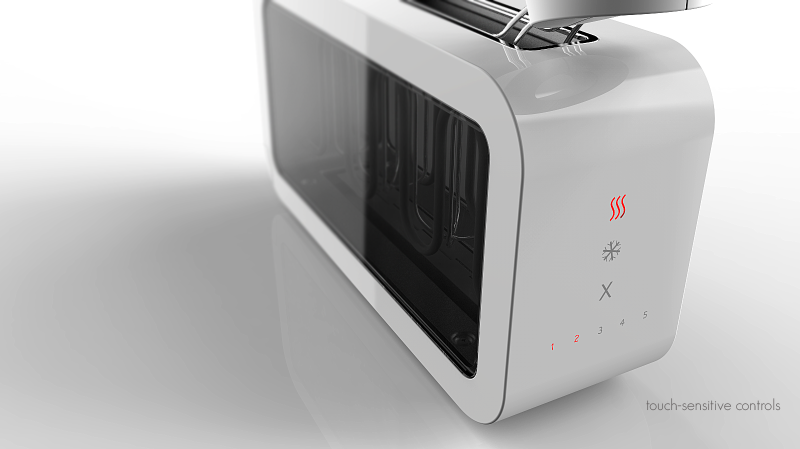 # Smile cooking toaster
How about some smiling toasts every morning? Well, this Smile cooking toaster will help you etch a cute smile on each slice of bread. It includes an electric-heating nano-membrane to put different smiley faces on bread slices. Moreover, its transparent style enhances its elegance, while ensuring you don't ever burn your toasts.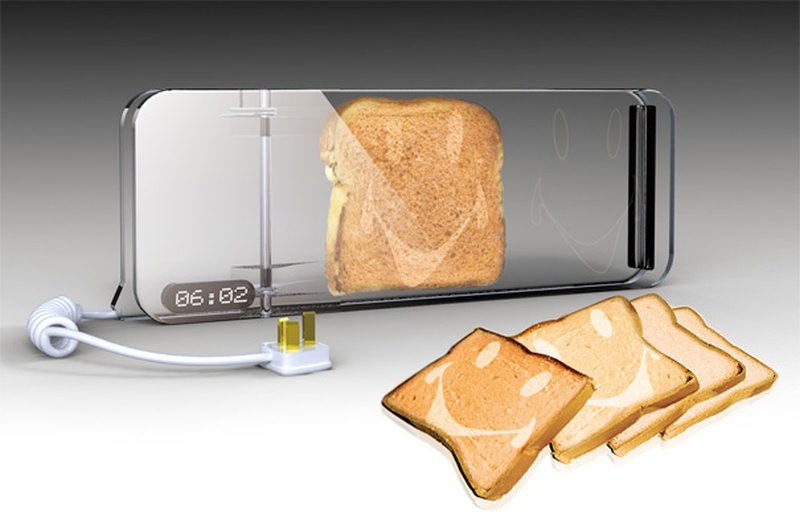 # Clear glass toaster
US designer David Chacon has created this compact transparent toaster. The glass side panels feature electric hob patterns to remind you of the traditional appliance. Heating functions are taken directly into the glass to warm bread slices evenly for a crunchy breakfast. While having your breakfast, you can enjoy the view of toasts cooking inside the glass toaster.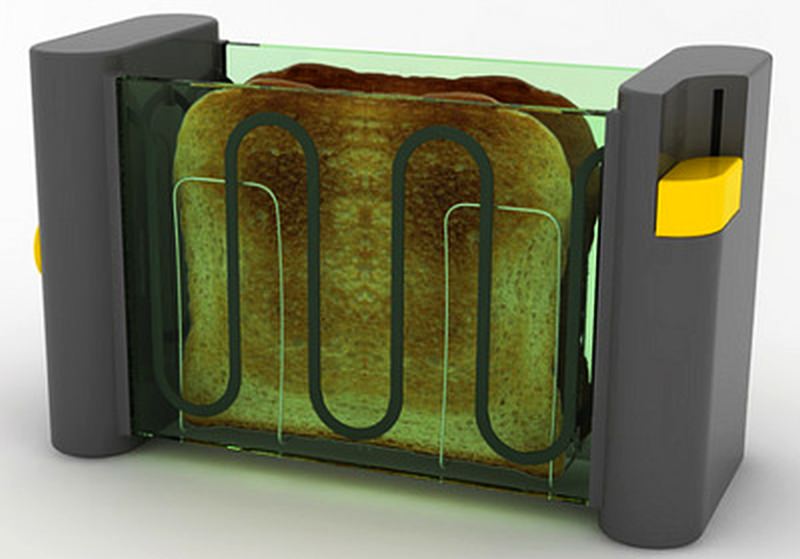 # Nahamer T450
Nahamer T450 toaster is the first environmentally-friendly toaster and uses half the energy of a standard 900W toaster. So, it's 20-percent faster than conventional toasters and also has low-temperature heating elements. Only one side of the toaster is turned on if one bread slice is inserted into the see-through toaster. Moreover, the window allows you to monitor the brownness of your toast, whereas the Toast Drop system helps to slide your toast straight onto your plate.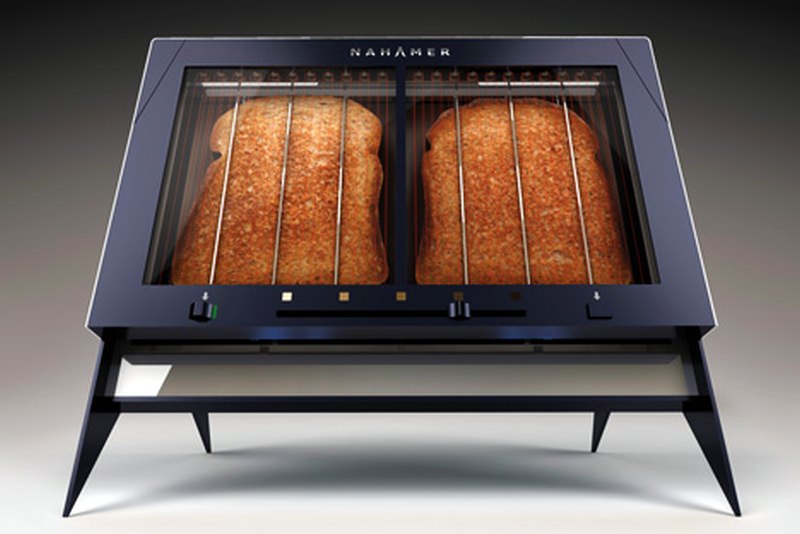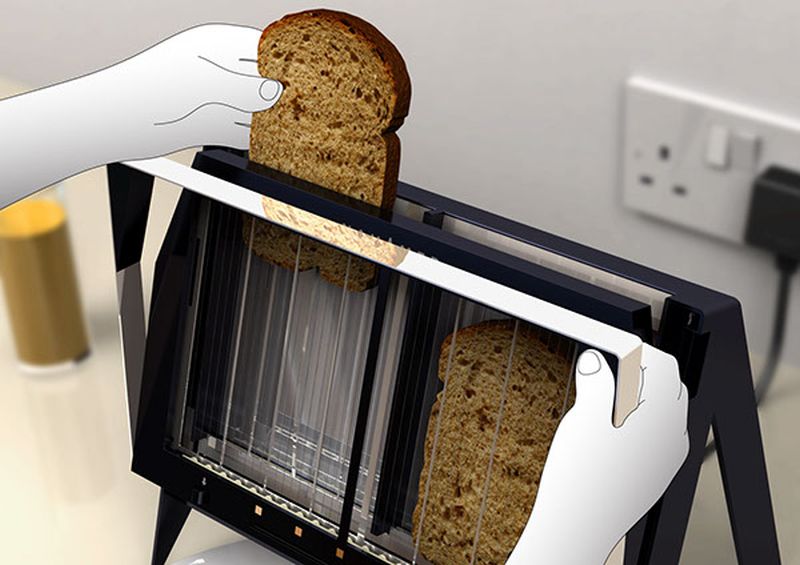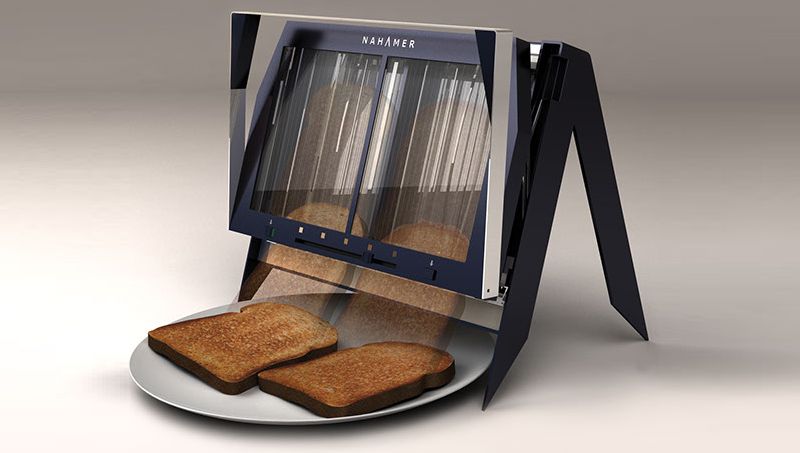 # Future glass toaster
No more popping and burning toasts, thanks to this stunning glass toaster. There is no need to tweak heat and timer settings again and again. Set it at your desired control level and it'll toast each bread slice with perfection every single time.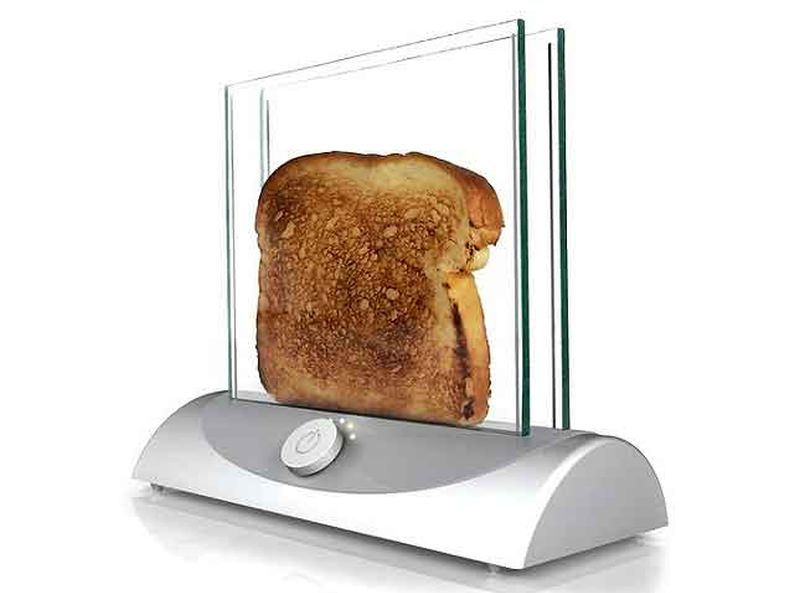 From bamboo to future glass toaster, these see-through appliances allow you to closely observe how brown the bread is. These transparent toasters will definitely make toasting bread a stress-free experience.
However, some of them are still in the concept stage, so you've to wait until they hit the production lines. For now, you will have to settle for the ones on this list that are available for purchase.