Nowadays, you can easily find smart toasters with different degrees of toasting levels; still, it's easy to burn toast on these machines. Maybe that's why various designers have added an element of transparency to the toasting machines for both aesthetics and functionality.
Toasters with see-through panels are not only stylish to look at but also practical as they let you see your bread being toasted to perfection. We have compiled a list of see-through glass toasters that allow monitoring of the bread slices.
Dash clear view toaster
Made of plastic, this toaster with a glass window will take the guesswork out of the toasting job in the morning. With 7 browning levels and an extra-long slot, you can toast a wide variety of bread according to different tastes. It has one-touch buttons for defrosting, bagels, and re-heating as well as an auto-shutoff function for safety. For easy cleanup, the crumb tray and glass window slide out.
Buy: $50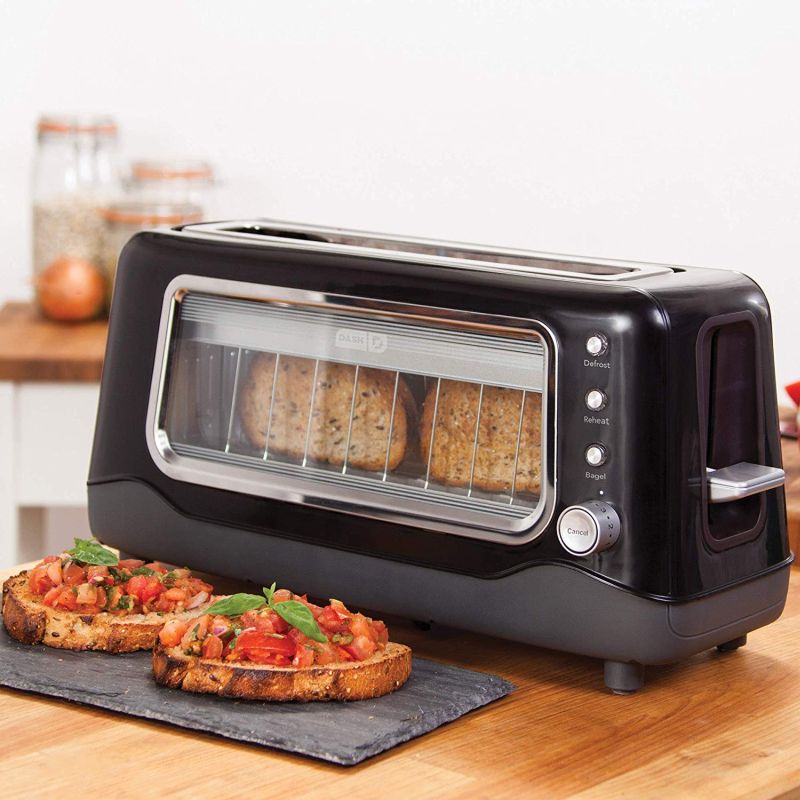 Gourmia toaster with see-through glass window
This motorized 2-slice toaster with a see-through window will let you toast a perfect bread without much effort. Just put the bread in and wait while it is being baked. There are adjustable temperature controls to adjust the heat. It also comes with a removable crumb tray.
Buy: $61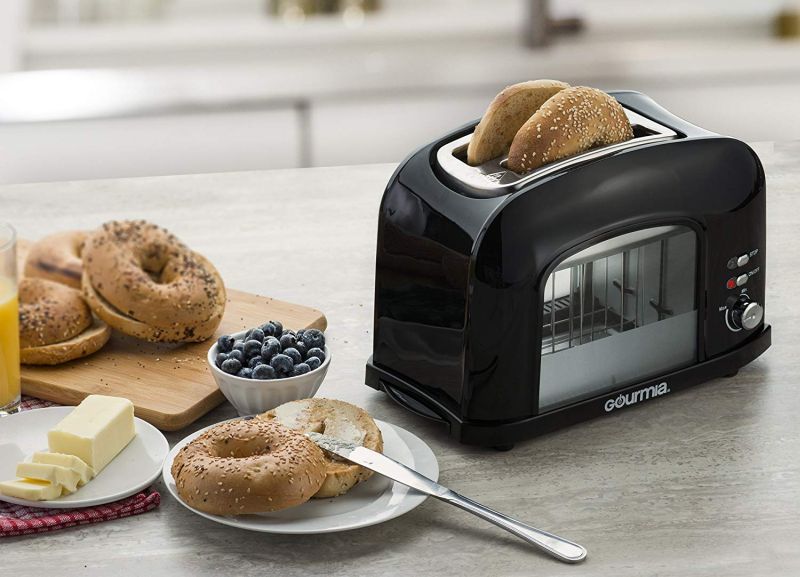 Cuisinart ViewPro glass toaster
With see-through glass windows on both sides, this 2-Slice toaster is perfect to keep a check on the toasting cycle. Its shiny metal body allows it to blend into different interior settings. Featuring Quartz toasting technology, it delivers rapid results in less time.
There are touchscreen controls for simple operation and different browning levels. The removable crumb tray and removable glass window panes allow for easy cleanup.
The Cuisinart ViewPro toaster has a cord wrap underneath the unit to store power cords after use. It also has reheat, defrost, bagel, and cancel functions.
Buy: $129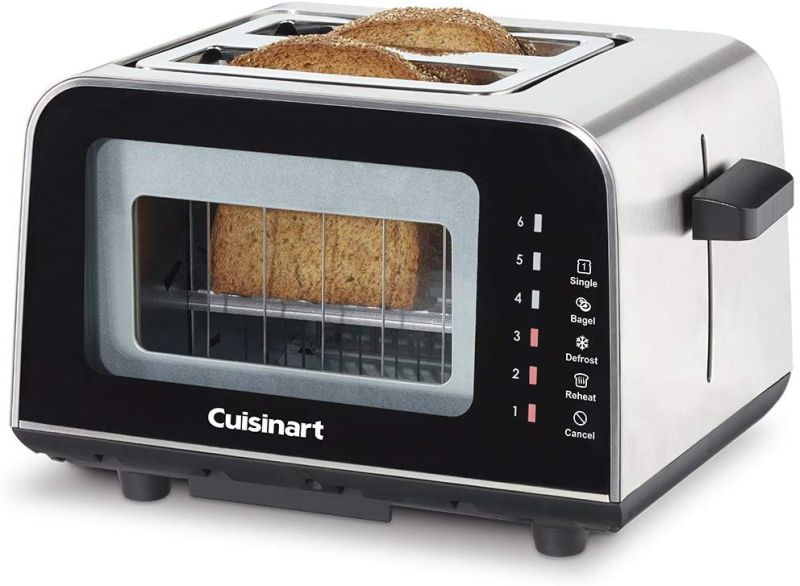 Kalorik glass toaster
This 900W transparent glass side toaster is one of the coolest buys for kitchen, as it is practical and looks great. Its 38mm wide slot is long enough to accommodate two pieces of normal bread. Quartz tubes are used to heat up the toaster gradually.
The toaster comes with a plethora of easily controllable functions, including cancel, bagel, reheat, and defrost as well as auto-shut-off and auto-centering guide features. Cleaning is also easy with its slide-out glass frame and a removable crumb tray.
Buy: $60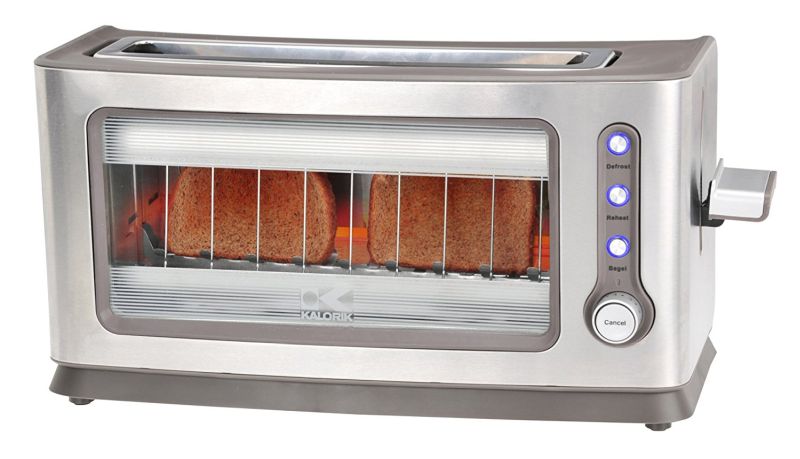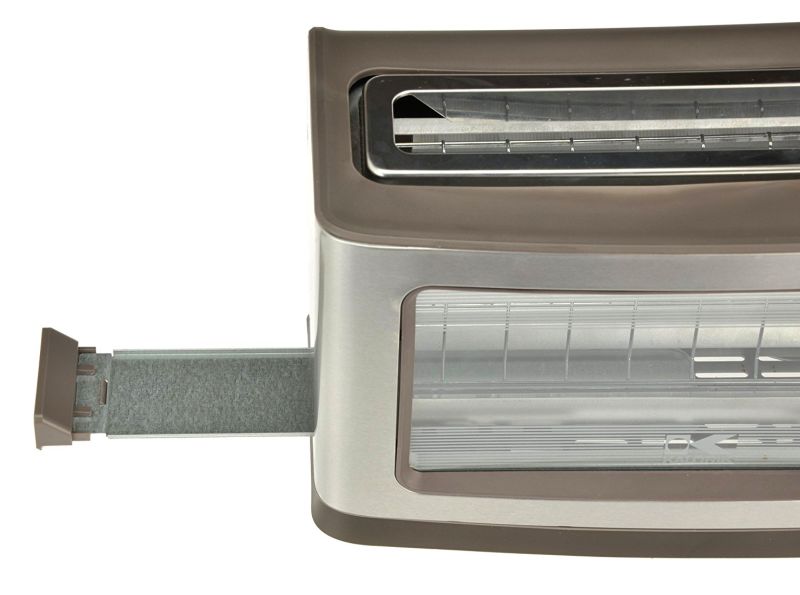 Magimix Vision toaster
This 2-slice toaster features double insulated clear glass on both sides, providing a clear view of each slice as it toasts. Four built-in Quartz bars along with automatic toasting control and a see-through window allows toasting a perfect piece of bread. There are two layers of glass panels on both sides to reduce external surface temperatures. The toaster has separate buttons of defrost, bagel, reheat and stop functions.
Buy: $246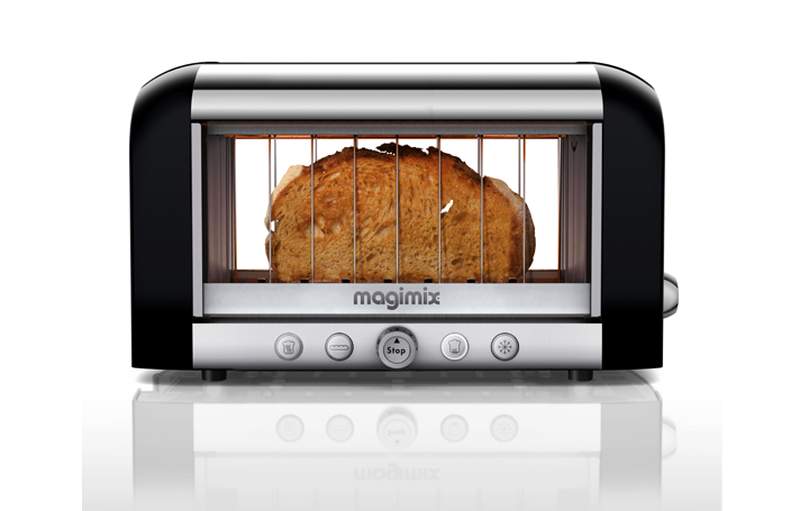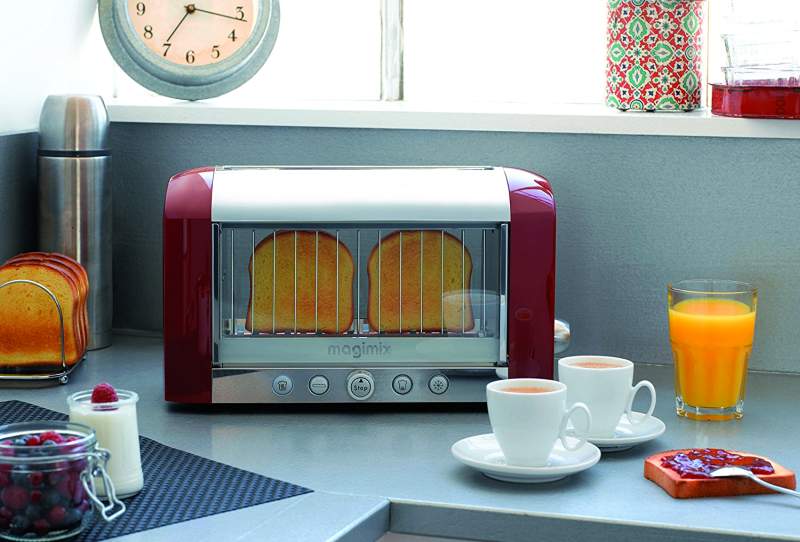 Daewoo glass toaster
This 2-slice toaster features a glass window so that you see the toast to make it perfect every time. Its extra long slot allows you to toast a variety of bread types. You can choose from 7 browning levels as well as enjoy defrost, reheat, and bagel functions with red indicator light.
There is also an automatic shut off and extra lift to collect the toast when it has been baked. The high powered 900W output ensures that toast is toasted quickly. Furthermore, a removable inner glass panel and removable crumb tray makes cleaning easy.
Buy: £38 ($51)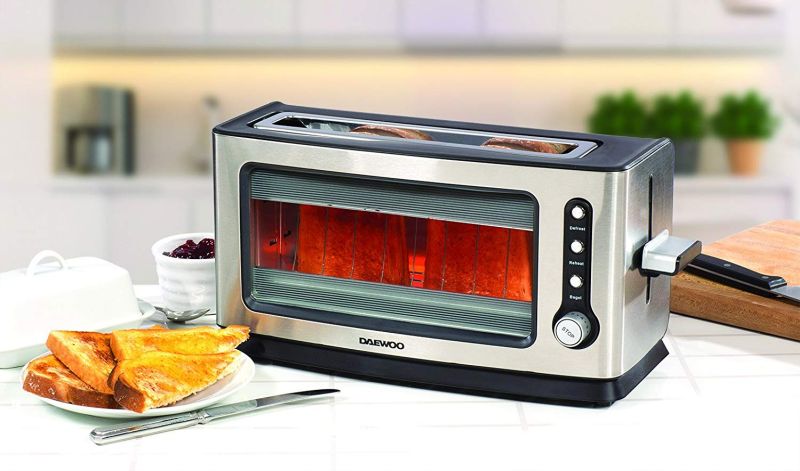 CUSIMAX see-through toaster
This 1200W, stainless steel toaster has glass windows on two sides to monitor the bread from both sides while it is being toasted. You can toast the bread to 7 shades per your preferences. Automatic lifting lever makes operation convenient and there is also a Cancel button that stops the toaster anytime.
The Cusimax toaster has a 1.5″ long slot that fits various types of bread. The leftovers are collected in a removable tray below the unit.
Buy: $80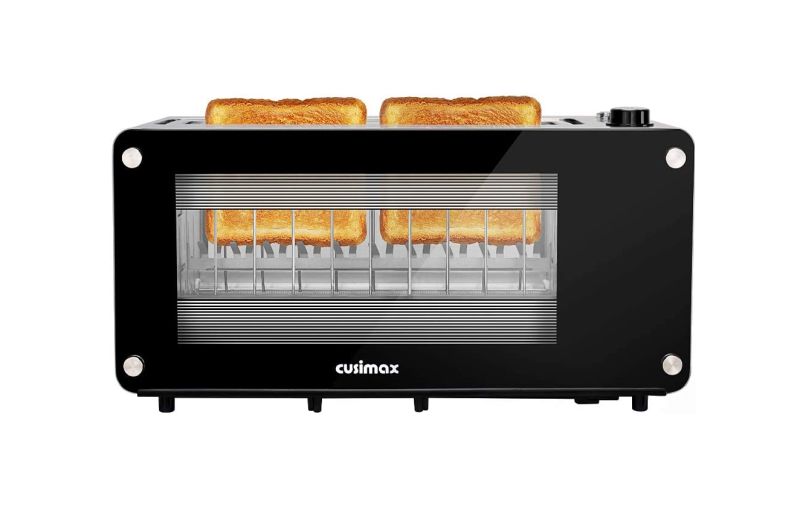 CUKOR toaster with glass window
This 2-slice glass sided toaster is one of the coolest buys, as it is practical and looks cool. It features 7 shade settings including bun warmer, defrost function, and instant cancelling. There are two 10" long and 1.5" wide slow-rising slots that fit a variety of baked goods.
It also includes a top rack to warm large pieces of food such as croissants and buns. Cleaning is also easy with slide-out glass frame and a removable crumb tray.
Price: $60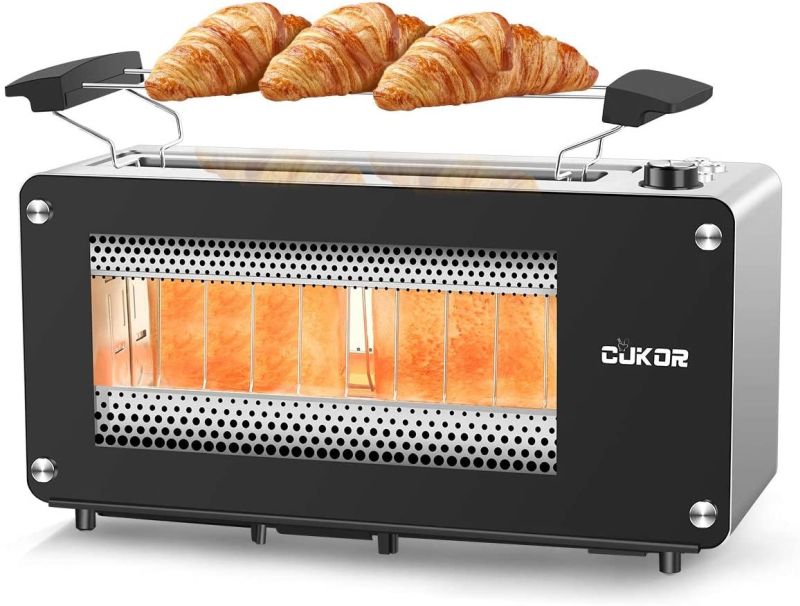 Russel Hobbs glass toaster
If you crave for shiny kitchen appliances, then Russel Hobbs' 1,000W toaster with clear glass window is the one to go for. It lets you see your toast getting crisp brown, as you take it out just when the sweet spot is hit. Adjustable browning control with blue indicators makes the process even convenient.
The toaster can be used to toast a single piece of bread, although it has two separate slots. Cleaning it is easy thanks to the removable crumb tray and glass panels. It also comes with a pair of tongs.
Buy: £39 (approx. $55)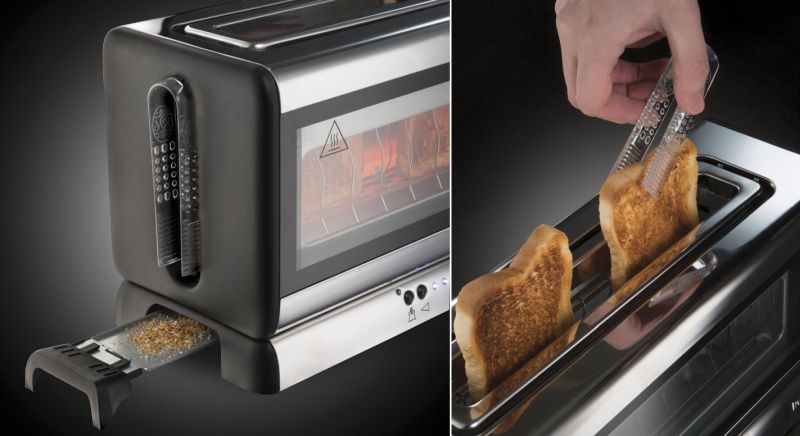 Klastein Canyon toaster
Made from steel, it is a durable and powerful 1200W toaster with two transparent windows to view toast process. It has control knobs and labeled LED buttons for easy control. Other features include 7-step browning control, covered crumb receptable, sound, as well as heat, defrost and bagel functions.
You just need to put the desired bread slices in the toaster, select the browning level, push the start button and let it toast a perfect bread for you in front of your eyes.
Buy: £46.99 (approx. $65)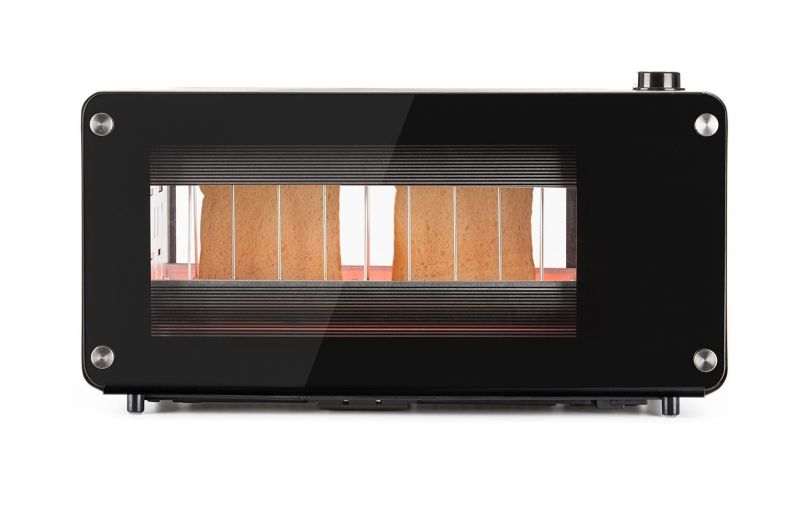 Casa Bugatti Noun glass toaster
Designed by Andreas Seegatz, the Noun glass toaster from Bugatti can be controlled with a companion smartphone app. It has two ceramic glass plates with built-in semiconductors that conduct heat and cook whatever comes in contact with them, including chicken and steak.
Just slide in a pair of bread slices and enjoy a crunchy toast! It takes just 80 seconds to reach a temperature of 300 degrees Celsius.
Buy: €1,828 ($2,068)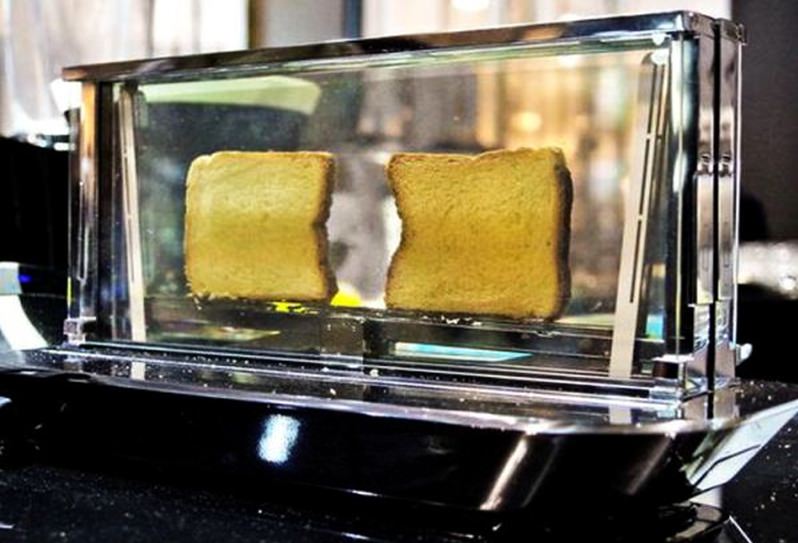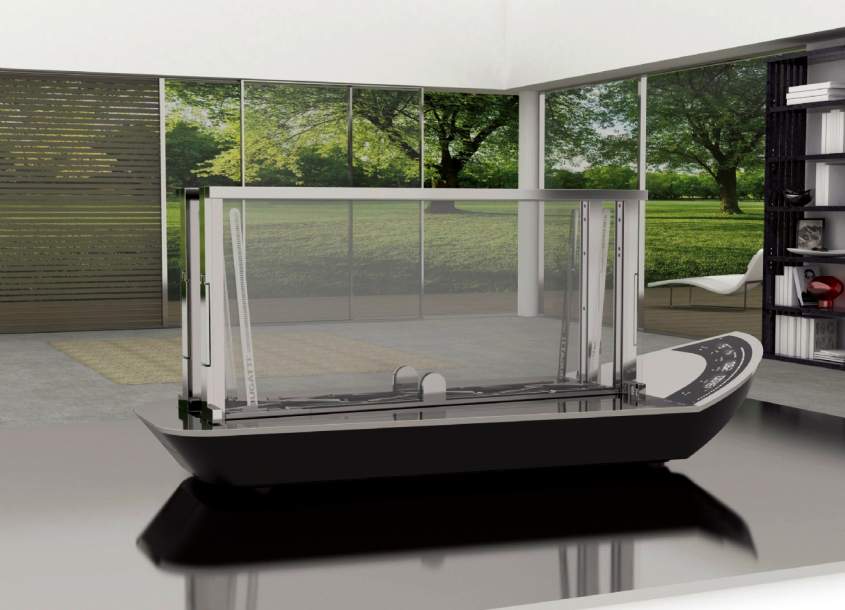 Morphy Richards Redefine glass toaster
Featuring a modern design and a see-through window, the Morphy Richards Redefine toaster is one great appliance that lets you watch your bread browning to perfection. It automatically lowers and lifts bread for safety. It also has sound notifications as well as start/stop, defrost, and reheat functions.
The digital browning control is a big bonus as it allows you to select the shade of your toast. There is also an illuminated display that shows the selected browning setting and time left for the current toasting cycle. It also has defrost and reheat functions as well as a removable crumb tray.
Buy: £220 (~ $281)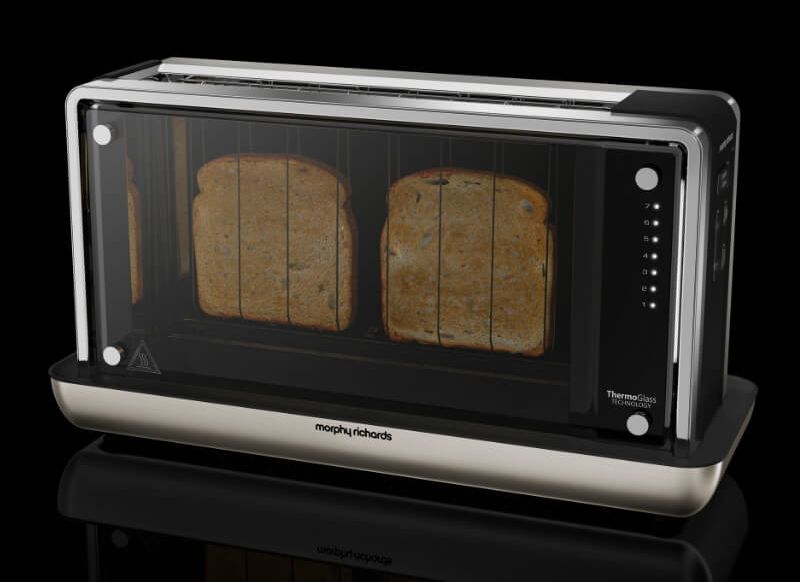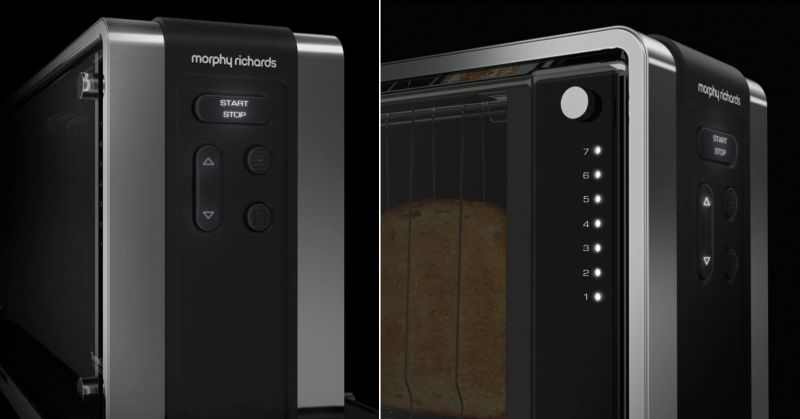 Glass Toaster Concepts That Might See the Light of Day
Toastit
Toastit is a state-of-the-art toaster designed by Francois Dransart for James Dyson Awards. It is designed with the idea to be a less energy-consuming kitchen appliance. It has two-layer horizontal drawers that use rising heat to toast bread.
Quite opposite to standard toasters, it ejects the toast horizontally while unconsumed toasts can be stored in the removable bell. Furthermore, the toaster features five LED buttons that indicate five toasting levels and also a rechargeable base so that it can be used anywhere.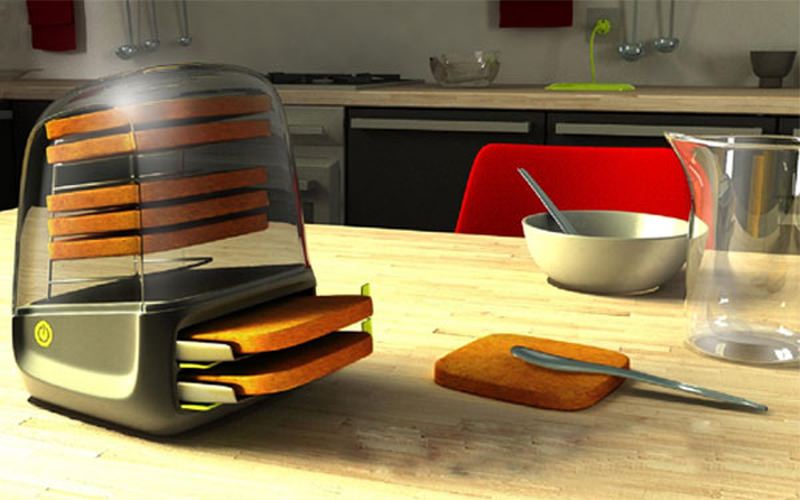 Bamboo and glass toaster
Conceptualized by designer James Stumpf of Stumpf Studio, this innovative toaster is made from steam-bent bamboo plywood and glass toasting trays. The bread slices are cooked evenly within these transparent toasting trays.
These trays not only heat up bread but also feature quick-cooling technology to cool down hot toasts so that they aren't warm enough to hold. There is a touchscreen to adjust settings for toasts.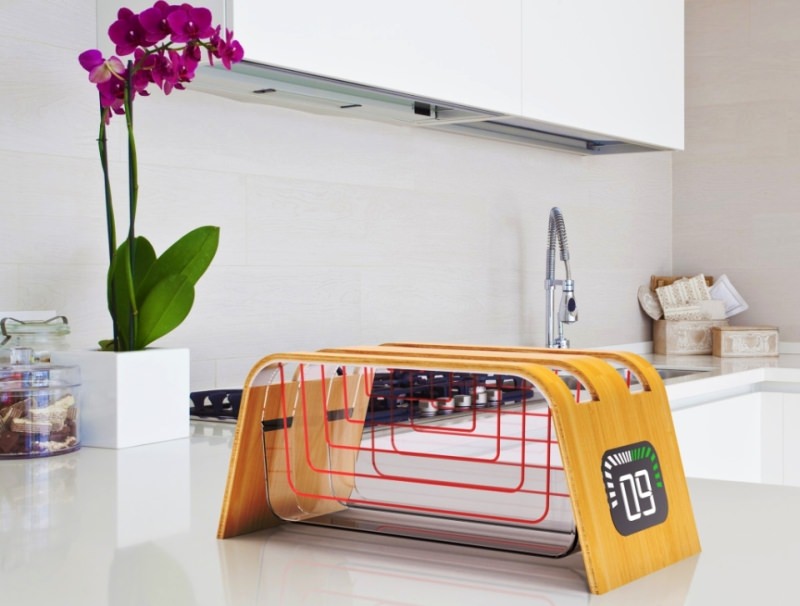 Compact see-through glass toaster
This see-through toaster with side panels made of glass allows monitoring a bread slice while it is being baked in the unit. The transparent panels are designed to ensure that you never burn your toast again. Its clean and simple design is also an important factor to consider.
It offers 4 levels of timing to to make the toast crisp enough according to your taste.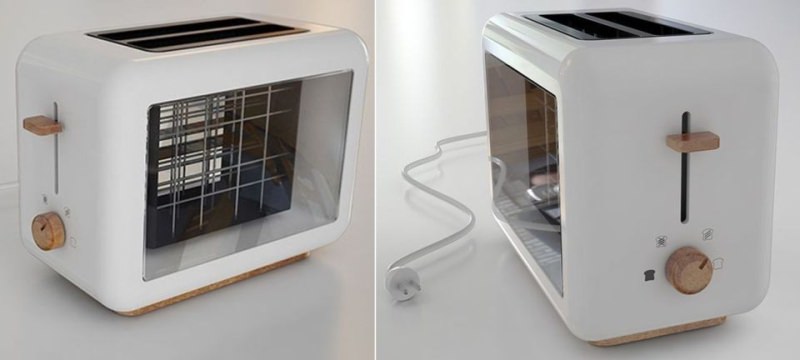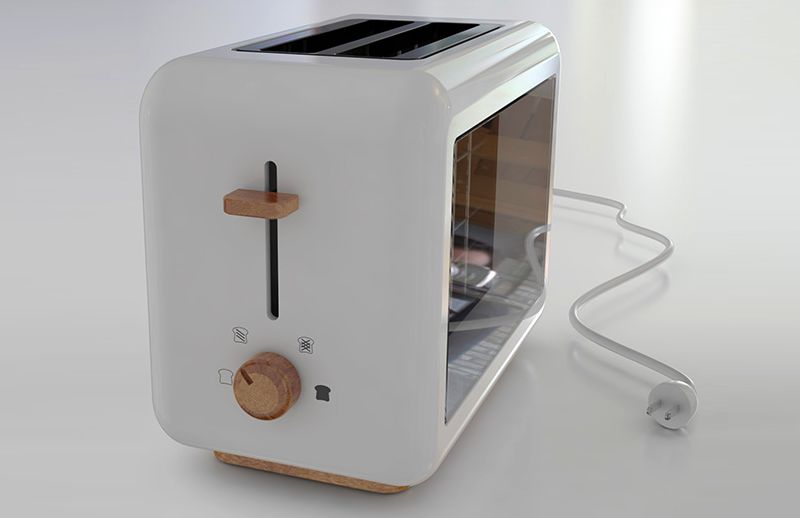 Roastie glass toaster
This cute oval-shaped toaster concept is visualized by Polish designer Mateusz Glówka. It features a see-through body for viewing toast and rotating heat elements for even distribution of heat. You can put one bread at a time. The control panel is located on the front side.
Its enclosed baking unit and shielded arms are designed to cut down the time and electricity needed for baking.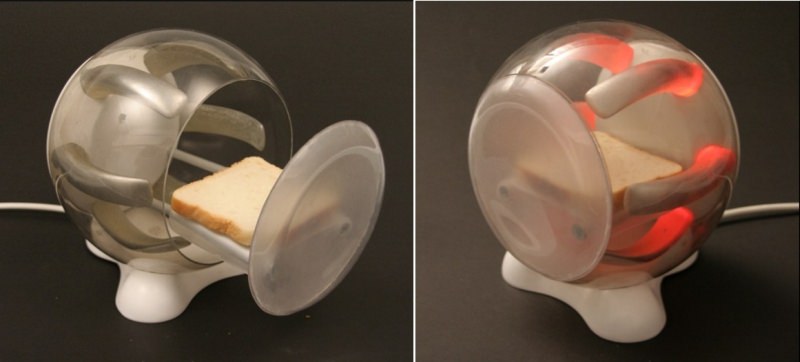 Joaquin Herlein glass toaster
It is a conceptual toaster design by Argentina-based designer Joaquin Herlein. Featuring a glass window on front, it allows you to watch the heating element and the toasting process. It has touch sensitive controls to regulate toaster settings with ease.
The system to lift and lower the toast is really simple, maybe you have to do it manually.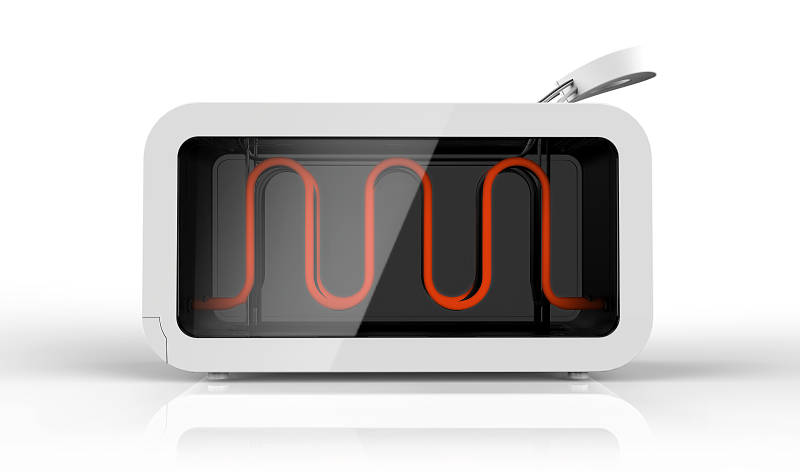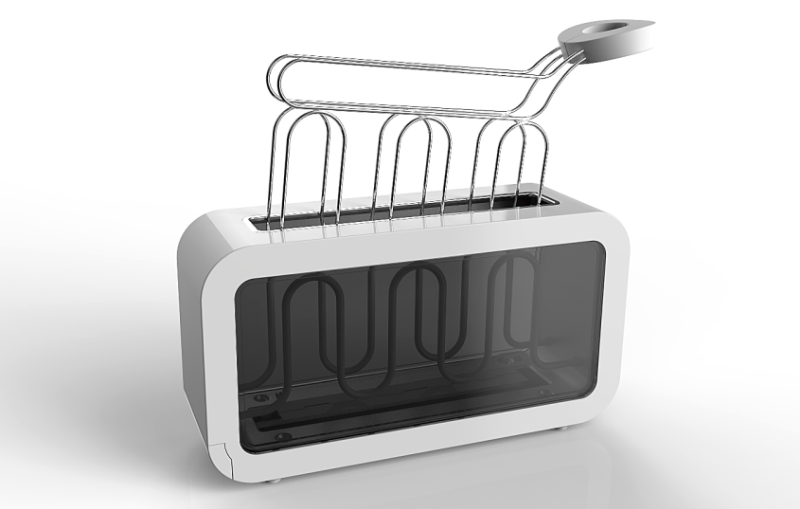 Smile cooking toaster
How about some smiling toasts in the morning? Well, designer Xu Yan Xiang has conceived something similar in form of a smile cooking toaster. It is designed to imprint a cute smile on each toast. It seems a good idea to tempt the kids for breakfast.
An electric-heating nano-membrane is used to scorch smile on a toast. Moreover, users can see bread slices gradually turning golden brown.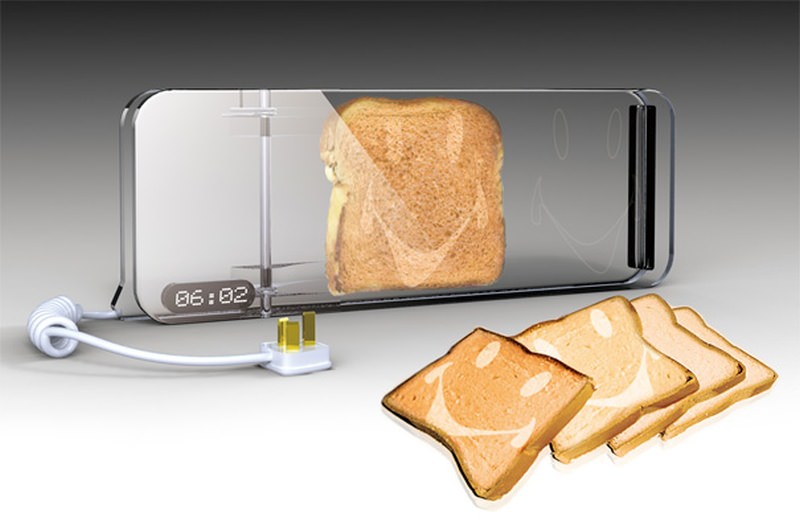 Clear ceramic glass toaster
US-based designer David Chacon has conceived this clear ceramic toaster. The idea was to create a stylish and easily cleanable toaster that looks interesting to people. Users will be able to see the toast and also the amount of crumbs inside. It has the same kind of heating elements used in electric hobs.
One obvious feature is that users can enjoy the view of toasts being baked inside the toaster.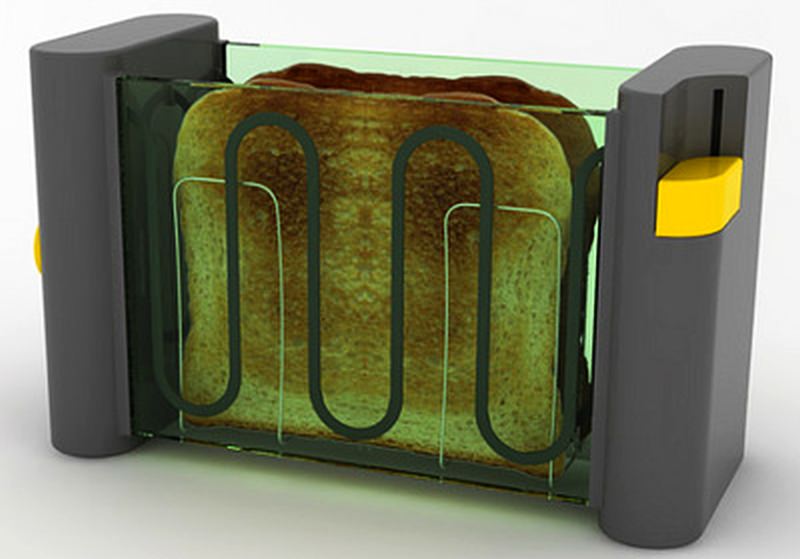 Nahamer T450 toaster
Nahamer T450 toaster is designed as an eco-friendly toaster that uses half the energy of a standard 900W toaster – thanks to close-proximity low-temperature heating elements. It is also claimed to be 20-percent faster than conventional toasters. It bakes only one side of a bread.
Furthermore, the see through window allows you to monitor the brownness of your toast. The coolest feature is the unique dispensing system that will drop toast straight onto your plate.