How much attention and design detail does your bathroom really need? Well, going by the modern standards that have been completely revamped in the last two decades, the answer is a whole lot and then some more! With spa-styled and spa-inspired bathrooms becoming more and more the norm in dream homes, it is barely a surprise that homeowners are requesting bathroom makeovers that venture beyond mere functionality. Besides, only a few things add pizzazz, style, and an inimitable focal point to the bathroom like blazing fireplaces at their contemporary best.
Bathroom fireplace is a hot trend and we mean that in every sense of the word. It is also a bit 'revolutionary' in its own way as designers and architects were strictly against adding a fireplace to the bathroom. Yet, modern technology and innovative designs along with better building standards have made this a much more common feature in bathrooms in current times.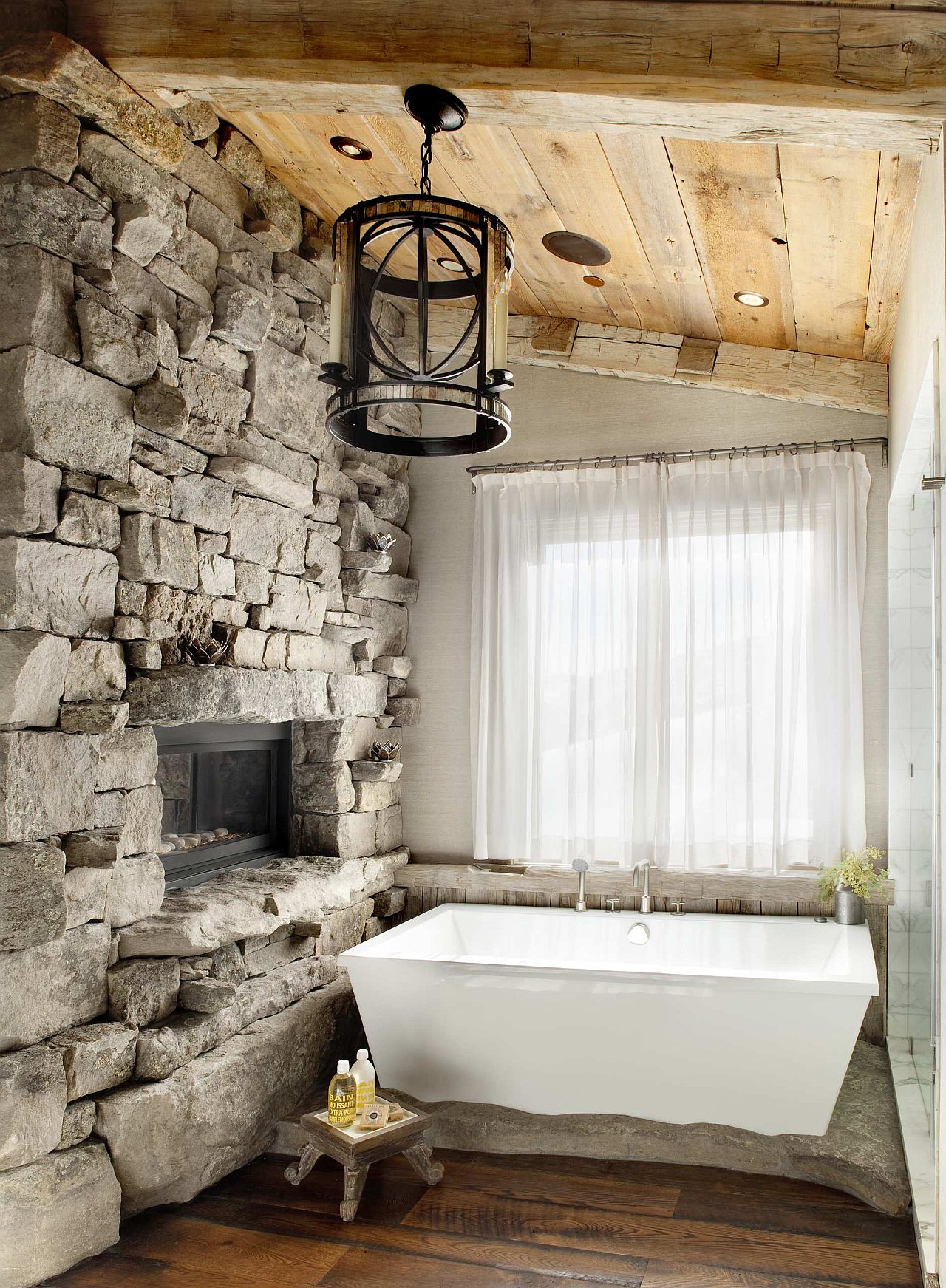 Sensational at times and elegant on other occasions, bathroom fireplaces never disappoint. From style and placement to captivating inspirations, here is all you need to jump on this trendy bandwagon.
A Hot Trend to Embrace
So how did a fireplace in the bathroom become such a 'must-have' in 2022? The reasons are manifold and range from a new-age desire for more comfortable bathrooms to ideas inspired by shows on TV portraying Victorian and royal homes of the past. A global pandemic that has forced most people indoors for more than 2 years has also contributed to giving birth to the idea of creating a more relaxing and luxurious home where comfort is at the heart of design.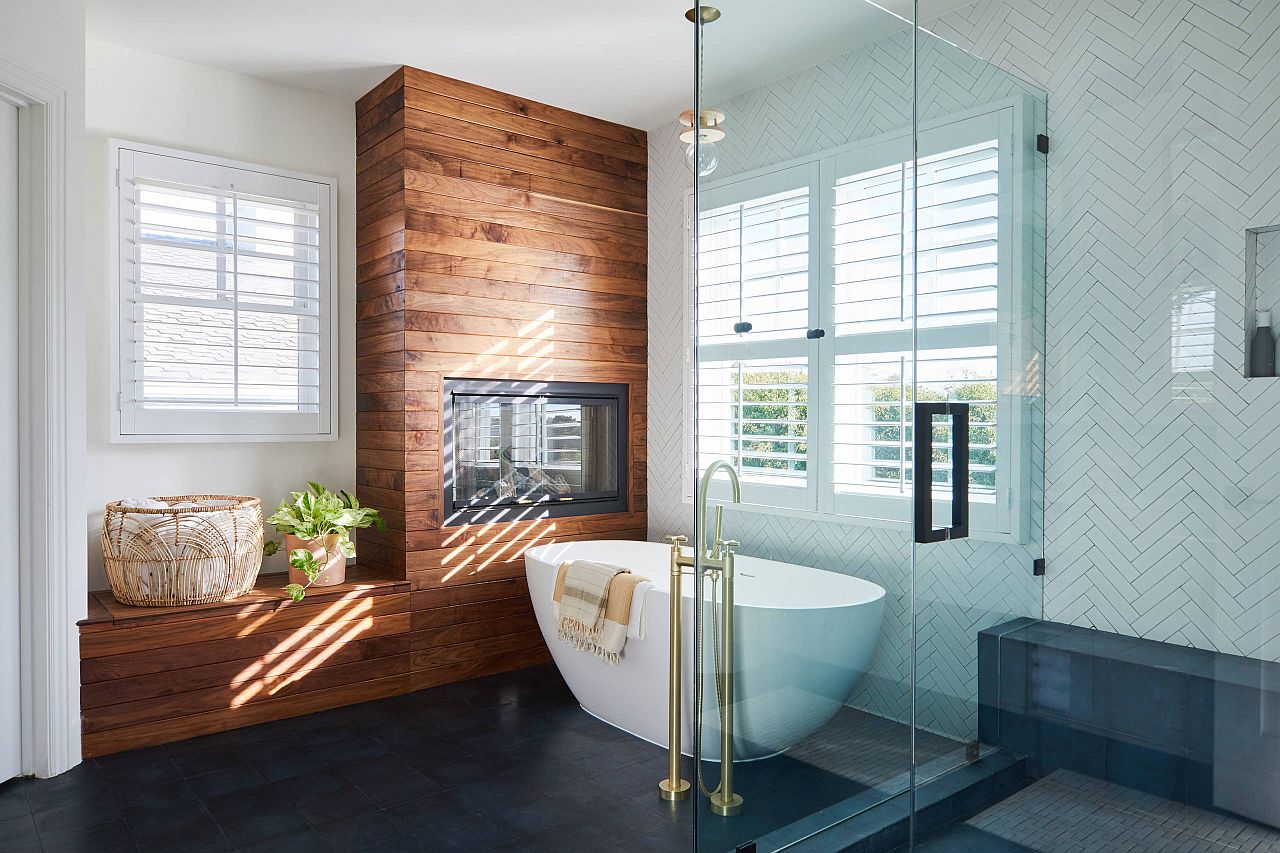 No matter what your reason is, it is undeniable that having a fireplace next to the freestanding bathtub as you take a deep, relaxing soak is the perfect way to replenish after a long, hard day at work. The idea here is to create a serene and elegant bathroom space that allows the fireplace to be a focal point while remaining as neutral as possible.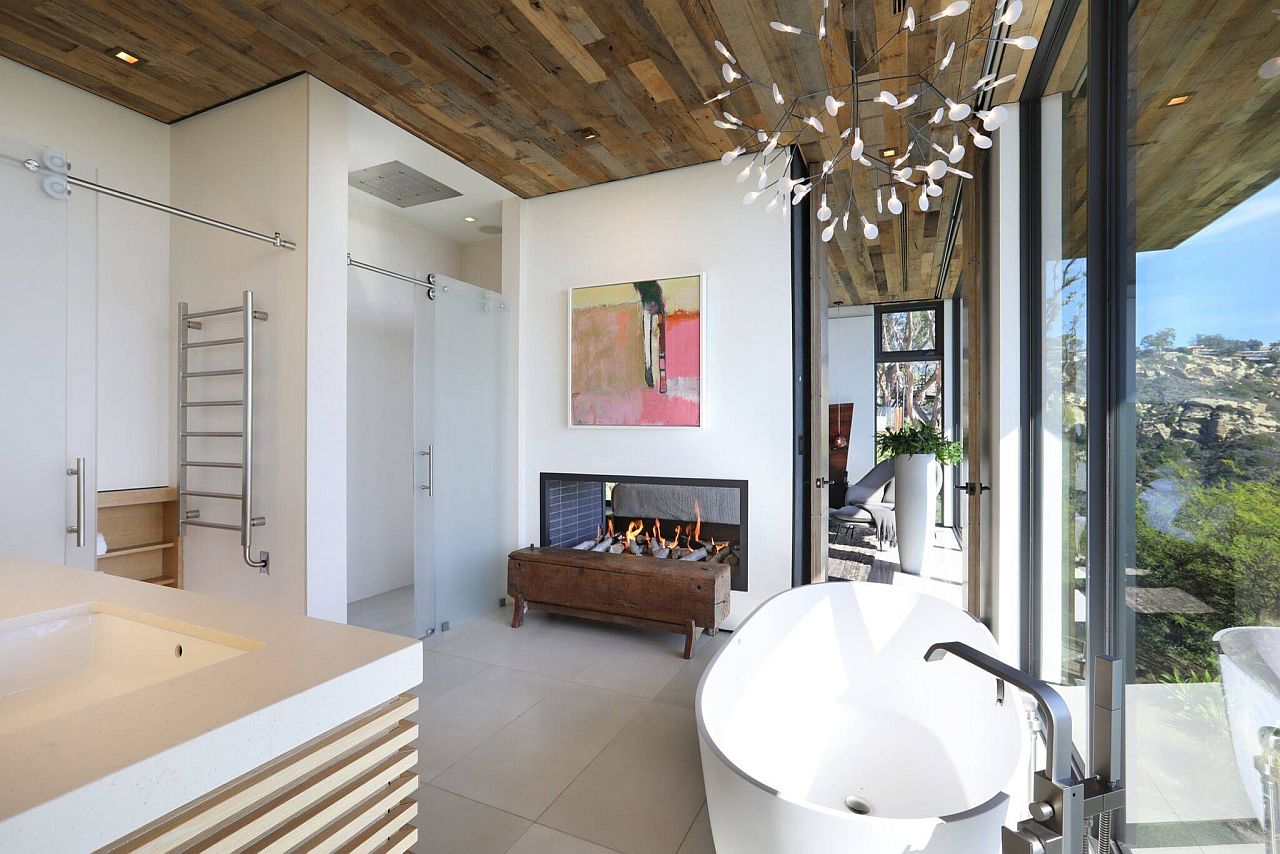 Position and Placement
Finding the right position for the fireplace in the bathroom is as much about the size of the room and heat output as it is about the aesthetics and the style of the space. Those who enjoy the warmth of the fireplace as they take a soak can put it just 3 or 4 feet away from their bathtub while folks in hotter weather conditions might just want the view of flickering flames a tad bit further away. In the latter case, you can choose to put it next to the wall nearest to the freestanding bathtub and safely away from the shower area.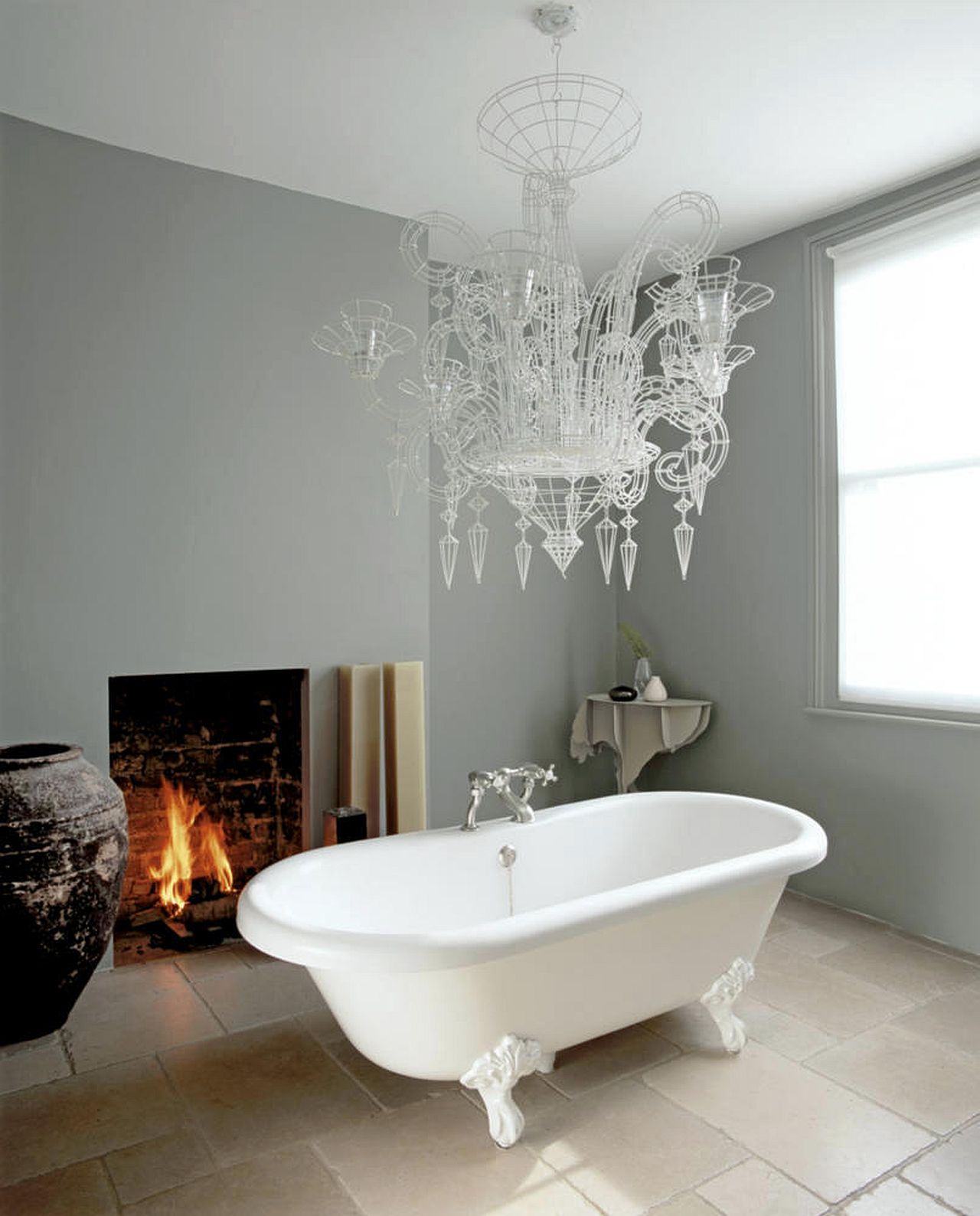 As with every other room, the average size of the fireplace should be an opening that is around 24 inches wide at a minimum and 36 inches at the most. Anything larger would look ungainly in the modern bathroom. With a depth of around 15 inches and a height ranging from 22 to 30 inches, you can comfortably get a fireplace that is both eye-catching and cozy.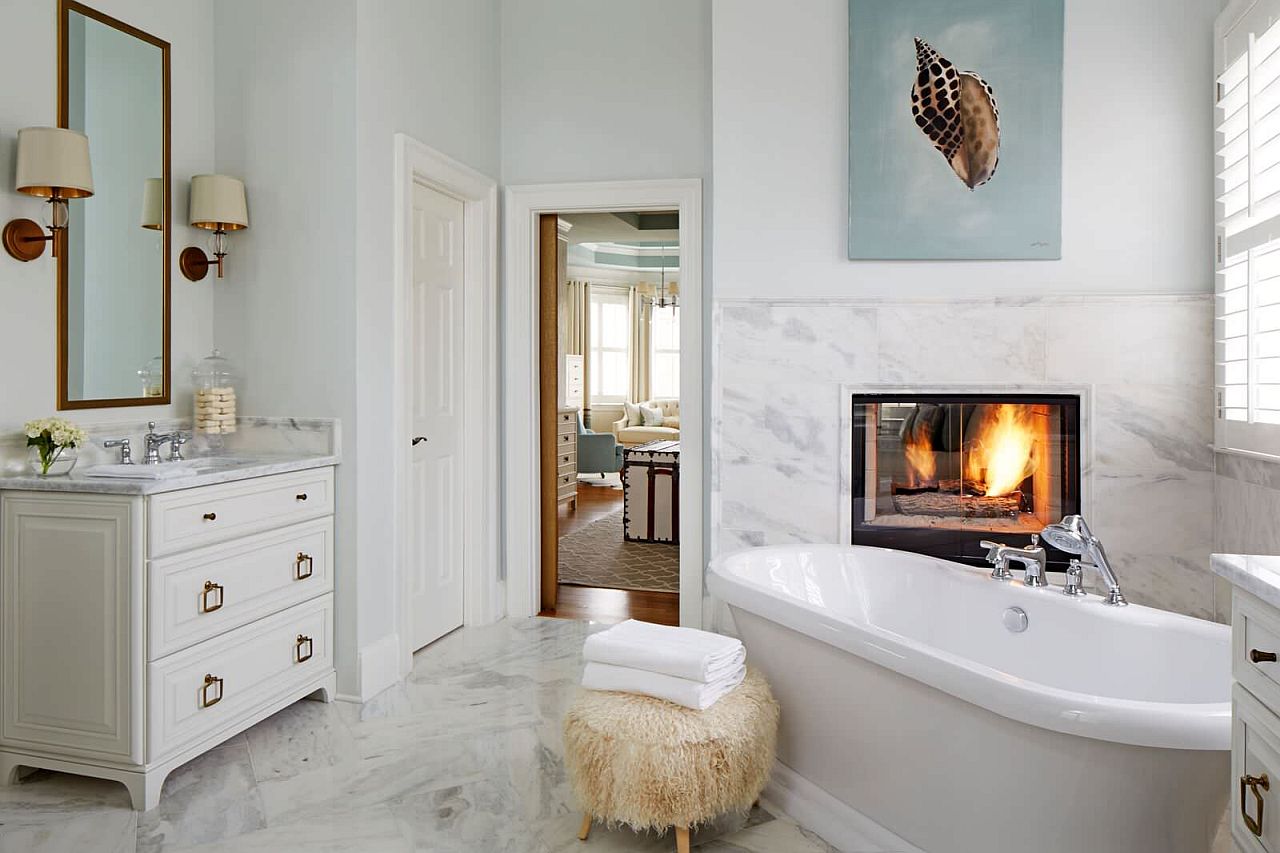 Also Read: Wash Up in Style with These Beautiful and Unique Wash Basins
Types of Fireplaces
There are several different fireplaces that you can choose from for the bathroom with the vented gas fireplace being the most eye-catching and authentic option around. The vented gas fireplace will set you back the most as well, but it is well worth the extra cash you splurge. The Vent-free gas fireplace is far more efficient when it comes to heating the room, requires less in terms of installation and is cheaper the vented gas fireplace.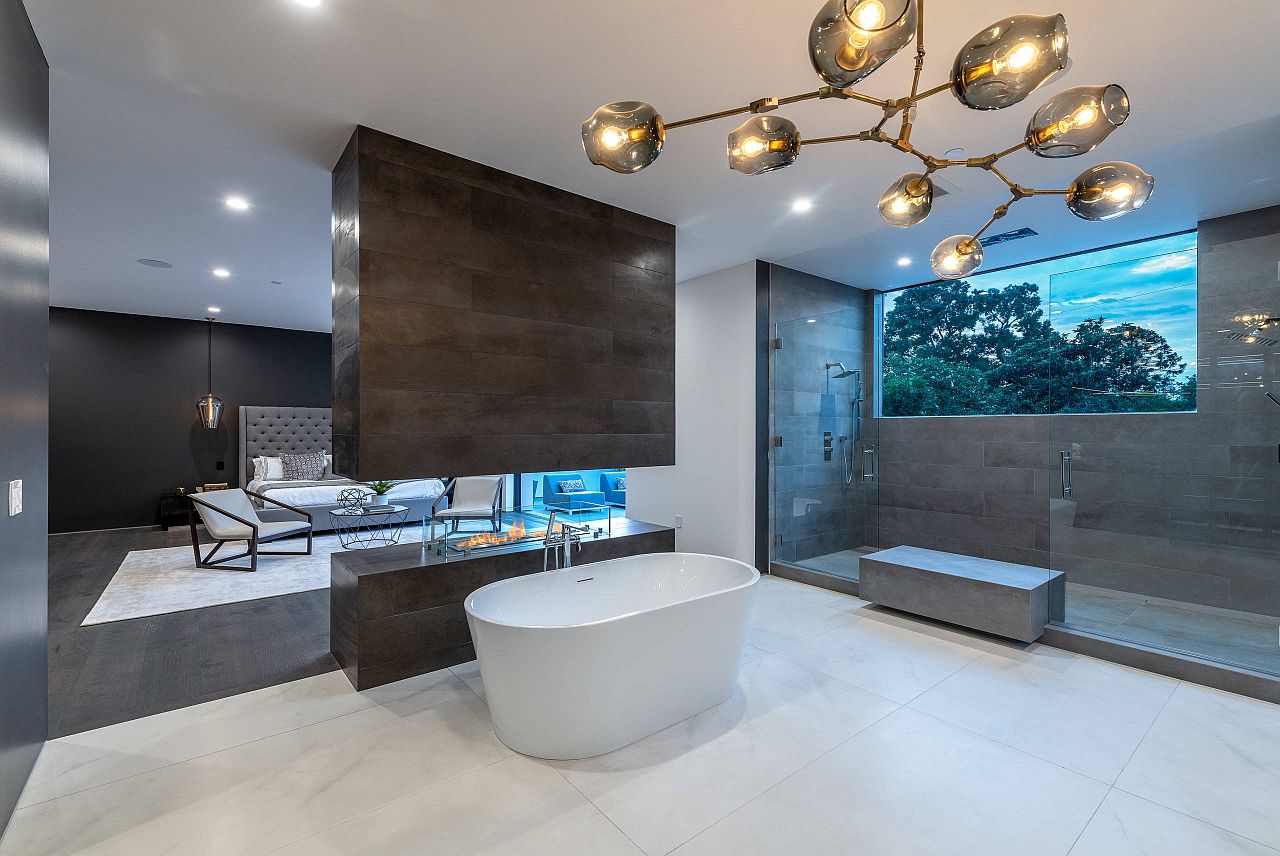 The final option in here is the electric fireplace, and with its many contemporary versions, this is also the best option for the modern homeowner looking for a bathroom fireplace that is easy-to-install and maintain. With the vented gas fireplace, you might have to splurge as much as $6000 or more for the medium range models while in case of the electric fireplace it comes down to as much as just $500. Many of the modern, minimal electric fireplaces usher in a sense of 'real flames' flickering around the corner and are as visually appealing as their classic counterparts.
Heating and Safety
Picking the right fireplace for the bathroom is as important as installing it in the right manner. Ideally, a fireplace that generates a heat output of 5000 to 6000 BTUs should be sufficient in every bathroom. You are not looking to heat up the entire space, instead, the idea is to make sure that you feel warm and cozy even as you take a refreshing bubble bath in the evening.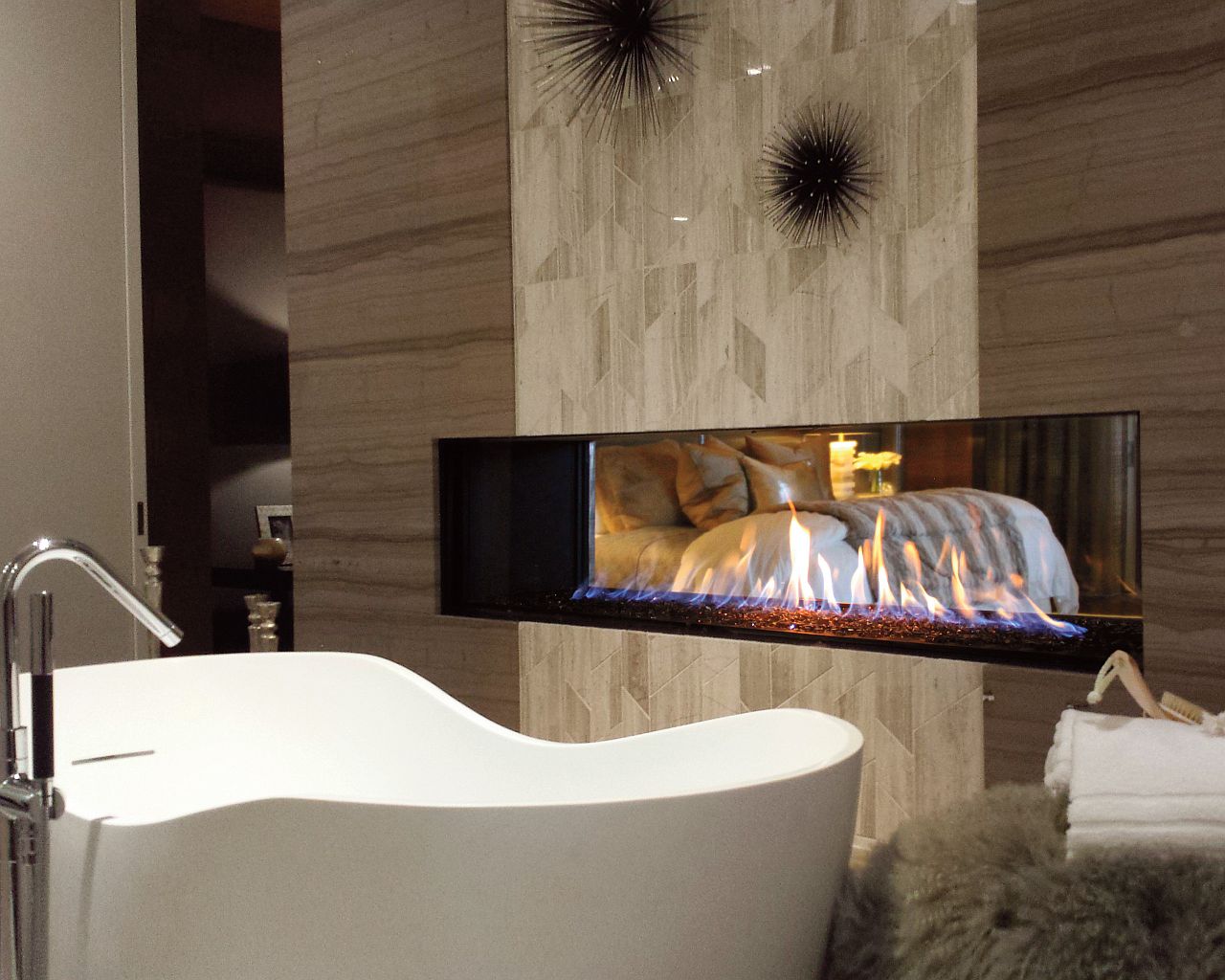 Irrespective of the type of fireplace you choose, do check on local building and safety codes before you start planning to add one to the bathroom.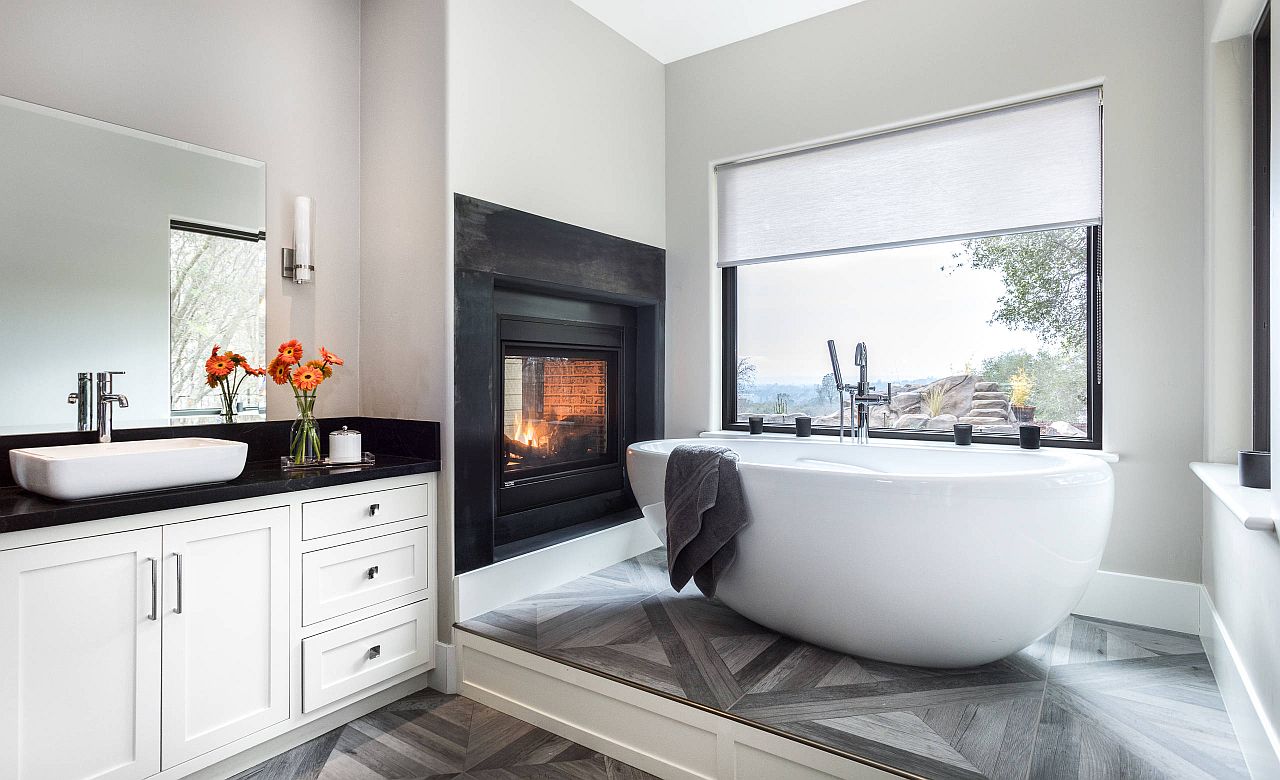 Efficiency of Bathroom Fireplace
It is obvious that an open fireplace does not work in humid bathroom conditions and safety, and CO monitoring norms do not allow you to have one, as well. With closed, modern fireplaces, you still have to worry about their efficiency and the overall space in the bathroom before you pick one.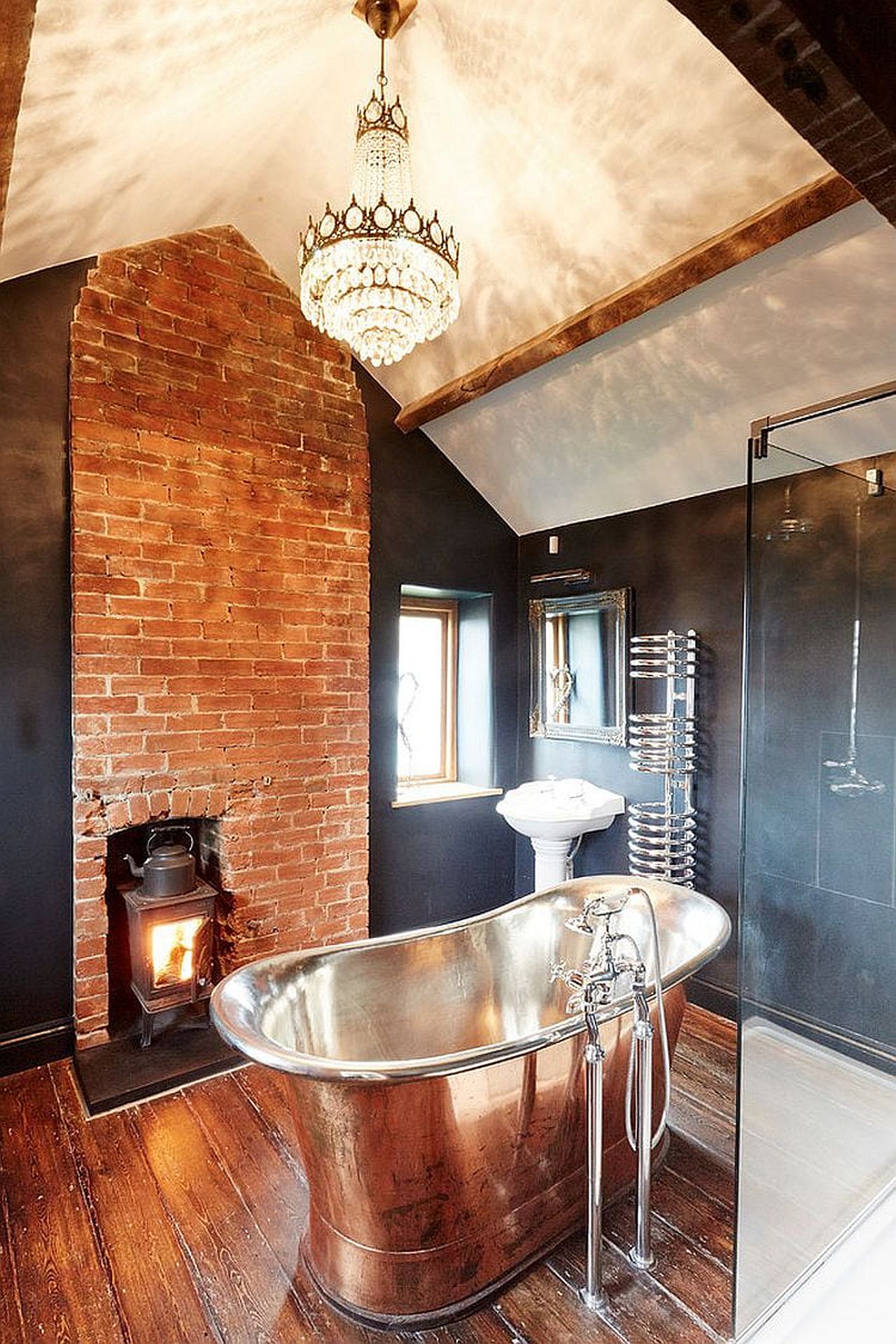 In the small bathroom, picking a fireplace that emits too much heat can quickly turn your dream, spa-styled space into one that is sweltering hot and unbearable. Be it a fireplace set in stone, brick, or polished contemporary finishes, make sure that it is not too overwhelming.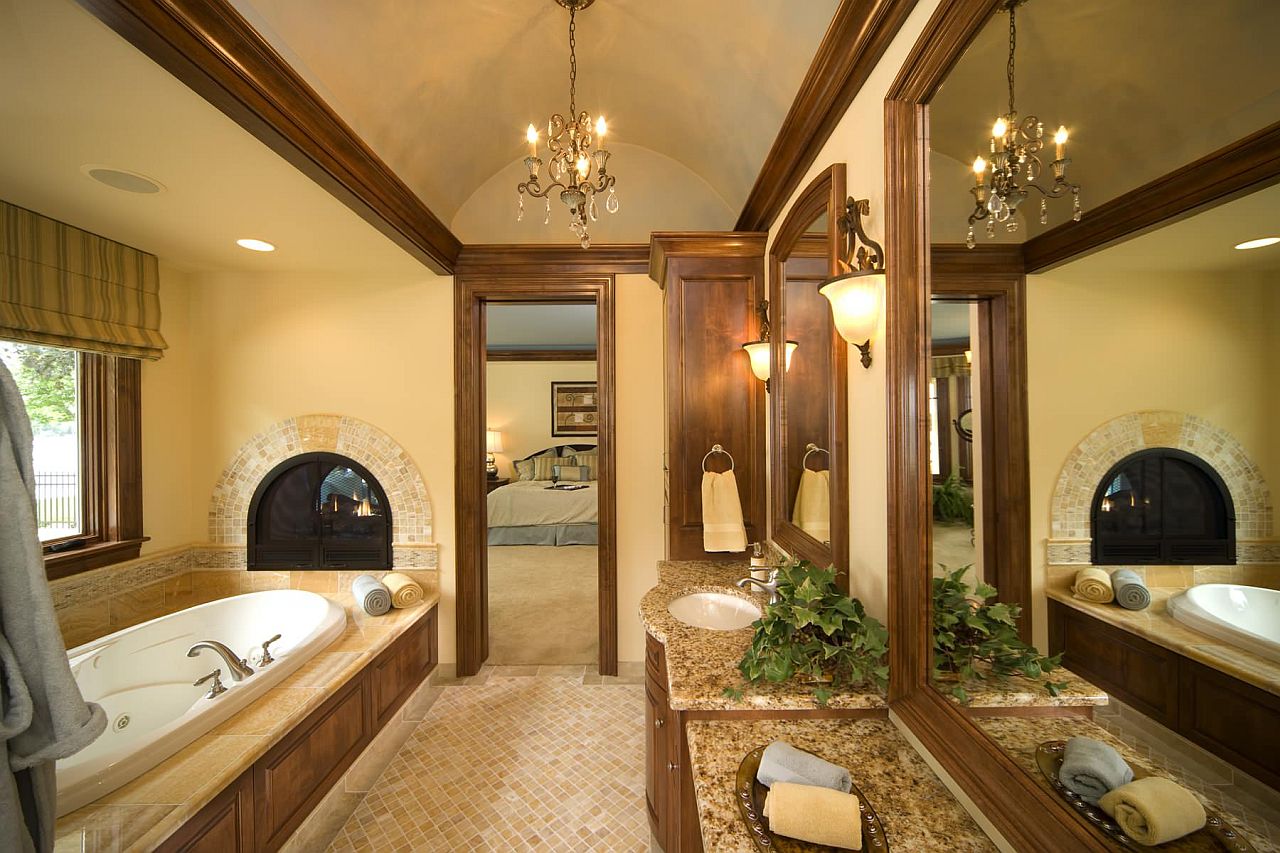 From Victorian to Minimal
There are plenty of different fireplace styles that you can still try out in the bathroom without actually altering the type of fireplace itself. Stone and wood around the fireplace can give it a more traditional, even farmhouse look. It gives a traditional appeal to the bathroom and a timeless aura.
On the other hand, marble and polished finishes bring an air of luxury to the space and are perfect for a contemporary or minimal home. If you have a bathroom that is large enough, you can even think about decorating the fireplace mantel, giving the bathroom a unique appeal.