Your regular doghouse may be the most luxurious and comfortable place for your pooch, but it surely isn't the best when you're not around in the house unless of course, it is a smart doghouse. Smart doghouse is a dwelling for your friend that's embedded with wireless abilities to allow owners to keep track of, and communicate with their pet. There are many smart doghouses out there, of which, we have for your reference picked the best five that every dog lover should own at some point in time.
# ZENCRATE: Smart doghouse for anxious dogs
About 40 percent of dogs suffer from some sort of anxiety when you leave the house or when it's thundering in the monsoons. ZENCRATE is a smart doghouse designed keeping this 40 percent of pet population in mind (it's useful for others too) and is packed in with a set of features to calm an anxious dog and keep the owner informed of the situation back home.
What's in it
Proximity sensors embedded in the doghouse detect when the dog enters and leaves the premises, and notifies the owner through an email. A motion-activated fan circulates the air to moderate the temperature, while the motion-activated music system soothes the pet with melodious music. A Wi-Fi camera onboard lets the owner check visually on the pet's movement from anywhere, while an attached battery pack in the doghouse ensures the lights don't go off and the camera keeps working even in a thunderstorm. The doghouse features an orthopedic memory foam pad for a cozy bedding for your pooch.
Pricing: Starts at $500
Also Read: 13 Architectural Doghouses You'll Love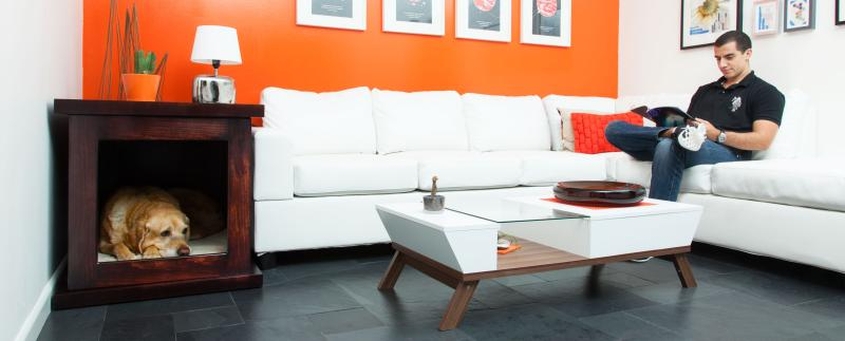 # Dream Doghouse: Samsung's smart home for dogs
First introduced at the world's largest dog show – Crufts in 2015, Dream Doghouse by Samsung is company's first smart dog kennel.
What's in it
The high-end doghouse is constructed in two prominent parts. While one is for relaxation, the other is for dining. The resting area features comfortable cushions and has a Samsung Galaxy Tab S built in for the pet's entertainment needs. The dining area comes complete with skylight and paw-controlled food dispenser. Additionally, the doghouse boasts of a leisure and play area with a treadmill and a hydrotherapy pool.
Pricing: At $31,000, Samsung's built this smart doghouse for the elite!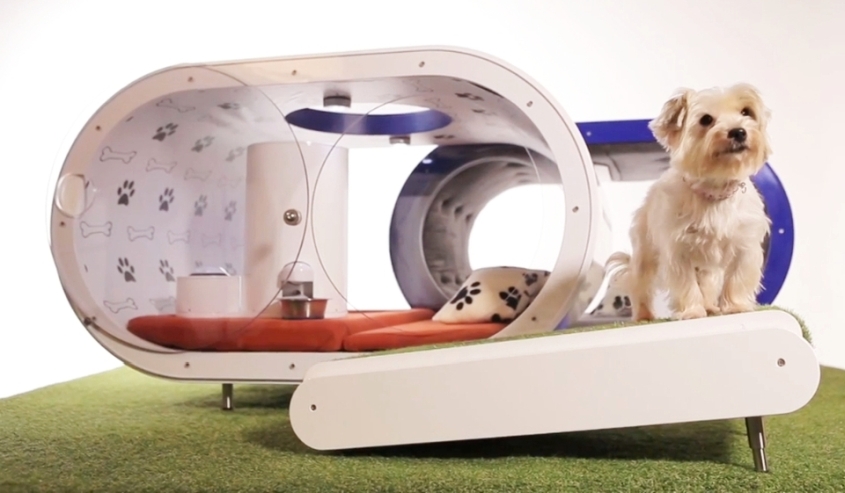 # T-Pai: Two-story smart doghouse
T-Pai is a two-story modern marvel that's designed primarily to solve the poop nuisance of small dogs. The doghouse along with some smart features also comes with a self-cleaning and self-sanitizing toilet for your pet.
What's in it
Made in shape of a London-style double-decker bus, the smart doghouse features a tablet on the top floor, which can be loaded with pooch-friendly games, music etc. Also, it can be used to communicate (initiate video calls) with the dog, when you're away at work. Alongside the tablet is a food dispenser that can be scheduled to the requirement, and a heated bed which also feature wireless charging for the dog collar. The dog collar keeps track of your pet's location, should he venture out of the double story home.
The lower story of T-Pai is equally interesting. There's a toilet for the dog here. The area gives out a unique fragrance which attracts dogs when they want to relieve themselves. When the dog enters the toilet, the gate automatically closes to cordon off the area. When your canine friend is done with business, the toilet flushes and sterilizes automatically, and the gate opens. The flushed poop goes down into a chamber where it's broken down and sterilized.
Pricing: Seriously, this smart doghouse is better than many smart homes for humans. Truly then, the pricing details remain hidden. The price is available on request only.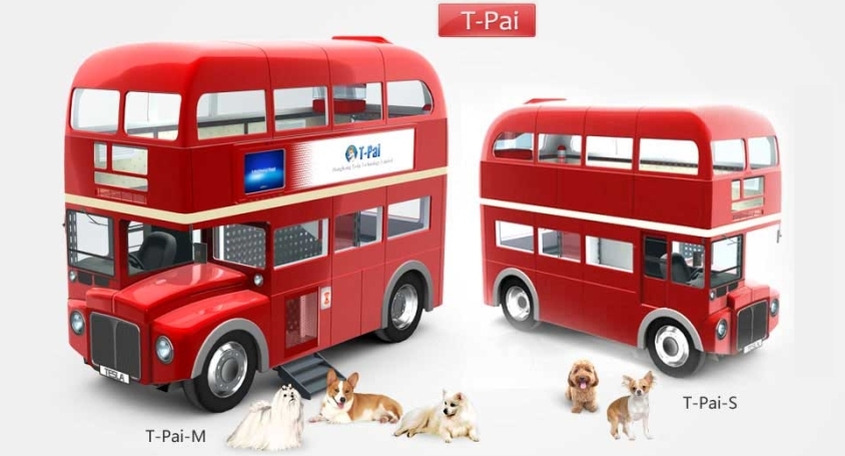 # Bright Canine custom smart doghouse
There are doghouses that come as they are, and then, there are Bright Canine doghouses where you can customize the color and add nametags. Bright Canine smart doghouse is an all-in-one solution to connect with and care for your canine friend when you're not in her vicinity.
What's in it
The custom smart doghouse helps automate care for your dog providing you controls no matter where you are. The doghouse is installed with Wi-Fi enabled HD camera connected with your smartphone, through this, you can keep track of your dog's movement and even communicate with her.
The smart doghouse is completely insulated, features automatic waterer, dog feeder, and a heater/freezer unit. The best part about the Bright Canine doghouse is you can customize its color to your pooch's choice and also have her nametag embedded.
Pricing: Bright Canine smart doghouse price varies with your custom requirements. Therefore, the price is available upon request.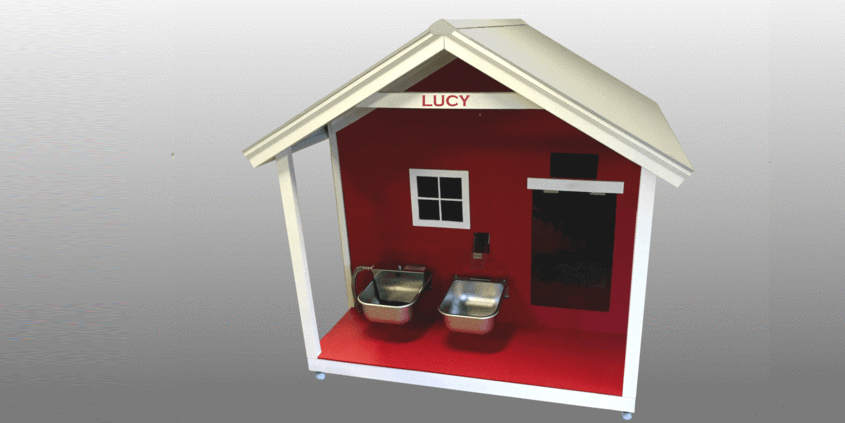 # Dog Parker for times when you can't let the dog in
When you visit a grocery store or pullover at your favorite coffee shop with your dog, and the shop owner doesn't allow pets in, you'll surely be worried about your pooch's safety. Not anymore! Camera-connected Dog Parker lets you park your pet within a smart environment while you have a free time inside a café or store.
What's in it
Dog Parker is a rentable, outdoor smart doghouse. The Dog Parker is stationed outside stores, and while you enter the shop/store, you can park your dog at the Dog Parker using member access card (the same card will be used to let the dog out of the unit).
The doghouse features a webcam connected to a native application on your mobile phone. Through the application, you can keep a constant check on what your pet is up to. Dog Parker is hardwired with UV lights for auto-sanitizing between uses and features air-cooling/heating system to keep your dog comfortable.
Pricing: Dog Parker members are charged $25 annually, while you can hire it for single-time use at $0.20 per minute.