If you want to buy a factory-built house or an Accessory Dwelling Unit (ADU) for your dream location, you need to coordinate the purchase through a professional and licensed company. While there are several prefab home manufacturers, you need to pick the one that fulfills the requirements for your desired home and provides all facilities within your budget while abiding by local planning regulations.
Since choosing a manufacturer in your region is the best bet, we have compiled a list of the best prefab home manufacturers from around the world. This would help you identify a builder in your region you can reach out to. Although each manufacturer offers prefab home models or ADUs varying in shape and size, all these builders, listed below, provide high-end, customizable homes with luxury features.
Koto Design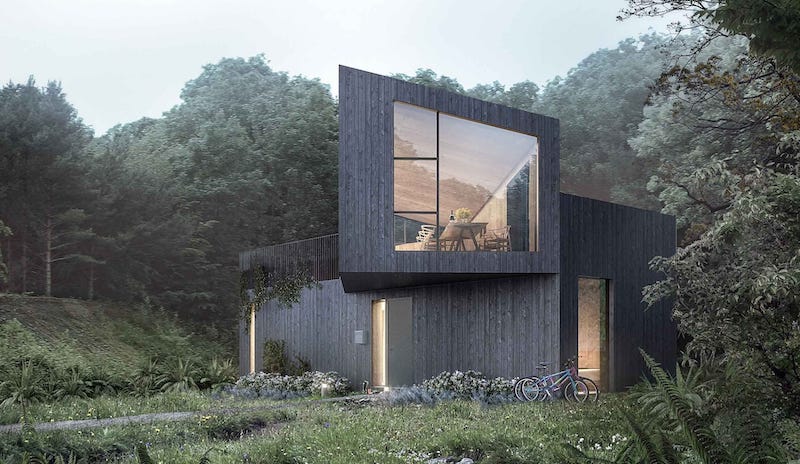 Koto is a well-known firm that creates prefab homes and cabins with aesthetic wood-clad exteriors and geometric forms. The Koto prefab cabins come in a variety of styles and layouts with modular architecture and are ideal to be used as holiday rentals, extra living accommodations, or home offices. The company designs and creates custom-made prefabricated structures with minimal environmental impact by using sustainably sourced timbers.
The cost of these cabins can range from $35,000 to $500,000, depending on the size and amenities provided. The 15-square-meter tiny cabin, Pari is listed for £35,000 ($42,855), while the four-bed, three-bath Piha House costs £400,000 ($489,772).
Country: United Kingdom
Service area: The UK, Europe and the USA
Boxabl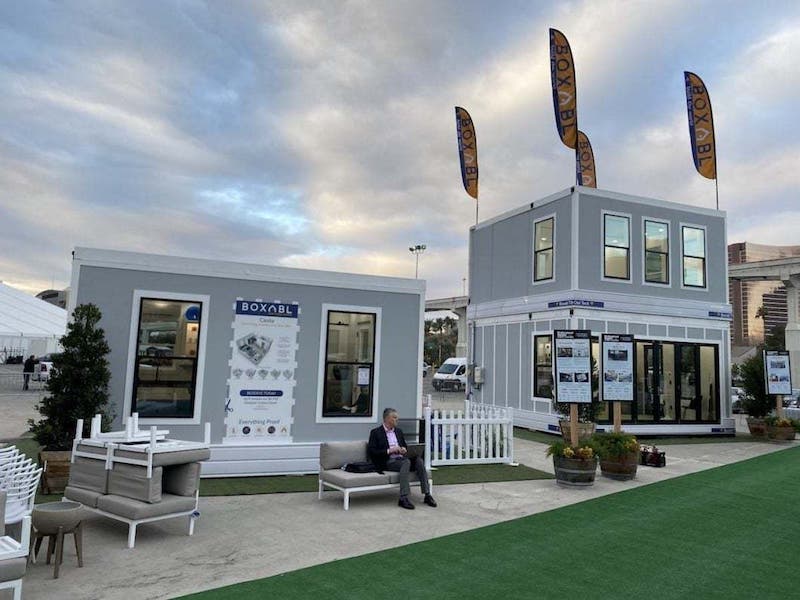 Las Vegas-based startup Boxabl is another popular prefab home builder that came into the limelight after creating a tiny house for Elon Musk. At the core of Boxabl's design is Casita – a 30 x 20-foot rectangular Accessory Dwelling Unit (ADU) that comes in folded form factor. It is transported to locations in stacked form, then unfolded and connected to build a house.
The 20′ x 20′ Boxabl Casita includes a full-size bathroom, kitchen, appliances, and big windows. Each casita is made from steel, concrete, and EPS foam while structurally laminated panels are used for walls, floors, and roofs. Boxabl claims the Casita is able to withstand fire, hurricane-force winds, and heavy snow and rain. Moreover, it is quite affordable, starting at $49,500.
Country: The US
Service area: Worldwide delivery
Nestron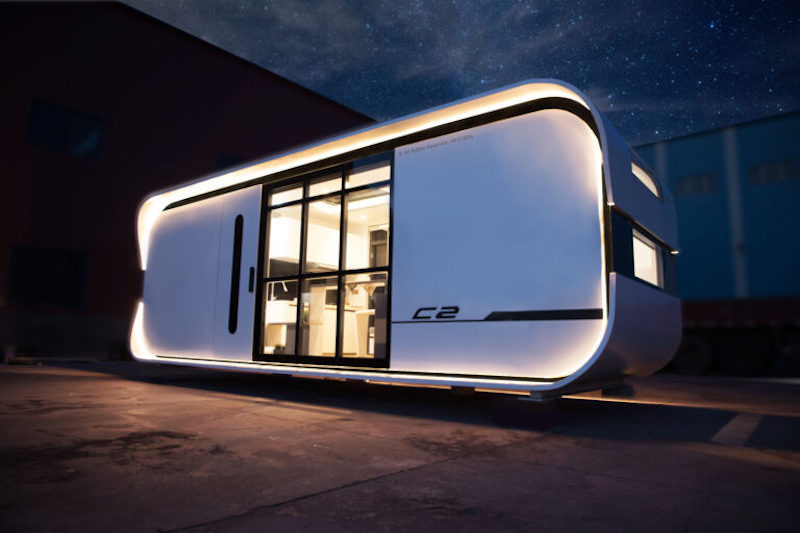 Singapore-based Nestron is a new-generation company that creates tiny living spaces for modern homeowners. Their tiny houses come fully prefabricated and are delivered as ready-to-use units with built-in furniture and smart home systems.
Nestron's Cube One unit can be customized for single-person use or for a big family. It provides low-cost, small-sized, simple, and flexible houses. Its smooth lines and minimalist layout make the Cube series perfect for large-scale use in modern urban spaces. You can get its exteriors, interiors, and colors customized to form a unique and dynamic design. The base price of Cube One is $52,000 and goes up to $120,000, depending on the model and customization you choose.
Country: Singapore
Service area: Worldwide delivery
MUJI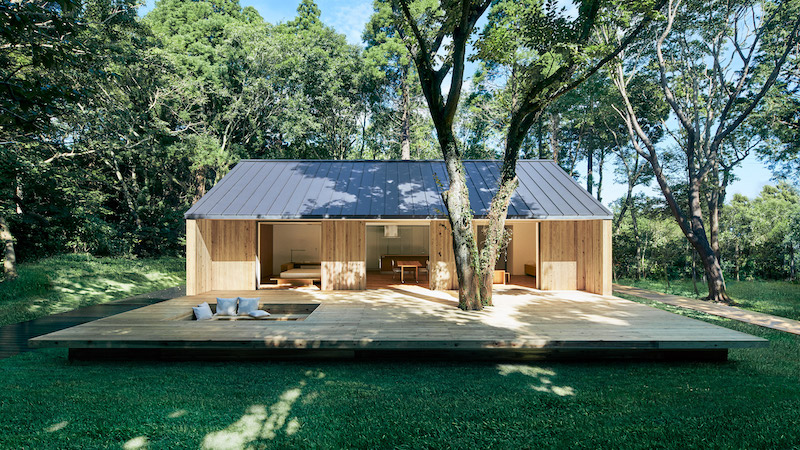 MUJI began with the term 'encapsulated' homes in 1980. They have created products that may be considered substandard as per the conventional criteria. Concentrating on three priorities, such as streamlining processes, selection of materials, and simplification of packages, the company has established itself with more than 7,000 premium products.
In 2020, MUJI released a single-story prefab home known as Yō no Ie (or Plain House). It boasts a large outdoor deck for encouraging both indoor and outdoor living. This particular housing structure has been created for rural settings and is the firm's very first dwelling without any stairs.
The 74-square-meter housing structure is suitable for the growing needs of low-profile houses in suburban Japan. The retail company wishes to offer a wide range of living spaces with distinct choices in terms of facilities and features. The price of Yō no Ie (or Plain House) starts at 15,980,000 yen (approximately $155,622).
Country: Japan
Service area: Japan
Also Read: Best Tiny Houses on Wheels That are Downright Inspiring
DublDom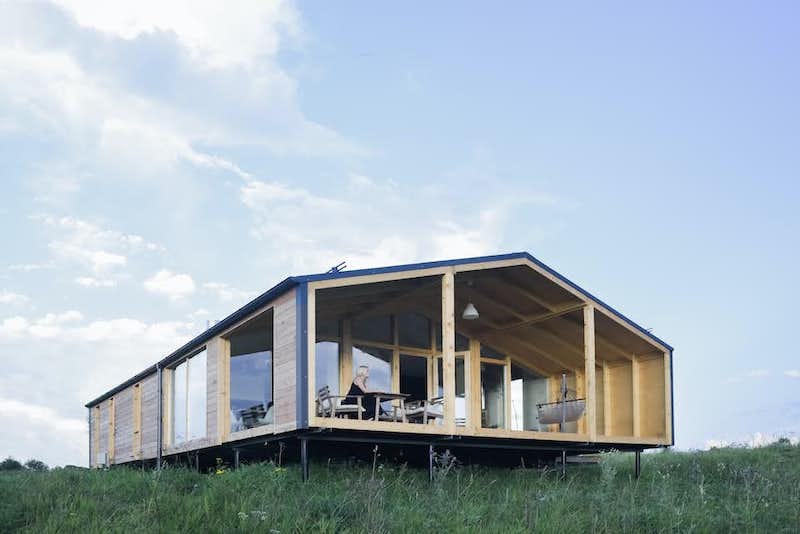 DublDom was established in 2013 by Russian architect Ivan Ovchinnikov to develop modular wooden houses. The architect's mission was to build a scalable and affordable architectural design for a stylish family home. He completed his vision within eight years by creating over 1,000 houses in Europe and Russia.
The company uses advanced technology for creating one DublDom within 6-7 days, with an installation period of one week. Each of the five housing designs ranging from a modern cabin to a five-bedroom home is made using sustainable materials and wood. DublDom is priced at $80,000, but the cost may vary depending on the customization.
Country: Russia
Service area: Russia, Europe and The US
Tini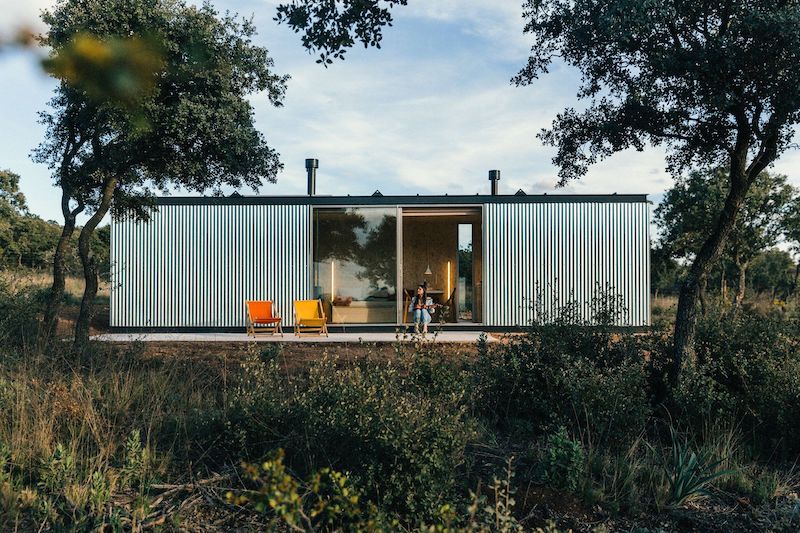 Spanish firm Tini is well-known for customizing homes to individual requirements. One of its popular tiny homes is called Tini M. Located in Cuenca, this tiny home is one of the first houses the company created for young homeowners who wanted a small house that can be built within a few days rather than waiting for years for construction.
After seeking several alternatives in the industrialized house market, the homeowners opted for Tini M which took only 100 days to complete construction. The price of Tini M starts at 54,500 € ($59,388) and may vary depending on the number of custom features and type of the model (ranging from Tini XS, Tini S, Tini M, and Tini L to Tini 2M and Tini 3M).
Country: Spain
Service area: Europe, the USA and Canada
Ark Shelter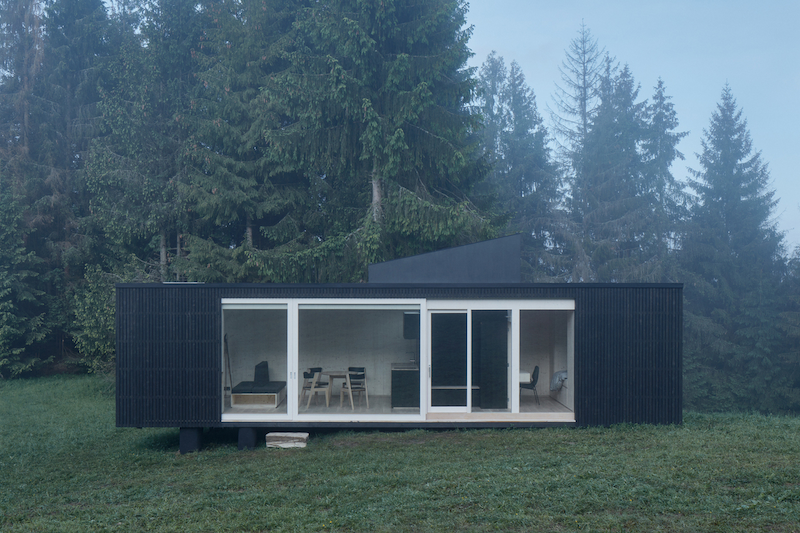 Netherlands-based ARK-Shelter is another renowned prefab home manufacturer. They are well-known for their Ark Lodge modular family home. In 2016, the company created this 155-square-foot modular home that includes two separate bedrooms on either side of the property. Each bedroom includes a huge window to provide maximum outdoor views to the inhabitants while pouring in natural light.
In 2018, the company came up with a new Ark Shelter Prefab Cabin with five door openings for more access to the surroundings. Another feature of this well-curated and versatile floor plan includes a large living space with maximum glass windows. It even has convertible spaces, like a trundle bed for accommodating guests for overnight stays.
Moreover, this particular lodge has big terraces. There is one terrace on each side of the property and can be custom-made for enjoying time with nature. The Ark-Shelter model of 3m x 9m costs around €60,000 ($64,455).
Country: Belgium
Service area: Europe
Abodu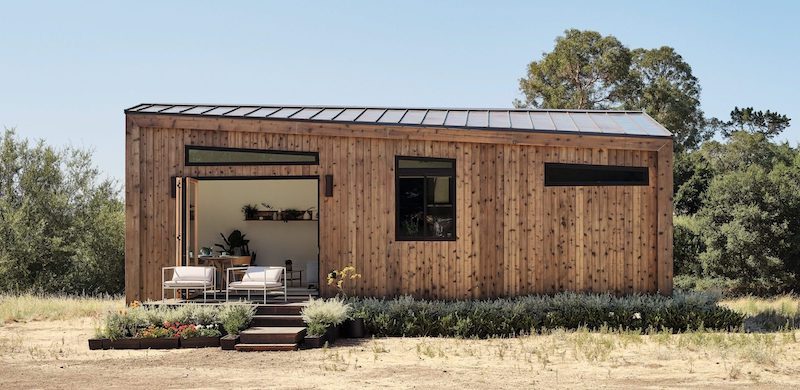 Abodu prefabricated home manufacturer is on a mission to inspire property owners to rethink the potential of every inch of their land. The firm aims to impress clients with stunning backyard homes by making homeowners think how easy it is to create desired living spaces. ​Whether you need a space to work from home, put up rent, or as a holiday home for your family, Abodu takes care of all the options.
Abodu helps homeowners add extra space to their existing ones. The company offers various prefabricated cabins, such as Dwell House, and various versions of Abodu, including Abodu One, Abodu Two, and Abodu Studio. The price of Abodu One starts at $268,800 and can increase depending on the model you choose. Nonetheless, each selected unit is minimalist yet practical in its own way.
Country: The US
Service area: 30-day delivery in select CA cities
Lumicene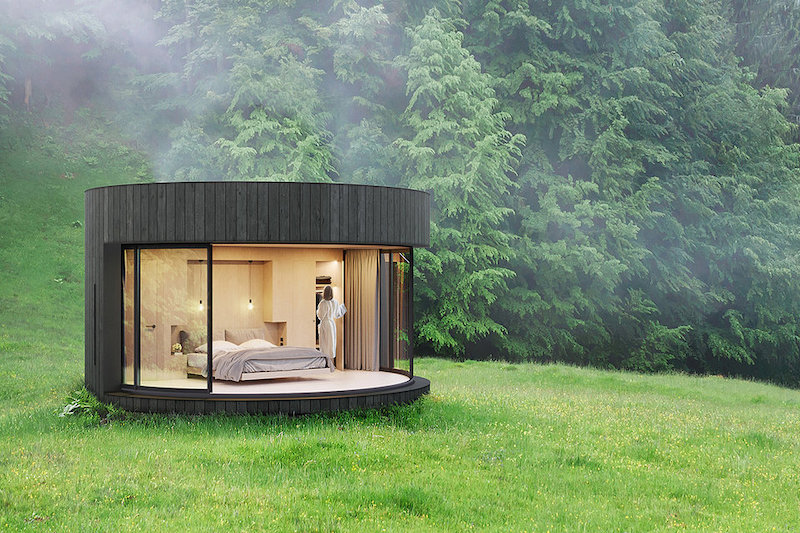 French-based Lumicene uses its signature curved-glass window to create its modern nature getaways. The firm's popular prefab construction is the Lumipod Prefab Cabin. It is a 183-square-foot circular shelter with an aluminum frame that's clad in burnt wood planks to blend with the surroundings.
The cabin sits on four screw piles and is positioned on the terrain to have minimal impact on the surroundings. The interior is lined with plywood and features a closet, bedroom, and bathroom, while the floor-to-ceiling glazing envelopes the entire space for an immersive experience. For seamlessly connecting the inhabitants with the wilderness, the window slides open effortlessly to let in the great outdoors.
The cabin can be created within six months and is available in sizes ranging from 5.5 to 8 meters in diameter. However, you can customize it as per your preference. Contact the manufacturer for price.
Country: France
Service area: Europe
Zennihome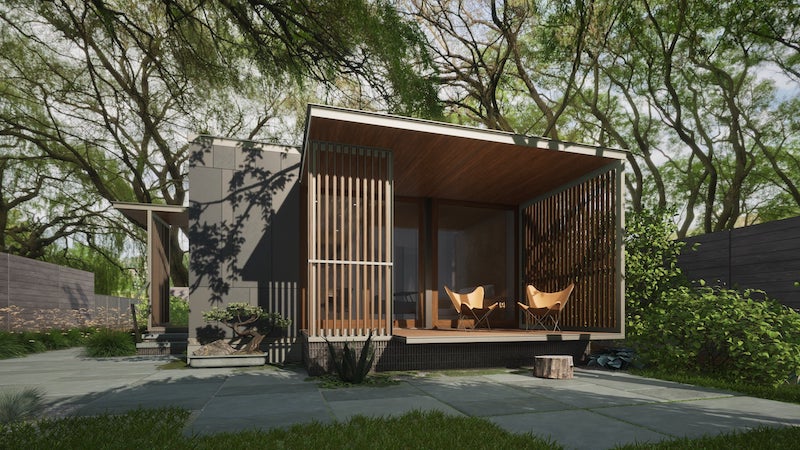 Arizona-based startup Zennihome has created Denizen, which is one of the three best housing propositions. The other two are the huge Citizen and the even larger ZenCity, which are bigger versions of the Denizen. This particular prefab home is more like a Lego block that can be created for making larger structures, either vertically or horizontally.
ZenniHome was the first to recognize that tiny homes are a fantastic illustration of multi-functionality. However, the majority of people find tiny living to be an impractical solution for the long term, thus ZenniHome set a new objective for itself: to maximize usefulness with a small footprint.
Therefore, the firm created a space with little room yet maximum facilities, thanks to its patented technique of building the housing with robotic technology. The company hopes to launch the prefab home at the price of $90,000 for the Denizen, and $125,000 for the Citizen.
Country: The US
Service area: 48 states of The US and Canada
The Backcountry Hut Company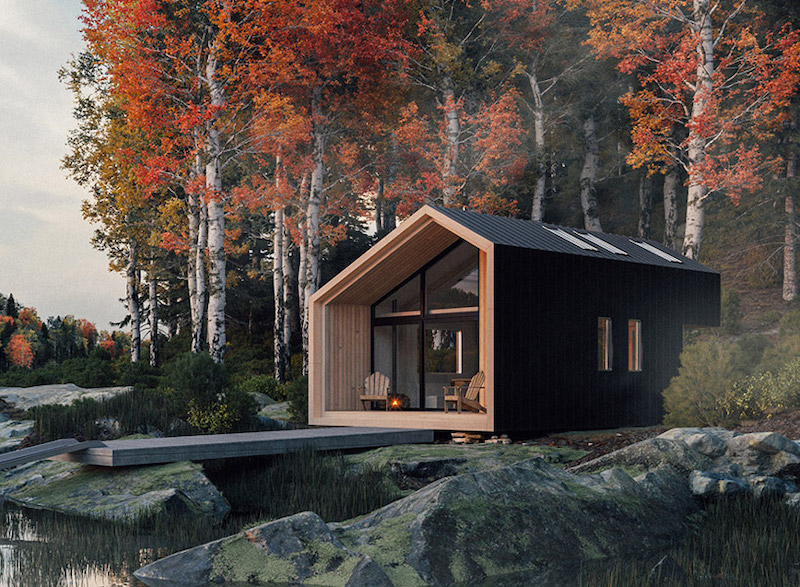 The Backcountry Hut Company is renowned for unique tiny housing designs, like System 00, System 01, System 02, and System S. All of them are available in various designs and sizes. These houses are inspired by the rustic wilderness of Canadian outdoor culture and are created to nestle within the woods or beside a lake.
Each design offers a flexible floor plan with modular features to accommodate small groups or a family. The ground floor of these prefab hours often encourages fluidity between outdoor and indoor living. Or you can use them as an extension of your house for storage, home office, or sleeping. The price of System 00 housing design starts from CAD $56,495 and can increase depending on the model you choose.
Country: Canada
Service area: Canada and the United States
OOD Mirror Houses & Cabins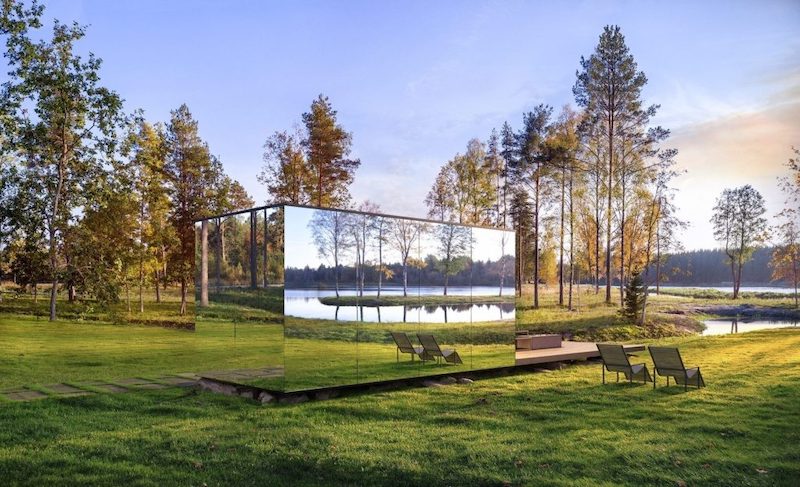 Estonia-based OOD is known for creating stunning prefabricated mirror houses and hotels. The clients can use these factory-built units for housing or as an Airbnb. The compact cabins are created with 200 square feet of space with a bed, bathroom, and kitchenette, but the sizes can be increased.
Each rectangular unit comes finished with insulated and mirrored glass, enabling it to reflect the surrounding views, no matter where you place it. Besides its one-of-a-kind exterior, it features heated flooring, a large TV touch screen, Wi-Fi, and Bose sound system. The price for the 227-square-foot house is $125,000.
Country: Estonia
Service area: Worldwide delivery