Typical Christmas trees are so 2021. This time deck up your home with an exquisite Christmas village tree. If you feel nostalgic when you think of the Christmas village, you can bring it back this season by creating a marvelous Christmas Village or DIY a Christmas village tree, depending on the time you have at your disposal. Thanks to a wide selection of modern and traditional accessories and decor pieces, you can easily create and set up a stylish Christmas village tree in any area of your house.
Creating a tree is easier than you may imagine; all you require is miniature houses, small Christmas buildings, tiny snow-covered trees, elves, fake snow, reindeer, and other decorative items, which may include red balls, garlands, and red flowers. Or maybe something minimalist and chic! Even pinecones, stars, birds, snowflakes, etc. make good choices for your exquisite Christmas village-inspired holiday tree. And, when you ornate it with crystals and silver balls, your interior will appear magical. Ready to build yours? Start creating your Christmas village tree display with the following decor ideas:
Start with a triangular shelving unit and add some fun Christmas decoration items, like garlands, tiny houses, small trees, lights, etc., to create this festive Christmas village tree.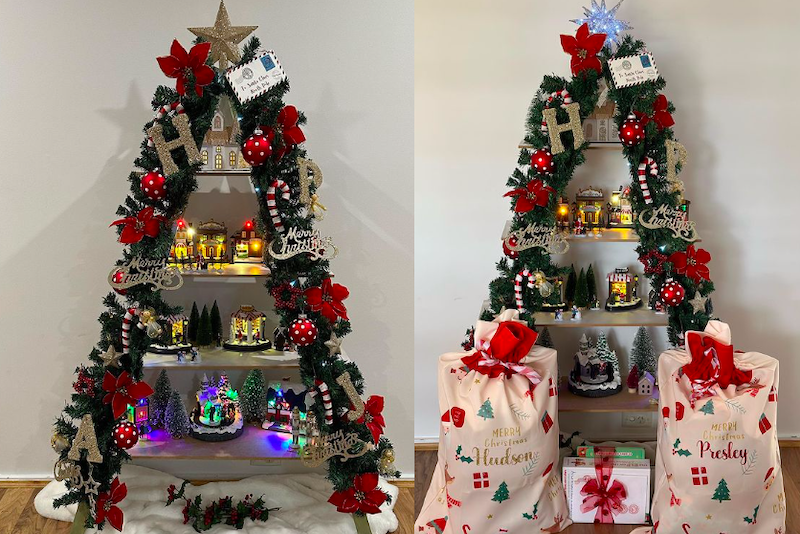 How about making a frosty Christmas village tree with lights? The round shelves make enough space for your decorations.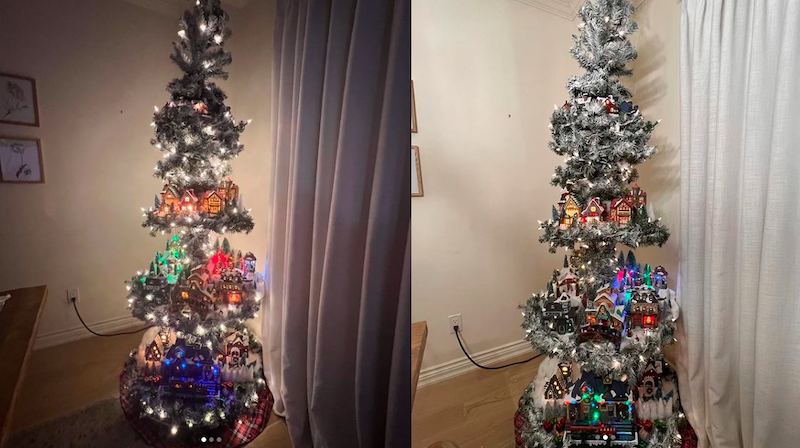 If you have ample space at home, you can create a grand village tree using mini houses and Christmas ornaments in the center of your living room. Add fun with a Santa climbing on a red staircase and a railway track at the bottom.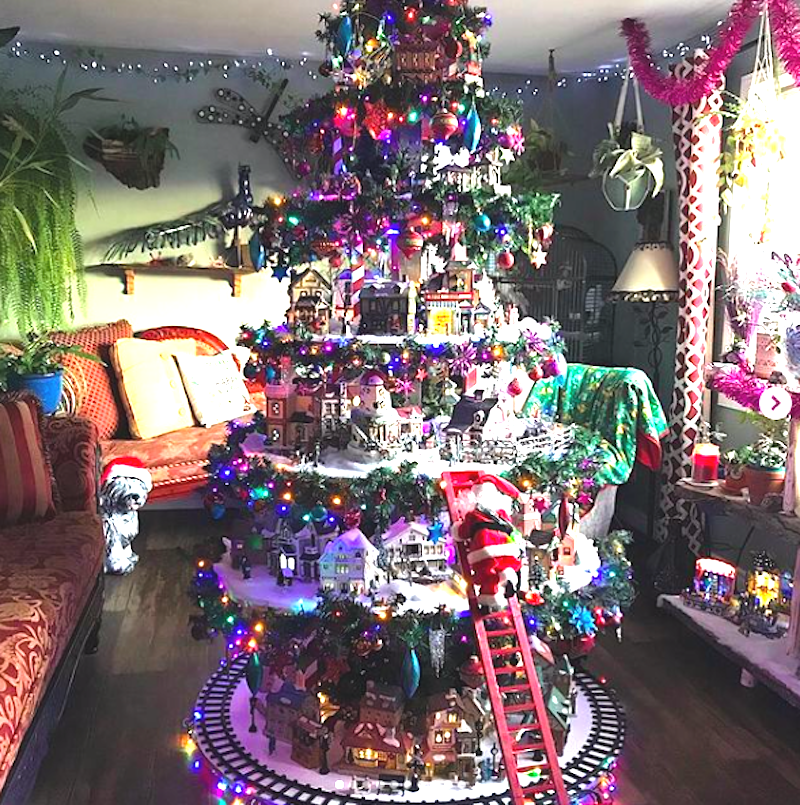 Do not have much space in your house? Then set up a minimalist Christmas village tree using a tree-shaped wooden frame featuring small shelves.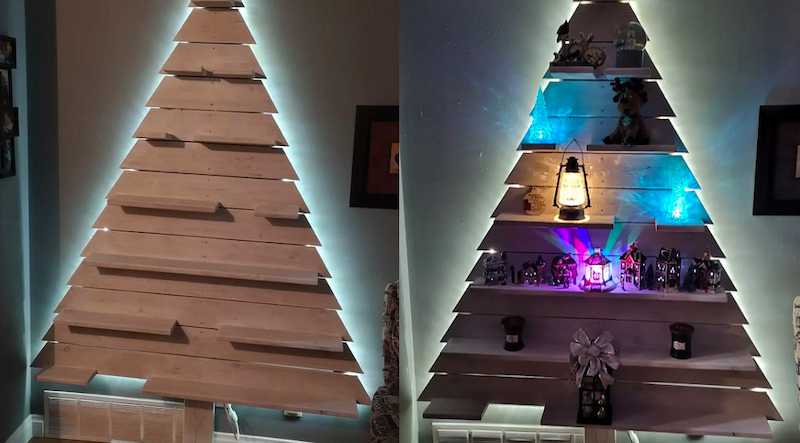 It's a fancy village tree design that's also easy to put up with creativity, decoratives, and some vacant space in your house.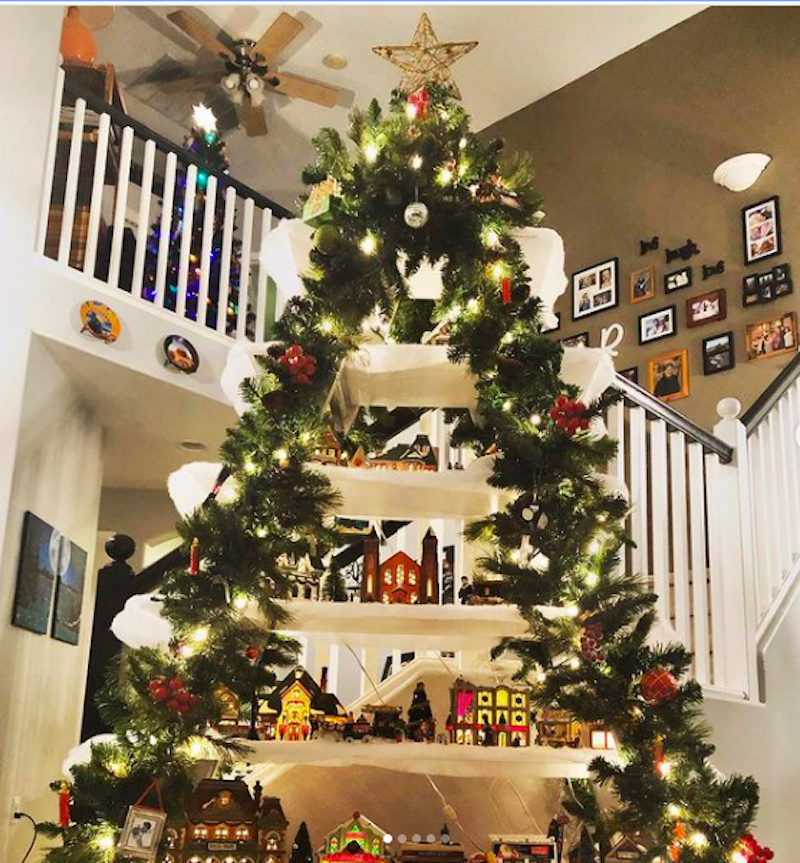 Worried that your kids may spoil your Christmas tree decoration? You can set up this child-proof village tree with a barricade around it.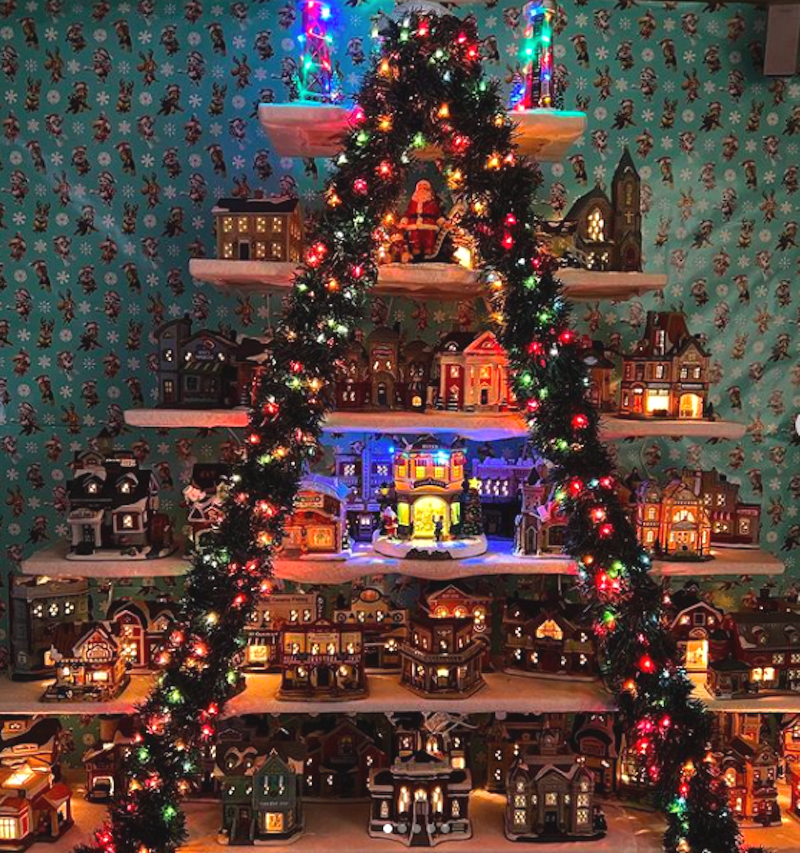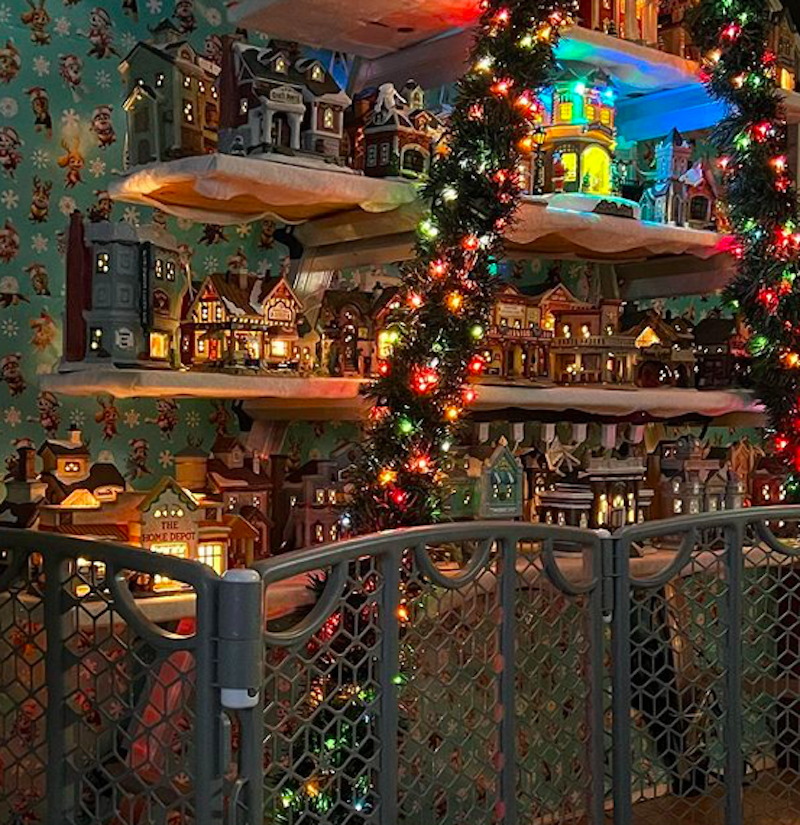 This farmhouse-style Christmas tree village is decorated with a number of lighted mini houses and of course a star topper.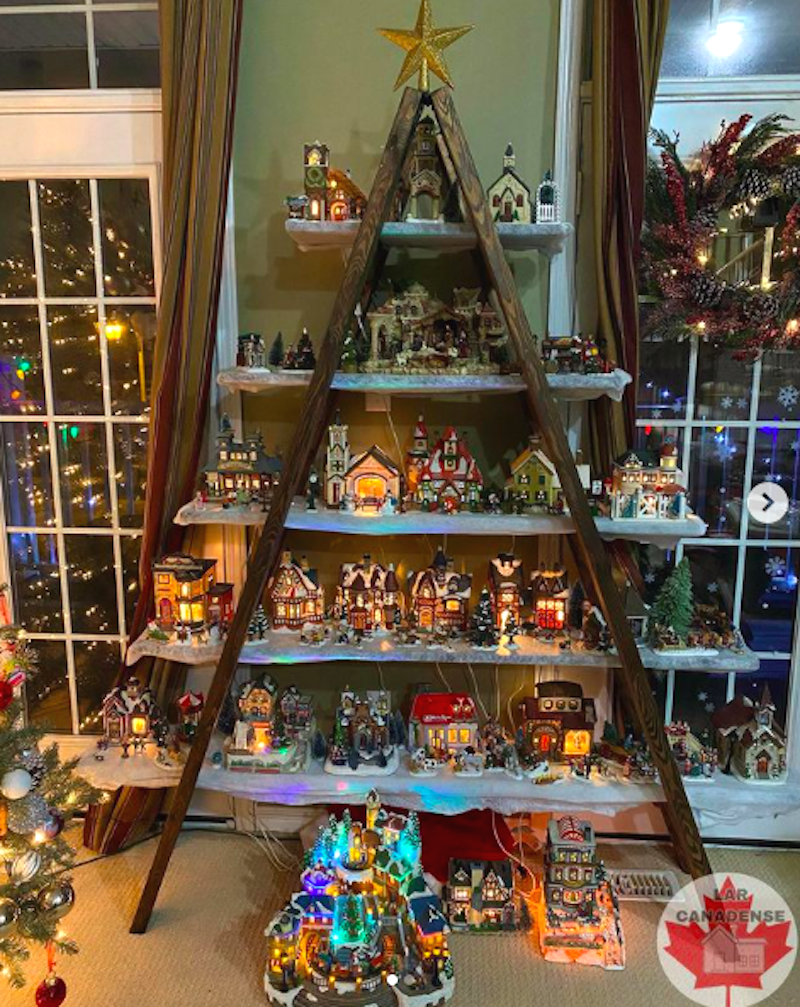 This Christmas village tree display is carved by the maker in the form of a round tree trunk with several shelves to display a collection of fancy houses and other accessories. It looks perfect for a maximalist festive decor.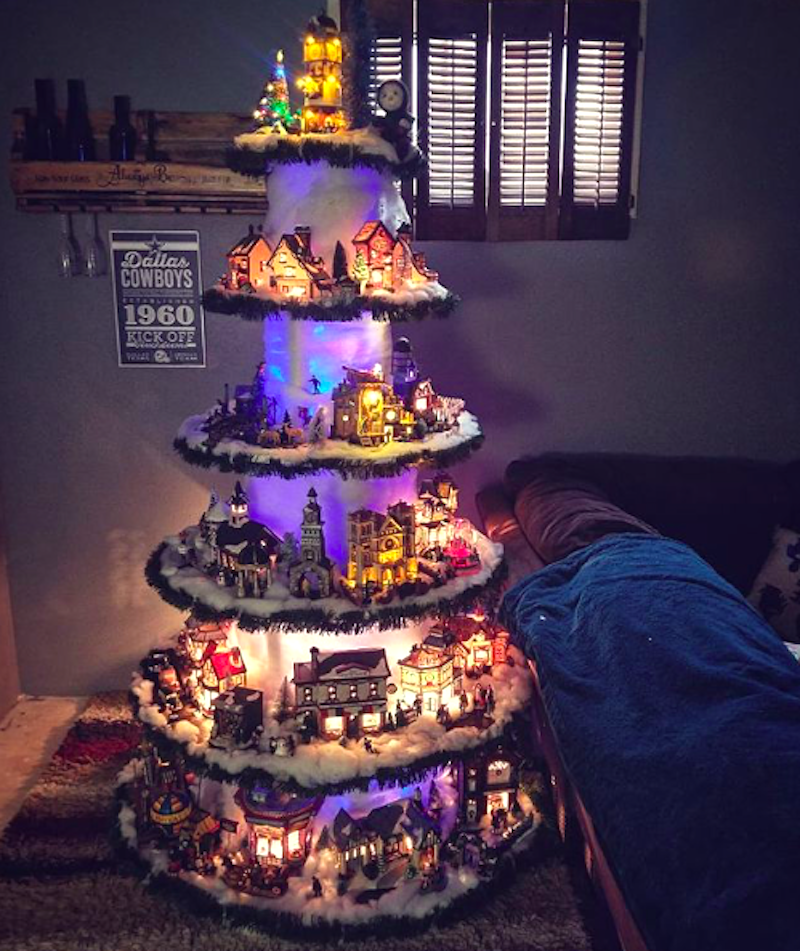 Tucked in a corner, it is a beautiful fusion of a Christmas tree and a Christmas village. Display your collection of Christmas villages and decorations in the shape of a festive tree with shelves. It would look amazing next to a fireplace.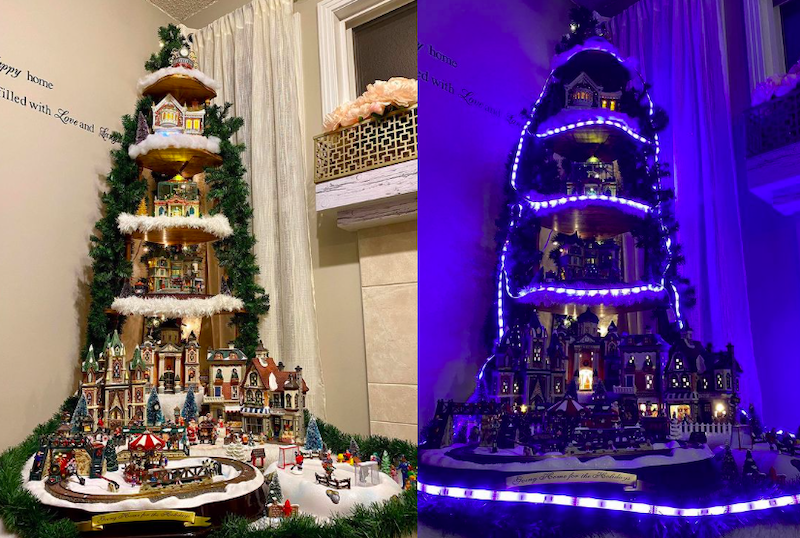 You'll need a wooden stand, some mini Christmas houses, and dusted garlands to create this holiday-appropriate feature for your home.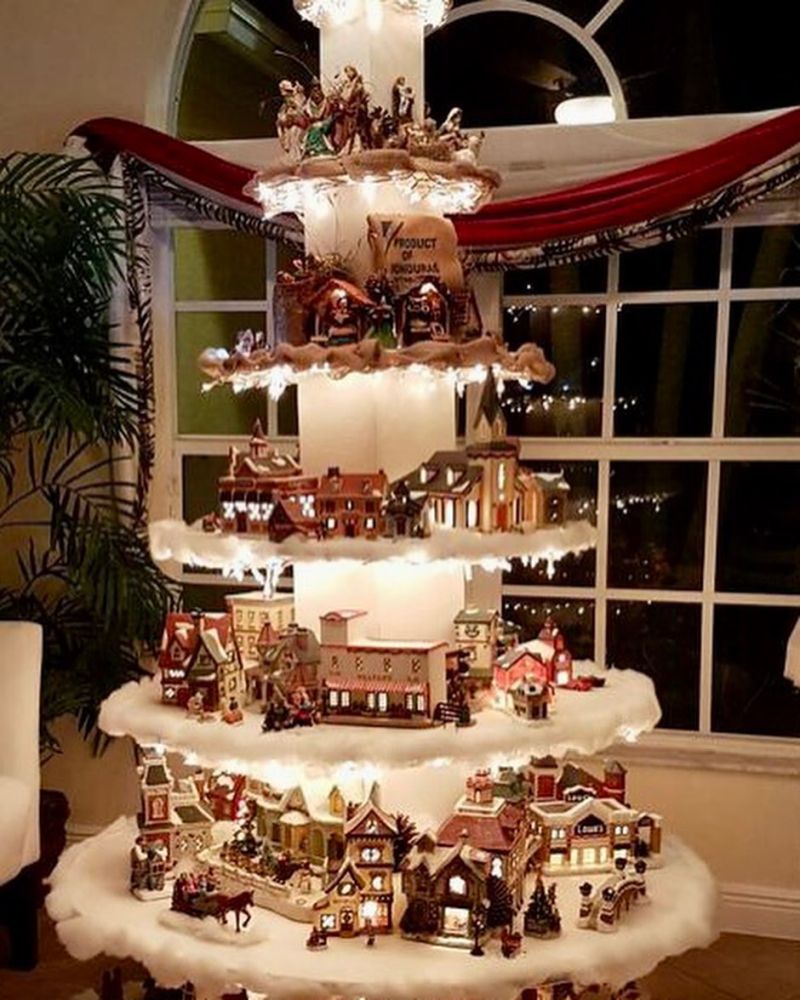 Also Read: Easy To Make and affordable Christmas Decorations
Don't have enough space in your house to fit a big Christmas tree village display? Consider building this elongated tree display with numerous houses.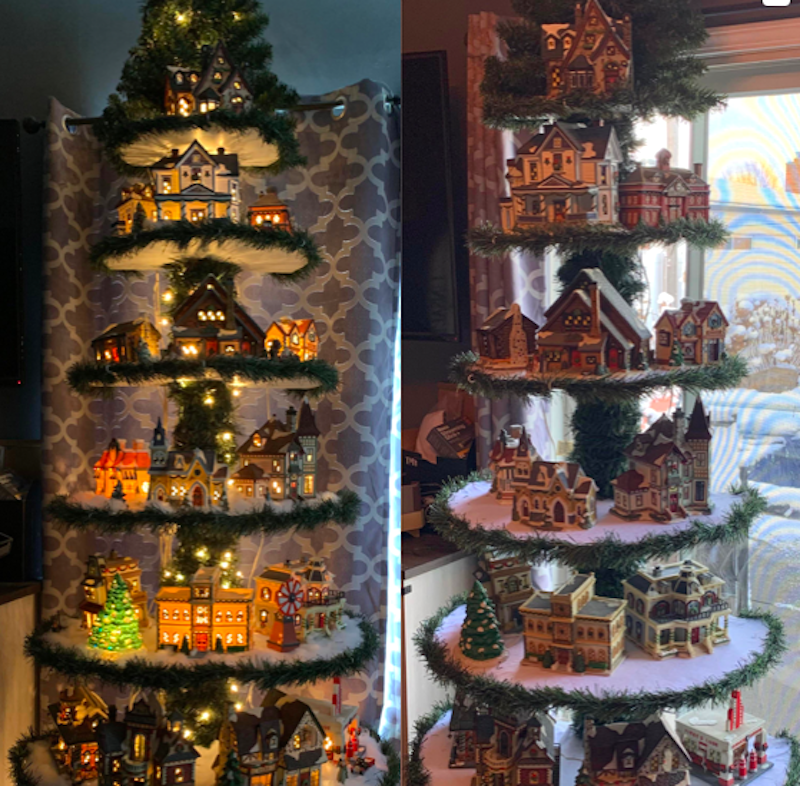 This one is a good corner display comprising various Christmas villages, toy trains, green garlands, and other festive ornaments.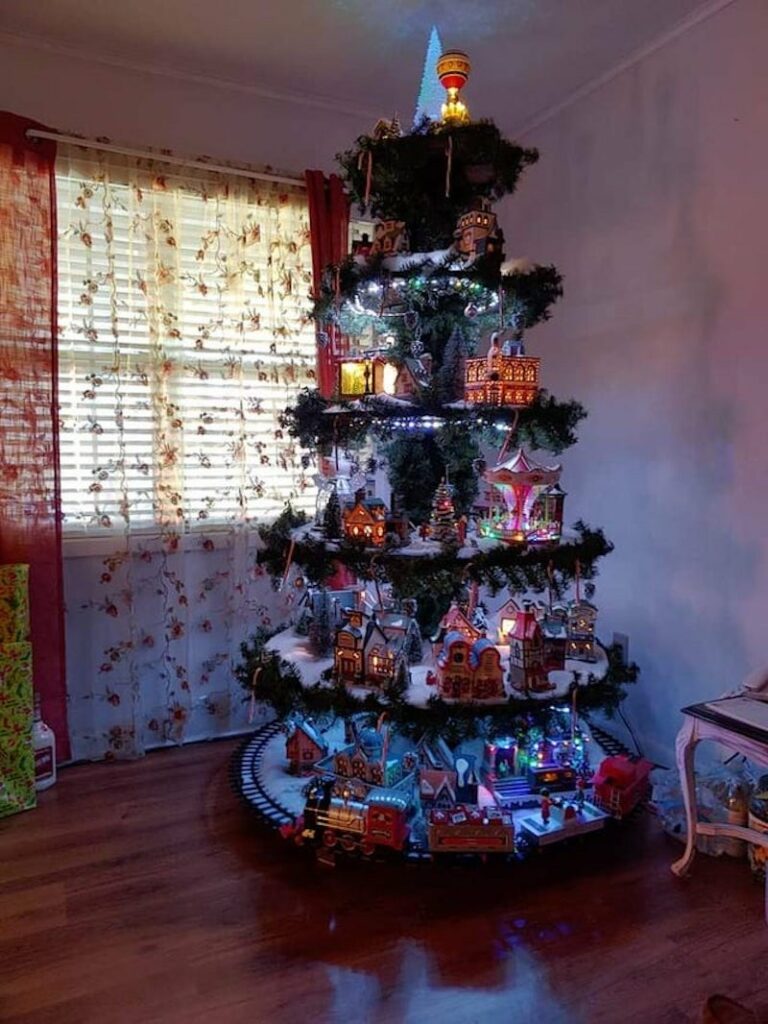 A Redditor created this simple yet holiday-ready Moravian pyramid Christmas tree in 2016, but it's still so relevant today.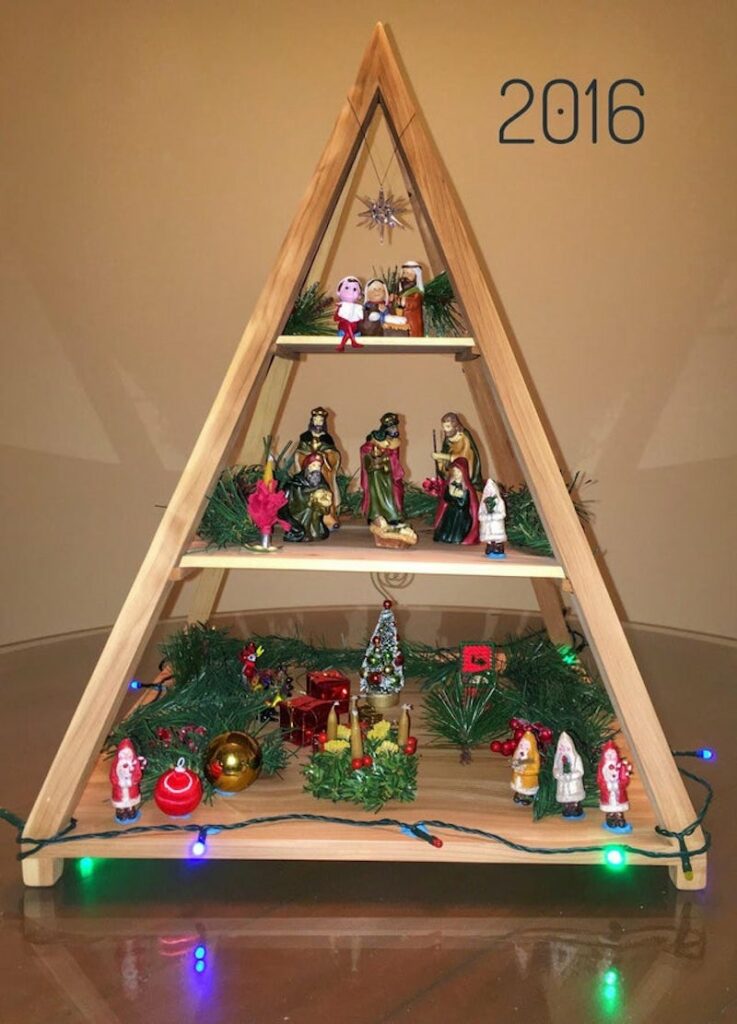 You can use some scrap lying around your house to build a stylish Christmas village tree display like this one.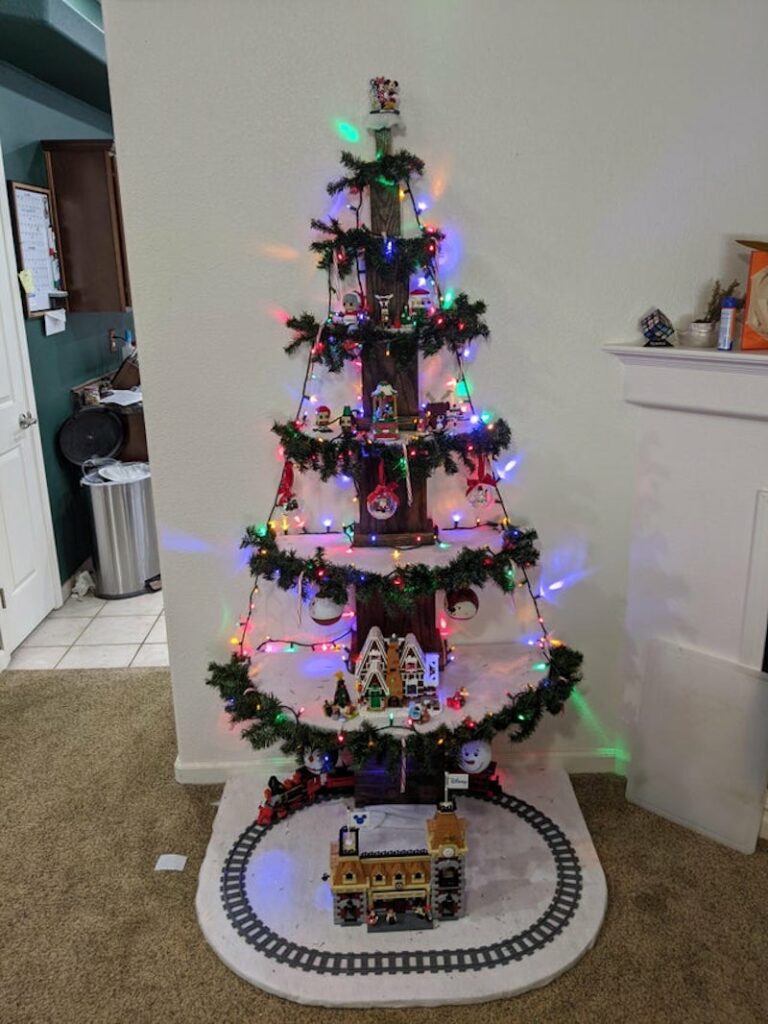 Also Read: Pine Cone Crafts for Christmas Decoration
Love the look of snow-covered trees in the winter? Consider mimicking that with your village tree display this year. It would surely impress your loved ones.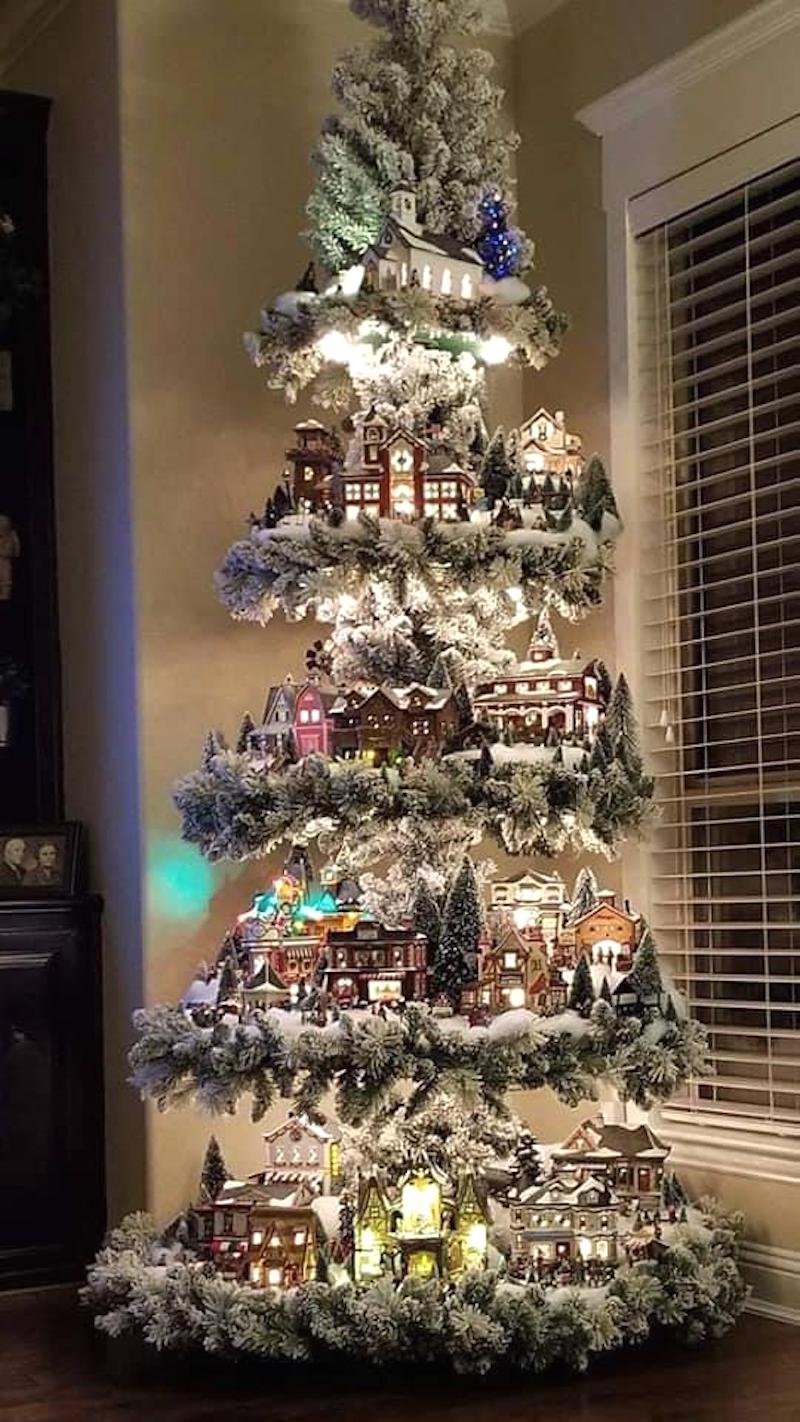 For those who feel the holidays are all about vibrant decorations, get some inspiration from this DIY Christmas tree display with whimsy holiday villages and colorful lights.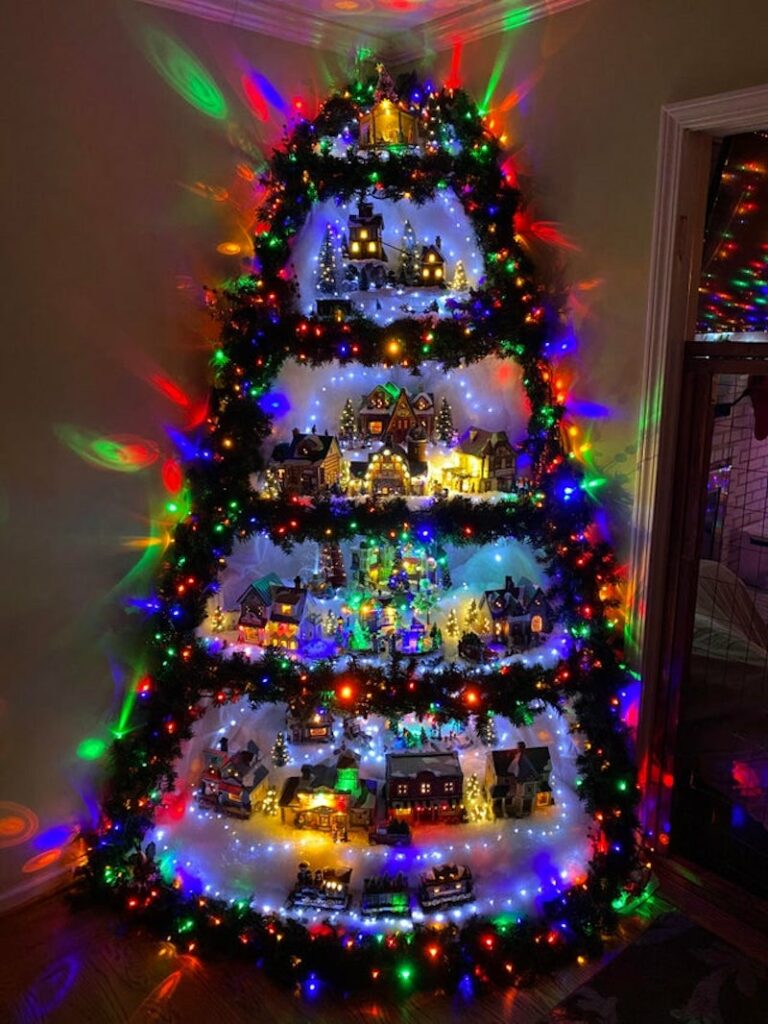 This custom tree-shaped holiday village display is made using a stand, with sections covered with white cloth, Christmas villages, lighting, and green garlands.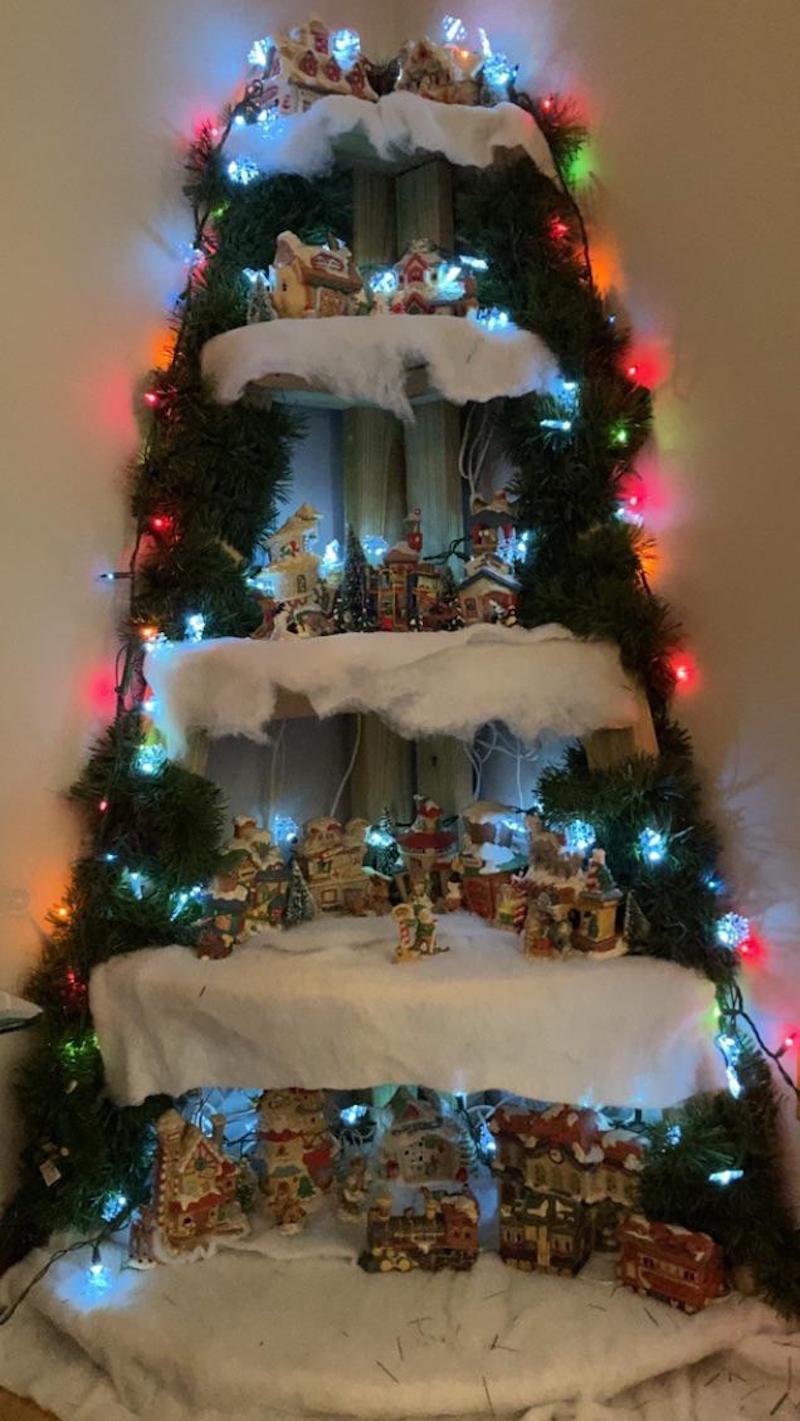 Set up a multi-tier village display with eccentric ornamentation for a corner or an area with limited space in your house. Here's a full tutorial if you want step-by-step instructions.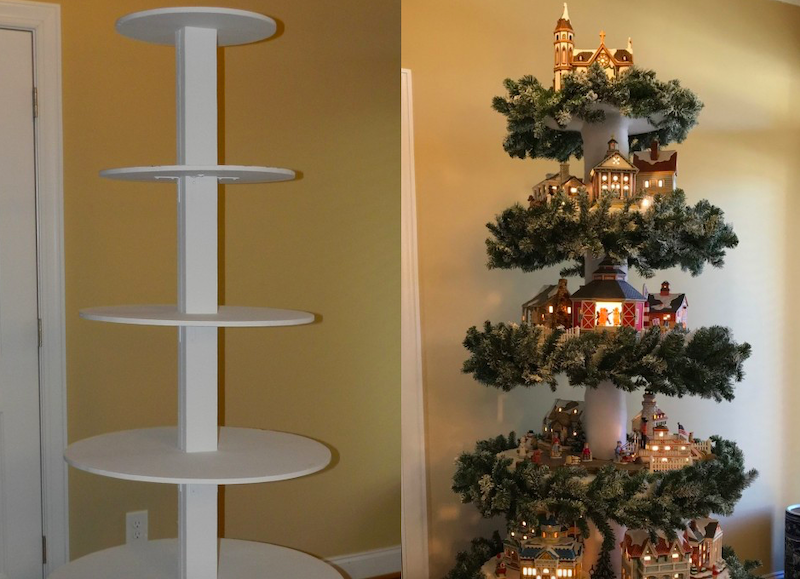 If you have a massive collection of Christmas-themed mini houses and figurines along with sufficient space to accommodate them, you can go for this grandeur holiday display for a luxe appeal.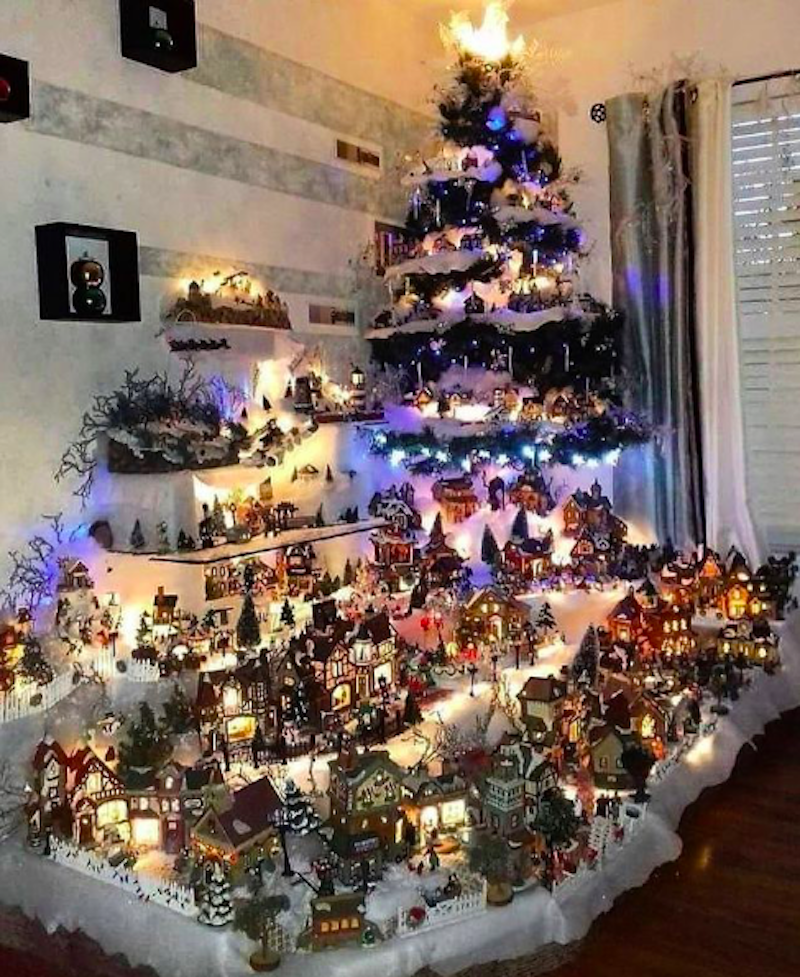 Also Read: Christmas Wreath Ideas to Make at Home
Create a modish village Christmas display for a decorous interior within your living room, bedroom, or any other corner where you want to set up this feature.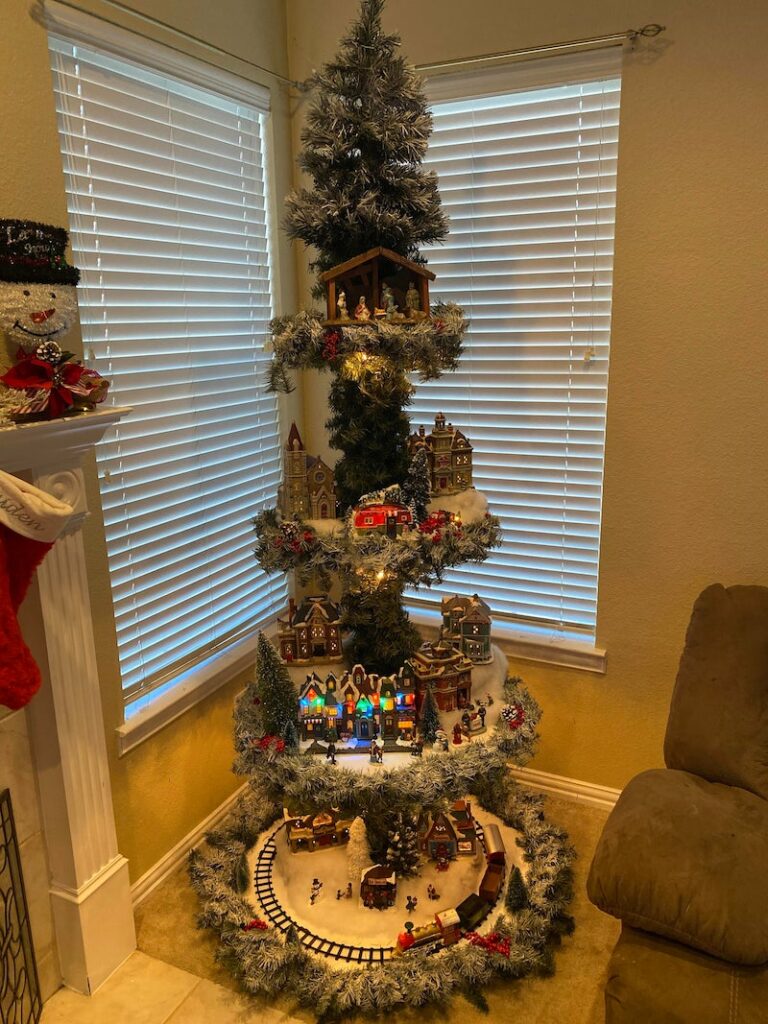 This one is another creative way to build a DIY Christmas tree display stand with all the fun festive items you have at home.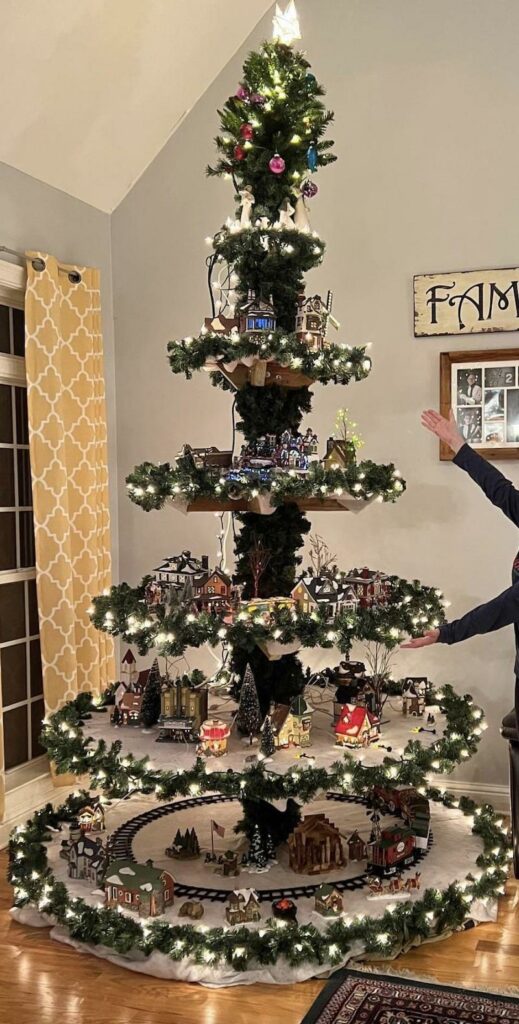 You can also check our tutorial video on how to make a Christmas village display below: