Wondering what terrifying scene to set in your house for the scariest night of the year? We've got you covered. If you are thinking of spine-chilling yet unique Halloween decorations, consider setting up a scene or two from Tim Burton's The Nightmare Before Christmas. If you haven't watched the movie yet, it tells the story of Jack Skellington, The Pumpkin King, who gets bored with his life in Halloween Town.
The tale unfolds when Jack finds a hidden door to visit Christmas Town and then decides to take over the regular Christmas celebrations with bizarre and spooky outcomes. Creating your own Halloween Town this October would strike a good balance between scary and adorable.
Also Read: 50 Best Halloween Decorations to Buy on Amazon
We think that The Nightmare Before Christmas scene would appeal to grownups while not being too horrifying for little trick-or-treaters. Here are a few crucial props that you need to create a fearsome The Nightmare Before Christmas Halloween scene.
Pillow covers
Made from linen fabric, this set of four Nightmare Before Christmas pillow covers will help you add a spooky and whimsical touch to your home decor. Each pillow is designed after iconic characters like Jack Skellington and Sally in different colors.
Buy: $19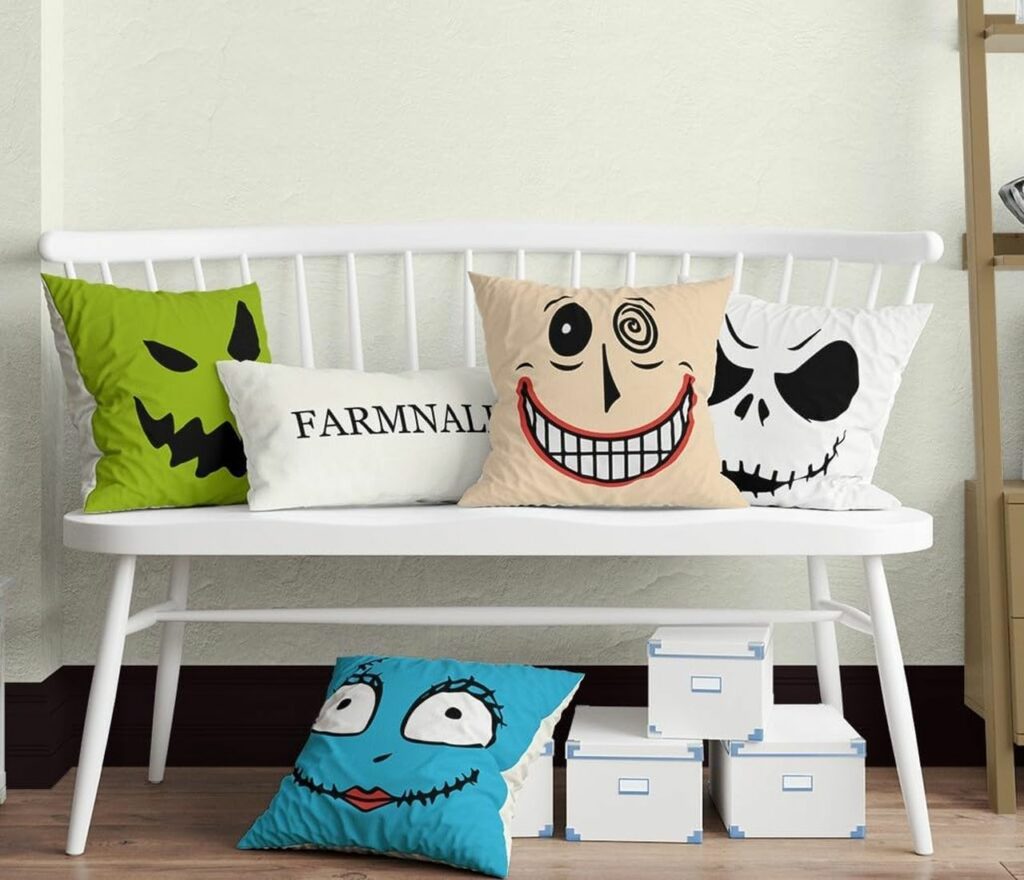 Hanging decoration
It is a full-size, 5-foot-tall Sally hanging decoration. It comes with a loop on the top of its head for hanging conveniently. This figurine boasts a fabric body and bendable arms. So, it would be easier to use it for decoration as per your preference.
Buy: $35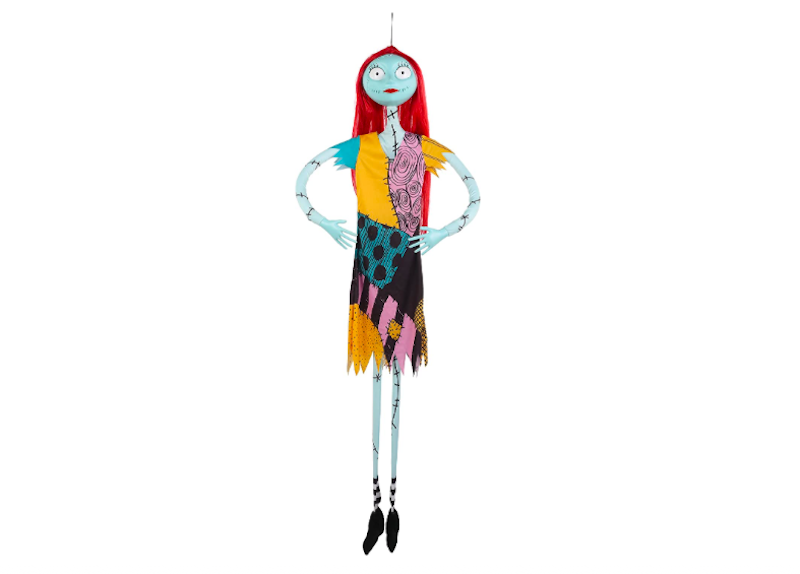 Planter
Plant some eerie yet fun seeds in this The Nightmare Before Christmas ceramic planter. It comes in the shape of Jack Skellington's head and an artificial plant. So, you won't require any extra upkeep. You can style this Halloween planter in your home, office, or guest room to brighten up the interior. Your visitors will love this cute little planter greeting them for the night of the horror.
Buy: $20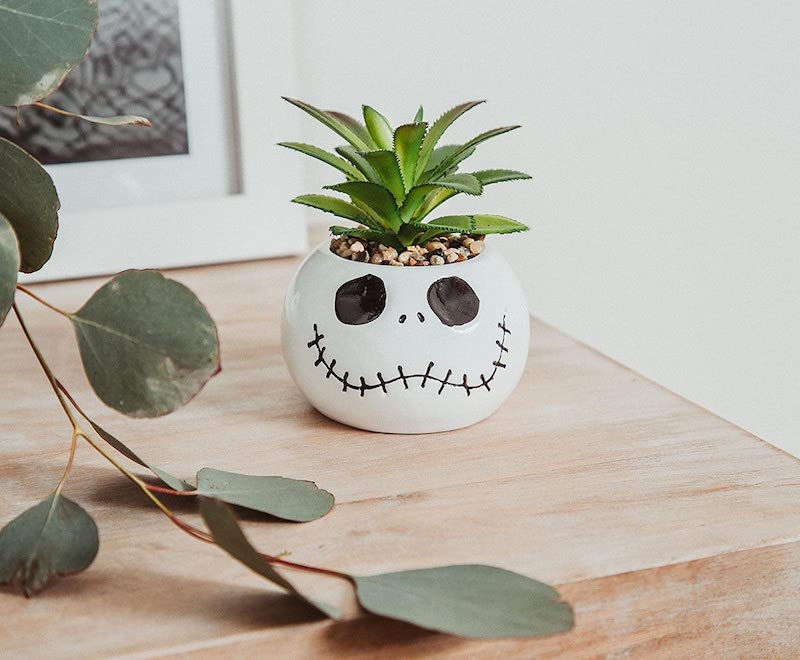 Table decorations
It is a set of four Disney-themed wooden table decorations that can be used and kept for a long time. This horror character series is perfect for Halloween and you can use it as a table or shelf decorative.
Buy: $16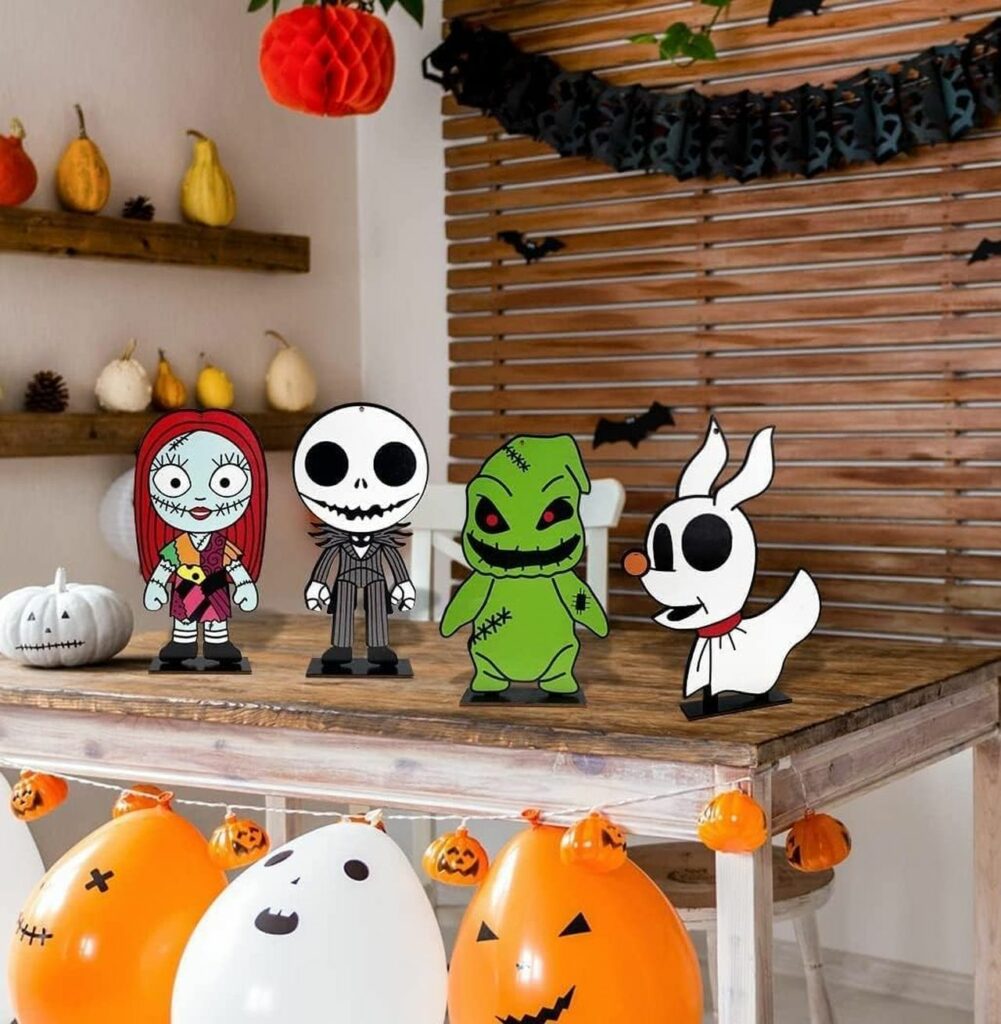 Inflatable
Prepare a scary scene with a familiar face from the movie – Oogie Boogie. It comes in the shape of an Airblown inflatable decor piece. All you need to do is plug it in, place it anywhere you want, and watch this scray-cute Halloween decoration as a standalone figurine. You may even combine it with other Halloween inflatables.
Buy: $43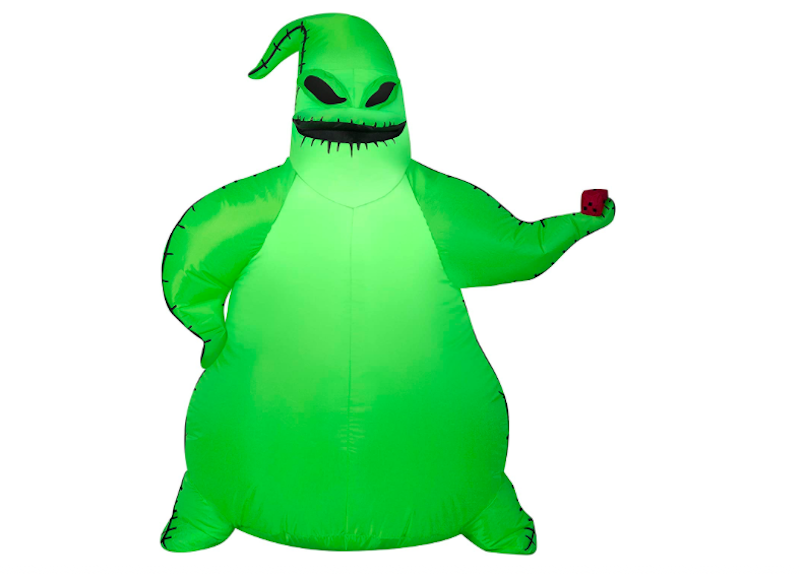 Light-up pumpkin
How about adding something sweet and spooky to your Halloween decorations? The illuminating Jack Pumpkin is perfect for your scary decor scene. This Halloween pumpkin decoration would look spooky when illuminated at night. You may add 5, 10, or even more of these lights to your Halloween decor.
Buy: $15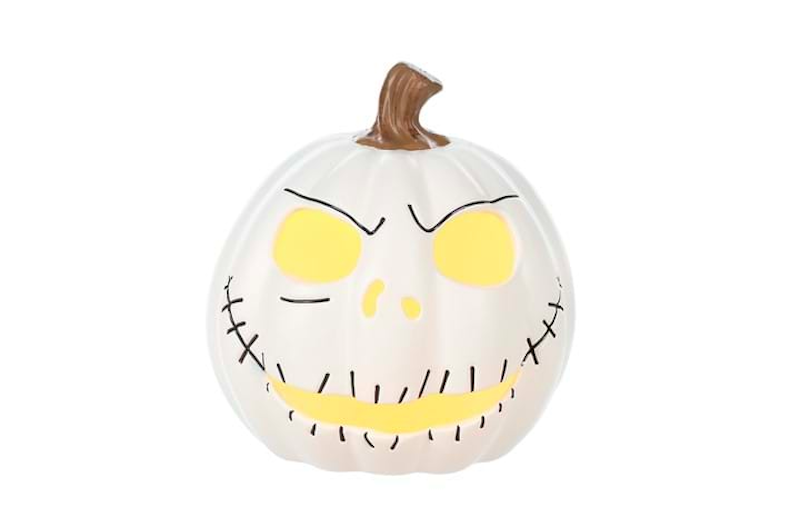 Graveyard
Create a horrifying scene in the front yard to scare off trick-or-treaters with this movie-inspired graveyard scene kit. It includes six spiders, two tombstones printed with characters from the movie, four fence sections, a spider web, and two skeleton arms. You can set up this graveyard scene for a perfect Nightmare Before Christmas decoration.
Buy: $17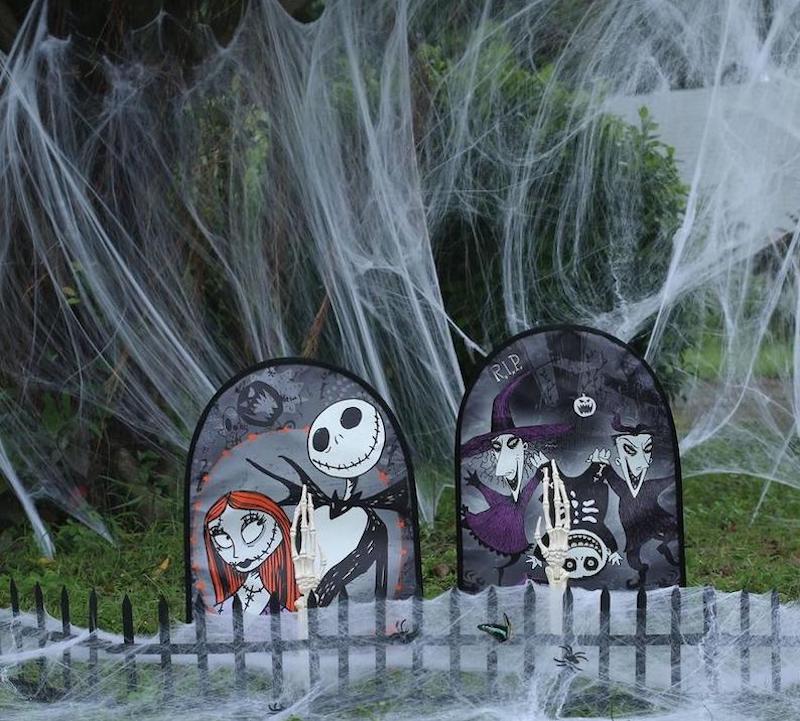 Jack Skellington
Make the Pumpkin King from Halloween Town welcome your guests for the Halloween party. You can make it possible by setting up this three-foot-tall standing Jack Skellington decoration in your front yard.
Buy: $41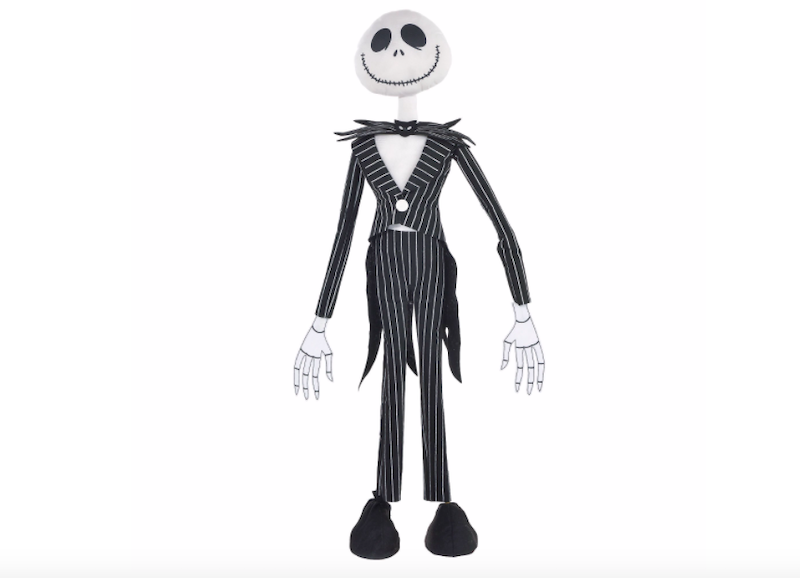 Yard stakes
Add an eye-pleasing sign in your front yard with this Halloween-themed yard stake boasting a white fox, Zero, from the movie. Easy to install, this yard stake makes it convenient to invite Jack Skellington's loyal ghost companion to your Halloween party this year. This plastic decoration with an illuminating jack-o-lantern nose looks fascinating when lit. On activation, it even barks for a realistic effect.
Buy: $42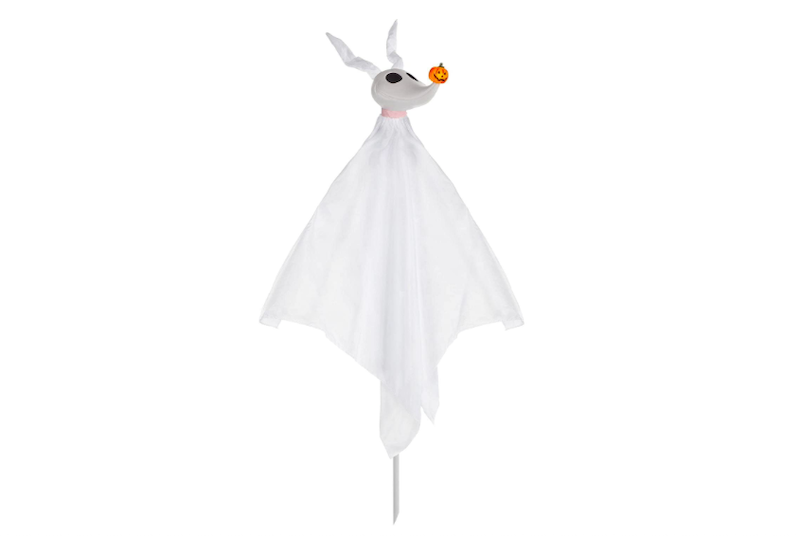 Wall decals
Give any room in your house a rapid makeover with easy-to-use The Nightmare Before Christmas Jack Peel and Stick Giant Wall Decals. You can add these stickers on any flat, smooth surface. So, you can install it even at the last minute without any issue. When you remove it, there won't be any sticky residue left behind on your wall.
Buy: $17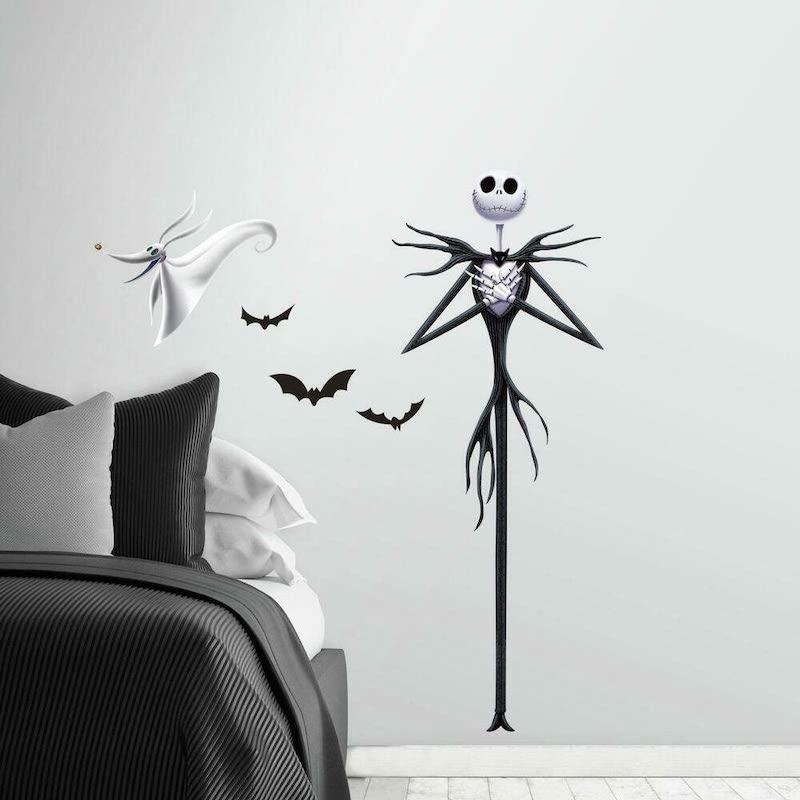 Wooden sign
How about installing this Jack and Sally sign on your front door? This sign decoration consists of high-quality wood with clear patterns. So, you can store this wooden Halloween sign for a long time and reuse it many times during the festive season. You can hang it on doors, walls, and other places using ropes through the loops at the back.
Buy: $15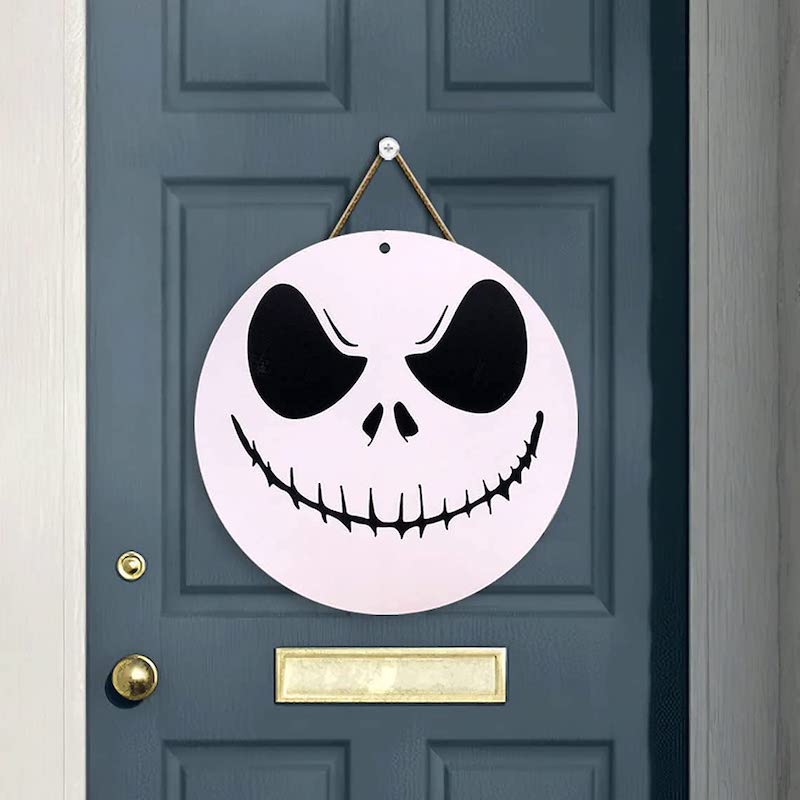 Pathway markers
Transform your outdoor area with these Jack Skellington pathway markers! Simply insert them into the ground, plug them in, and use them to outline your walkways, trees, or shrubs. They can create an eerie, flickering flame-like ambiance. Whether you're a fan of Halloween, Christmas, or both, these yard stakes are perfect.
Buy: $36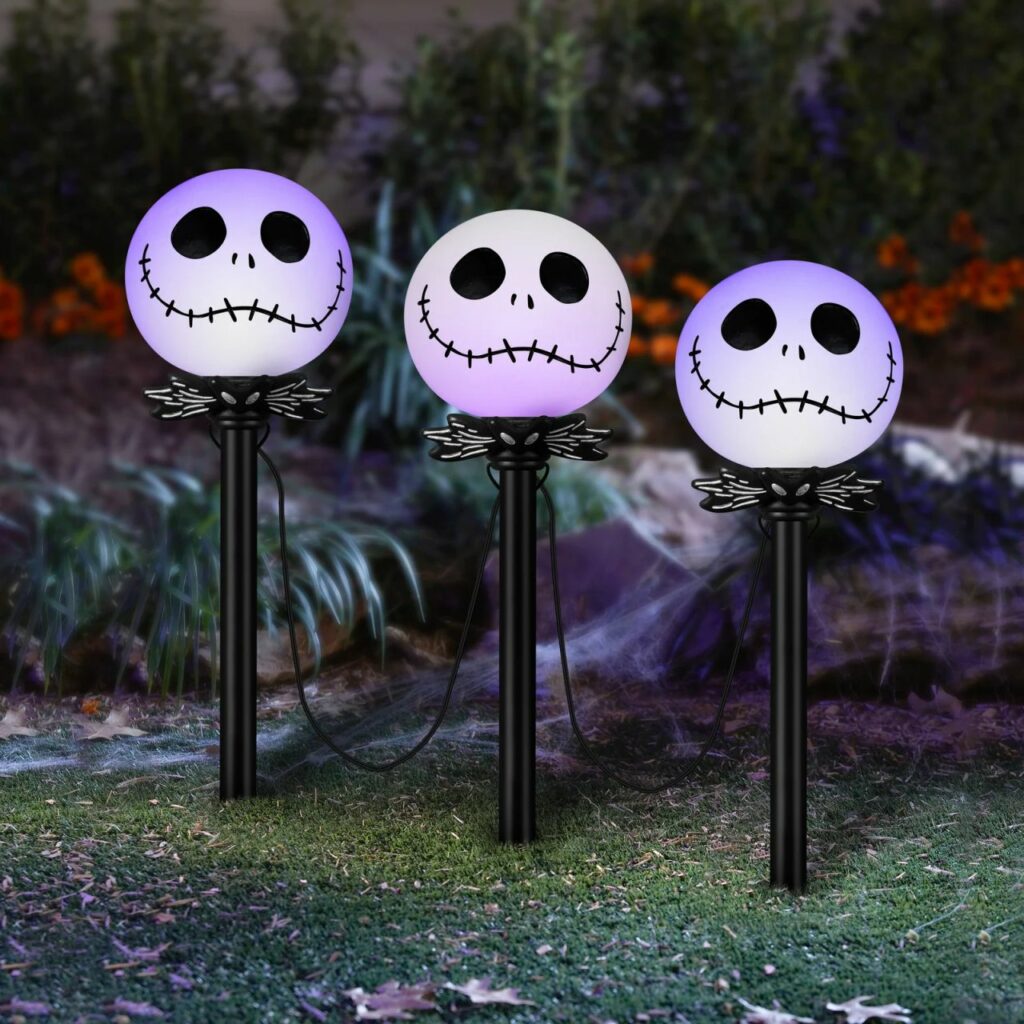 Animatronic
Set up a frightful Halloween Town using this animated Disney Deluxe Jack Skellington animatronic. It comes with an animated head, mouth, and hand movements to bring this movie character to life in your yard. So, it is likely to startle your guests, no matter what age group. This Halloween animatronic even sings "Jack's Lament" from The Nightmare Before Christmas.
Buy: $400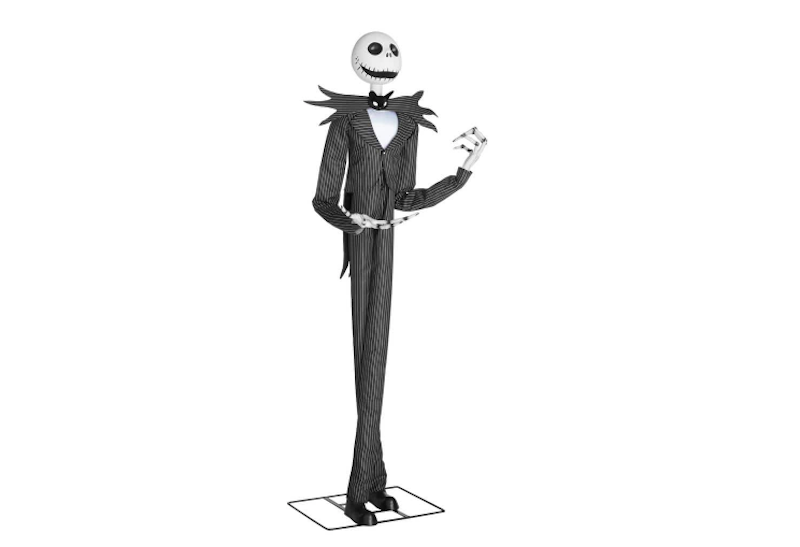 Also Read: 20 Disney-Themed Decoration Items for Not-so-Scary Halloween
Archway
Greet your Halloween visitors this year with this festive inflatable archway. This Disney The Nightmare Before Christmas Jack and Sally Archway seems to be a spooktacular addition to any fun Halloween scene. All you need to do is plug it in and position it in the desired place. Once ready, you can see Jack and Sally's silhouettes holding hands illuminated with LED lights. You can use it as a standalone or simply combine it with other inflatables for setting up a custom scene.
Buy: $80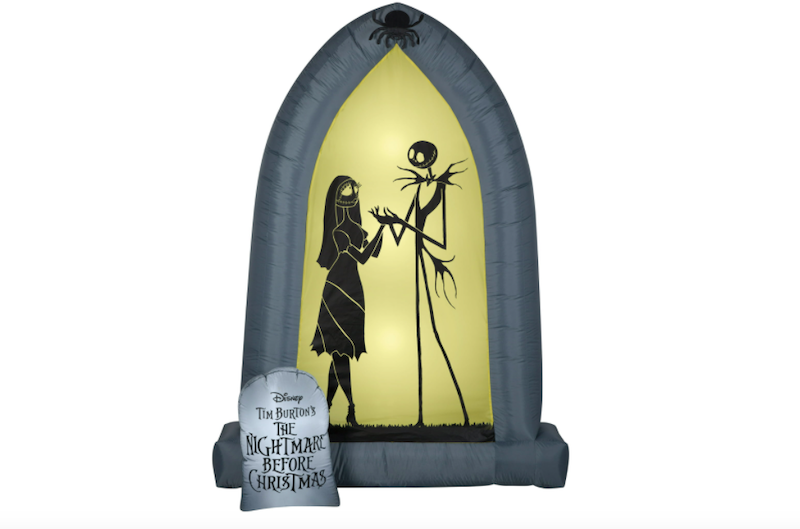 Clock
Let the spooky hour ring in with this 'The Nightmare Before Christmas' themed vinyl wall clock. Each wall clock comes with an exquisite design and has a dial sticker. It consists of original vintage records and some LED elements. This Halloween wall clock also comes with a cable connected to a power supply for turning on the night light mode.
Buy: $38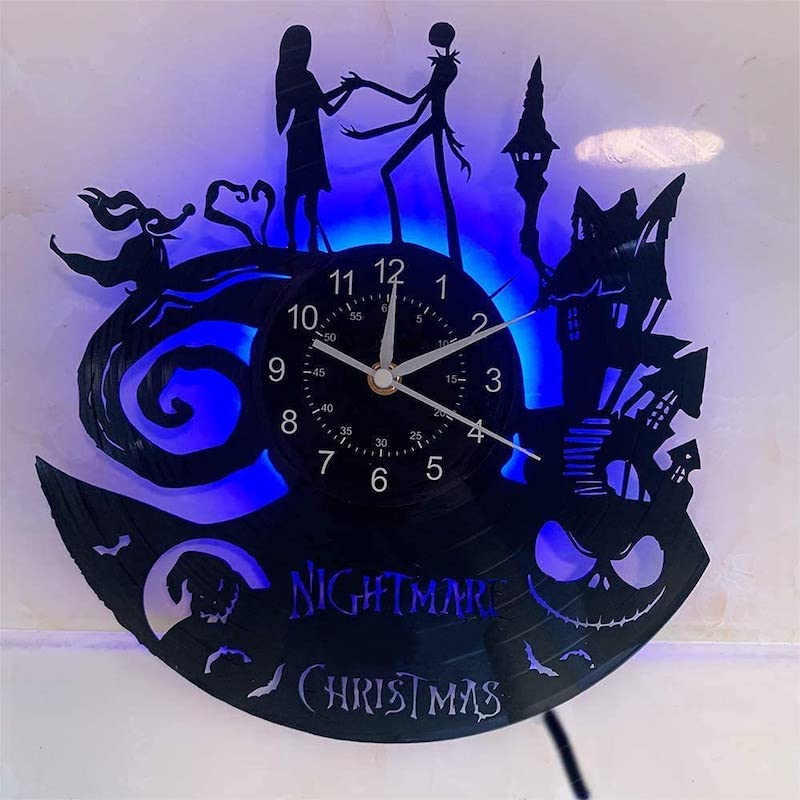 Tableware
You can display a horror scene with this Halloween-themed tableware pack. It features Sally and Jack Skellington in white, black, and orange colors. This party pack bundle includes 16 dinner plates, 16 napkins, 16 dessert plates, one plastic tablecloth, and 16 sets of orange plastic cutlery. It seems to be the perfect tableware for Halloween, weddings, birthdays, and other themed occasions.
Buy: $10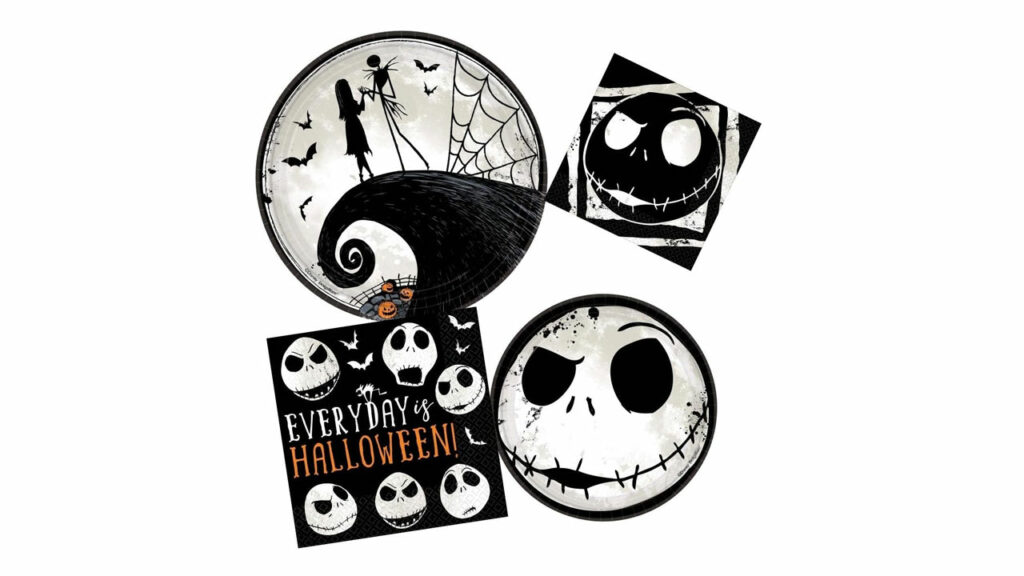 Painted pumpkin
Up for some DIY props this Halloween? If so, you can start making these fun teal pumpkins for your The Nightmare Before Christmas display. You can consider involving your kids in this fun pumpkin painting project. We're sure they would love to participate in creating these fun pumpkins for All Hallow's Eve. Full Tutorial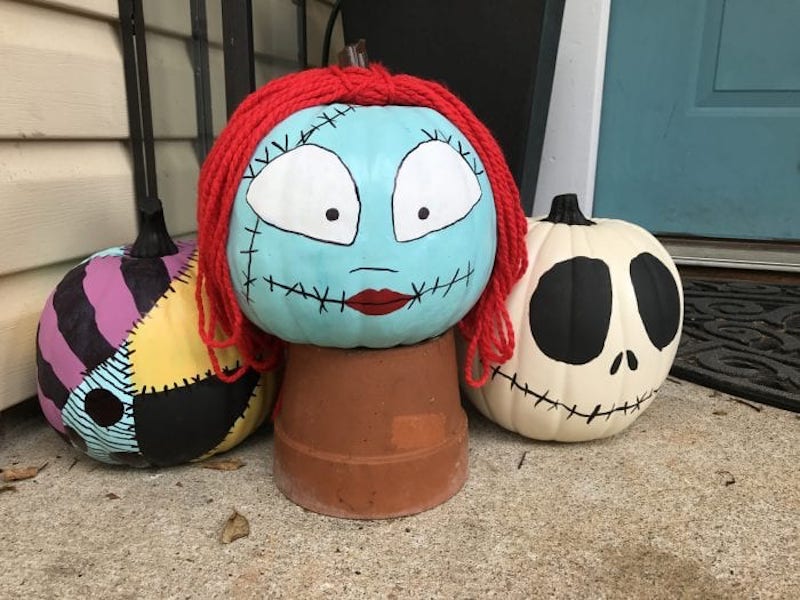 DIY pallet
Another DIY Halloween craft to try this festive season is a wooden pallet with images of some characters from the movie. All you need to do is sketch their faces on the pallets, start painting the wood, and let it dry. Your fun DIY craft is now ready to decorate the interior or exterior of your house. Here is the Full Tutorial.