The trees and flowers are starting to bloom, the grass is becoming greener, and the sun is shining brighter; must be spring! If you're a homeowner who is thinking of selling their home, or you're simply looking for renovations that increase home value, you should lean toward colors.
Colors can affect people's emotions in numerous ways and completing updates and renovations with vibrant shades can make your home much more appealing. This season, here are eight amazing tips to update your home with spring colors to match the seasonal tones in nature.
Repaint Front Doors
Speaking of curb appeal, when was the last time you checked up on your front door? Not only can front doors experience wear and tear from the outside extremities, but they're also one of the first things people notice when they come to your house.
Replacing a front door completely can oftentimes be expensive and time-consuming. If you're trying to save some money while also wanting to make the front door look good as new, a repainting job can help do the trick. Keeping spring in mind, you can go a few ways.
Also Read: A Guide to Different Types of Doors – Materials, Mechanisms, and Styles
If bright and vivid is your style, you can opt for a color that compliments your landscaping. However, note that you don't have to choose a "fun" shade to prep its look for spring. A neutral, yet bold, color like a bright white or dark gray can just as easily make the spring colors stand out.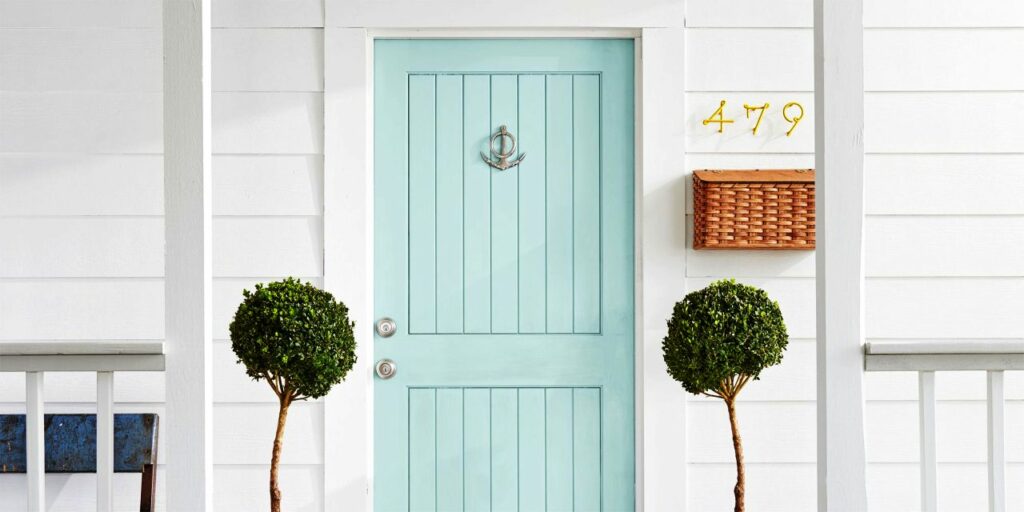 Add New Curtains or Blinds
Spring is here, and the days are going to be brighter and sunnier; sometimes way too much. That is where curtains help you regulate the amount of light entering inside. But curtains and blinds can sometimes get dirty or outdated, and replacing them with new ones is a great way to welcome in the sunshine.
If you're someone who uses curtains, consider options that allow for different levels of privacy so that during the day, you can open them partially to allow in the sun. We also suggest playing around with different palettes. In the case of blinds, you might want to consider replacing the bent or broken ones.
Also Read: Spring Cleaning Tips to Brace up for Total Refresh
Powerwash + Repaint Your Home
Regardless of where you live in the country or whether you experience a harsh winter or not, periodically cleaning the exterior of your home is a must. In the spring, when things are much brighter, a dirty home is going to stick out like a sore thumb. Luckily, power/pressure washing your home can usually do the trick to get rid of dirt and dust.
DIYers can either rent or borrow a pressure washer if they don't own or want to buy one. Plenty of local contractors offer this service for purchase! If you are not much of a do-it-yourself-er, you can hire professionals for the task.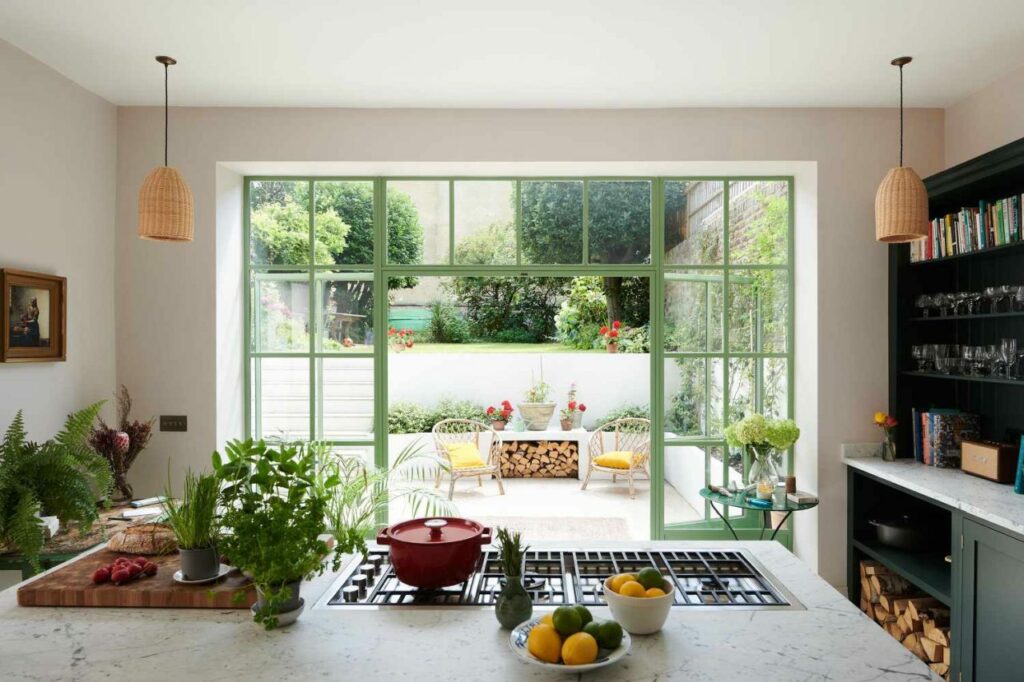 If power washing doesn't do the trick, consider repainting the exterior of your home. A full repainting is necessary every now and then, especially if the original color of your home is dated. Choose something that compliments the rest of your home and works well with spring + summer colors outside. Unless you are seasoned in the task, we suggest hiring a painting contractor as this could be a difficult and tedious job.
Also Read: Tips to Paint Ceiling Without Making a Mess
Try Stick-On Wallpaper
Committing to a new wall color or pattern isn't easy, especially if you're indecisive. If you're wanting to play around with a new wall look, you can opt for stick-on wallpaper that is easy to remove. Whether you want to do a fun accent wall or totally redo your walls, there are plenty of patterns, colors, styles, and stores to choose from.
The possibilities are endless! Browse online for different looks and feels and even purchase some samples before committing. Besides, if you get bored of these stick-on wallpapers by next spring, you can change it all over again without breaking your finances!
Indoor Plants and Floral Patterns
When upgrading your home for spring with seasonal colors, it is a smart idea to pay attention to indoor plants and floral patterns. True, there is an intimidating range of colors but cool shades such as blue, aqua, and yellow can work miracles in elevating the mood for spring.
Word to the wise, try and work different things to make things more lively and vivacious. Indoor plants in bare corners, floral patterns on cushions and blankets, and soft pastels sprinkled all around the room can make your space exquisite this spring. These ideas are perfect to infuse spring colors into your home without overwhelming the layout.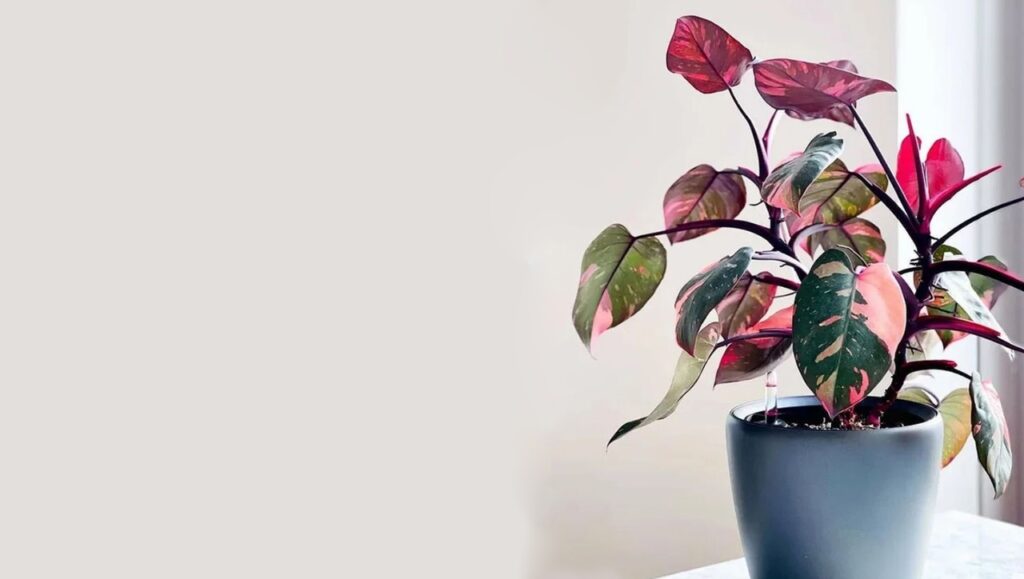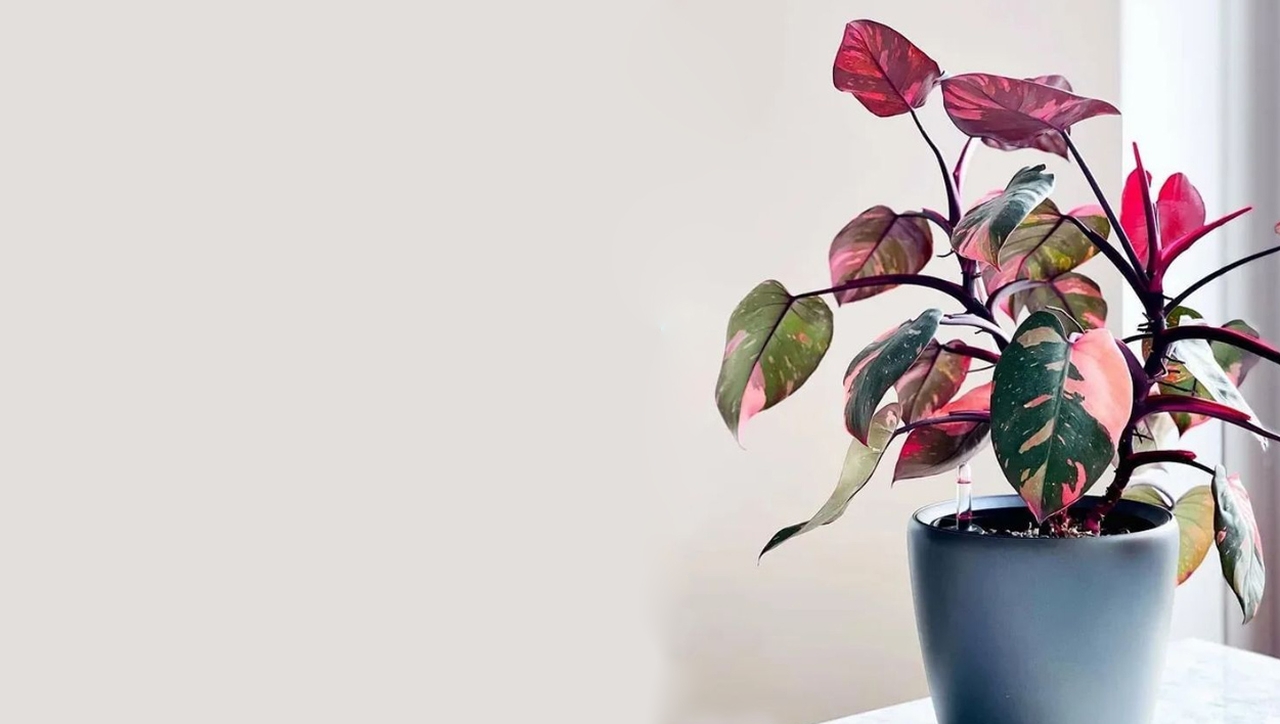 Also Read: These Colorful Houseplants Will Brighten up Your Home Around the Year
Reupholster in Bright Shades
People often feel that reupholstering old furniture is a waste of time and money. Well, they couldn't be more wrong. Winters are usually spent snuggled up in cozy armchairs or sofas, which can lead to saggy furniture with some wear and tear. Replacing the entire piece with a new one can cost tremendously while reupholstering a sofa or a chair is way more economical and a brilliant way to introduce some spring colors in your home.
Furnishings are the easiest to change. You can recover the seat and back cushion in seasonal shades to add a bright and vibrant feel. Floral fabrics, soft pastels, and plush velvet in refreshing colors are some of the ways to go about reupholstering furniture in fresh tones. You can add a metallic accent piece here and there for an eclectic pop of color.
Change Thy Art
One of the best ways to upgrade your home with spring colors is through art. You could be a fan of mixed media, retro art, a specific color palette, photographs, big portraits and whatever have you. By merely changing the artwork in a room, you can instill a new, refreshing vibe. For instance, a landscape of a valley of flowers will immediately connect the dots to spring.
Also Read: Monochrome or Abstract Art, Which is Right for Your Wall Décor?
You can source affordable artwork from local artists or online portals while keeping in with the seasonal color scheme. Whereas DIYers can create a gallery wall of their own artworks or photographs to make a personalized space.
Update Landscaping
What better way to harness the bright colors of spring than to have them right in your yard? Unless you live in an area that doesn't experience too much of a winter, you'll probably have quite a bit of work to do. After the cold months, grass, trees, flowers, and plants could use some tender loving care. To really brighten up the lawn, we suggest you either do the work yourself or bring in a professional to help.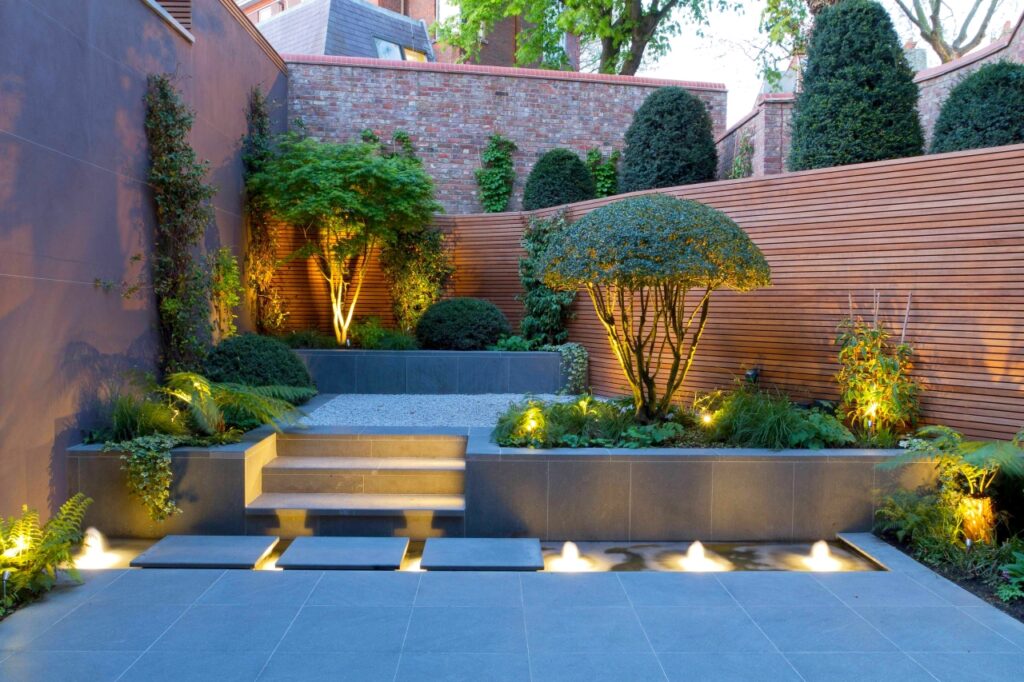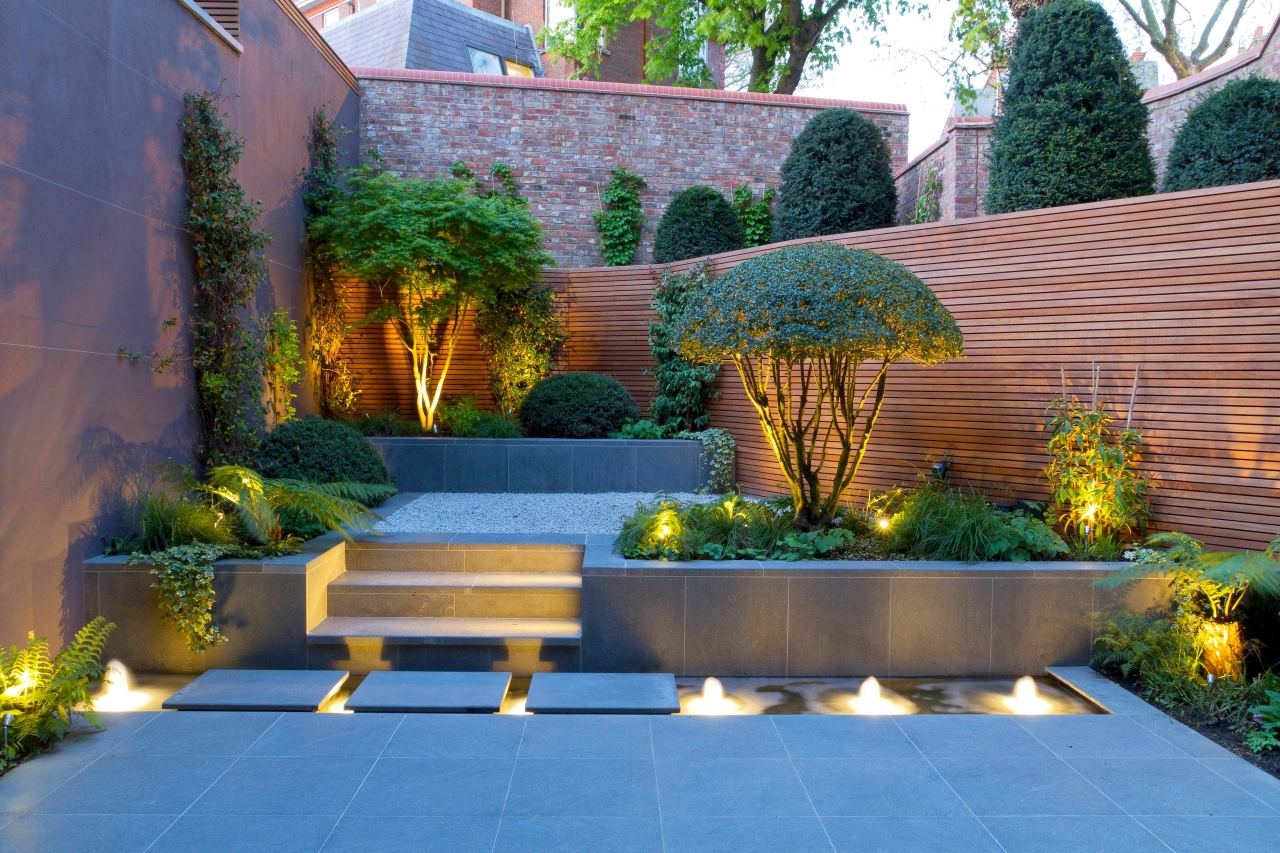 Some ideas include planting new grass seeds, trimming dead limbs off trees and shrubs, raking out any dead leaves/debris, and planting new spring flowers. If you have perennials from the year before, make sure that they are watered and prepared for blooming time! Landscaping is very important for curb appeal and is one of the best upgrades to increase home value.
Also Read: Top Designers Share Their Favorite Spring Interior Design Trends 2023
Final Word
Spring is here, and if you want to amplify the bright outdoor colors, you can do some home updates that will both prepare your home for spring and make it more valuable. Do some landscaping, and curb appeal updates––like pressure washing or repainting––and consider some new interior design.
Before summer hits, these tips to update your home with spring colors will have your home looking amazing so you can relax and unwind when the heat comes down. Have fun, folks!