Nothing reflects luxury better than a suave bathtub that offers the ultimate relaxing experience. This is so because a soothing bath after a long hectic day is just the perfect unwinding routine. However, a luxury bathtub can do more than that for you. These exquisite bathroom fixtures not only give a stylish finish to the space but also offer a divine experience that you'd not want to let go of.
But such lavishness only comes at a big price. If you appreciate such opulence, here is a hand-picked collection of the most unique bathtubs for tranquilizing in peace.
Hand-carved gemstone bathtub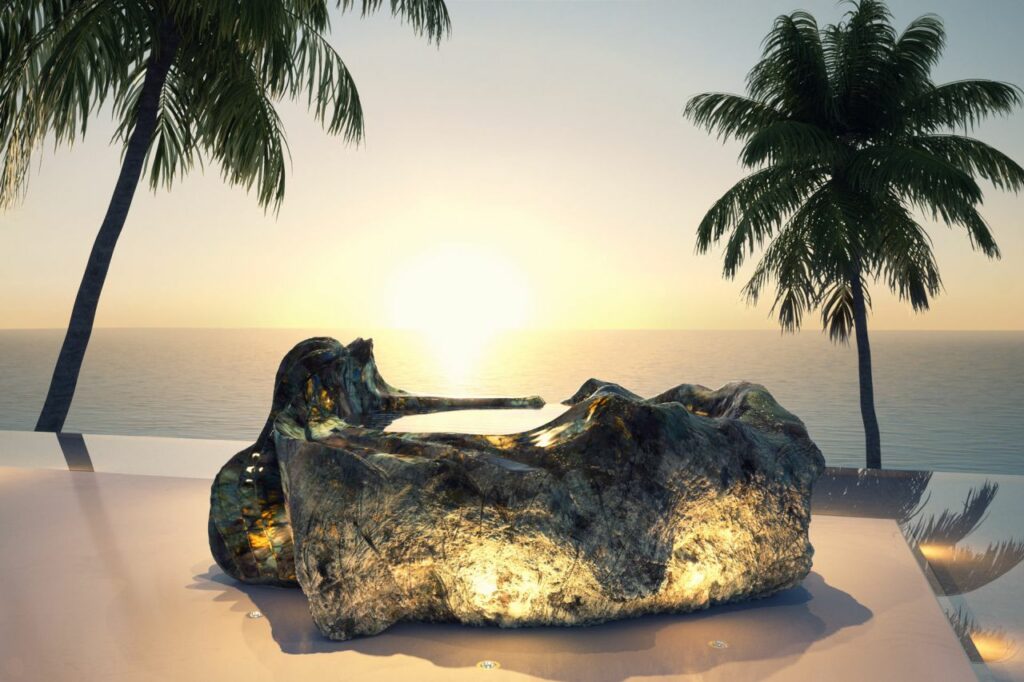 Suitable for three persons, this one-of-a-kind bathtub is hand carved from an 18,000kg block of labradorite. The sculptural gemstone bath is made by Jan-Carel Koster keeping royalty in mind.
Vessel hammock-style bathtub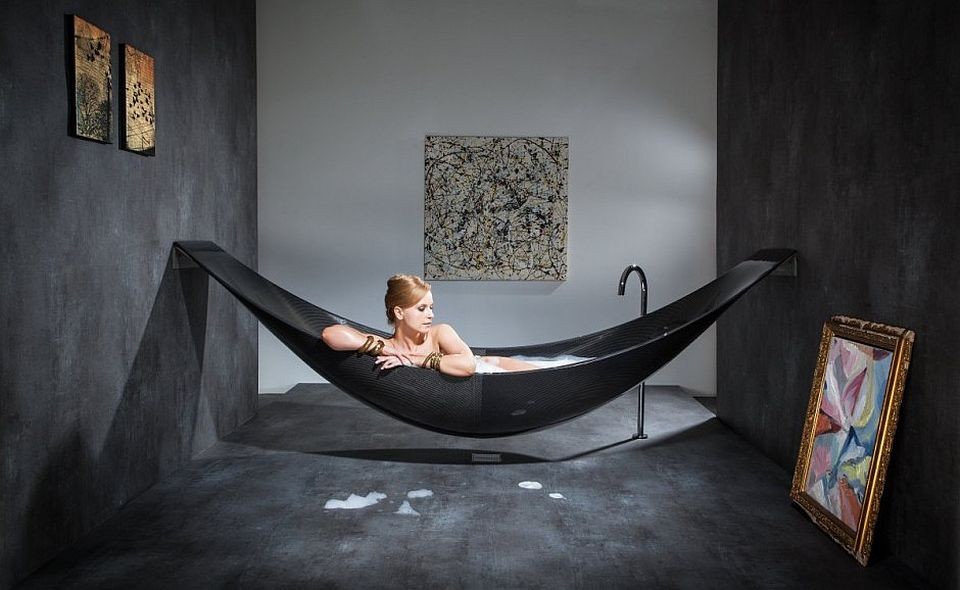 UK-based studio Splinter Works creates unique carbon fiber bathtubs. Named the Vessel, this suspended bathtub looks like a hammock filled with water where you can enjoy a cozy bath, literally off the ground. The extraordinary bathroom accessory will certainly take any bathroom decor to a whole new level full of splendor.
Lira bathtub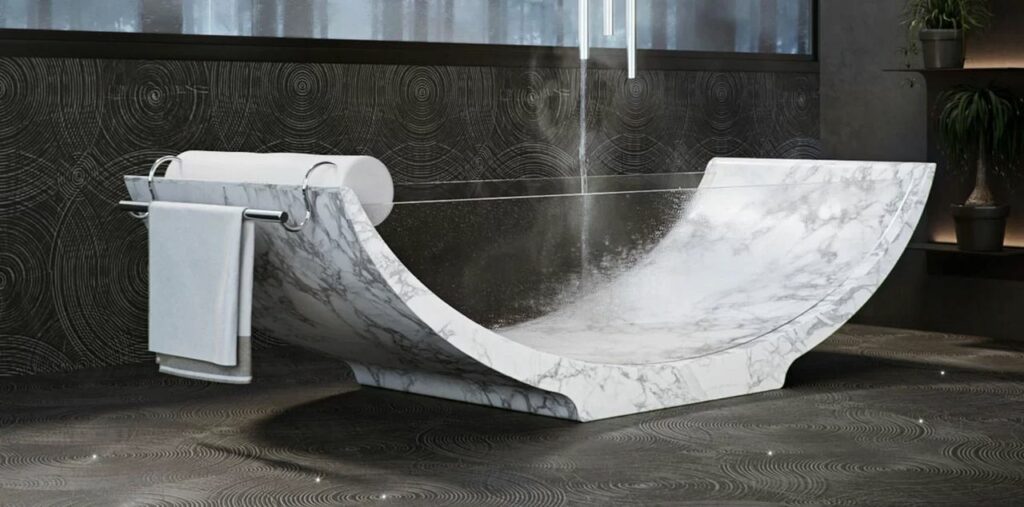 Designed to add both classic and modern taste to the bathroom, this modern bathtub by Dedalo Stone is made from marble and tempered glass. Its contoured design makes it one classic work of art.
Also Read: 30+ Stone Bathtubs that Will Rock Your Bathroom
Boat-shaped stone bathtub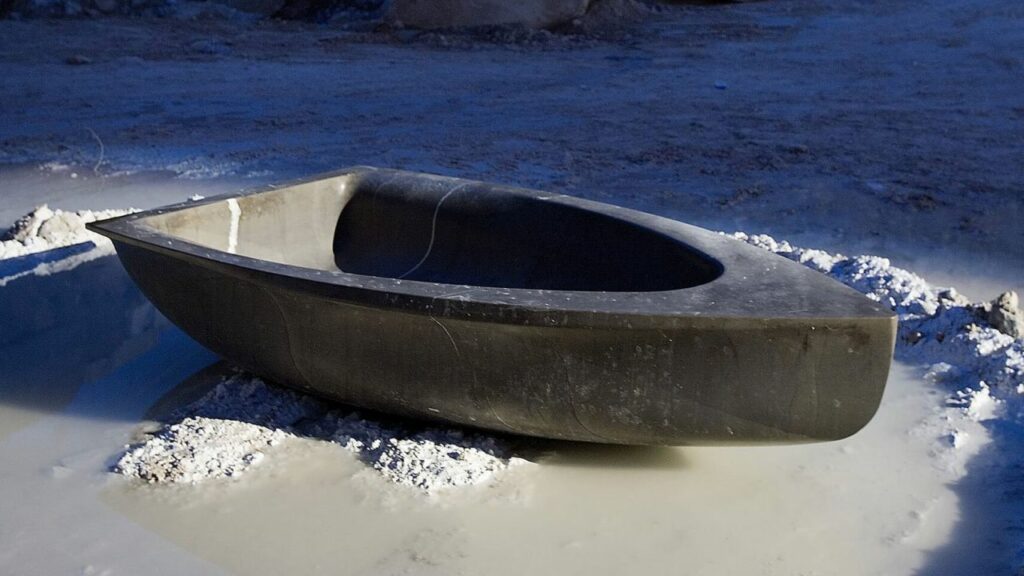 Tuscan designer Antonio Lupi has created the most extravagant bathtub in the shape of a boat. The boat-like bathtub designed to float into your bathroom is made completely from stone, weighing about 3,500 pounds. This amazing tub will make you feel as if you're floating above the waves of water. The aesthetic bathtub comes for a swelling price of about $75,000.
Lapiaz bathtub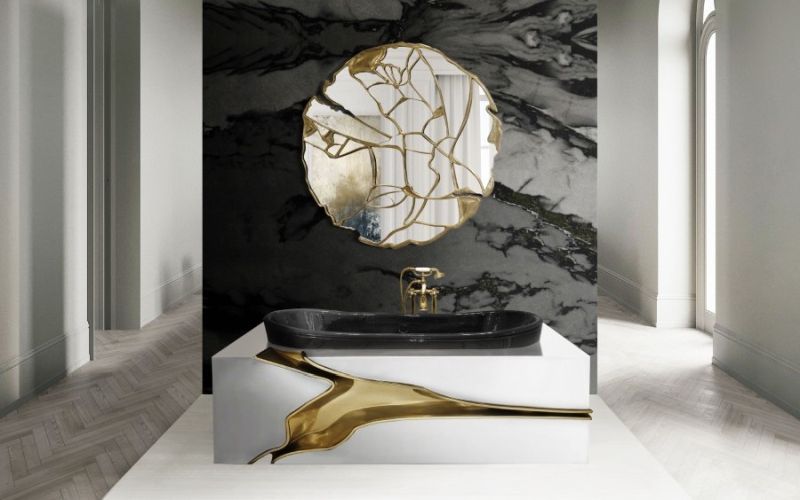 Inspired by typical karst formations, this freestanding bathtub by Maison Valentina makes a bold statement with creative shape, material, and colors. It's made from materials like black lacquered high gloss fiberglass with a sheet of stainless steel and high gloss black lacquered casted iron with a Gold painted tear.
Also Read: 10 Creative Ways to Repurpose Old Bathtub
Quartz crystal bathtub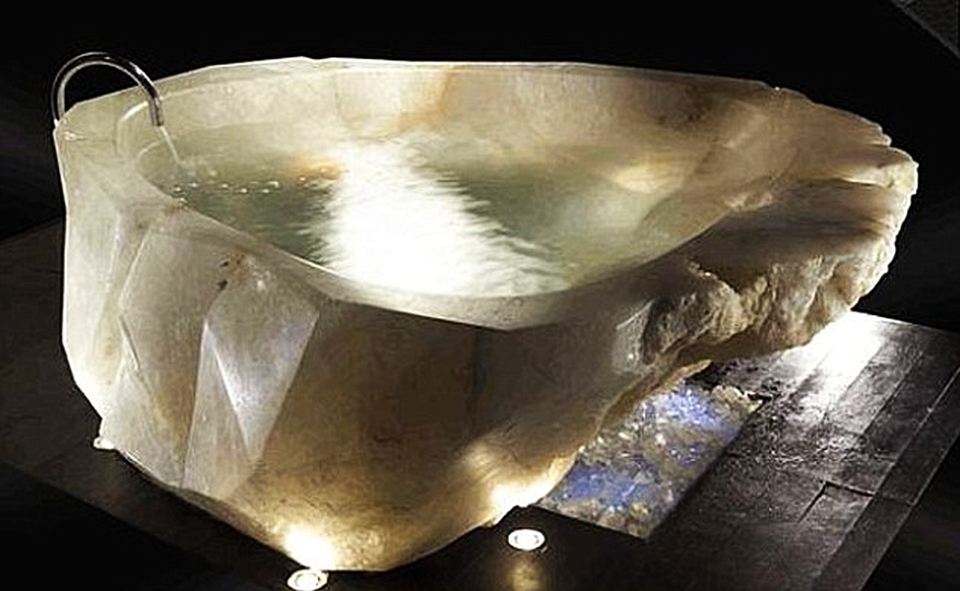 Make your bathroom as luxurious as a 5-star hotel spa with the startling Quartz Crystal Bathtub by Italian firm Baldi. The masterpiece is created using a single piece of the purest white crystal, turning bath time ritual into a heavenly experience. From a distance, it seems as if massive ice block is lying inside your bathroom.
N° 1 carbon fiber bathtub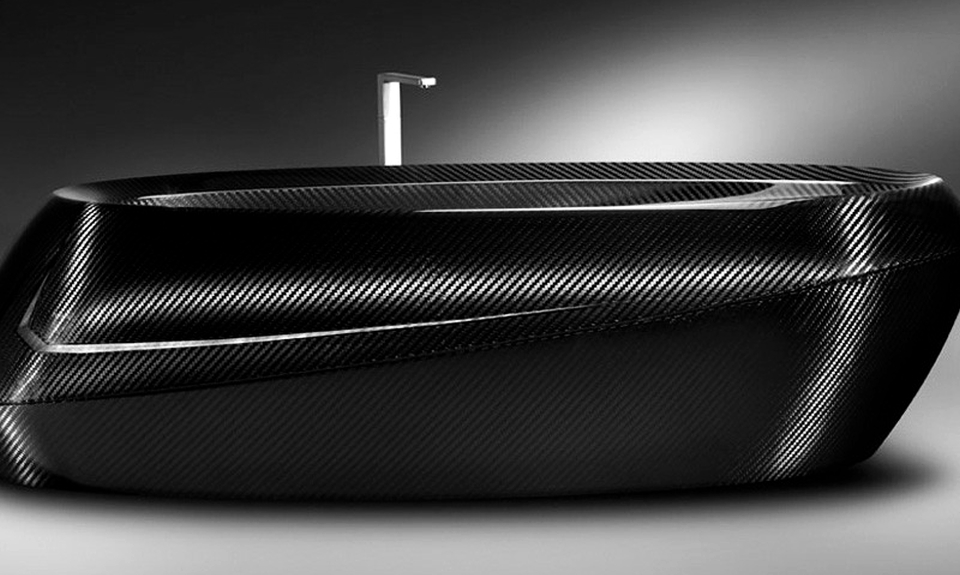 Austrian manufacturer Corcel has created this unusual black-colored bathtub from carbon fiber. Although many things from car hoods to smartphone cases are made from the same carbon material, but Corcel bathtub has raised the bar to the next level by creating a centerpiece for the bathroom. It features a sleek streamlined body and finishes that give a luxury car-like aesthetic. A standalone faucet further adds charm to its sophisticated layout, making it one-of-a-kind luxury bathtub.
Yin Yang couple bathtub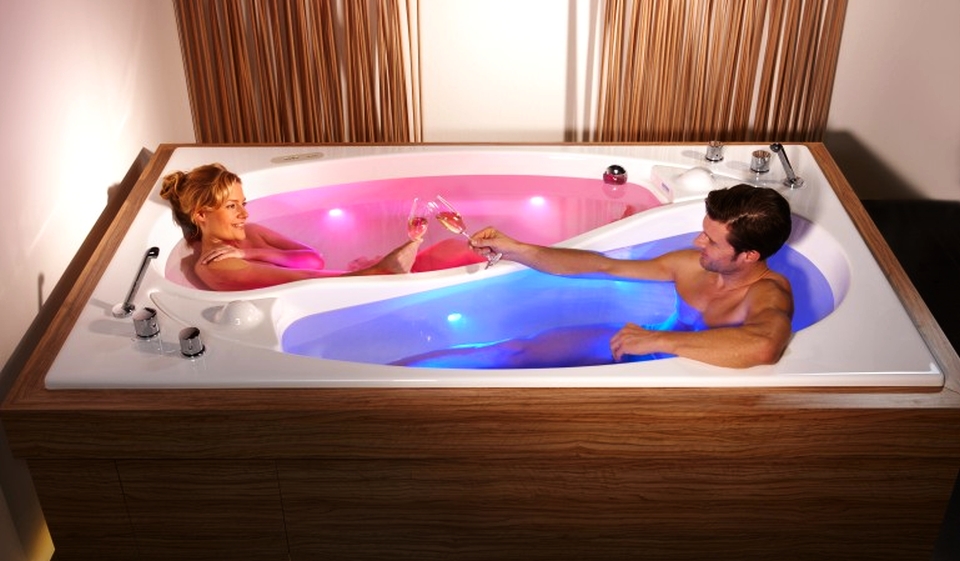 This romantic bathtub by Troutwein is aimed at couples and honeymooners. It is aptly named, as the shape of this bathtub is exact replica of the famous Yin-Yang symbol. The bathtub offers you quality time for relaxation and rejuvenation together yet separately with your spouse. It also integrates sound wave massage and lighting to make your bathing experience more special. There are also 120 water and air nozzles to create whirling air and water swirls.
My Style bathtub with storage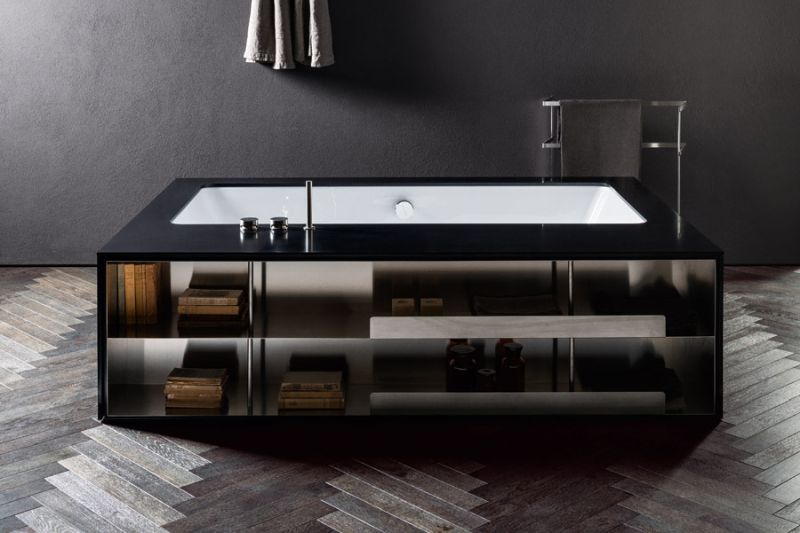 This freestanding bathtub with storage by Makro Design looks really stylish and practical. It is available in Corian, Makril, glass, thermo-treated wood, cement, marble and Touch cladding. There is also the option to include an air-pool whirlpool system.
Freestanding acrylic bath with lights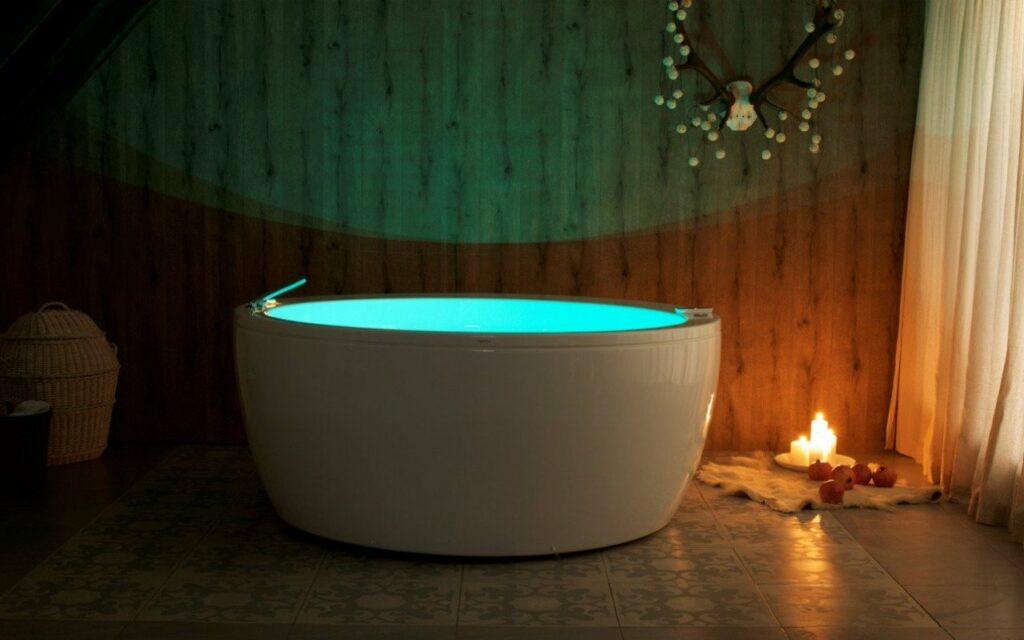 This round-shaped bathtub by Aquatica USA is ergonomically designed for a comfortable bathing experience. If you are looking for a spa-like feeling in your bathroom, then this might be the perfect fit for you. There are built-in lights, optional speakers, and a bubble massage system for a truly unique experience.
Also Read: 15 Easy Tips to Transform Your Boring Bathroom Into Spa-Like Haven
Red diamond bathtub

The $47,200 Red Diamond Bathtub is an ultra-luxury bathtub from Water Games Technologies that features two waterproof 42-inch dual HDTVs on mobile control with a built-in GSM module. It is designed by Aldo Puglielli and includes multicolor lighting, Swarosvki-encrusted champagne holders and it is built of 42 grams of 18-karat solid gold.