After spending a full day of work, a mere shower in your bathroom can do wonders to alleviate your tensions and stress. People dream of having an elegant bathroom but always fail to design one; maybe merely from a lack of creativity or inspirational bathroom décor ideas. You don't necessarily have to bend your mind like professional interior designers to create a classy bathroom décor.
All you need is to let your imagination run wild as restricting your mind will have you end up with those old-fashioned bathroom decorating trends that have become outdated. Even if you have a small bathroom, you should always be ready to do experiments with the layout to refresh the ambiance.
If you want to freshen up your dull-looking bathroom, here are simple bathroom décor ideas to elevate the overall appeal and make it look more relaxing and pleasing.
Also Read: Importance of Color Scheme in Interior Design and How to Choose the Right One
Pick Accentuating Color Palette
The color palette you choose for your bathroom can make or break the overall appeal of the space. Colors are a wonderful medium to express emotion and moods. Thus, you have to be careful while choosing the color scheme for your bathroom. A wrong shade can make your bathroom appear dull, ugly, and stuffy instead of refreshing and inviting.
Playing with colors can work in your favor but you must consider choosing complementing shades. The rule of thumb in most interior design handbooks is that a combination of dark and light shades will always do a trick in making a space inviting. For instance, if you want dark blue walls in the bathroom, pairing it with light shades of beige, sky blue, white or any other neutral shade is a smart choice.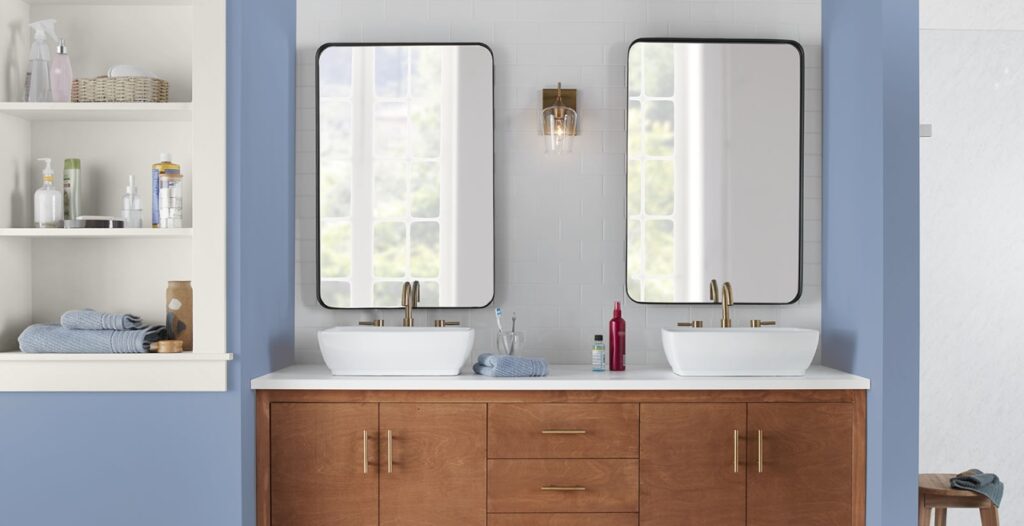 Remember that lighter shades evoke a more lively and positive appeal to a space than a dark color scheme. You must also choose a complementing palette for your walls and floor tiles. Carefully picked tiles and a new coat of paint on the walls can do wonders, lift the mood, and freshen up the design. White, blue, and pink are some great colors to create a lavish and refreshing bathroom. If you're a nature lover, consider green shades that'll give your bathroom an energetic appeal. I
Also Read: What Furniture and Wall Colors Match with Gray Flooring
Flooring Must be Inviting
Choosing the right flooring to match your personality and bathroom walls is one of the arduous tasks of bathroom design. The floor needs to be appealing, slip-resistant, low maintenance, and durable enough to withstand continuous moisture and regular footfall. You can choose your bathroom flooring from marble, white porcelain, or pale wood flooring. These materials offer a different appeal and create an amazing effect with light as well as metallic details.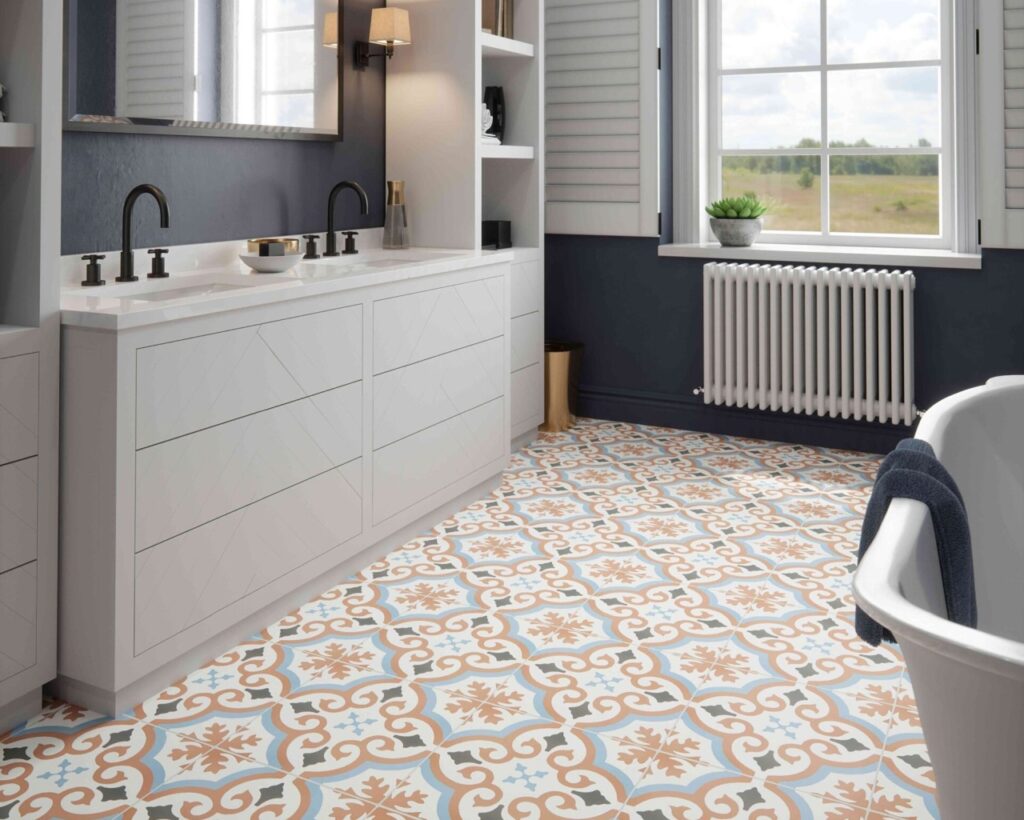 If you're following a specific color theme, you can go with slip-resistant, ceramic bathroom tiles that are available in different colors, designs, and patterns. By upgrading the flooring of your bathroom, you ensure an invigorating aesthetic appeal. If the space looks substantially outdated, you can opt for natural stones such as granite, marble, and even porcelain as they can lend an elegant and classy look. Such flooring even acts as a cooling agent since tile withstands heat and is incredibly durable.
Also Read: How to Clean Waterproof Flooring?
Stylish Faucets and Showerheads
The choice of faucets and other fixtures speaks a lot about your bathroom as well as your personal taste and style. So you better not drop the ball there. There are tons of options for beautiful faucets and showerheads to make your bathroom look fresh and opulent. You can install modern faucets and showers that will bring a new sensation to your bathroom.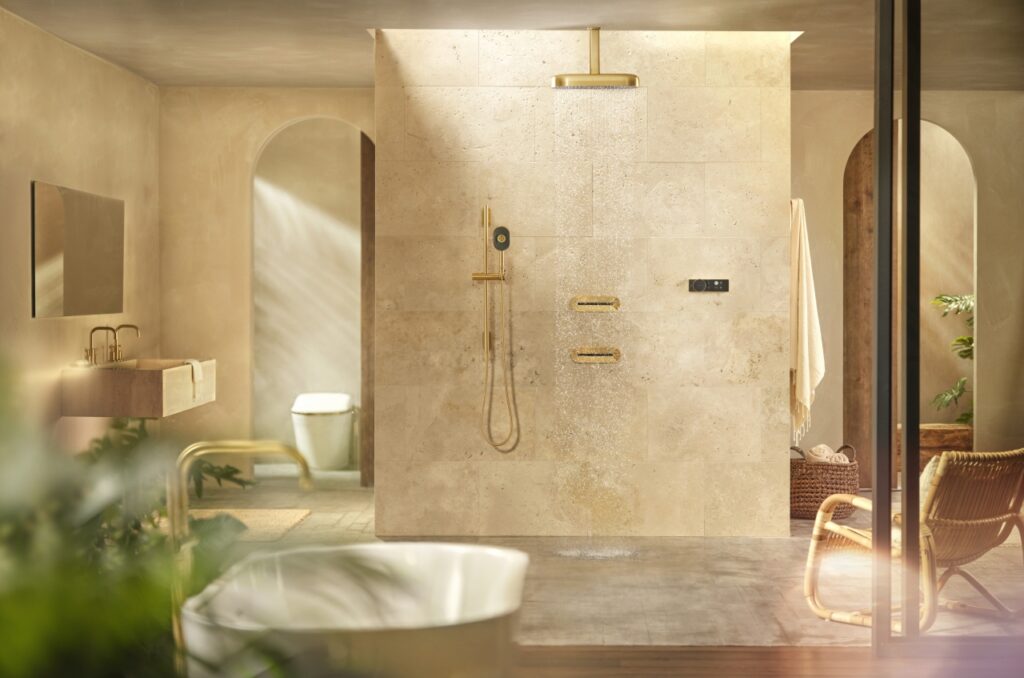 Bathroom fixtures with metal finishes and rich colors might just be the thing you need for an invigorating change of space. Go for designer fixtures that combine modern technology with enduring design. Voice-controlled smart faucets, touch-activation, touch-less faucets, water-efficient showerheads, and motion-interface showers are some of the innovative fixtures you can install.
Pick a Stunning Bathtub
A stylish bathtub not only improves the bathroom's functional and visual appeal but allows you to relax in a warm bath after a long, hard day at work. There are a plethora of bathtub choices to explore. You have tons of material options, design styles, shapes, and sizes to choose from as per your available space and bathroom interior design.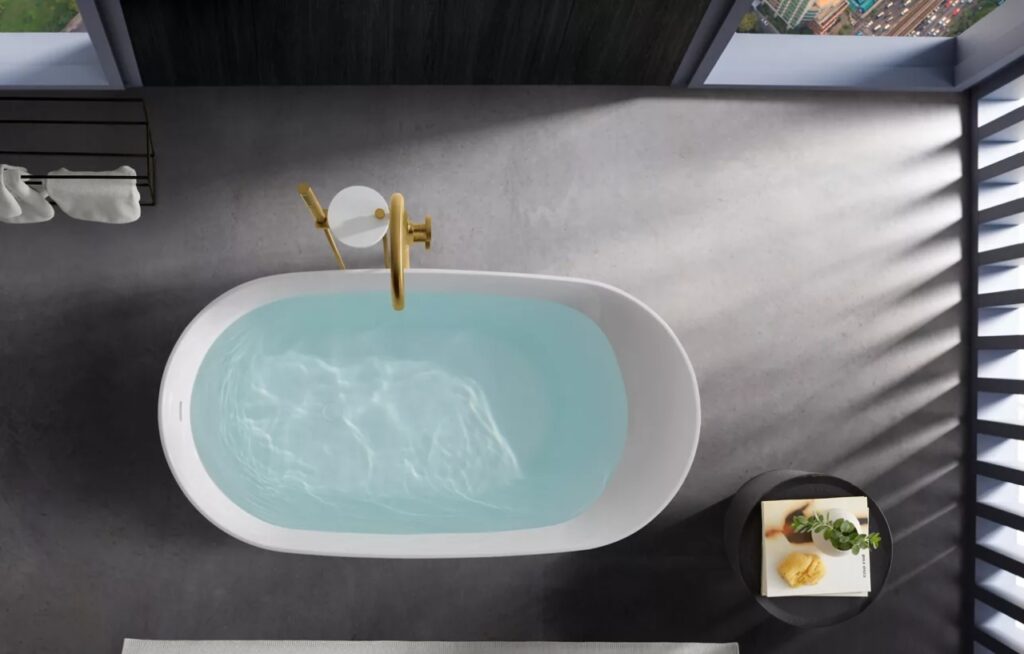 Let your style speak louder with elegant stone or wood bathtubs; you can also opt for luxurious copper or stainless steel tubs. Adding a stone bathtub will add a naturalistic appeal, whereas soaking in a wooden bathtub will be a rustic addition.
Also Read: A Comprehensive Guide on How to Choose a Bathtub
Stylish Washbasin for Added Charm
The washbasin in your bathroom should be as elegant as any other feature in the room. A wrong pick can ruin the overall appeal and will make you detest it afterward. Thus, it is a great idea to pick a stylish washbasin to fill your bathroom with modern elegance. You can choose from the myriad of styles, materials, and colors that create an equilibrium in the space.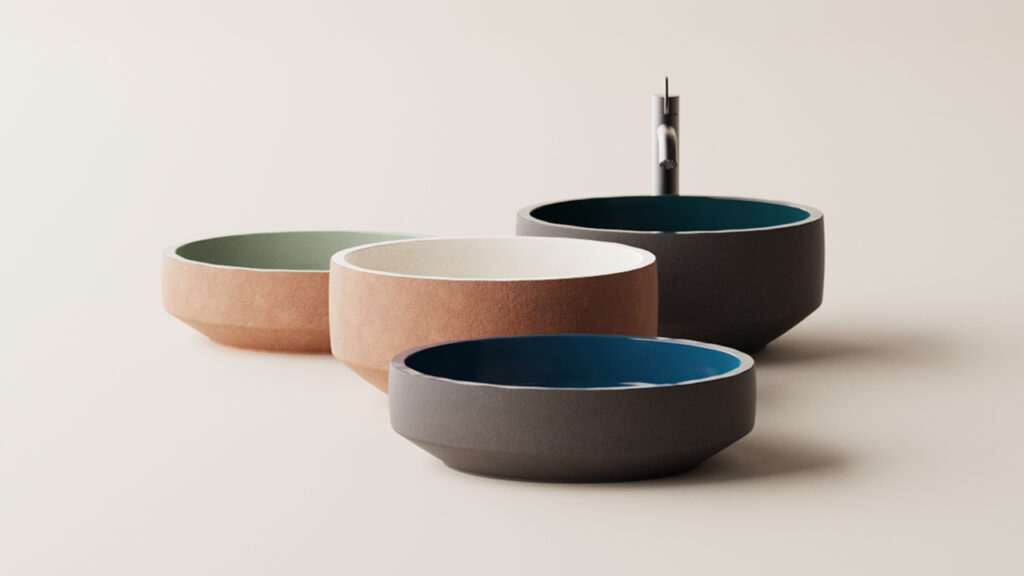 Stone, marble, porcelain, and steel are great material options that can complement the existing features and create a semblance of earthy elements in the space. With washbasins, you have the full liberty to experiment and play with textures and colors.
Mirror Cabinets for Airy Look
Installing mirror cabinets can help make your bathroom appear bigger and more attractive. These cabinets will help clutter-free your bathroom and offer well-planned storage units to store toiletries. Another advantage is that you can combine it with wood and metal to make your bathroom look sassy.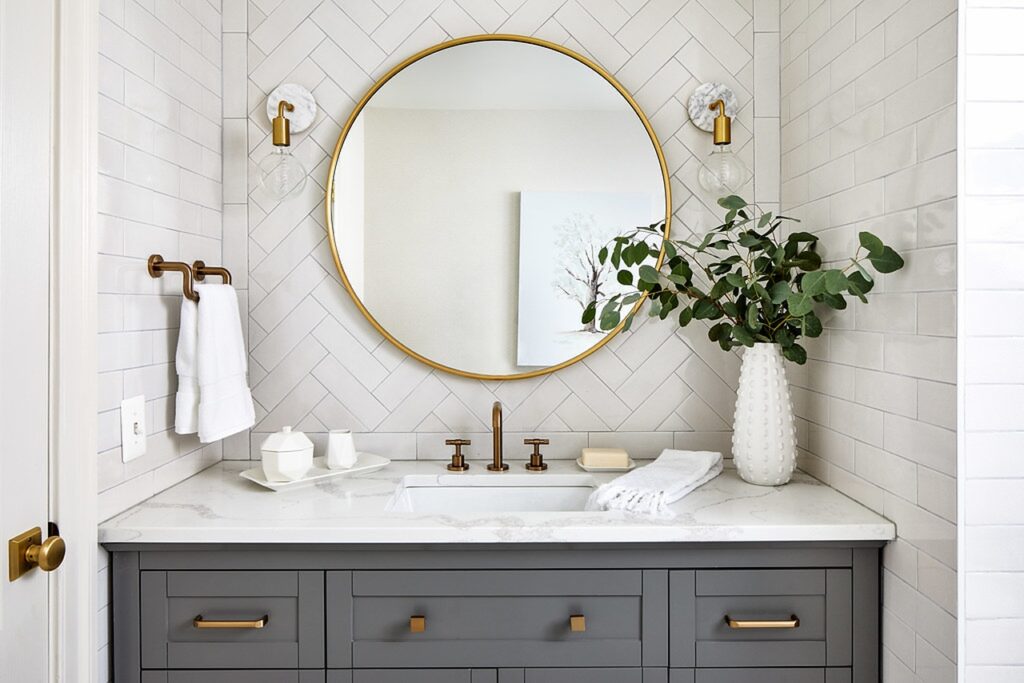 If you already have cabinets and shelves installed, simply stick a nice mirror with a chrome and golden border to improve its look. The mirrors will also help reflect light, making it more airy and bright. It is one of the easiest and most affordable ways to shuffle things up in the smallest room of your house.
Also Read: Freestanding vs Built-in Bathtub: Which one to Choose?
Install Unique Light Fixtures
The bathroom is the space in your home where you can find tranquility and peace after a long day of work. Nobody can intrude here and you can cheerfully soak up in your bathtub to just let all worries fade away. But if the lighting of your bathroom is not pleasing, the entire experience may get sour. Lighting plays an important role in enhancing the atmosphere of any space. You can pick from task, accent, and decorative sparkle lighting and even use a pendant lamp to make your bathroom more welcoming.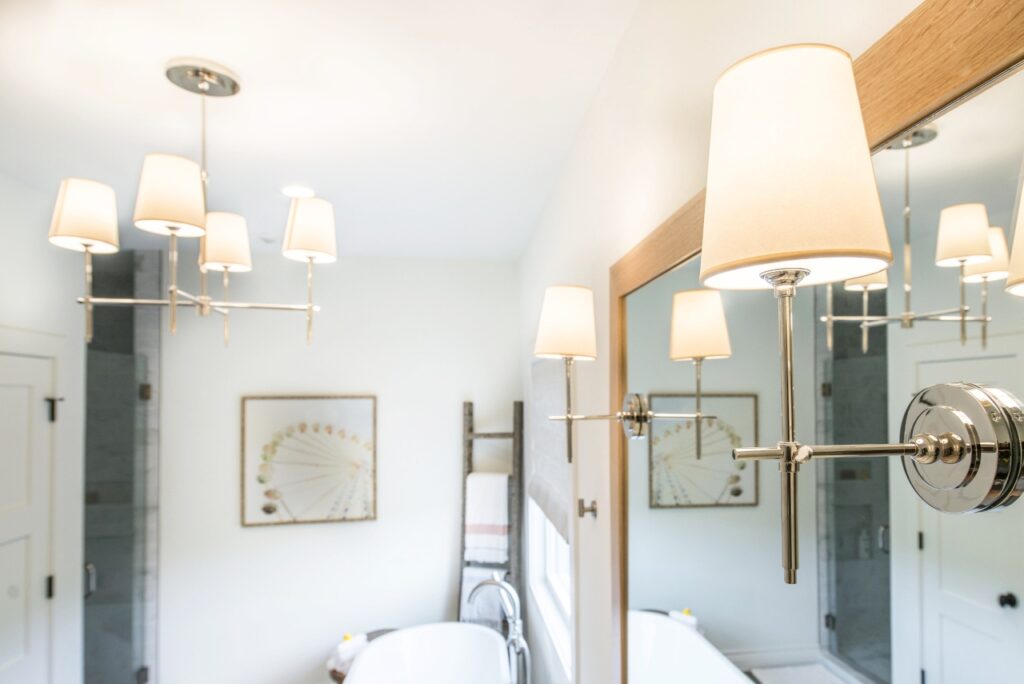 Task lighting provides enough illumination and ensures you get the best views in the mirror, whereas accent, decorative, and sparkle lights provide a different kind of serenity that helps calm your mind. The lighting fixtures you choose for your bath space can be antique, modern, or a mix of both to bring out a luxurious effect. You can mount them across walls, ceilings, or cabinets to bring out the best look.
Also Read: These Colorful Houseplants Will Brighten up Your Home Around the Year
Invest in Fun and Functional Furniture
A bathroom looks monotonous and cluttered with open shelves. Counter the issue by installing small, built-in dressers or vanities to add enclosed storage space to keep your towels and toiletries organized. This way you'll be creating a great dressing room all while getting the most out of the available space.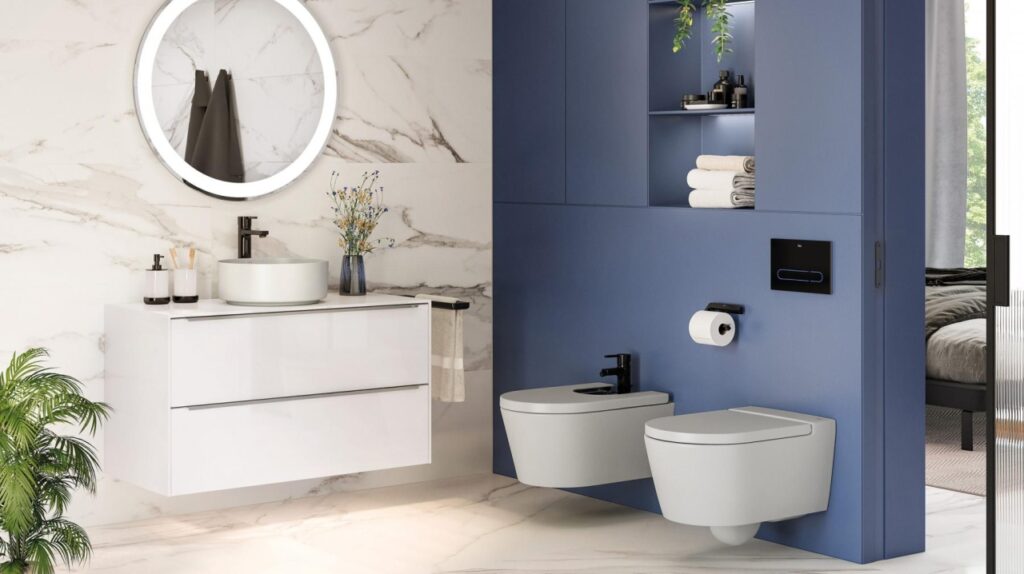 As per space availability, you can even add a cozy chair or lounger to relax and meditate in peace. If the bathroom area is big enough, you can add a ladder storage rack, a caddy, or hanging shelves to organize the bathing essentials. Bathroom furniture is one of the sure-shot ways to elevate the aesthetics of your space.
Get Trendy Bathroom Curtains
Curtains add a sense of privacy to your bathroom or shower and they are one of the easiest bathroom décor ideas. They need to be stylish and trendy to define your living style and personality. Don't choose any random-styled curtain that doesn't go well with your bathroom décor. You need to carefully select the right color and texture to complement the other shades and patterns of the bathroom's layout.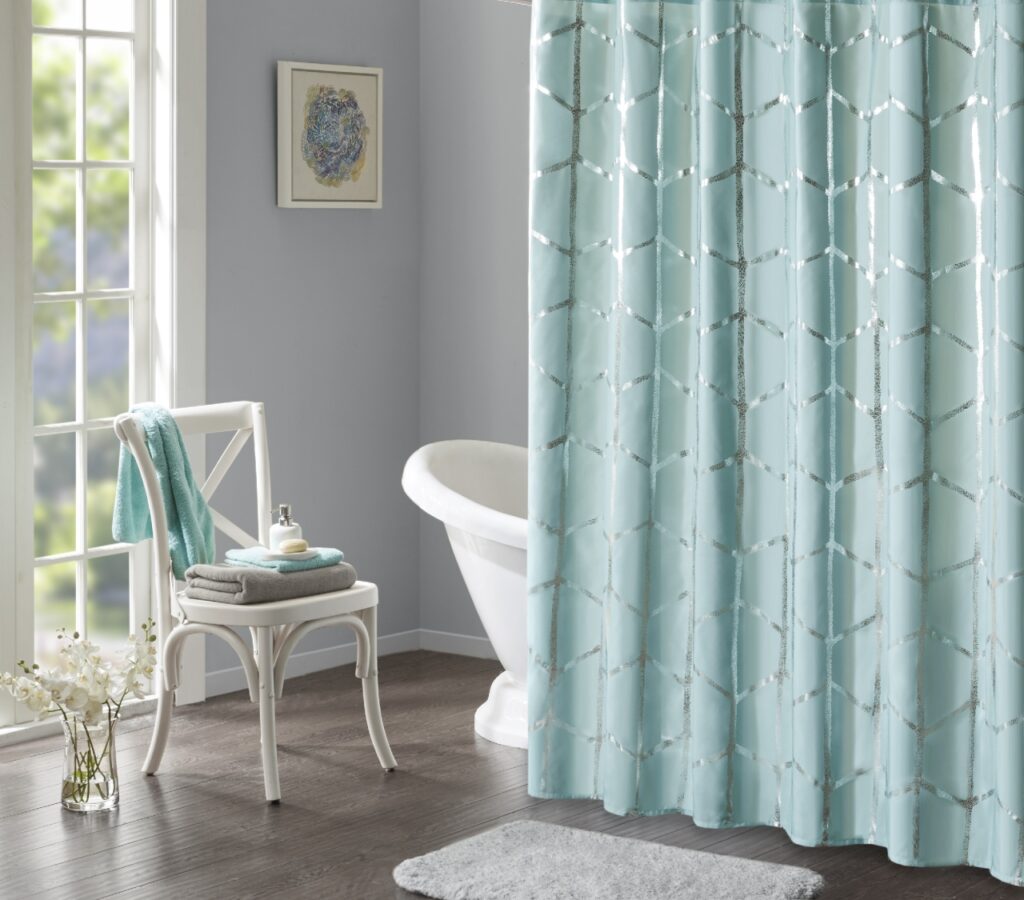 If you are using a deep color on your bathroom walls, then white, ivory and floral curtains are your best bet to balance the style. Choose designs and prints that create a cohesive aesthetic and match your personality. If you are looking to install shower curtains, it is not essential to match them with a bath mat but it'll create a nice aesthetic.
Also Read: 15+ Unexplored Places for Bathtub Placement Around the House
Get Some Artwork
You can add a distinct verve to any bathroom with wall-mounted artwork or a beautiful painting. Just hang one of your favorite paintings on the wall of your bathroom that attracts more natural light to accentuate it. Wall art stickers are also a great and affordable option to add an element of interest to the space.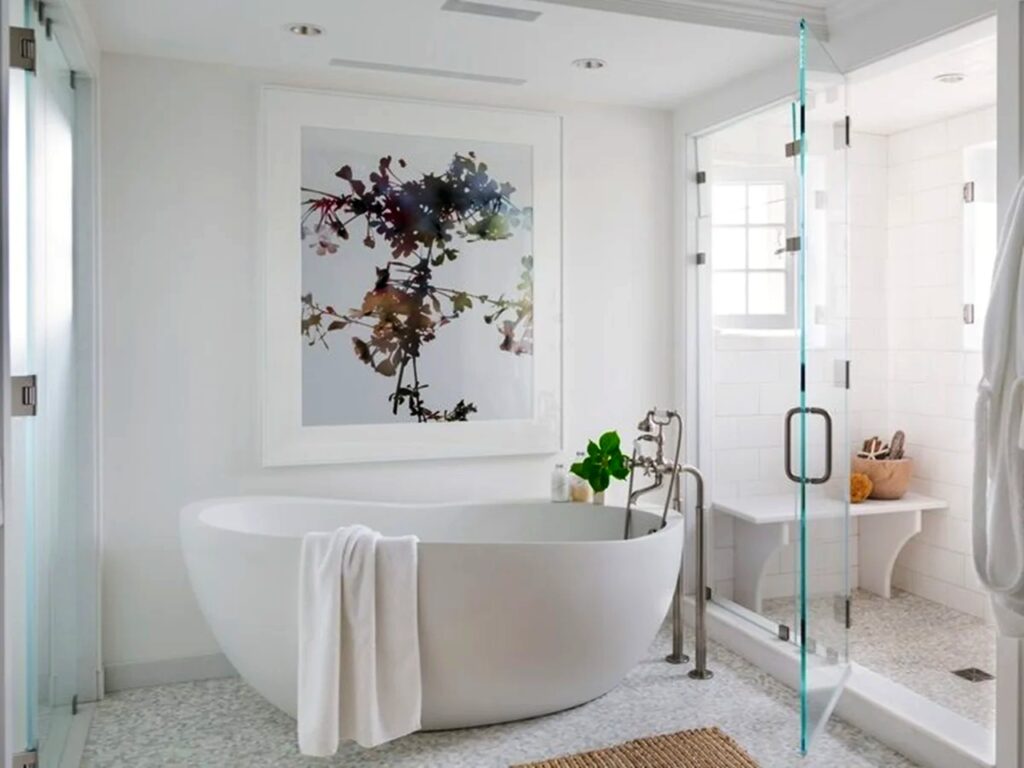 But remember not to add a large artwork that could overpower the entire space. You can hang two or three small, framed paintings with themes that you find interesting to make the space nice and cozy.
Throw Down a Rug
Rugs and carpets can be a great addition to any bathroom. Adding a rug to your space will help you add sophisticated layers and texture while offering a non-slippery surface. You just need to choose the right type of rug that matches your bathroom color theme and other patterns. If you're a nature lover, consider putting a felt rug that looks like river cobbles.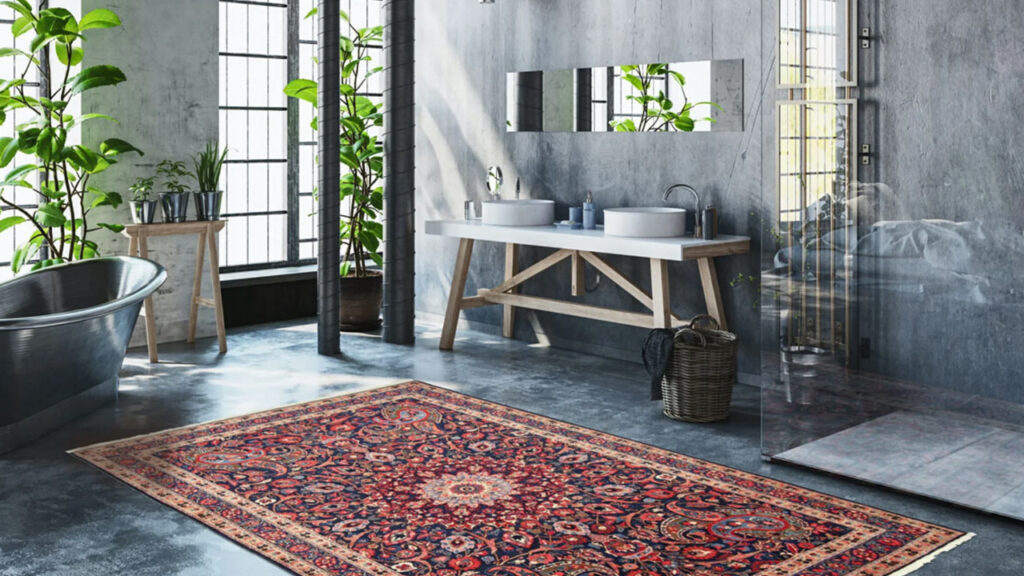 To make things more interesting and playful, you can also get a shape-shifting (modular) rug that will allow you to experiment with shapes. 3D-printed rugs, eco-friendly rugs, or homemade rugs will make a great pick to jazz up your boring bathroom layout.
Also Read: How and Where to Use Area Rugs on Hardwood Floor – 5 Expert Tips
Decorate With Elegant Bathroom Accessories
Towel holders, cloth hooks, soap dishes, and toilet paper holders are some of the accessories that increase the function as well as the appearance of your bathroom. These accessories need to be stylish and unique, as they are a part of the overall décor. Consider buying chromed or wooden towel holders, as they create an energized appeal.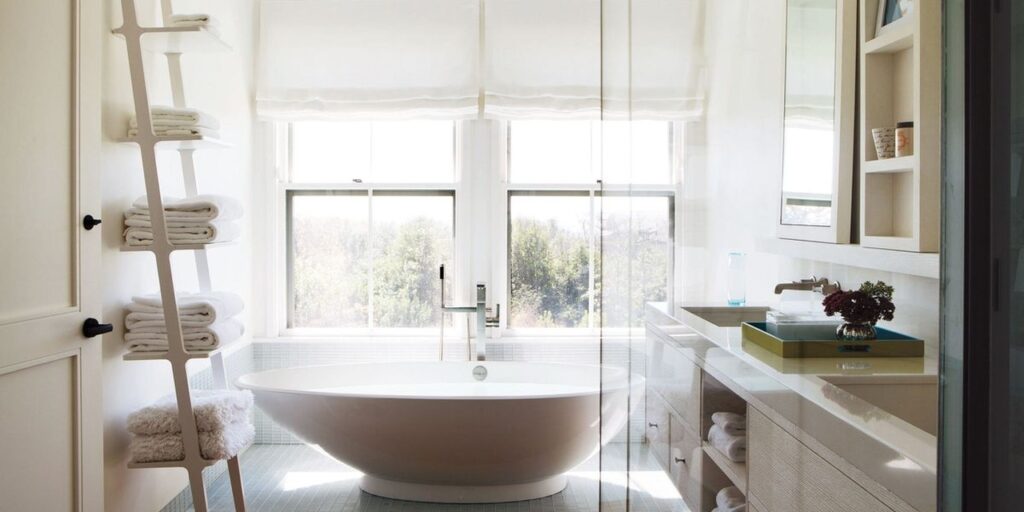 Well-polished and uniquely-shaped hooks and holders will add a minimal touch of luxury to the bath space. You can choose designer pieces or vintage finds to accentuate your style.
Also Read: 30+ Stone Bathtubs that will Rock Your Bathroom
Add Fun Multimedia Features
Turn your bathroom into a hotel-style spa by installing some multimedia features. If your budget allows, have a waterproof television; otherwise, some Bluetooth speakers will also be an entertaining addition to set up a musical mood.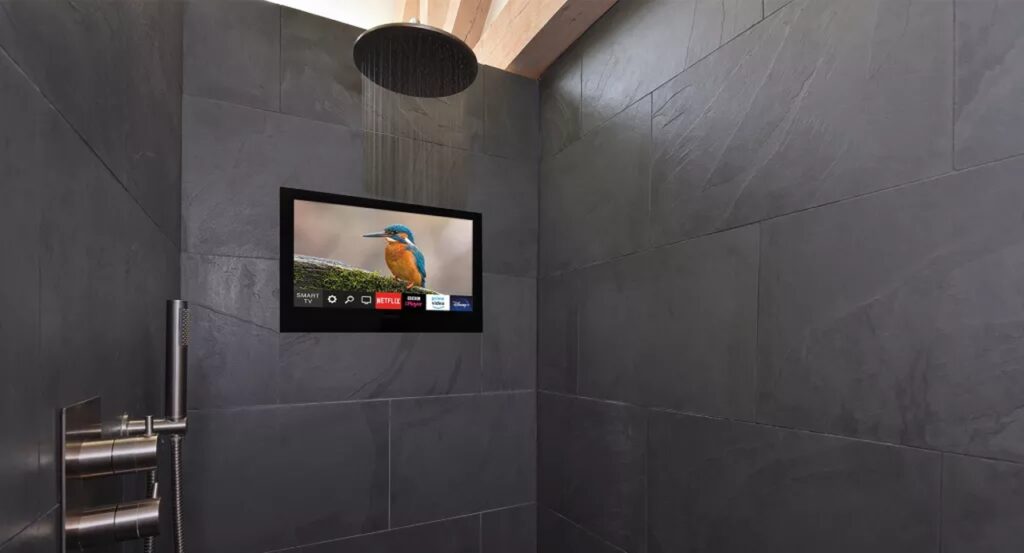 You can also install underwater lighting systems that gently illuminate the water, whether it is a soft white light or color-changing LED. Another multimedia feature to install in your bathroom is the high-quality sound system. Moreover, these systems can be controlled via smartphone, to offer an amazing spa-like experience.
Liven it up With Greenery
One of the easiest bathroom décor ideas is to include some greenery. Adding planters can help you to feel connected to nature. There are a variety of indoor plants that you can have in your bathroom just like in other areas of the home. Plants purify indoor air, so they can be a great source for improving the air quality of the space.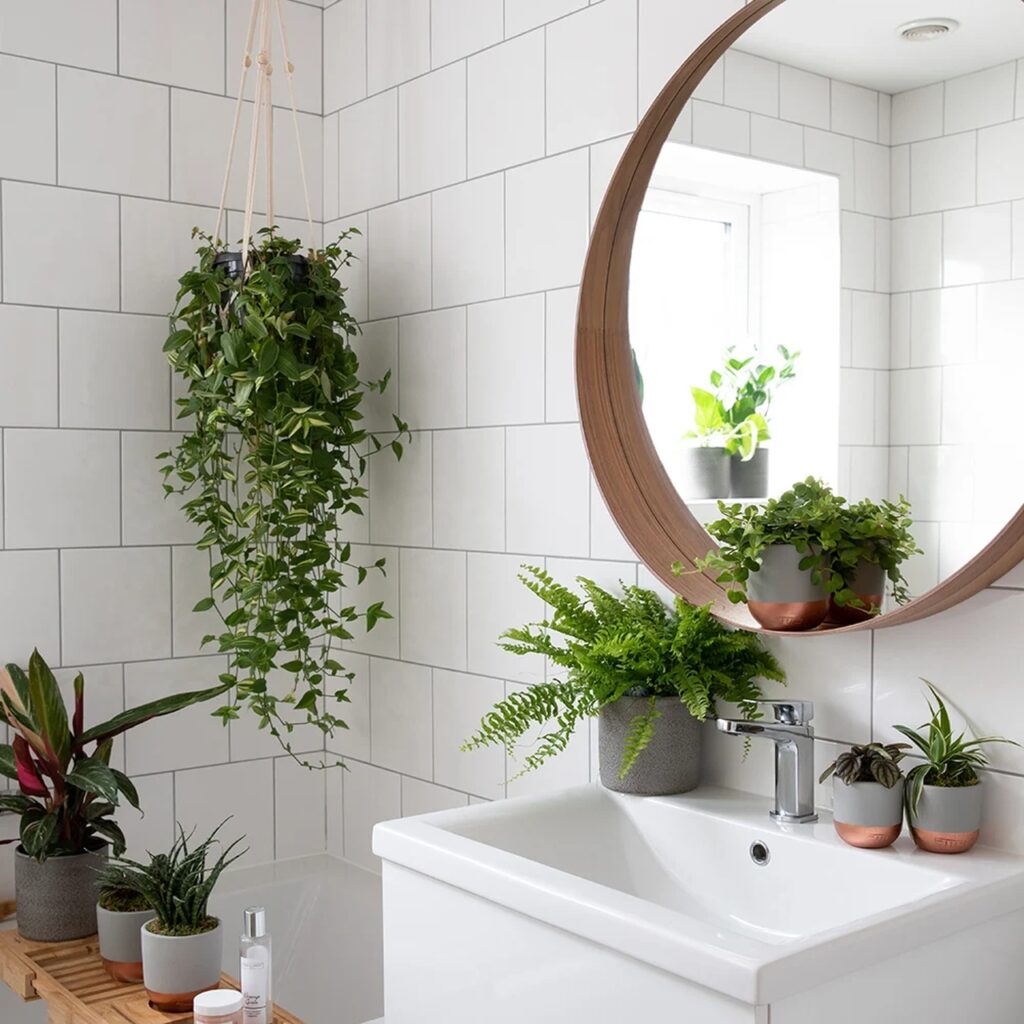 You can never go wrong with cascading hanging plants that look amazing. If your bathroom has room, you can place big, leafy indoor trees in an unused corner. Remember, the choice of the planter is as important as the plants you keep in your bathroom.
Also Read: A Simple Guide for Biophilic Interior Design Trend
Unique Sculpture to Add Character
Installing an artistic monument can take your bathroom to new heights. It's not important to buy expensive sculptures, as small antique pieces can elevate your bathroom decor sophistically.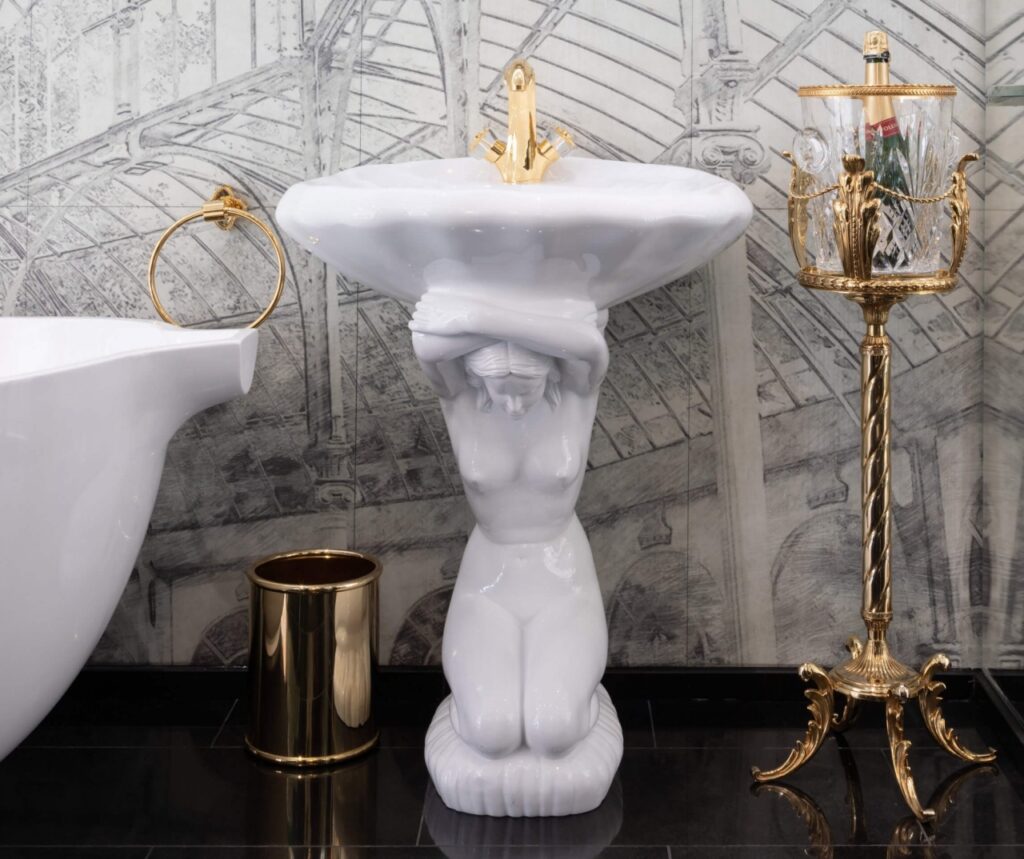 Sculptures are better than artwork as they do not require to be framed. You can use sculptural, 3D artworks like standalone plaster intaglios. These will save you from moisture damage and offer a more interesting bathroom display.