Every kid is fascinated by the fantasy world, and series like Star Wars fuel this very imagination. While most dads shower their kids with the best toys money can buy, there are other super dads who believe in building something special. This makes for the most special present a dad can gift his kids. Whether it's Star Wars, Star Trek or Battlestar Galactica, these creations are so amazing that they are making the rounds on the internet.
You'll be encouraged by these Sci-Fi-inspired creations to make something similar for your kids, and with some effort, you'll make them feel super special. Of course, your kids won't get enough of bragging their new gift, and a reason for them to rejoice for many years to come.
# X-wing Fighter
Some parents will do that extra effort to help their kids in school projects. That's exactly what John Stoddard did. He built a cool X-wing Fighter for his daughter's school project which is all about making a cardboard sit-in car or spaceship for the last day of school. He used empty Cuisinart box for the cockpit, refrigerator box for wings and discarded carpet tubes for cannons.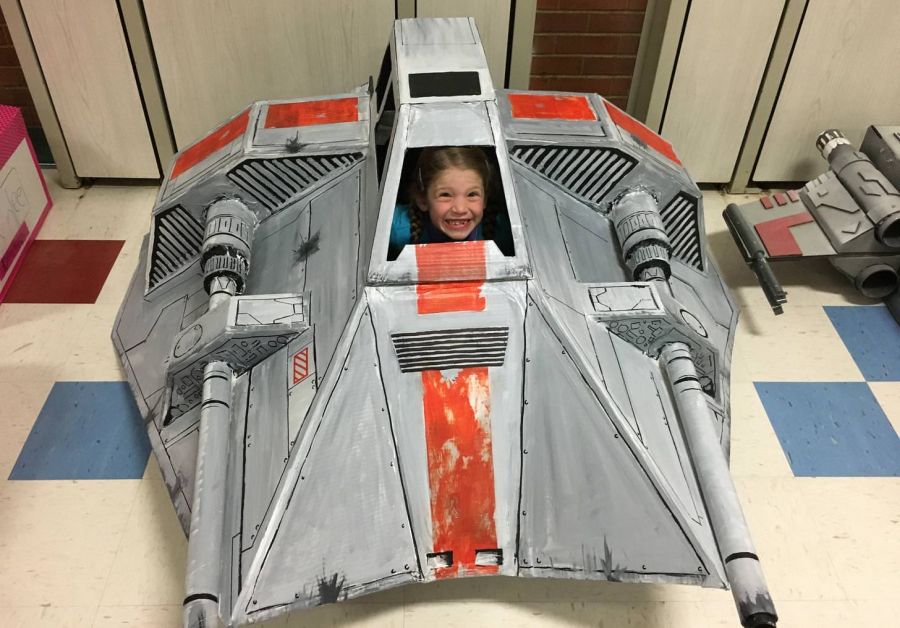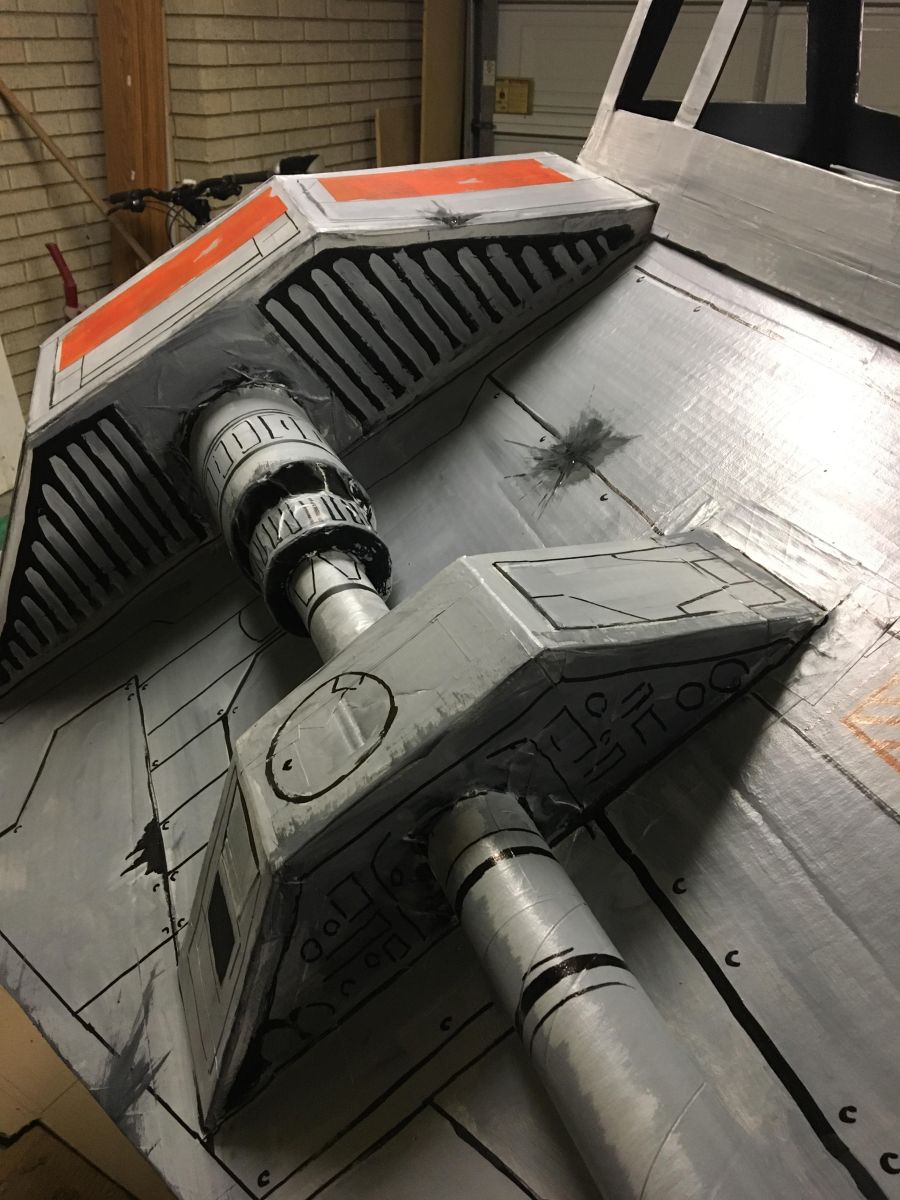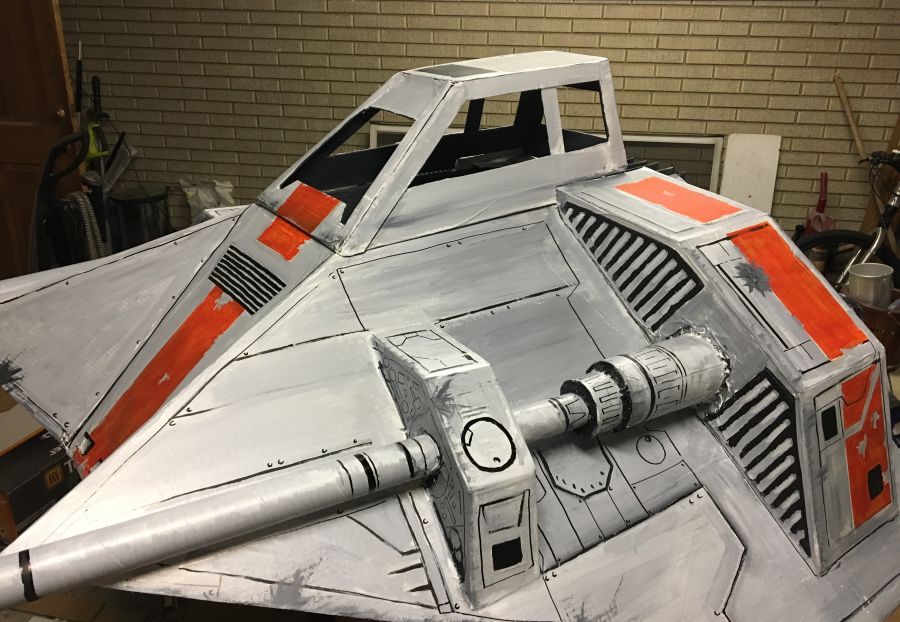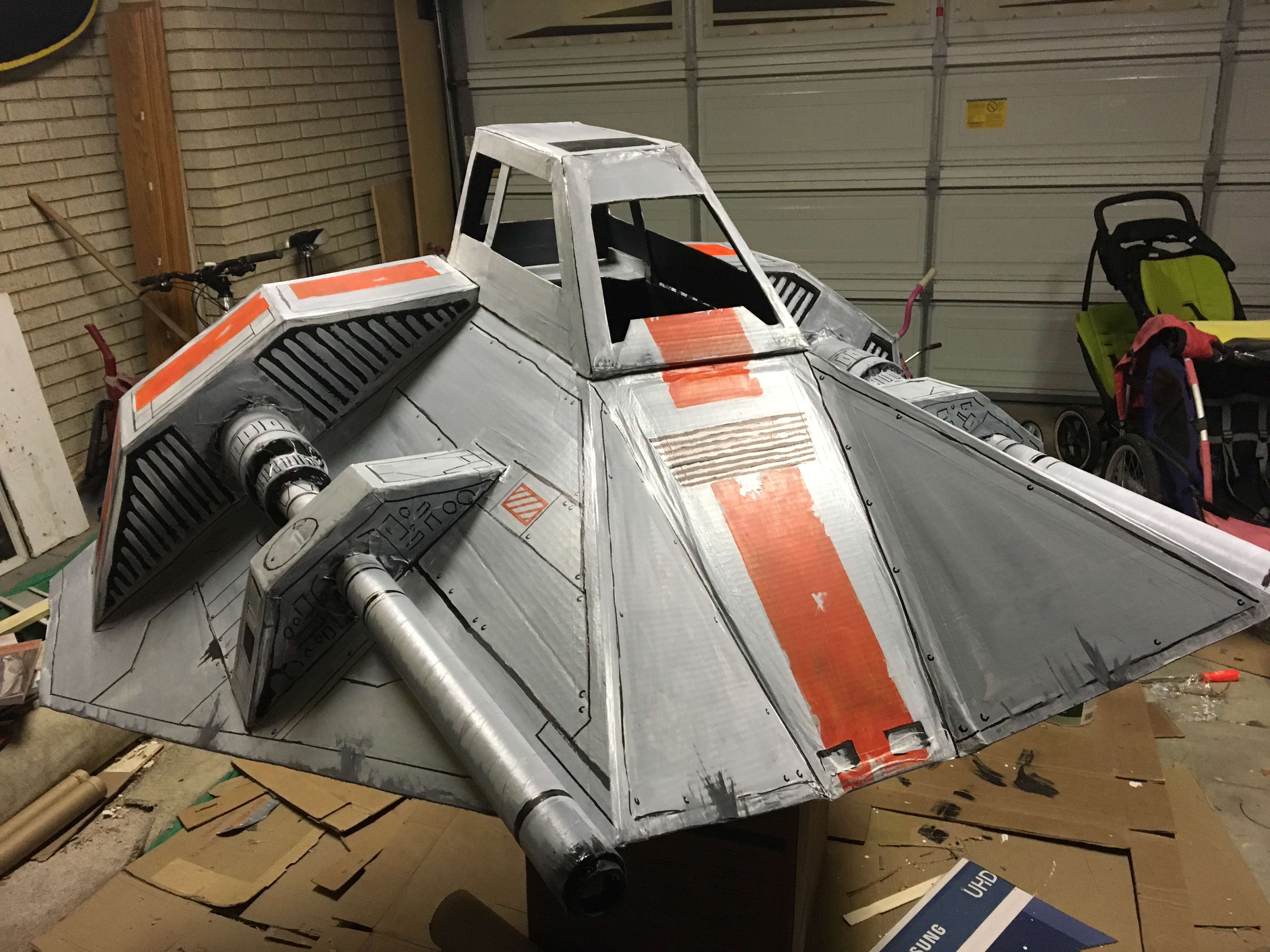 # Star Wars Rocking Horse
A gesture of love from a father to his cute little daughter. Tez Gelmir from Australia builds this 74-Z Speeder Bike (from Star Wars) rocking horse for his daughter's first birthday. He crafted it out of plywood, screws, and bolts with the use of 3D printing technique. Tez is generous enough to put up the details of the build on Instructables so that other DIYers can also follow his technique to build one.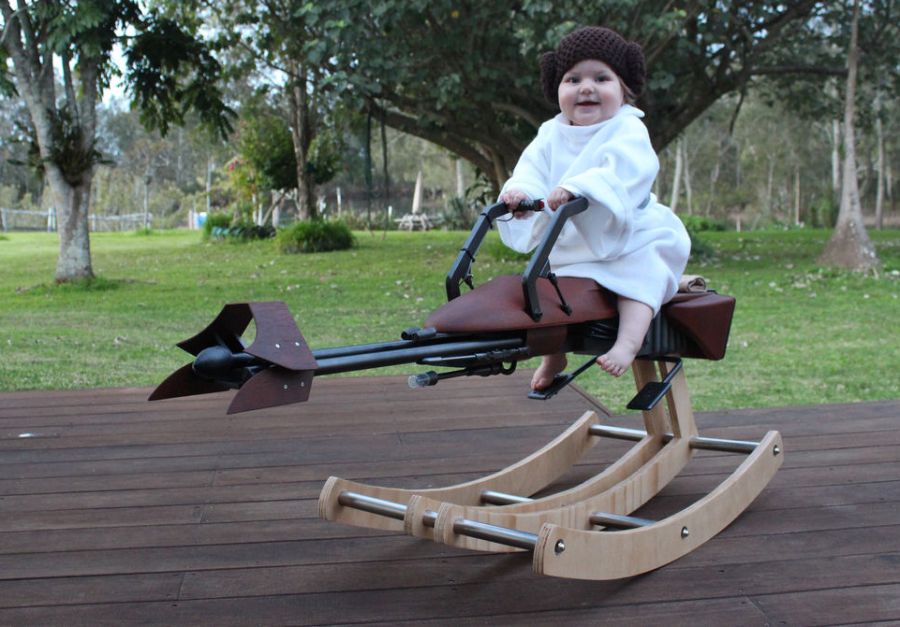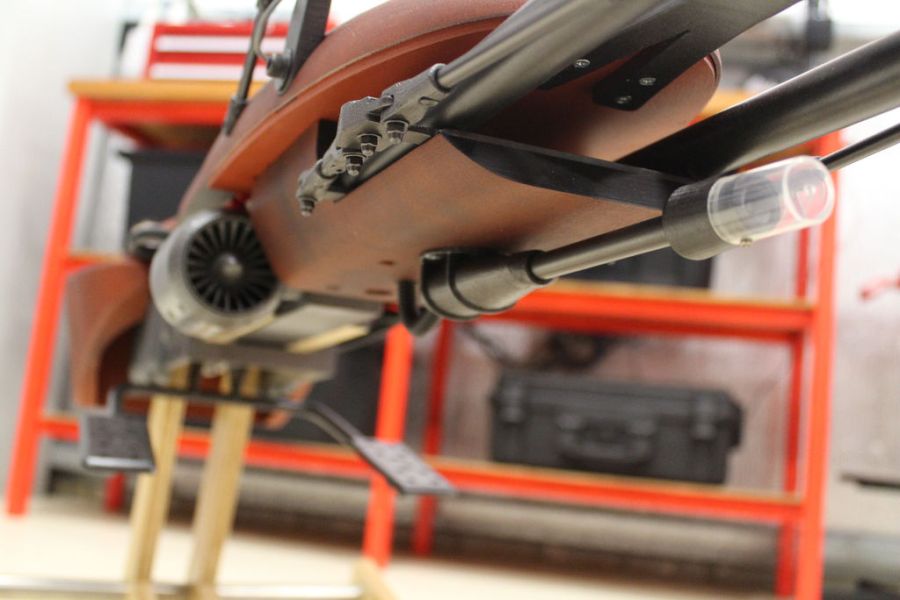 Image: Tez Gelmir/InsInstructables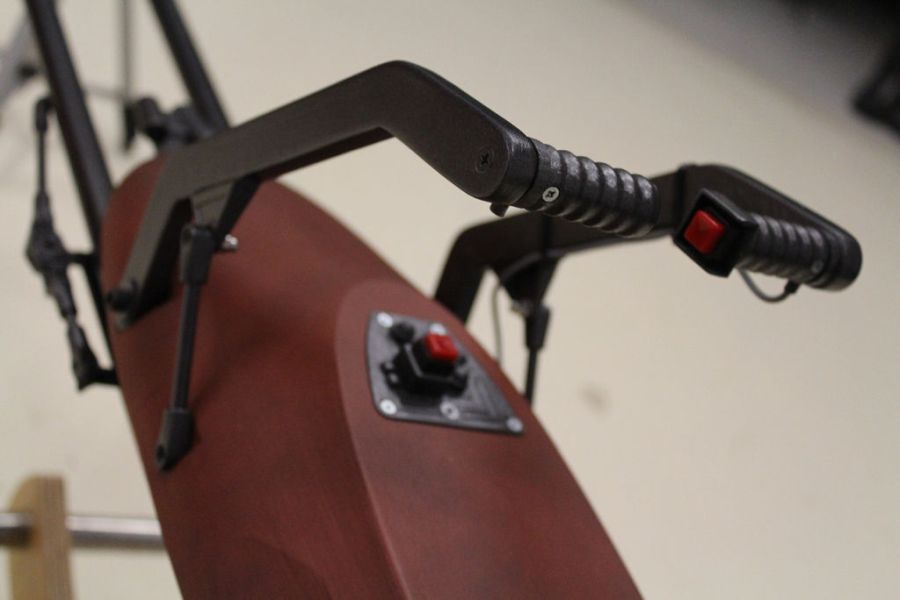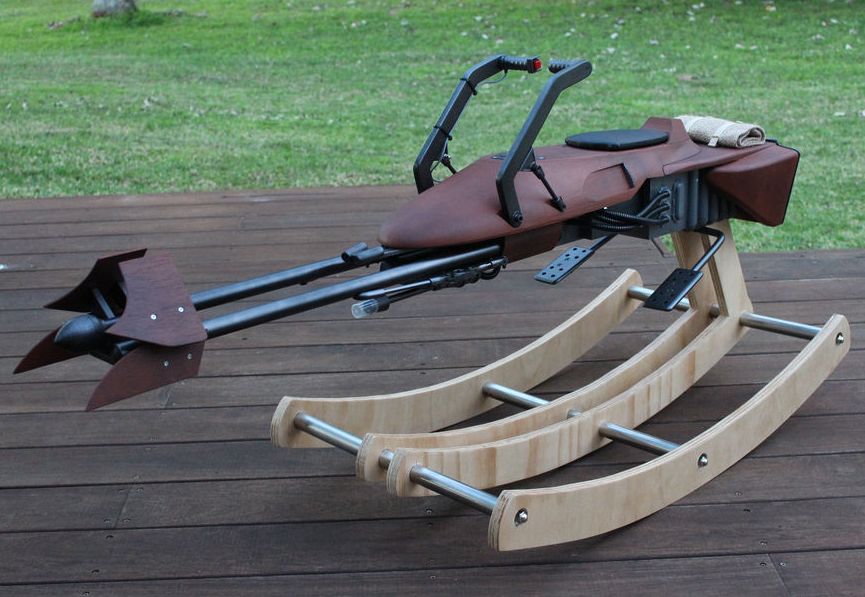 # Millennium Falcon Home Theater
When Rouge One was released in 2016, it inspired many DIYers. Donovan Ewing (aka The Bearless Man) could not resist but make a Millennium Falcon home theater for his kids. The idea was to make an enclosed housing for watching the movie without having to hold the tablet with hands. This Millennium Falcon theater was the solution which his kids absolutely loved.
# Star Wars Costume
Every time around it's not just about building gargantuan stuff which strikes on first look. Dino Ignacio from Seattle creates an adorable Star Wars costume for his daughter for Halloween, and the little princess looks beautiful in it. Using foam board as the base material, this DIY costume is made from household stuff like paper cups, bendable straws, and plastic bottle caps.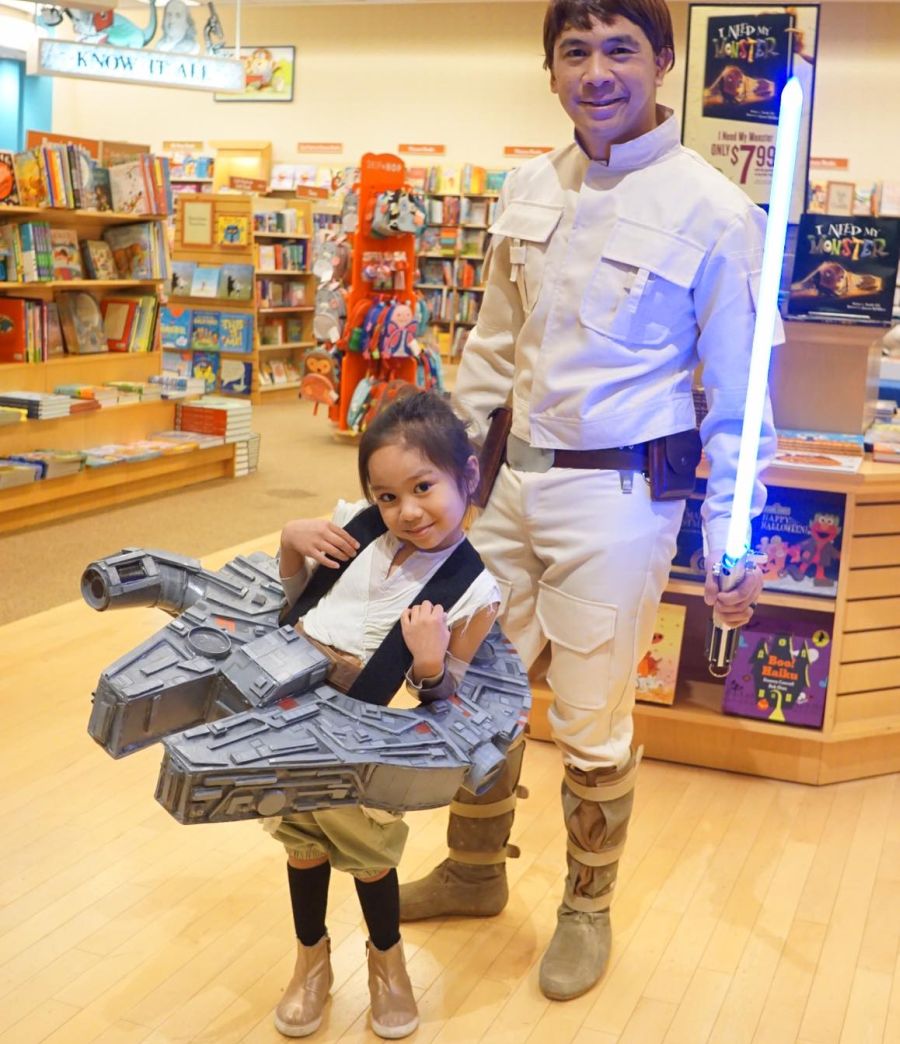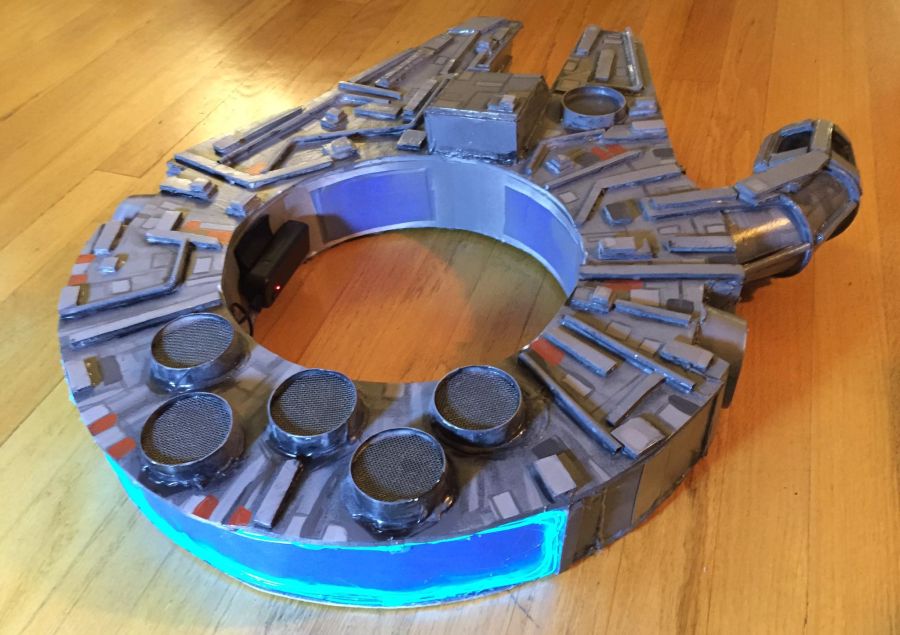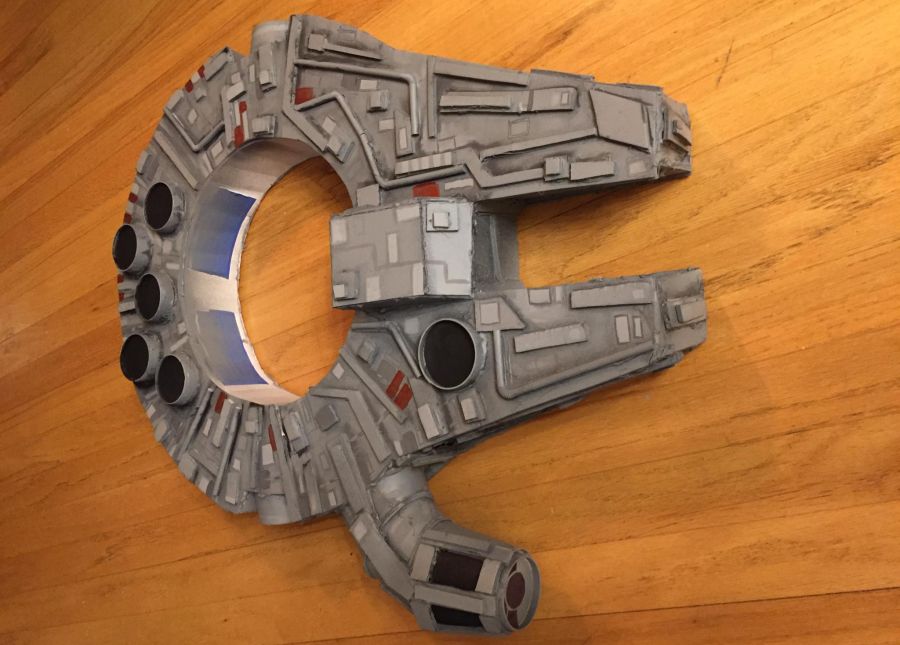 # AT-ST High Chair
Making a secure high chair for your little devil is what this DIY is about. Matthew Regonini from Boston created this Star Wars-inspired high chair for his (then) eight-month-old baby. The DIY looks detailed and purposeful as his son enjoys eating, playing and watching around from this high position.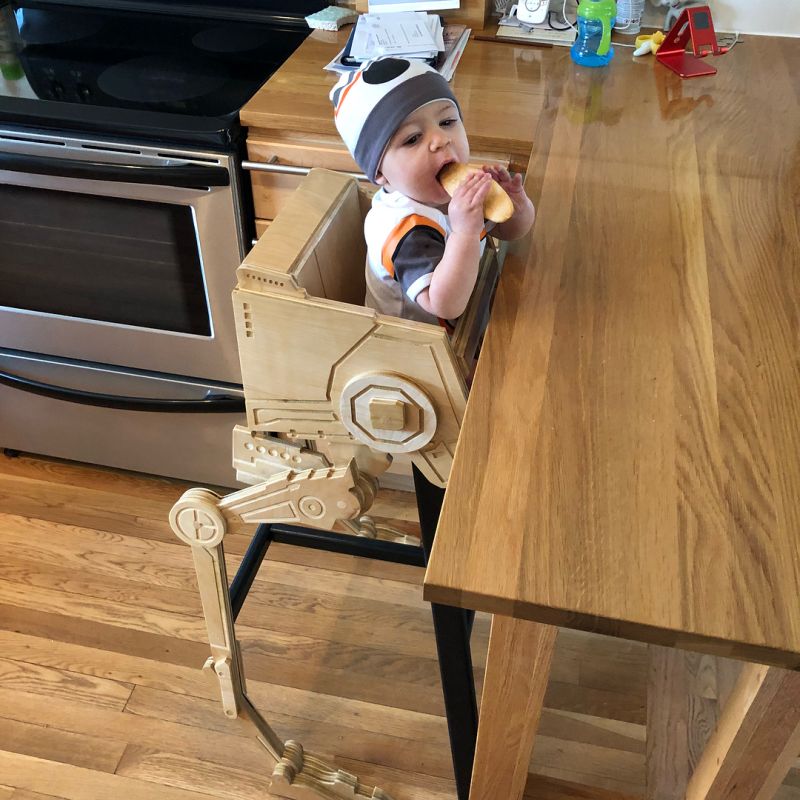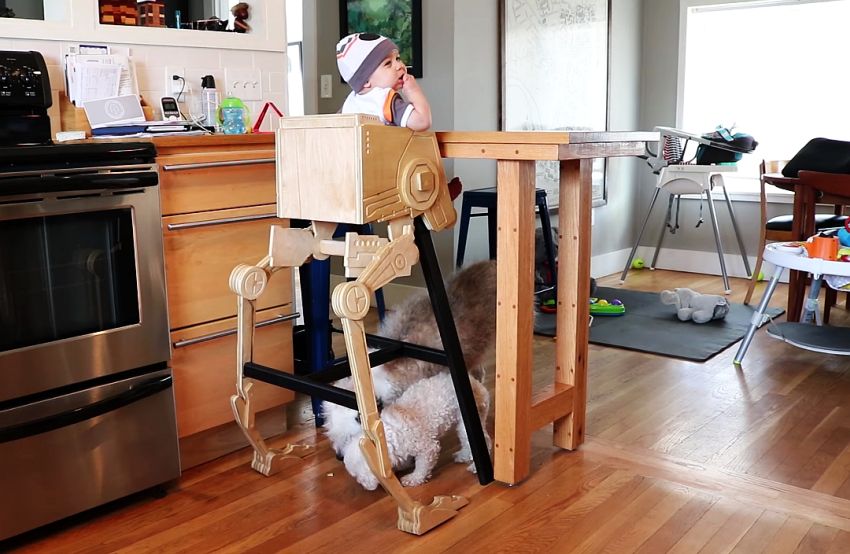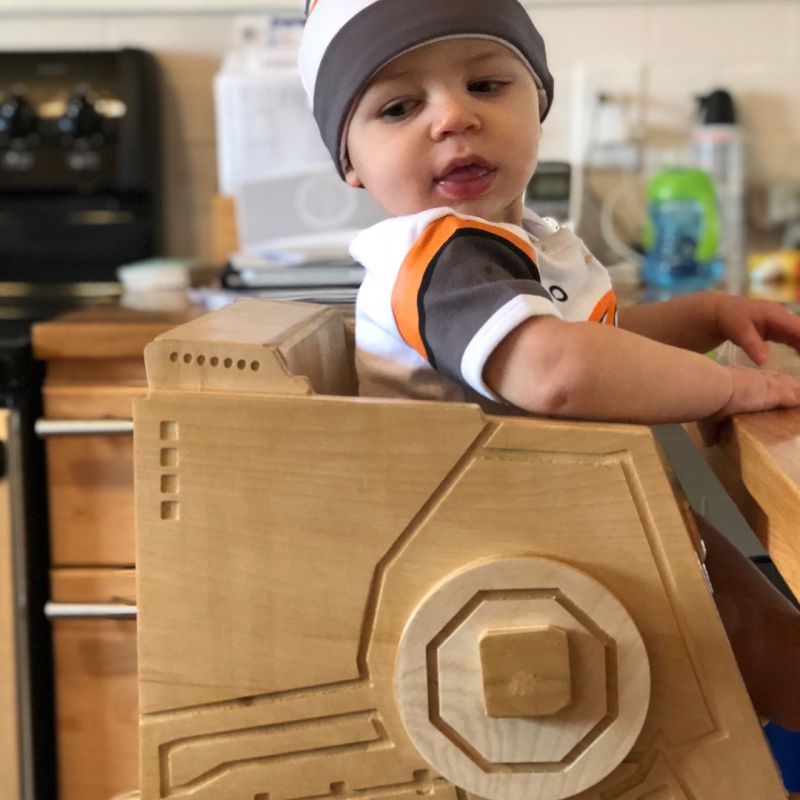 # Rideable TIE Fighter
How about a Star Wars-inspired electric four-wheeled ride. Queensland-based Allan Carver has come up with this four-wheel TIE Fighter for his 12-year-old son, Kyle. Since the cockpit is too small to fit a drivable steering control, Allan made a remote control to move this otherworldly thing around.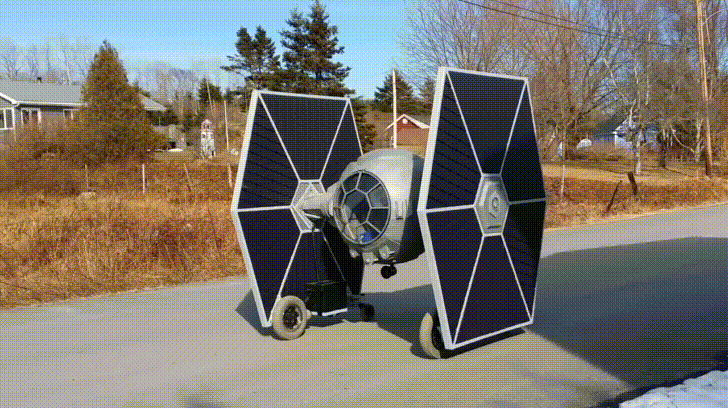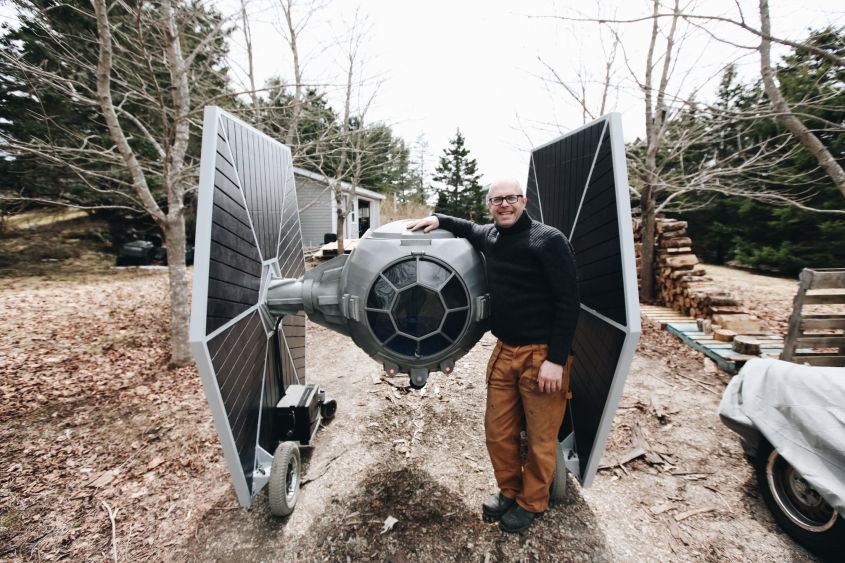 # Millennium Falcon Bed
A bed for troublesome kids who don't want to go to bed on time. Oklahoma-based Deric and his wife have built this Millennium Falcon bed for their son that emulates the cockpit of a starship. They made good use of the 10 feet-long and five feet-wide room with this suspended bed which will be hard to resist for any kid. To complete the Star Wars-themed environment, the couple placed a vinyl mural of the ship behind the wall to put forth a visual effect of the thing flying in hyperspace.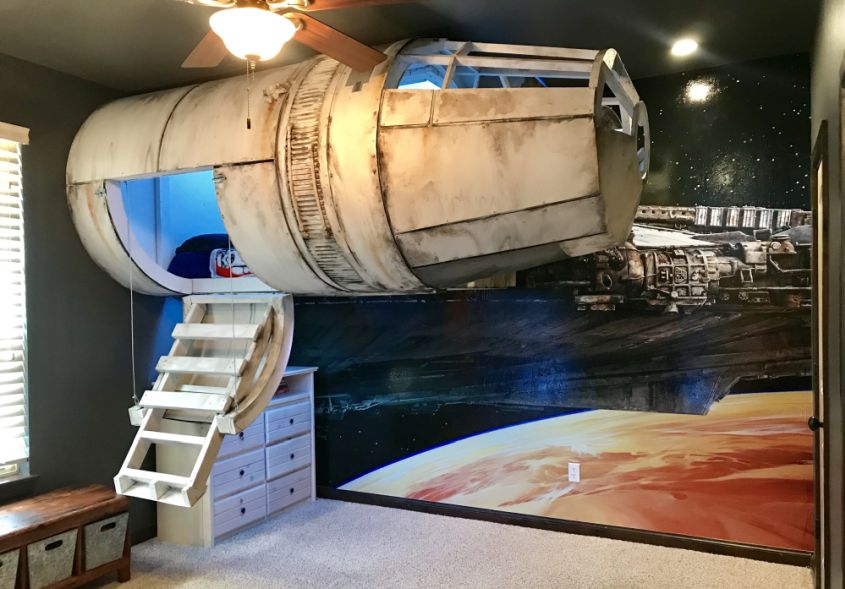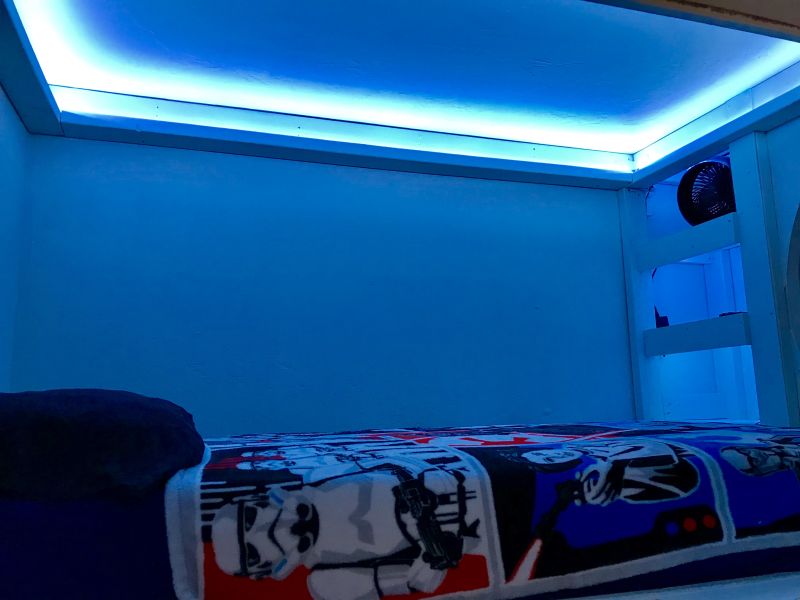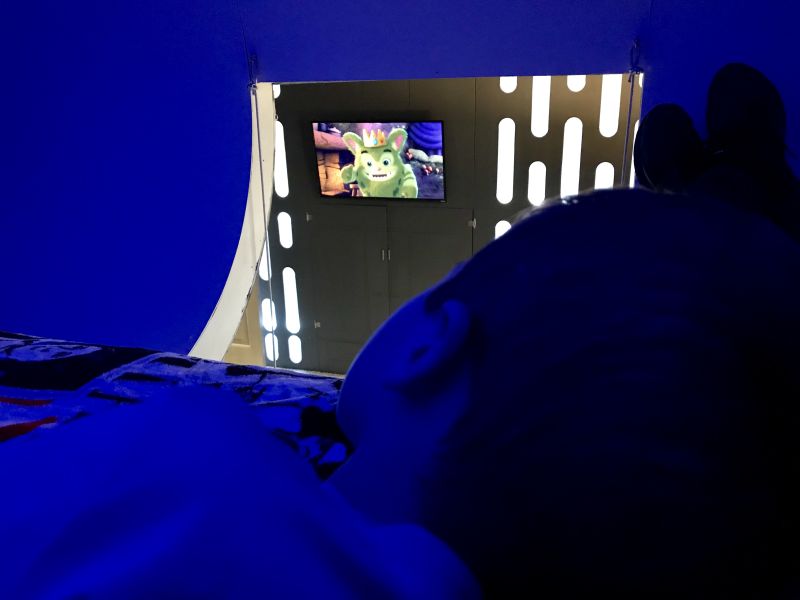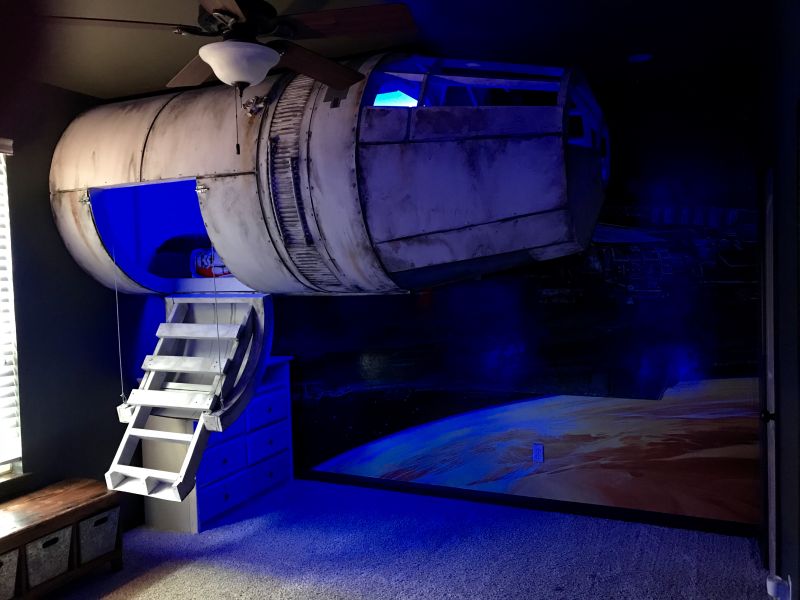 # Pod Racer Baby Stroller
Creating something that is the object of envy for other parents is what this mysterious baby stroller is about. Spotted at the final leg of Course of the Force, this baby stroller is downright awesome. The stroller is oozing with muscle from all angles and looks intimidating, but as soon as you spot the little kid sitting inside, perspective changes.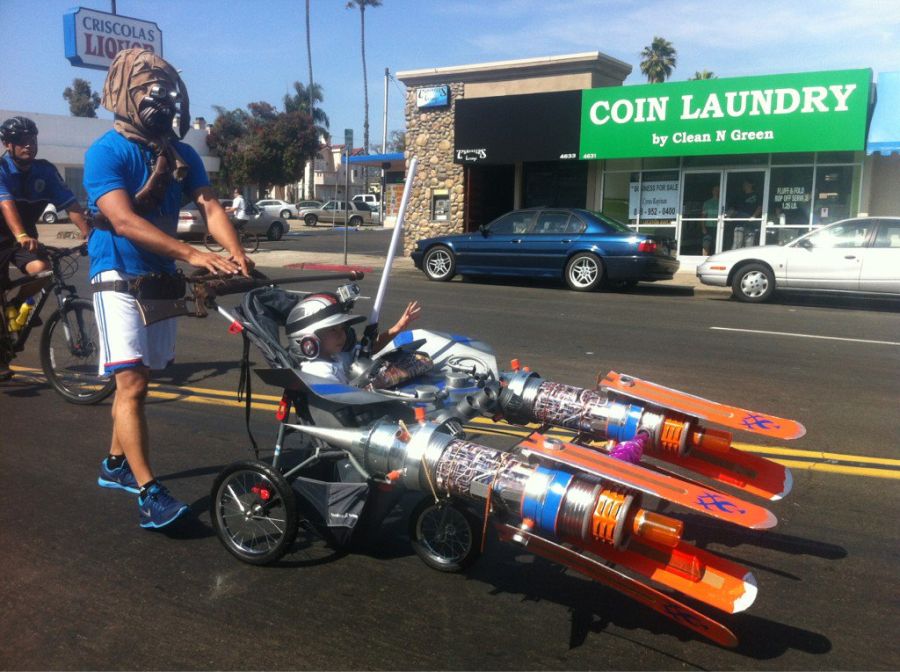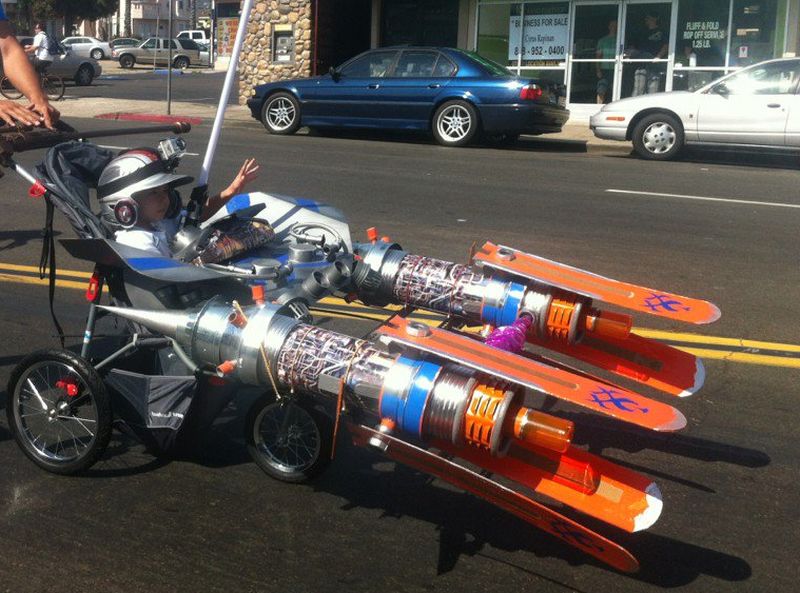 # X-wing Bunk Bed
Sleeping in a bunk bed that is the coolest in your neighborhood has its own charm. Imgur user DarthDaddy42 created one of the coolest bunk bed for his son and it's kind of awesome. The bed on the ground level provides ample sleeping space for the little one and a small flight of staircase to the X-wing cockpit ports the little one to a whole different world. The bed has a flat-panel TV for watching all the Star Wars flicks. There is an R2D2 cooler inside the cockpit to keep the drinks chilled while the little adventurer drifts into the galaxy far away.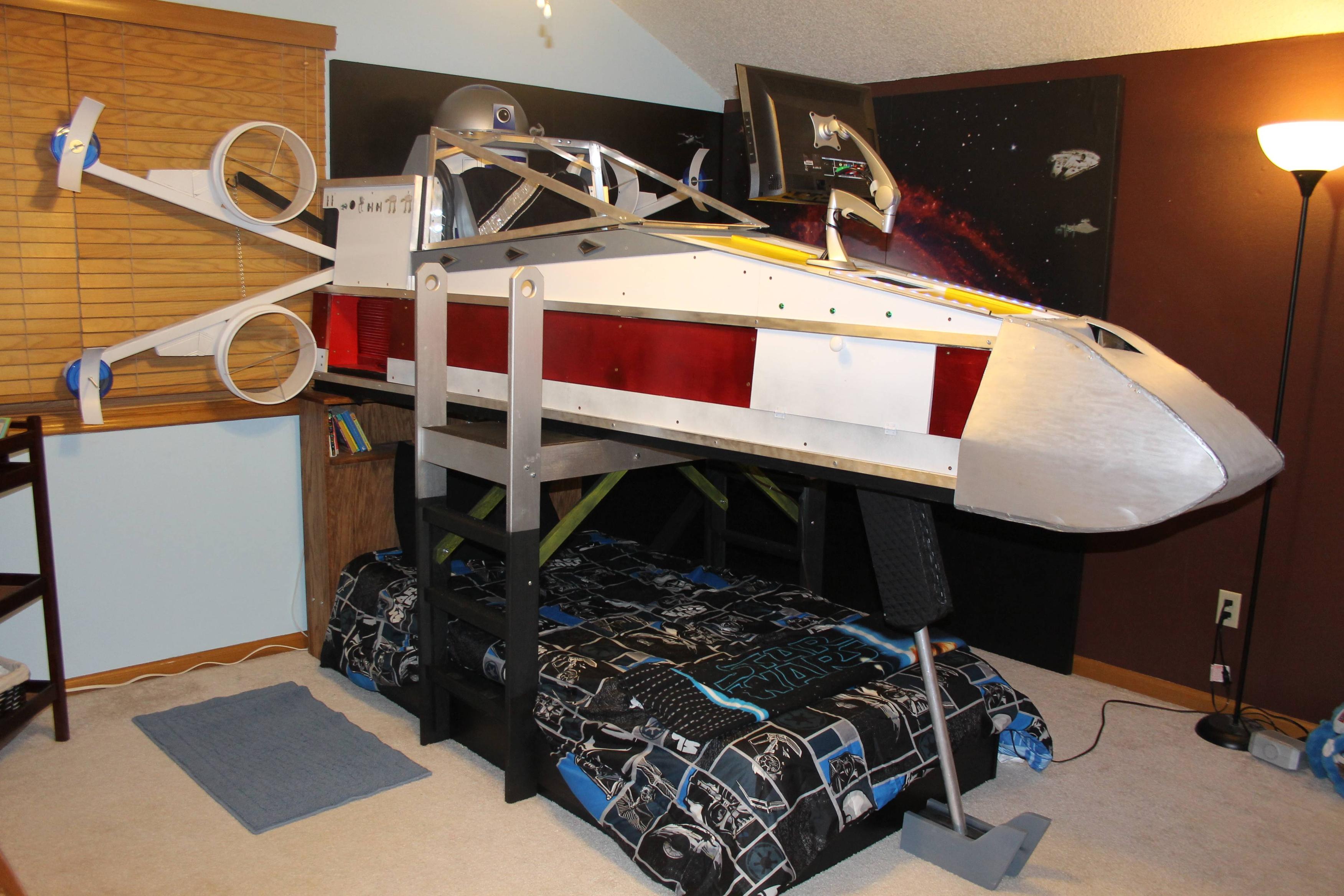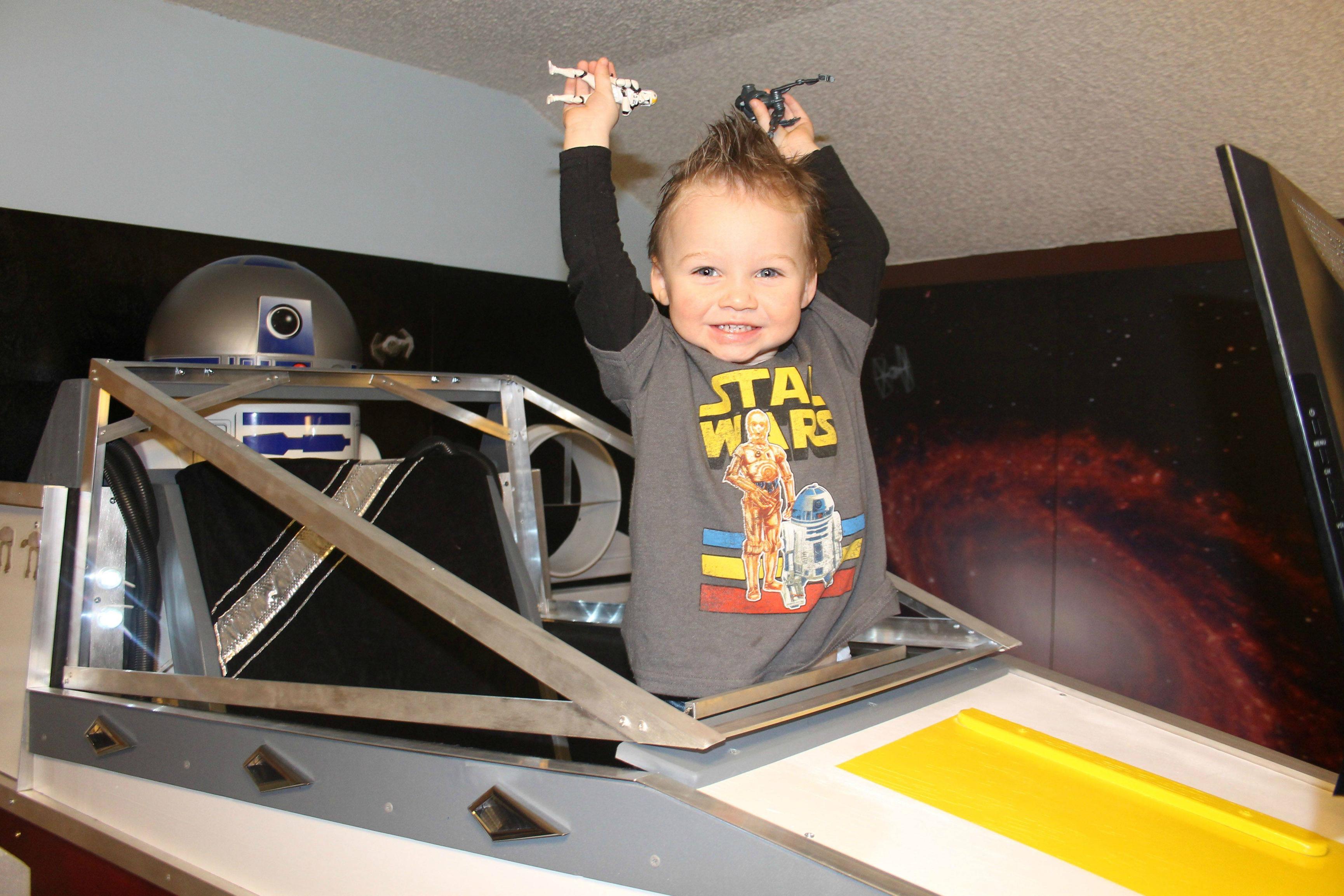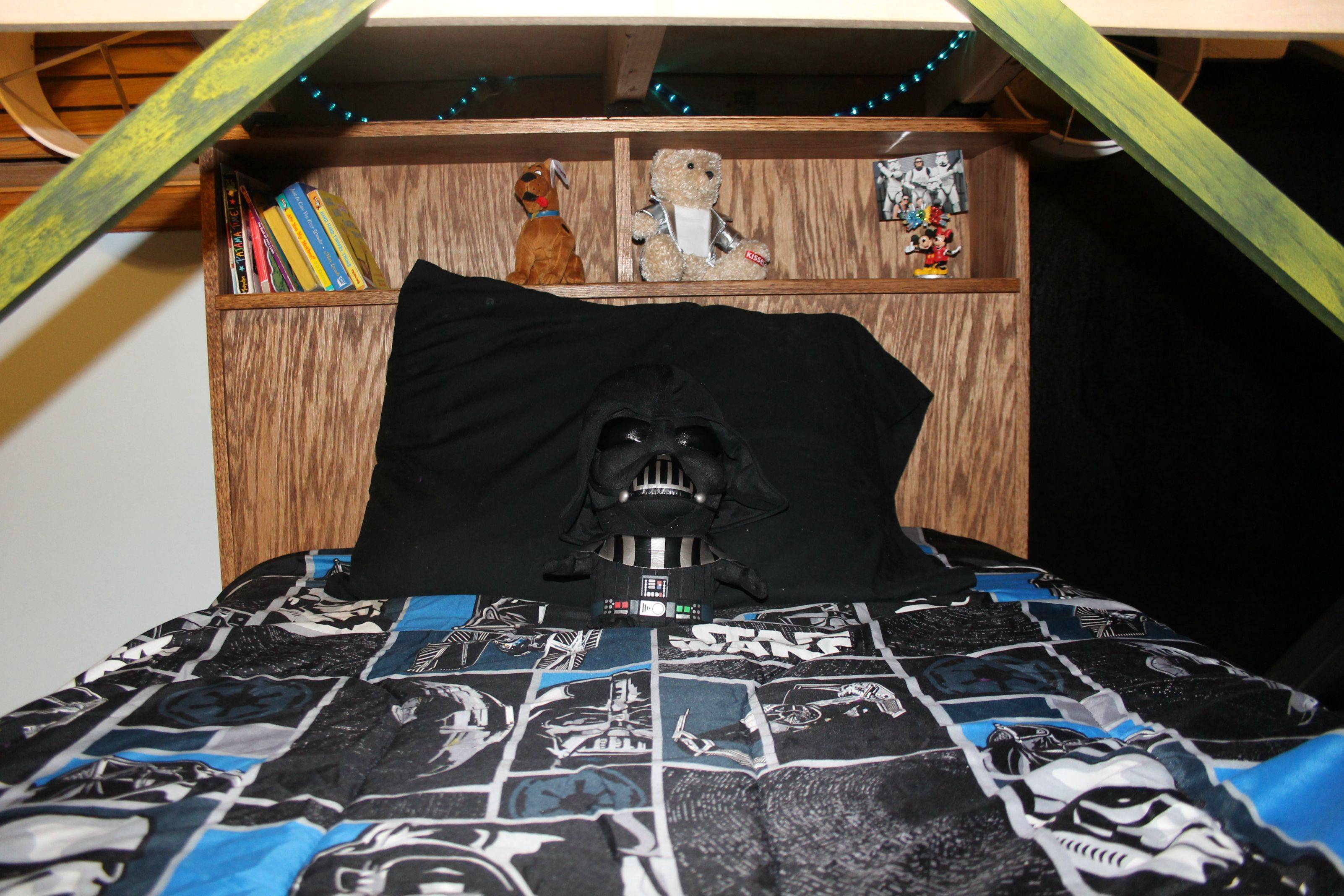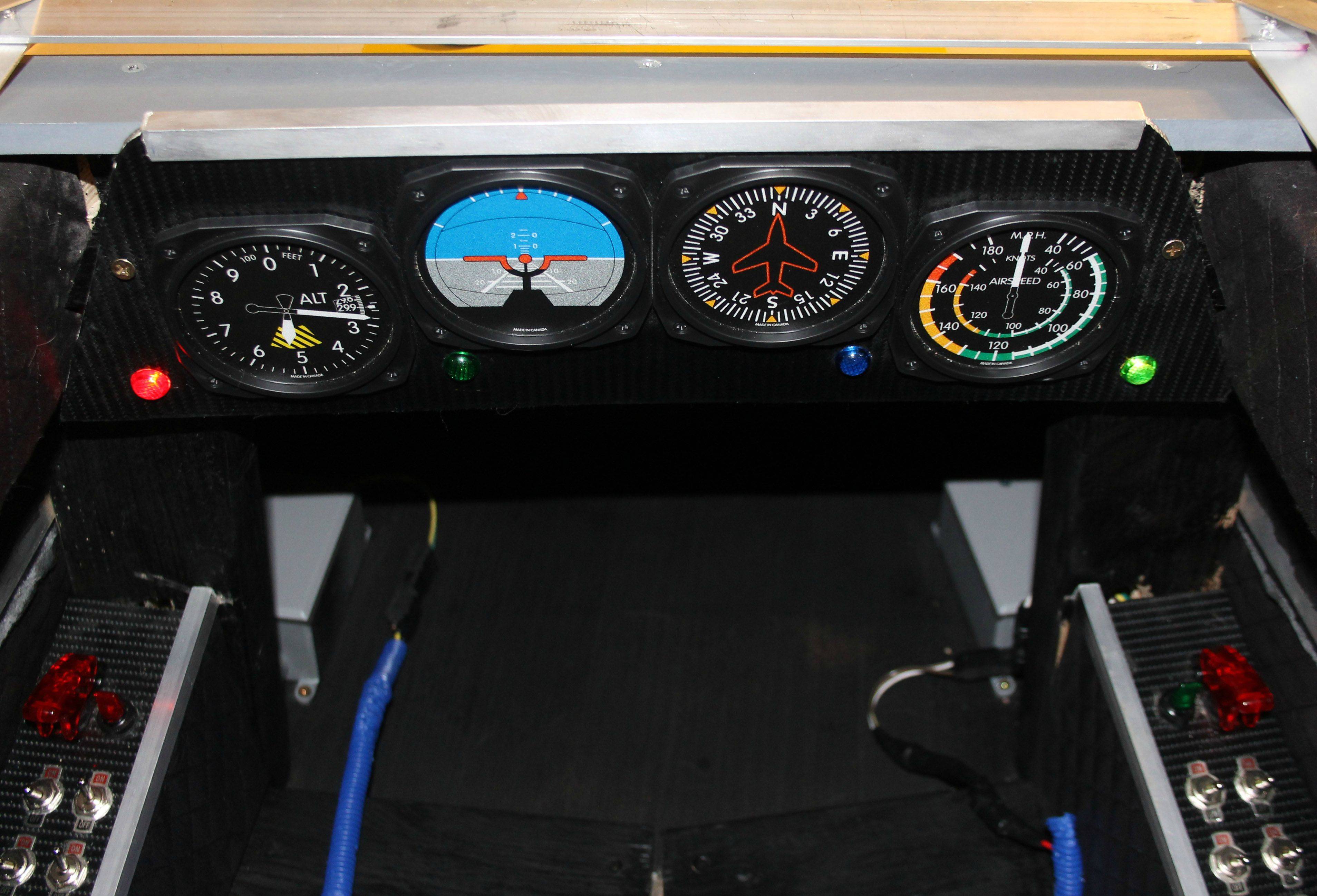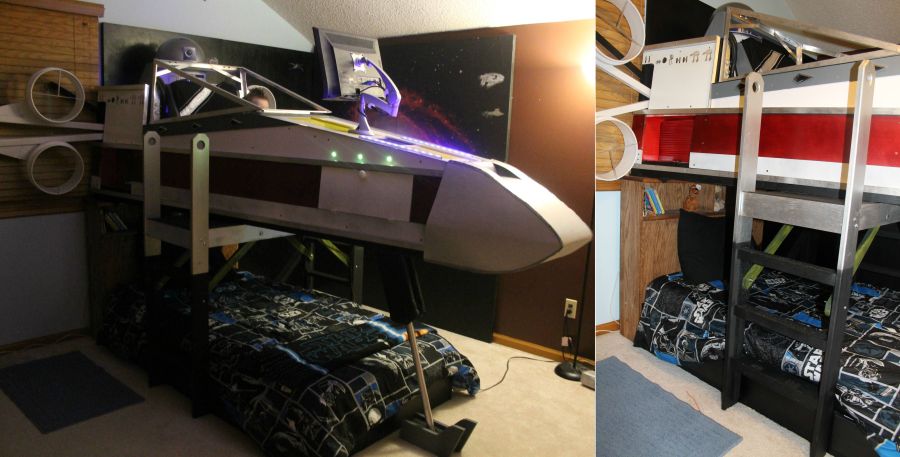 # Millennium Falcon ExerSaucer
Babies love exersaucer as it keeps them engaged while keeping them safe when parents aren't around. Even better if the exersaucer is a Millennium Falcon. Lucas Karpiuk and his wife did a small but creative DIY project for their adorable six-month-old son Liam; now he is six years old. The exersaucer is made from cardboard that was lying around in their garage. They molded and painted it in Millennium Falcon colors to complete the look. The creation is far easy to create compared to some other DIYs in the list, so you can make it over a weekend.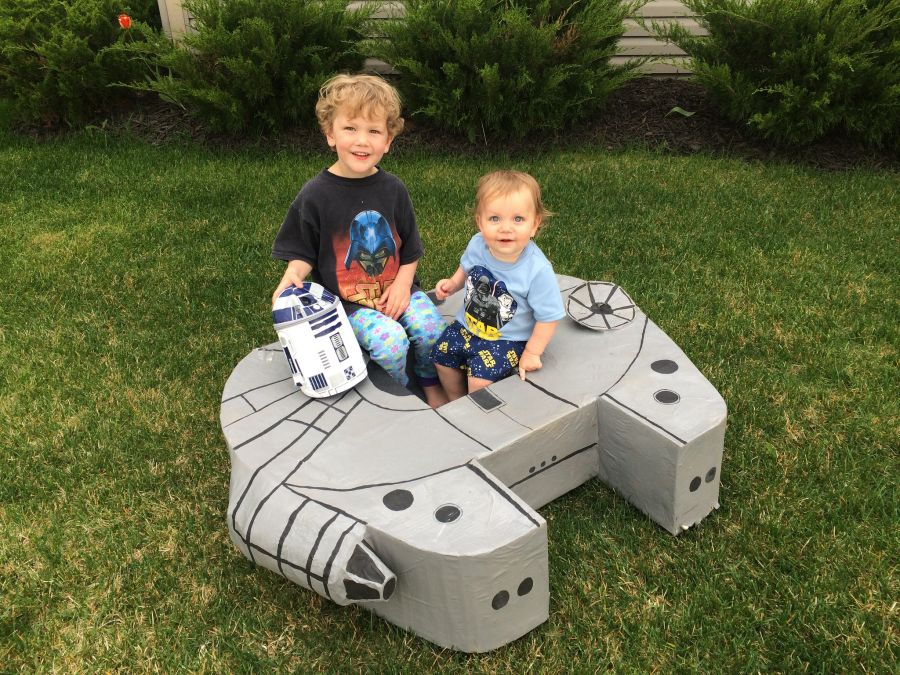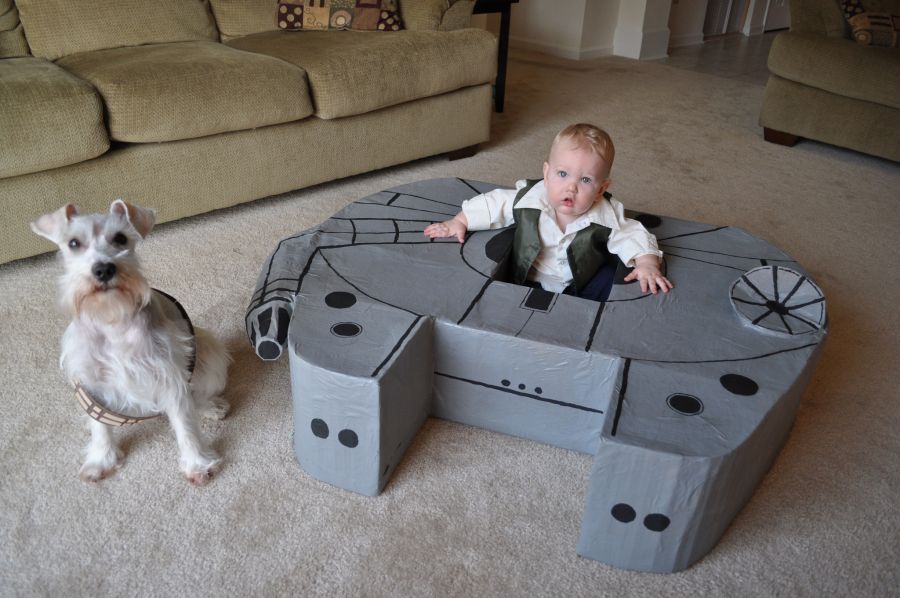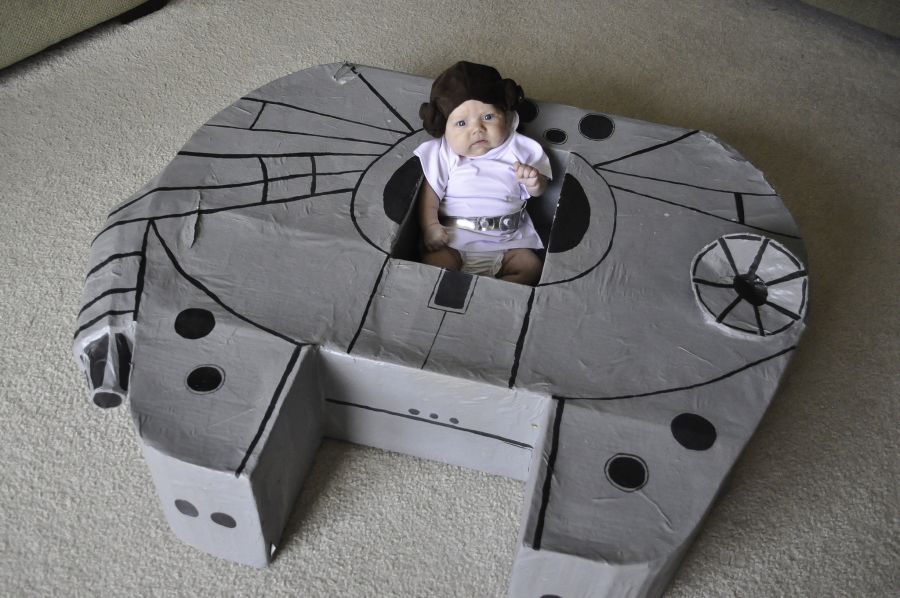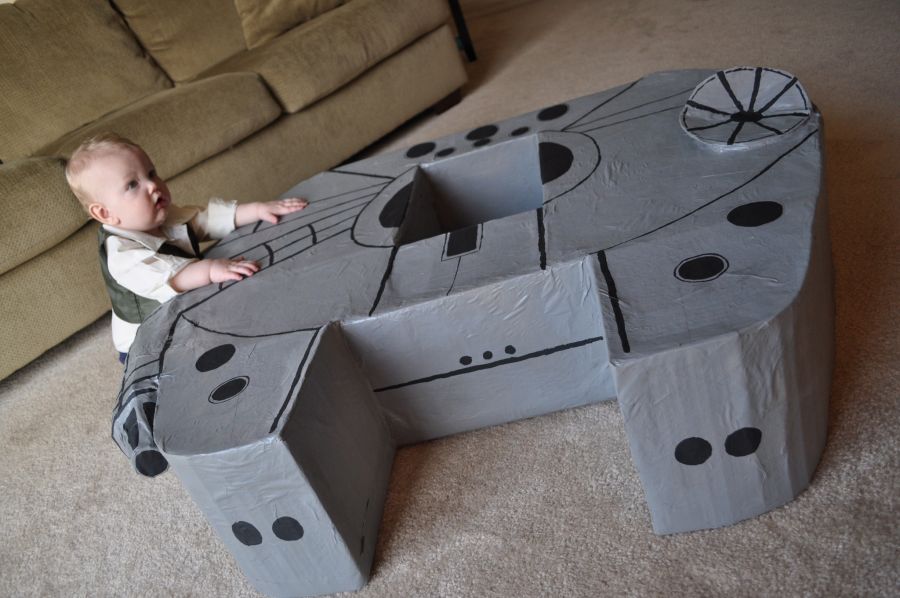 # Star Wars X-34 Landspeeder
Why buy a gift over the counter when you can build one at home and gift it to your kid. Instructables user [Blogsdo] made this Star Wars X-34 Landspeeder for his son's 6th birthday party using an Orignal KettCar chassis. Pinewood was used to make the base of the Landspeeder which is pedal-powered.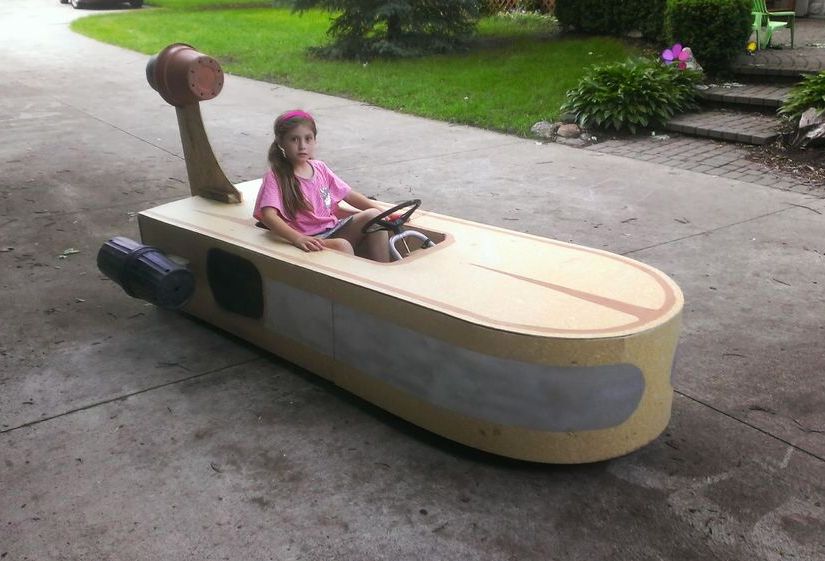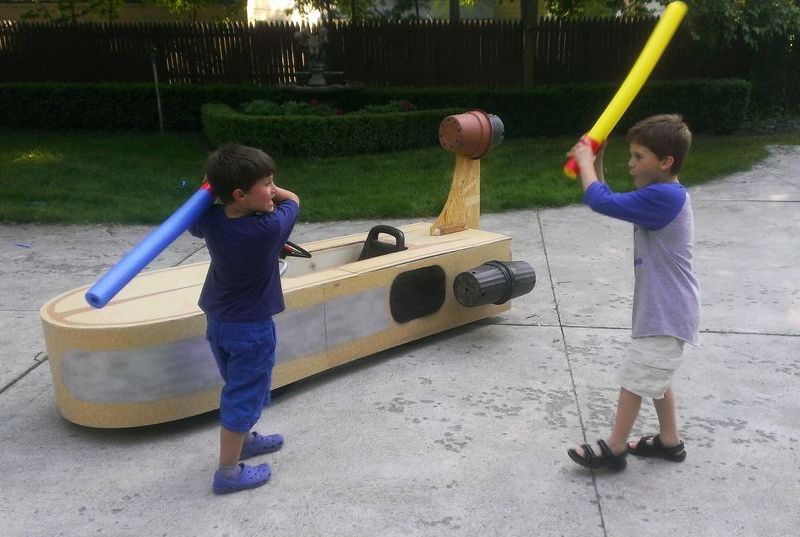 # Star Trek Playset
In the scorching summer heat when kids have to stay indoors, there should be something interesting to keep them engaged. DIYer David Weiberg built this extensively detailed Star Trek TOS for his eight-year-old son who loves the space odyssey show. Just like Lego bricks, the individual components of this modular set can be joined together. The detailing on each component is precise, and the amount of effort put into the making of this Star Trek playset is worthwhile.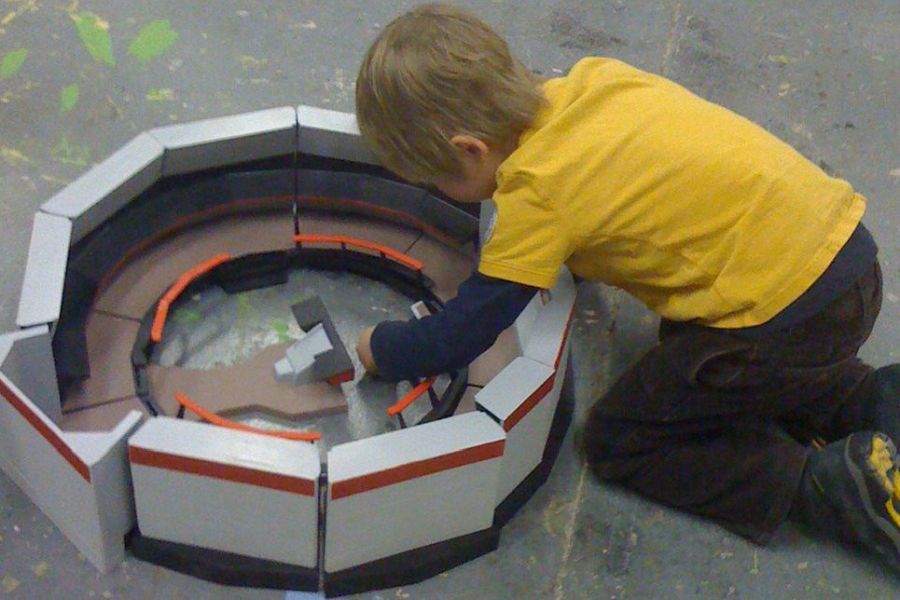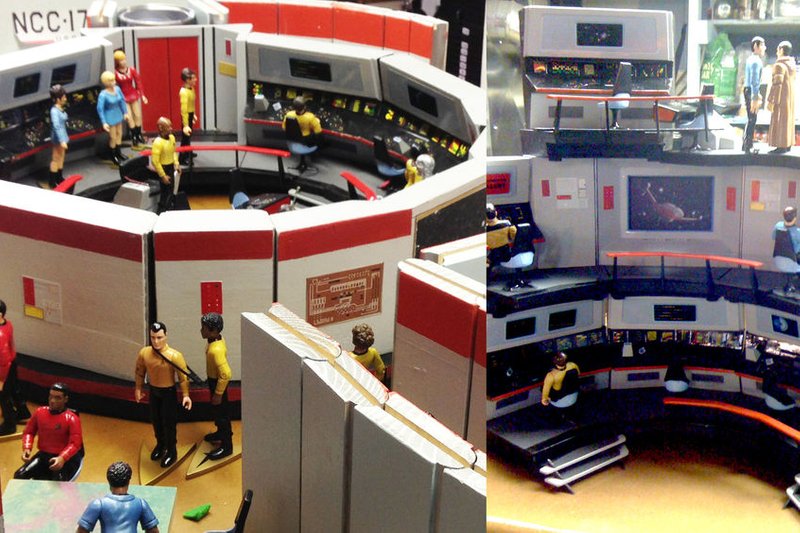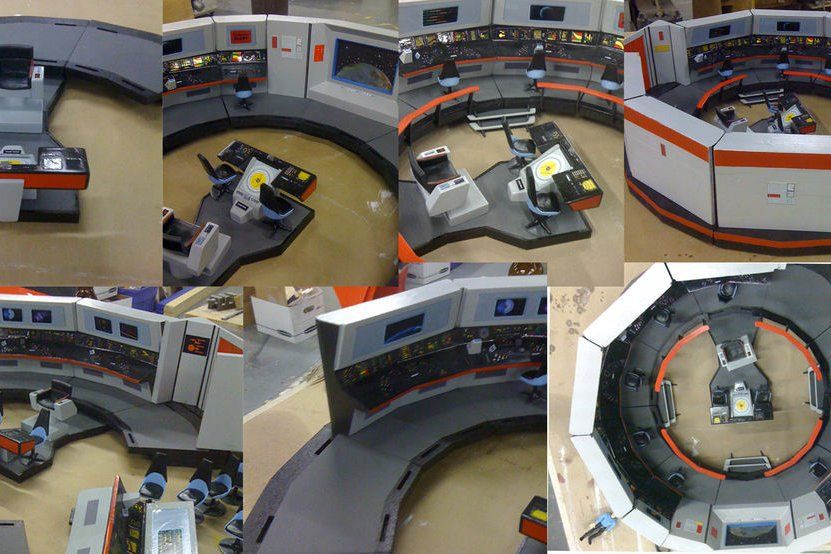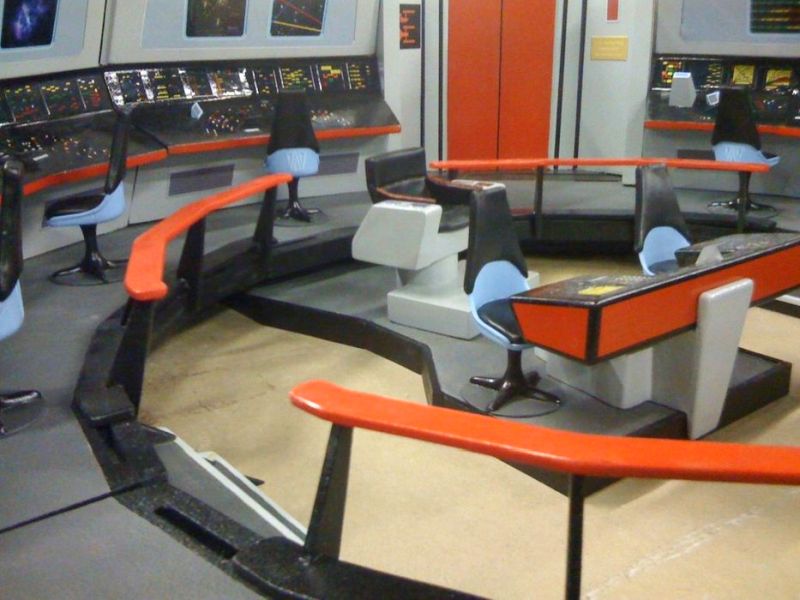 These were some of the best inter-galactic Sci-Fi series inspired creations by dads for their kids.
As a bonus, we have some more creations that didn't make the cut but are worth mentioning. Let's have a look.
# Death Star
This 20-feet tall geodesic dome is a replica of the Death Star sitting on top of a Lafayette home. Build by Colby Powell, this gigantic display was initially made for Halloween. Anticipation of the new Star Wars movie and the popularity of the shimmering Death Star display meant it was not taken down for good.
# Imperial Walker Bunk Bed
Resembling the AT-AT Imperial Walker, this loft bed is made from material that is readily available on the internet or at your local store. It took almost six weeks to complete using plywood frames which were painted in At-AT pattern and colors.
# Functional Hovercraft
Since this hovercraft is not a Sci-Fi movie inspired DIY, it just missed the main list. Otherwise, it is an awesome creation which any kid would love to own. Created by Paul Boswell from Minnesota, this hovercraft is as imaginative as it can get.
# AT-AT Replica
Coming from Colin Furze, this real life AT-AT replica is unbelievable as it stands tall at a height of 10-meter. On the inside, it is a Star Wars fan's dream come true, and his two sons just love this one.