Since your bedroom is a place where you spend most of your time relaxing or daydreaming, personalizing it with a comfortable bed that is both modern and innovative will enhance its visual appeal.
To add an extraordinary and individualistic touch to your room, you need to bring home some versatile bed designs that meet specific preferences of different family members. From bed book to robotic sleeping platform, here 15 unique beds beautifully designed and tailored to suit your individual requirements.
Aquarium bed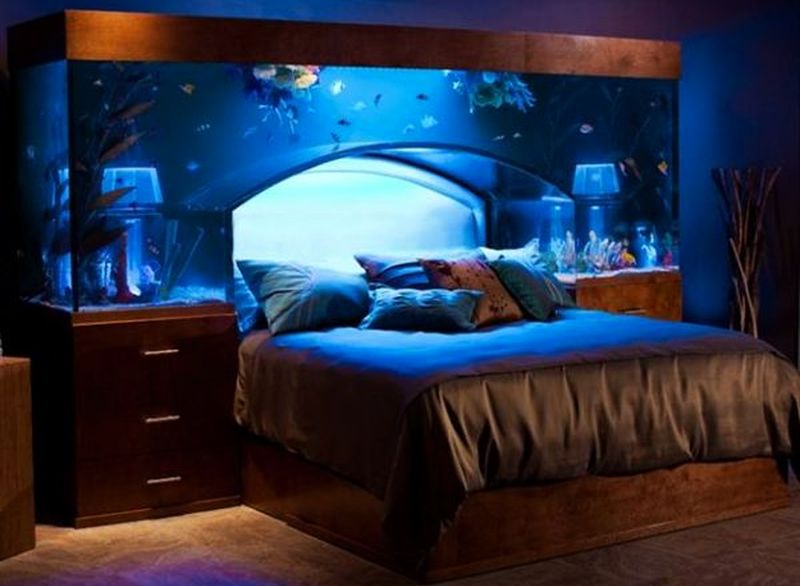 Sleep amid the fishes with this Aquarium Bed. With the headboard designed as a huge aquarium that creates an underwater sleeping illusion in your bedroom, the bed is created by Acrylic Tank Manufacturers. The aquarium bed will be a one-of-a-kind asset to your home interior, especially if you're a marine life enthusiast.
Coupe sofa bed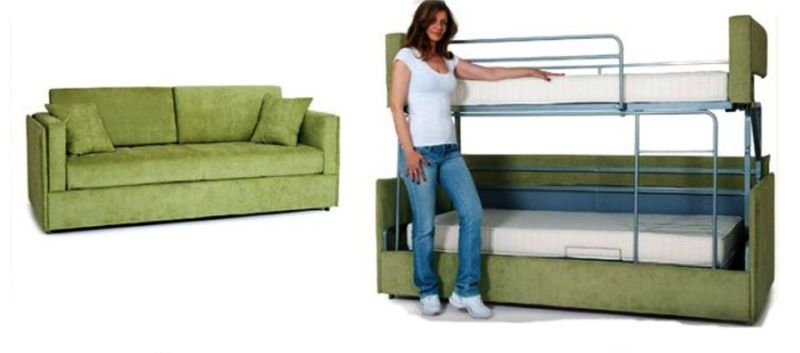 Coupe Sofa designed by Greece-based furniture manufacturer Proteas turns into a bunk bed in just 14 seconds. It provides you an innovative, quick and reliable solution to save your time as well as space by serving multiple purposes. The sofa comes with built-in two bunk beds that work on an Italian mechanism, which makes popping out of the bunk beds quite easy.
Bed-gun safe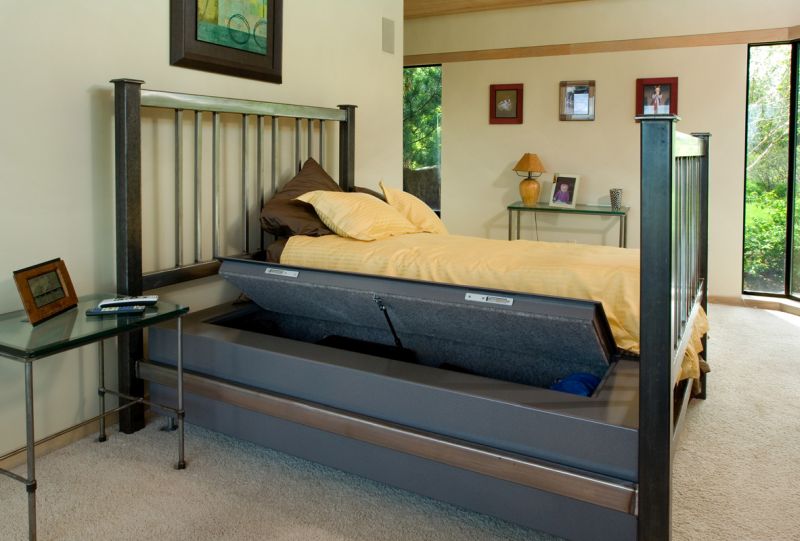 Heracles Research Corporation has created this unique Bed-gun safe to hide your riffles and other armors in the safe underneath the sleeping platform. With increasing numbers of mass killing and home-invasion around the world, safety has become a major concern for people everywhere. So, this weapon concealing furniture is perfect for homeowners who live in regions where chances of perpetrators attacking a family are high.
Jumbo 747 sleeper bed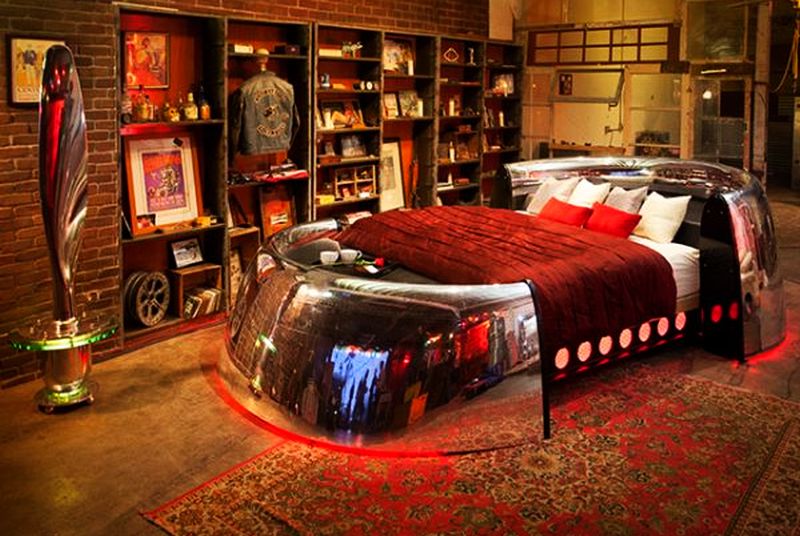 Designed by MotoArt, Jumbo 747 sleeper bed is integrated with programmable LED lights on the base to add a beautiful ambiance to your bedroom. Apparently, the reclaimed material used to construct this lavish bed was once used as a passenger carrier. While paying tribute to the art of aviation, the sleeping area, including footboard and headrest of the bed is padded with leather for a stylish appeal and extra comfort.
Bedfellow robot bed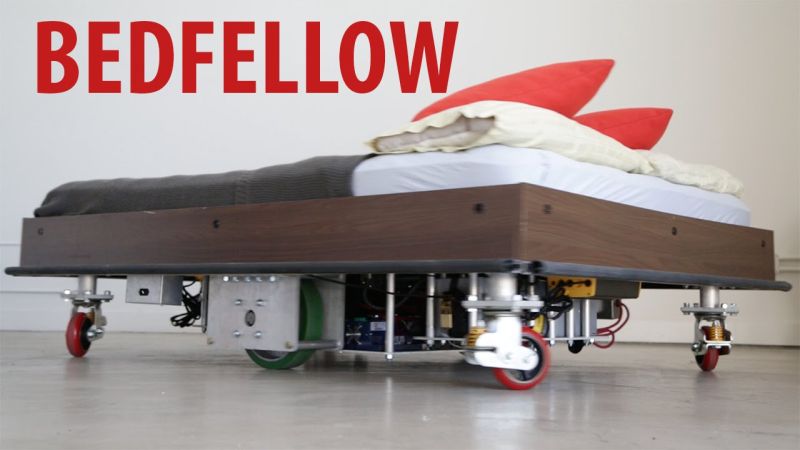 Instructables user [Randofo] has created an autonomous DIY Bedfellow robot bed integrated with tiny wheels to function as a self-driving electric vehicle. Due to the electric wheels, it is easy for the user to shift it from one location to another. On the other hand, the resting platform of bed is equipped with a soft mattress and pillows to offer a comfortable sleep to the user.
Bed book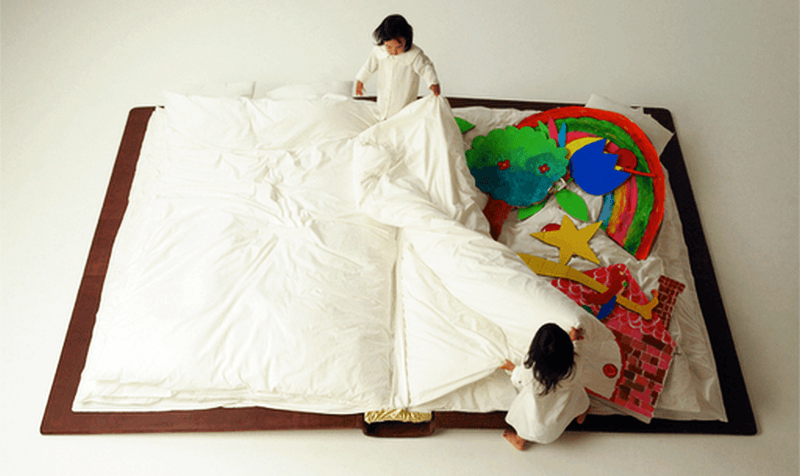 To solve the problems of limited space apartments in urban cities; photographer and innovator Yusuke Suzuki, has created a fold-up bed that resembles a huge book. When not in use, the bed can be used as a playmat or folded to free up some space in the room. On the other hand, at night you can open this book to reveal it's pages that serve as a duvet and pillows for a cozy sleep.
Enignum VI canopy bed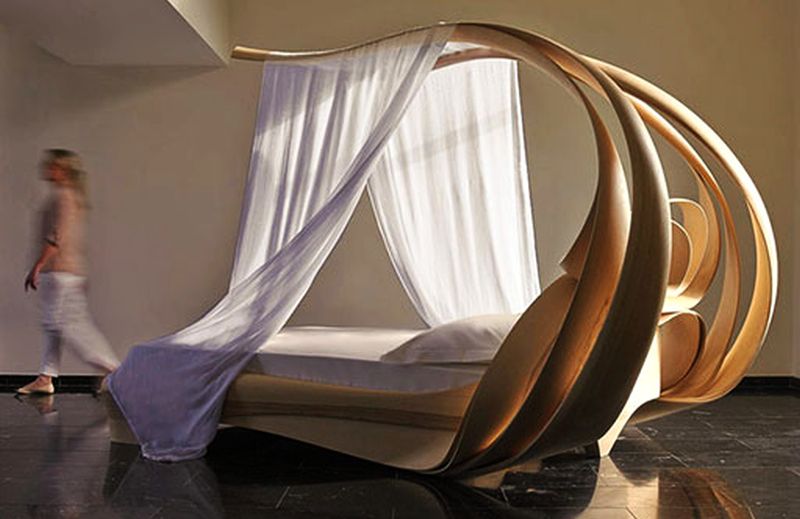 Joseph Walsh Studio has created Enignum VI canopy bed that is made from ash, a pliable wood that is particularly suited to the manipulation process. Planks of ash are sliced into 2mm sheets that are further fixed together into the vague shape of the finished piece. This angular structure is then hand-carved to achieve the beautiful curves on the bed.
Doc sofa bunk bed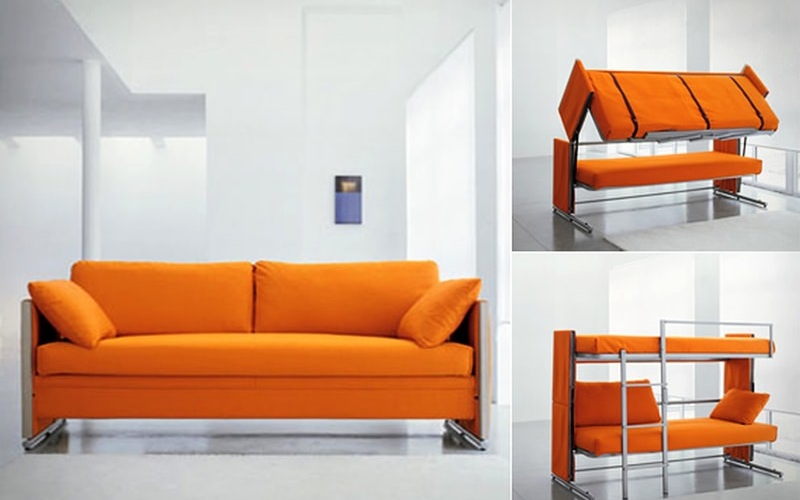 Designer Giulio Manzoni has created this amazing Doc sofa bunk bed that serves as a seating system as well as a bunk bed. During the daytime, you can use it as a comfortable couch in your living room, whereas at night you can turn it into a cozy bunk bed in a mere 12 seconds. With this multipurpose piece of furniture, there won't be a problem to accommodate uninvited guests.
Ohea robotic bed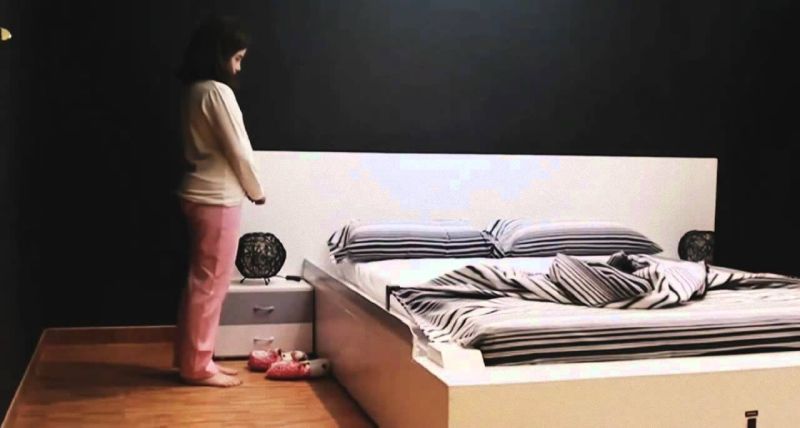 The Ohea smart bed is an intelligent robotic bed that's integrated with sensors to automatically fix its sheets, duvet, and pillows on its own. This automatic bed is designed for those who don't like to make their bed every morning. The built-in sensors in the bed can detect when it's empty and autonomously does the morning chore for you.
Birdsnest bed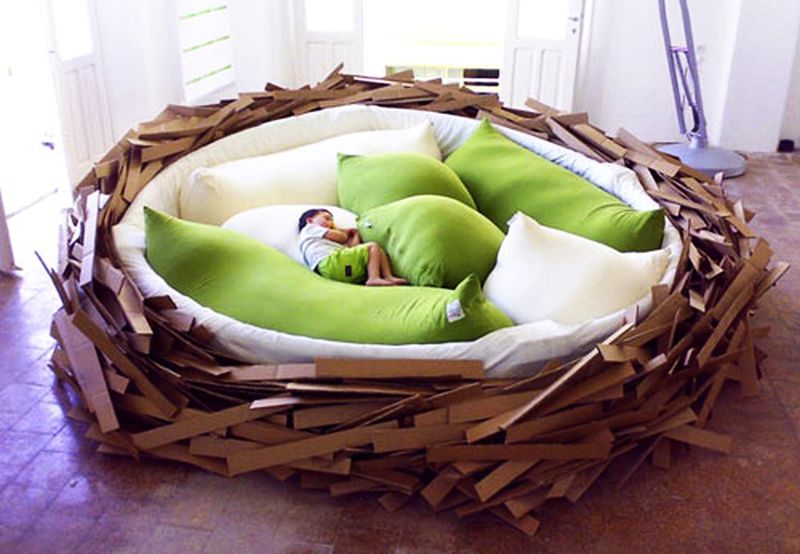 This giant Birdsnest bed is created by O*GE CreativeGroup to add exquisite appeal to any contemporary home. It's part furniture and part playground that gives a whimsical makeover to any room. Whether children or adults – this unusual bed design is perfect for individuals of all age groups.
Also Read: 5+ Best Retractable Ceiling Beds
Beer barrel bed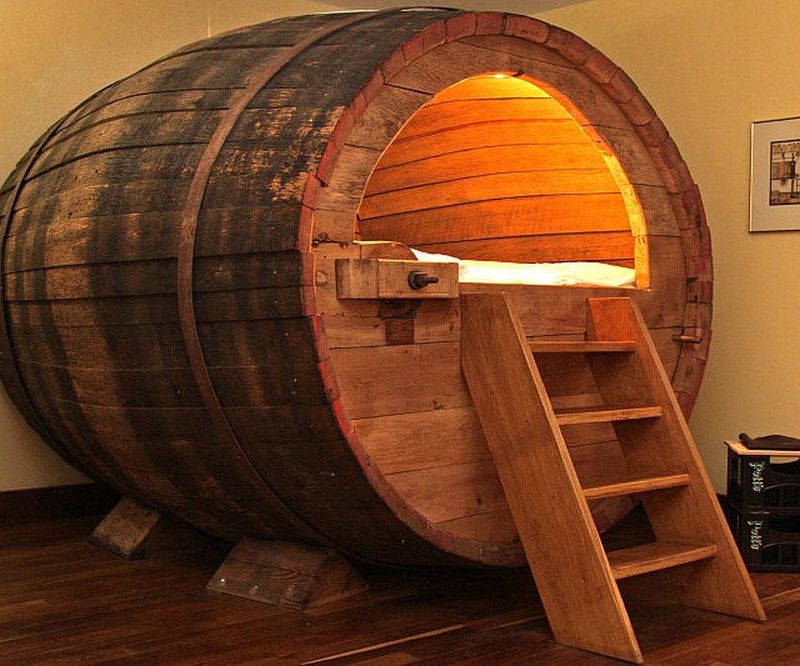 Now slumber like old brew masters of yesteryear with this one-of-a-kind Beer barrel bed. Crafted from retired 19th century barrel, this innovative bed design can comfortably accommodate one or two people. It will be a fun addition to any modern bedroom, but it's surely not for anyone who is claustrophobic.
Tranquility pod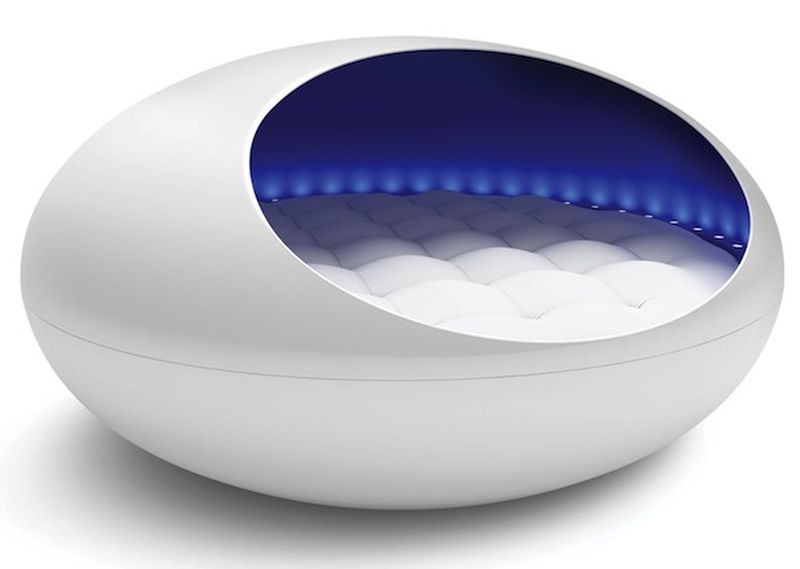 Futuristic egg-shaped Tranquility Pod is designed to massage the user to sleep. It is integrated with elements of meditation and sensory bliss, an approach to a better way to sleep. When you lie on a memory foam cushion, the pod gently soothes your entire body and provides utmost relaxation. The pod includes an inner ambient lighting system that further contributes to a relaxed, floating sensation, simulating the primal sense of being in the womb.
Hot bed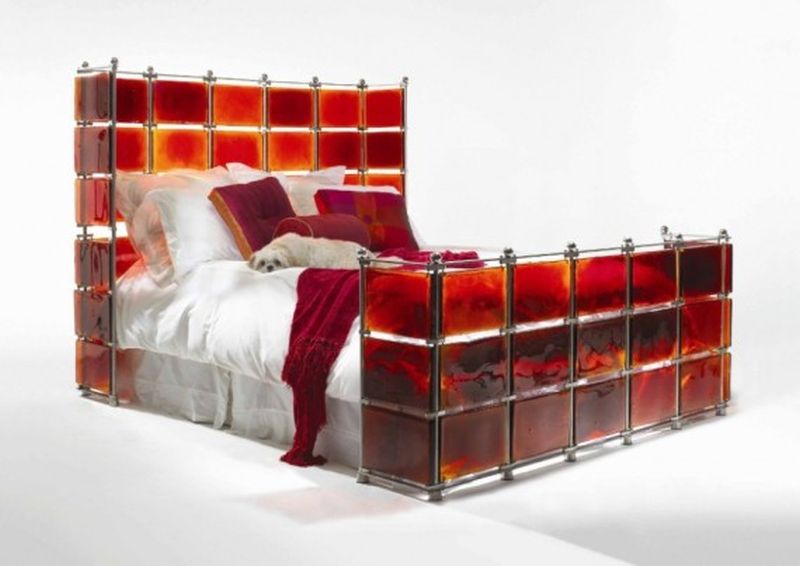 Hot bed is a stylish and extraordinary furniture piece that will be exclusive addition into any contemporary bedroom. Not literally hot, but the 'red hot' design of this exquisite bed makes it a centerpiece of your space. The bed has been handcrafted with stained glass and stainless steel. The headboard can be detached when you want to relocate it to another room.
Golden bed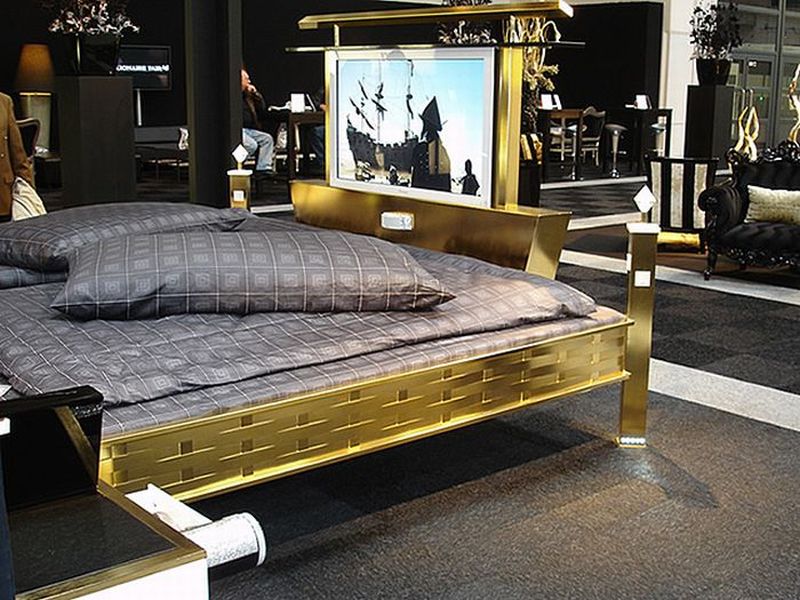 For the well-heeled who live their life surrounded by luxuries, this Golden bed by Jado Steel Style is a perfect bedroom addition. The bed is entirely coated with 24-carat gold and adorned with Swarovski crystals. Besides that, the bed also conceals a flat TV that remains out of sight until the user wants to watch their favorite TV shows. The price of standard Golden Bed starts at $676,550, whereas Jado Steel designers and craftsmen can customize the bed according to individual needs.
Magnetic hoverboard bed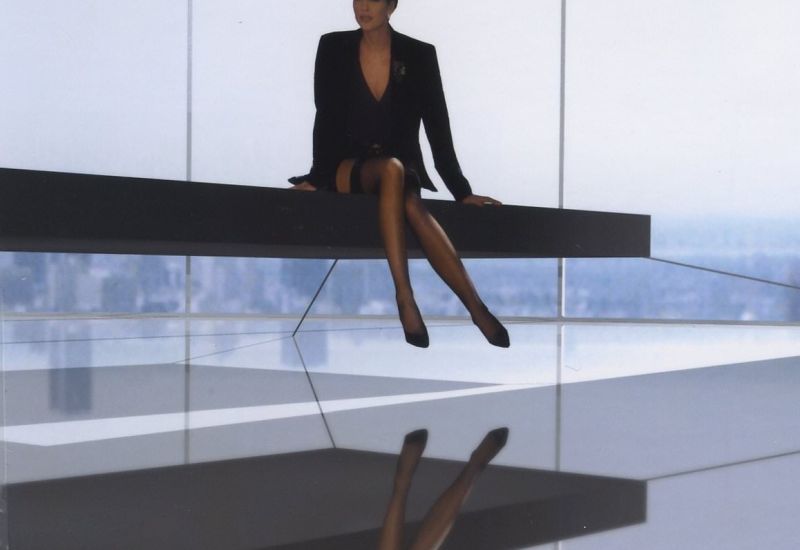 Architect Janjaap Ruijssenaars has created this futuristic Magnetic Hoverboard Bed that floats in mid-air. It is the result of seven years' dedication and hard work. The bed is integrated with a non-degrading magnetic support system. The bed frame itself is a simple rectilinear board that appears to hover on invisible legs.