The year 2021 is about to end and it's safe to say that the age belonged to the brilliant feats in the world of design and architecture. Kicking off fresh beginnings in 2022, we are ready to chug champagne and embark on a new journey to the future that belongs to downsize living. But before that, let's have a glimpse of some of the most intriguing tiny houses of 2021 that were featured on Homecrux.
The list comprises a total of ten tiny houses that made their impact felt as soon as they were unveiled by the construction companies. Some of these tiny houses adorn their posh interior while others boast their sleek exterior. Some are jam-packed with a list of features while the rest focus on minimal living. In short, no matter what your preferences are, there is something or the other for every tiny house lover to explore in this elusive list of the best tiny houses of 2021 that are the epitome of living life downsize.
Vista Boho XL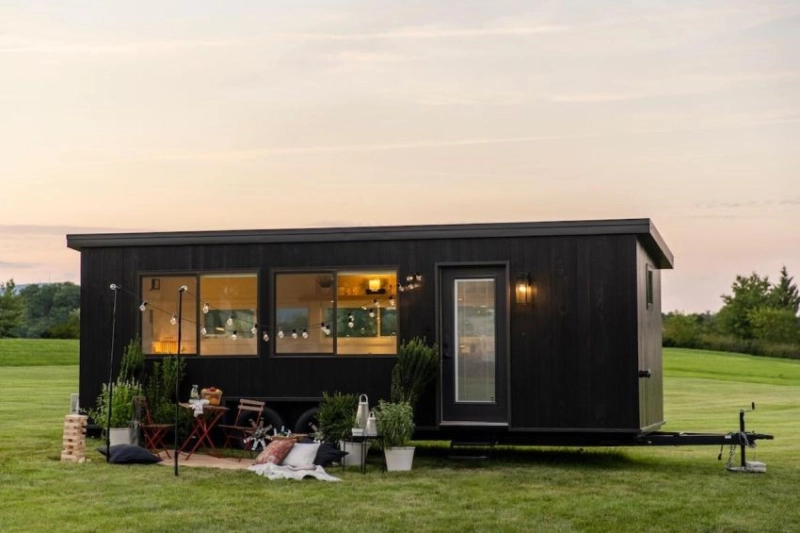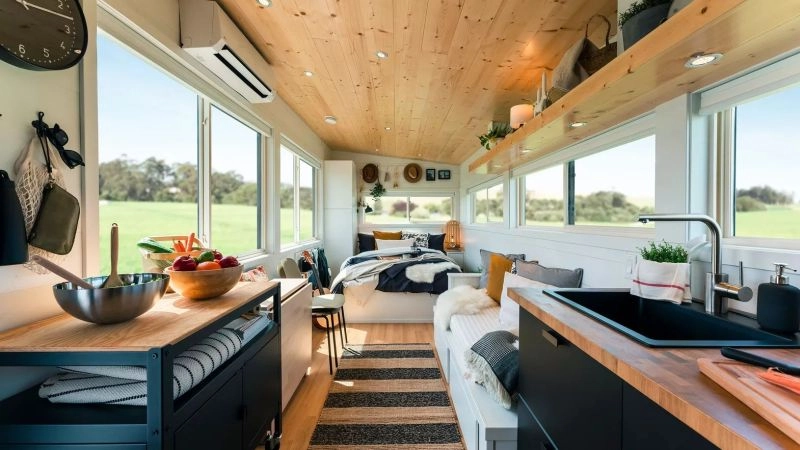 The tiny house by IKEA in collaboration with Vox Creative and Escape Traveler was all about gluing sustainability with mobility. Spread over 187-square-feet, the tiny home has off-grid capabilities with a possibility to include solar panels, a composting toilet, and an RV water heater.
Redefining the meaning of minimalism, the house is graced with IKEA furniture products like KUNGSBACKA door fronts, TILLREDA induction cooktop and MALM storage bed. With Vista Boho XL, IKEA set an example on how sustainability and affordability go like hand in glove without compromising design.
Magnolia V8 Tiny House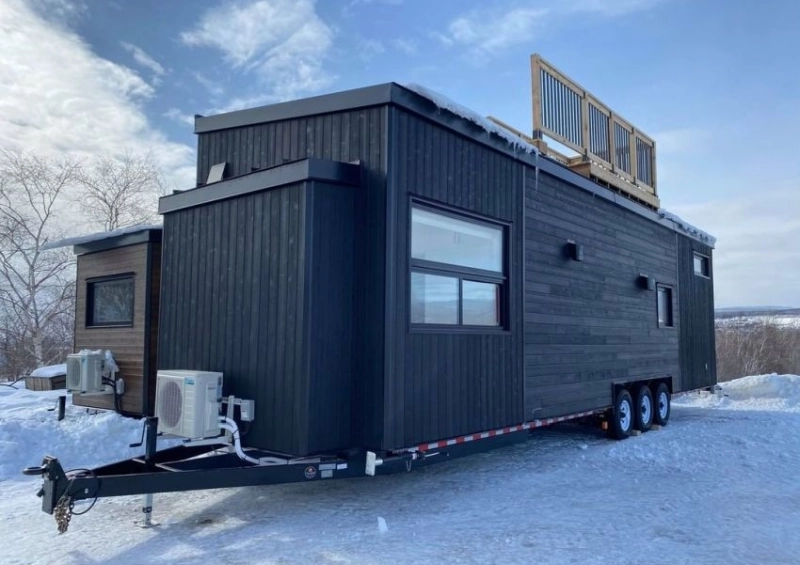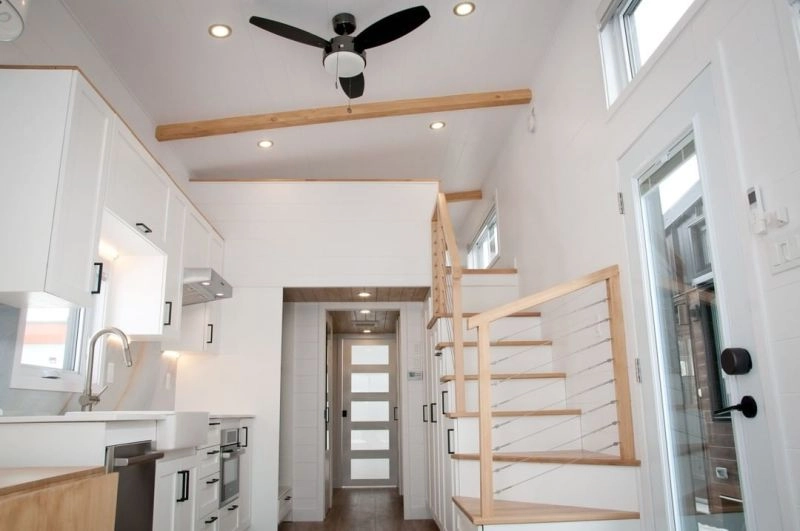 Compiling a list of tiny houses on wheels and not talking about Minimaliste would be a sheer insult to the Quebec-based tiny house builder. The Canadian tiny house maker came up with a new version of its popular Magnolia model that offered similar exterior styling to the previous iterations but was topped by a rooftop deck area with railings.
Built to withstand any climatic condition, Magnolia V8 is equipped with under floor heating and AC. Additionally, the house also features a bathtub and a dishwasher, which is a very rare offering in a tiny house.
Denali XL Bunkhouse Tiny House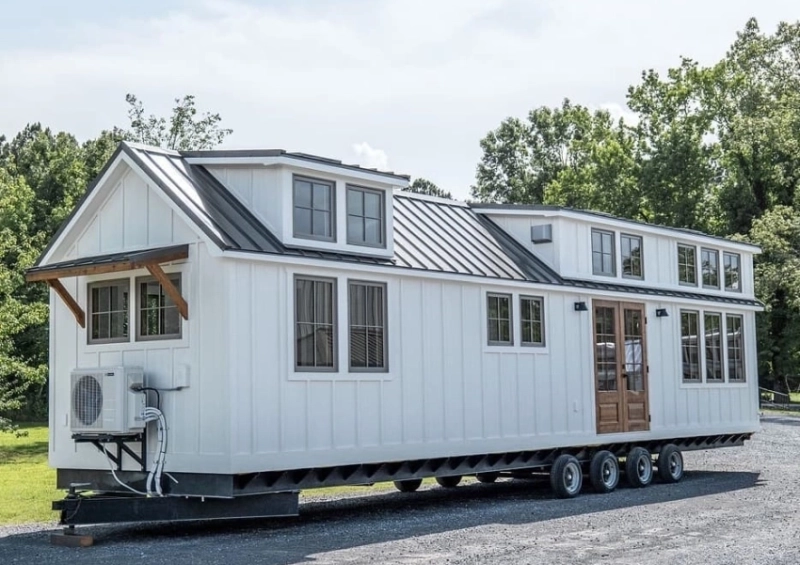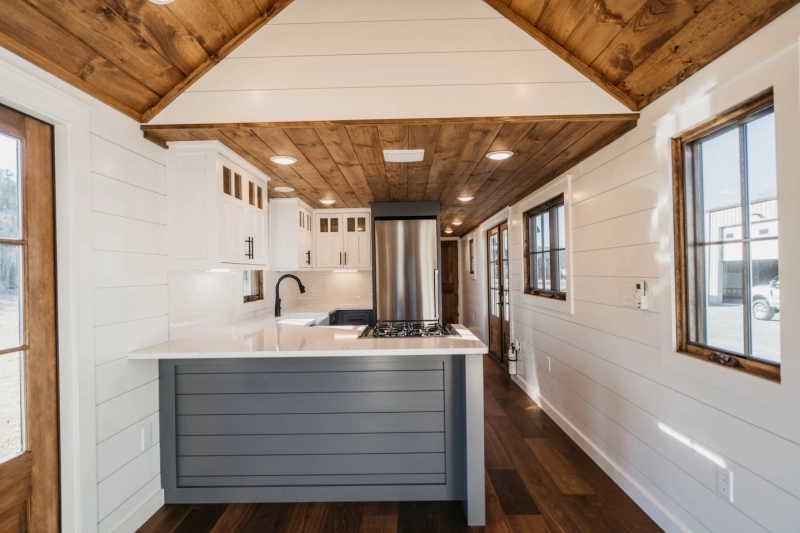 Choosing to not rest in its laurels, the Alabama-based Timbercraft tiny homes updated Denali tiny house not once but twice and graced 2021 with the XL Bunkhouse, the latest iteration to their Denali model. The house features a total of three bedrooms – two in the loft and one downstairs. The tiny house on wheels came with a reputation of being the biggest tiny house in the downsize industry that could sleep a family of six.
Measuring 12.6m long, it features board and batten siding on the exterior and is topped by a seam metal roof. Furthermore, the high ceilings and large windows make small space living convenient and comfortable.
Muriel Tiny House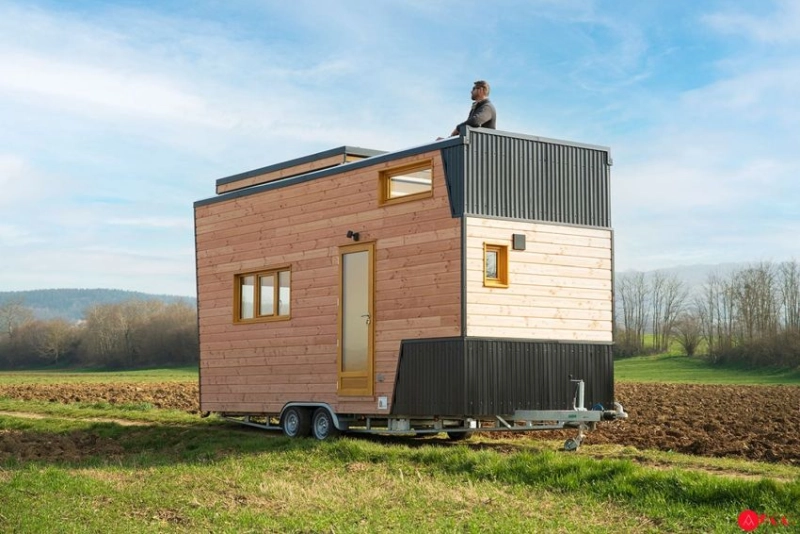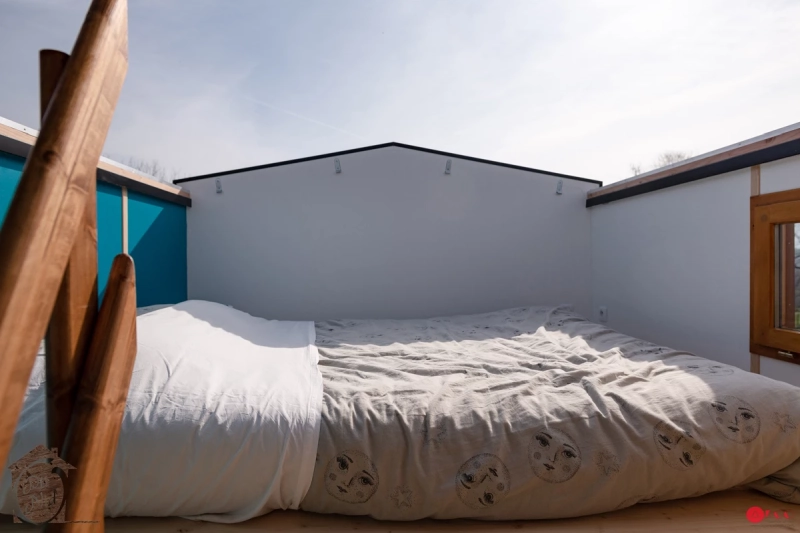 The Muriel tiny house is a vacation rental with a sliding roof that allows guests to sleep under the stars. Finished by French tiny house builder Optinid, the tiny house features a bedroom that can be reached via a ladder unlike the staircase in most models.
The Muriel tiny house has a mezzanine that accommodates the bedroom boasting the same sunroof-style sliding rooftop. In addition, there is a kitchen with a dining table, living room with a convertible sofa-bed and a bathroom with water-based toilet and shower to facilitate guests a warm stay.
Kapiti Tiny House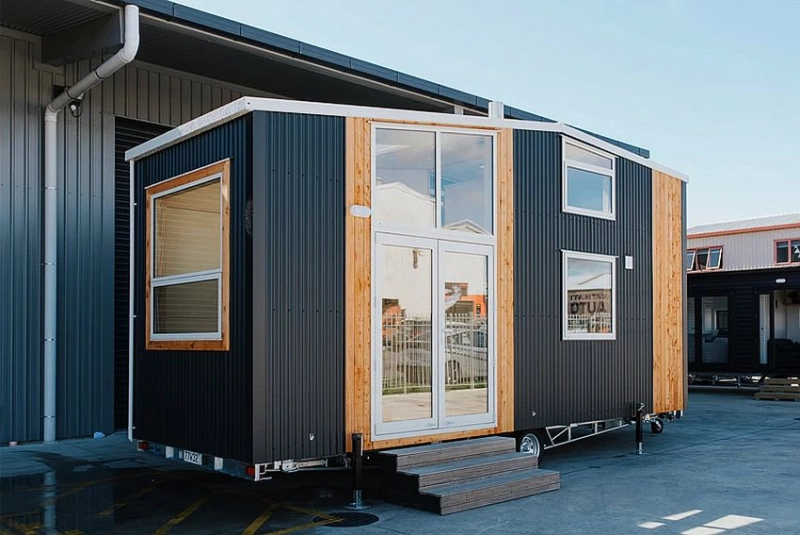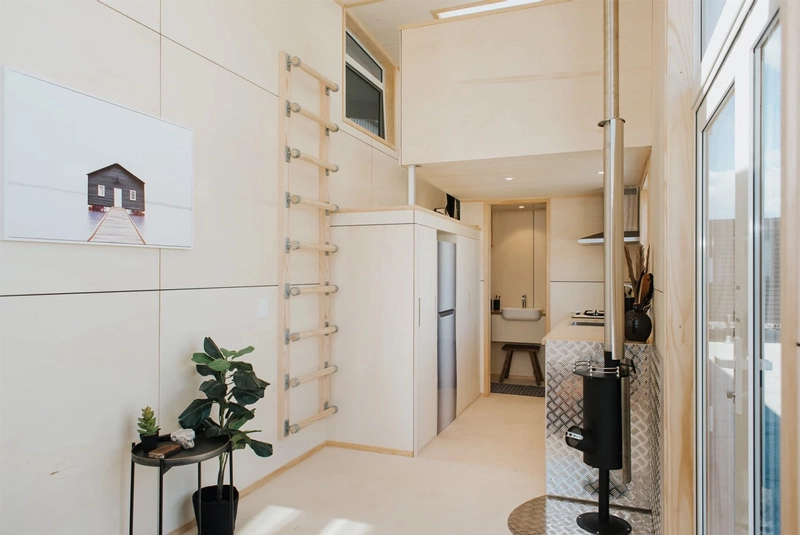 Balancing portability and comfort seems to be a forte of New Zealand's Build Tiny. The kiwi maker introduced Kapiti tiny house in 2021 with an aim to focus on maximizing small spaces with a light-filled interior layout.
Measuring around 7.2m, the exterior of the house consists of painted steel and macrocarpa timber while the inside area is packed with a living room, kitchen and a small bedroom that sleeps two people easily. The bedroom is reached by the ladder fixed to the wall.
Hazel 8.4 Tiny House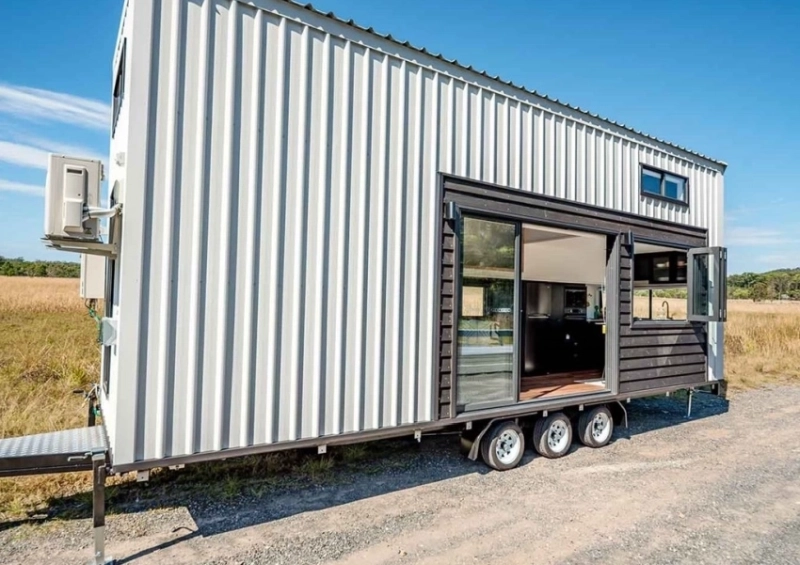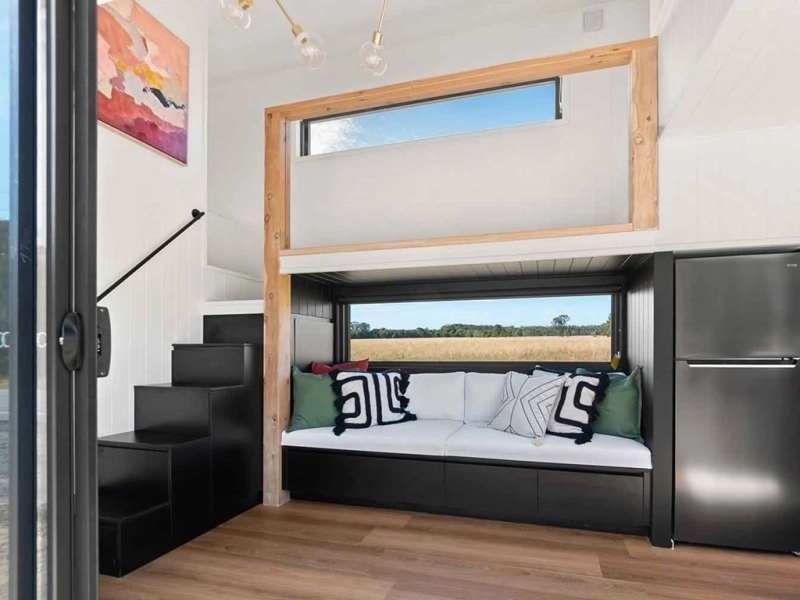 Featuring two loft bedrooms with additional ceiling height, Hazel 8.4 is one of the most popular tiny houses on wheels in 2021. Characterized by an open-plan living area, the house also comprises a U-shaped kitchen with a breakfast bar in front of a large window that connects the indoors to the outside.
Built by Aussie Tiny Houses, Hazel 8.4 also offers plenty of storage space within the stairs and under the couch. In addition, there are drawers constructed under the bed to keep your accessories. Accommodating a family of four, the company also offers many different upgrades including solar panels and batteries to cater to off-the-grid travel needs, if required.
Sunset Skies Tiny House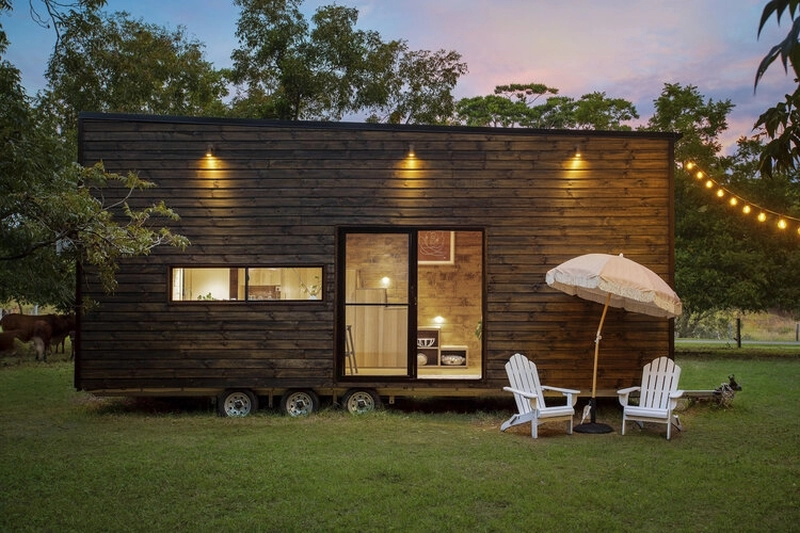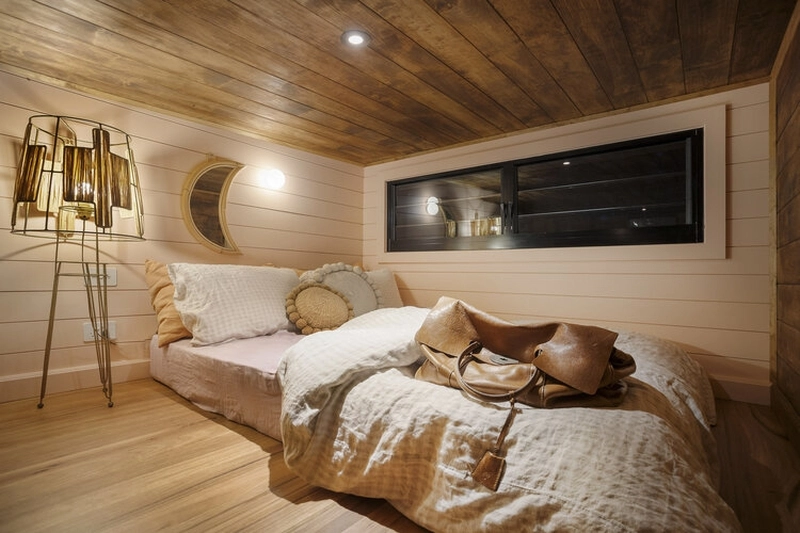 The sustainable high-end tiny house made by New South Wales tiny house maker, Roll on Home surpasses the comfort level any other house would fail to replicate. From boasting a rich exterior made up of timber lining and cladding to a posh interior comprising of solid blackbutt floorboards, the house is a treat to own.
Sunset Skies comprises a living room, kitchen, and a queen-sized bedroom on the loft that comes with hardwood privacy screens, which make it an absolute peach. The best aspect of the tiny house is its interior that's packed with cabinetry and shelves to store the necessary items. Flyscreens covering the entire window alongside LED lightings add allure to the beauty of the house.
Also Read: 5 Environmental Benefits of Shipping Container Homes
Ohariu Tiny House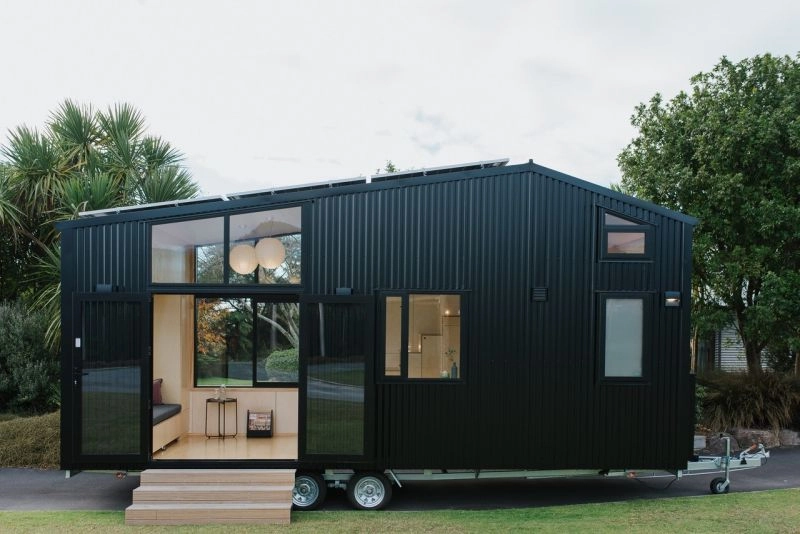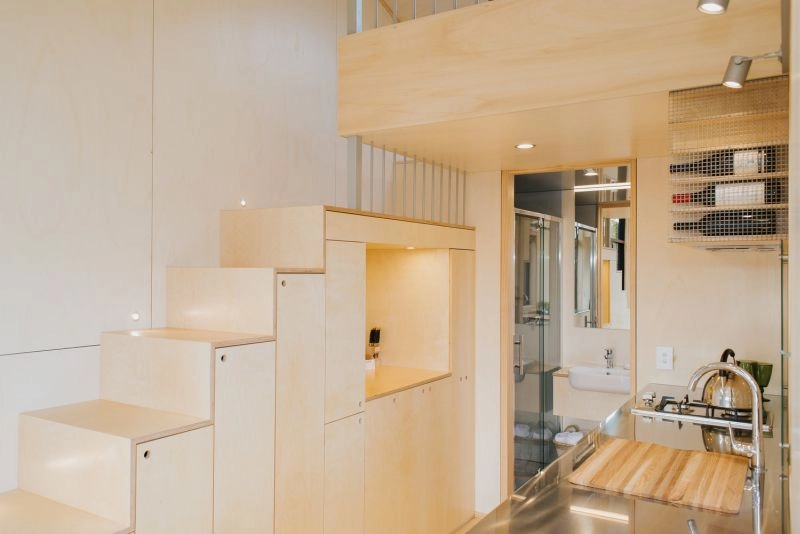 This net-zero tiny house is certainly one of the best, if not the best of tiny houses on wheels in 2021. Featuring a fully-functional kitchen and a lot of storage, the tiny house focuses on minimalist and net-zero living. For off-grid living, it features solar panels on the rooftop.
Designed by New Zealand-based architecture firm First Light Studio and built by local company Build Tiny, Ohariu features a sleek exterior clad with black corrugated metal. The inside area comprises a comfortable living room, bedroom, kitchen and bathroom. The living area features a sliding sofa bed with three storage compartments beneath it.
Aranka Tiny House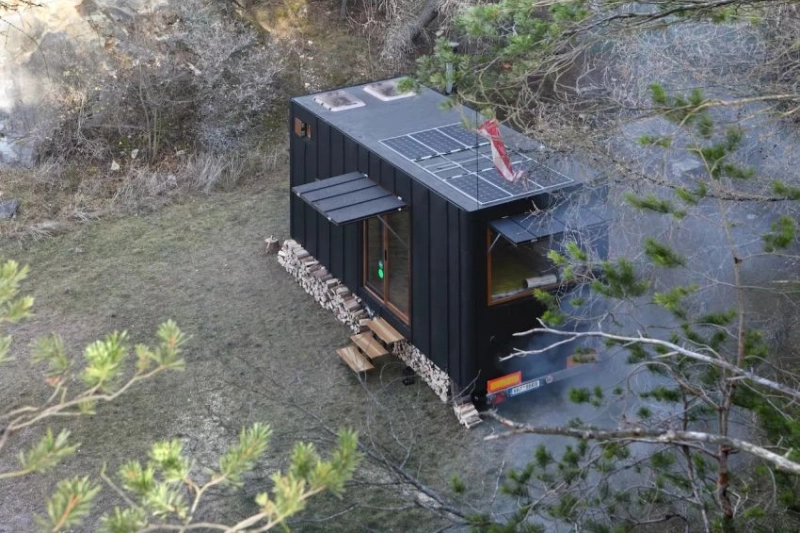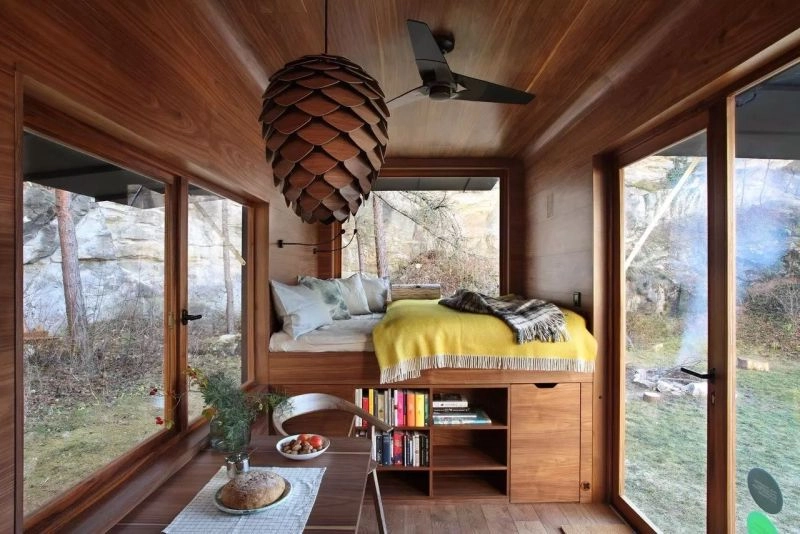 Designed by Martin Kožnar and built by Czech brand Hide and Seek, Aranka tiny house on wheels is a fully energy-efficient and self-sustainable living unit. Placed amidst nature, the tiny home features an innovative design that harvests rainwater as well as solar and wind energy to provide an ultimate off-grid living experience.
The tiny house on wheels also features a pair of beds alongside a well-furnished kitchen and a bathroom that caters to the needs of inhabitants. Additionally, a wood burning stove will keep inmates warm during cold months.
The Phoenix Tiny House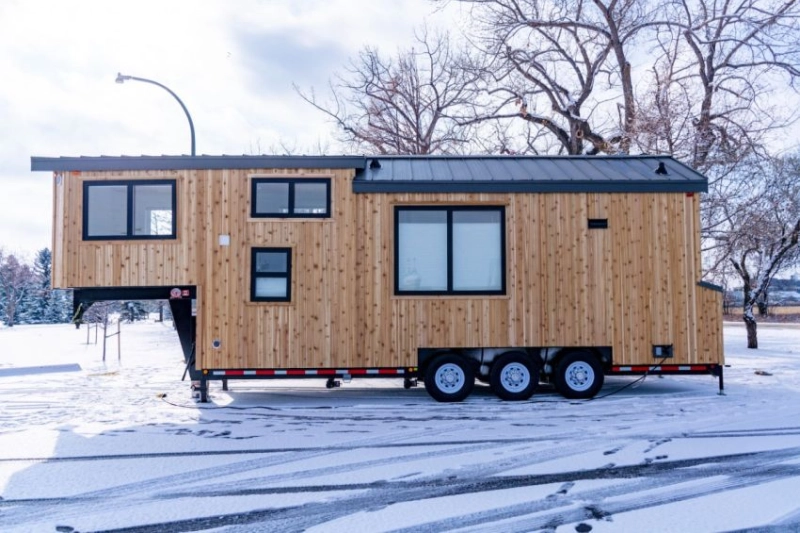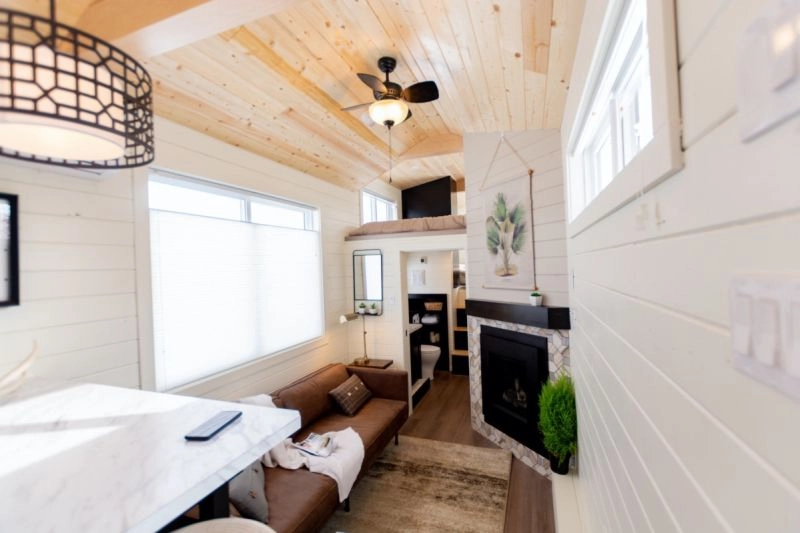 Distinguished by its unique design and cantilevered-style structure, Phoneix is a 34-foot-long tiny house on wheels.  Like any other tiny house, it has an exterior coated with wood cladding and a metal roof.
It features an overhanging loft on the front while a cozy living room with a fireplace, a U-shaped kitchen, bathroom, two loft bedrooms and a built-in pet house presides in its interior.
Wrap up
I am sure you loved our round-up of tiny houses on wheels in 2021. With these mini houses gaining immense popularity, my guess is that more and more people will drift toward these little, comfortable, and affordable homes in 2022.