The past decade made the world realize the importance of recycling and upcycling. Converting waste into reusable material not only saves energy and raw material but also reduces greenhouse gas emissions and helps in the betterment of our planet. Realizing the importance of upcycling and recycling in the present-day context, we actively introduce you to simple recycling ideas and hacks that can elevate your home interior during the festival season, be it Halloween or Christmas!
We are sure you must have gone through our list of the best Christmas trees made from recycled materials. Now, we are sharing with you a list of the 10 best Halloween decorations and crafts along with their DIY video tutorials. This list will help you make your own unique recycled Halloween decorations from discarded materials and cherish the spooky season to the fullest.
Toilet Paper Bats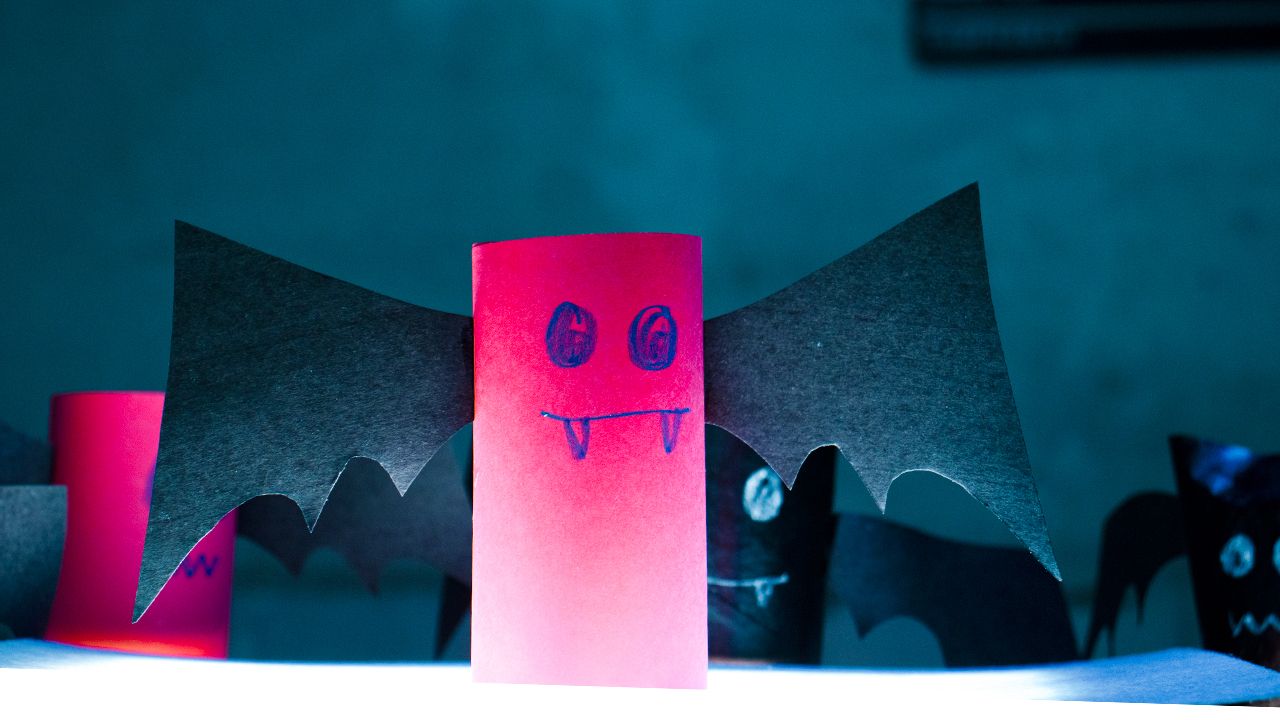 There is so much you can do with leftover toilet rolls after you've used the paper. The easiest thing you can do is make a Halloween bat out of it. To help you with the process, my colleague Priya shares a DIY tutorial about how discarded toilet rolls can be reused to make creepy Halloween bats. It is a fairly easy DIY you can pull off with toilet paper rolls, a scrapbook, eye stickers, glue, and some patience and perseverance. If you were considering ideas to spook your bathroom for Halloween, these DIY bats will make outrightly gorgeous and downright spooky addition.
Paper Cup Ghost Lights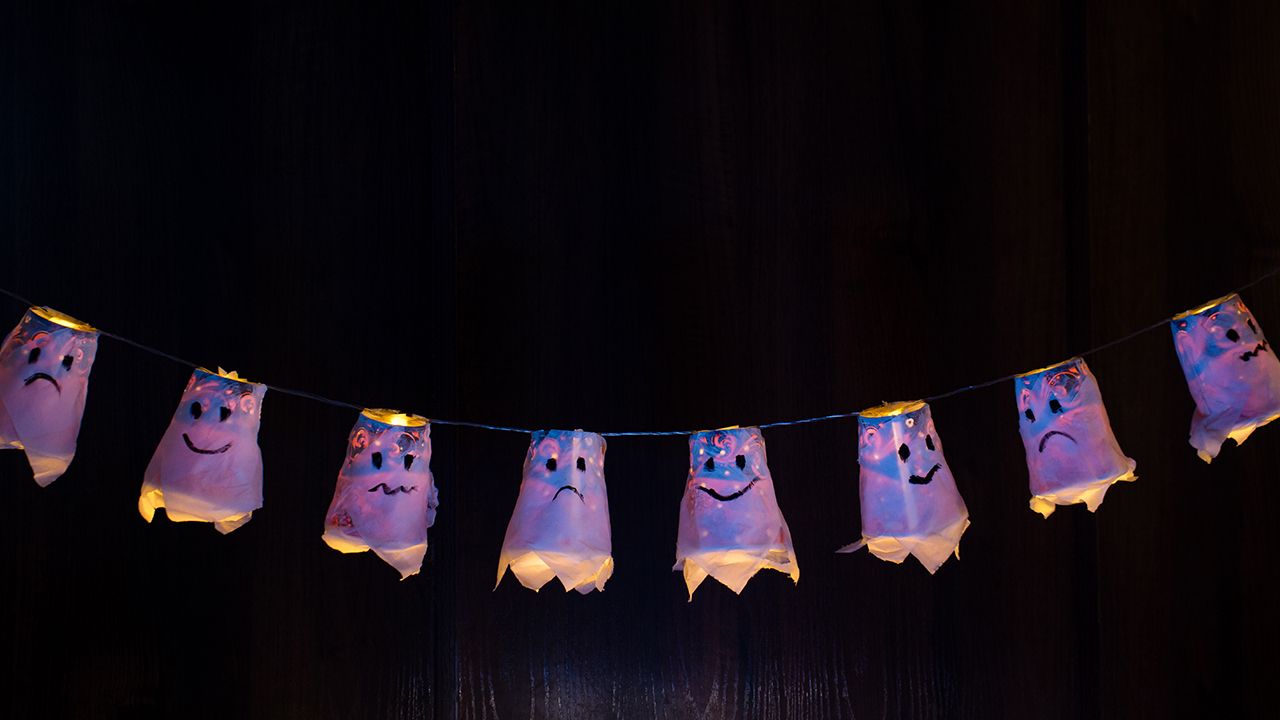 Lighting is one aspect where we spend most of our money during the festive season. If you already haven't checked out the cheap and spooky Halloween string lights to glam your house interior, I implore you to try making these paper cup ghost lights. All you need to do is save disposable cups instead of throwing them in the trash. Then wrap those cups in toilet paper, paint some ghostly faces on them, and then insert small light bulbs inside them. Enjoy the glow.
Haunted House from a Shoe Box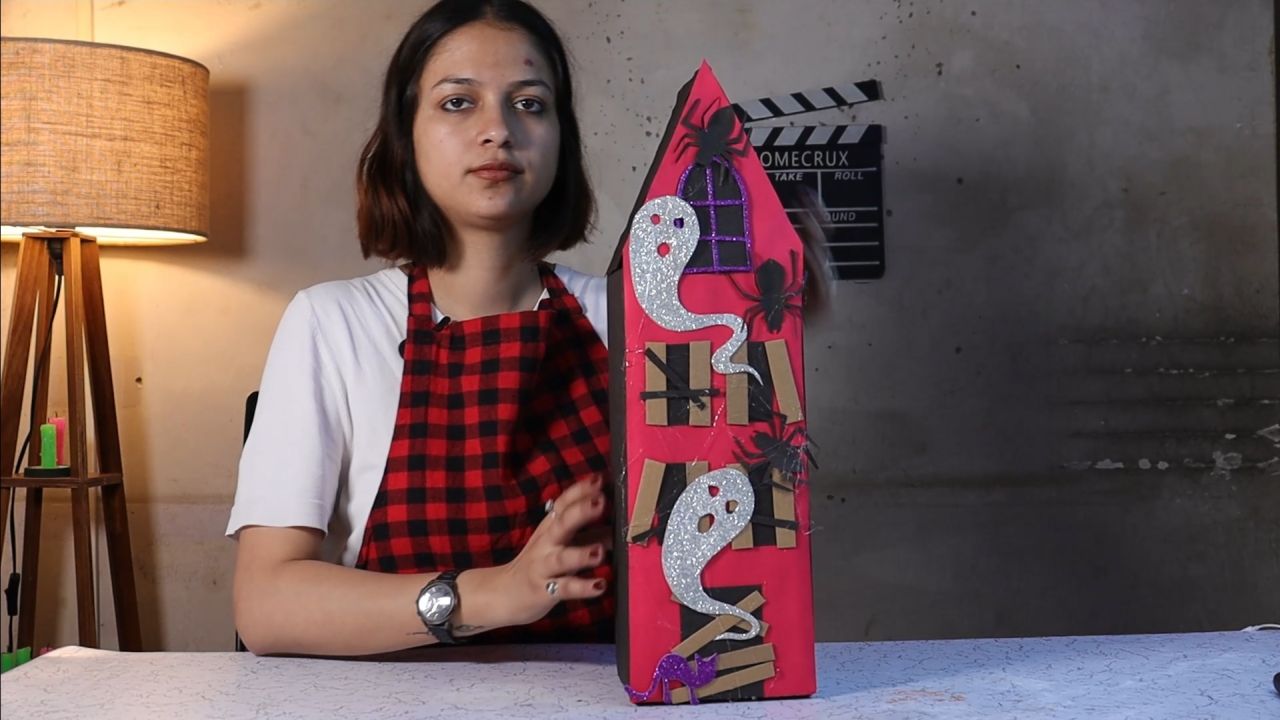 Buying a miniature haunted house is not easy. It's expensive but sometimes your kids are insisting on having one. The middle ground here is to craft a haunted house of your own and what's better than creating recycled Halloween decorations? For this craft, you'll need an old shoe box, charts, scissors, hot glue, glitter paper, and Halloween-themed paper spiders. Watch the full video tutorial linked above to know the entire DIY process.
Also Read: 35+ Simple and Easy Halloween Crafts and Activities for Kids
Egg Carton Wreath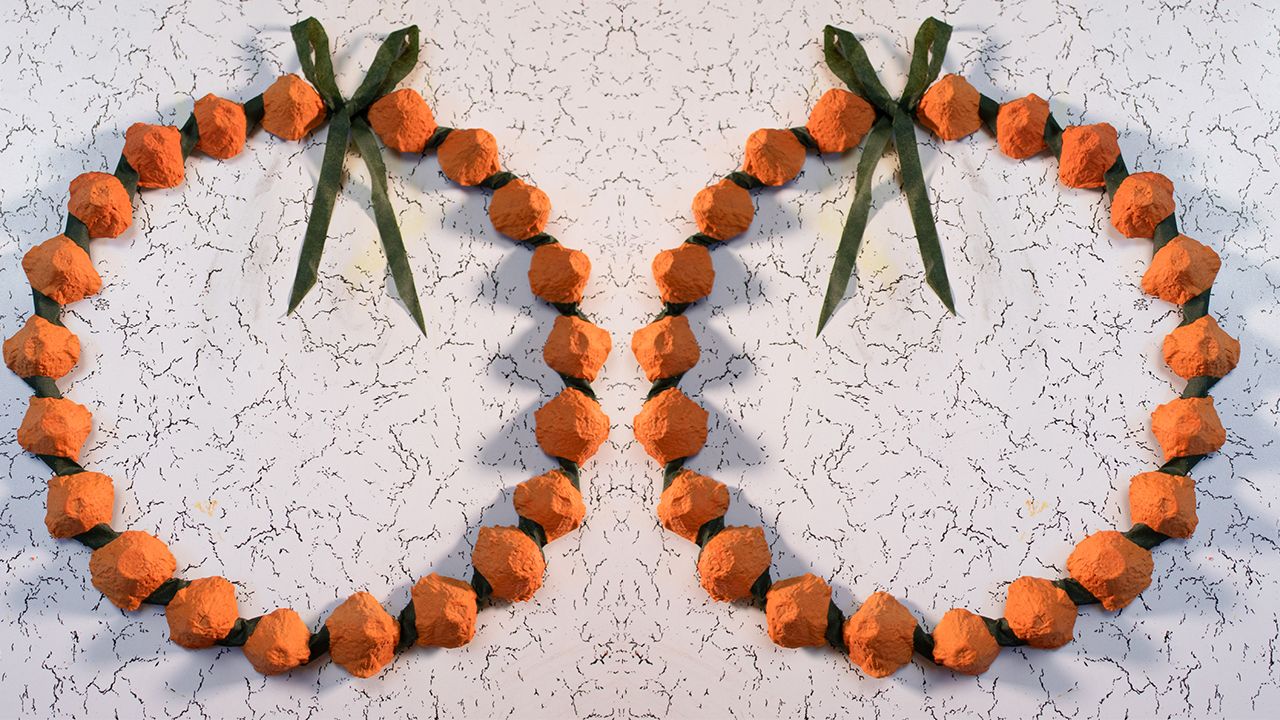 Turning leftover egg cartons into a decorative wreath is another inexpensive and easy idea for recycled Halloween decorations. The supplies needed to make this wreath are an egg carton, a paintbrush, a ring wreath base, paint to color the carton, and other stationary items like scissors and glue. Once finished, the egg carton would look good on your front door and would intrigue a lot of people. It is so simple, safe, and easy to make that you can involve your kids in this fun DIY process.
Toilet Paper Roll Vampires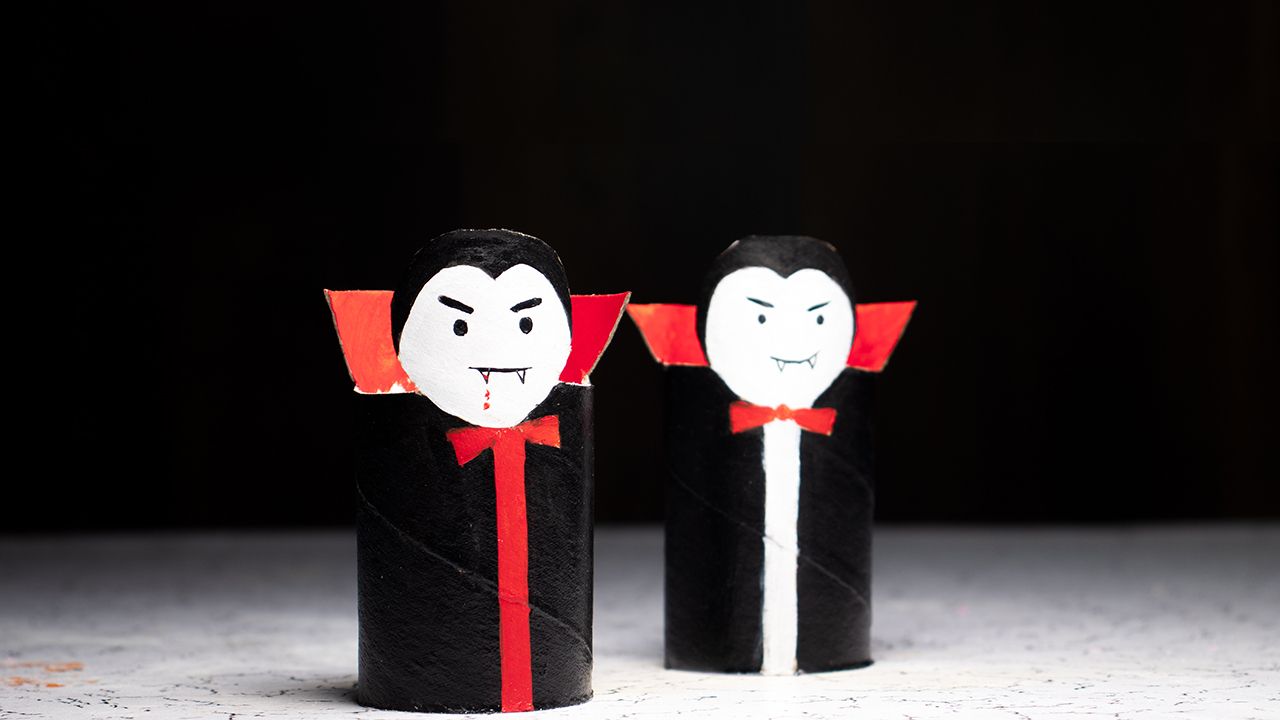 We have already discussed how toilet paper can be utilized to make bats, but there are other things that you can make from them too. You have to be creative with this DIY process of turning your toilet paper roll into a vampire. Be very meticulous while you cut out the shape of the blood-thirsty creatures. All you require is a toilet paper roll, paints, brushes, and a slightly artistic side.
Pringles Can Halloween Craft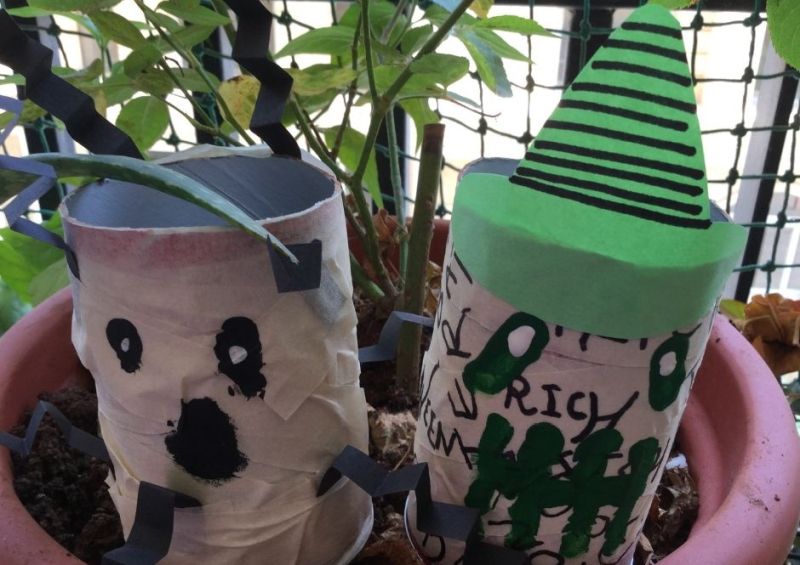 Ever thought of turning a Pringles can into a creepy monster? If not, it's time you do. With Halloween still months away, you have plenty of time to turn discarded can into a decorative item. The only essential needed for transforming a Pringles can into Halloween decorative is a can itself, black paper strips, poster colors, and scissors.
Tutorial: Shimmering Strings
Upcycled Plastic Bag Wreath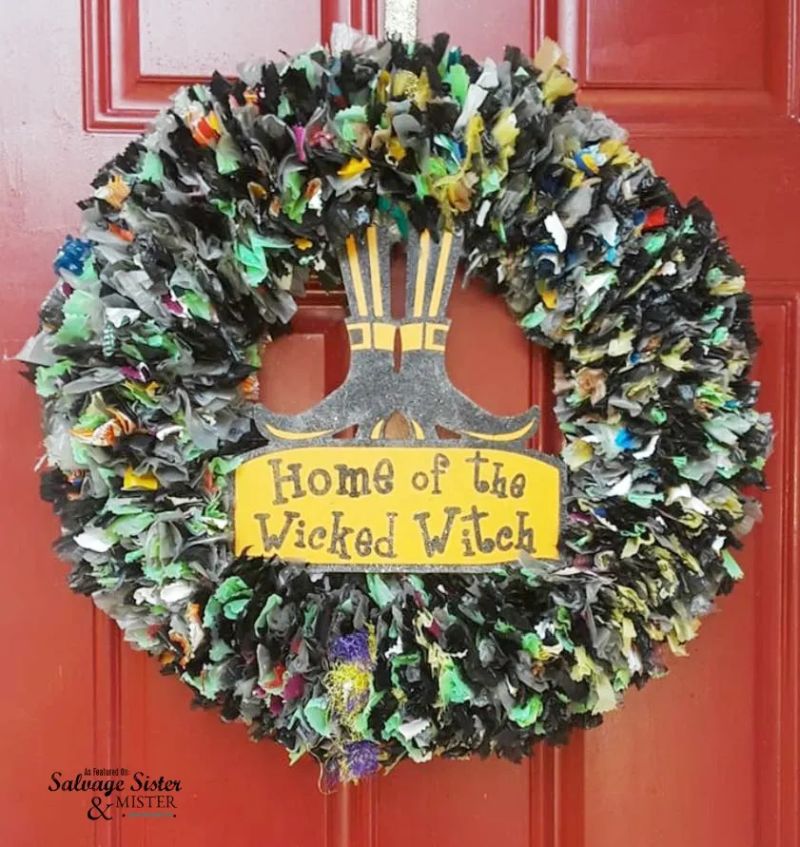 Wreaths are extremely popular during Halloween with witch wreaths being in huge demand. Instead of spending money on an expensive wreath for your front door, I recommend you make a witch wreath using discarded plastic bags. The supplies you require to make this wreath include plastic bags of multiple shapes, sizes, and colors. Do keep an MTB wire wreath handy as well. You'll also need scissors to make an upcycled bag wreath.
Tutorial: Salvage Sister and Mister
Tin Can Spider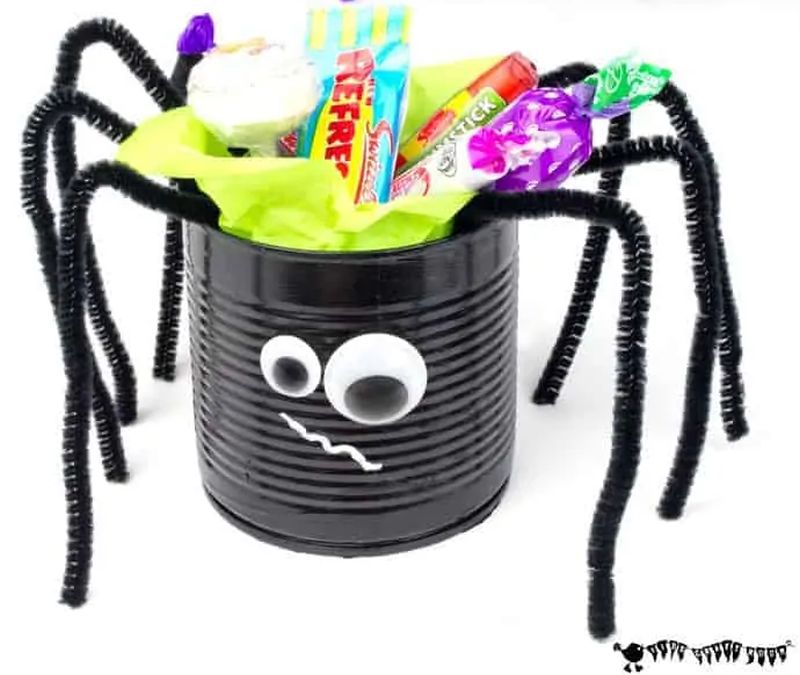 I am pretty sure you must have seen this before in our Halloween Spider decoration ideas list and this is so popular among the masses. Tin can spiders can be made using abandoned cans at home. Paint the cans black and fill them with candies. Add glaring eyes with stickers and daunting legs to the spider using pipe cleaners and your recycled tin can spider is ready to spook the heck out of people.
Tutorial: Kids Craft Room
Tin Can Halloween Jack-o'-Lantern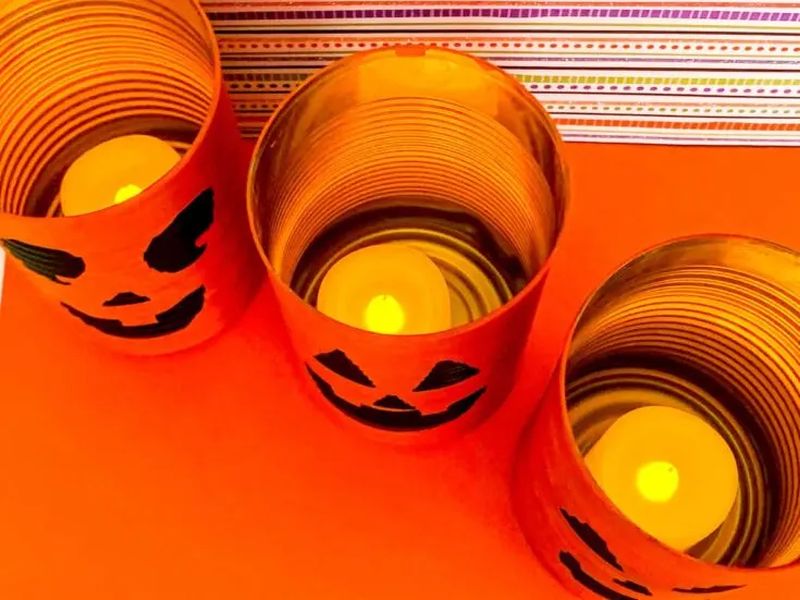 Tin can Halloween Jack O'Lantern is a combination of simple, sweet, and spooky craft in one. It is one of the easiest DIY processes and requires you to paint your old discarded cans in orange paint and add phantom faces using a black marker. Add flameless votive candles to the can and enjoy Halloween with friends and family members.
Tutorial: Single Girl's DIY
Glowing Ghost From Plastic Milk Jugs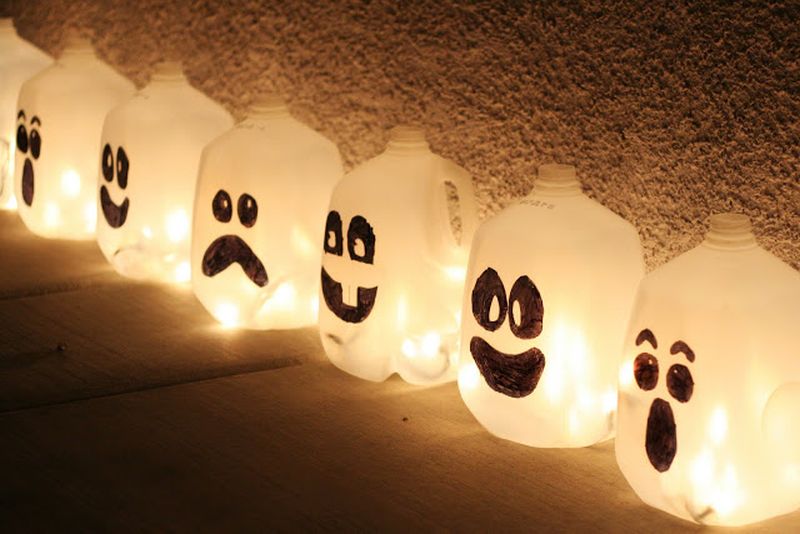 Empty gallons of milk jars at home are pretty common but before you get rid of them, think of creative ideas about where these plastic jugs would fit and add to your home decor. Let me help you out by pitching the idea of creating a glowing ghost. All you require is a plastic gallon and string lights to place inside the jar to make a cozy vibe. In addition, you can make ghostly faces using markers just like the one you did on K-cups.
Tutorial: Eighteen25