The furniture industry has made amazing use of 3D printing technology in the past and present. A fairly 'new' furniture manufacturing concept, 3D printing could provide you with some amazing advantages for future home furnishing. However, no customer has the same preferred design or style when it comes to custom furniture. If we talk specifically about the 3D printed chairs, these act as a fun decorative piece, as well as a practical piece of furniture.
In this post, we share with you some of the most stunning 3D printed chairs created by renowned or independent designers. So, without further ado let's have a look at these amazing 3D printed chairs:
1.Mawj's 3D Printed Chair
Designed by the Middle East Architecture Network (MEAN), Mawj is a stylish 3D-printed armchair. This stunning chair explores the robotic 3D printing possibility to design and create bespoke furniture. The 3D printed chair is manufactured by Nagami and inspired by a continuous form. Its shape with the sides of 6mm thickness is nicely-created using advanced plastic polymers.
The name of the chair is derived from the Arabic word 'mawj' that means 'wave, crisp, undulate, or ripple'. Hence, the chair depicts the undulating patterns inspired by the aquamarine green surface that reminds you of Arabian sea waters at Dubai shores.
2. Piegatto's Truss Chair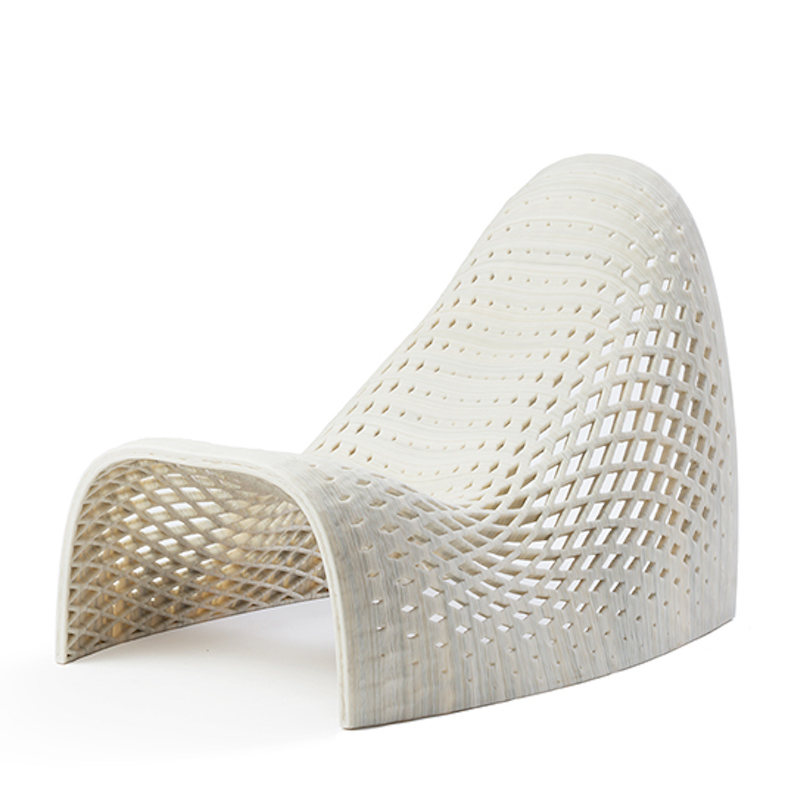 Guatemala-based Piegatto design studio has created this gorgeous Truss Chair. The white chair is perfectly made with the 3D printer in PLA (polylactic acid). Weighing around 250lb, this chair depicts the true essence of plastic with a durable Ingeo biopolymer.
The design of this 3D printed chair is gorgeous and it's also lightweight. The best thing about this chair is that it's perfect to use both indoors and outdoors. Plus, its minimalist design makes it ideal for any contemporary home.
3. Zaha Hadid Architects' Chair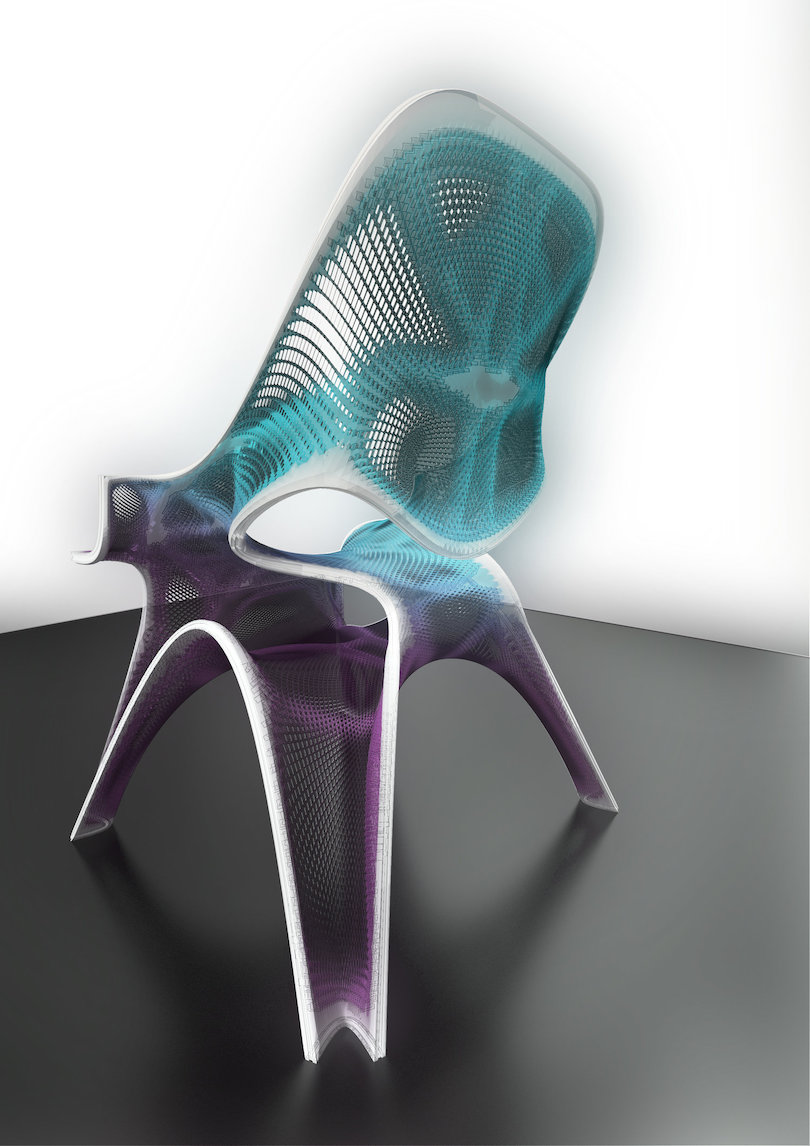 In collaboration with Stratasys, Zaha Hadid Architects (ZHA) has created this stunning 3D printed chair to explore the possibilities of multi-material, multi-color 3D printing technology. The purpose of the designers is to design a relatively lightweight chair. It's also made specifically to play with a geometric design, manufacturing, and detailing. Hence, it improves and highlights its overall performance.
The chair is perfectly designed with the advanced capabilities of Stratasys' Objet1000 Multi-material 3D Printer. It further translates the structural elements to form a minimalist design. And, finally, Stratasys 3D printed this stunning chair using various gradations of opacity and color. You can see that clearly from their transparent to opaque cyan color blends. Meanwhile, it represents the structural performance of this chair's each section.
Since the development of its original 3D printed concept in 2014, this particular chair is further recreated in various colors and variations.
4. Continuum3 Chair Collection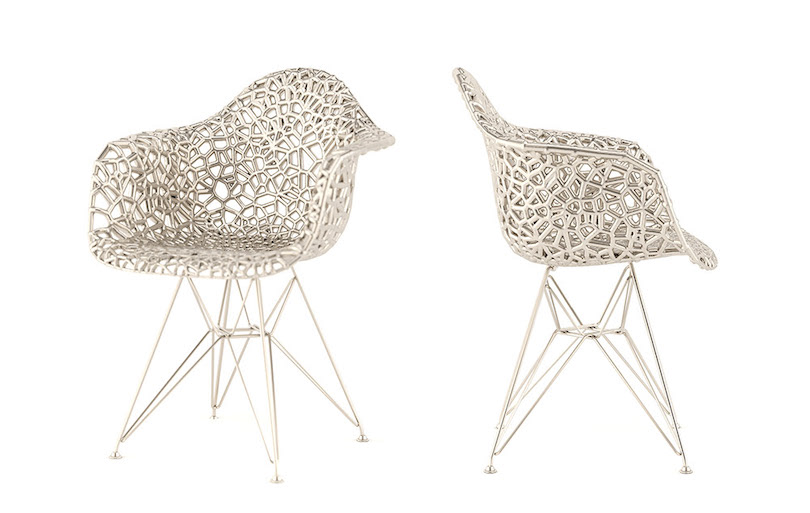 Designer John Briscella has rethought the epitomes of modern furniture design using 3D printed metal. This further helped the designer to evaluate the emerging production techniques. Hence, it helped him create the stunning Continuum3 chair collection. The best thing about this collection is its classic dimensions and classic forms to make modern furniture.
The designer has used the mathematic models in the continuum theories to create this chair. Using the art additive technologies, the resulting Continuum3 chair is created for maximum efficiency.
5. New Raw's Ermis Chair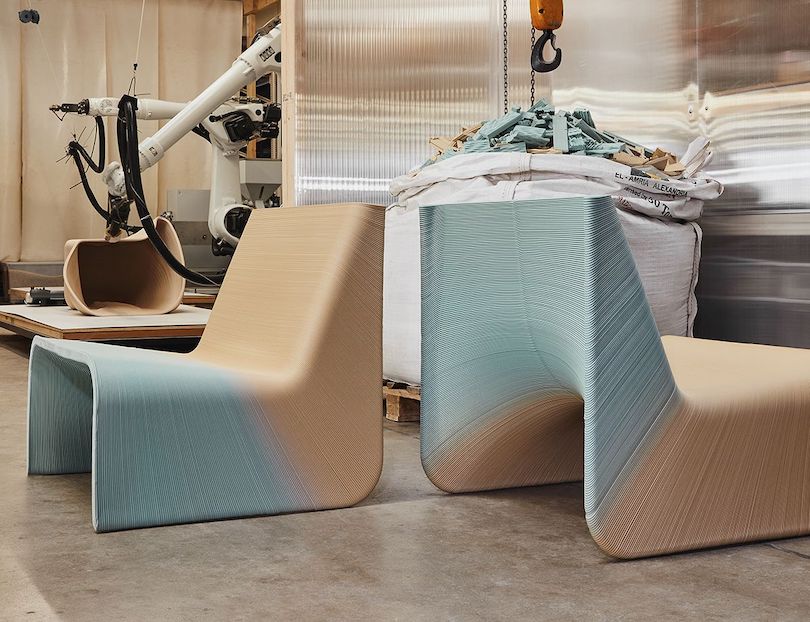 Dutch studio The New Raw specializes in recycling already recycled objects and materials to create artistic furniture. This particular design studio is well-known for transforming plastic waste to form practical furniture. Using the same technology, the studio even created the stunning Ermis chair that's also made using recycled material. What's interesting about this 3D printed chair is that it's made using a robotic arm.
Made with scraps and studio offcuts, this chair is made following the 3D printed industry's various steps. The first step involves shredding 3D-printed waste in form of granules. The next step involves putting the scrap into a 3D printer. This further melts the material for making recycled plastic filament.
The produced filament is nicely applied to the chair layer by lay. It helps in minimizing waste while encouraging sustainable manufacturing. The monolithic Ermis chair further follows the effortless lines for better comfort.
6. Nagami's 3D printed Chairs by Zaha Hadid Architects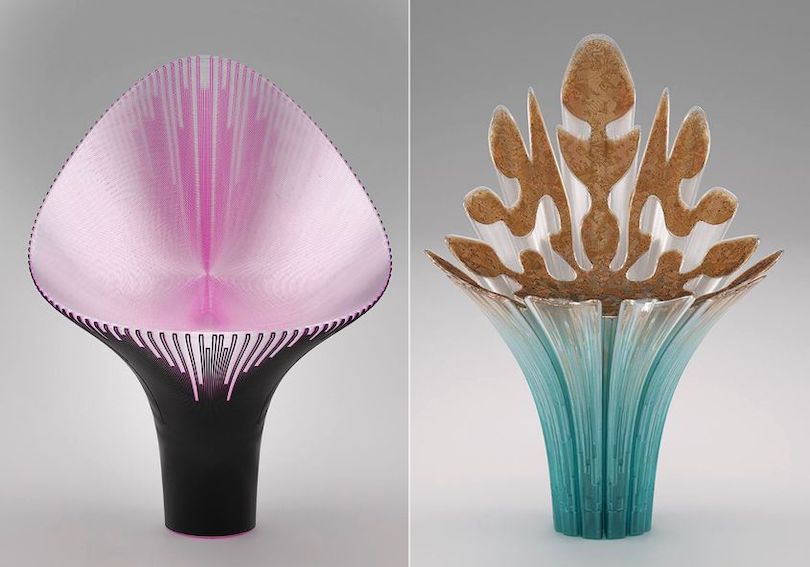 Spanish design studio Nagami collaborated with renowned design studios, like Zaha Hadid Architects, and famous designers to make a series of 3D printed chairs. These chairs are impressive to look at also demonstrate the futuristic design.
These chairs are nicely built as a part of the "Brave new world: re-thinking design and large-scale robotic 3D printing" project. There is a total of four 3D printed chairs that are made as part of this project.
Also Read: 10 Sustainable Chairs Made From Recycled Ocean Plastic
7. Patrick Jouin's Foldable TAMU Chair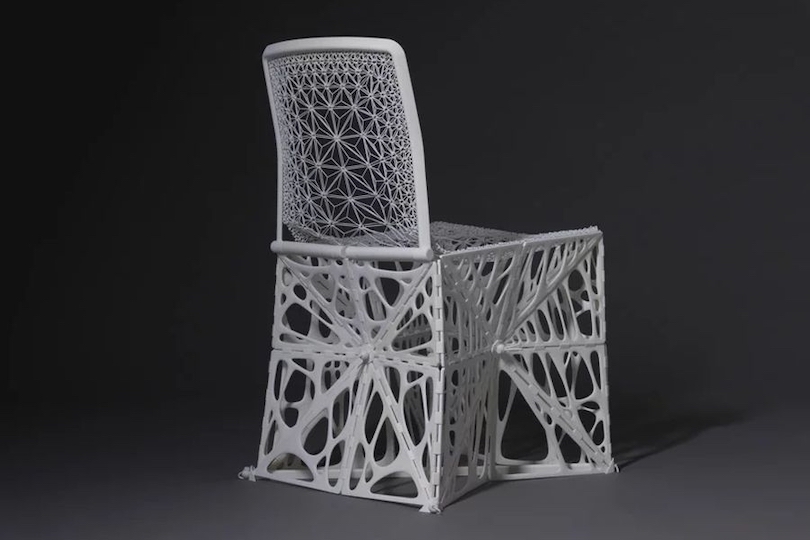 Patrick Jouin, the French designer, showcases this prototype 3D printed chair, TAMU at Milan Design Week in 2019. It's also made with 3D printing technology and created using minimum material for its sustainable design. This chair is foldable and boasts a geometric design that's achievable using generative design processes. This helps in lending it a unique look.
Specifically, Jouin made use of Dassault Systèmes' 3DEXPERIENCE platform for creating this foldable chair. The way the sustainable material is perfectly used for a generative design has never been thought of before.
The precision of organic chair manufacturing was inspiring for Jouin as well. After all, each design element of this chair is connected to another element. Hence, it creates a functional and coherent design.
8. Chrisco Chair for Wetzels Brown Partners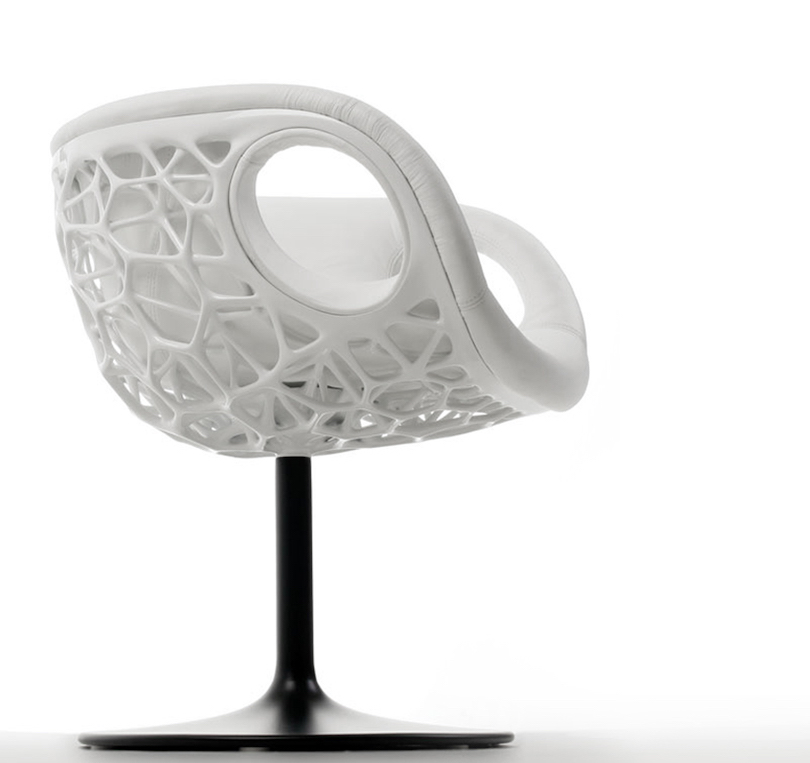 Designer Luca Brenta created the 3D printed Chrisco Chair for Wetzels Brown Partners for their CNB100 Chrisco yacht. Brenta is known for its utmost luxury yacht designs. All the furniture, design, and lighting reflect luxury in his yacht. When he and his team were commissioned by Wetzel and Brown Partners to design stunning dining chairs, they came up with a minimalist Chrisco Chair.
This chair has been developed as per a provided concept sketch. Furthermore, the designers worked closely with WBP to create every detail of this chair. From its laser sintered model, structural shell, and finishing, everything speaks perfection.
9. Aluminum Gradient Chair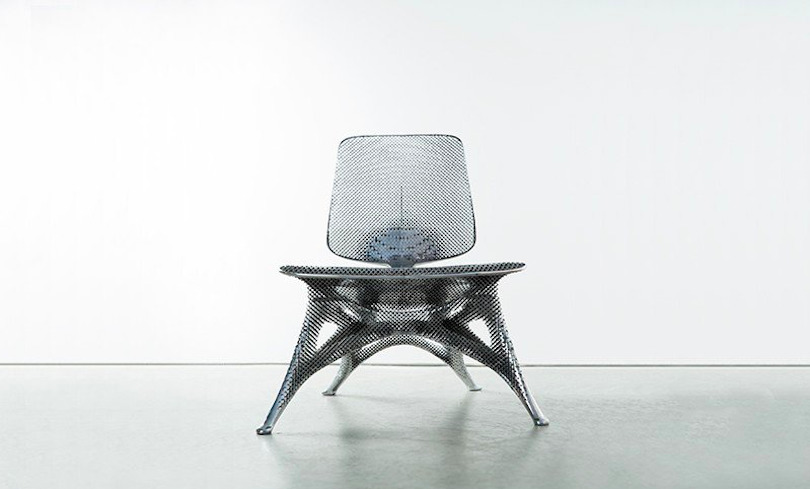 Studio Joris Laarman has created the Aluminum Gradient Chair for their microstructures series. These chair series aim to elaborate on the use of aluminum in designing practical furniture for the digital age. The design of this chair is the result of laser-sintered precisely in aluminum.
Using new material research and generative design tools, the design studio created a lightweight aluminum structure. The structure is nicely engineered on its cellular level for nicely addressing specific practical requirements. The design consists of solid cells that form structural rigidity and strength. Meanwhile, the open cells make the material more light and help in a material reduction, using the printing technique.
This 3D printed is now displayed as the permanent collection in the National Gallery of Victoria and Melbourne Australia. It's also part of the museum in Vitra design Museum and Weil am Rhein Museum in Germany.
10. 3D printed chair "Eiffel"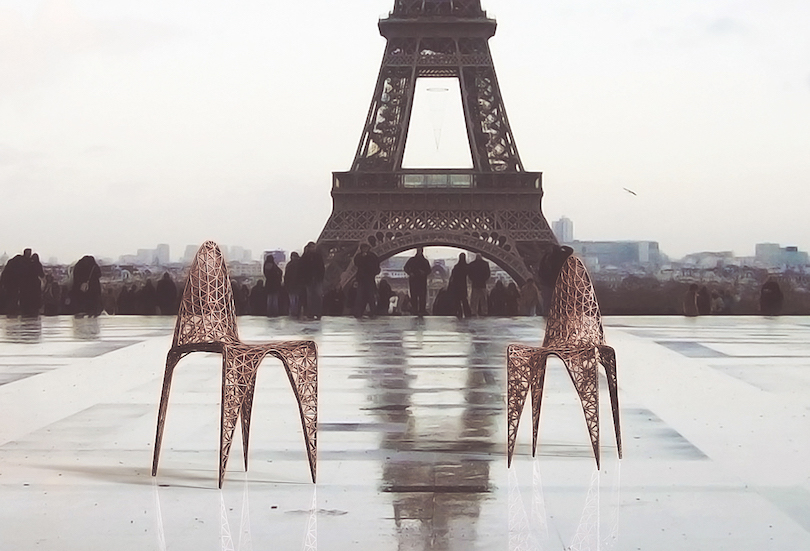 France-based furniture company Ventury Paris has created a gorgeous 3D printed chair that resembles the Eiffel Tower of Paris. Hence, it's called the "Eiffel." It is one of the beautiful 3D printed chairs that boast intricate architectural complex designs. Contrived using stereolithography 3D printing techniques, the chair includes every minute detail that's reminiscent of the Eiffel Tower.
Emmanuel Tureyn, the owner and chief manager of Ventury Paris, is also involved directly in the creation of the exquisite furniture. He is the main person behind the creation of these Eiffel chairs, which reminds us of the romantic memories of the iconic Parisian Tower. As per Tureyn, creating such complex designs is not possible without 3D printed technologies.
11. Cellular Loop 3D Printed Chairs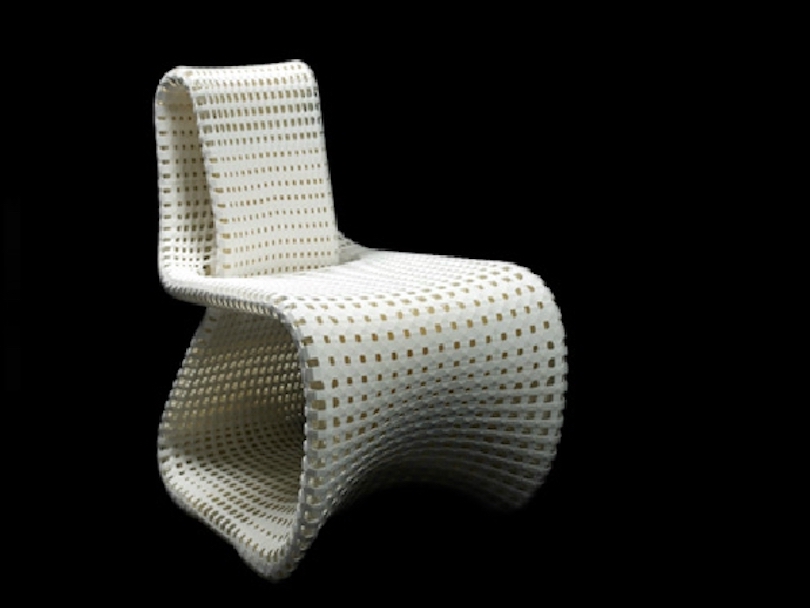 Cellular Loop is the world's very first 3D printed cantilevered chair. Created by Anke Bernotat, this chair is designed to be very lightweight yet strong enough to take any weight. This stunning chair is made using a very sturdy cell structure that offers overall strength to this furniture.
Its cellular look design reminds us of nature itself. This gives the Cellular Loop chair a distinct appearance. If you think deeply, it looks like the trabeculae, which is a small tissue element that's present in the bones in the shape of small rods.
In the image above, you can clearly see that there are no rear and back legs. The structure itself keeps this chair firmly in place. Whenever you view this chair from the side, it appears like a ribbon that's nicely woven into a look.
To make the cellular look design of this chair, the makers used the selective laser sintering (SLS) technology. This specific technology works well with the high-power laser for firmly binding the small particles together.
12. Philipp Aduatz 3D Printed Gradient Chair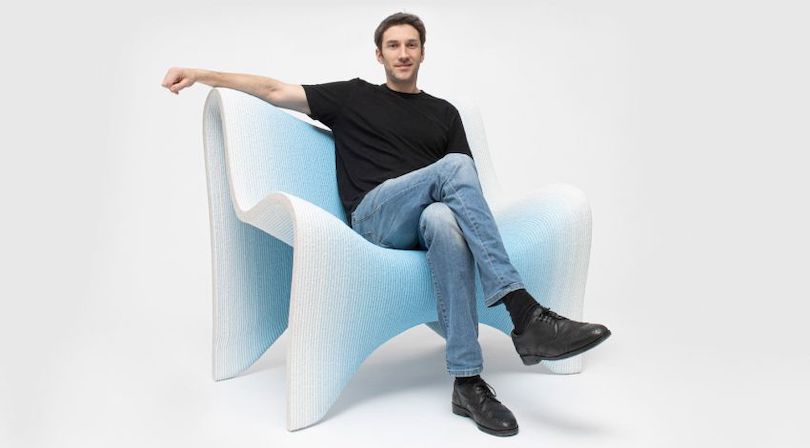 Vienna-based designer Philipp Aduatz has created this 3D Printed Gradient Furniture Collection. It is their latest project that's made in collaboration with Austrian manufacturer incremental3d. With this furniture project, incremental3d aims at exploring various possibilities with the use of 3D concrete printing and finessing.
The firms basically wanted to add dye during the process of 3D printing into the nozzle. It helps in reducing the workload, time, and waste. Due to this, a colored concrete design is made that further results in a functional and appealing furniture piece. According to the new research, the companies have created a new collection of a chair, benches, and a large vase. Hence, this new 3D printed chair from the project also evolves from a blue gradient. It appears better than many other 3D-printed furniture pieces we have seen so far.
13. Joachim Froment's 0.6 Chair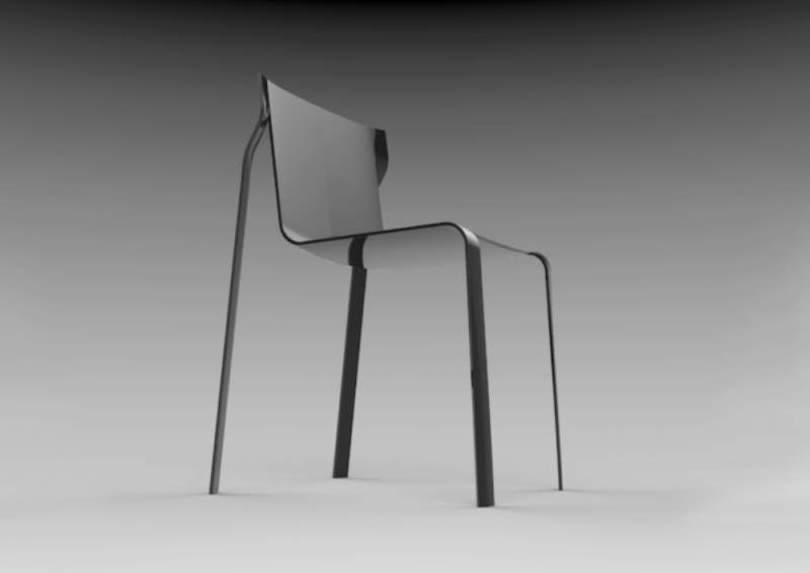 Joachim Froment, the UK-based product designer, has creatively made an innovative concept for designing strong wooden furniture using minimum wood. Due to this approach, the design wanted to counterbalance the concept of 'less is more.' With this motive, he managed to create this amazing 0.6 chair. This particular chair is lightweight, robust, and long-lasting. It's made with the use of lamination process of wood carbon fiber reinforcement.
Unlike other chair designs, this specific chair includes a sandwich panel that's made using wood veneer, as well as carbon fiber. The use of carbon fiber helps in reducing the chair's thickness to only 0.6 cm. Meanwhile, it adds enough overall strength to its design. There's also a special mold in this chair to reduce the amount of material and manufacturing time.
14. Restool Chair by Delo Design Studio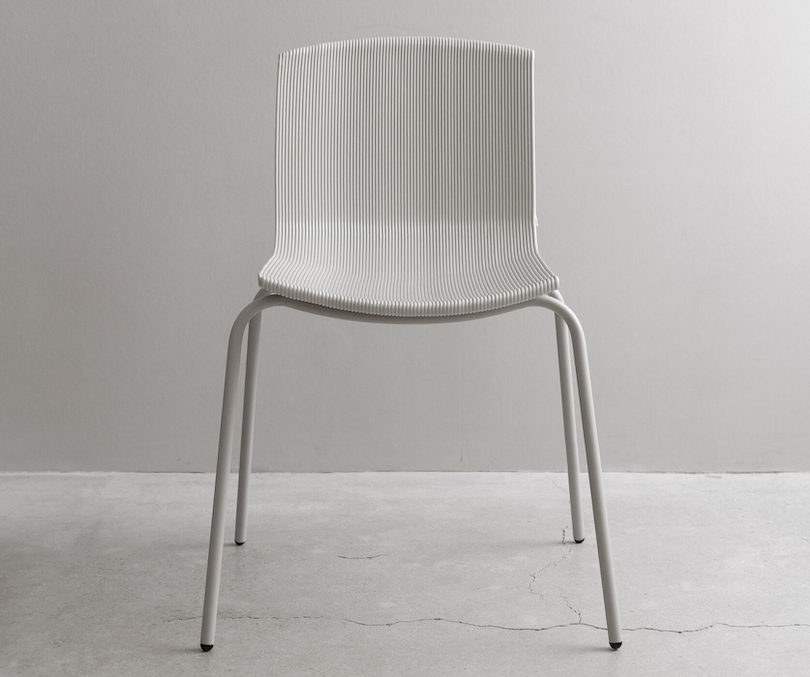 In collaboration with the Eburet Studio team, 99Recycle, Delo Design Studio has created the Restool chair using recycled plastic. The raw material used is completely recycled and further used to make the chair's seat. This material is produced using a 3D printer that's made by Eburet Studio.
Using the 3D printing technology, the team perfectly created a complex chair shape that's durable and wear-resistant. Hence, it's ideal for being outdoor furniture. This chair even consists of two major parts – a hexagon and a comfortable plastic seat that's attached to the metal legs.
15. Nendo's Diamond Chair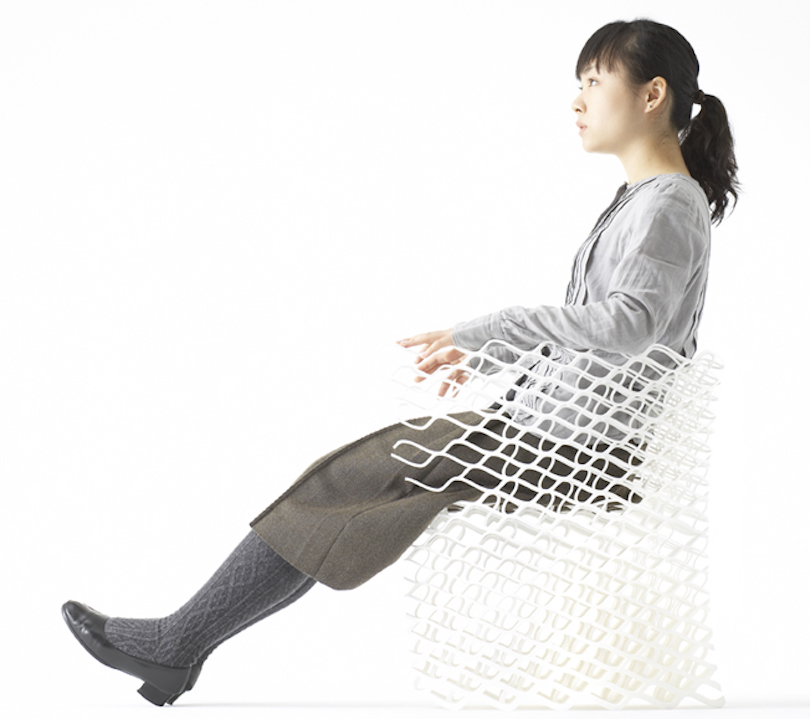 The atomic and dense structure of the Diamond Chair by Nendo disperses strength throughout this material. This gives this chair singular shine and hardness. The design team created a strong yet flexible structure that's perfect for its atomic array like a motif. They also wanted to devise a chair that can respond to pressure by absorbing instead of resisting it.
According to the design studio, they have nicely created a structure with powder sintering rapid prototyping technology. It can use a laser to turn polyamide particles into a very hard mold, depending on the 3D CAD data. Furthermore, the RP technology helps them add thickness. Due to this, the makers carved the material into a more flexible, thinner, and responsive thickness in certain places. And, this is what gives this piece of furniture a comfort that also serves multiple purposes.