CES 2020 has brought forth many new developments and innovations in different sectors, including for our homes. All areas of the house, the entryway, bedroom, bathroom, and even the kitchen are getting smarter. Talking of the latter, there were several smart kitchen products that gained attention in Vegas.
From smart AI-powered fridge to cooking assistant, there were many products with the latest features. Some received Alexa integration for voice control, while others are now equipped with AI-powered cameras to recognize different food items. To assist you identify the latest and best smart kitchen appliances from CES 2020 we have compiled a comprehensive list below, read on.
CookingPal Julia
It is a Wi-Fi and Bluetooth-powered countertop appliance that can make cooking food easy for you. You can chop, mix, grate, knead, boil, weigh, and do more with this single appliance. It comes with an 8-inch touchscreen tablet that provides video and image-based guidance on making a recipe.
There is a built-in AI-powered camera that can recognize different food items and can suggest recipes based on the available ingredients. It also supports Amazon Alexa, which means you can give voice commands to this smart kitchen appliance. Read more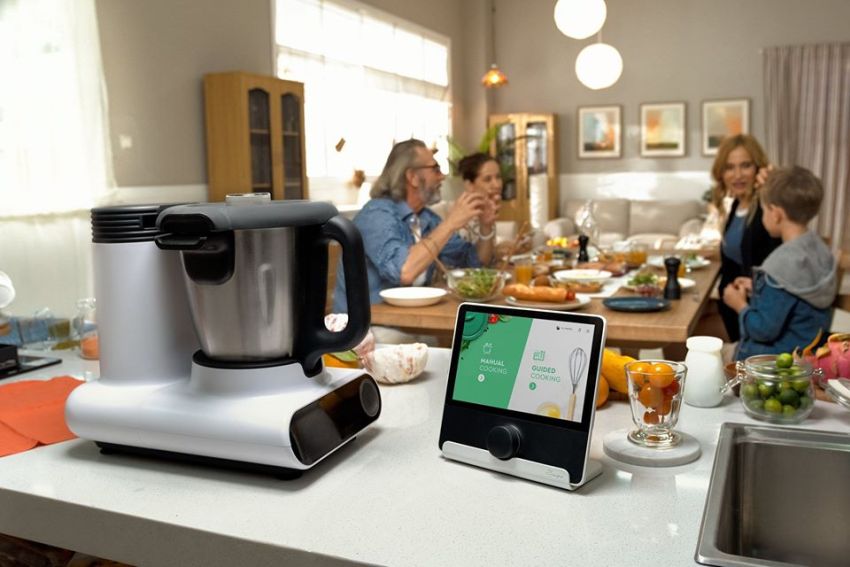 U by Moen Smart Faucet
Designed to offer convenience in the kitchen, U by Moen Smart Faucet can be controlled with hand gestures, through voice commands to Amazon Alexa and Google Assistant, the companion mobile app or manually through the onboard handle.
It delivers exact amount of water at the desired temperature. The mobile app provides an interface to check water usage stats and access all other features of the faucet. Read more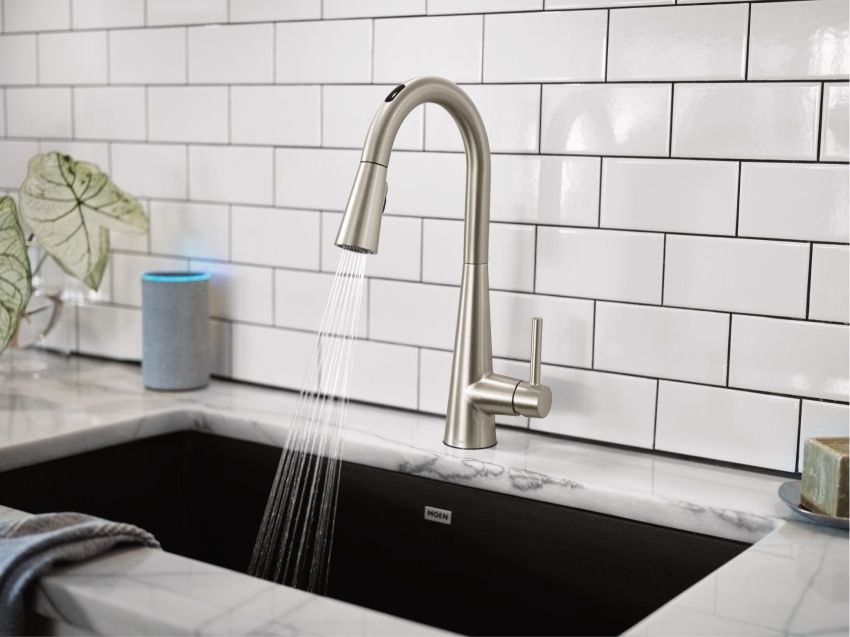 Samsung New Family Hub Refrigerator
This new fridge from Samsung features AI-Powered cameras that can recognize different food items within and make an inventory accordingly. It can offer meal plan and recipe suggestions according to the available ingredients.
Meal planning is improved with Whisk's food AI that can suggest recipes based on the number of people expected for the meal. The digital bulletin board now supports video clips and controls for multiple smart security cameras. Read more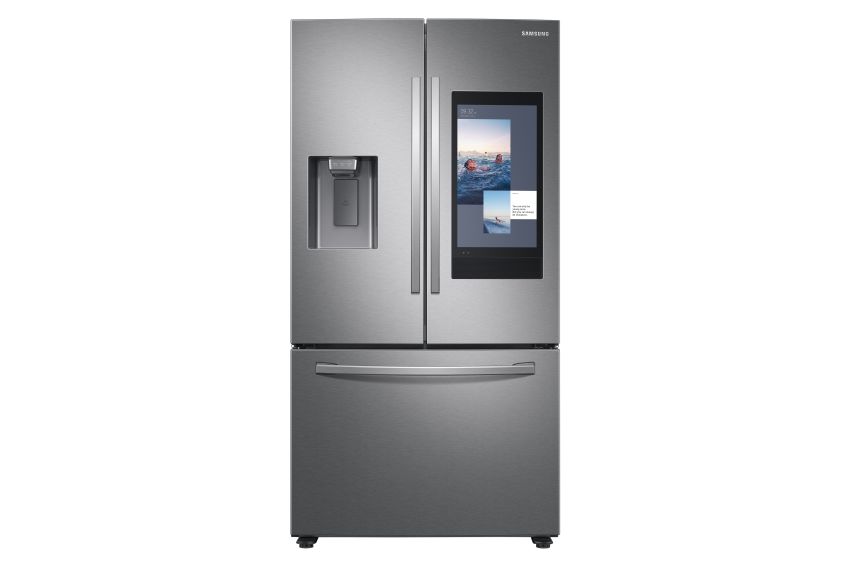 LG InstaView ThinQ Refrigerator
The second-generation InstaView ThinQ fridge features AI cameras, which enable it to recognize different food items inside and alert users of items running low in the fridge. It can also offer helpful meal suggestions according to the available ingredients. Read more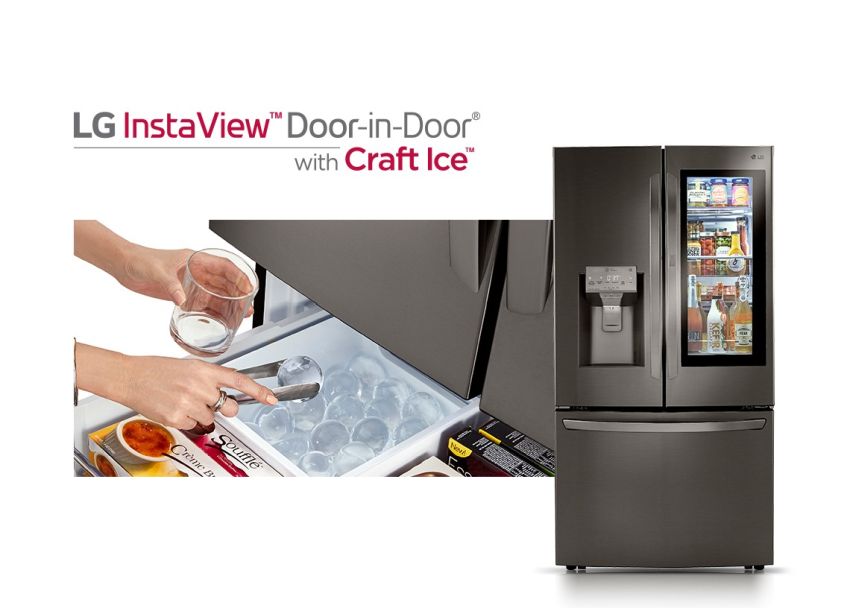 Bosch Home Connect Fridge
Working on the same line as Samsung and LG refrigerators, Bosch in partnership with AI-kitchen assistant startup Chefling, has showcased a new smart fridge with food recognition feature. It can track newly added and removed items from the fridge and update the inventory list automatically. Users also get recipe recommendations according to the available ingredients.
With the new Home Connect app, Bosch fridge with a camera can be used as a smart home hub to control and monitor compatible smart appliances remotely from smartphone or tablet. Read more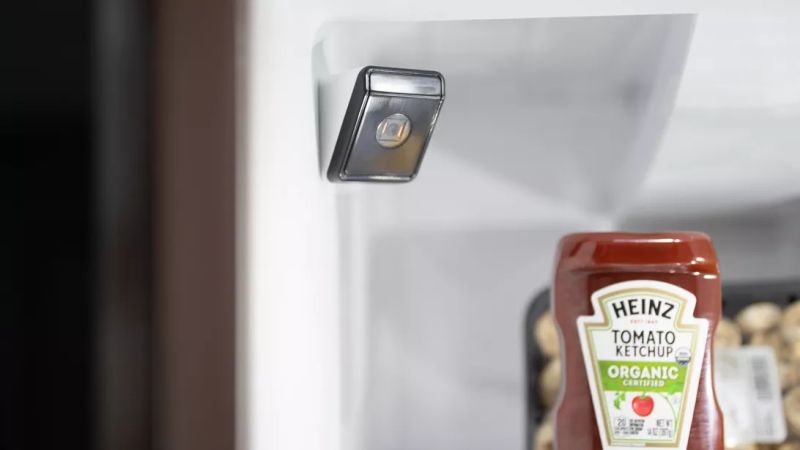 GE Appliances' Kitchen Hub
GE Appliances has showcased the latest version of its award-winning Kitchen Hub at CES 2020. It features a built-in microwave with an additional camera and AI-powered cooking technology that help in planning and making meals. It suggests a recipe based on available ingredients detected by a camera.
There is a 27-inch touchscreen to see recipes, make video calls, and share photos to social media directly. Users get access to various recipes, guided cooking features and precision cooking capabilities through SideChef. It can also be used to control compatible (Z-Wave) smart home devices. Read more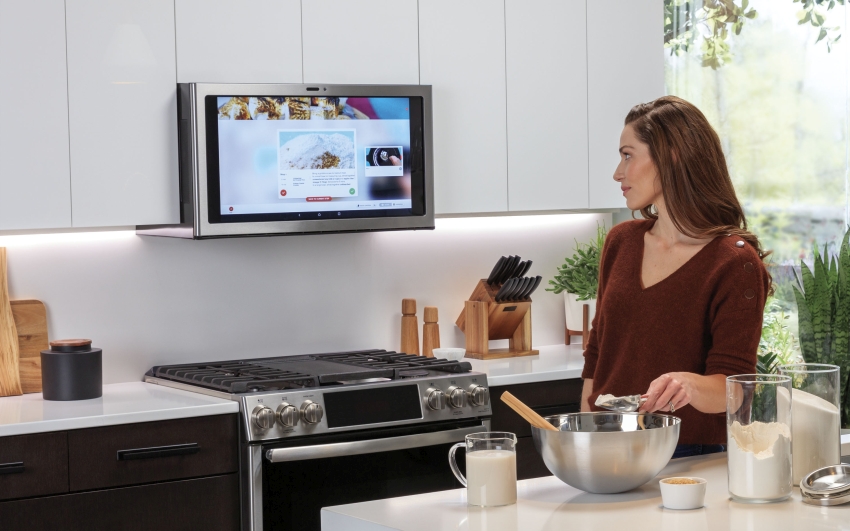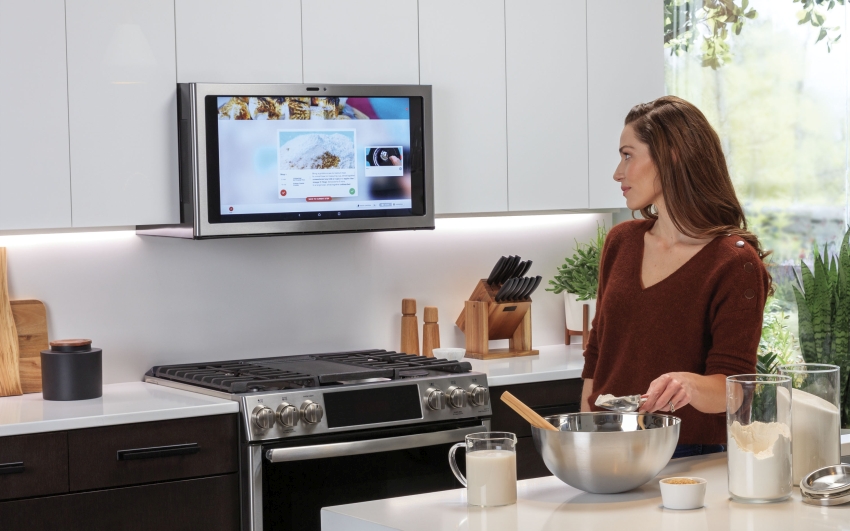 IoT Microwave Drawer by Sharp Home USA
Sharp's 24-inch IoT-powered Microwave Drawer oven connects over Wi-Fi to the companion mobile app, allowing easy control and integration into a smart home. It also supports voice commands through Amazon Alexa devices. The convenient viewing window, touch controls, and touch-less opening with simple hand gestures are some other highlighting features.
There is built-in airflow control for flush mounting. Winner of the CES 2020 Innovation Award in Home Appliances category, it is currently available for purchase at $1,750. Read more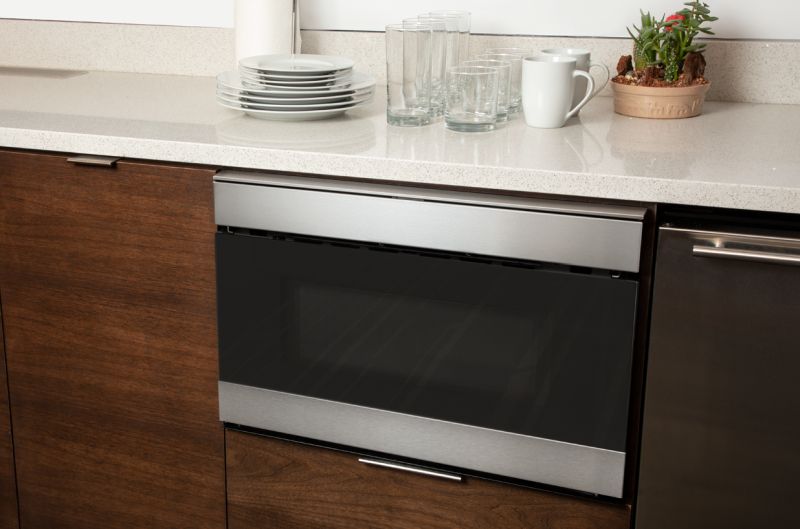 SmartyPans
It is not easy to calculate nutritional value of a recipe you're preparing but with SmartyPans you will be able to do it easily. There are onboard temperature and weight sensors that can calculate the nutritional information of the ingredients in real-time. It connects to a fitness tracker, allowing you to keep a check on the health of your meal.
You can also get step-by-step instructions on the mobile app to help you with cooking. Winner of the CES 2020 Innovation Award in the Health & Wellness category, it is available for purchase for $229. Read more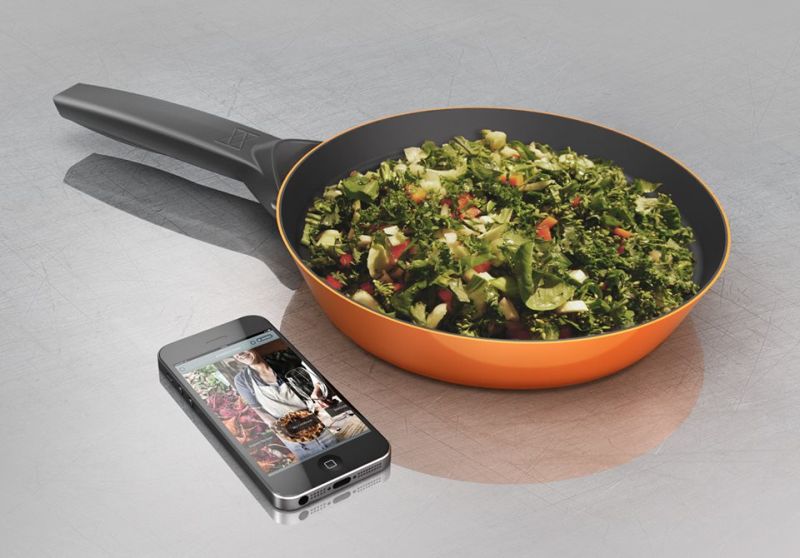 LG Smart Indoor Gardening System
LG Electronics has revealed a large-sized indoor gardening system at the tech bonanza in Vegas. It is big enough to grow vegetables for a family of four. It features built-in LED lights for photosynthesis, forced air circulation, and a wick-based water management system. Users can keep a check on plants' growth through the companion mobile app. LG's indoor vegetable cultivator works with the company's all-in-one seed package. Read more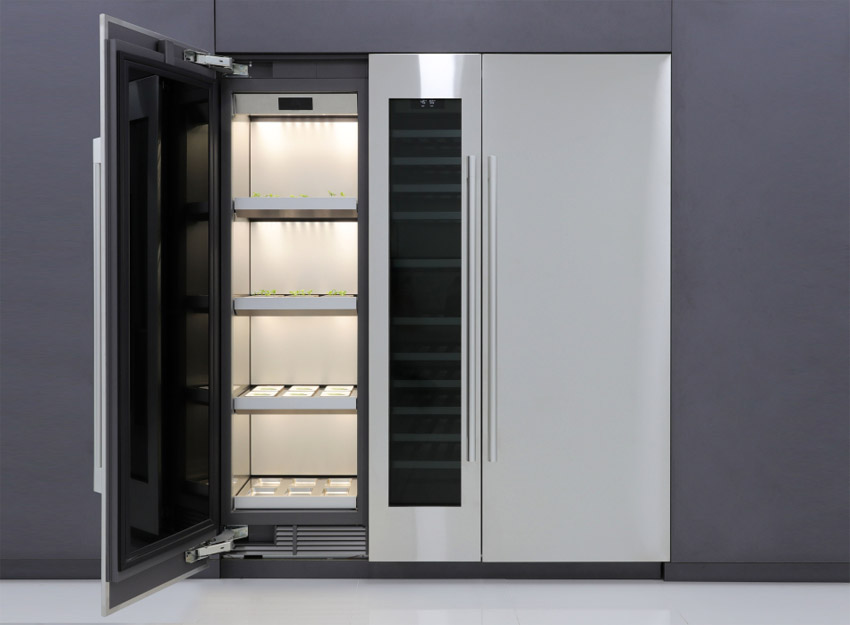 Townew Smart Trashcan
A crowd-funded product, Townew smart trashcan opens the lid automatically with a hand gesture. It comes with creative technology to seal and change the trash bag on the press of a button.
There is a built-in 2000 mAh battery that can run it for a full month and recharges in about 10 hours. There are safety features as well, including the anti-slip and tilt base. Read more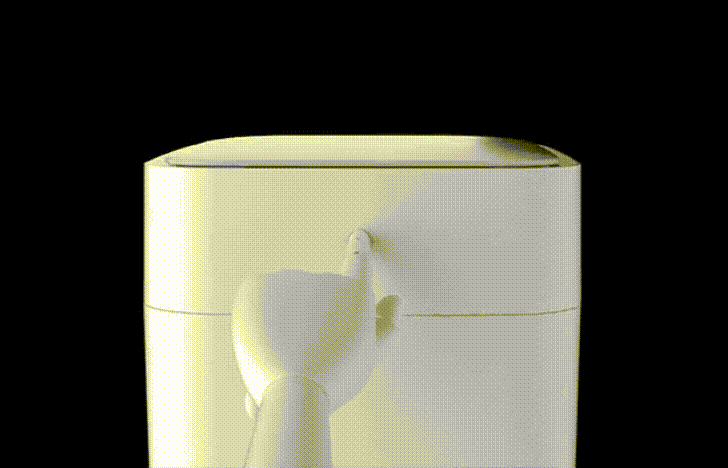 Special Mention
SK magic JIK.SOO RICH Water Purifier
Launched last year at CES, the JIK.SOO RICH water purifier offers seven different water temperature settings and ice cubes. The built-in nanotechnology filtration system is capable of removing viruses, microorganisms, and heavy metals. It has a storage capacity of 750g of ice.
JIK.SOO RICH has no water tank which prevents contamination, while stainless steel pipes are used to maintain the purity of water. There is an intuitive display and other controls onboard. It is available for about RM 6,000 ($1,472). Read more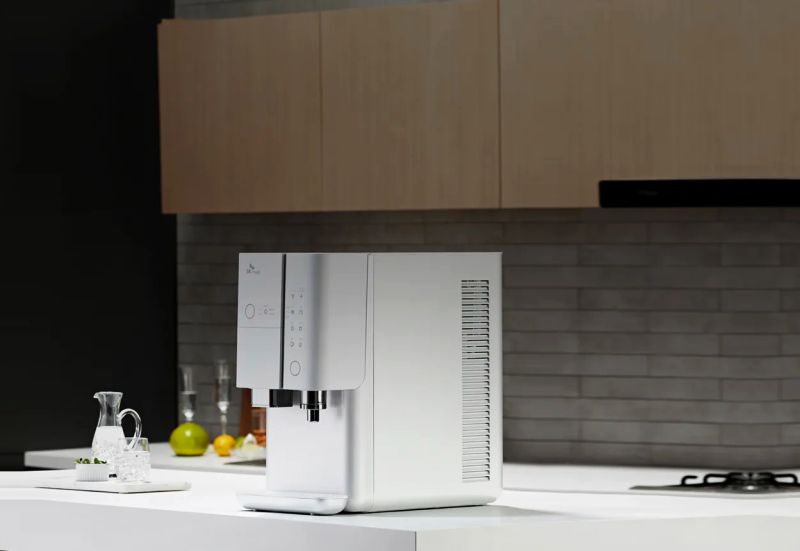 Weber Connect Smart Grilling Hub
Weber Connect smart grilling hub is a must-have for everyone who likes to host those barbeque sessions. It is the secret ingredient for a finely grilled food and a step-by-step grilling assistant to turns any grill into a smart grill. The hub connects to a smartphone over Wi-Fi where a griller can receive notifications on everything from when to flip the food, its doneness, estimated cook-time and when it's perfectly cooked and ready to serve.
The Smart Grilling Hub is expected to launch soon for $129.99 in the US. Read more