Spring is upon us and there is so much to do. Traveling, weekend trips, going on treks, and many more ways to fill life with fun and adventure. Besides outdoor fun activities, the season calls for renovation and maintenance. Although, after the harsh winters, people bring their attention to landscaping their lawns or yards, refreshing indoors is also crucial.
From clearing out clutter to housing new arrangements, there are so many ways to freshen up the interior spaces of your house. Here are top ways on how to give a bright look to your spring living room this year.
Sprinkle Bright Hues
Complementing the bright colors of nature outside the house, the shift in season calls for bright and lively colors indoors. A vibrant color palette does not only enhance the setting of your living room but elevates the mood of inhabitants as well. You can also add charm to your spring living room with colorful flower arrangements too.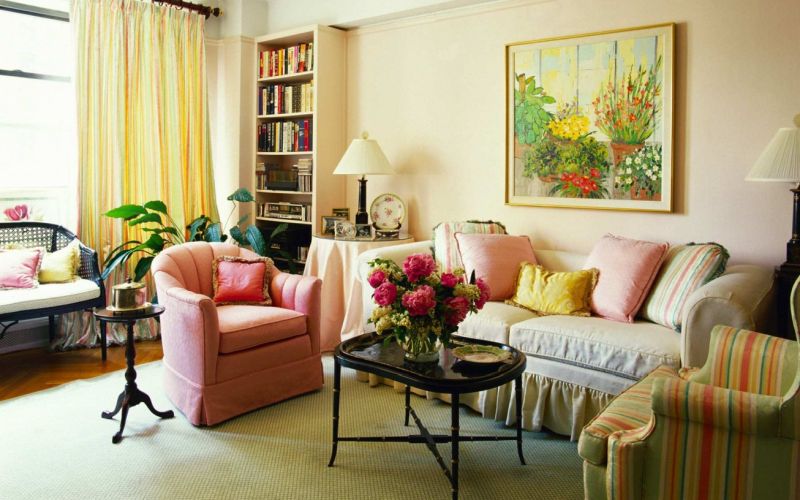 Throw Down A Bright Rug
While it is true that rugs were born out of necessity, they serve a higher purpose. Rugs are the best way to have something bright underfoot. With their unique patterns and colors, Tibetan and Indian rugs are quite popular. And the best part is – rugs don't even need any matching. The pop of color and design will make your living room much more appealing.
Also Read: How and Where to use Rugs on Hardwood Flooring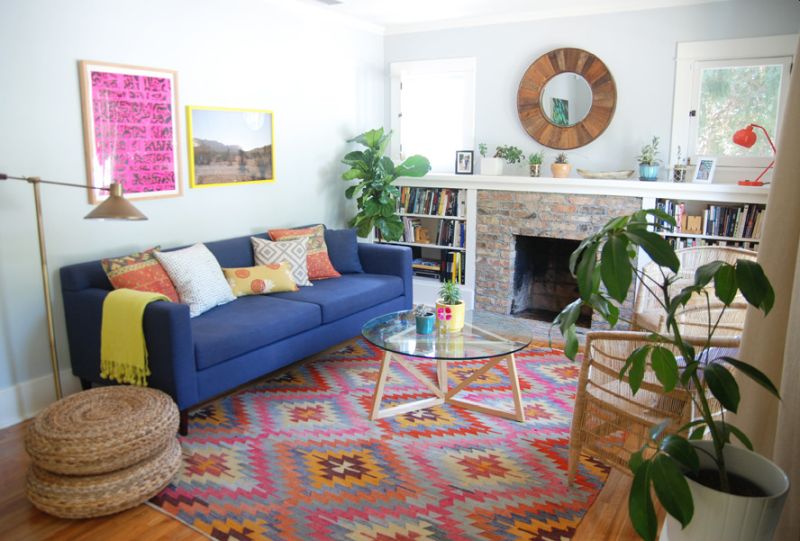 Statement Ceilings
For the past few years, the ceiling has been one of the most neglected, under-appreciated parts of the house. Paint trends are introducing various methods to incorporate a statement ceiling in your living room. You can play a game of lighter and darker tones to highlight the accent of the ceiling.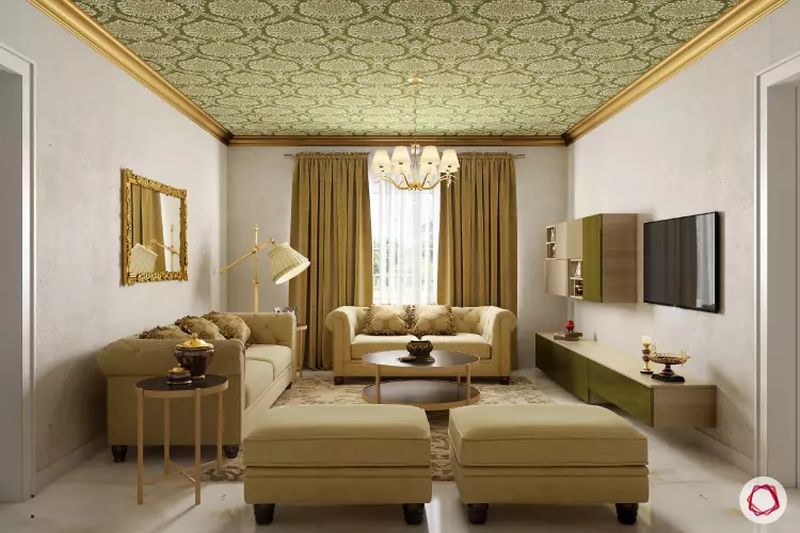 Re-frame the Artworks
Art is timeless, however, over time your art collection can seem dull as it doesn't excite you as it once did. The perfect way to refresh your art pieces without letting them go is to re-frame them. An update in frames can immediately change the mood of the room and your way of looking at them.
If you want to replace the art in your house, there are a plethora of artworks available in both online and offline markets. You can even incorporate stylish canvas prints in your living room. This is a new trend which is gaining traction pretty rapidly. You can give it a try.
Also Read: Monochrome or Abstract Art, Which is Right for Your Wall?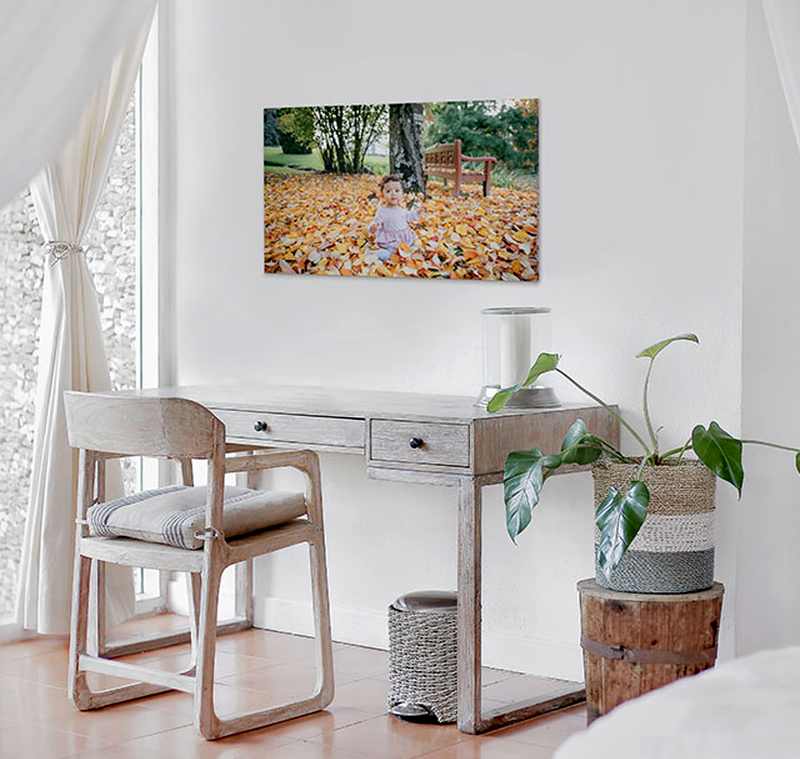 Reorganize Your Living Room
To give it an invigorating look, you must re-assemble the objects in your living room. Keeping all things in one place makes it less appealing and cluttered. Spread it a little bit in an organized manner. Besides, you don't need to hide things away in cabinets and chests. Table shelves are a brilliant mode to add an artistic element to the space. These will help you arrange your photographs, antiques, and other items interestingly.
Paint Your Cabinets
There is nothing a fresh coat of paint cannot fix. A new layer of paint enables the entry of an enlivening vibe into your room. Though, you need to be smart while applying paint. The key is to mix and match various complementary colors. A quick, affordable, and minimalist elegance ideology will help you out.
A combination of soft with understated tones or dramatic with bold textures can rejuvenate cabinets. The amalgamation of such colors is mostly known for drawing attention. You can also apply this method to your kitchen cabinets, if you like.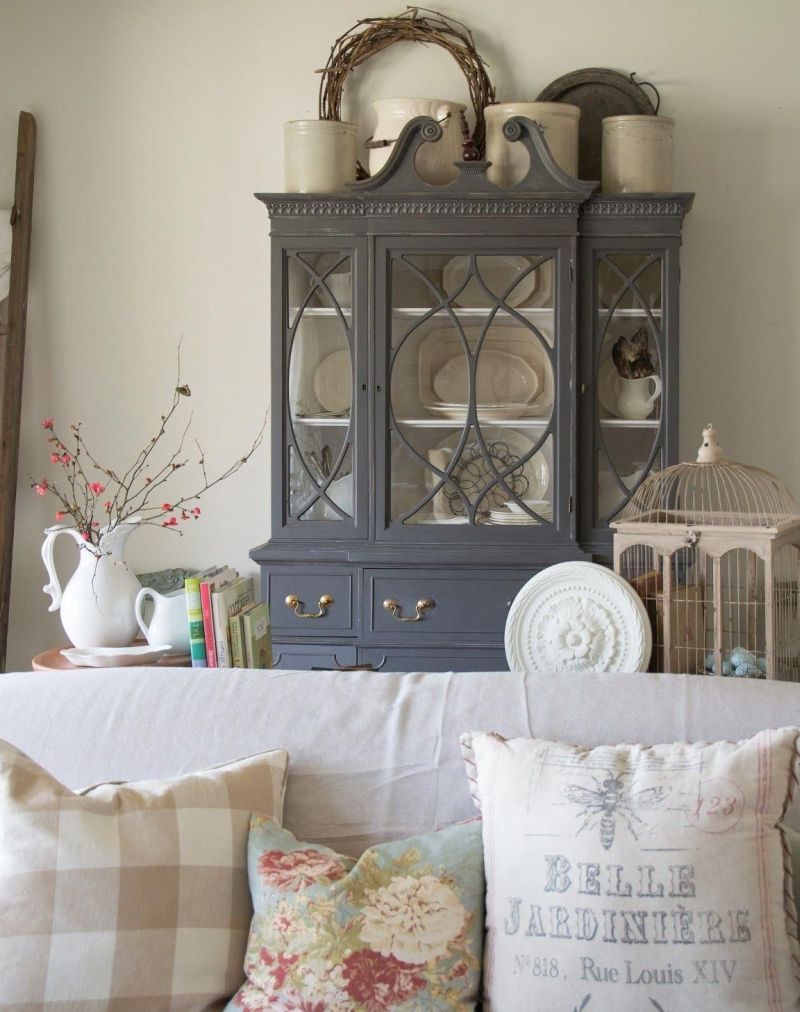 Let the Furniture Speak
While styling your living room, furniture plays an important role. Furniture provides the authority to showcase the beauty in small details. Small details such as the addition of an accent chair act as 'timeless piece' for an effective and affordable package of simplicity. The 2020 interior design trends particularly favor rattan and wicker furniture for your living room. Try to keep it classic and retro.
Also Read: 20 Best Coffee Tables You can Buy?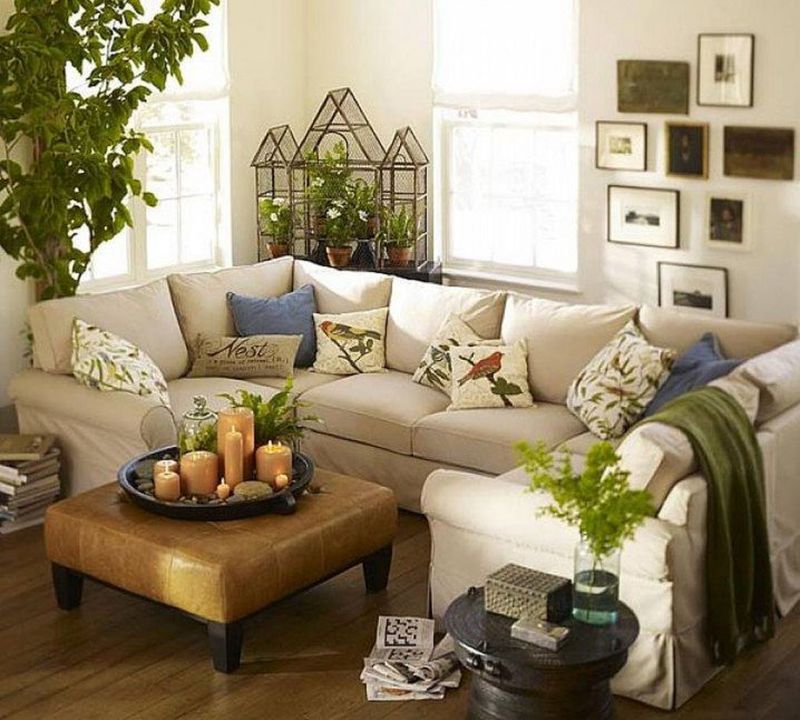 Bring Out the Curtains
Curtains are an important aspect of the living area. Keep light-colored curtains on windows to ensure adequate light can enter the room. Subtle floral prints are a good choice, though keeping it single-colored and plain doesn't harm. A selection of vertical stripes can prove wise if your room has a low ceiling, the long lines visually elongate your walls. According to experts, hanging the curtains a little higher than the required can also make the wall look higher.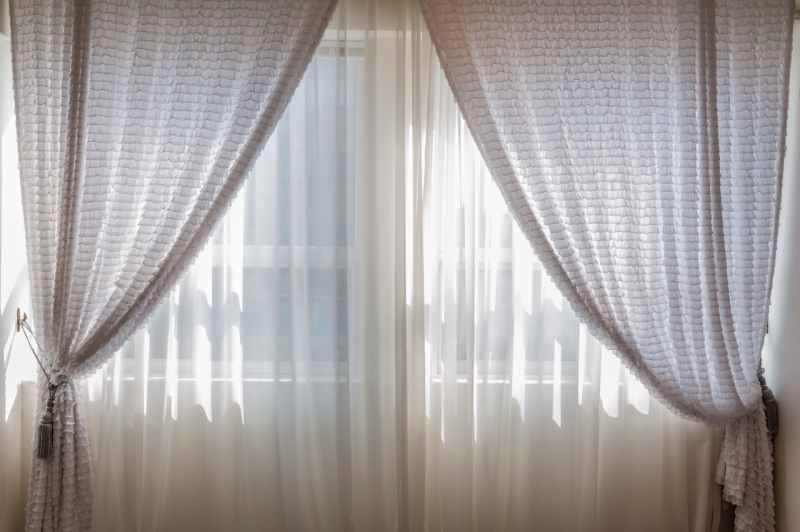 Seeing World of Mirrors
Mirrors look classy and ensure flow of young ambiance in your room particularly if you have a darker space. If the living room lacks natural light, use mirrors to bounce whatever light you get to brighten other areas. But arranging mirrors can be a little tricky sometimes. Keep your shining surfaces perpendicular to the windows. Prevent hanging them right in front of the window, this directly bounces back the light out of the room.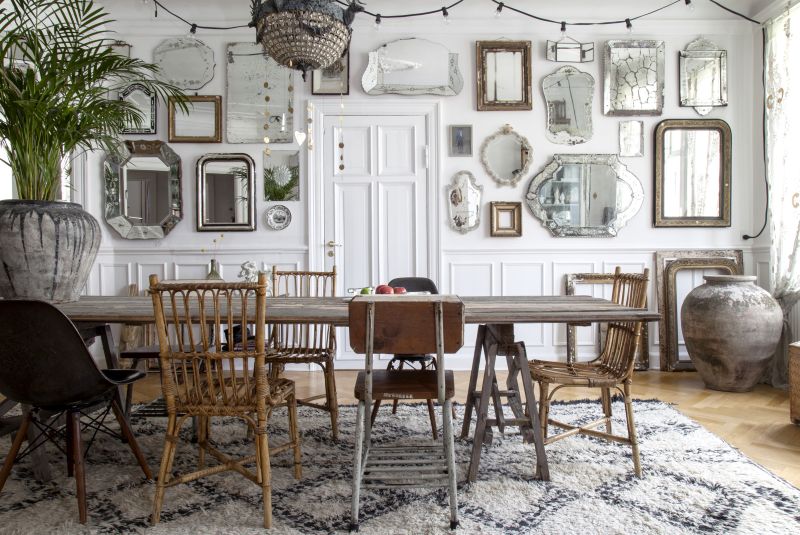 A Touch of Greenery
Everyone loves to maintain an outdoor garden. However, this spring, try to invest in an indoor garden. They are an escalating trend and provide a healthy environment with calming vibes. The green touch of great outdoors can instantly fill any space with pleasurable ambiances. Also, greenery helps improve air quality indoors. Plants filter the air around them and absorb gases while veggies and herbs can be your organic produce for the kitchen.
You can choose from various houseplants such as Snake plants, Pothos, Dracaena, Spider Plant, Bromeliad etc. If you are unable to take care of live plants, due to time crunch, you can use artificial plants in your living room.
Also Read: Benefits of Indoor Vertical Garden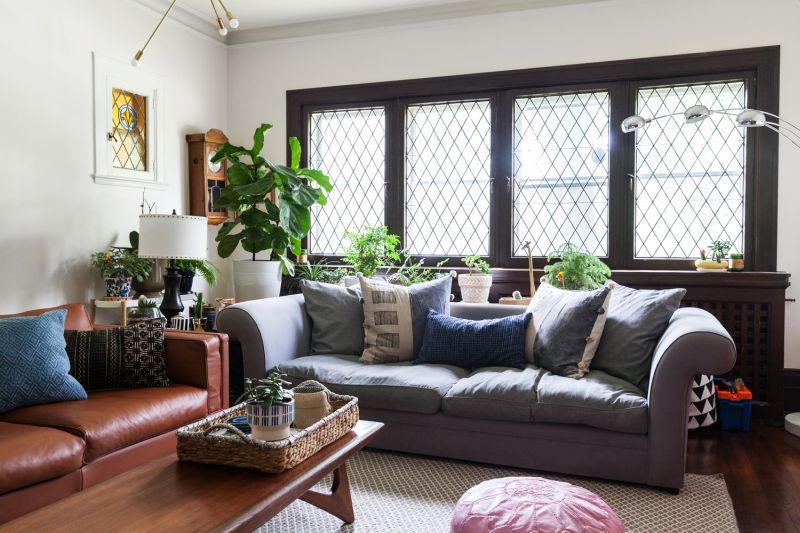 Inviting Lighting
It's no news that lighting is an essential part of any space. It is thus imperative to incorporate ample amount of light in your living room to provide adequate lighting near the corners. Adding statement lighting fixtures help emit soft and soothing light, which can enhance your room to an inviting and welcoming space. Your living space is the first thing that grasps the attention of every person who enters your home.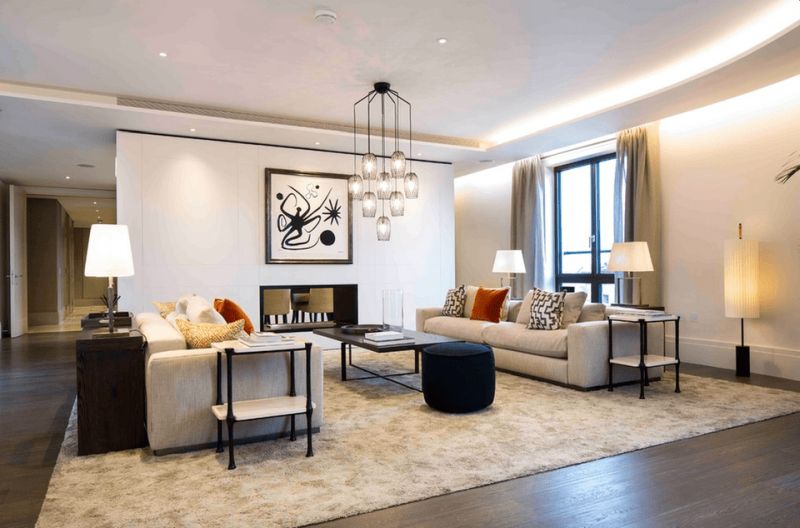 Follow the above-mentioned tricks and add a welcoming and refreshing touch to your living room so that it is ready to greet Spring in its best mood.