Imagine holidaying in a submerged room in the middle of a sea, or celebrating some special occasion with your family or friends in an unusual resort that goes deep under the water. Well, this may not be a far cry anymore as technological advancements in construction technologies have paved the path for underwater architecture.
There are already a number of underwater hotel rooms running successfully today. These underwater living structures are architectural gems that offer amazing and uninterrupted views of marine life while assuring comfort and safety.
| Amazing Underwater Hotels You can Live In
The MURAKA – Underwater Hotel Suite, Maldives
Located 16-feet below the surface of the Indian Ocean, The MURAKA underwater hotel suite at Conrad Maldives Rangali Island Resort is an epitome of luxury. It is a two-story residence surrounded by specially designed glass walls to provide a view of the marine life. There is enough living space to accommodate up to nine guests.
It is built out in the ocean, far from Conrad's beach villas and guests are transported here through a private jetty. The suite comes with dedicated staff and luxurious amenities.
Price: $9,999 per night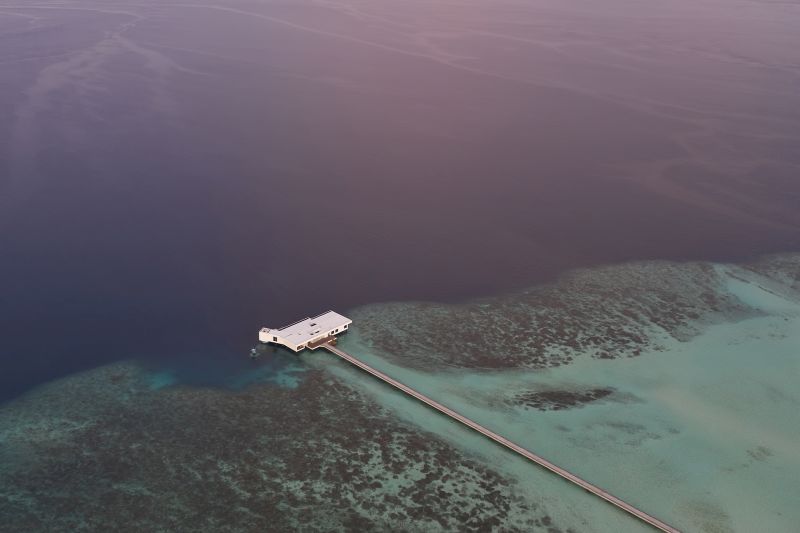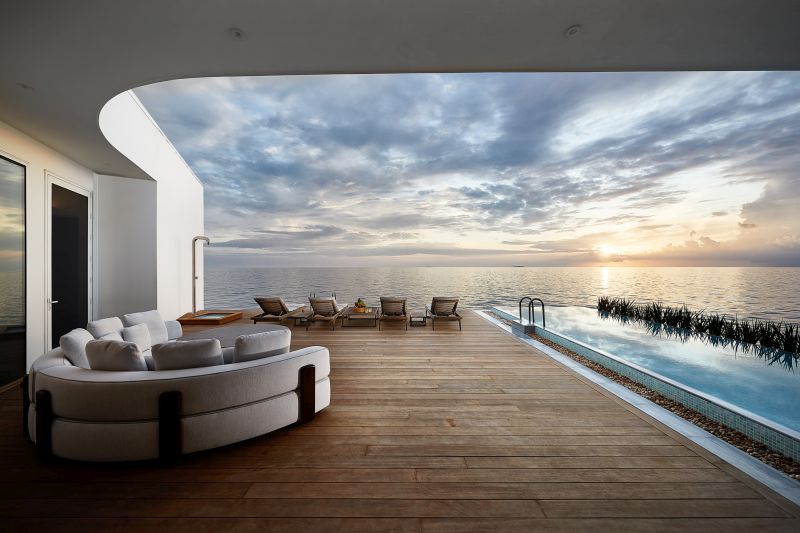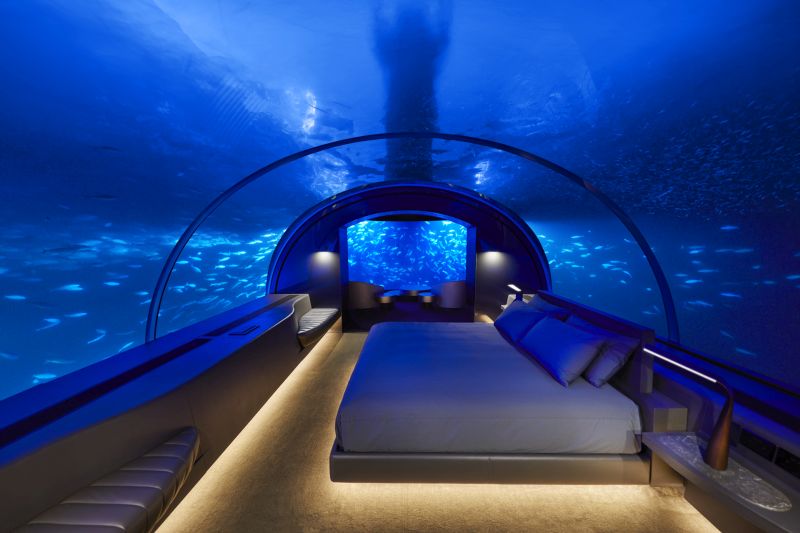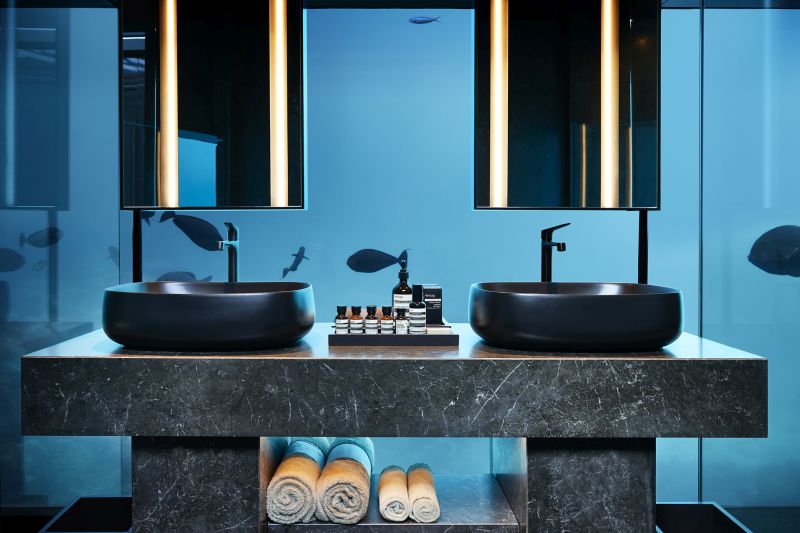 Underwater Hotel Room at Manta Resort in Zanzibar, Tanzania
A heart-stopping holidaying experience waits for you at Manta Resort. This houseboat-like residence, off the Pemba Island, Tanzania has an underwater room for guests. The room lies approximately 250-meters from the shore, with sleeping quarters submerged 4-meters below the ocean surface.
Visitors at the underwater hotel room can enjoy a 360-degree views of the marine life in the Indian Ocean. It is obvious to see coral reefs and different types of fishes swimming around the room. There's even a lounge area and bathroom located on the sea level, as well as a rooftop deck for sunbathing or stargazing.
Price: $1,840 per night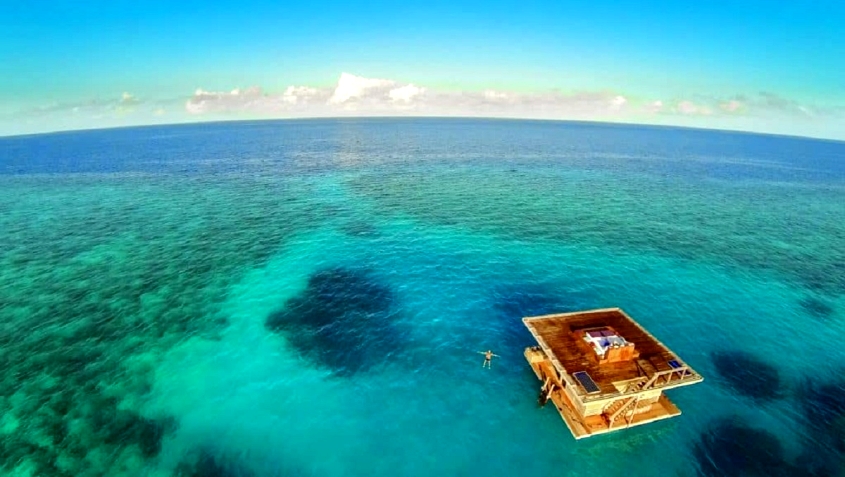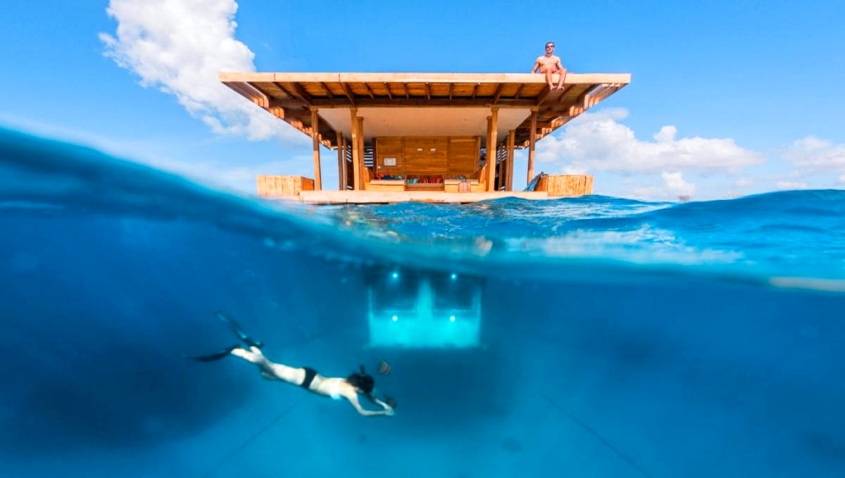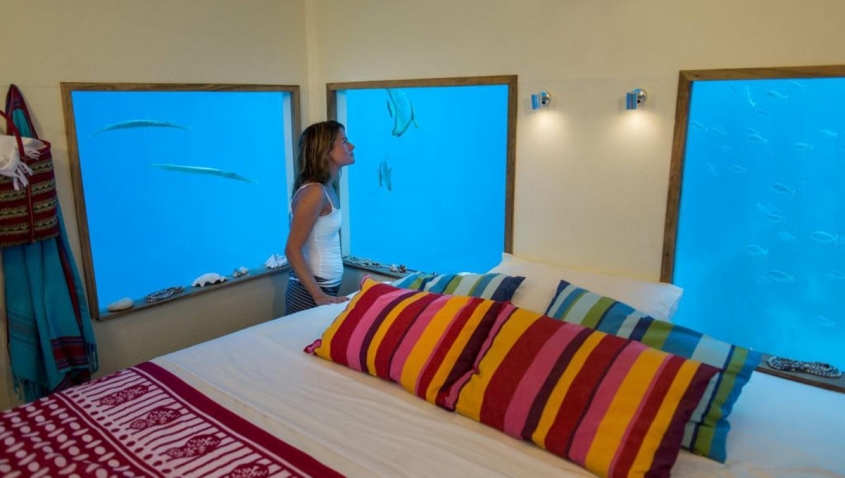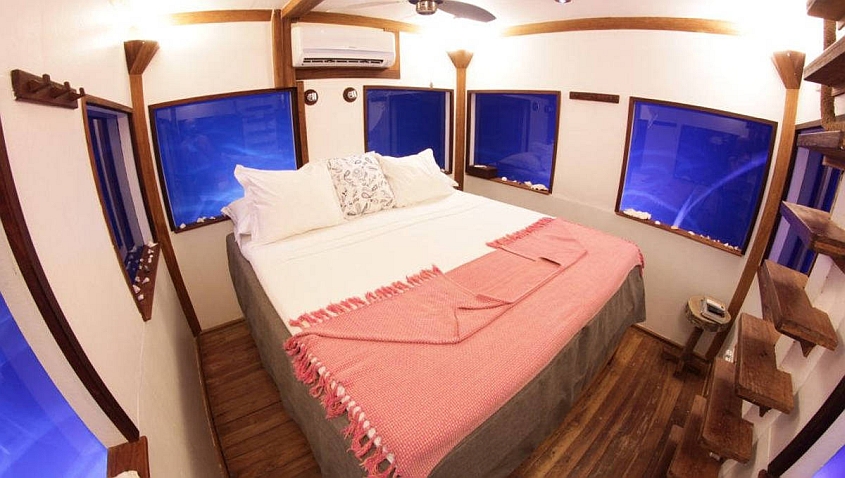 Also Read: Mark These World's Most Unique Hotels on Your Bucket List
Luxury Underwater Suites at Atlantis, Dubai
Located on Dubai's Palm Jumeirah Island, the underwater suites at Atlantis feature floor-to-ceiling windows offering stunning views of the Ambassador Lagoon. Named Poseidon and Neptune after the gods of the sea, these hotel suites have lavish facilities like a private elevator and 24-hour butler service.
Guests can shed their worries at the en-suite spa bath that overlooks the aquarium containing 65,000 marine animals.
Price: $4,527 per night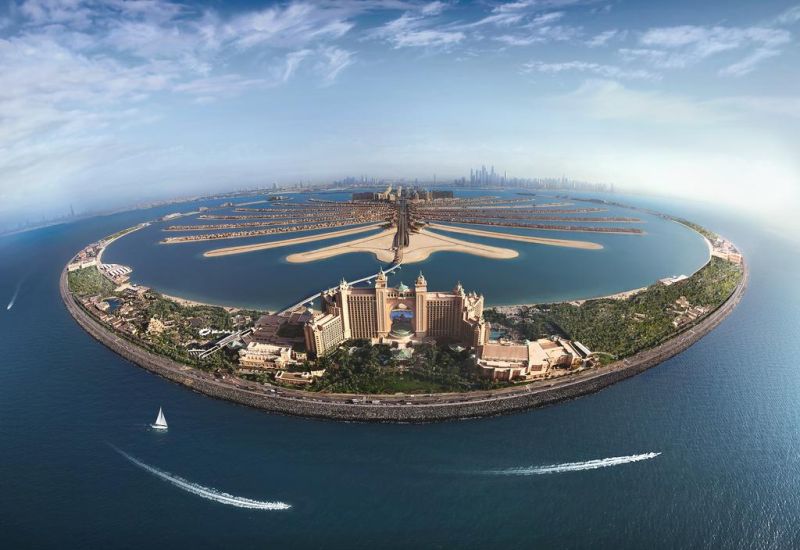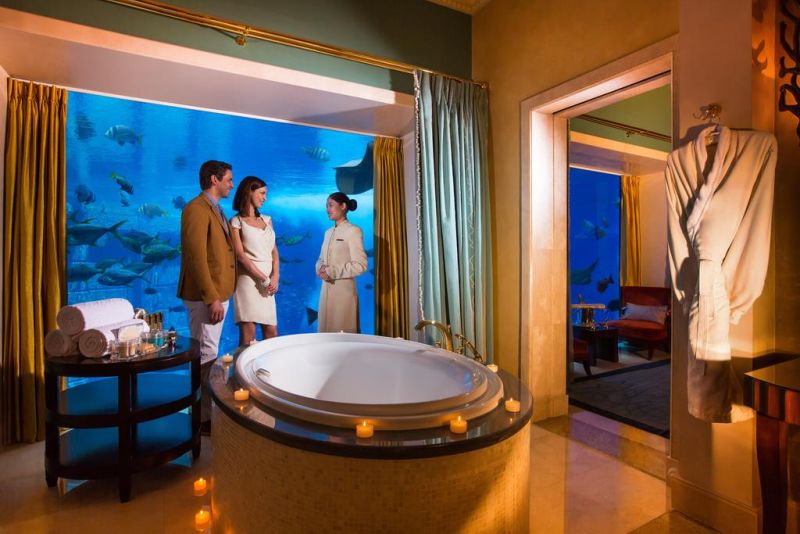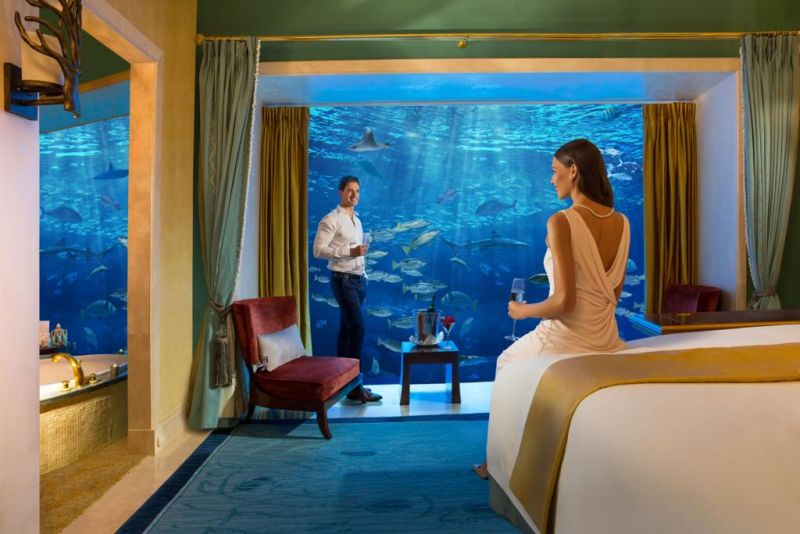 Underwater Rooms at Shimao Wonderland Intercontinental Hotel
Touted one-of-a-kind Groundscraper hotel in the world, Shimao Wonderland Intercontinental Hotel in the Songjiang district of Shanghai, China, is an award-winning hospitality project designed by British architect Martin Jochman of JADE+QA. The resort has 18 stories, 16 of which are below the ground level and two of the lowest floors are underwater.
Price: Starting at 7,013 CNY ($1,037) per night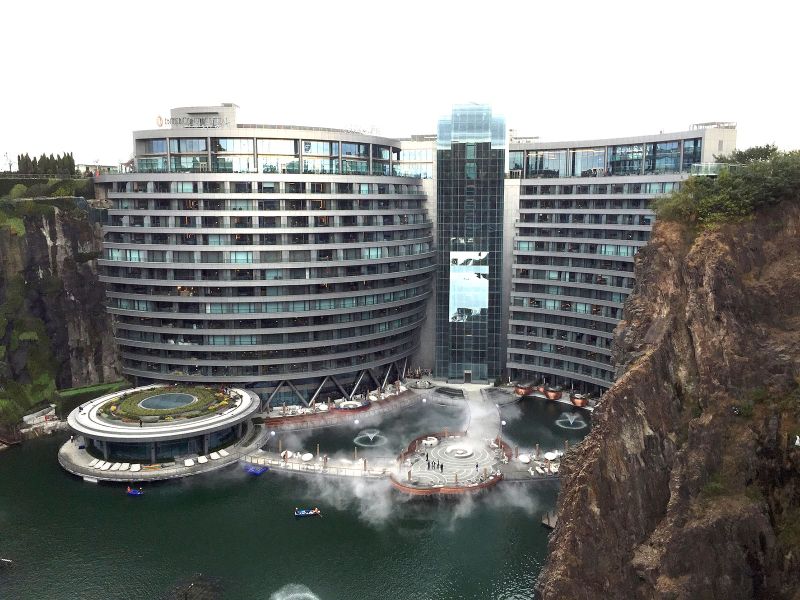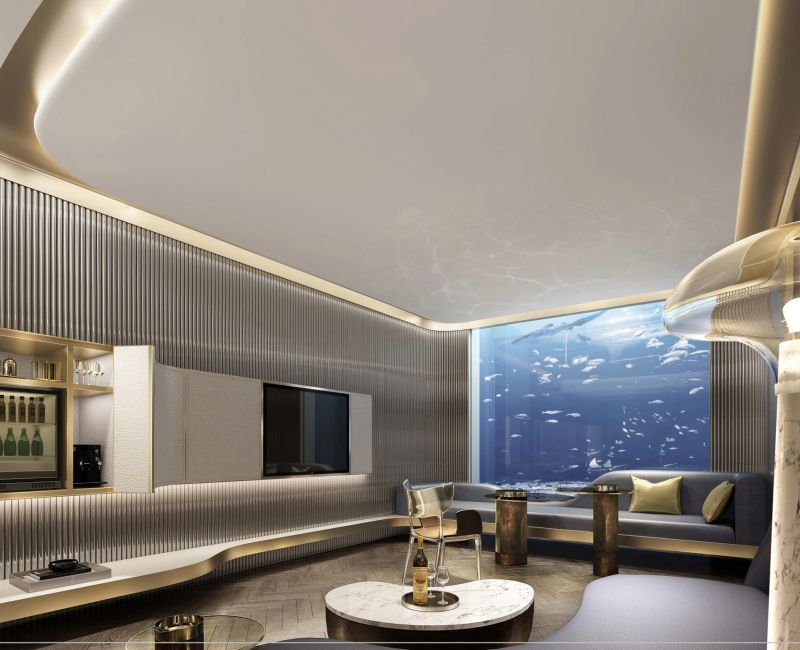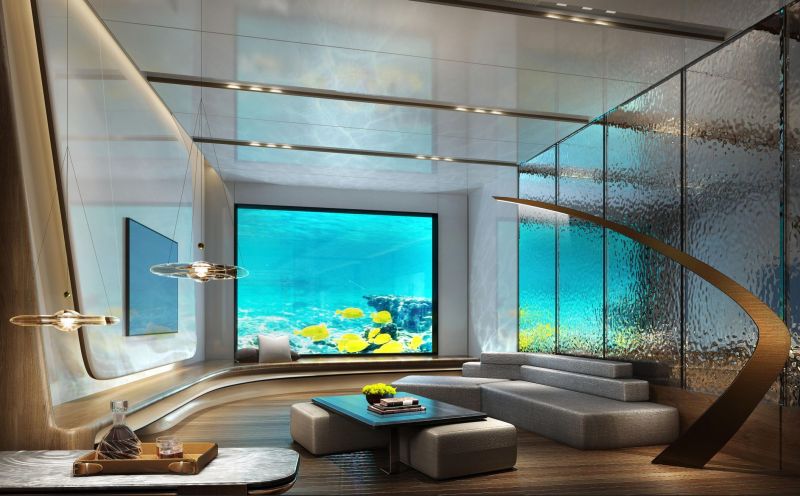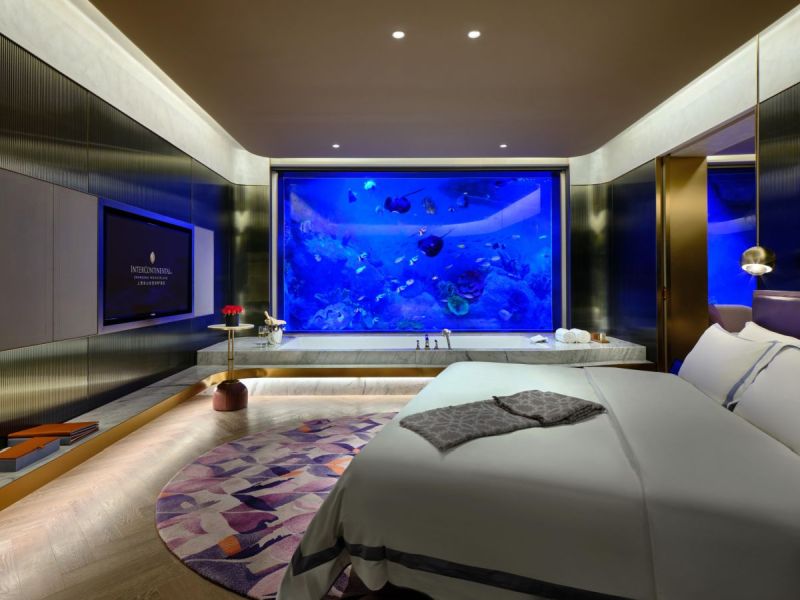 Jules' Undersea Lodge – Key Largo, Florida
Previously an underwater research lab off the coast of Puerto Rico, the Jules' Undersea Lodge in Key Largo, Florida now offers an underwater lodging facility. Guests are required to scuba dive 21 feet beneath the surface of the sea to reach the lodge.
A 5 x 7-foot moon-pool entrance takes you inside the lodge. There's a common room with a kitchen and bathroom on one side, and two bedrooms with 42-inch round windows to gaze at the marine life of the Emerald Lagoon on the other. Believe it or not, you can also have a pizza delivered to you if you're planning an overnight stay.
Price: Starts at 1,125 per night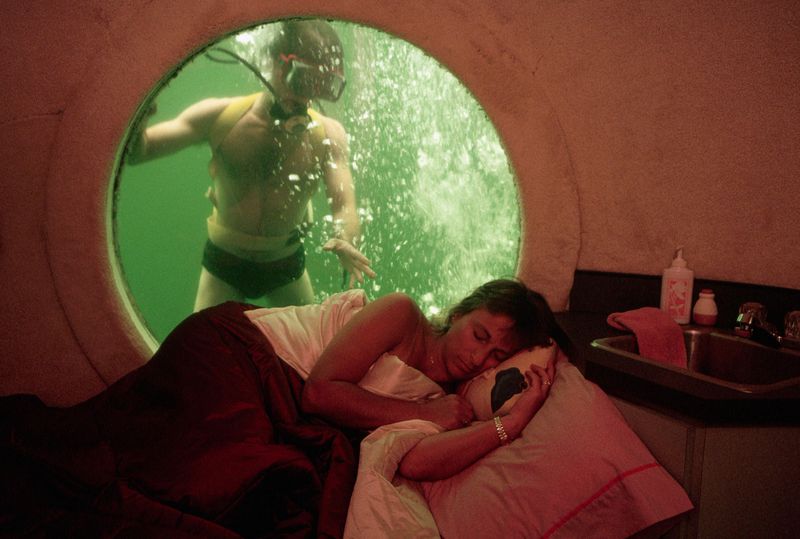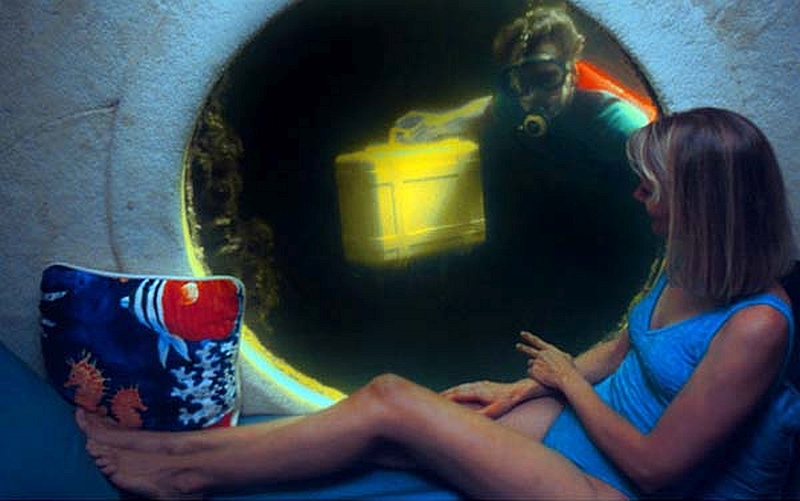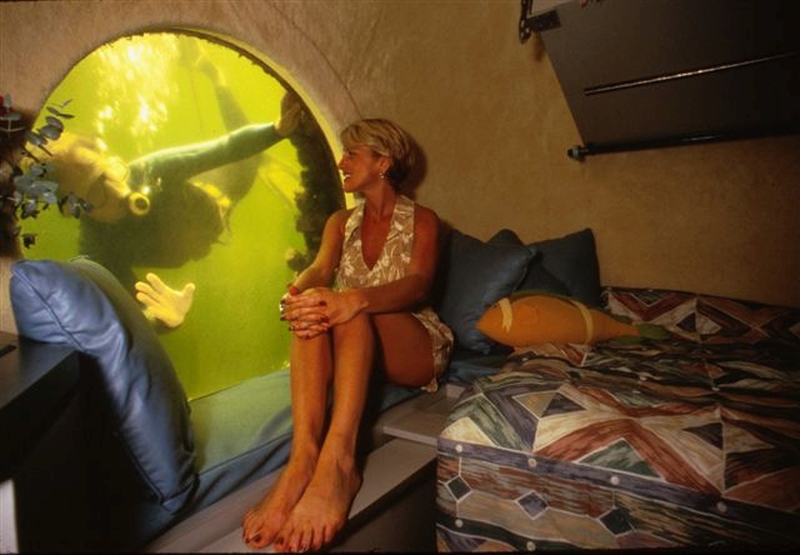 Floating Lido Resort Brings Venice to Dubai
Dubai's new underwater resort is modeled after the watery city of Venice in Italy, complete with gondolas and canals. It comprises 180 underwater cabins, each offering mesmerizing views of the sea. The biggest attraction is the underwater deck containing a pool, guest cabins, restaurants, and a spa.
Price: On request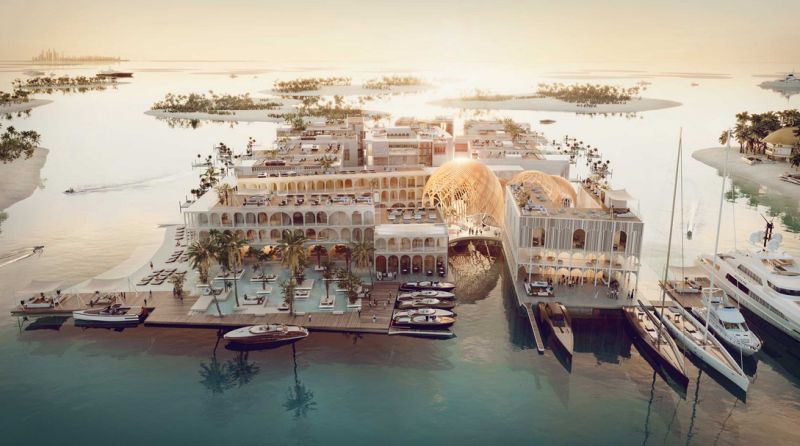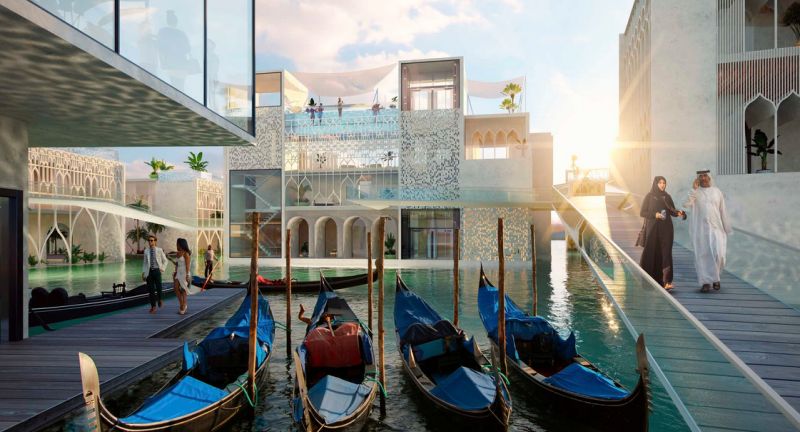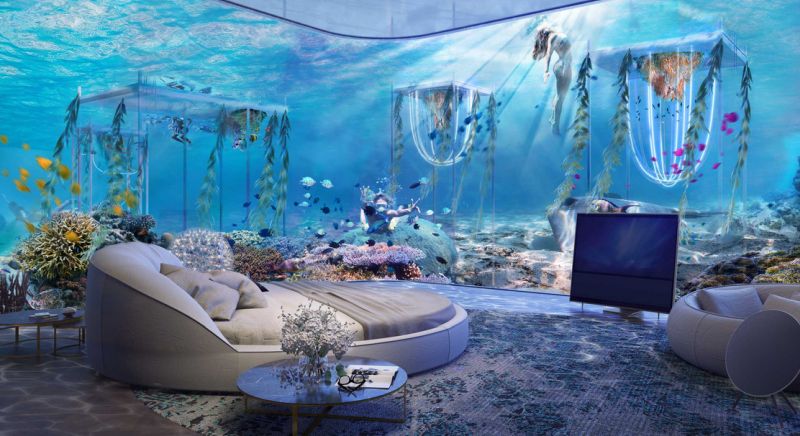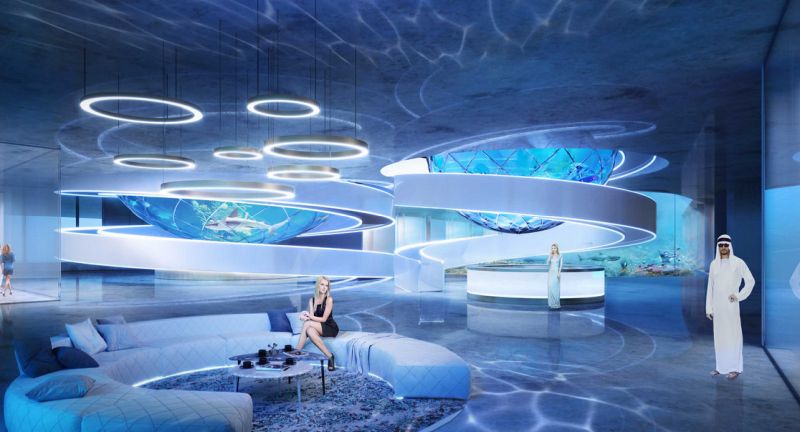 ReefSuites in Australia
You can now stay in an underwater accommodation near the Great Barrier Reef in Australia. It is built on the luxury Reefworld pontoon for a spectacular underwater experience. There are two rooms, each featuring bedding and glass-walled en-suite and floor-to-ceiling views of the underwater world.
Price: Starts at $995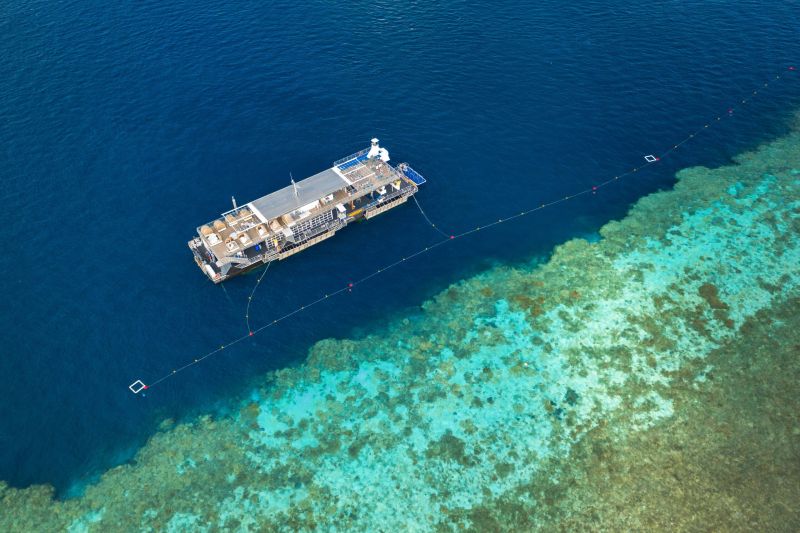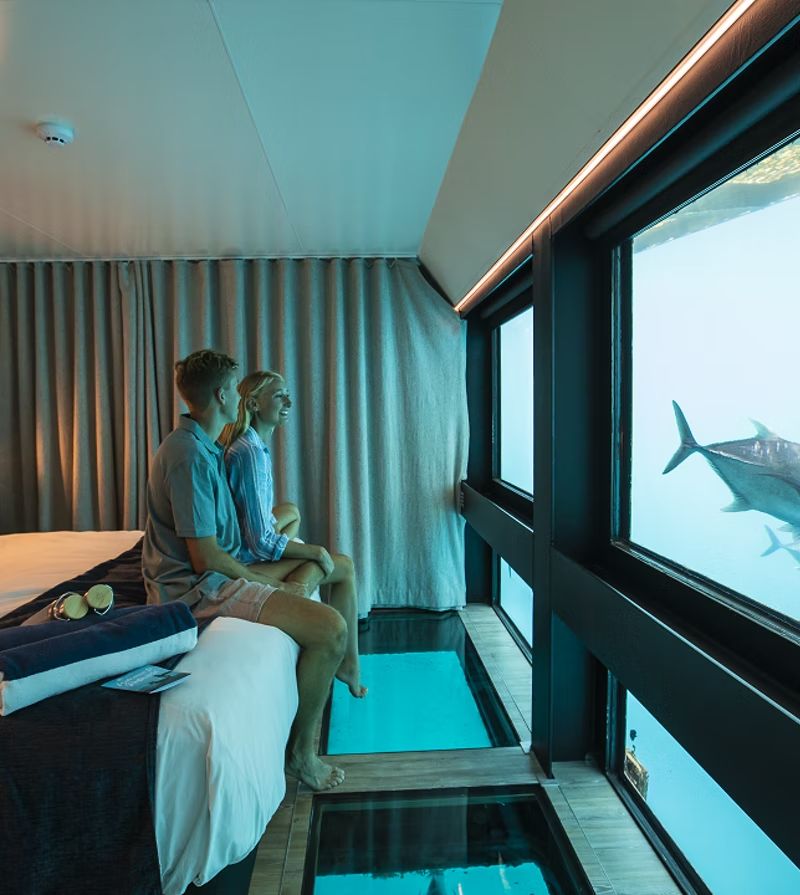 Ocean Suite in Sentosa, Singapore
If you are looking for a unique accommodation that offers both land and sea views, you can go for Ocean Suite in Singapore which literally lets you sleep with the fishes. It is located in a two-story townhouse with an underwater view from the privacy of your own bedroom on the first level.
Price: 2,966 per night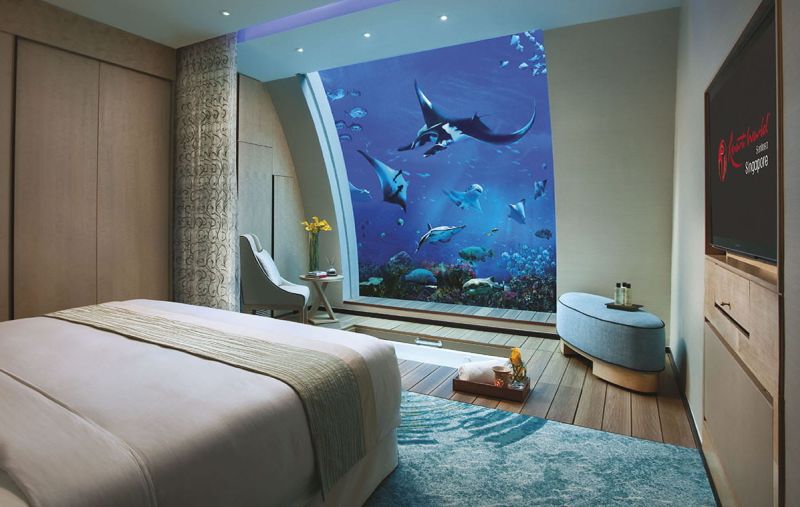 The Floating Seahorse – Dubai
The global real estate and property developer Kleindienst Group is building these houseboat-like villas with underwater living spaces as part of the $5 billion hospitality project 'The Heart of Europe' in Dubai. Aside from floating on the sea, these three-story floating villas have underwater accommodations for a unique undersea vacation in the middle of the Arabian Gulf.
Each floating villa has a master bedroom and bathroom submerged in the water to experience marine life. A total of 78 floating homes will be located at the man-made St Petersburg Island at The Heart of Europe resort.
Sale Price: On request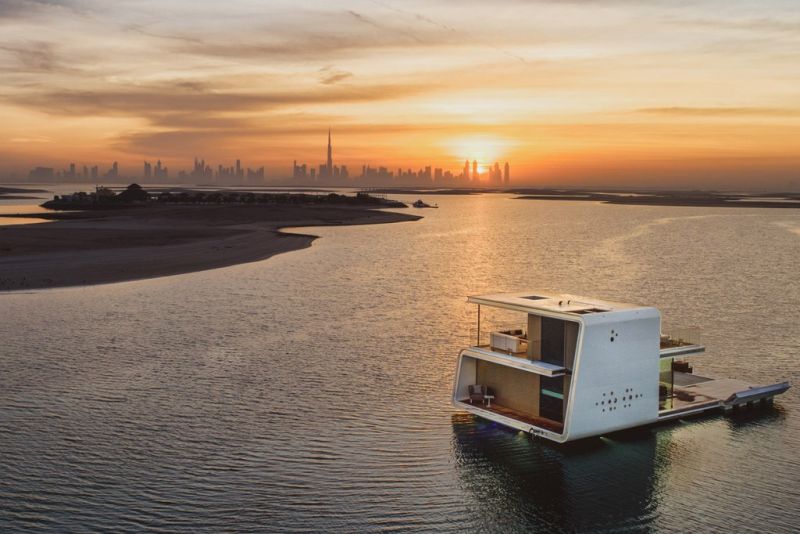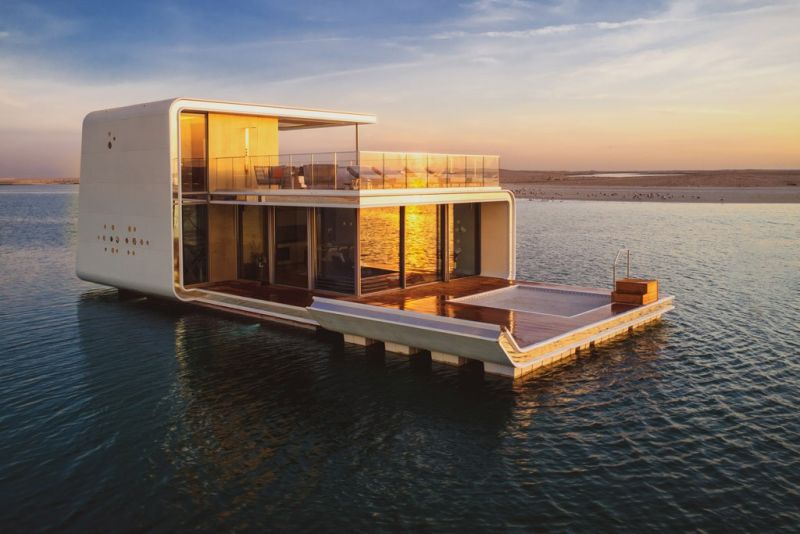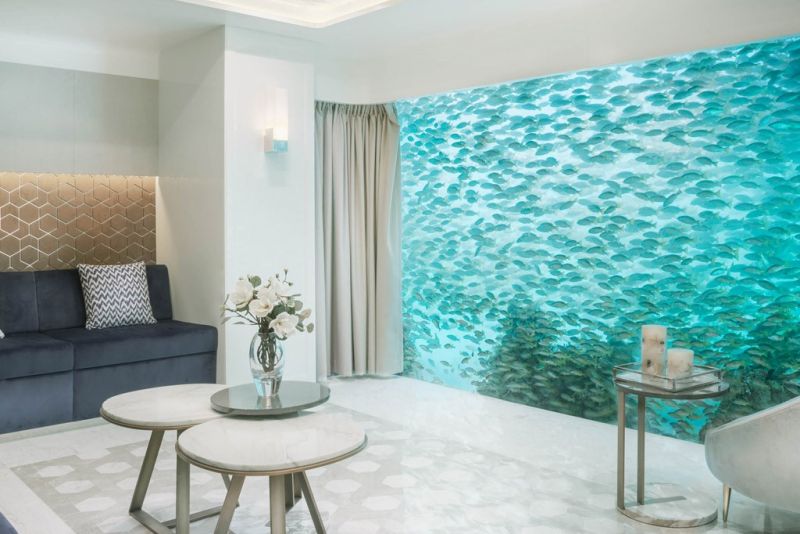 Hotel Utter Inn – Vasteras, Sweden
Hotel Utter Inn is neither a typical Swedish house nor the best hotel room in the town. Then what's the catch? This unusual cottage floating on the surface of Lake Malaren in Sweden has underwater accommodation. A ladder takes one down into an underwater room with windows to see marine creatures around. Ideally, this is an art project by famous artist and sculptor, Mikael Genberg.
Price: On request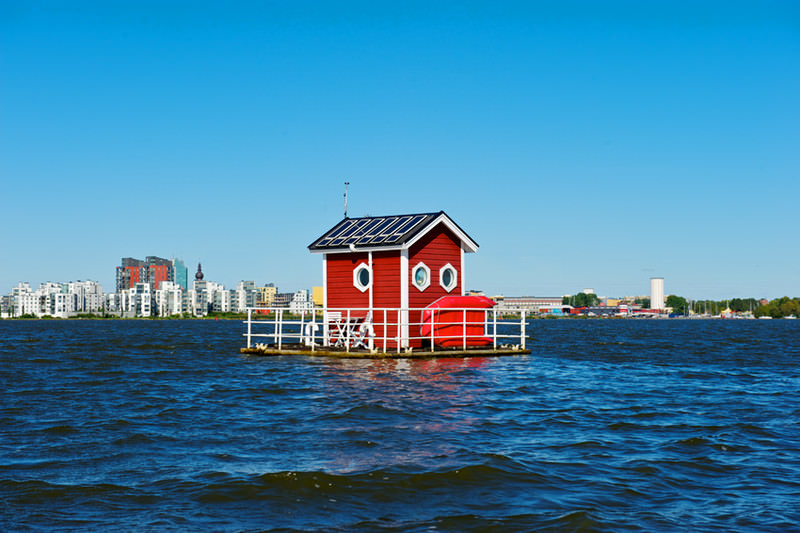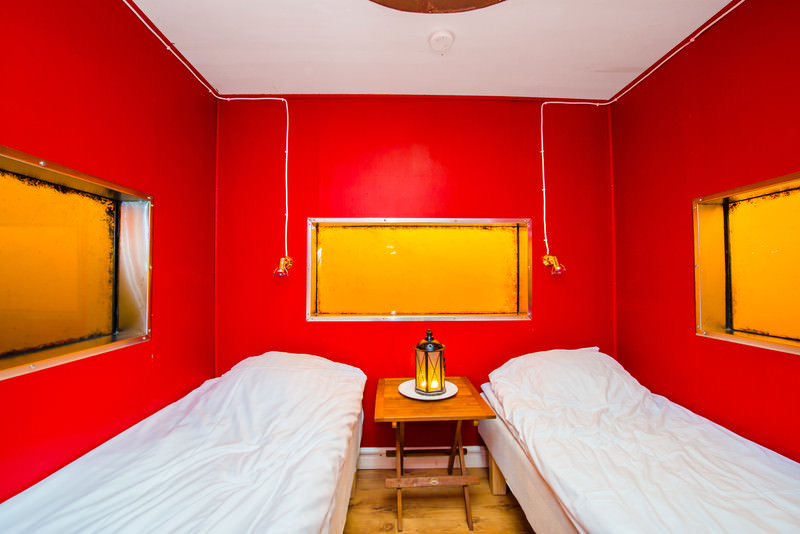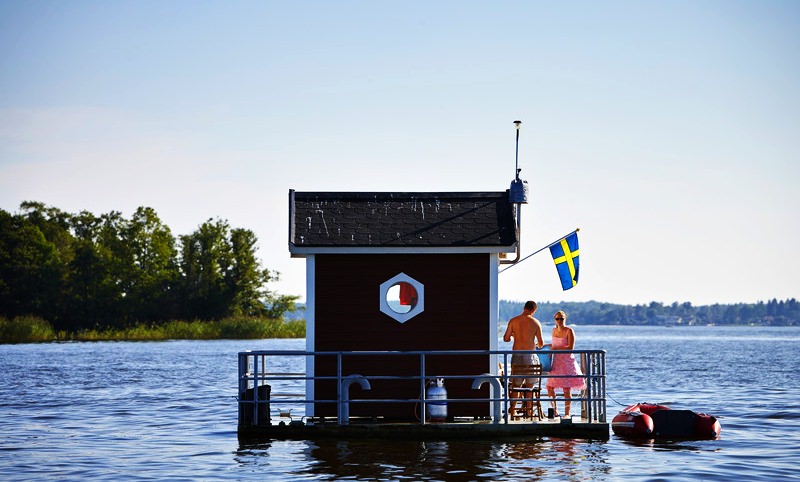 Also Read: 5 Proposed Space Hotels for Otherworldly Vacations
| Underwater Hotel Proposals
Poseidon Undersea Resort – Katafanga Island, Fiji
The Poseidon Undersea Resort is a proposed five-star underwater resort in Katafanga Island, Fiji. The resort will feature 24 guest rooms, an underwater restaurant and bar, library, conference room, wedding chapel, spa and a luxury suite.
The guests will reach the resort through a specially designed elevator and will live in the underwater suites with aquatic animals around.
Price: N/A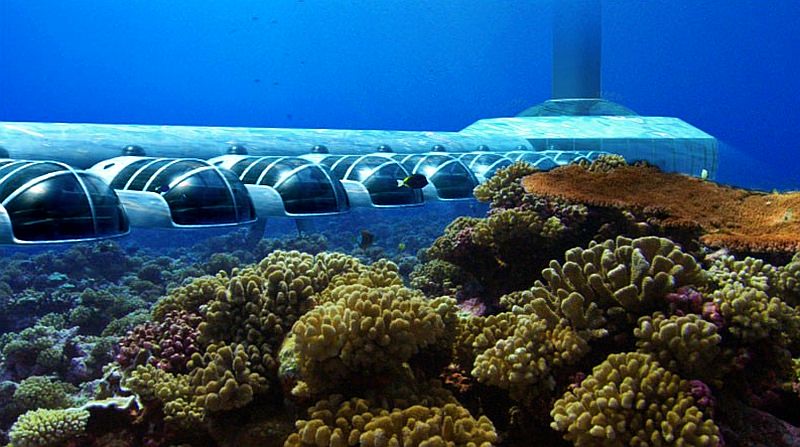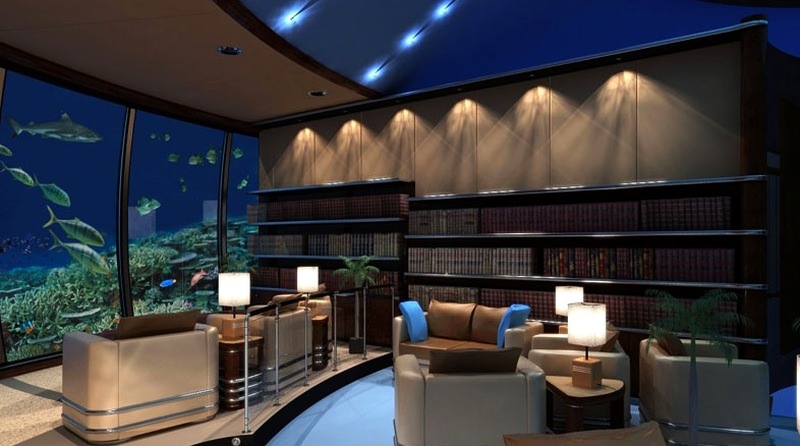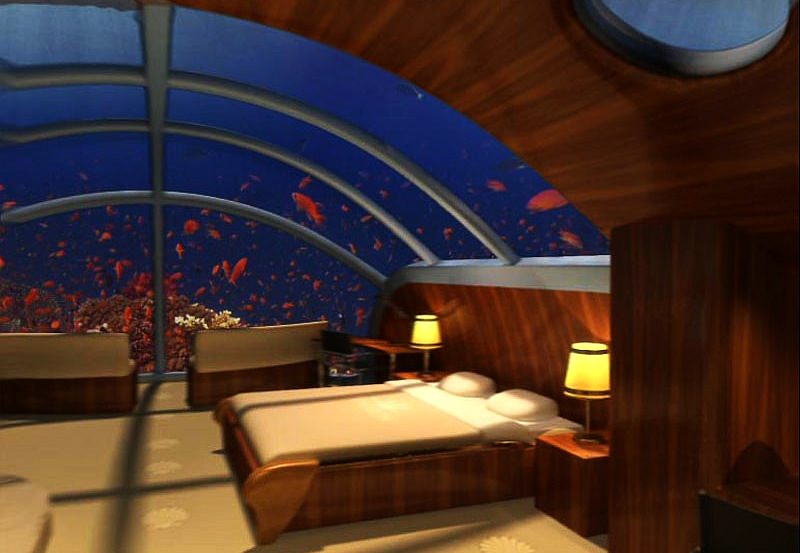 Water Discus Underwater Hotel – Dubai, UAE
The water discus hotel and resort is a proposed underwater hospitality project in Dubai. This $686-million project designed by Deep Ocean Technology is one of the most sophisticated and expensive hotel projects conceived ever. The hotel will be located 66 feet under the water in the Persian Gulf of Dubai, alongside the Palm Jumeirah.
Designed by Joachim Hauser and Professor Roland Dieterle, it is planned to be composed of three segments: a land station, a connecting train, and the underwater hotel.
Price: N/A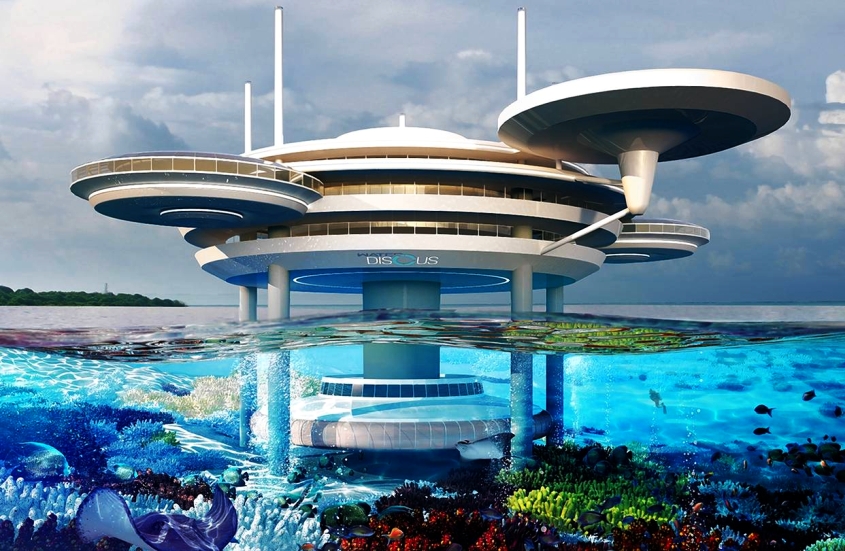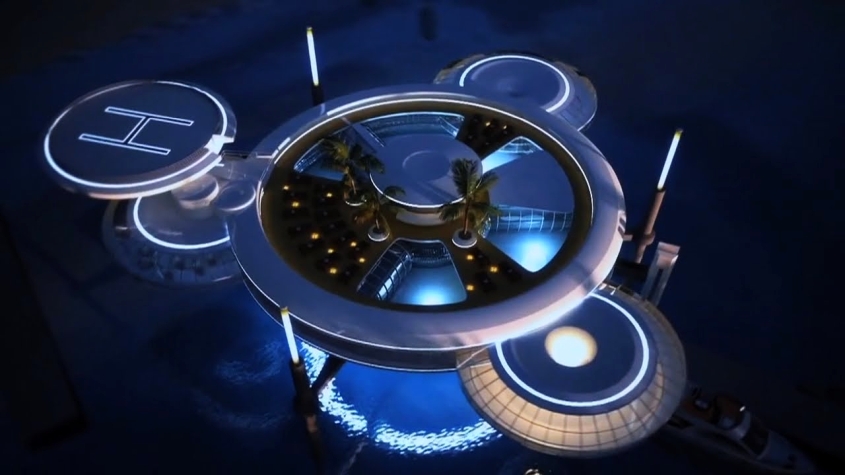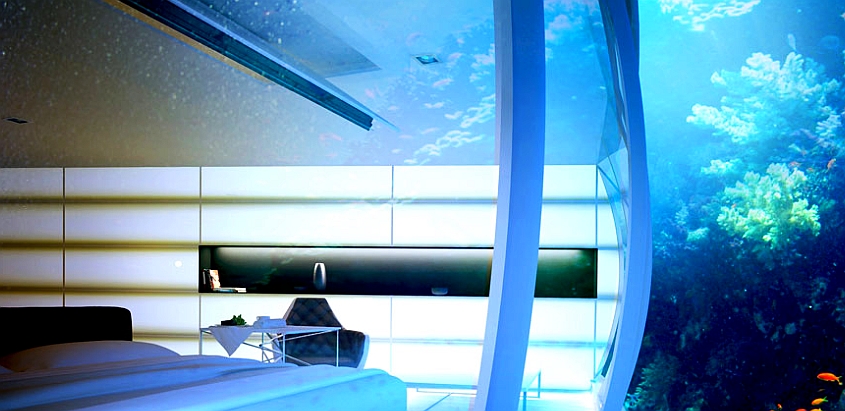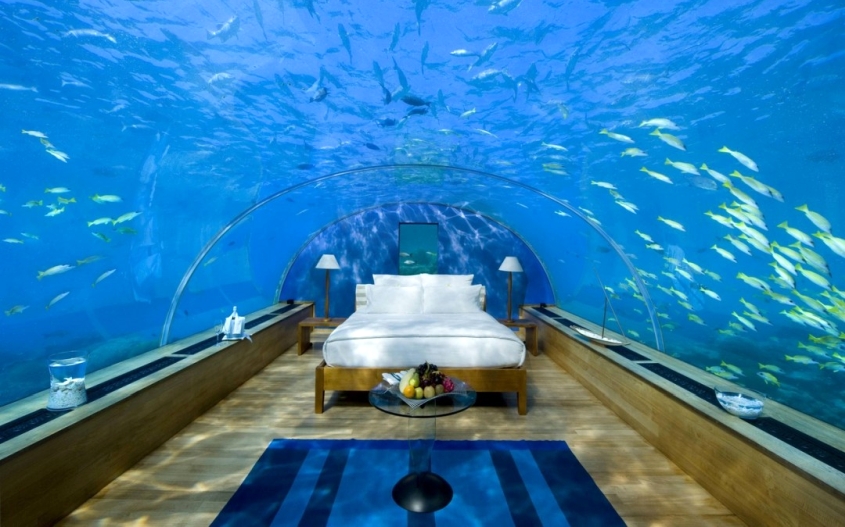 Lovers Deep – St Lucia Submarine Hotel, Caribbean Island
Lovers Deep is a submarine converted into a hotel for couples by Olivers Travels. It is supposed to cater to people who wish to have extraordinary and private time under the sea. There are hotel-like features complete with luxury facilities on board to experience the marine world.
Price: N/A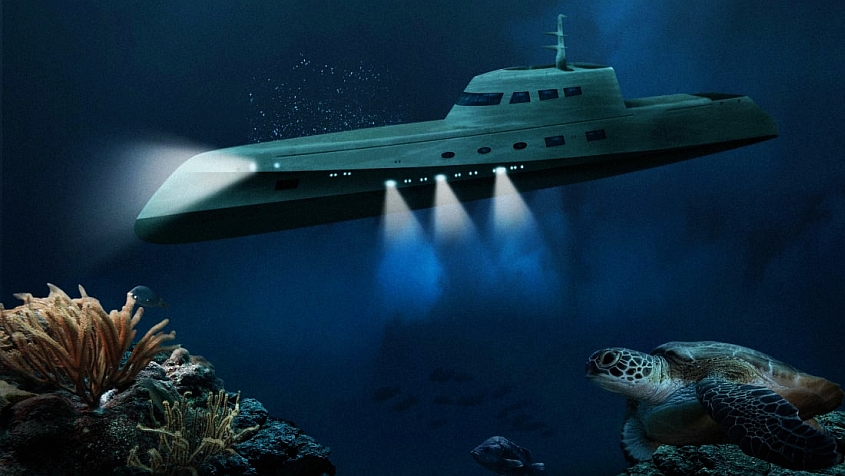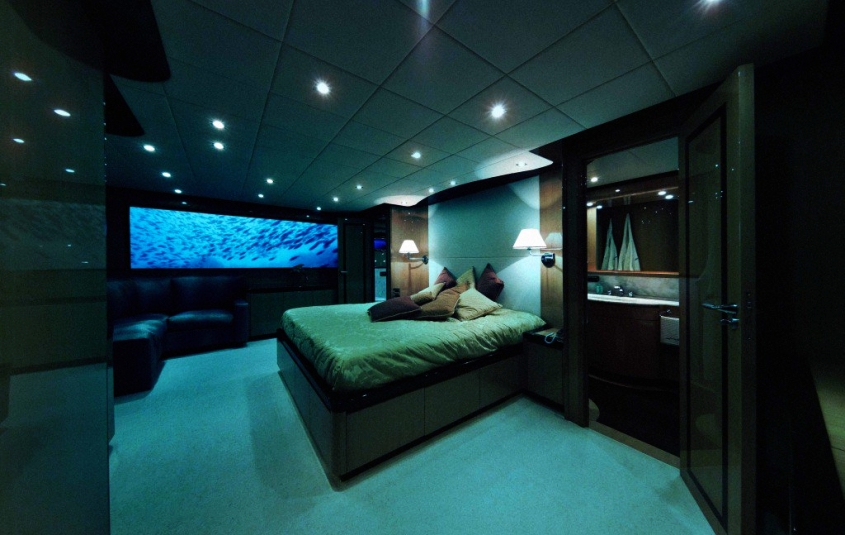 Planet Ocean Underwater Hotel – Key West, Florida
The Planet Ocean underwater hotel will be designed to offer an exclusive underwater experience. It will be a movable underwater hotel sited for 15 different locations around Puerto Rican Island. This getaway will be ideal for those adventurers, sea lovers, and oceanographers wanting to experience what it is like to stay underwater. The underwater hotel is set to be the world's first self-contained underwater luxury hotel.
It will comprise capsule-shaped compartments that allow visitors to gaze at the stunning marine life and reef formations.
Price: N/A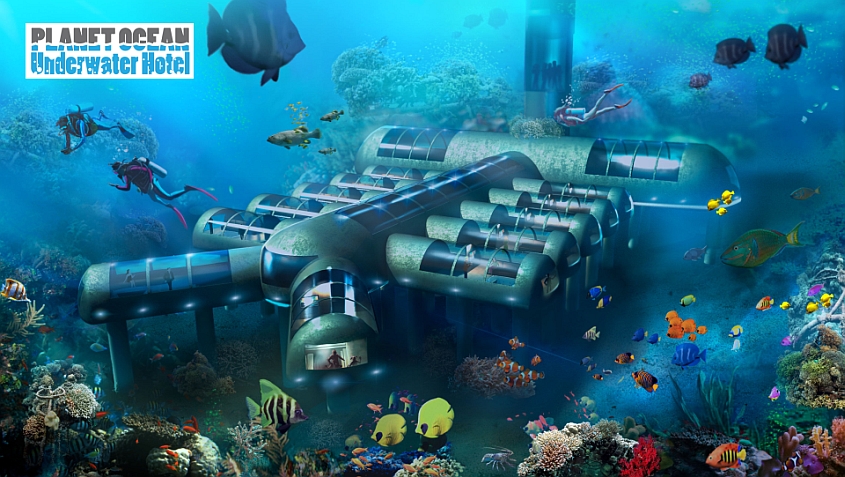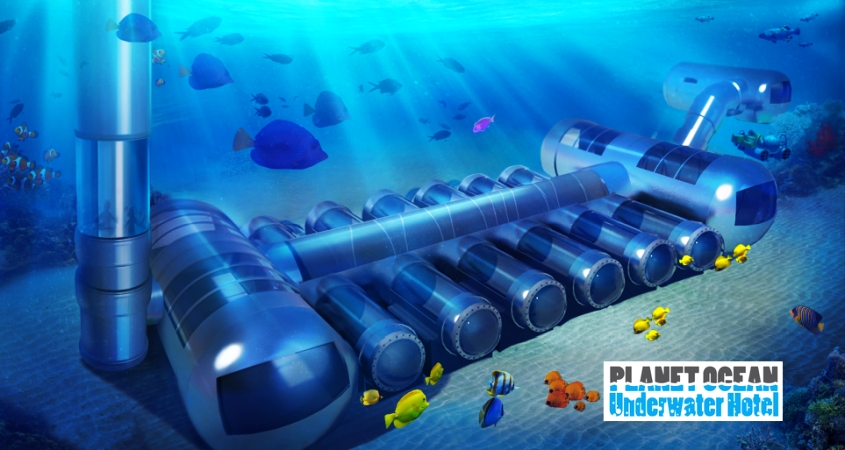 H2OME Undersea Hotel
H2OME is conceptualizing an underwater living structure. They have proposed an underwater residence that people can purchase. They will be offering options to choose the seafloor site. These homes sport the same entry points as the ones on the surface, so no diving or decompression is needed to enter this underwater residence.
Price: $4 million for small and $12 million for large subsea houses