Ever wished of having lighted home decor to keep your interiors modern, trendy and tasteful? The idea just awesome but not those outdated radium wall stickers for sure. All those lurking online to find creative ways to add a glowing charm to their home interior, we're listing a few mind-blowing glow-in-the-dark furniture that are just perfect to add a unique charisma to any space.
From glowing resin table and lighted bench to a LED bed, out list includes 30 best glow-in-the-dark furniture to bring a lively element to your home.
Refurbished glow-in-the-dark marble table
I would really love to light up my living room with river table that glows beautifully in the dark, and I am sure you would love it too. The table is a DIY project by an Imgur user. To erect this, he bought a broken marble table for $9. He removed the marble surface and broke it further into pieces. After molding them to make a fine tabletop, he used casting resin with glow-in-the-dark blue pigment to repair the cracks and voids. He also put a glaze coat epoxy over the tabletop for a smooth glass-like finish. The table looks surprisingly bright and shining in dark.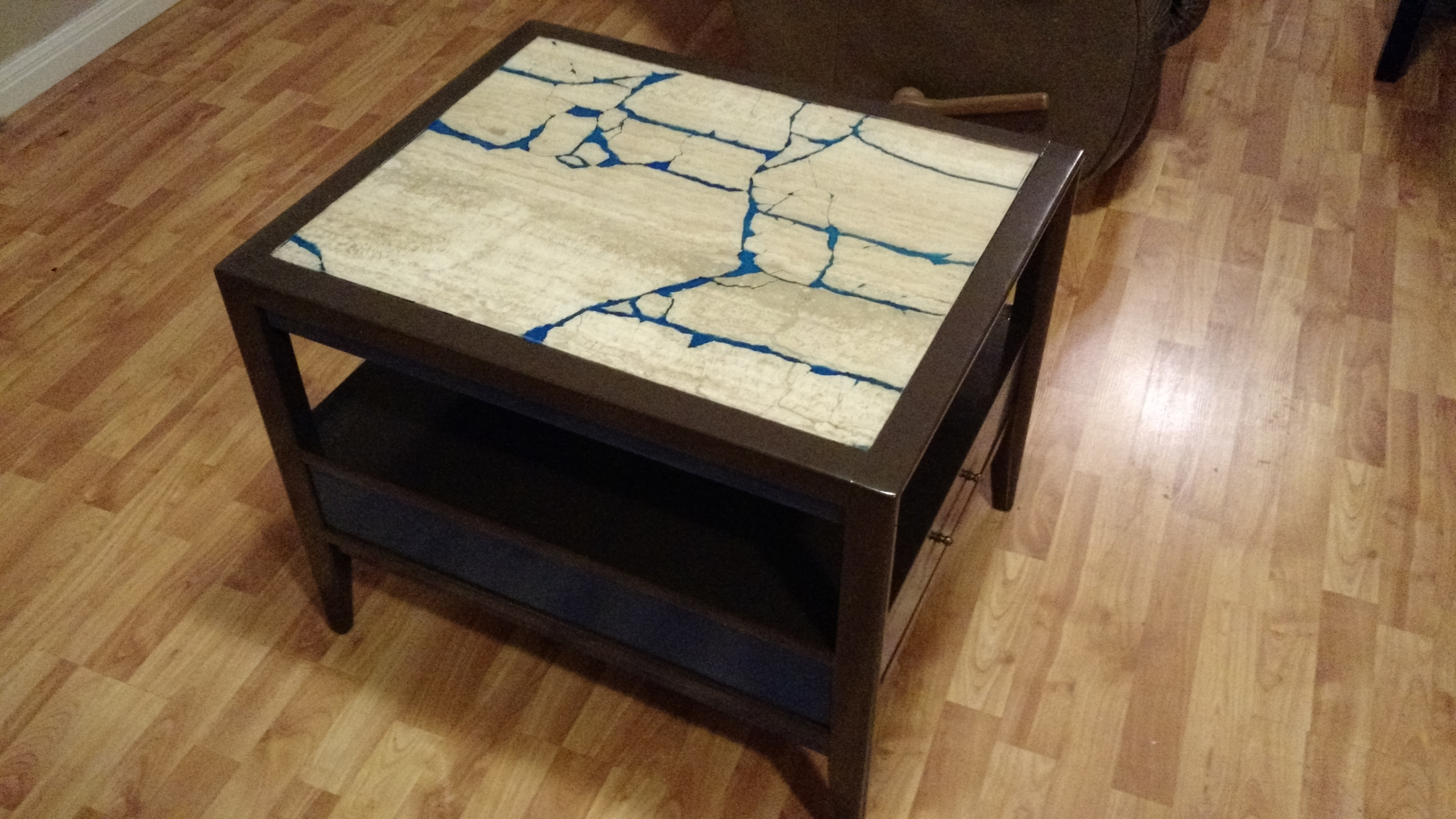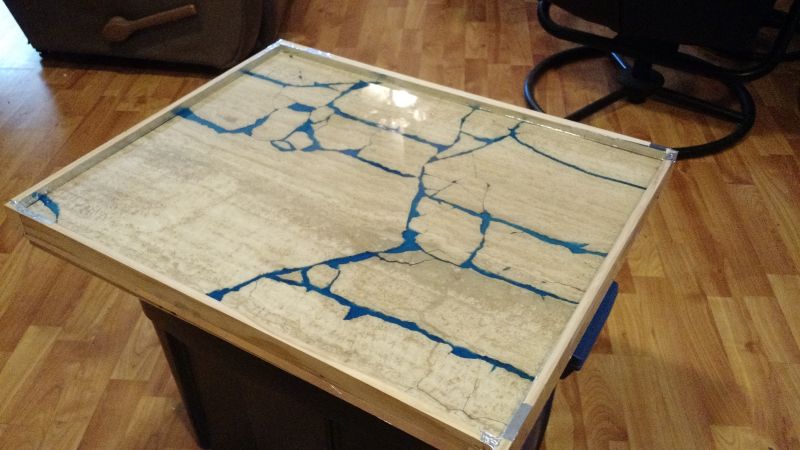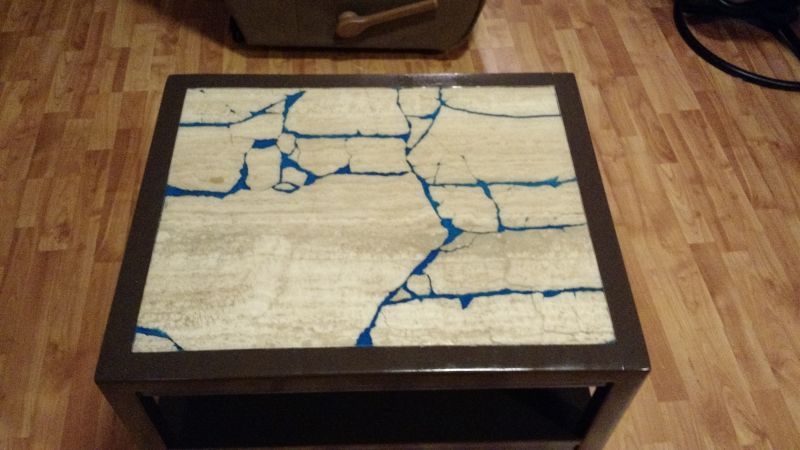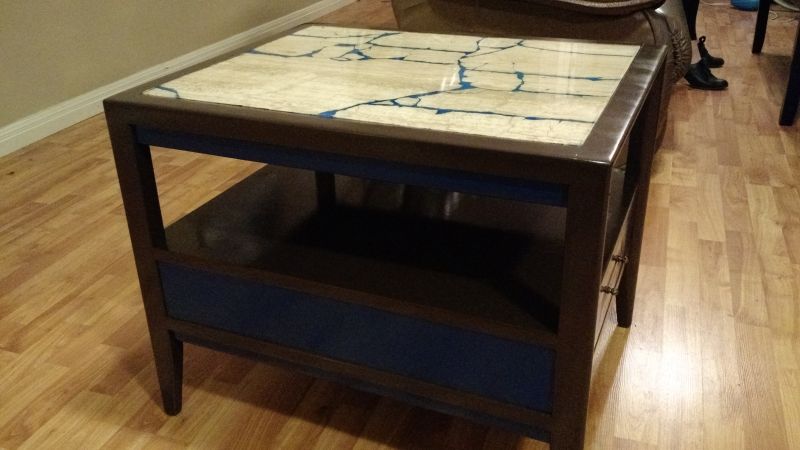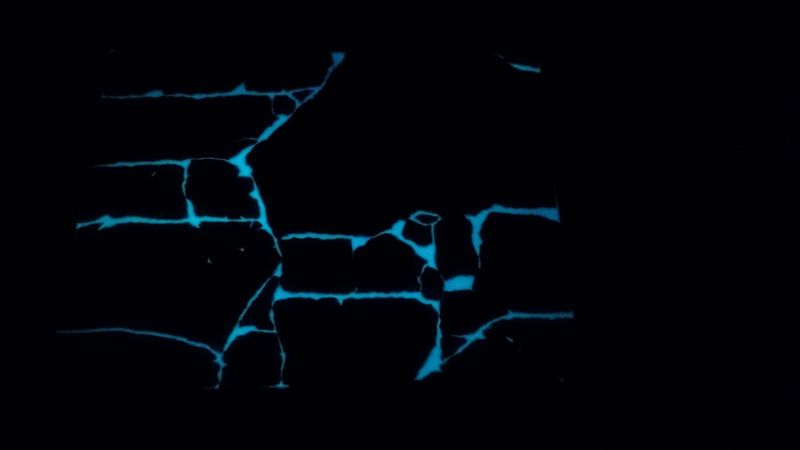 Glow-in-the-dark table by Mat Brown
If you want a gleaming table with a clean and sleek appeal, get this glow-in-the-dark table by Mat brown. He built this charming table using some wood planks, resin, photoluminescent powder and basic woodworking tools. The end product you can see in the pictures below, and get an idea about about what kind of charm it can add to your dinner parties.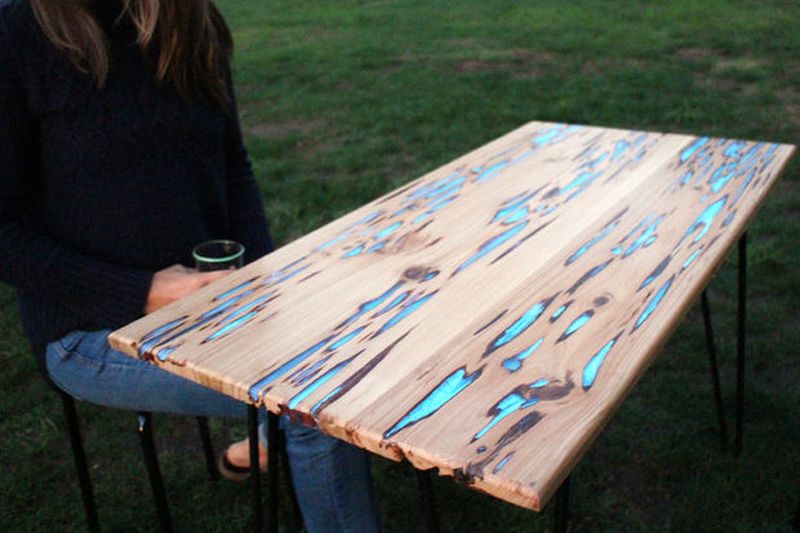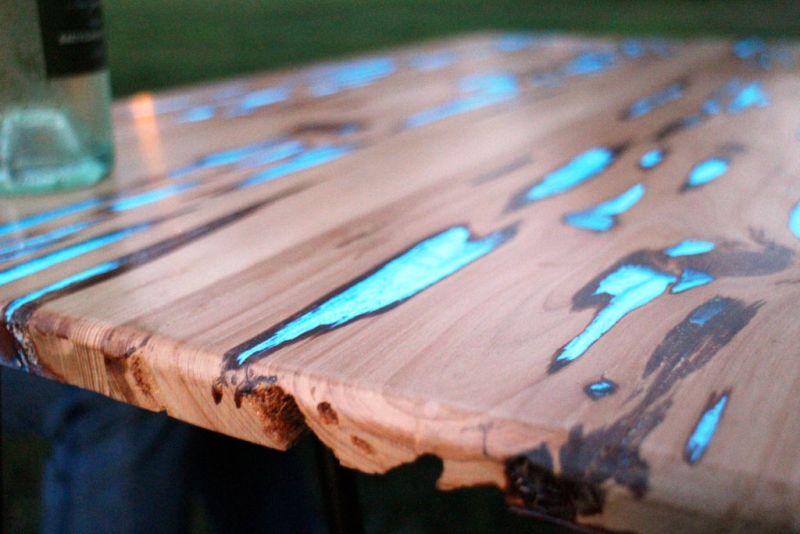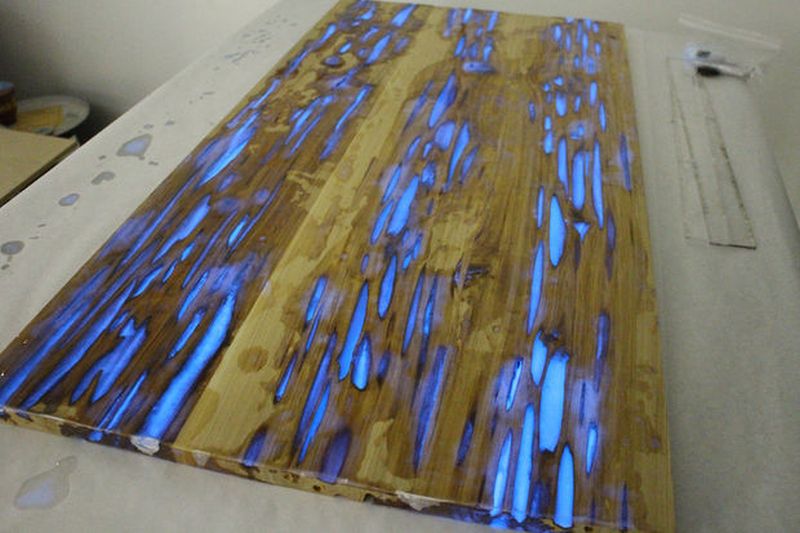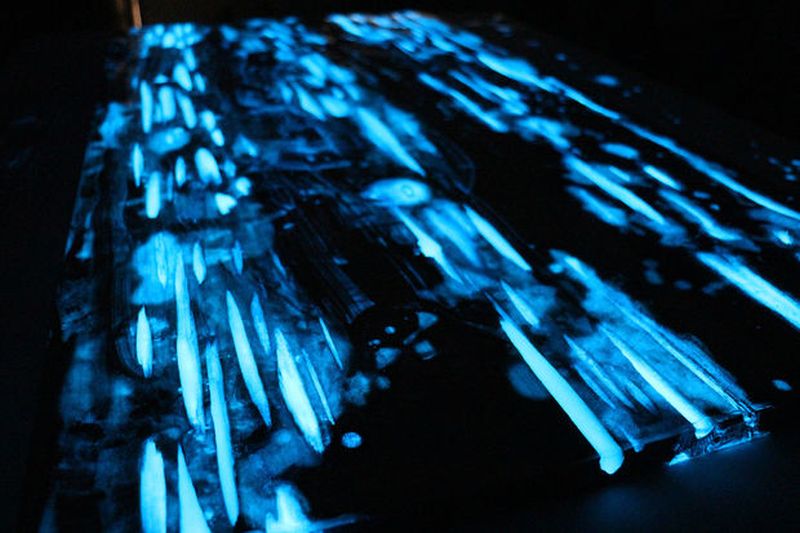 Bright Woods collection by Giancarlo Zema
Have a look at this brilliant Bright Woods furniture collection by Giancarlo Zema for the Avanzini Group. The collection of illuminated tables and chairs was a big hit at the Triennale Design Museum in the Milan Furniture Fair. I just love its unique design and a smooth stripped surface that ensures to capture everyone's attention with a tempting glow. They exude beautiful colors including orange, pink purple, and white. The glowing furniture carries lovely appeal that looks lovely in any indoor and outdoor setting.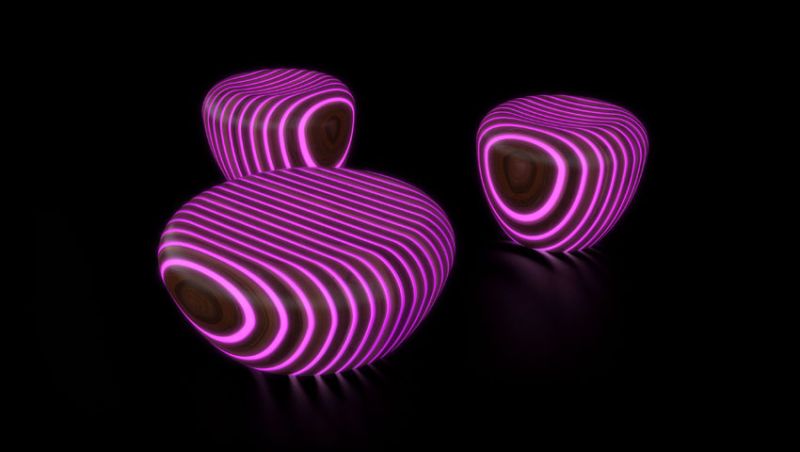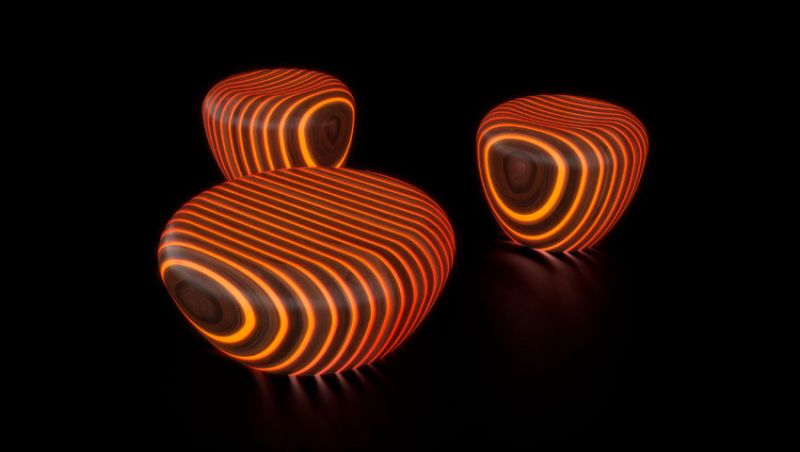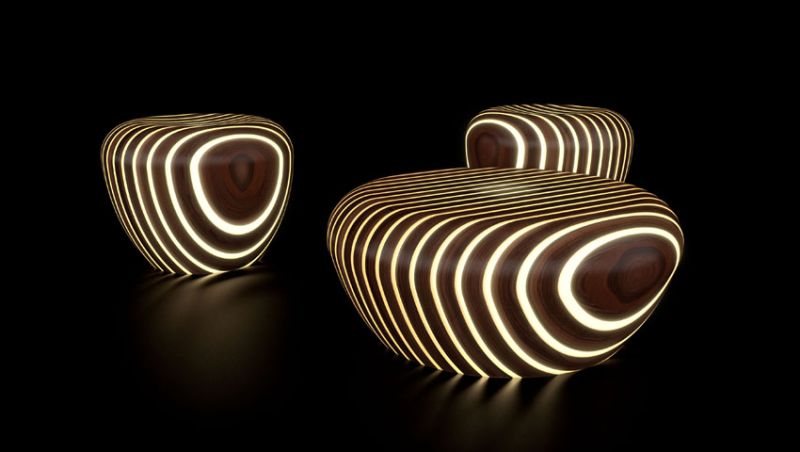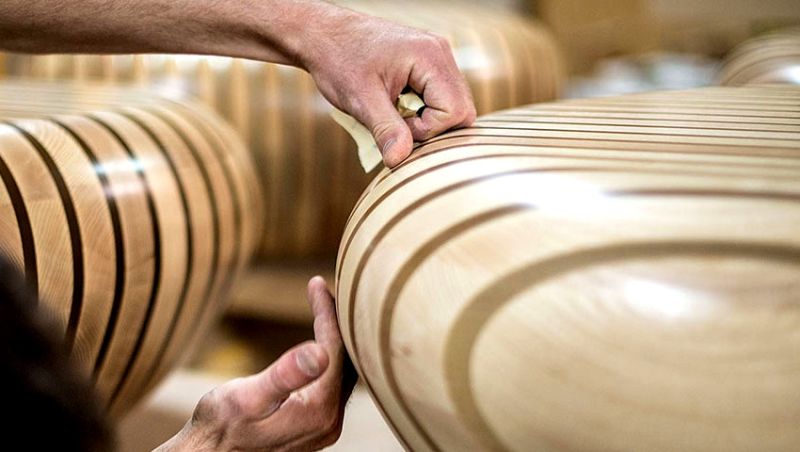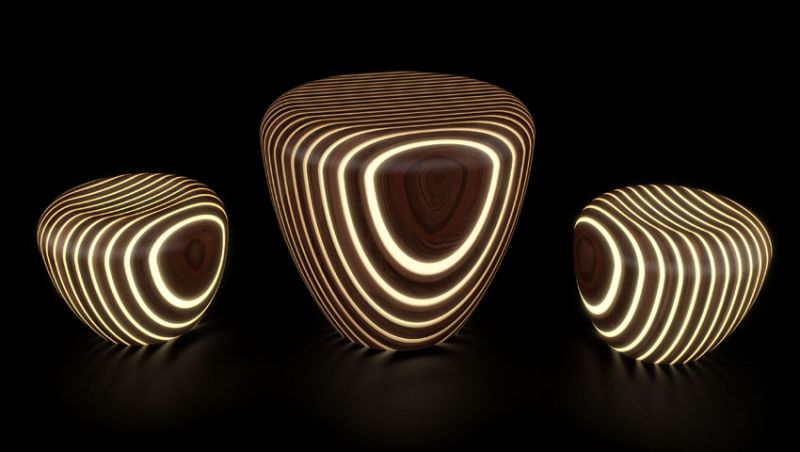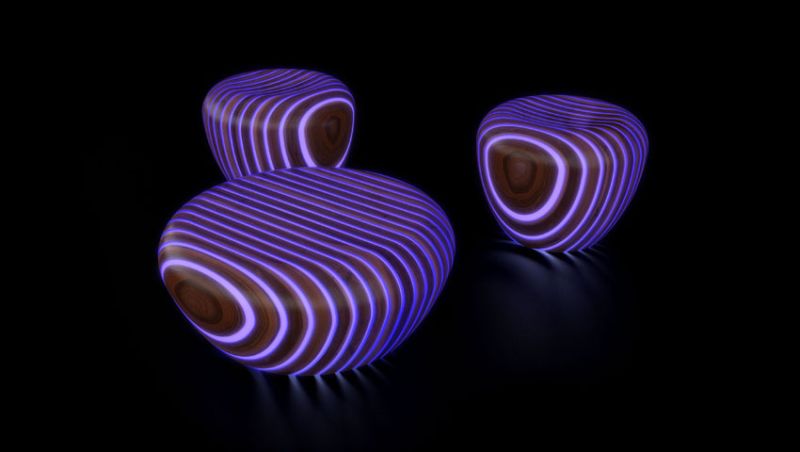 Mobius light bench
Displayed at Wanted Design in New York City, the amazing Mobius light bench is a great artwork of Louis Lim. Created using new building material called Dark Chroma, the circular bench lights up in pink and blue shades. The best thing about this bench is that you don't have to wait until it's dark to see its magical lighting effects. It has a series of built-in motion sensors that are sensitive to touch. When you sit on it, the bench automatically glows in different appealing ambient shades.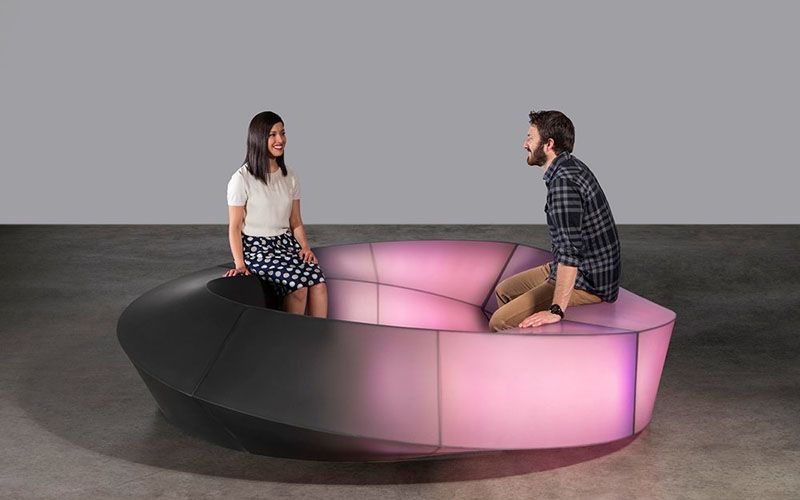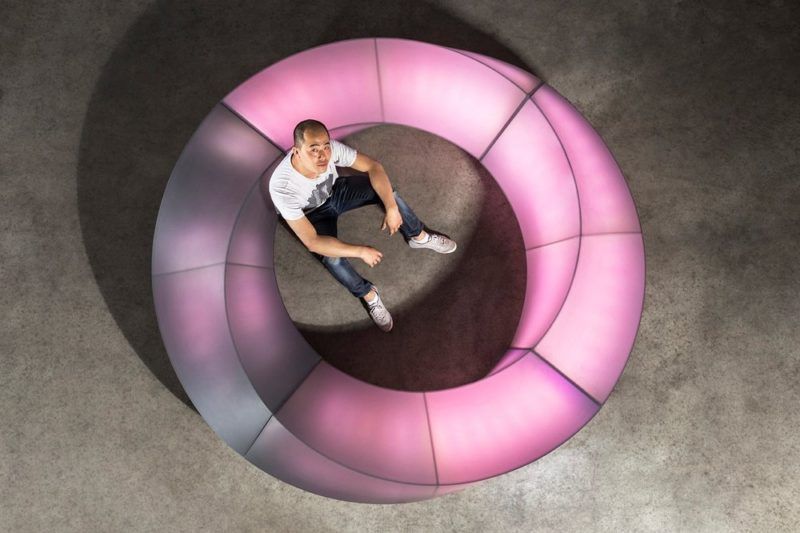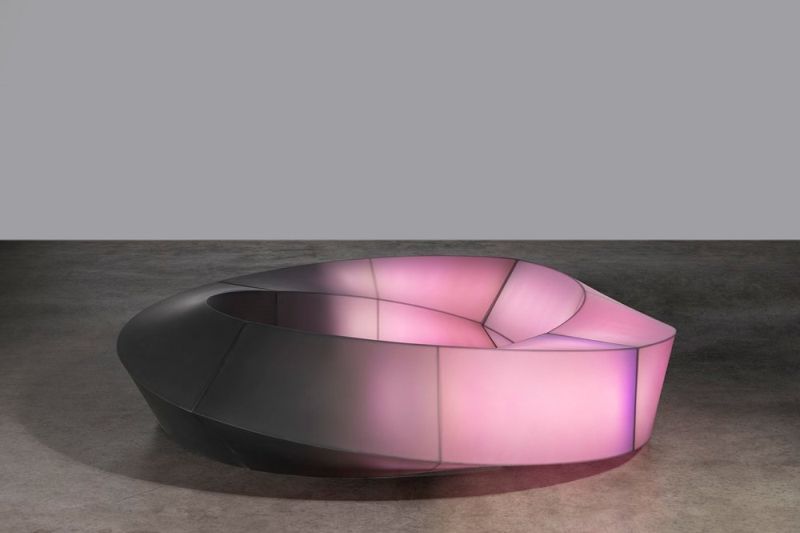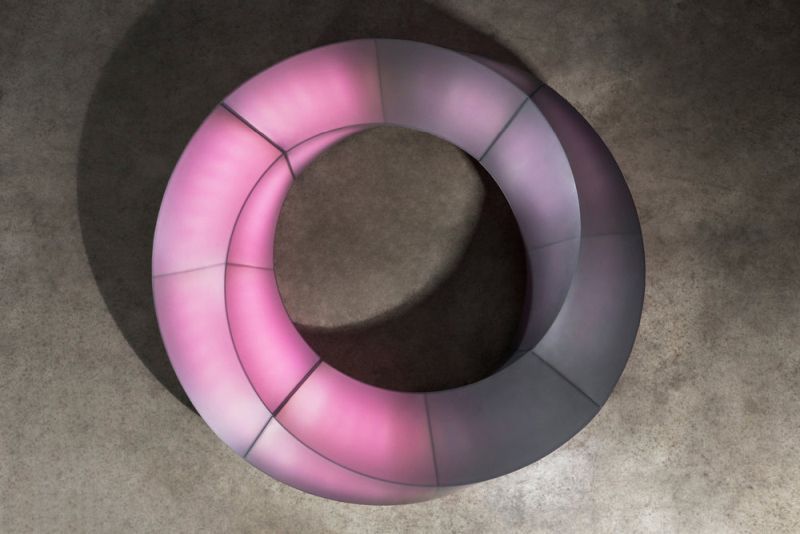 Eudora fiberglass chair
Looking for a perfect seating to make your bedroom look stunning? Have a look at this Eudora fiberglass chair upholstered in different printed fabrics. Don't you think these chairs would look too pretty in a dark room? Yes, they will! Just look at the aura they bring in a room. I can't resist the urge to buy one for my home. The good thing about it is you don't have to buy an additional lamp for your bedroom, as it is all decked in premium LED lights and works as a perfect lamp.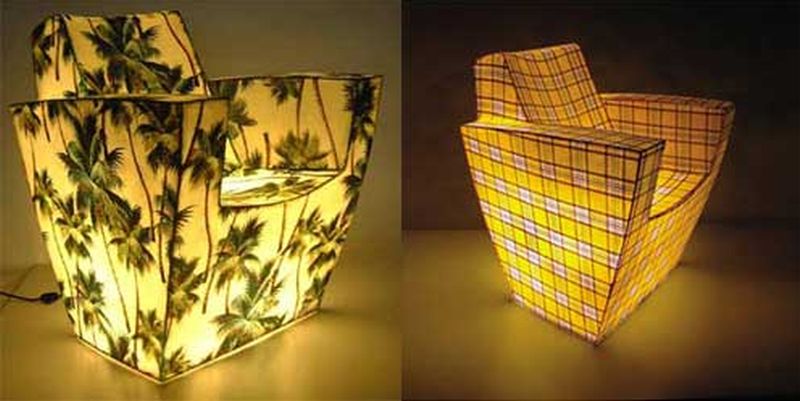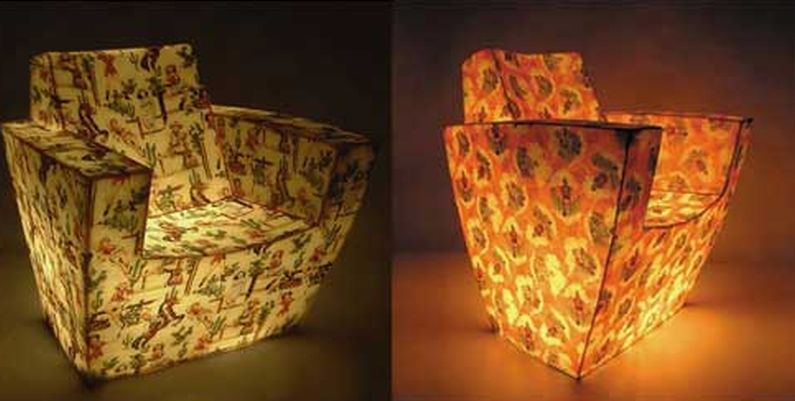 Glowing chair by Philips Design
Want to keep it contemporary? Get inspired by this glowing chair by Phillip Design. The great combination of black and white makes this chair an ideal pick for modern spaces. Whether it is your home, backyard, restaurant or a shopping mall, it's an innovative take on illuminating the interiors in warm colors. The chairs with black rest and white body completely look stunning when sets up on a wooden deck alongside a glass coffee table. People who have extensive living room can try this to transform the entire space.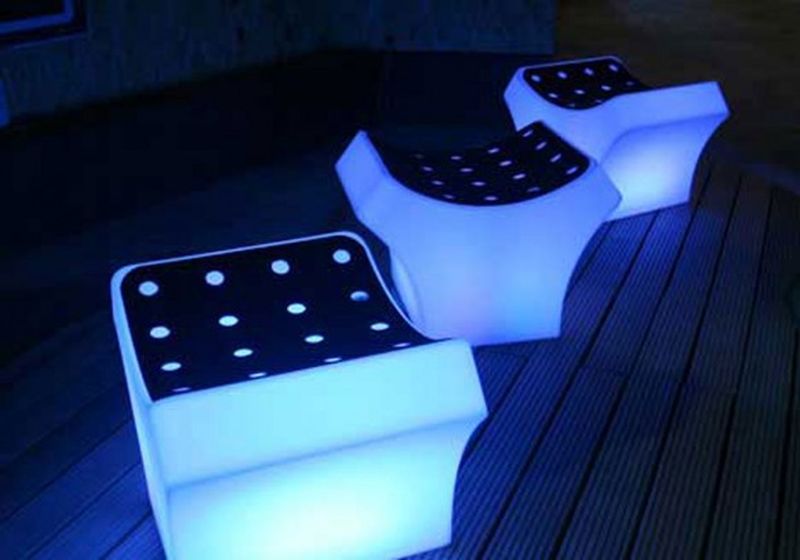 Nuvola Di Luce illuminating chair
Create a dramatic atmosphere in your bedroom with this Nuvola Di Luce (cloud of light) chair by Natevo. The chair looks simple at first glance, but when lit up it spreads a uniform subtle light while giving an appeal of a lighted cloud. Entirely made of stretch mesh, the chair is available in two different versions, one is illumined by virtue of an innate luminous panel located at the base of the chair, while the other one sans panels.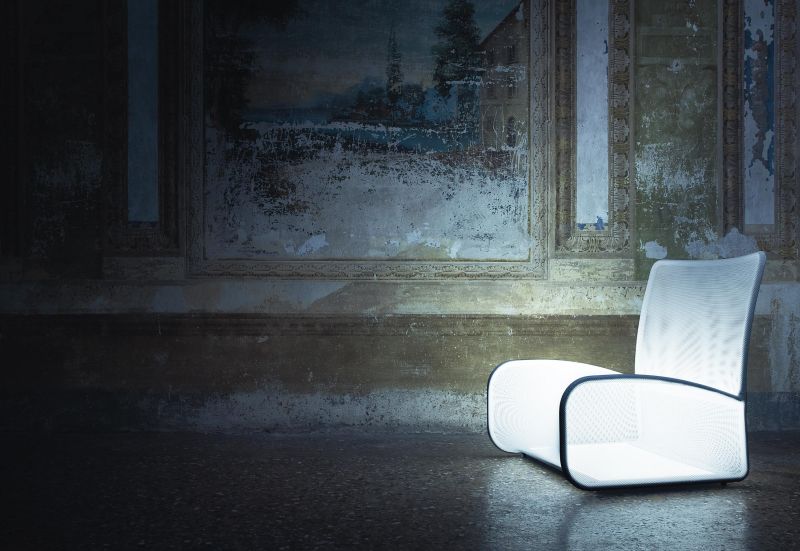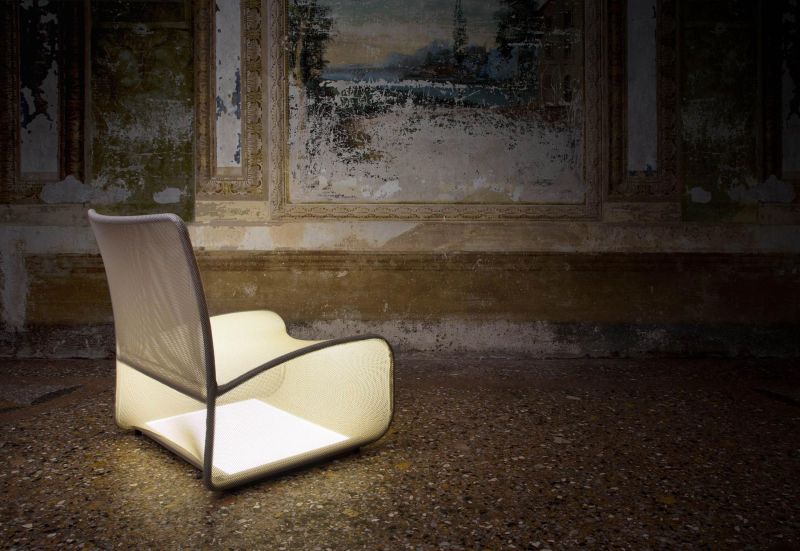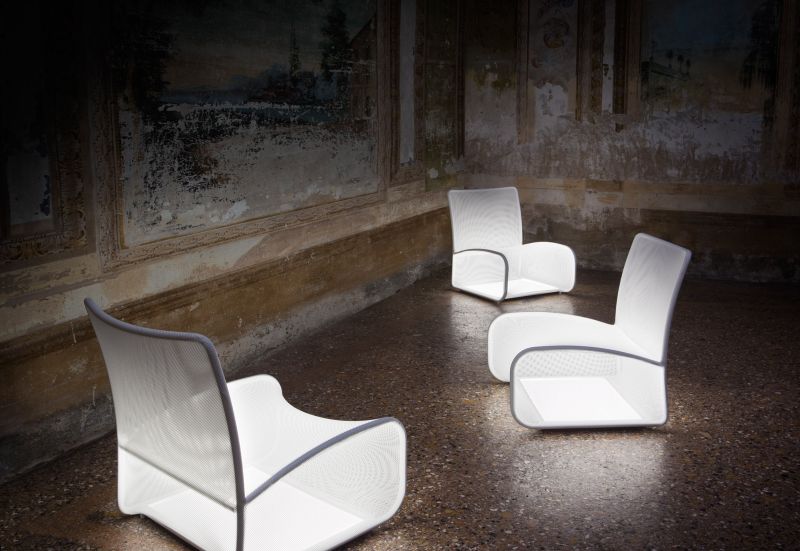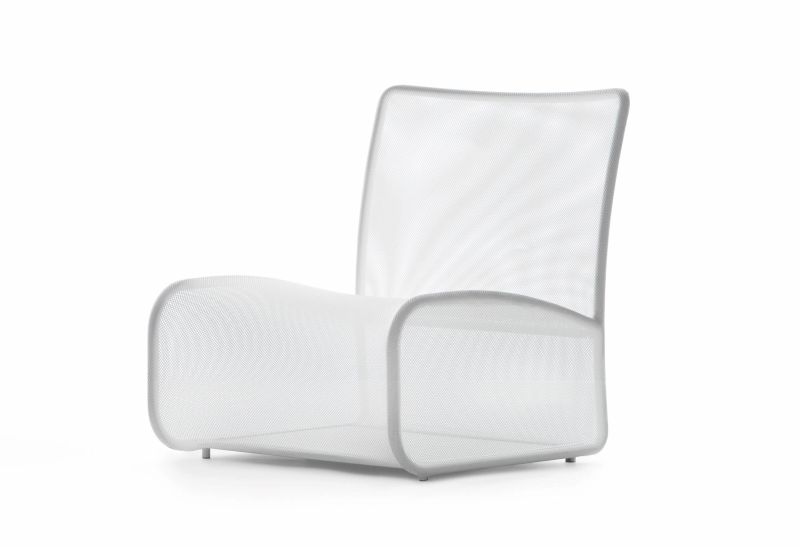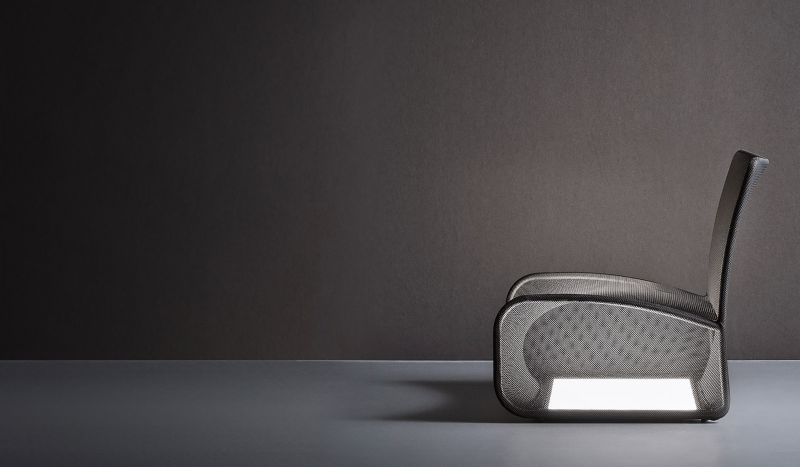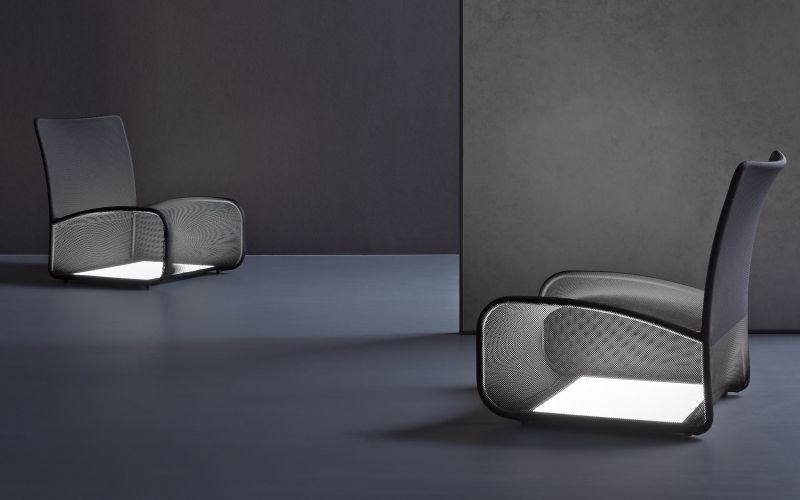 Sqill illuminating coffee table
Want to illuminate your living space with an enticing aura? I don't think there is a better way of doing it than with this Sqill illuminating coffee table. Designed by David Chapman for Clay Design, the table perhaps is the most elegant table I have seen in a long time. The table looks like a traditional wooden table, but it illuminates your space beautifully as soon as the sun goes down and you need to light up the house. Wondering how? The table is embedded with premium LEDs that make the table glow like a lamp.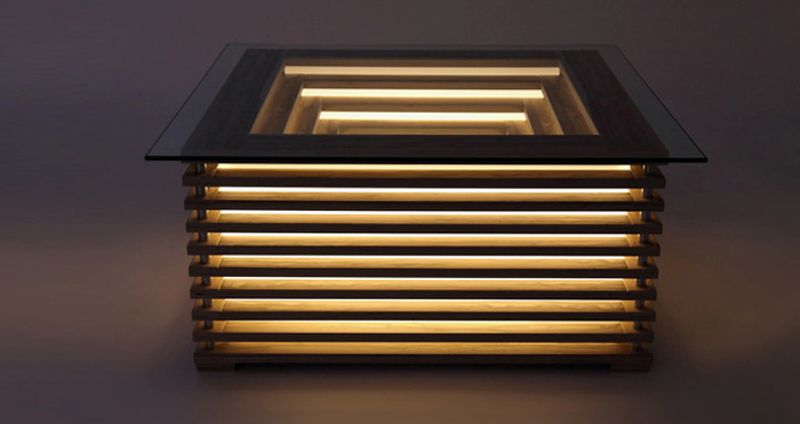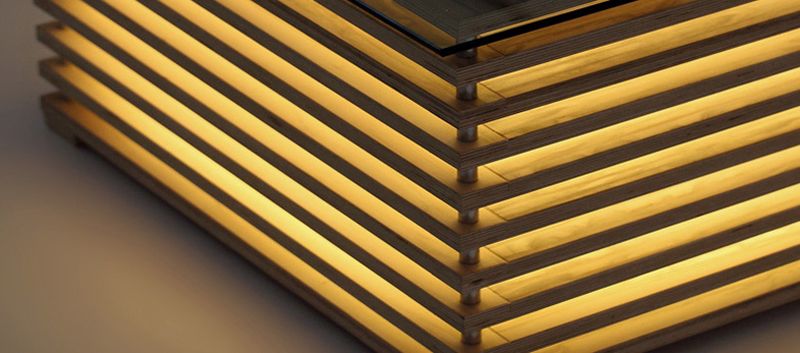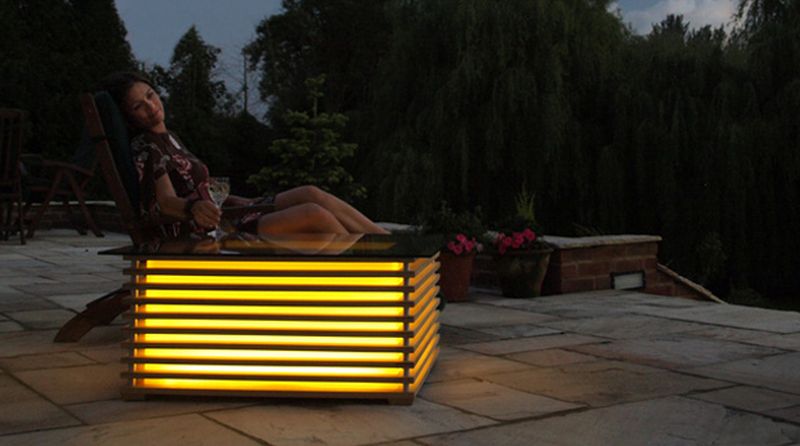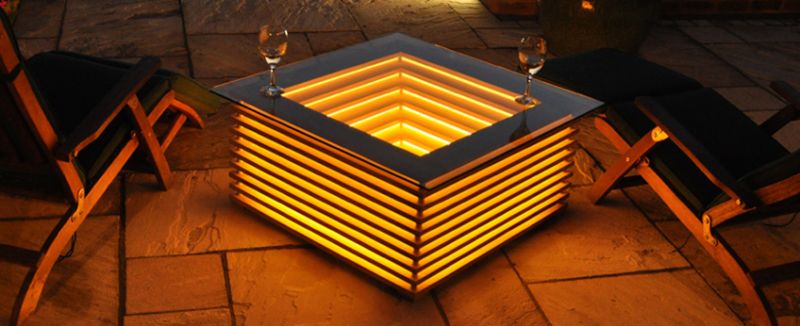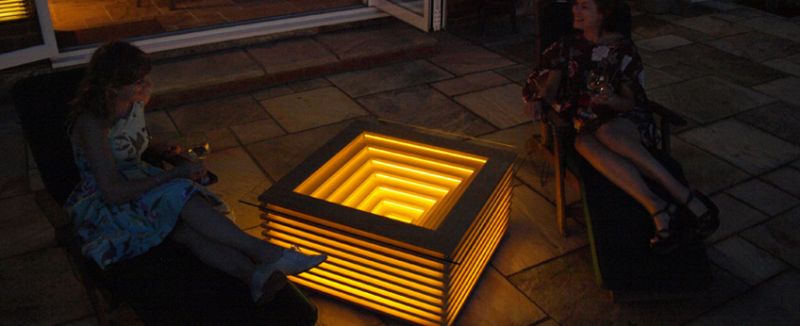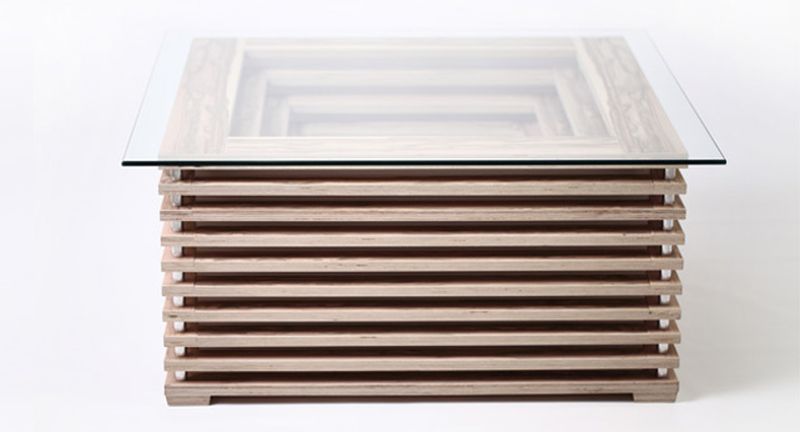 Microcromo coffee table
Make your space look vibrant and attractive with this lovely Microcromo coffee table by an Italian company, Art is Therapy. The 3D printed coffee table is a multi-functional furniture piece that becomes a beautiful wall painting and ambient light when tabletop is hung on the wall. The furniture is perfect for people who live in small apartments and need simple ways to make their space look visually appealing.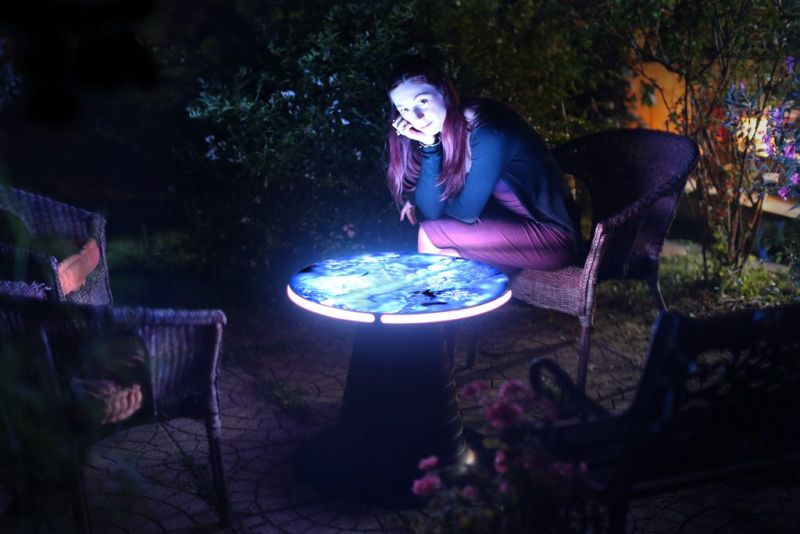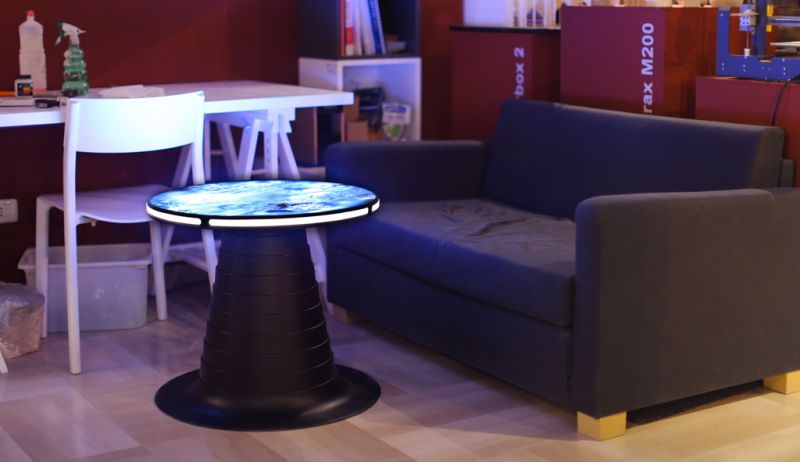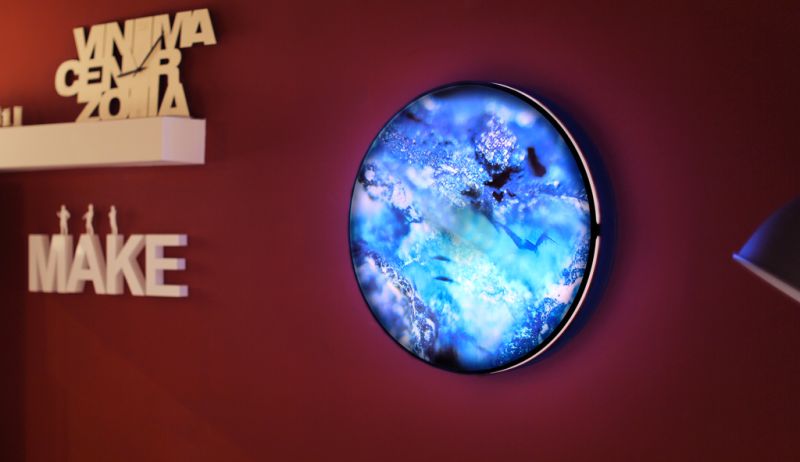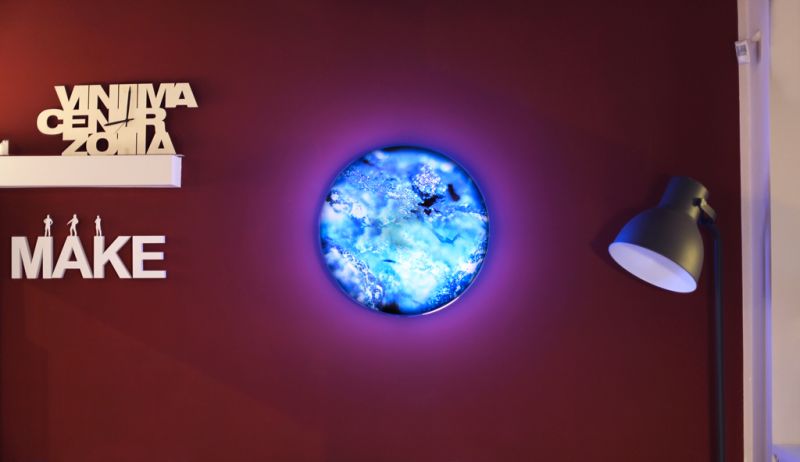 Infrared sensing coffee table
Check out this infrared sensing coffee table that illuminates your interior very beautifully with your hand movement near the tabletop. You can create this DIY table following the procedure here.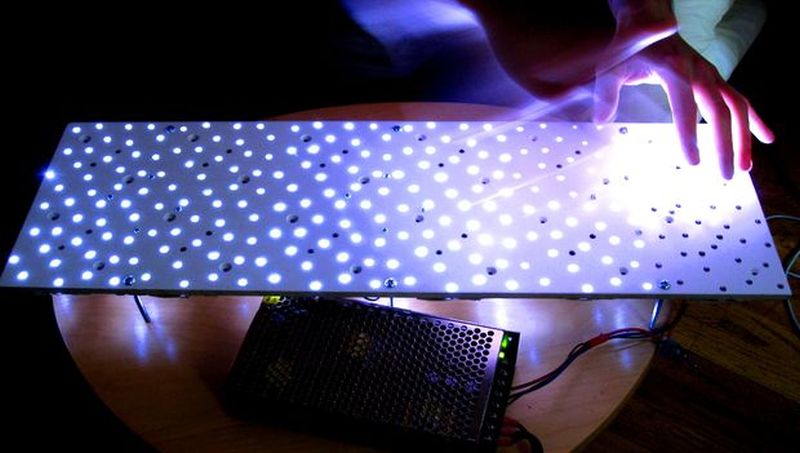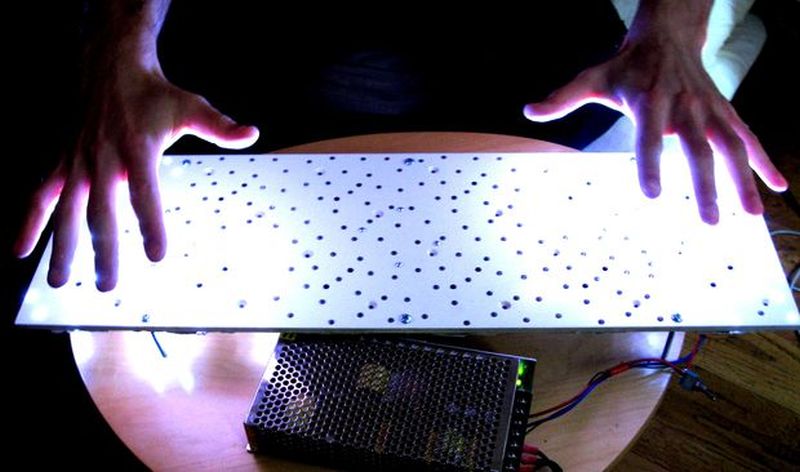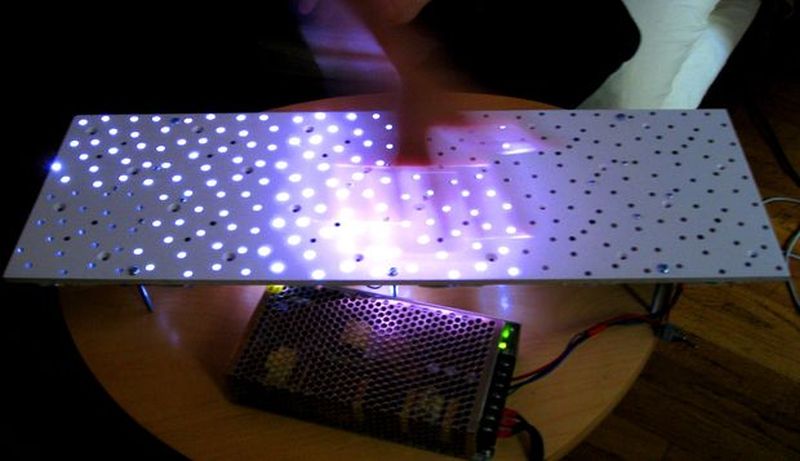 Glow-in-the-dark bed
The glow-in-the-dark bed is a great pick to prevent nighttime slips and falls as it provides dim illumination in the entire room and makes things clearly visible without having to switch on the lights at midnight. Made with twin pine wood, the bed frame comes coated with a specialized paint that gives off a cool green glow in the dark. Buying it for just US$396 is a great deal.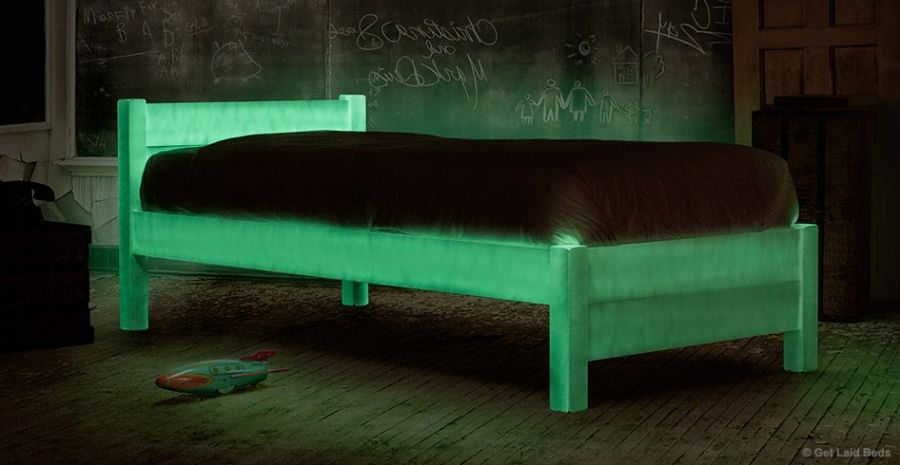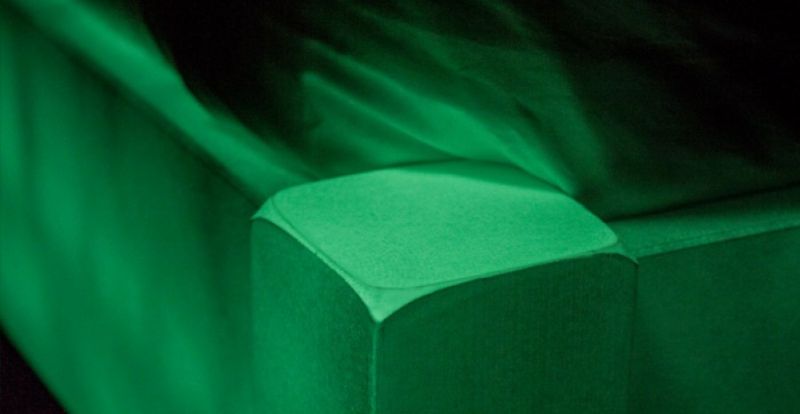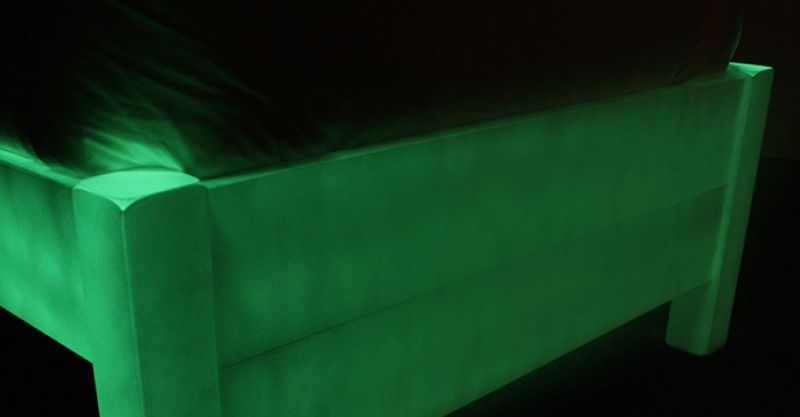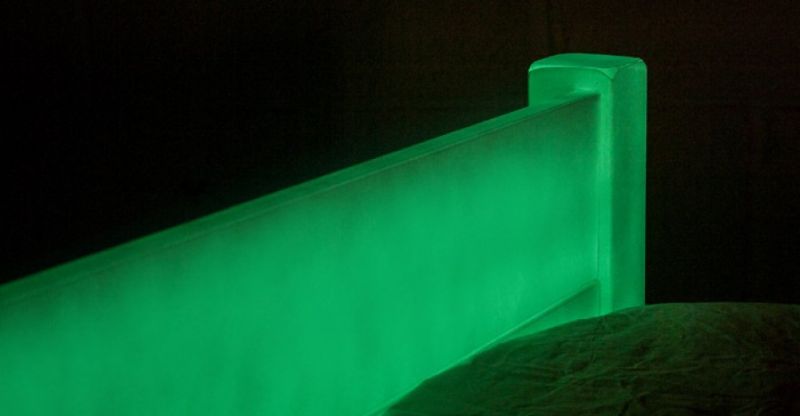 Glow-in-the-dark table by Woodeyes Woodworks
This glow-in-the-dark table by Woodeyes Woodworks is sure to be the talk of any event you host. Handcrafted using hardwood, the table is beautifully filled with shimmery resins that beautifully shine in dark. Suitable for both indoors as well as outdoors, the table is available in different appealing colors like blue, green, magenta, orange, purple, yellow, teal, copper, silver, and gold. The best thing is that you can customize its size and color according to your space.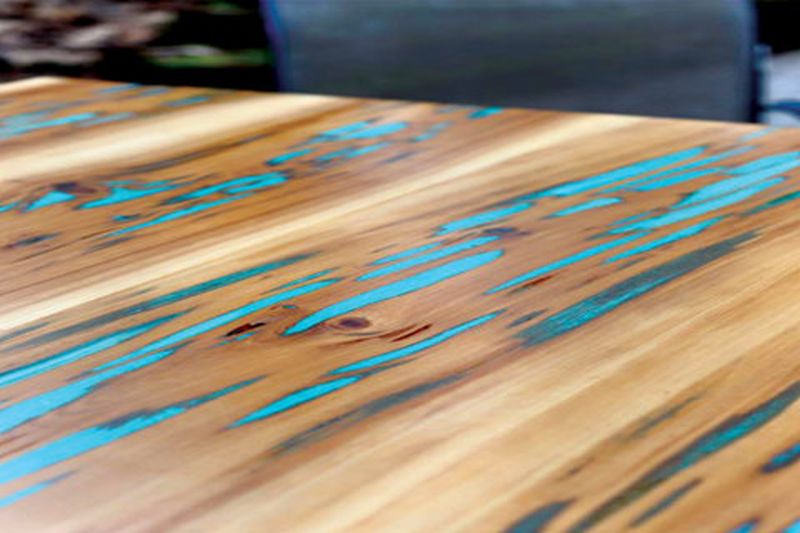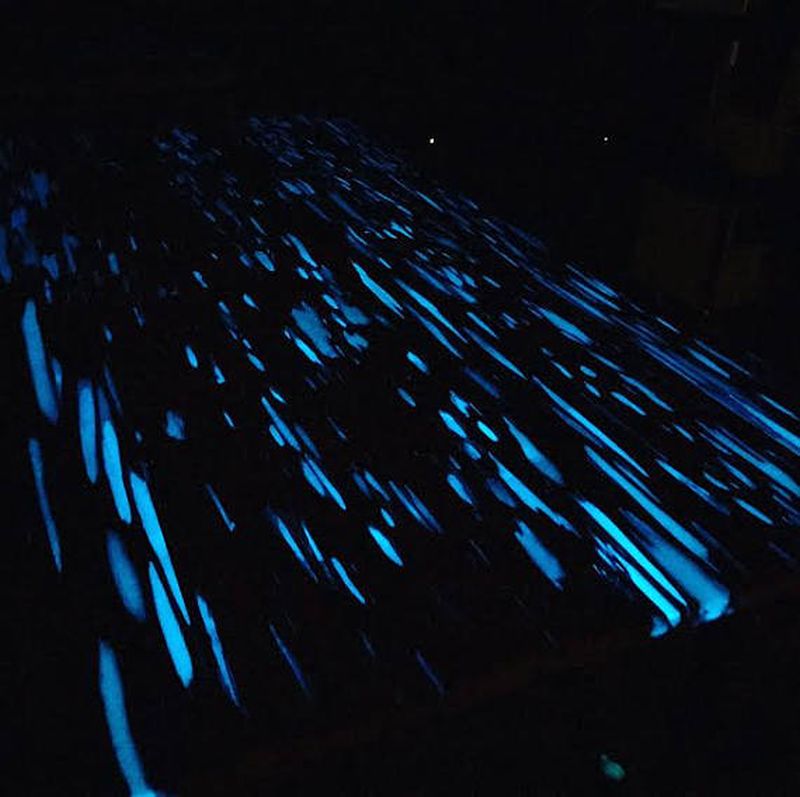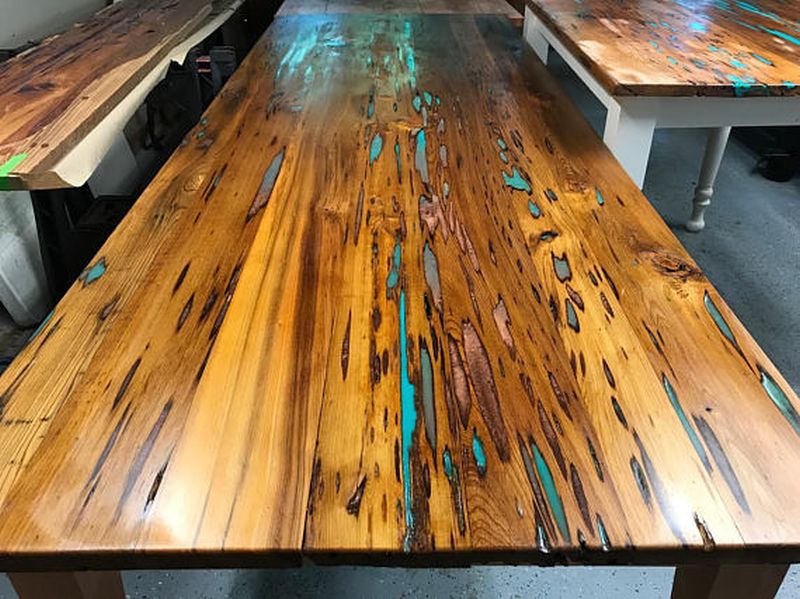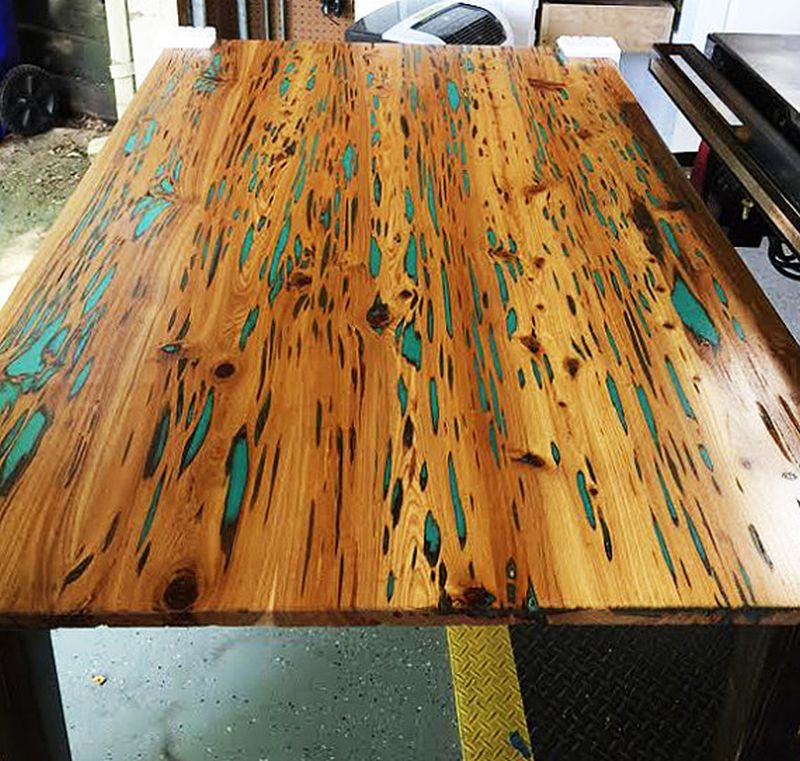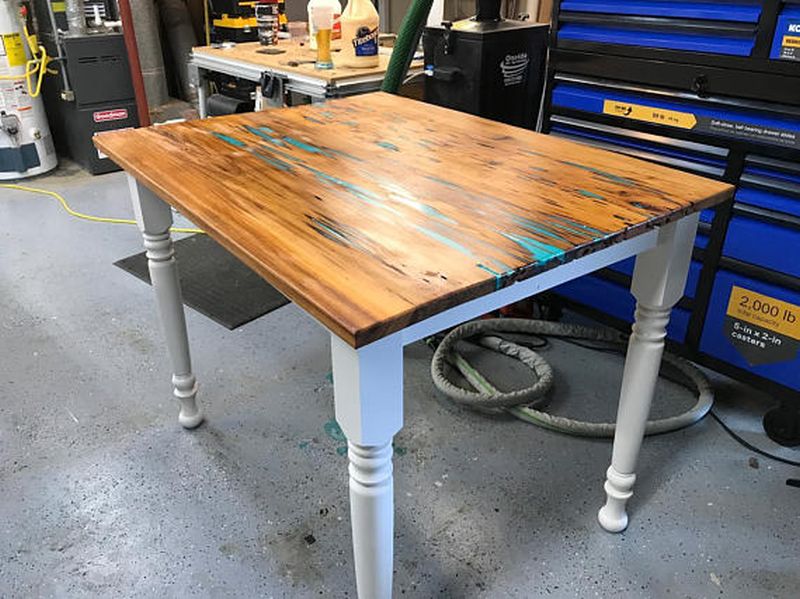 Rousseau hanging chair
A glowing hanging chair is just perfect to make living room alluring when lights go off. Have a look at this gleaming chair by a UK-based Rousseau. The white metal chair with a comfy seat goes well with modern interiors having bright-colored walls. Your children will love playing around it. They will love to spend most of their time swinging in it.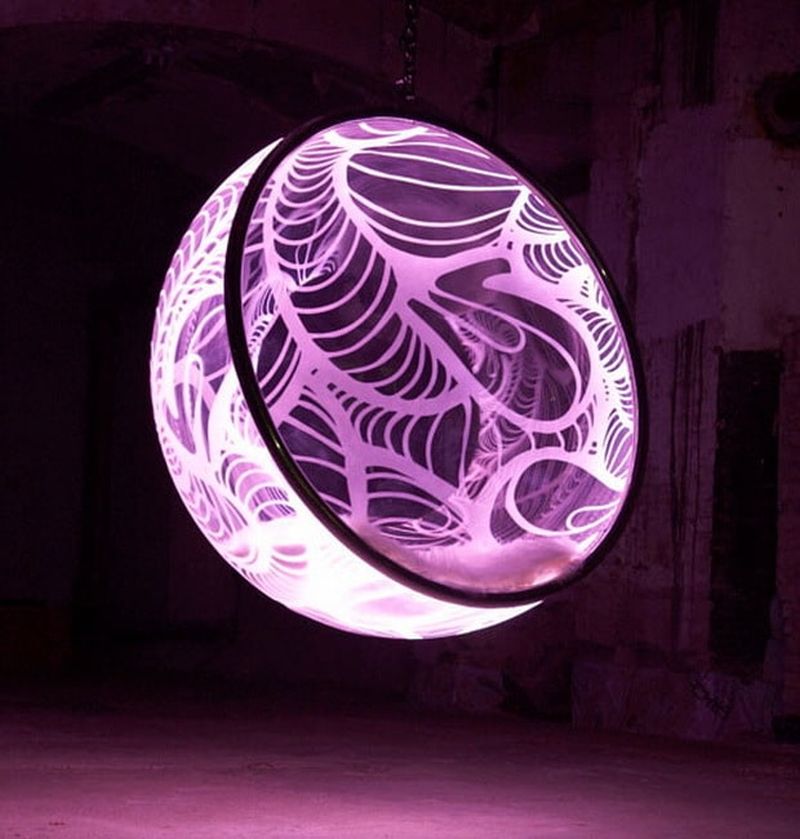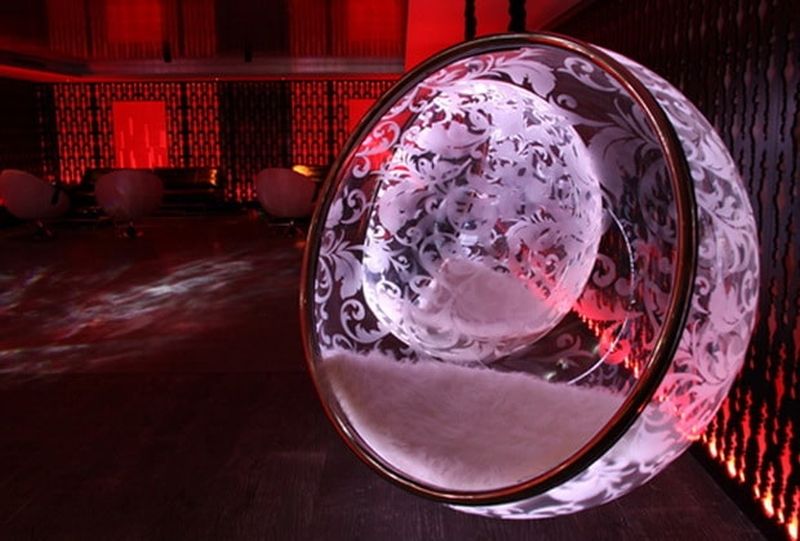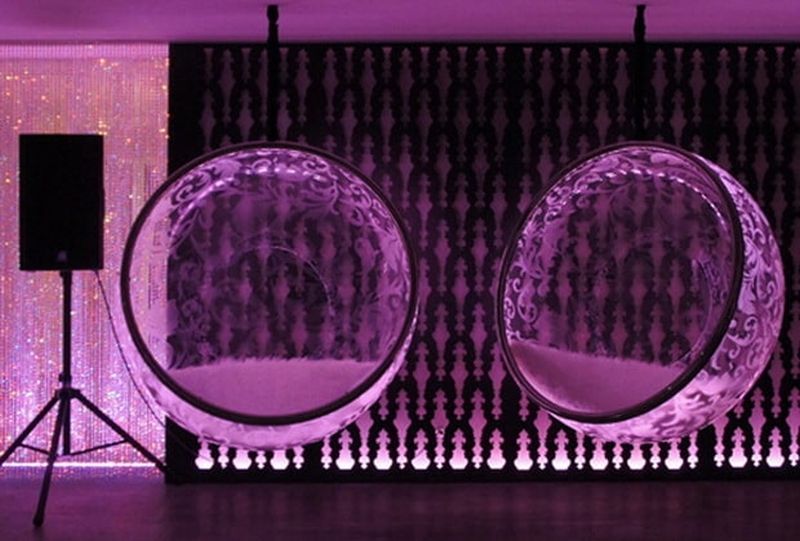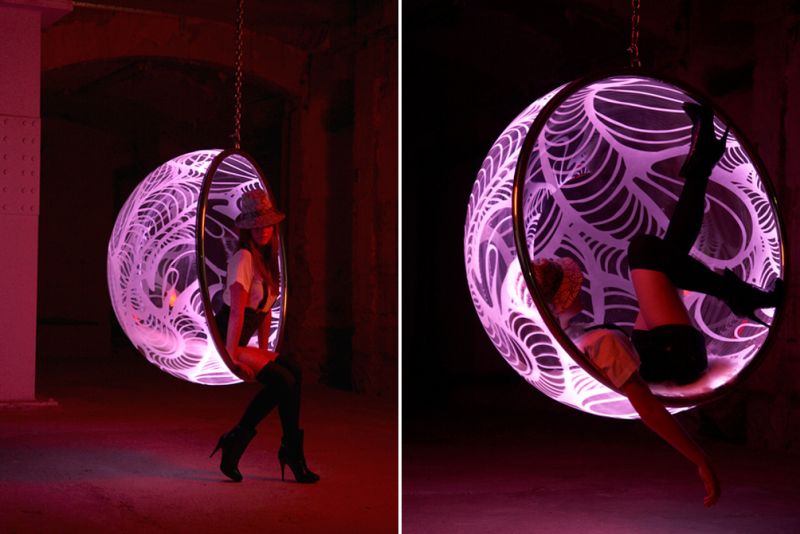 Air-filled glow-in-the-dark sofa
Sofas have to be exceptional, as the entire appeal of your living room depends upon the sofa you choose. If it's air-filled glow-in-the-dark sofas from the Via Lattea collection, designed by the famous architect, Mario Bellini, an unforgettable charm of elegance with a tinge of beautiful lighting effect is surely going to take over the boring appeal of the entire space. Made of recycled materials, the sofa accompanied by small seats and cushions filled with air and sidereal light is a modern take on the traditional padded furniture design. If we talk about the price, Via Lattea doesn't come cheap: a three-piece sofa costs as high as $7,800.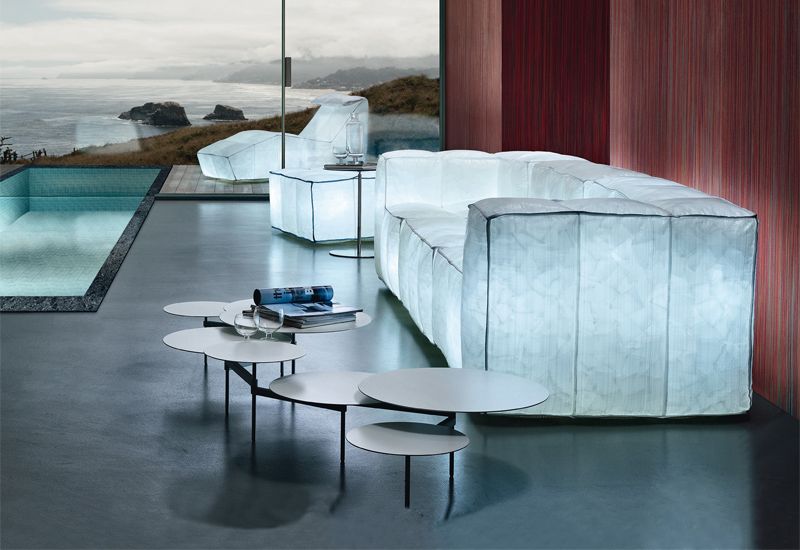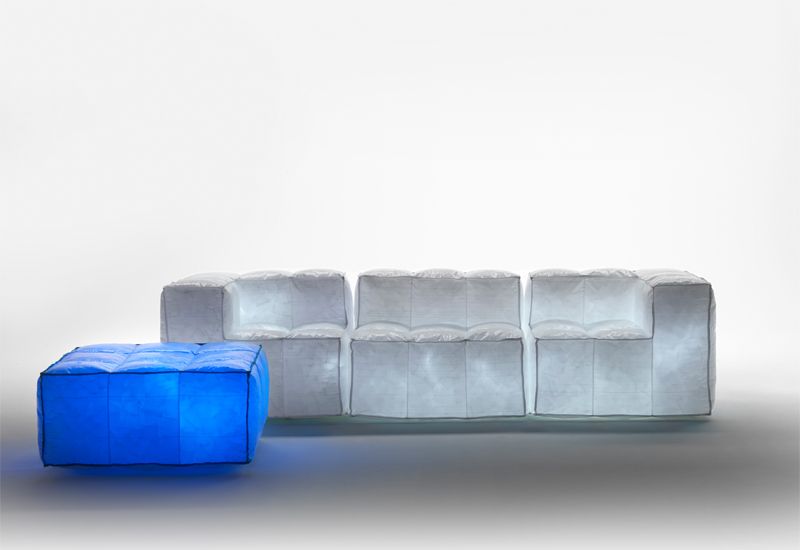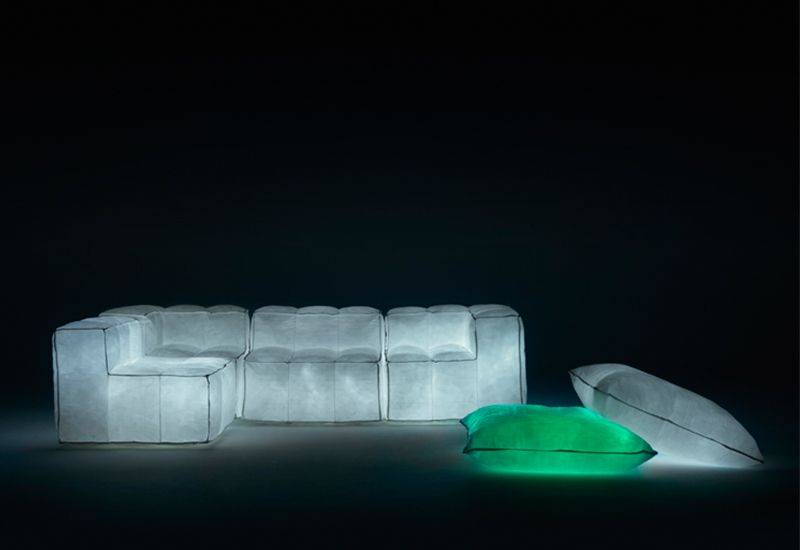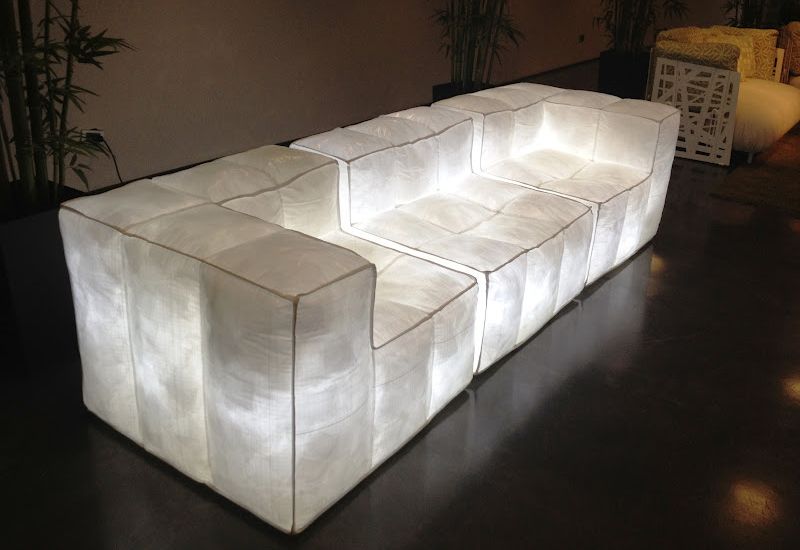 Glow-in-the-dark bed by Treecycled Furniture
The glow-in-the-dark bed by Treecycled Furniture is something which I have never seen before. The bed looks gorgeous when lights go off. Instead of using glow paint, the manufacturer uses clever LED lights to glam the entire bed. To promote green living, the designer has used reclaimed wood. They filled the wood cavities with LED lights and non-toxic Rubio Monocoat oil to make the bed look gleamier.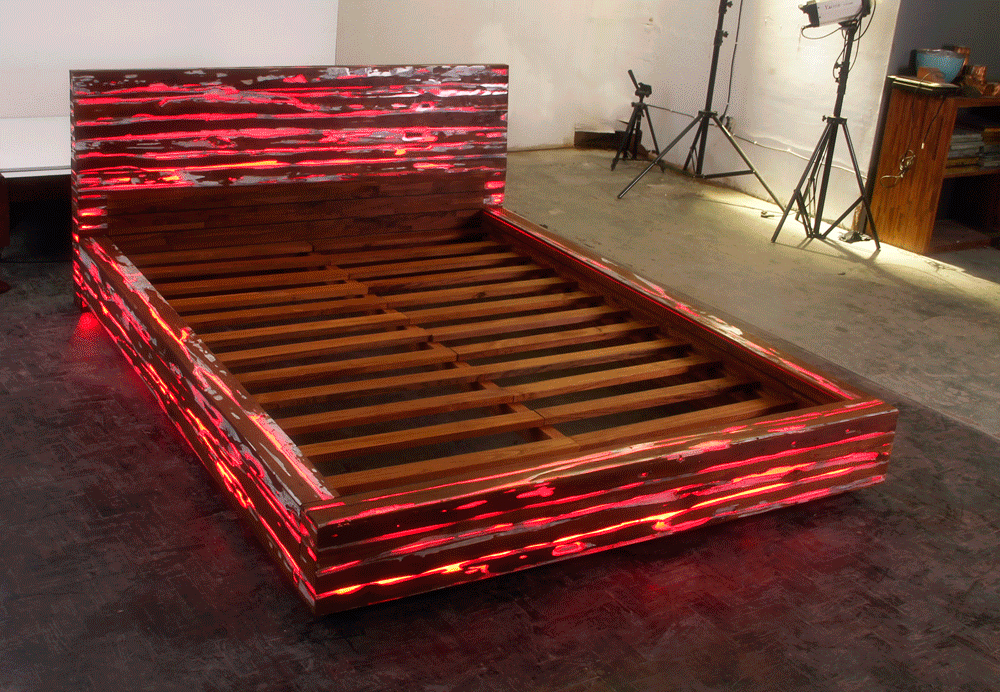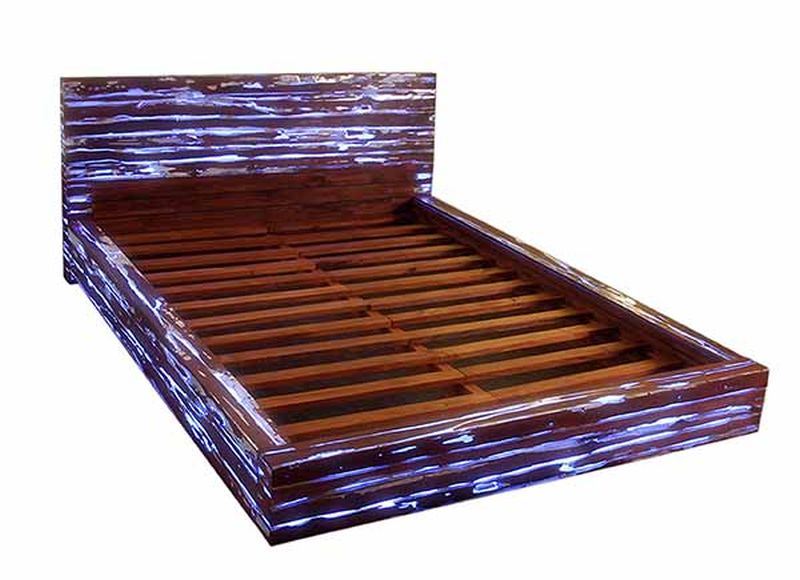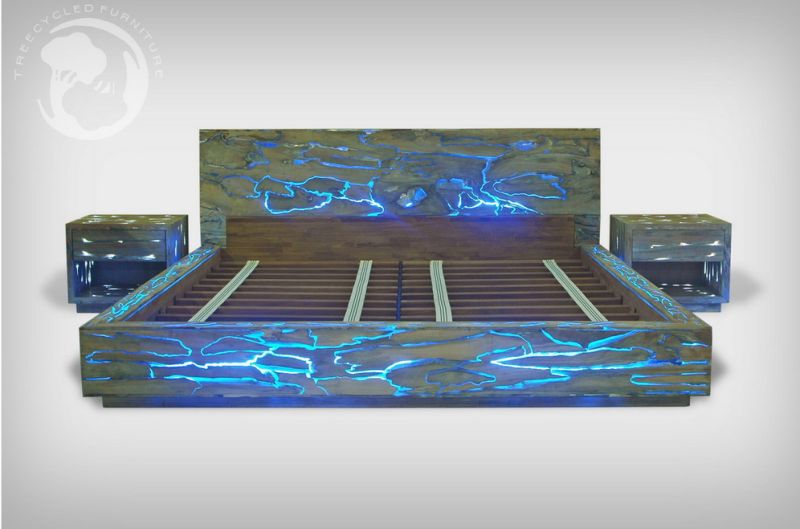 The illuminated island bench
There is nothing like a well-organized display of indoor plants! I love decorating my house with indoor plants as my living space is quite extensive and allows me to do experiment with its look. Recently, I come across this diamond-patterned illuminated island bench by Vondom that is just perfect to add flair to my space with premium LED version. The island bench has a recessed basin in the center to accommodate plant container, and LEDs display white, red, green, blue, light blue and yellow colored light to make the interior or the deck area look magnificent.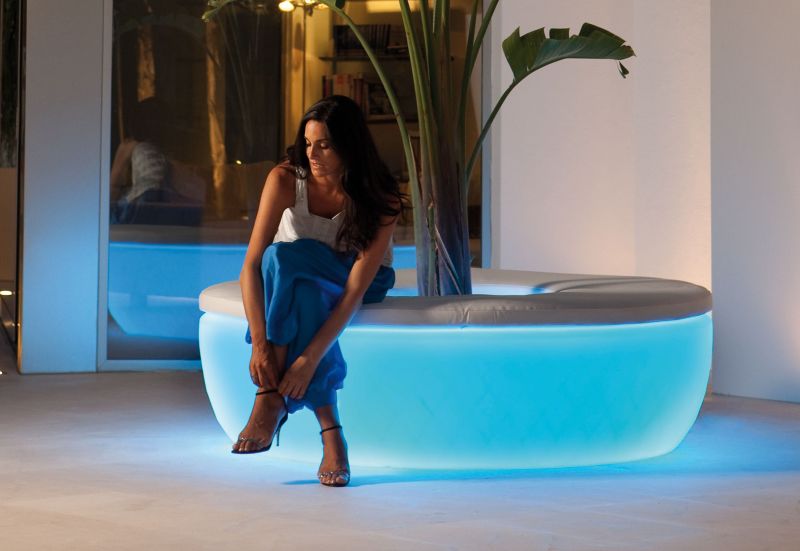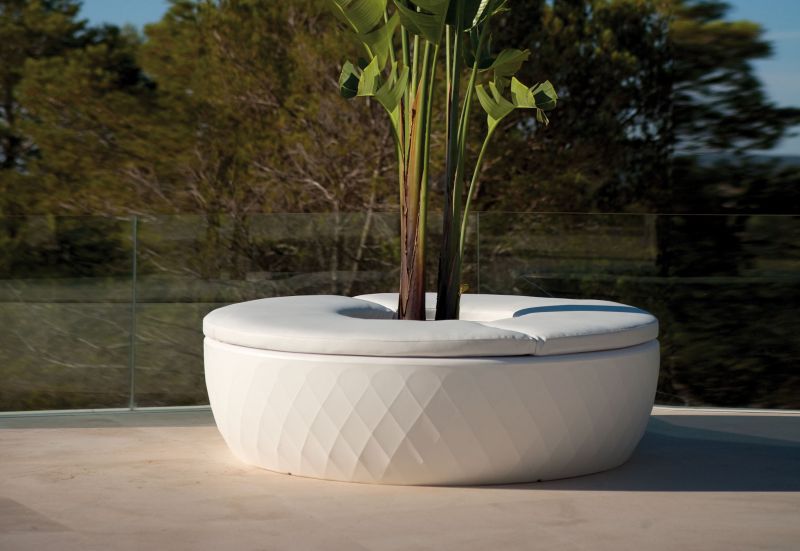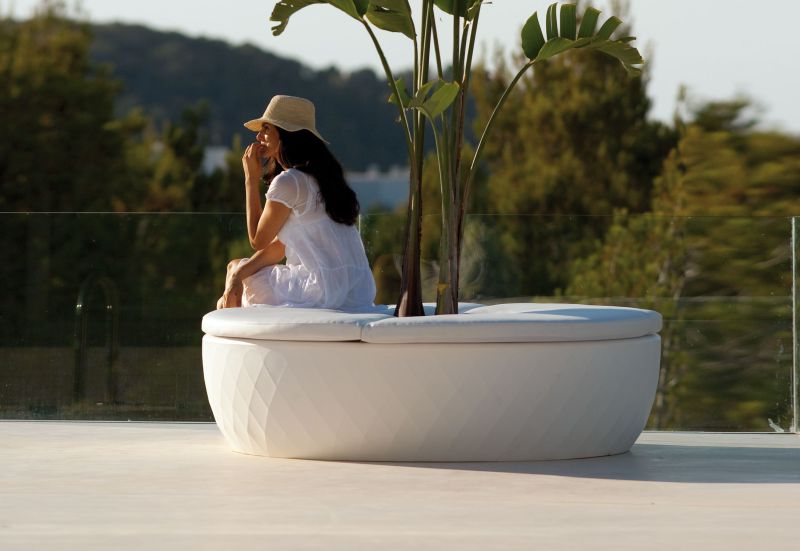 Sereno illuminated outdoor armchair
You probably won't find a better way to illuminate your backyard than this beautiful white Buddha sculpture armchair. The translucent Buddha sculpture armchair with white LEDs is great to add an unforgettable charm to your patio area. Made of polyethylene, the light sculpture changes colors and comes with a remote and cord. You can buy it for US$1,995 without additional shipping and handling charges.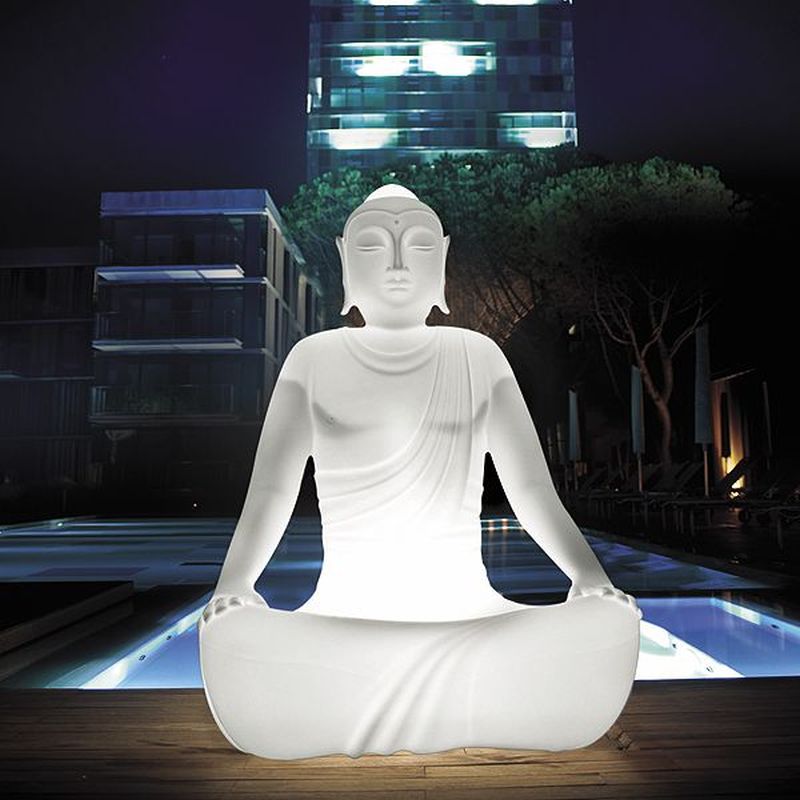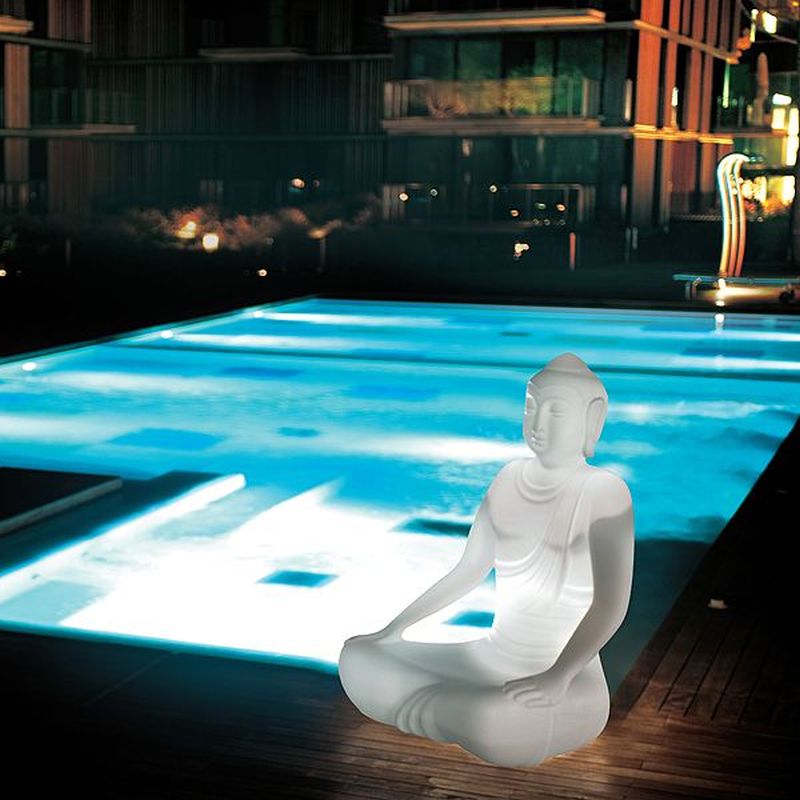 Illuminating wooden chair by Valuma
If you like to bring the charm of Italian craftsmanship and meticulous German precision into your home, consider buying this illuminating wooden chair by Valuma. The chair is beautifully crafted with Italian interlace woodworking art. The chair looks calm and simple during the daytime, but when lights go off you will see a new chair altogether, projecting intricate design patterns with fascinating lighting effects.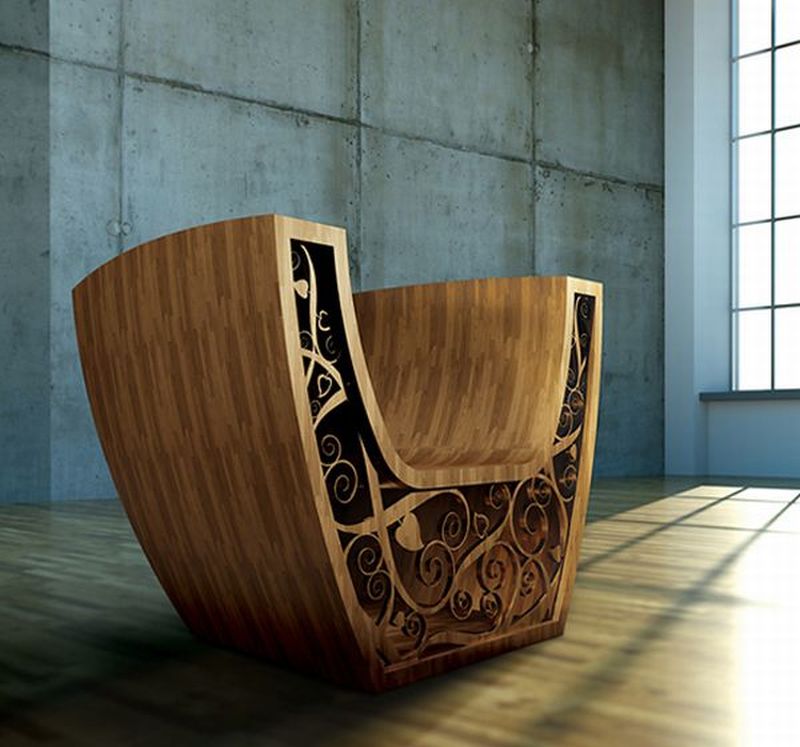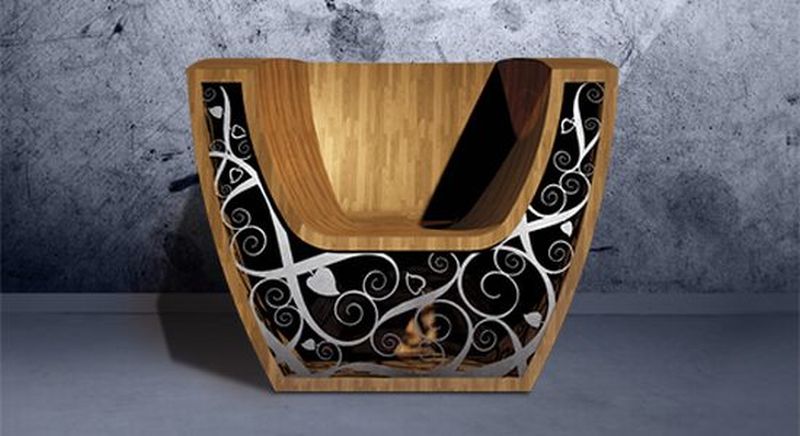 Tree-ring light stools by Judson Beaumont
Outdoor stools are great to bring an appeal, comfort, and functionality to outdoor spaces. A glazing charm is an added advantage. Have a look at these stunning outdoor stools that are made using tree rings by Judson Beaumont. The lights appearing on the surfaces are made out of beetle pine shell topped with mirrored Plexiglas, which allow fluorescent light to shine in the dark. These small seating units are durable and a great addition to yards and patios.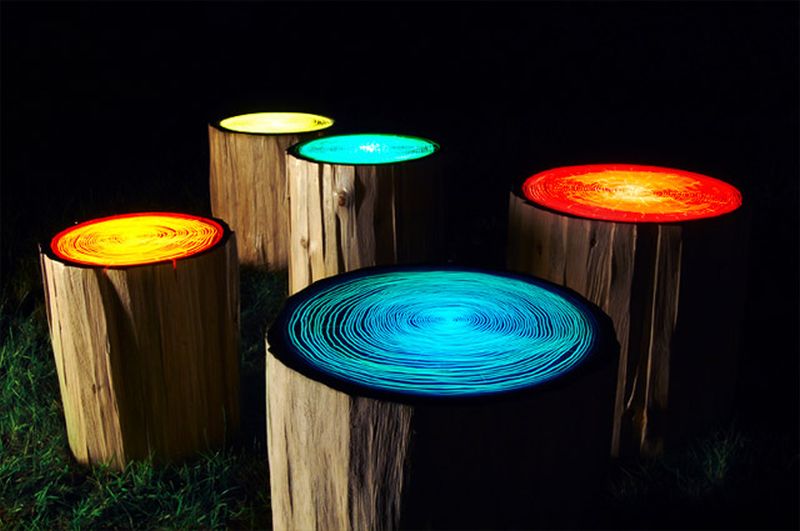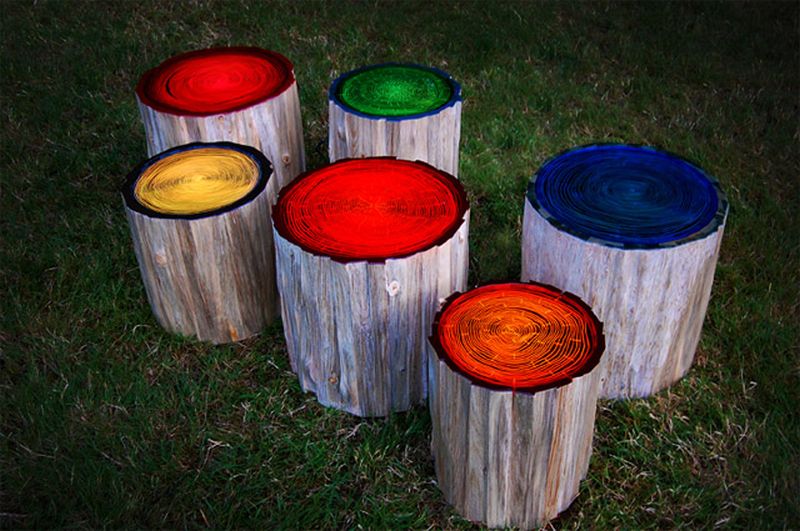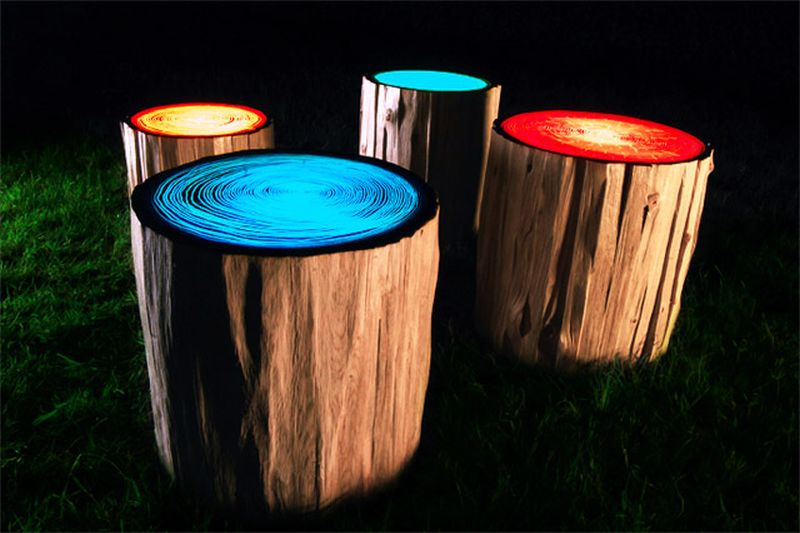 Illuminated outdoor daybed
Leave a lasting impression about your luxury lifestyle with this illuminated outdoor daybed by Vondom. The gorgeous geometric Faz daybed with lights on its base will leave your peers astonished when they will see it illuminated in your backyard or swimming pool deck. Made from 100% recyclable polyethylene, the dynamic bed also offers a Bluetooth sound system and illuminated base that changes the intensity of light according to the music you play. The great thing is that this daybed is available in matte or high gloss lacquer finish in different appealing colors.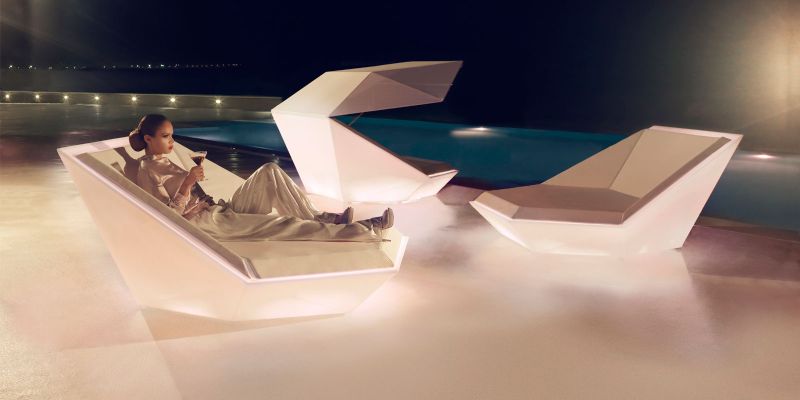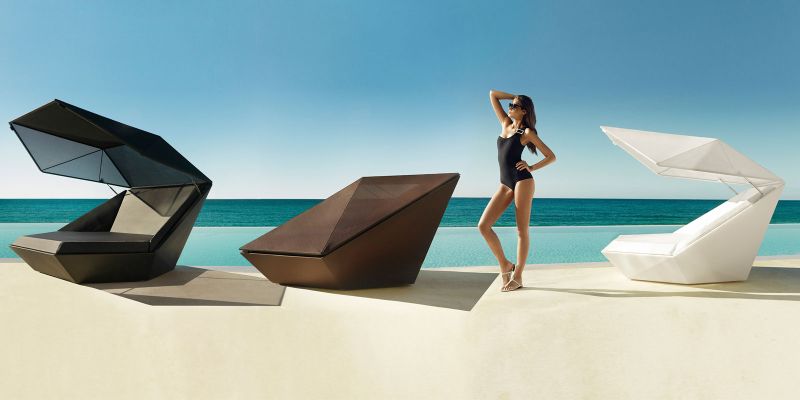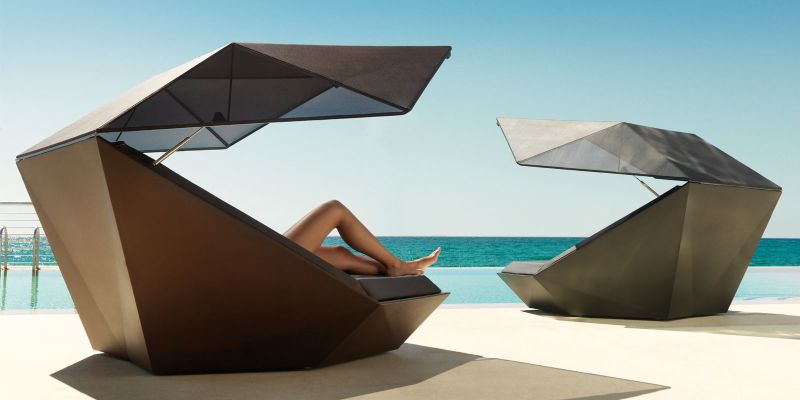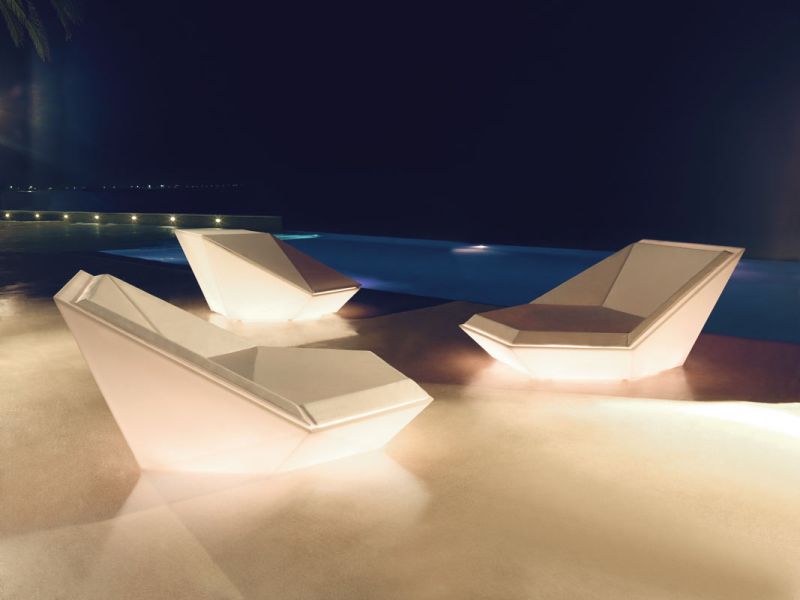 Illuminated eco chair
Add a vintage appeal to your house with this illuminated eco chair by Lee Broom. I just love the idea of ornamenting a dark brown leather sofa with fairground jewel lights. The chair is a great pick for people who love decorating their home with a vintage element. It is priced at US$18931.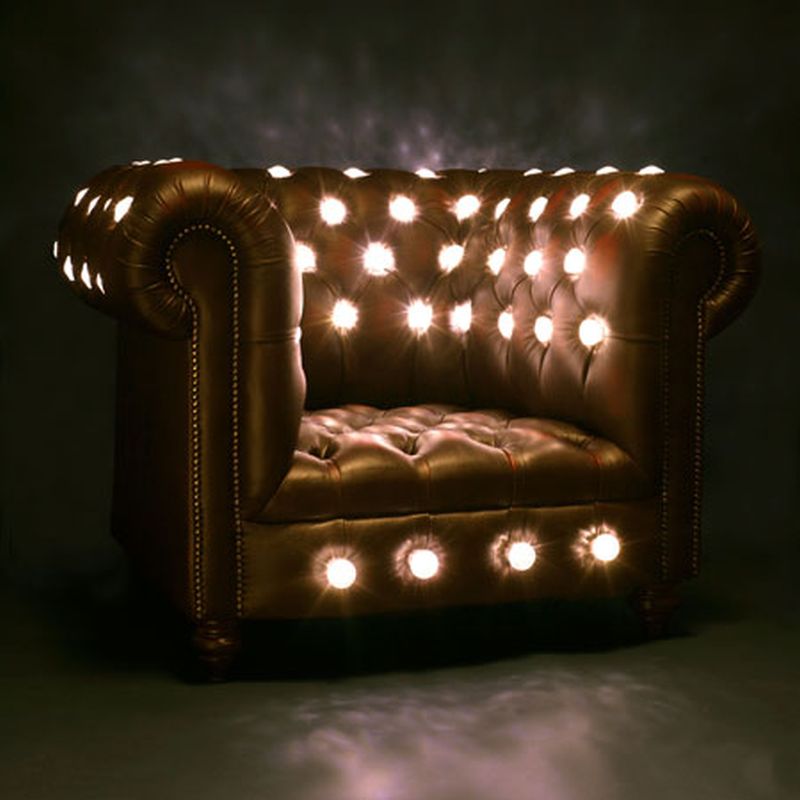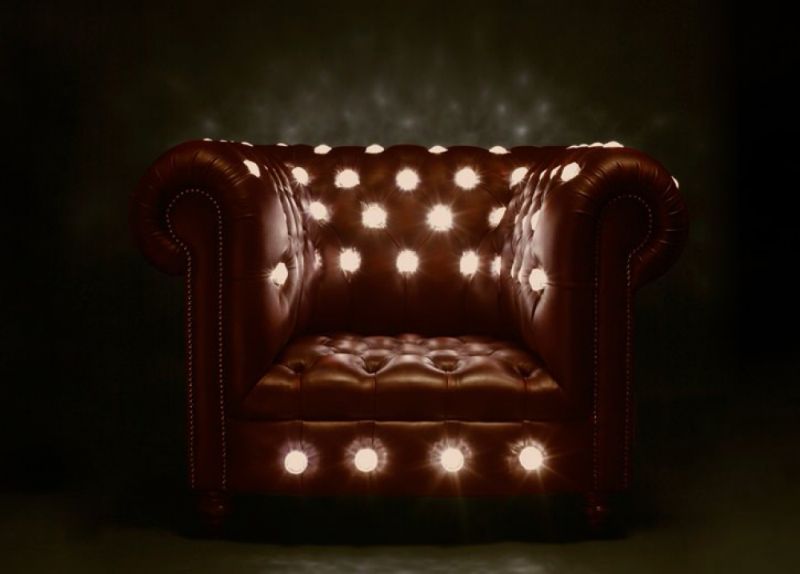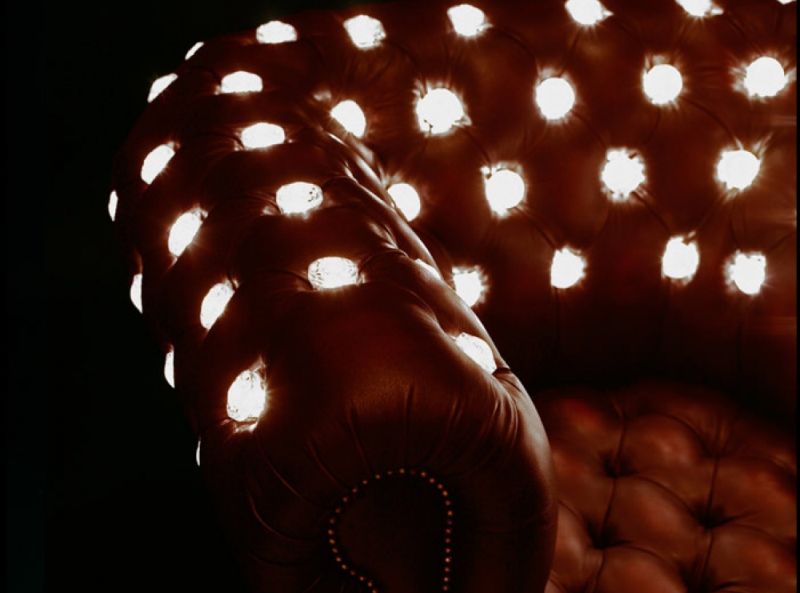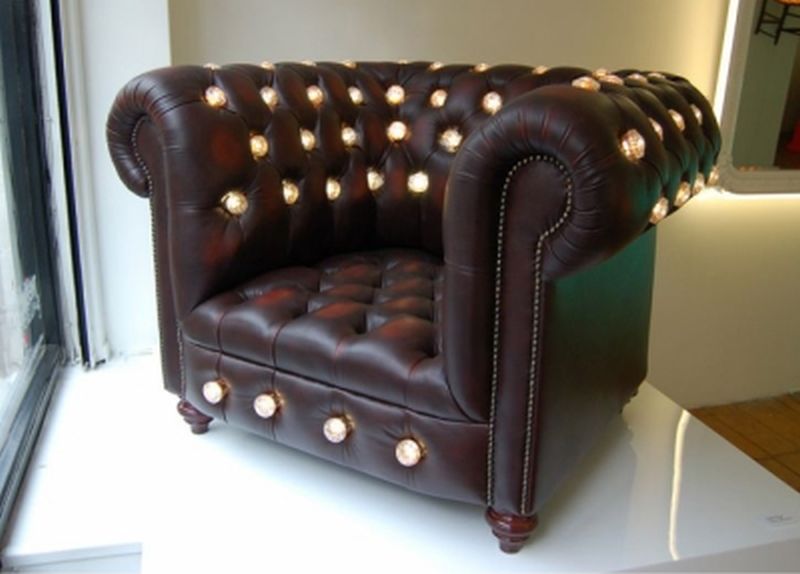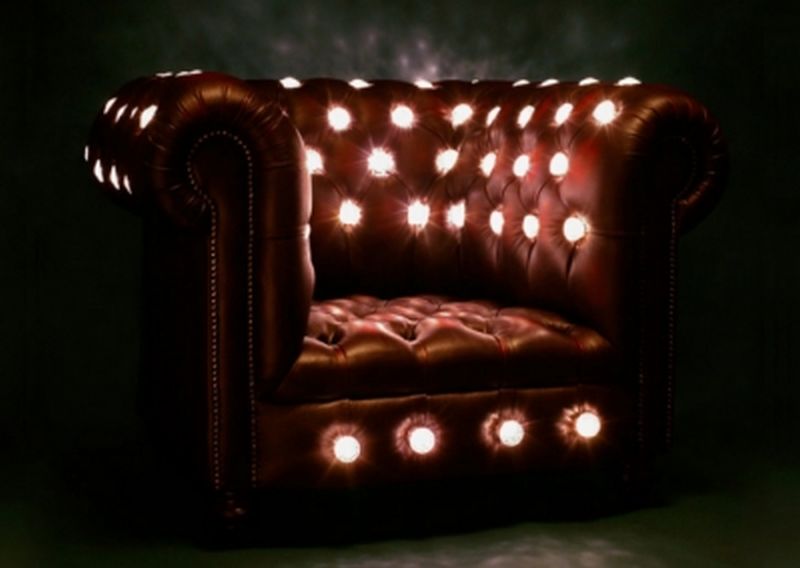 Fullmoon cabinet
Incorporating a glowing cabinet in a bedroom or living room is an ideal storage solution. I just fell in love with the appeal of the Fullmoon cabinet by Sotirios Papadopoulos for Ennezero. Built using hardwood and eco-friendly paint, the Fullmoon cabinet glows in the dark and gives the expression of the room lit in the moonlight. This cabinet has the dual function of being a great storage piece and an artistic decorative element.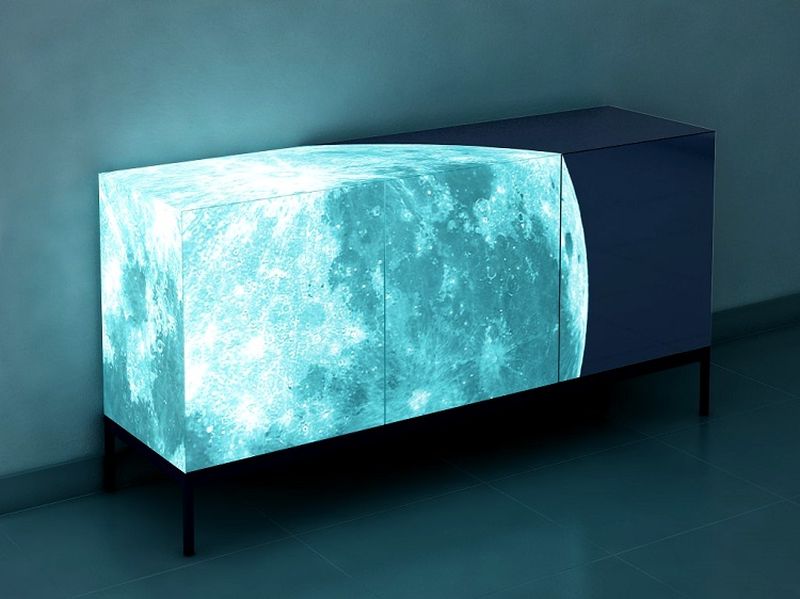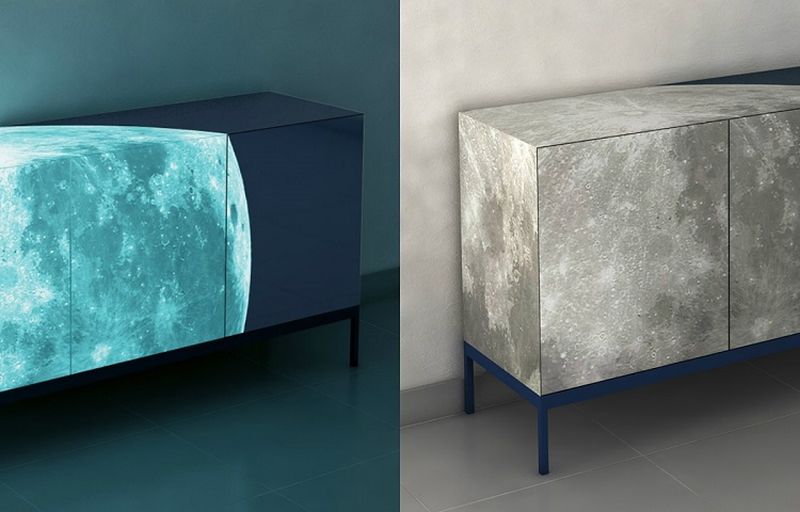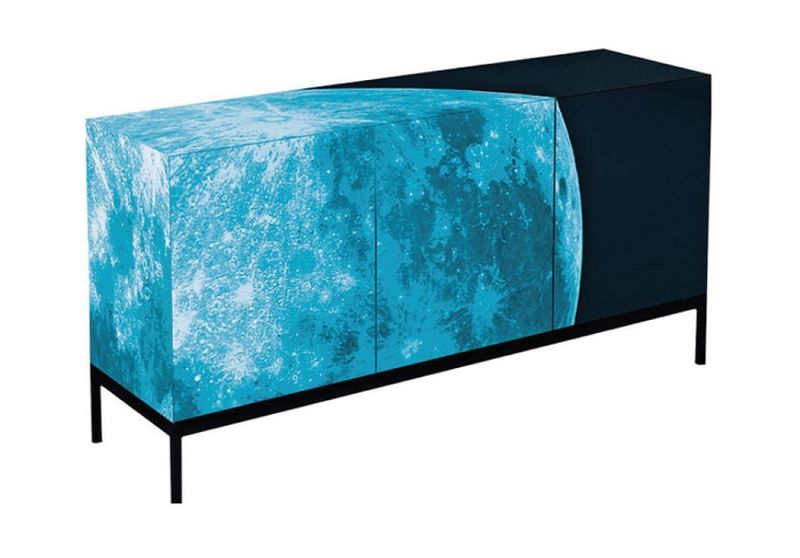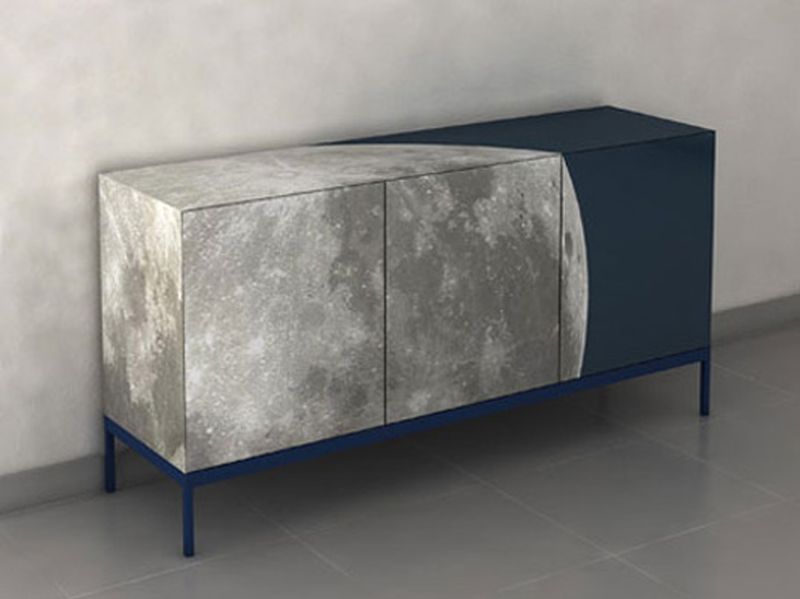 Lighting table series by Bae Seh Wa
I really enjoy simplicity as much as I enjoy the whimsical side of life, and a Korean designer Bae Seh Wa combines both in his Lighting Table series, without sacrificing minimalistic design. He has created an undercover persona that is cleverly exposed at the flick of a switch. He used acrylic and wood to build the Lighting Table series and there is no hint at the designs that lay beneath their surfaces; they seem to magically emerge when they shed the light on.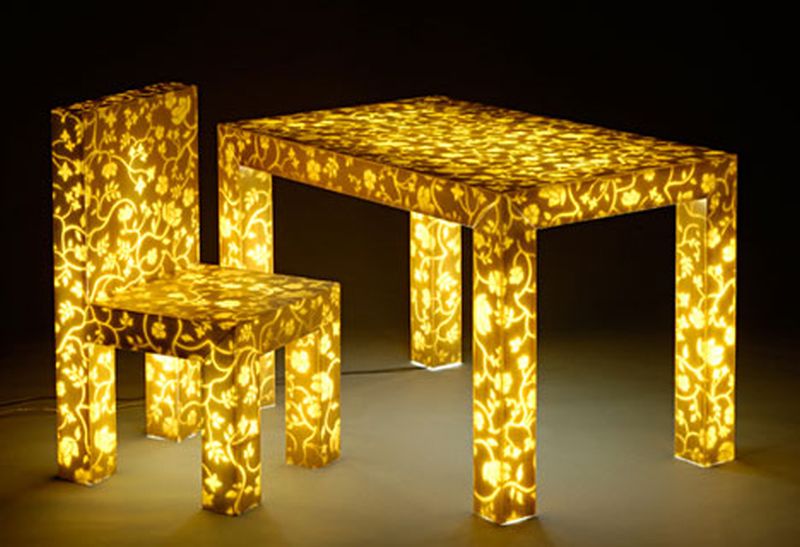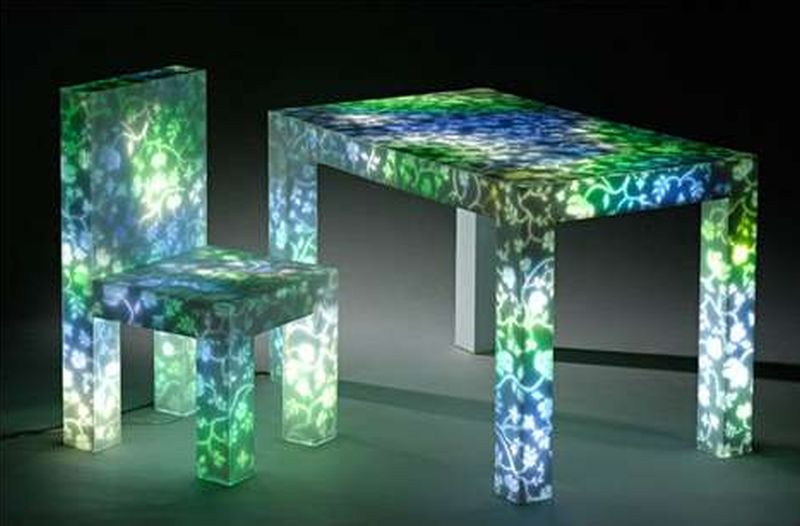 Handmade illuminated Lego table
Looking for a study table for your kids' room? Have a look at this handmade illuminated Lego table that provides 20 different lighting effects to jazz up display as well as the setting of your kids' room. Handmade out of wood, the table is covered in colorful Lego bricks along with 250 mini figures resting on the top. It comes with a removable 6 mm thick tabletop of glass that adds a touch of transparency to the bench.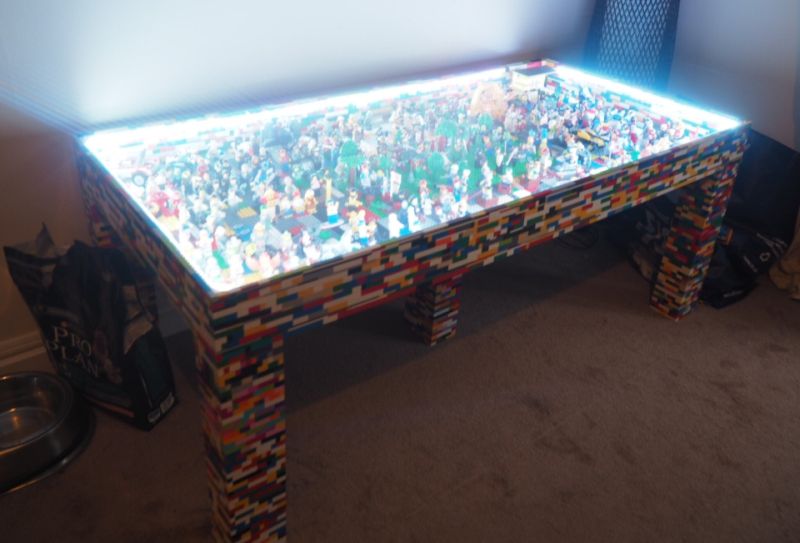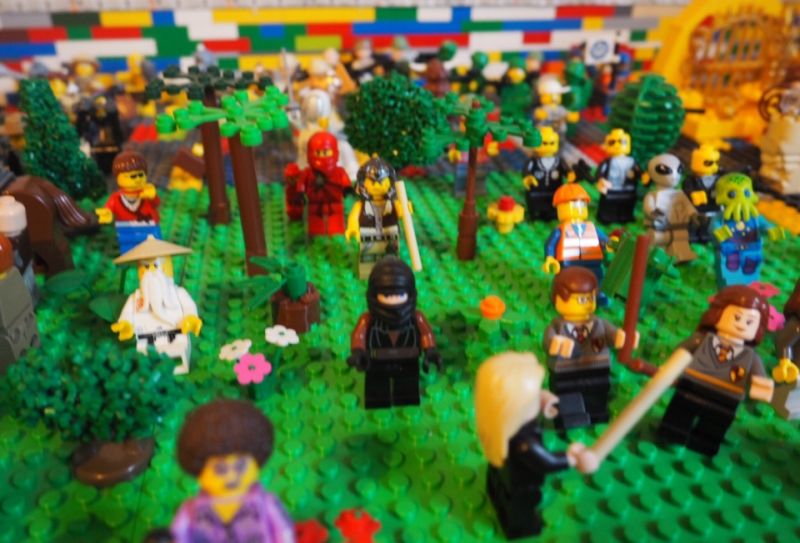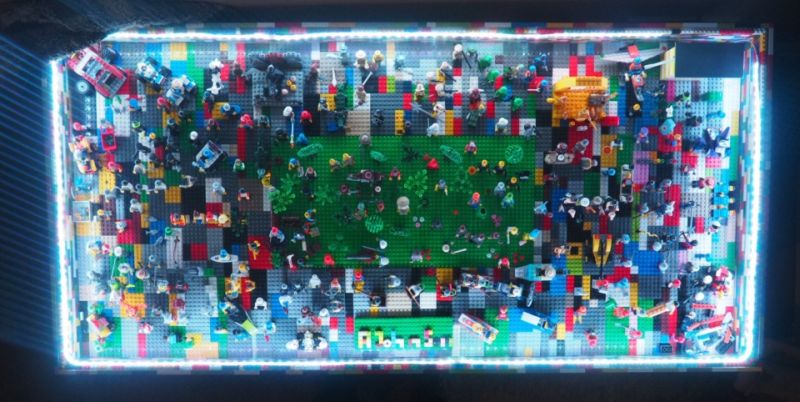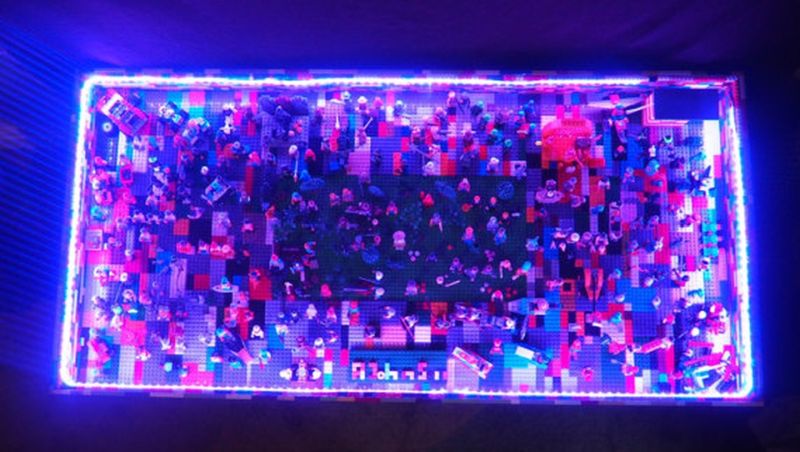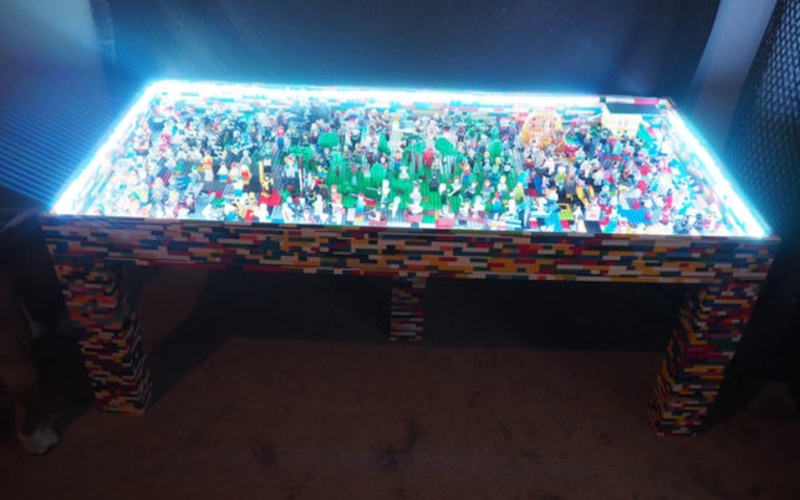 Illuminated coffee table
If you are a party animal and can't decorate your home over and again in jazzy theme, buy this illuminated coffee table that simply adds a party charm to your entire space. Made from stainless steel and toughened glass, the independently controlled illuminating tabletop with warm light and built-in power connection comes with a mind-numbing price tag of US$2600.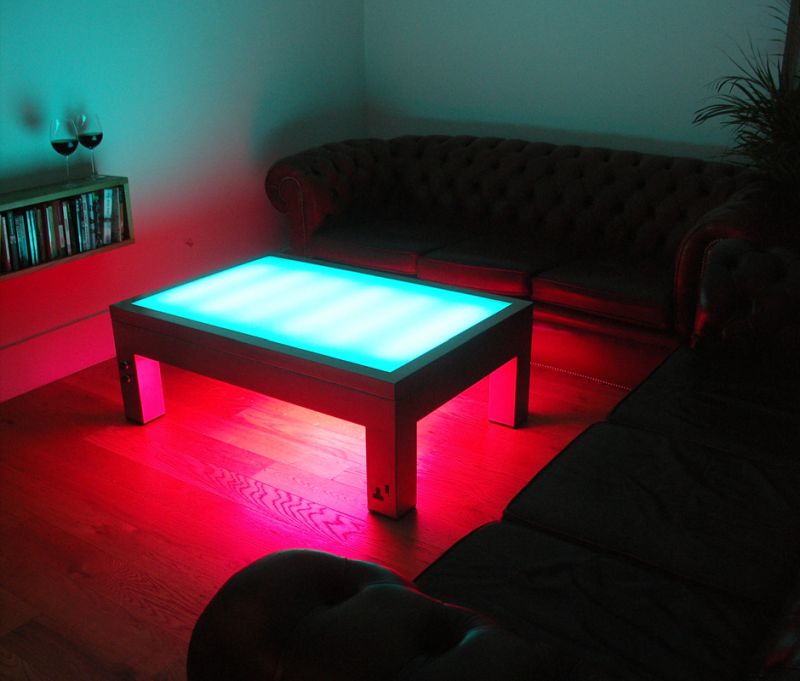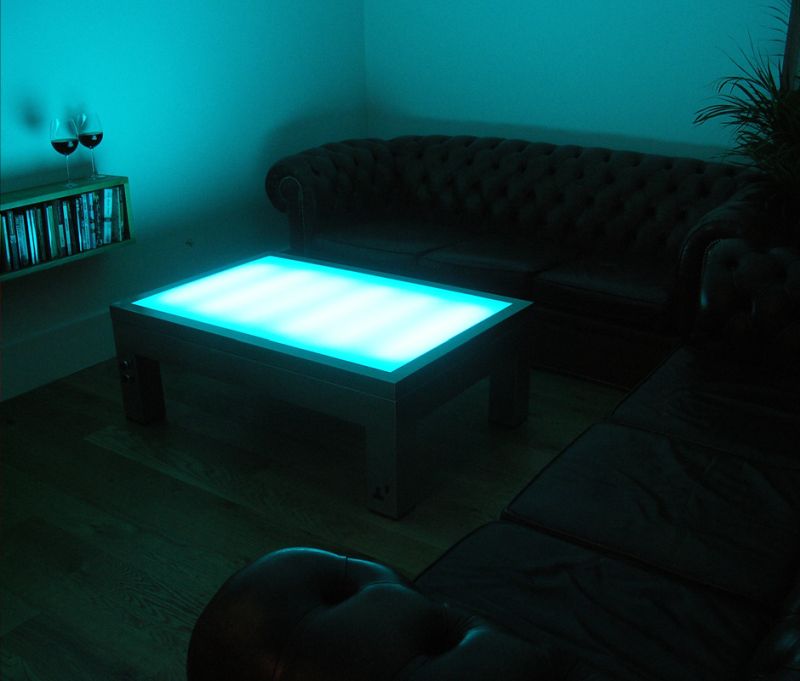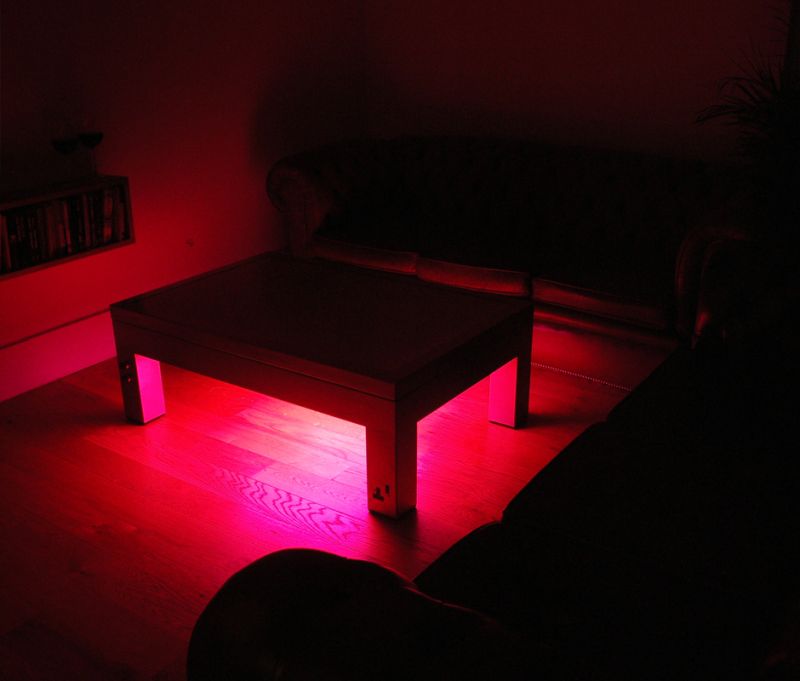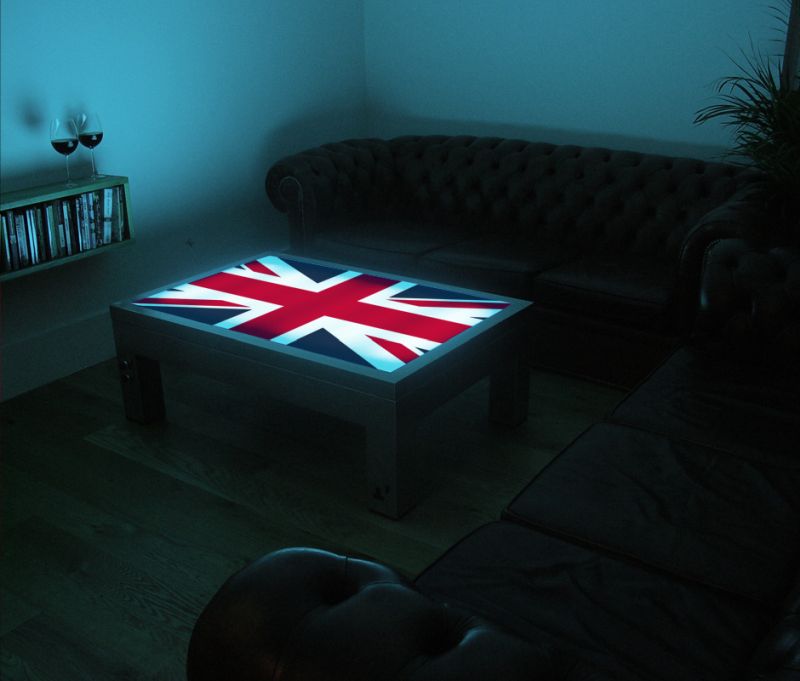 Terrance chairs
It is time to pay attention to your patio and terrace as well. Consider setting up these beautiful Terrance chairs by Kaare Bækgaard for a comfortable stargazing session at night. You don't need extra lighting in your patio, just place these chairs with an illuminated base and be ready to bathe in a soft beautiful light as the sun sets in the distant horizon.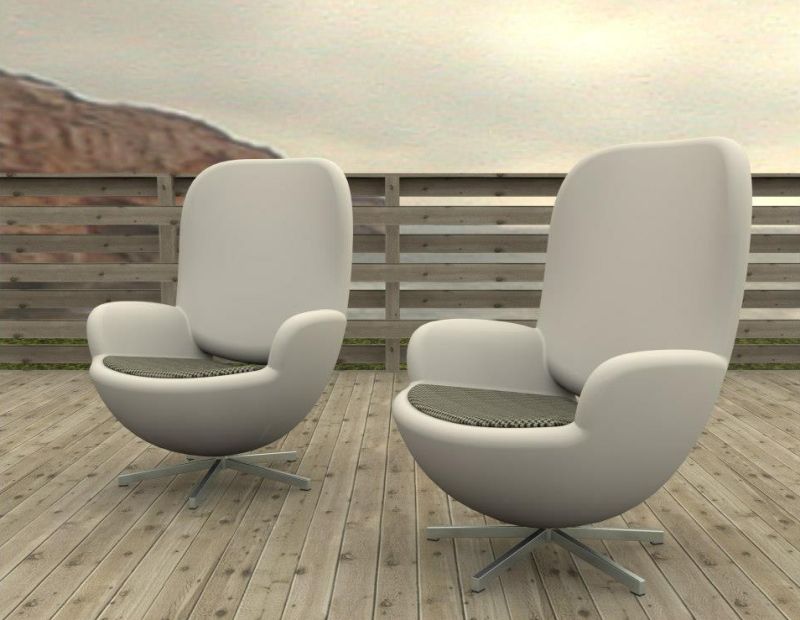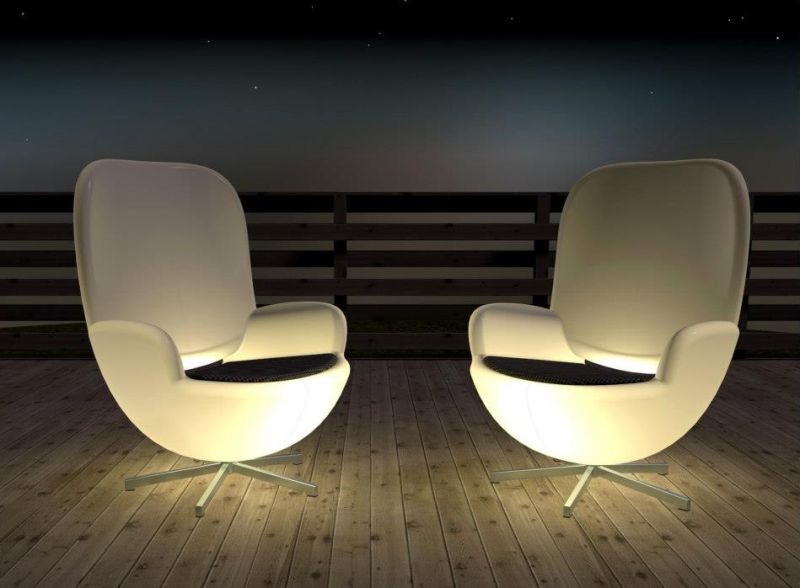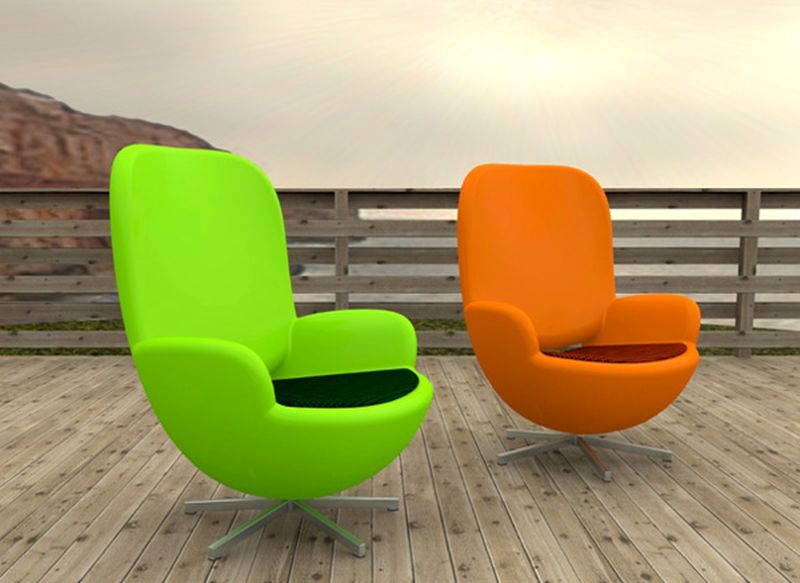 Acrylic glass lounge chair
Looking for a vibrant lounge chair for beach get-togethers and night parties? Have a look at this gorgeous acrylic glass lounge chair with a minimalist design and impressive lighting. The ethereal form of the lounge chair has been kept pretty simple with the application of curvature. Its working is pretty simple – it has a built-in battery to brighten up your space with colorful LEDs. A beam of a flat stature is emanated from the translucent structure when illuminated.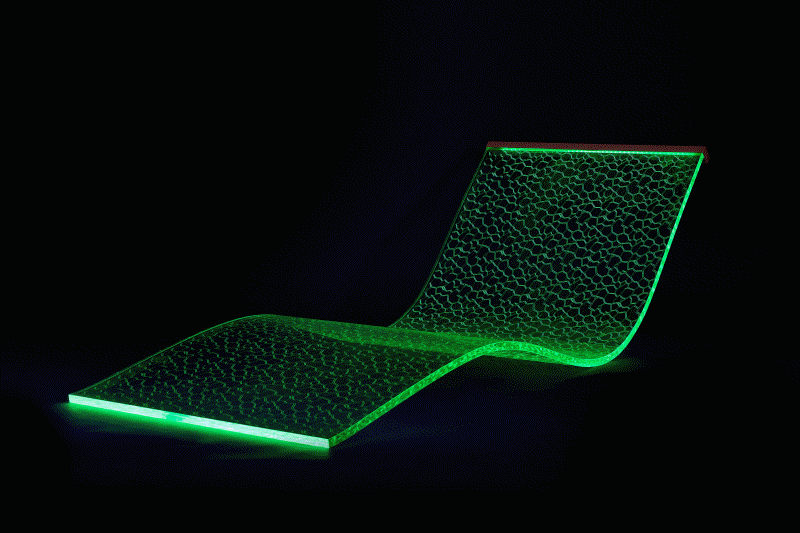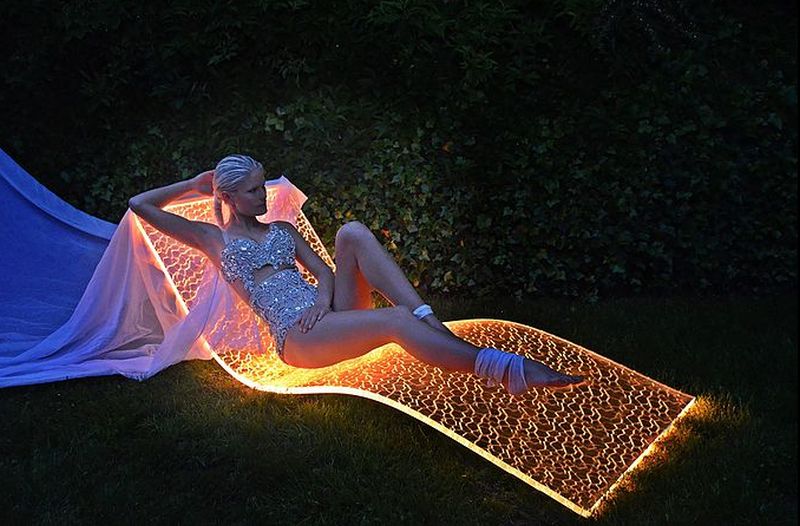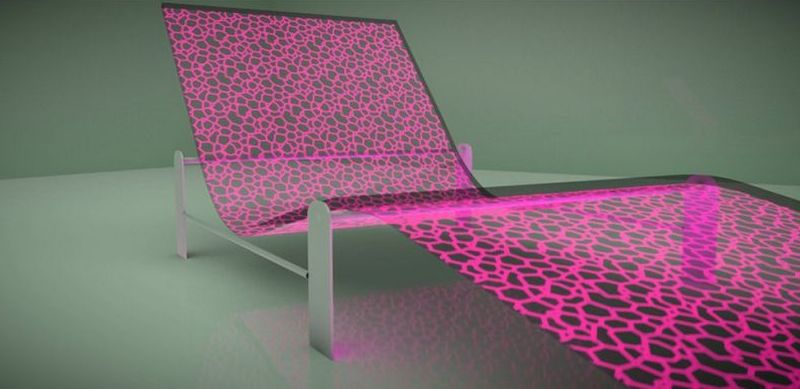 Illuminated log stools
If you love staying amid wilderness, these tiny illuminated log stools are certainly the best pick for you. Designed by a Tasmanian furniture designer Duncan Meerding, these log stools with colorful LED lights can be a great addition to your backyard getaway. Talking about the crafting procedure, the designer scoured tree logs and filled them with LED lights emenating soft and warm lights that luminate each piece of wood from within in the dark.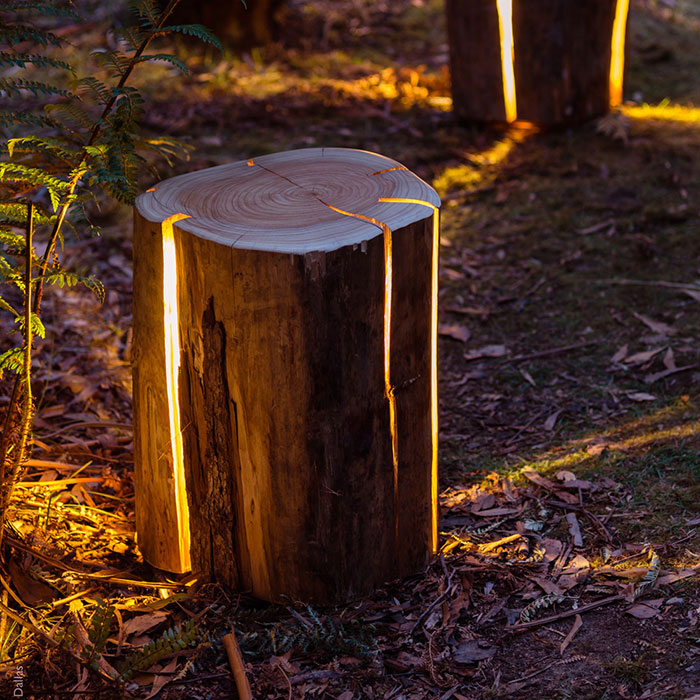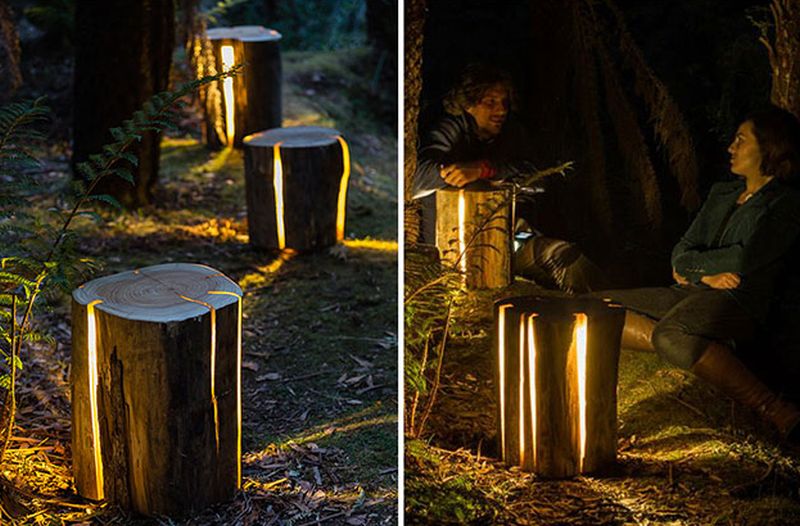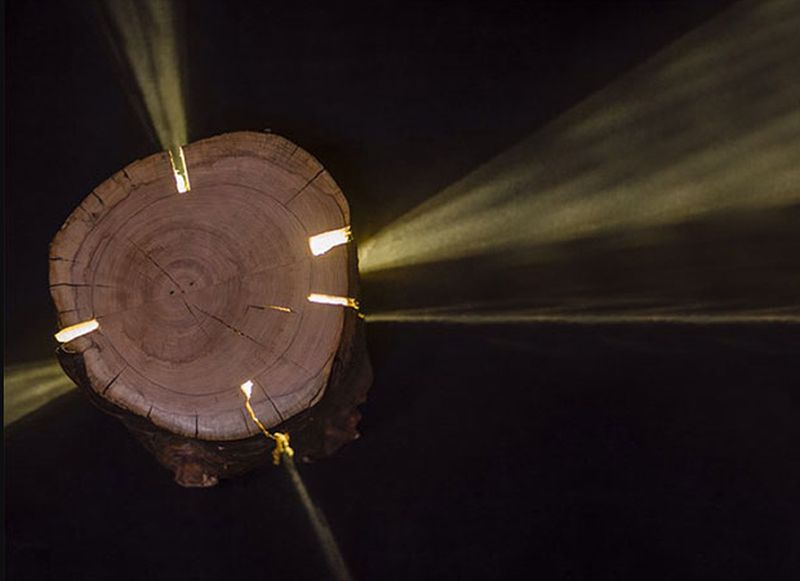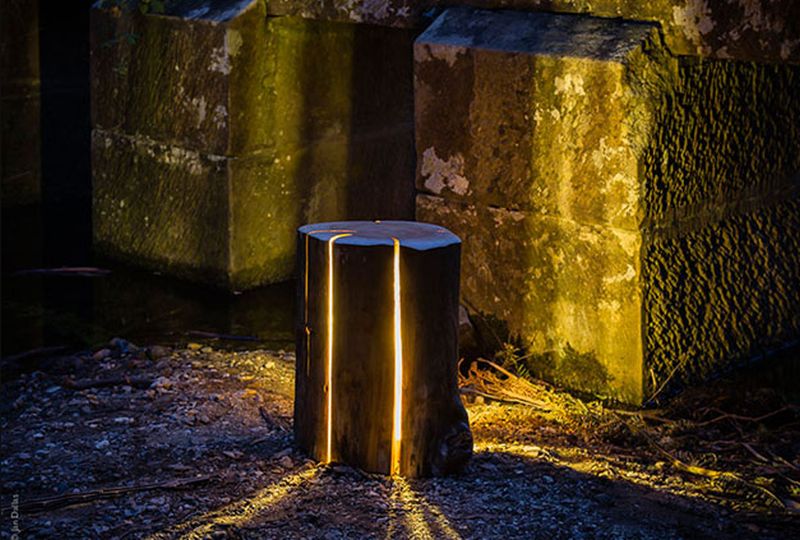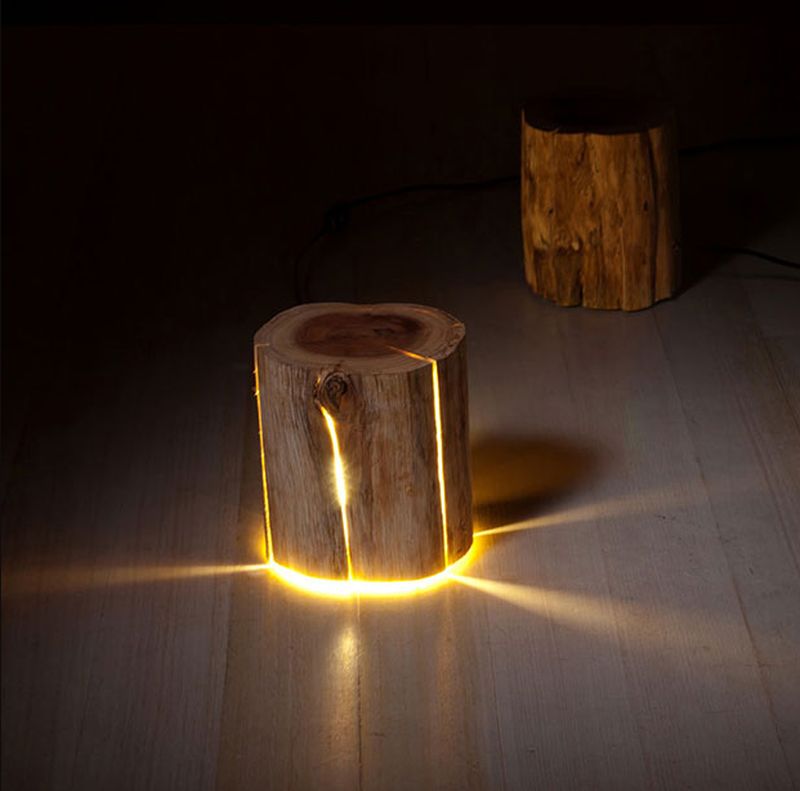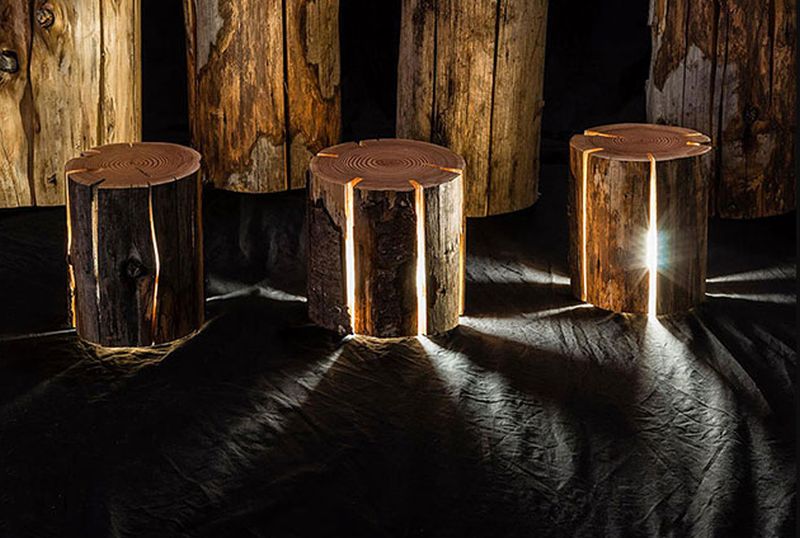 DIY illuminated dining table
Want an illuminated dining table to enjoy a dim-lightened dinner with your family? You can if you have a glass dining table. Install LED light strips beneath the glass-top as shown in the pictures below. The DIY glowing table is a great idea to turn your ordinary dinner time into a joyous occasion every day, celebrated by an array of colorful lights.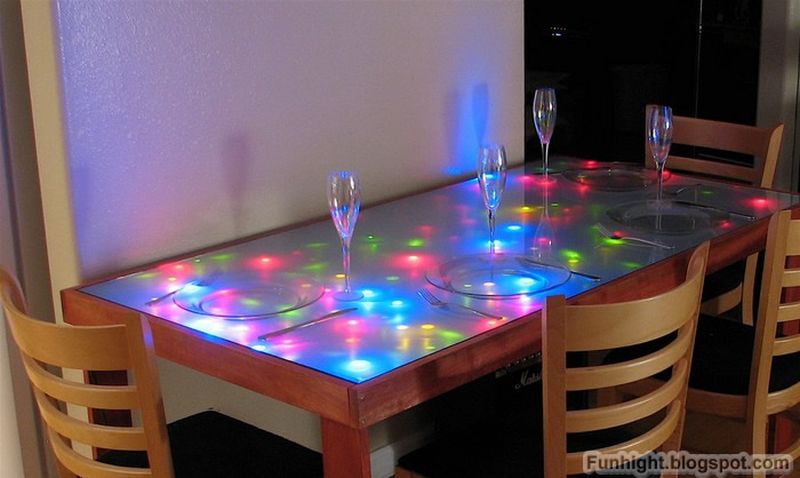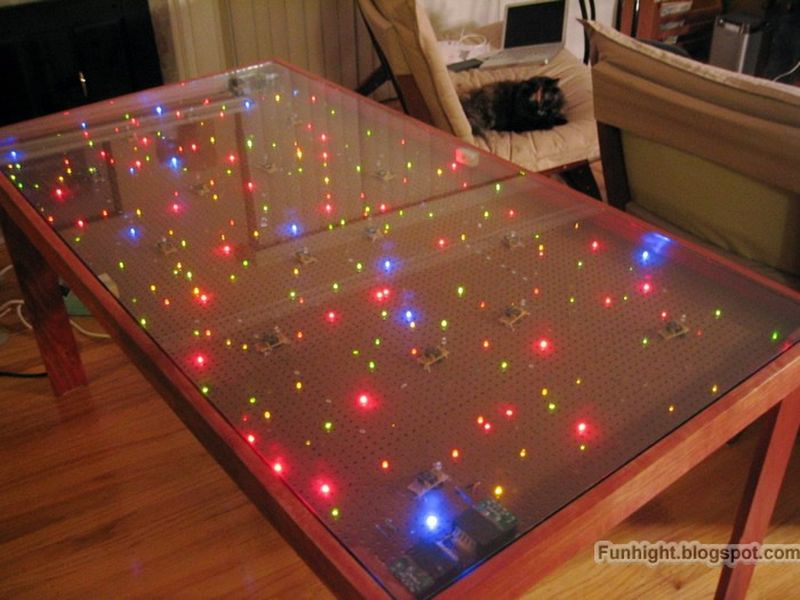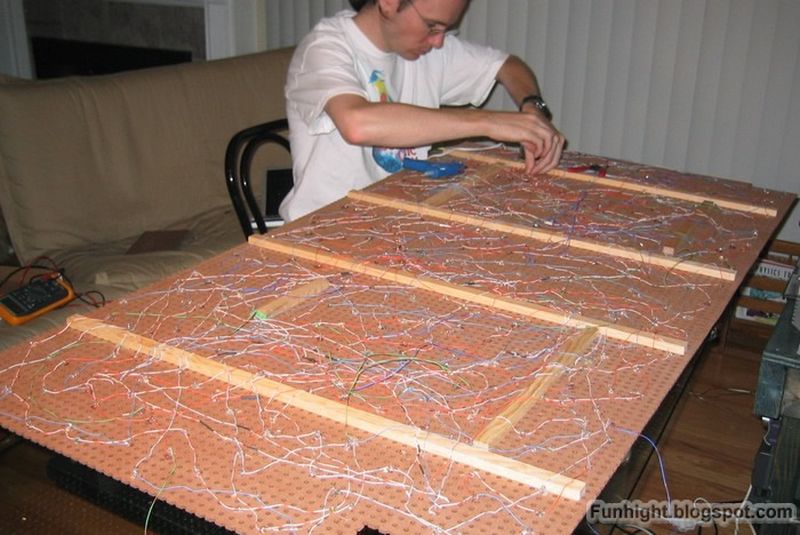 Starry sea table by Alexander Chapelin
Want to bring in a great piece of art? Pay attention to this Starry sea table by Alexander Chapelin. The starry table provides a mesmerizing reflection of the stars on water. The best thing is that it blends both, the stars and the sea in one unit. It has a Wi-Fi-connected array of LED lights embedded in it that offer 300 hours of glowing charm on a six-hour of charge.