In our small apartments, we are often in confrontations with ourselves about the kind of furniture to buy. So it's important to note the furniture space requirements and multi-functional credentials. In urban cities where floor space is at a premium, transforming furniture pieces can be a good pick as they can change their shape to get most of the space.For your convenience, we have listed below some of the best transforming furniture for small spaces.
Transforming Sofa Bed
French design student Fanny Adam designed this transforming sofa which can become a workstation, a dining table and/or bed with the objective to successfully overcome challenges associated with lack of space in urban apartments.
Designed for Formica Group, the sofa bed is made from Formica wood and serves as a sofa and bed. It includes a table to provide additional dining and workspace. The artistically designed furniture has armrests in sofa form which become headboard when transformed into a bed, and as a smooth tabletop with drawers when used as a table. The Formica lamination and use of oak with Naturella matte finish make the sofa bed durable, scratch and heat resistant.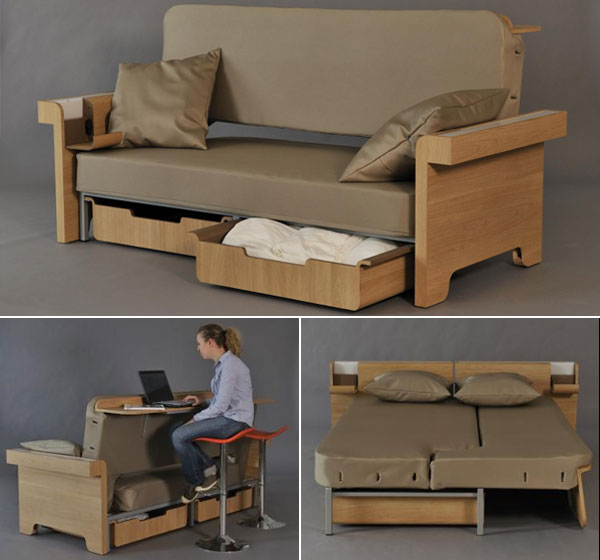 Convertible Sofa
If you have been hunting for a multi-functional and a small sized sofa for your apartment, your search can end here with a Convertible Sofa designed by Julia Kononenko. The uniqueness of the sofa is that it can be transformed into a small dining table with 6 padded stools in a matter of seconds good enough for 6 people to enjoy their meal with minimum fuss. The base of the convertible sofa can be used as the table top, while the backrest and cushions detach from the sofa to be used as stools. This durable and elegant sofa can also be transformed into a working table.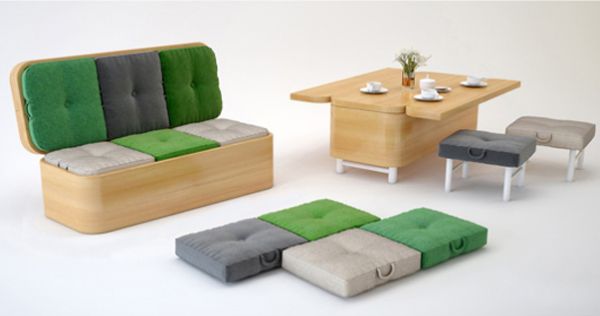 Workbed
German designer Mira Schroder from experimental studio BLESS has created the Workbed, which fuses a work desk and a bed into a singular conception. Real surprise doesn't really come from the essence of multi-functionality; it actually lies in the simplicity with which a person can access bed by easily flipping over the work desk surface. Despite the uniqueness, the form factor of the Workbed doesn't compromise on the functional space available for the user instead structural advantage is further enhanced by the flanking storage space, which comprises of two shelves, a cabinet and a drawer. The furniture is furnished with a rotating mechanism for ease of transformation.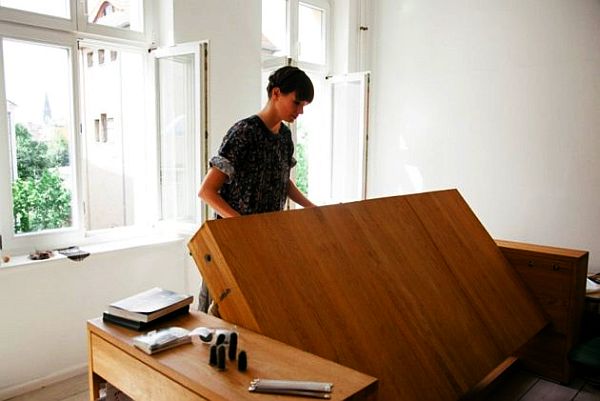 Flaye Table
Flaye table by TEAM 7 is something that complies with small apartment interiors like breeze. At first, the Flaye table is a regular compact table, but if you have guests coming over, the Flaye can be pulled from the two ends to get a 100 cm table right before your eyes. Available in twenty-three different shades to choose from, the very unique Flaye table features a revolutionary non-stop synchronized pull-out technology, which helps the table extend. Flaye table can be extended effortlessly in less than four seconds and the extended table can accommodate four additional seats.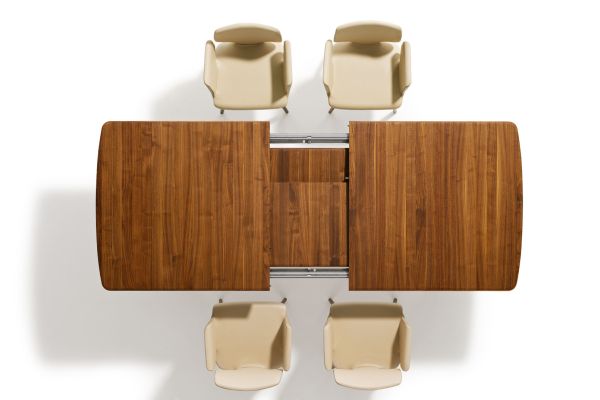 Ouabis Haus Coffee Table
Ouabis Haus Coffee Table by Amy Whitworth Design is just the furniture unit you wanted at home, especially if you have a little princess and your living off a small apartment. Ouabis Haus is basically a really modern coffee table made from solid birch plywood, which can easily transform into a dollhouse. To use the table as a dollhouse, you will need to slide in some wood and acrylic panels on the sides of the table. The panels are easily adjustable, and you can have a customized dollhouse ready in seconds.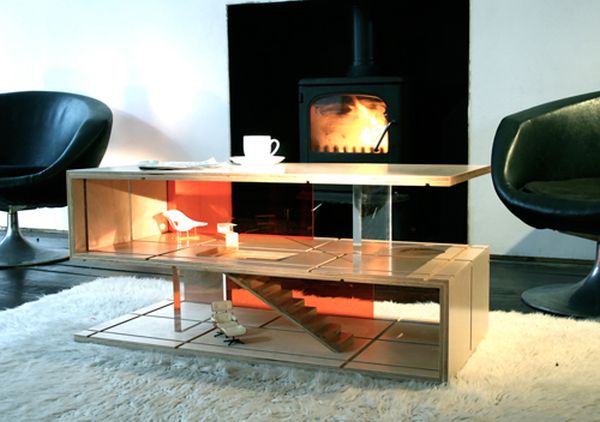 Furniture Gym
Vancouver based designer, Darryl Agawin has designed attractive 3-piece workspace furniture which doubles as the home gym. Dubbed No Sweat!, this double-duty furniture is perfect piece cramped apartments where extra room for gyming and exercising is unavailable. No Sweat! furniture line combines designer's love for design with a fondness for fitness. The set is comprised of a chair, a desk and a lamp which can all be converted into gym equipment including weight bar, balance board and a step bench. The collection is coupled with kettle bell and the skipping rope.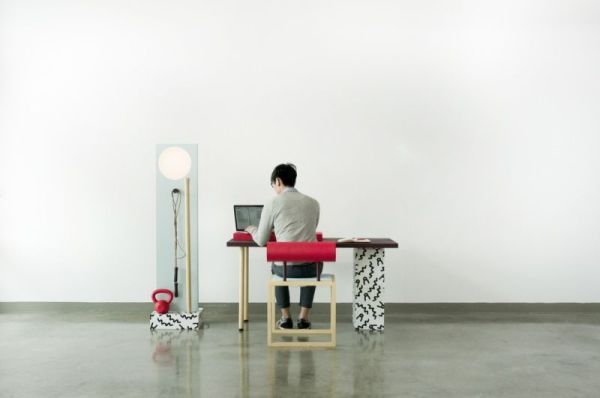 Sensei
Industrial designer Claudio Sibille has designed the Sensei – a pair of chairs that stick up together to transform into a coffee table. Designed with an idea to answer space woes, the Sensei is a pair of chairs featuring square section chromed pipes as legs and lacquered medium-density fiberboard for seating and back rest. The two combine to form mdf table top and chromed pipe legs for a coffee table. In order to form a table with the chairs, lay the chairs horizontally and insert their backs together.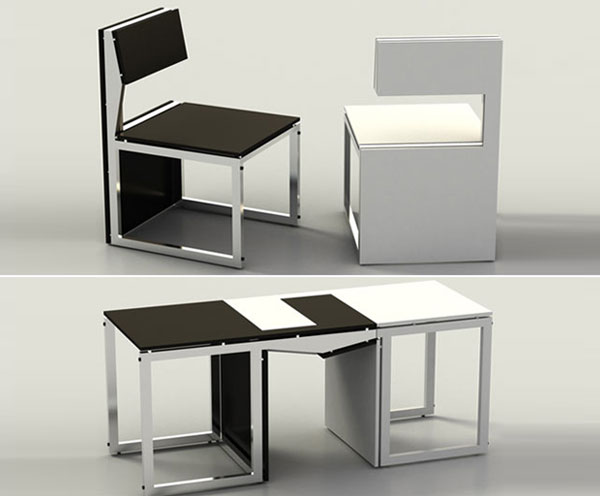 Boxed Furniture
How about a foldable table, chair and lamp you can carry as a suitcase? Designer Tyrone Stoddart has created a furniture collection dubbed Boxed furniture collection, which does transform. Crafted from ash wood, the table, chairs and lamp can be used in any location and can be dismantled and 'folded' into a portable wooden suitcase for easy mobility. Each furniture item has its own multi-purpose credential. The table has an adjustable height, which chairs can be transformed into smaller stools. When folded out as a suitcase, it has storage space for additional accessories.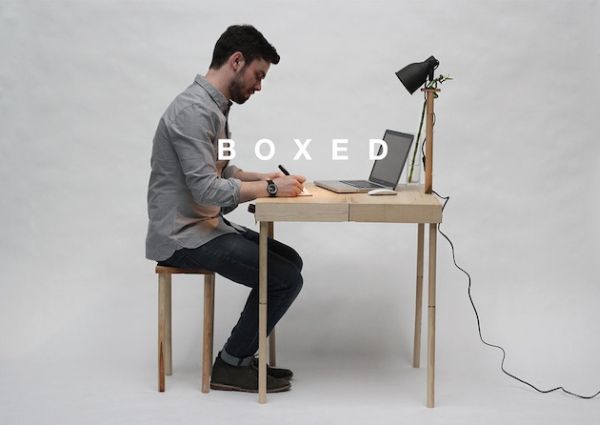 Pinel & Pinel's Boudoir Trunk
Boudoir Trunk from the house of Pinel & Pinel is living room comfort, with the seriousness of a library and the fun of music room all stuffed into one box. The Boudoir Trunk can be rolled and tucked away in one corner of the house when not in use. Handmade in wood, the Boudoir Trunk features leather upholstered chair which can be customized to the customer's demand. With chromed brass and brass palladium exterior, the Boudoir Trunk features a chair with a side table, a table lamp, book library, speakers system and iPhone dock.
Price: 20 500 (approx 26,650)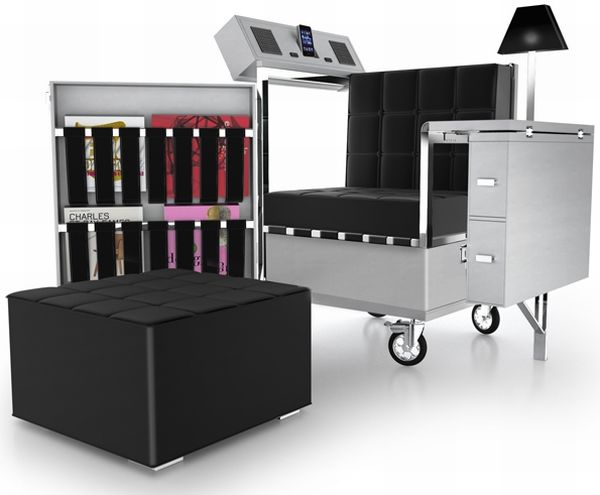 Picture Table
If you have a space crunch at home, but you want a dining table to sit and have meals as a family, here is a cleaver idea in form of the picture table – a clever dining table which transforms into a piece of art when not in use. Designed to be mounted on the side wall, the table rotates towards the wall and becomes a large frame for an image that can be changed as often as you like. The table sticks to the wall with three metal supports and its large legs are kept together with magnets.
Price: €1,140 (approx. $1,400)