Halloween is all about haunted houses, black cats, ravens, bats, pumpkins, ghosts, witches, and goblins. It's a fun time of year, whether you are an adult or a kid. What I like most about this occasion is the opportunity to decorate my backyard with a spooky appeal.
I do this every year with my all heart, as I enjoy scaring people and laughing at their timid expressions. There are literally hundreds of creative and fun ideas to turn your backyard into a haunted garden, but we can't try them all, and I'll suggest you do not waste your time searching online for useless and impractical backyard Halloween décor ideas like I did.
I understand how confusing choosing one among many can get. To make it easier for you, I have compiled a list of my favorite outdoor Halloween decoration ideas which I have tried or wish to try this year. I am pretty sure some of them will definitely inspire you to turn your backyard into a temporary cemetery.
Outdoor Halloween decoration with Pumpkins is quick and simple
Pumpkins can be carved or painted Jack-o'-lanterns. You can also make an outdoor decoration from pumpkins and other small props. Put them on stairs and next to your front door. Or you can make a pumpkin topiary.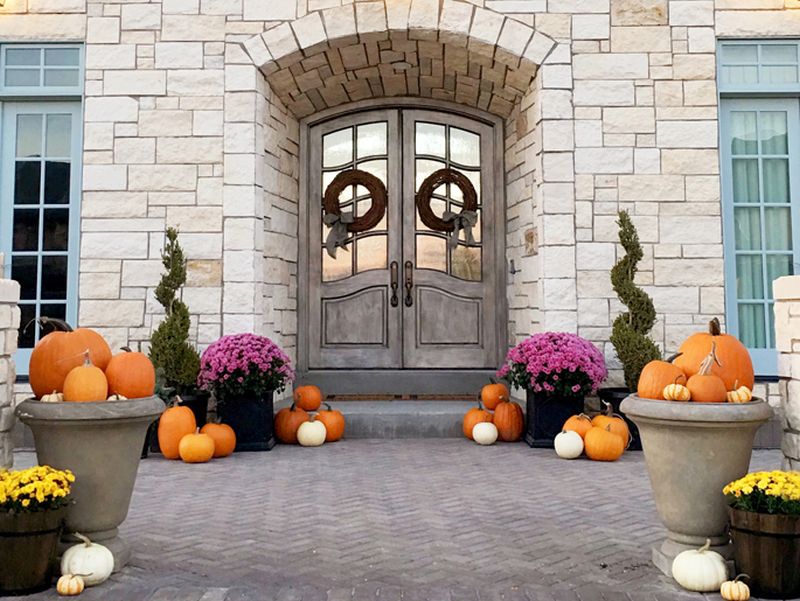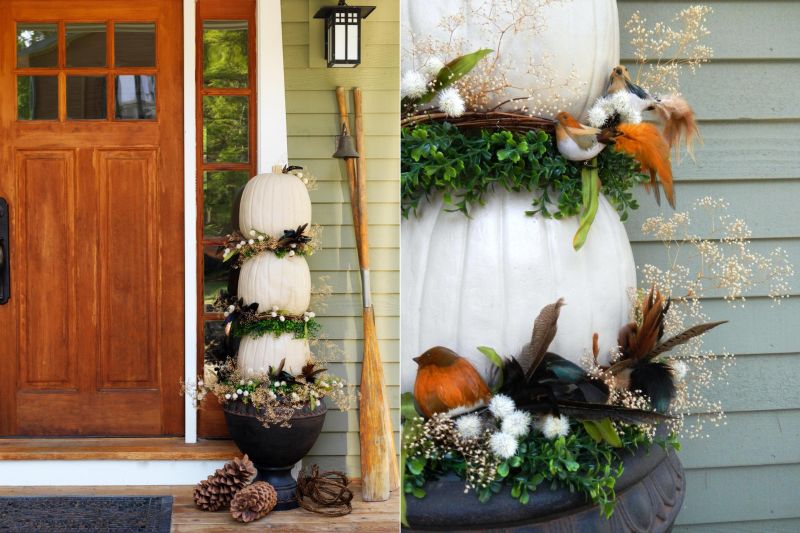 A monster hidden in bushes and plants
Be creative and utilize your DIY skills to turn a bush into a monster. Pointed tooth and eyes crafted from paper or plastic would be perfect. Large fake eyes in bushes will do the trick of scaring people peeping into your home.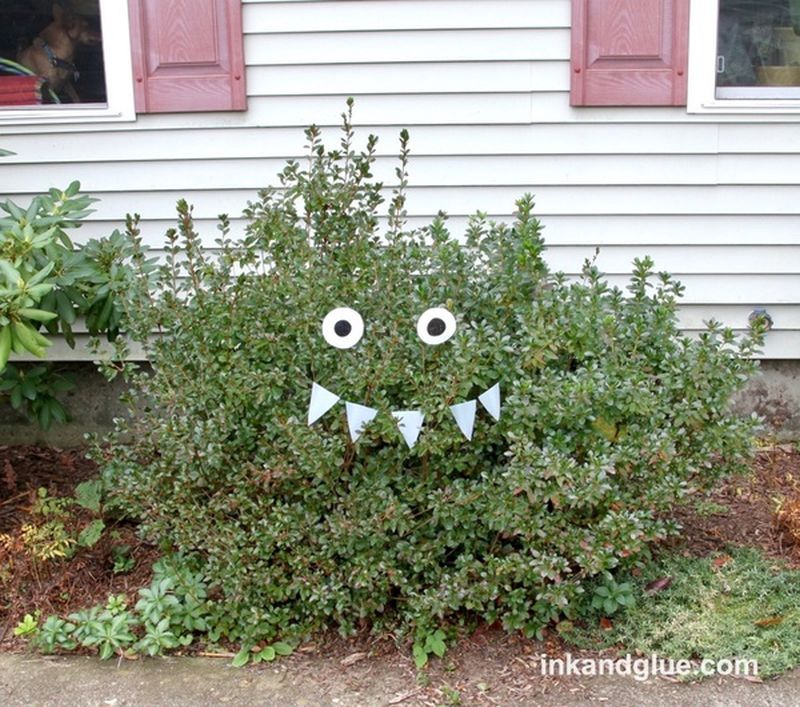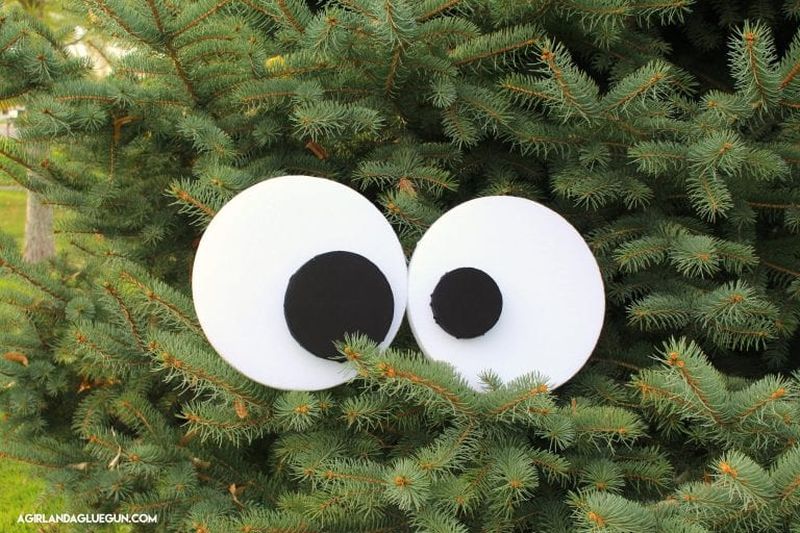 Turn your backyard into a graveyard
I am fed up of decorating my backyard with those same old Jack-o'-lanterns and ghost lamps. Unlike every year, this year I don't want to give my backyard that boring appeal. I am no longer following those old-school trends. Making optimum use of the extensive garden to turn my backyard into a scary graveyard with spooky skeletons and tombs is something I am going to try this year. You can also make your backyard look as haunted as a graveyard by hanging a couple of skeletons and raising tombstones. I assure you, whoever visits your backyard on the scary night will feel the presence of violent poltergeist around them. This will induce the same fear one feels while walking past the graveyard at night.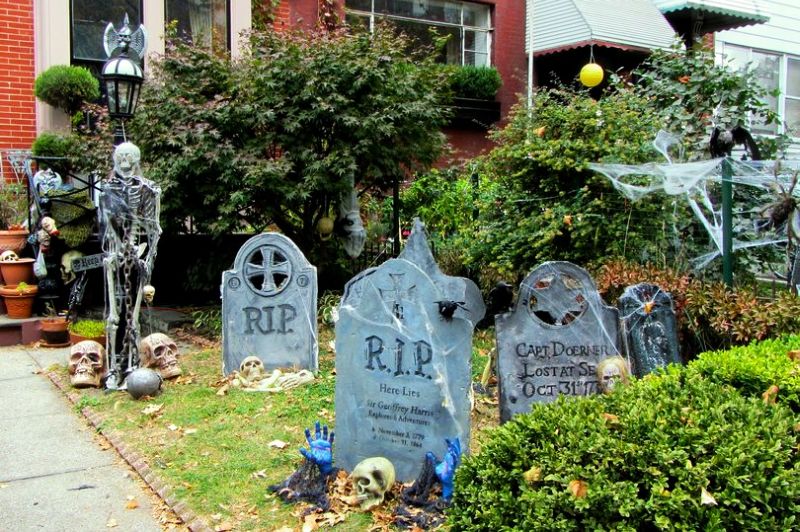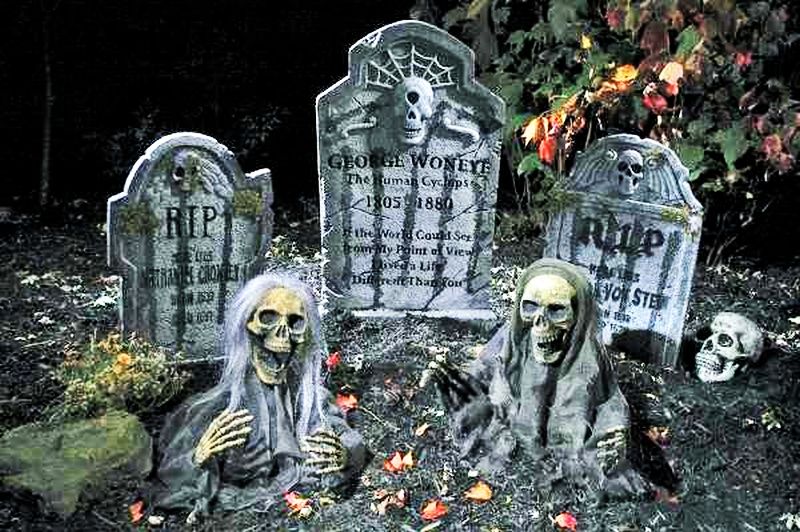 Pallet wood Halloween fence is easy-to-make and affordable
Pallet wood is a fantastic material you can use to make various Halloween decorations. Simply making a temporary pallet wood fence and some skeletons will transform your home for the day. Check out some interesting pallet wood Halloween decoration ideas here.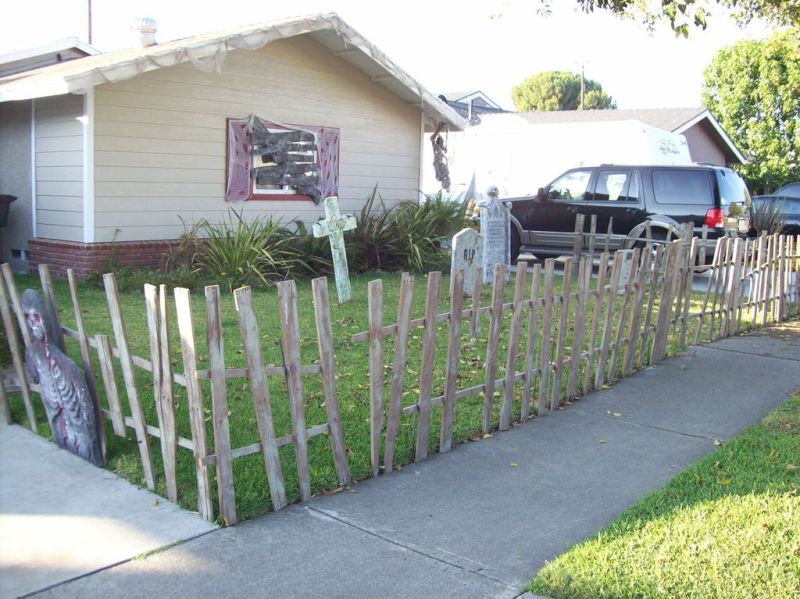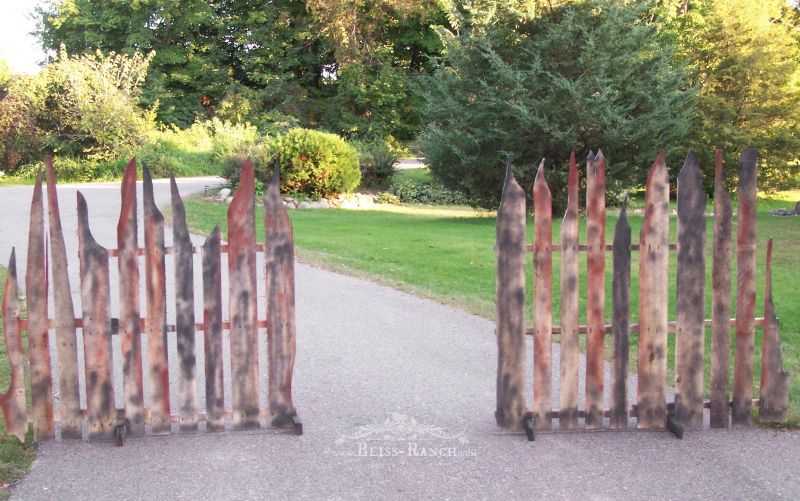 Also Read: Trending Halloween Skeleton Props You Can Buy Online
Creepy spider, its web and eggs can scare little kids
Spider webs look creepy and using fake spider webs in the outdoors of your home will show your passion for Halloween. Starting from the front door and windows, also wrap up some webs around the roof, and decorate with fake spiders. Check out more of such spooky ideas to decorate the front fate and fence for Halloween.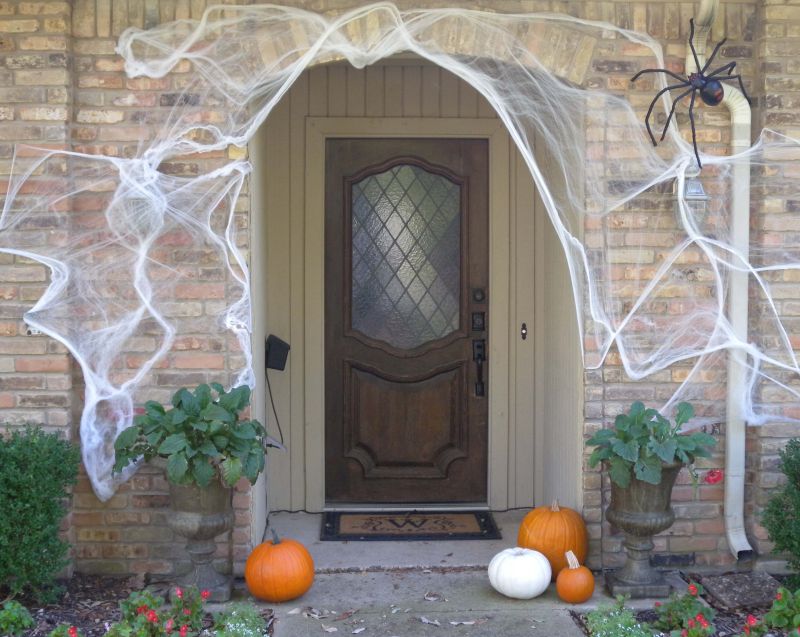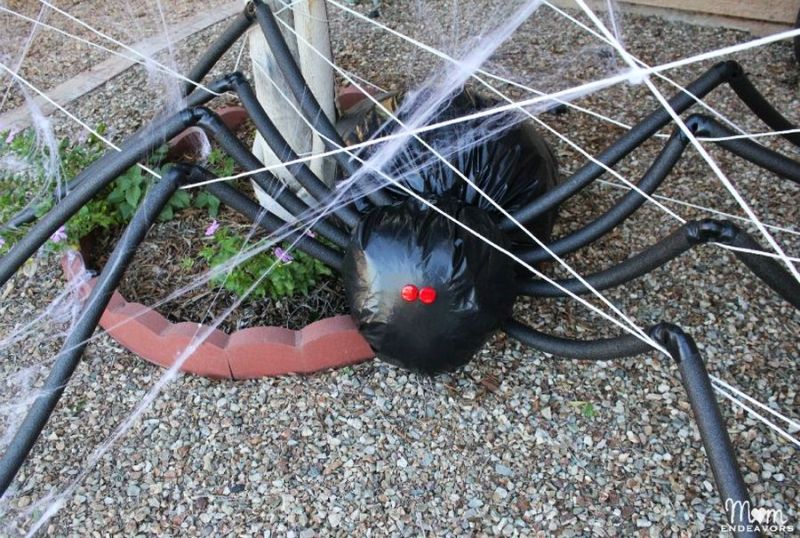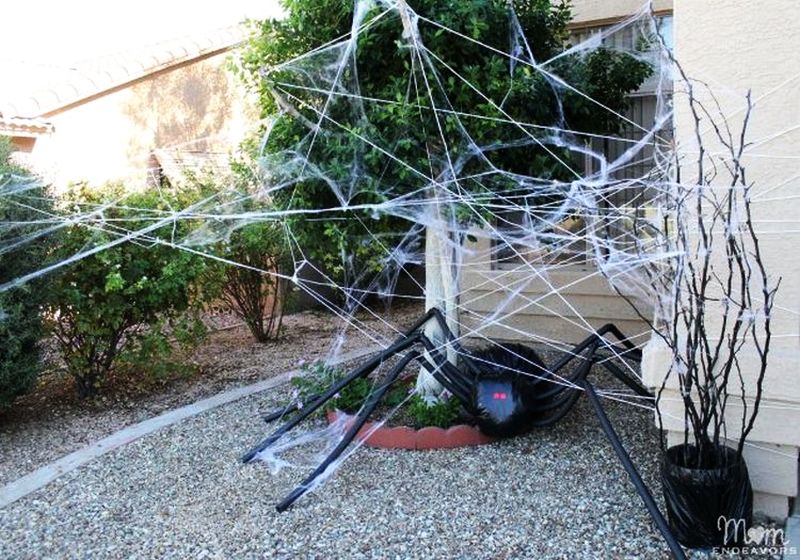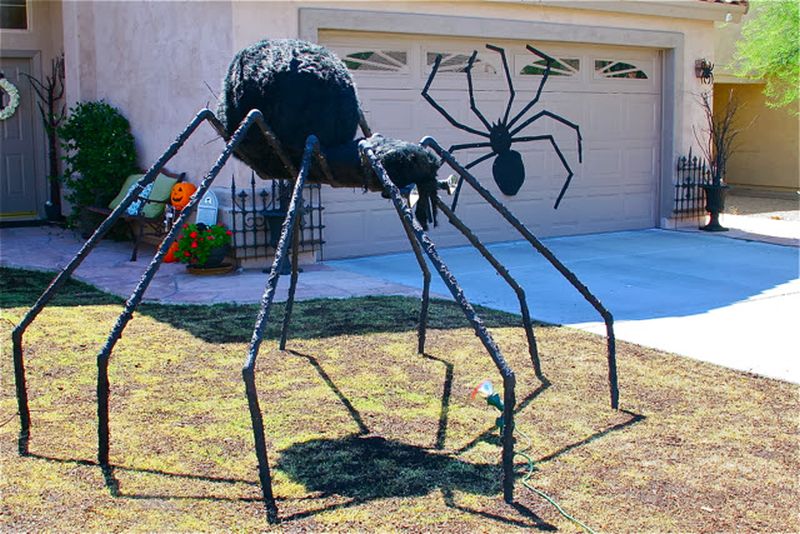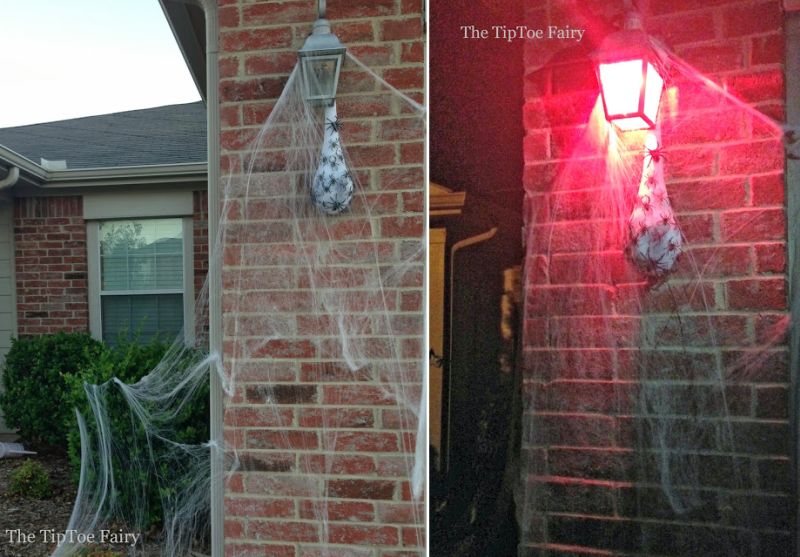 A witch in the backyard looks spooky
A full-size witch figure definitely would be a scary addition to your backyard. It's a perfect time to bring the skinny witch from the ghost stories grandmother used to tell us while we were kids. I am done with all preparations and bought a large-sized witch silhouette, black cat figure, artificial ravens, large black pot and pumpkins to complete the wicked appeal. Now, I am desperately waiting for the All Hallows' Eve to turn my garden into a witchy place.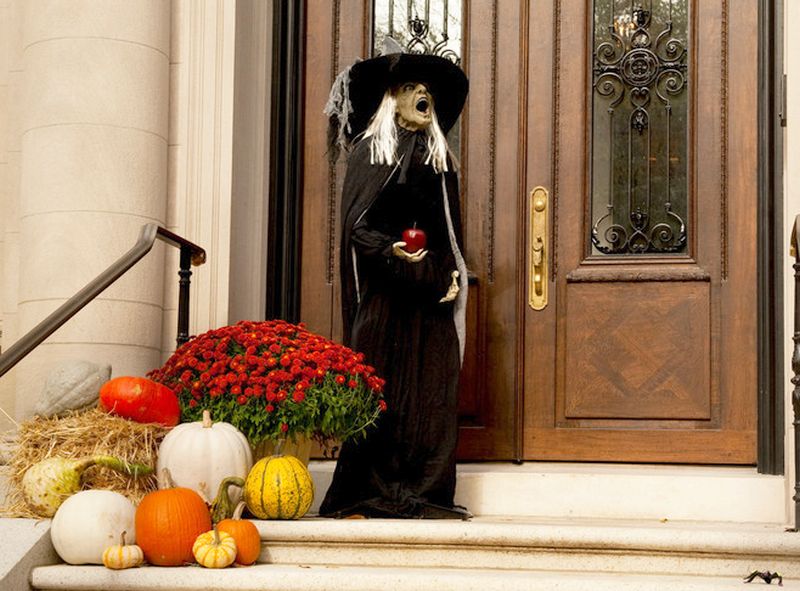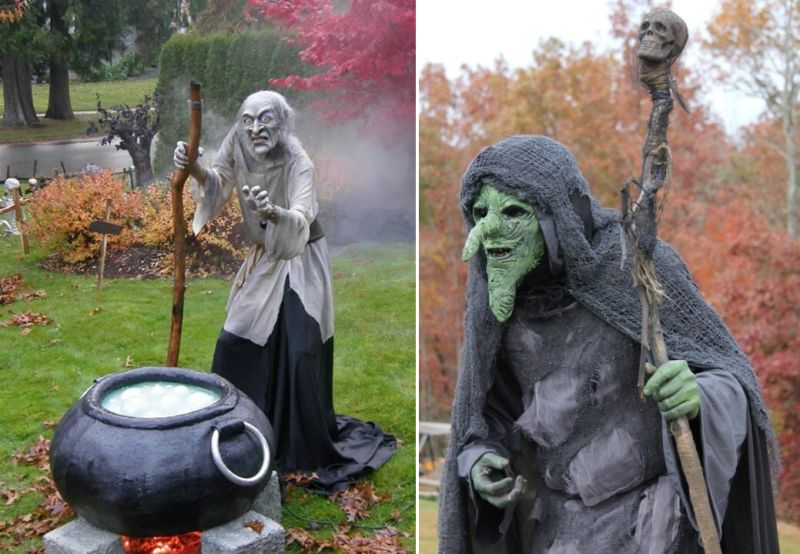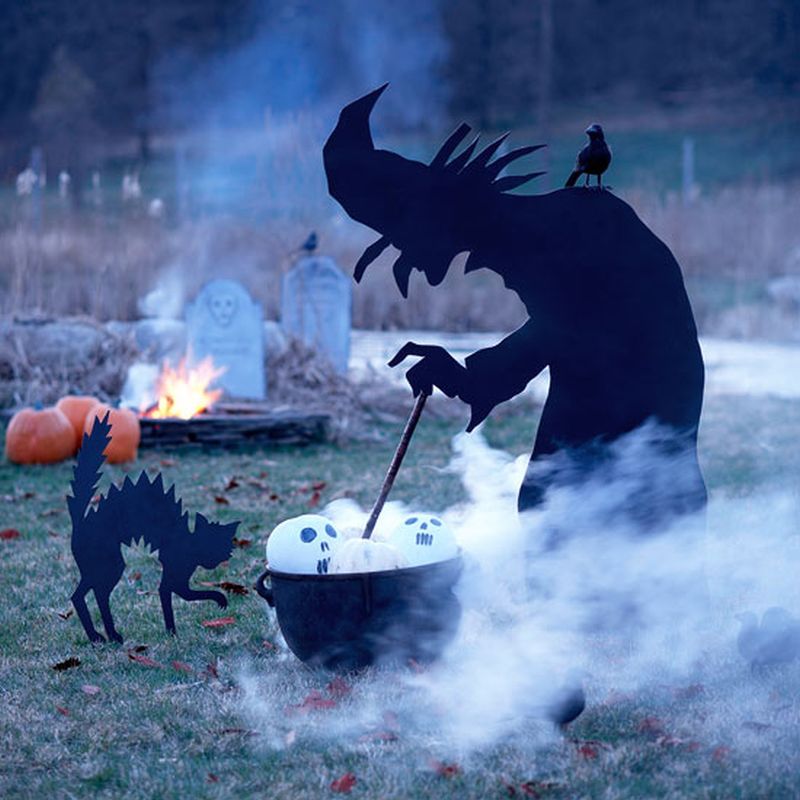 Decorate your backyard with a bunch of white ghosts
Decorating the backyard with a bunch of white sheets for Halloween night is a terrific idea. The idea does not ask you to spend much. I have tried this last year, so I can say it is one of the easiest, inexpensive yet scary backyard Halloween decoration ideas.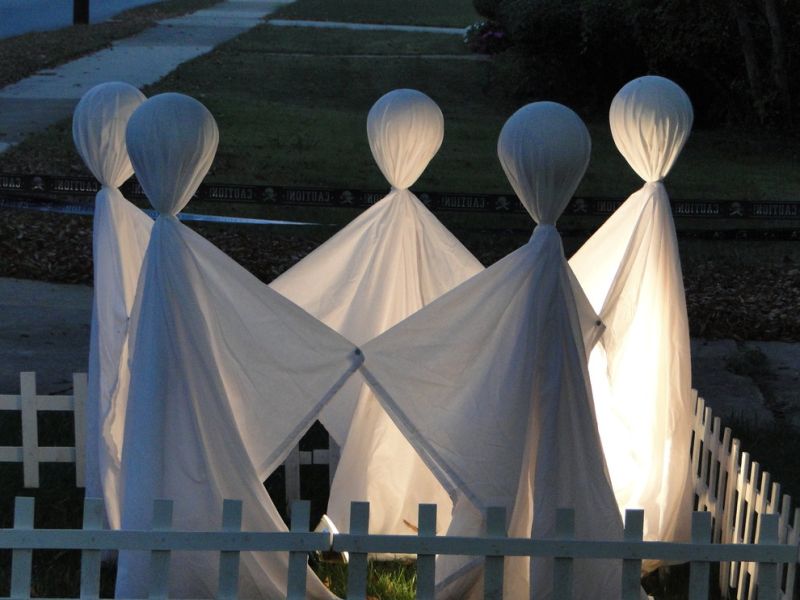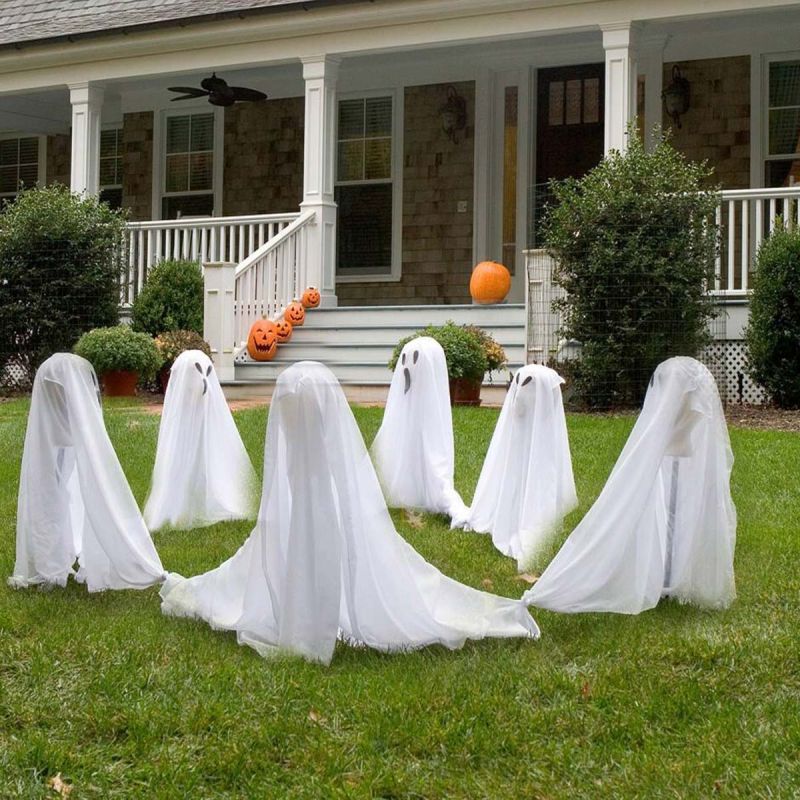 Decorate with skeletons
There are a number of ways to display skeletons in the outdoor space of your home. You can pose skeletons in different scenes. Skeletons are spooky for sure and showcasing their crazy moments in the backyard is a fun idea. Don't fret if cannot pull it off too well, use your own creativity to place them to put up a show – nothing is right or wrong here.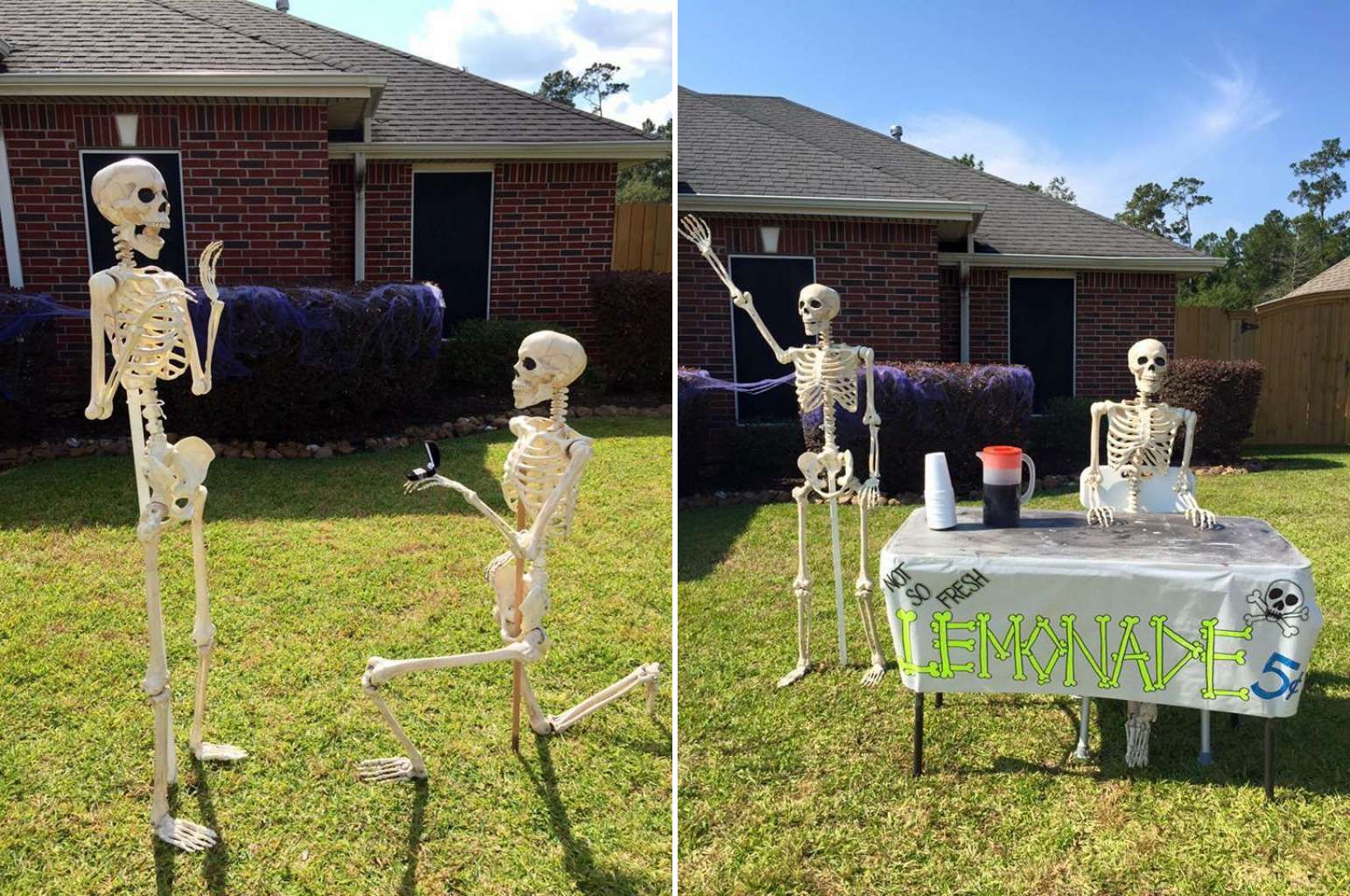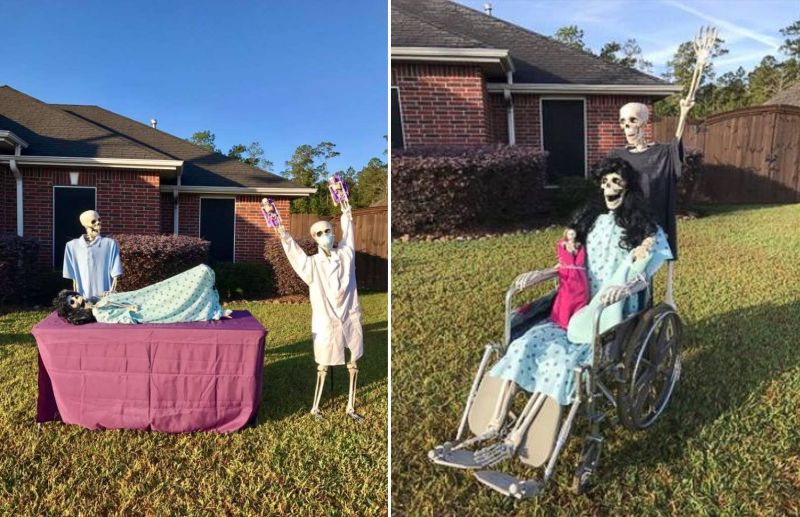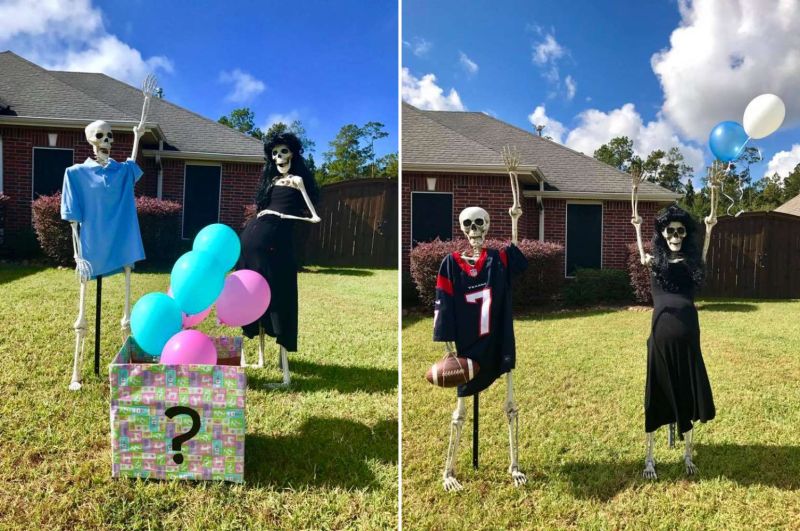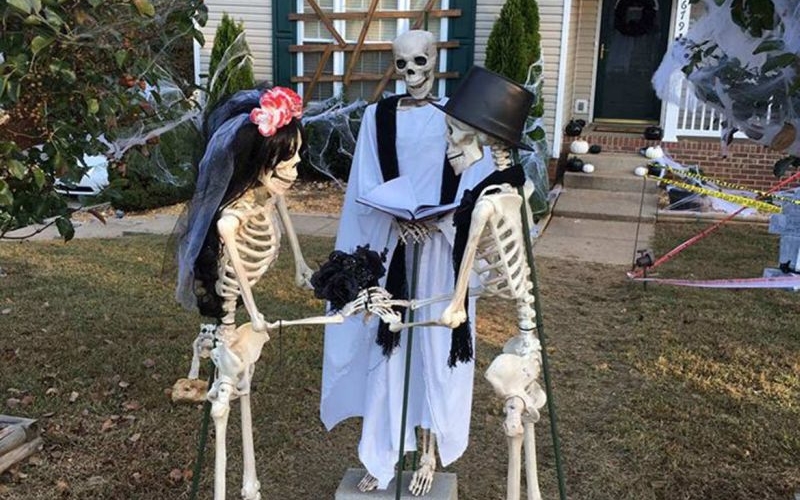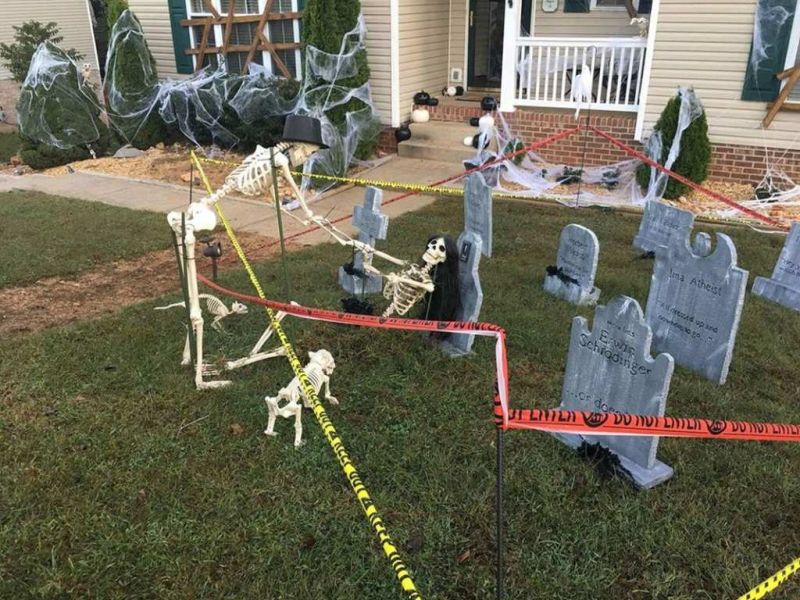 Also Read: 30 DIY Halloween wreaths to welcome evil spirits into your home
Zombie buried in the garden looks horrifying
Imagine a zombie clawing his way out of your garden to catch you! How scary this scene will be. A realistically sculpted zombie silhouette with every grotesque detail can petrify anyone to death. You can have fun leaving it in the garden to scare your neighbors all month long.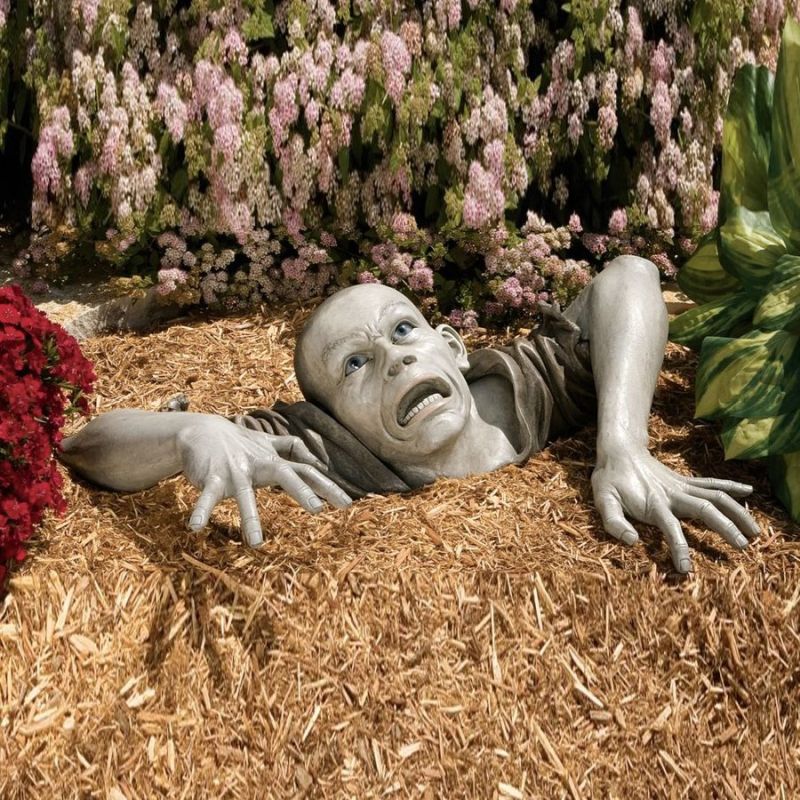 Hang a swing for your ghost friend in backyard
If your backyard allows you to tie a swing, hang one for your ghost friend. I haven't done this, but I have seen my friend doing it last Halloween. He tied a spooky witch on one of his backyard trees. The witch looked really horrible. She swayed to and fro in the wind and seemed as if she was coercing us into helping her get off the rope. Along with the witch, he tied a skeleton ghost with a swing over another tree, who was dressed up in black creepy clothes. The view was as scary as it could get.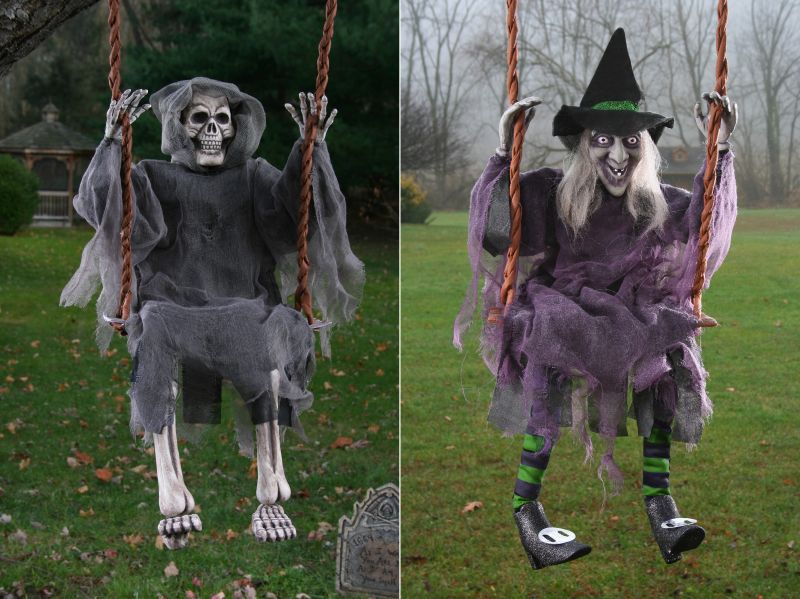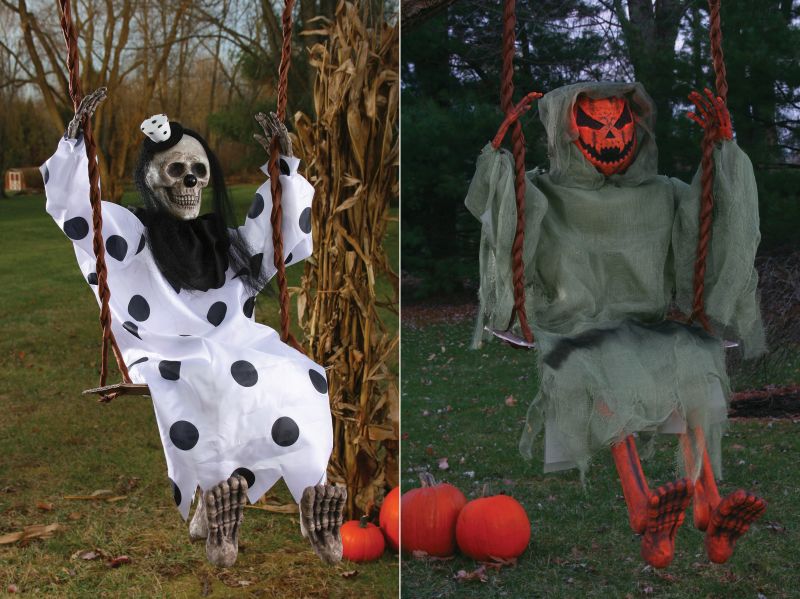 A rustic coffin in the garden is dreadful
A rustic coffin in the backyard with mystery lighting and skeleton hands popping out of it can freak anybody out at night. Have a look at this coffin, isn't it enough to haunt anybody with a fearful heart? For me, it's spookier than a skeleton or artificial ghost sculptures. I may feel fearless between fake skeletons at night, but can't with this prop.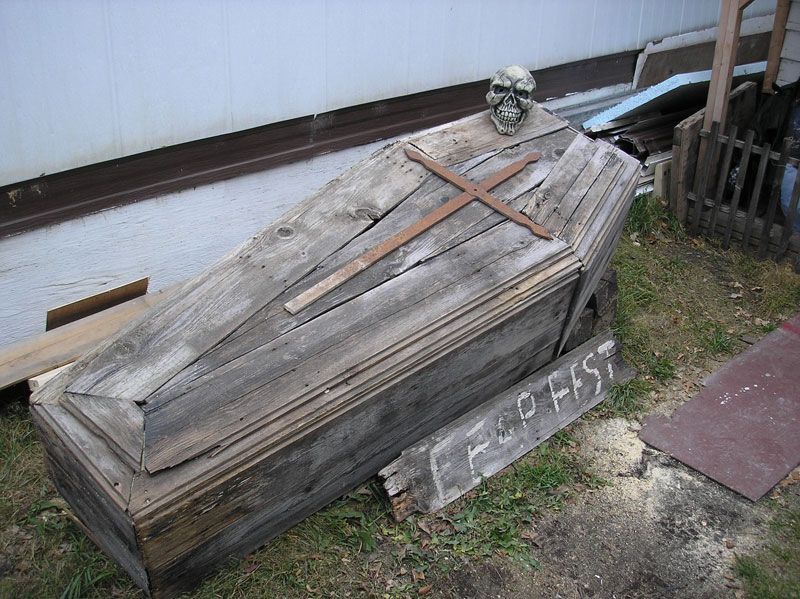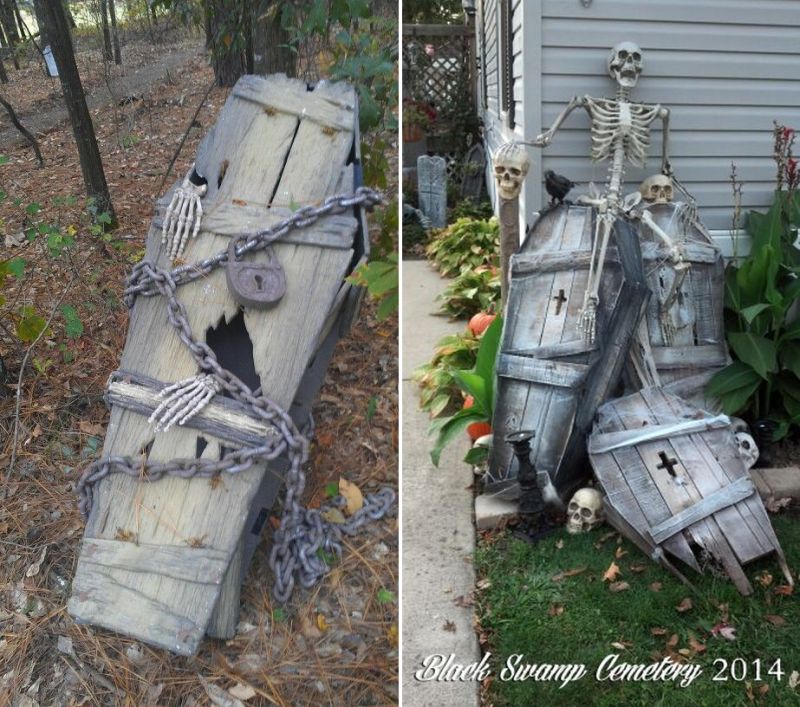 Mummy in the backyard is perfect to give sleepless nights
I can't forget timid expressions on the faces of my friends when I told them scary stories of mummies. Halloween is all about scaring people, and the time to put the idea of a mummy with spooky spiders to work has come. Creating a mummy does not require so much effort and money. A person with average DIY skills can create it. Gather some white cloth, ping pong balls, google eyes and a skeleton hand and form a mummy. You are now all set to give your friends and guests an epileptic fit.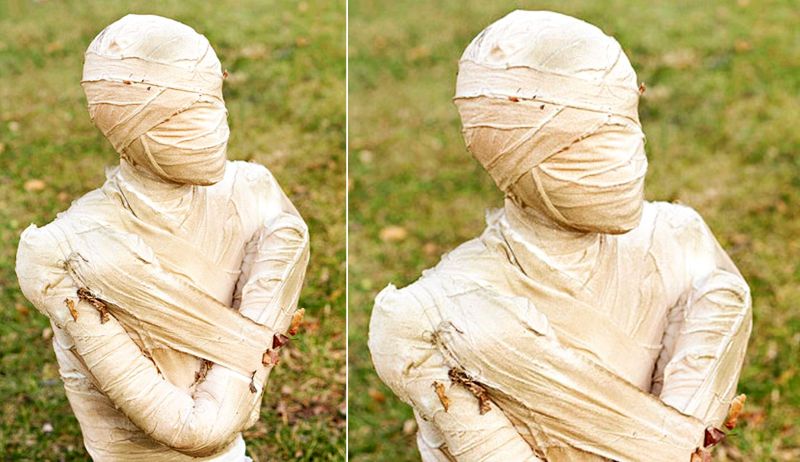 Bloody Footprints at your front door
Horrific bloody footprints will give Goosebumps to visitors. Just two or three footprints marked through red color on the front porch will be enough to scare kids as well as adults. Glow in the dark colors can also be used for a terrifying look at night. Click for more front porch Halloween decorating ideas.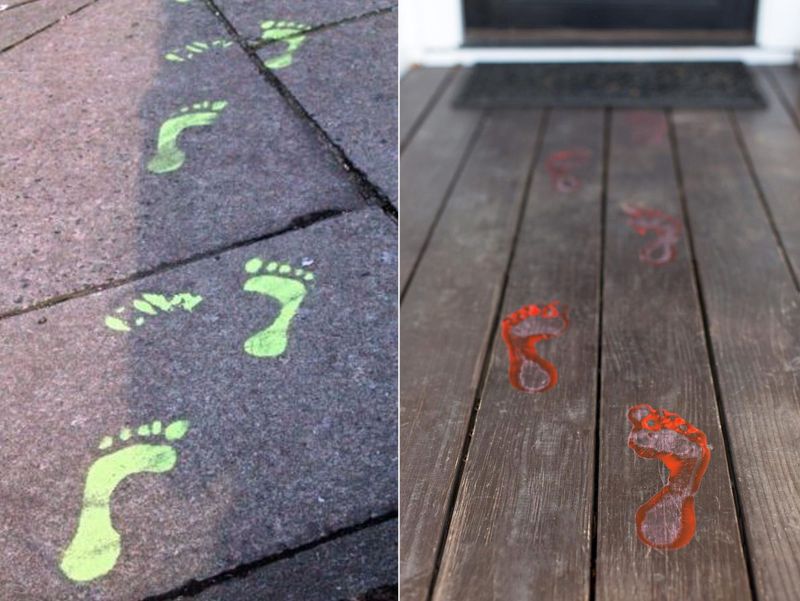 Take your Halloween party to another level with digital decorations
If you want to amaze your guests on Halloween, make use of the latest technology. AtmosFX 's digital decorating kit can let you project witches, ghosts and goblins and other creepy figures on walls and windows.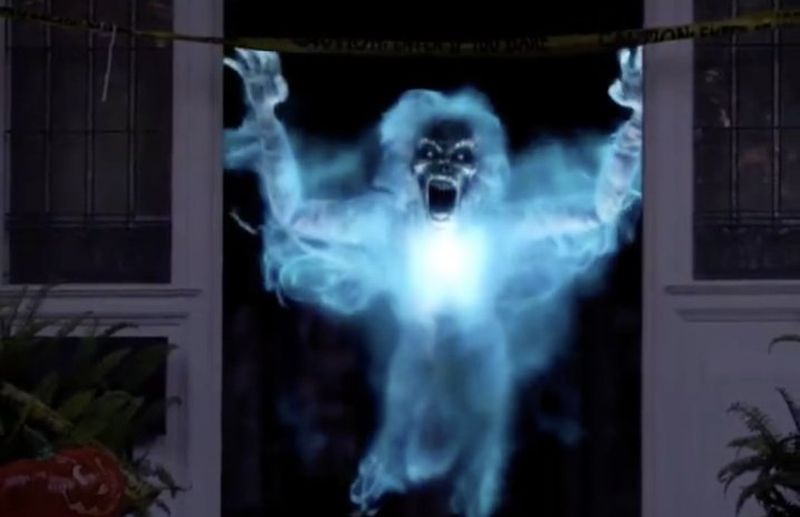 Image: Atmos
A homemade Halloween display will surely attract more visitors
Not just skeletons and pumpkins – you can try bigger things like this Ohio woman who turned her garage into a monster or the pirate ship display by Stan Munro and Suzi Campanaro.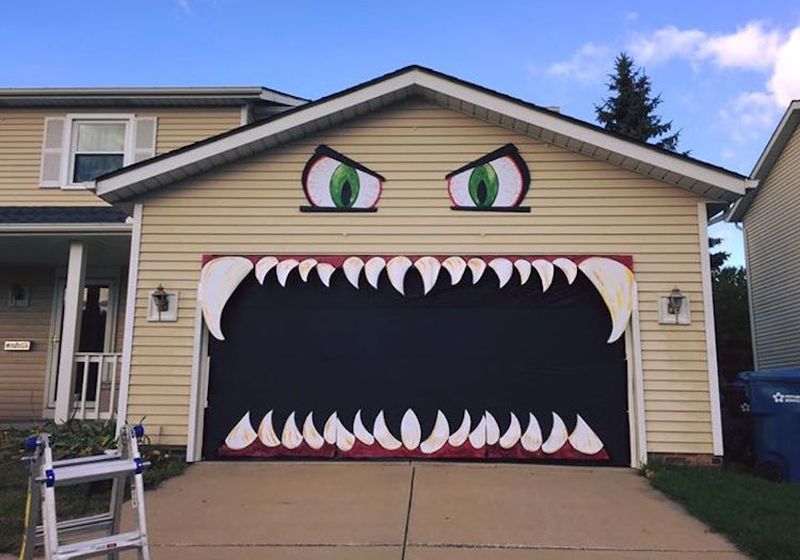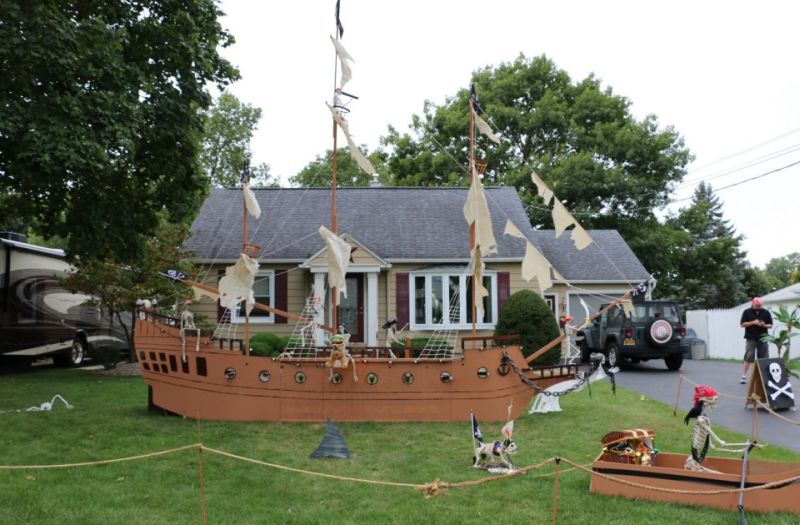 Also Read: 30+ Outdoor Halloween Decorations You can Make Yourself
Halloween light display to go big!
If you are looking for an even bigger display, then create a Halloween light show at your home that will surely make your neighbors jealous. Lights that dance to the music!