A good pair of speakers adds a whole new level of enjoyment to the musical ecstasy. There is nothing like listening to your favorite music on the speakers delivering thumping audio quality while you relax on the couch. Therefore, choosing a speaker that offers good design, ambiance and acoustics is the key to listening to good music with quality sound.
As concrete makes for very strong material and provides excellent characteristics to be used in the audio environment, many speaker brands have started manufacturing concrete speakers with refreshing artistic designs. No doubt, concrete speakers are the latest popular trend that audiophiles from all around the world are admiring.
If you are one of them and looking for a great pair of speakers with minimal design and best acoustics, this of some of the best concrete speakers will help you make the right decision.
#1 Brutalist-Lab Titan concrete speaker 
If your interior follows modern décor theme, buy this geometric-shaped concrete speaker by Brutalist Lab. Designed and handcrafted by architect Gedeon Ory at Utopia workshop in Budapest, Hungary, the smart concrete speaker offers a timeless look that represents a unique taste of handcraftsmanship.
Features: The speaker with two woofers comes with a 60-watt power output, which lets you enjoy crystal clear highs and focused bass with outstanding low resonance enclosure. The speaker also comes with Bluetooth aptX that lets you connect with your other devices, plus, USB and audio ports on the back side offer additional connectivity.
Dimensions: 10 x 20 inches
Pricing and availability: N/A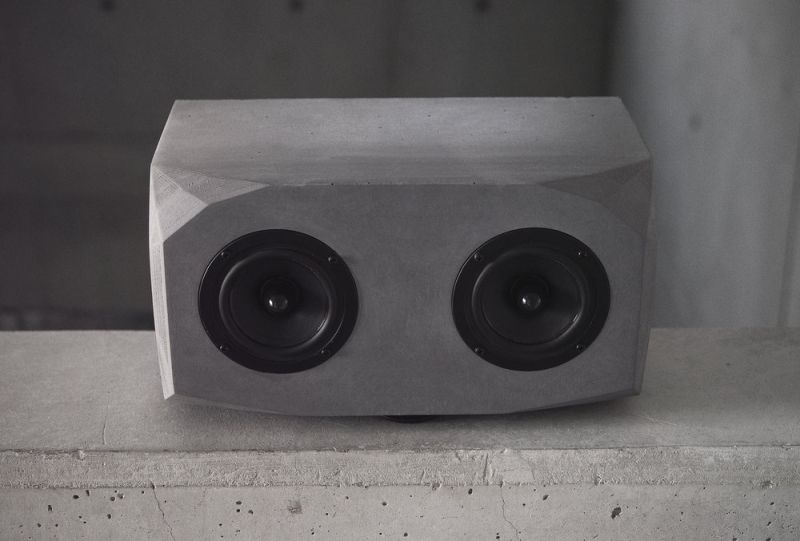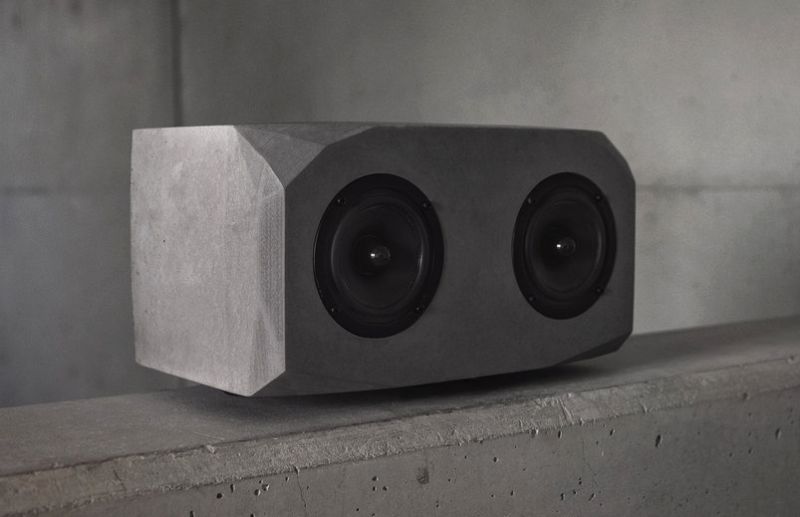 #2 F1 wall speaker
A speaker that seamlessly blends with home interiors is the first choice of every audiophile. This thought has given origin to the F1 wall speaker designed by a German audio company, Concrete Audio. The company is popular in the world market for offering concrete speakers with the best audio output and timeless design. Designed to look like an abstract painting on the wall, the F1 wall-mounted speaker is one of the finest creations of the company with all latest features. Available in concrete and wooden texture, the wall-mounted speaker can be concealed behind the fine piece of wall painting while not in use.
Features: F1 is a smart wireless speaker that connects to your smartphones, tablets and other handheld devices while giving you high-quality acoustic experience with 100 Hz – 20,000 Hz transmission range. The speaker comes with heavy bass and amazing audio clarity.
Dimensions and weight: The size of this wall-mounted speaker is no larger than a picture frame, and weighs 12 kgs.
Pricing and availability: N/A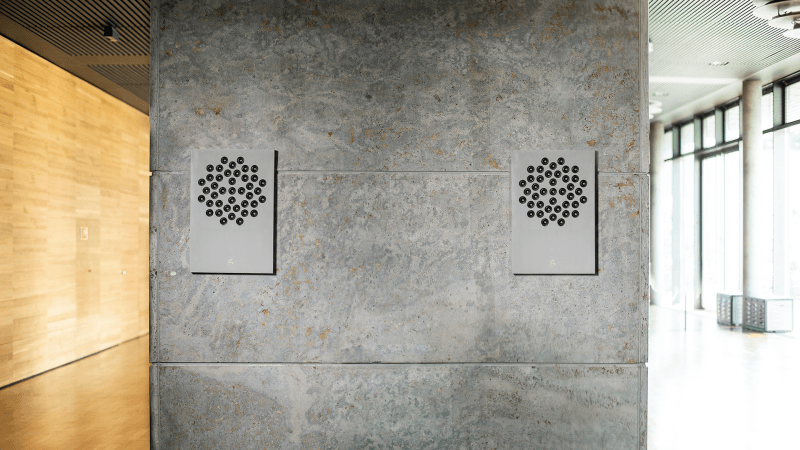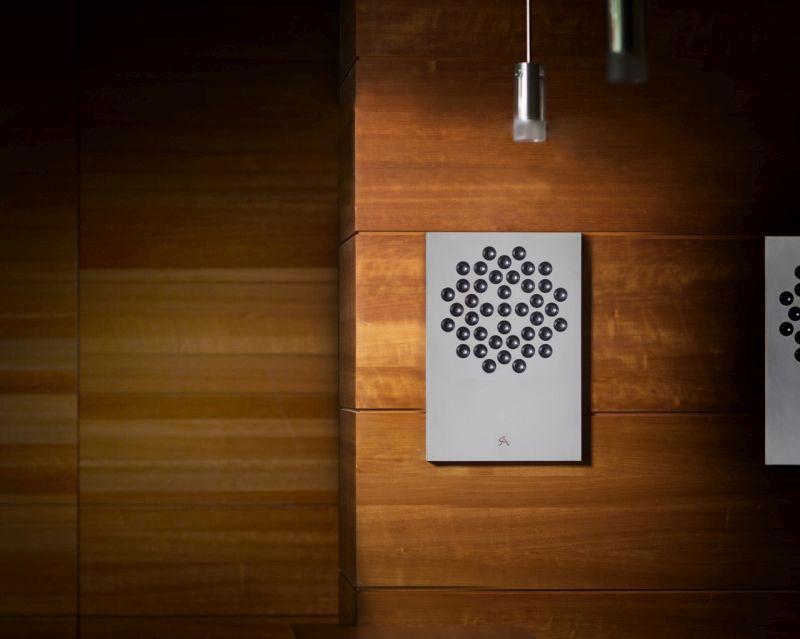 #3 MA770 concrete speaker
If you are looking for a speaker that provides great ambiance along with good audio quality, have a look at this chic table-top speaker by a New York-based company, Master & Dynamic. Hand-carved by famous architect Sir David Adjaye, the MA770 concrete speaker has a very striking design to suit modern interiors perfectly.
Features:  This Bluetooth 4.0 and Wi-Fi audio system is decked-up with all important USB and network ports that allow you to control music from your smart devices remotely. Powered by Dual 4″ Woven Kevlar Long Throw Woofers and 100 Watts of Class D amplification, the speaker offers phenomenal audio quality.
Dimensions and weight: The smart speaker measures 410mm x 510mm x 245mm and weighs 16 kgs.
Price and availability: The speaker costs $1,199 at official website.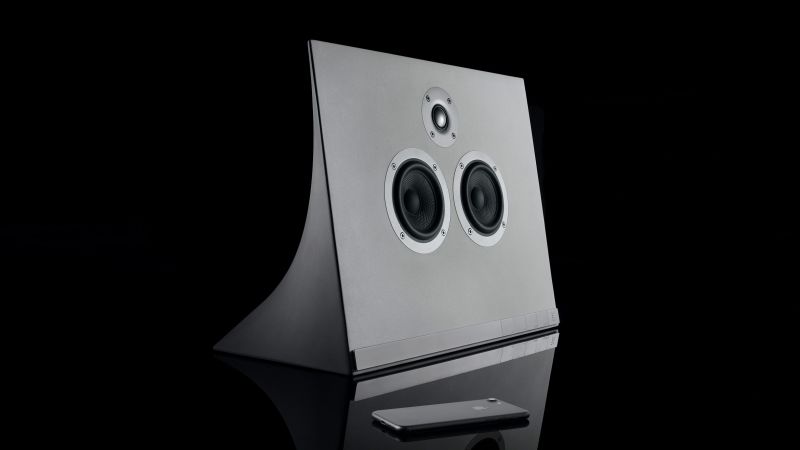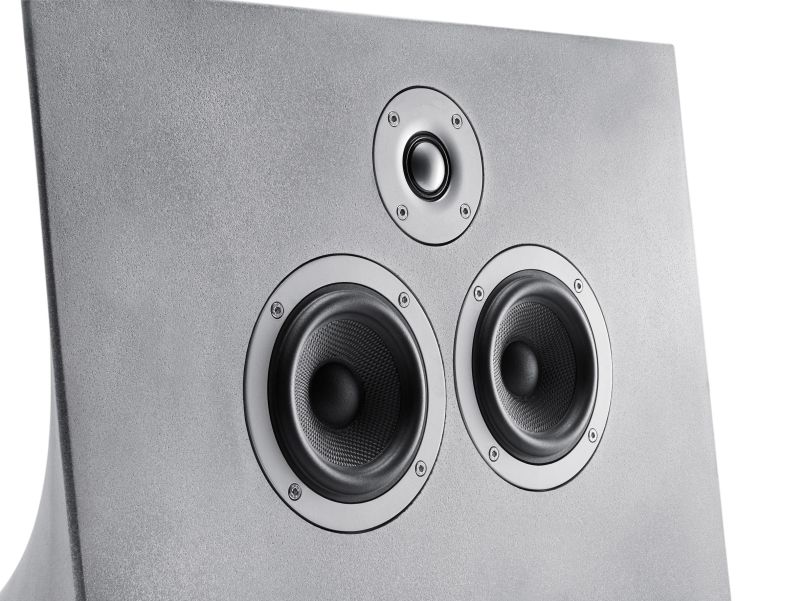 #4 Concrete TL speaker
If you love embellishing your house with rough and unusual decorative units, the Concrete TL speaker by Martin Bolton and Craig Tyndall will surely fascinate you. It is a DIY sound system designed using unique construction techniques for PPC Imaginarium Awards 2015. The amazing geometric speaker has a very rough appeal with visible cracks and marks on its surface.
Features: This  DIY concrete speaker does not compromise on great sound quality and features. Since it is not wireless, it will only let you connect your wired devices via cable ports on its back.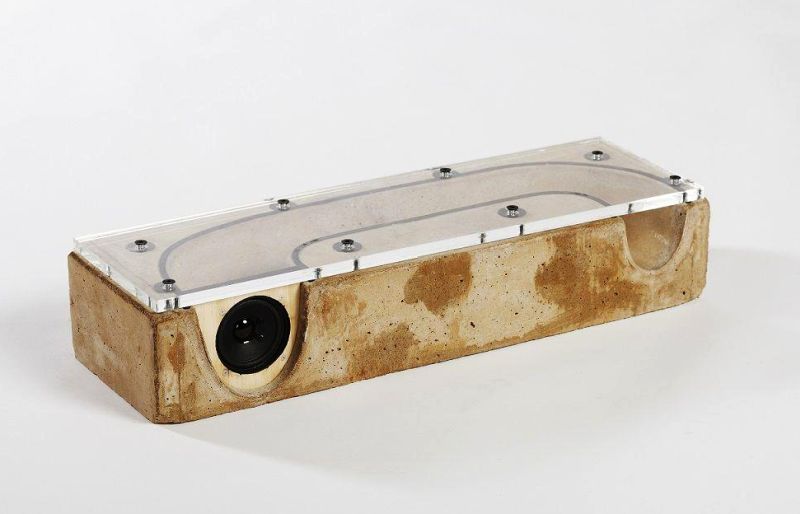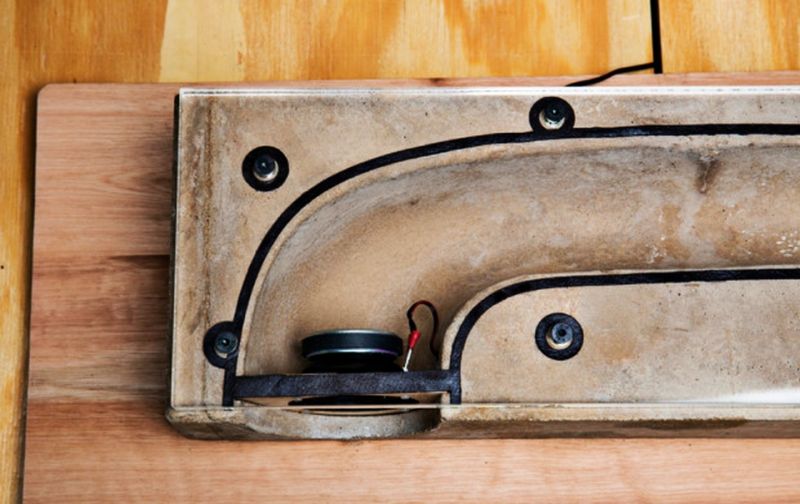 #5 P.A.C.O open-source concrete speaker
Here is a striking single-speaker for ones who are looking for a rare combination of concrete and wood. P.A.C.O open-source speaker is made of concrete and features a wooden top with gesture controls. Available in different color variants like black, beige, gray and dark gray, the rectangular speaker is quite portable.
Features: Despite its compact size, the speaker does not compromise on great acoustics and smart features. It allows you to play music from your smartphone, laptop or tablet via wireless streaming. The compact sound box is an interactive digital loudspeaker built with a 2-inch surface transducer, which lets you control your playlist with a swipe of the hand over P.A.C.O sensor.
Dimensions and weight: The speaker measures 26 x 19 x 14cm, and weighs only 5 kg.
Pricing and availability: N/A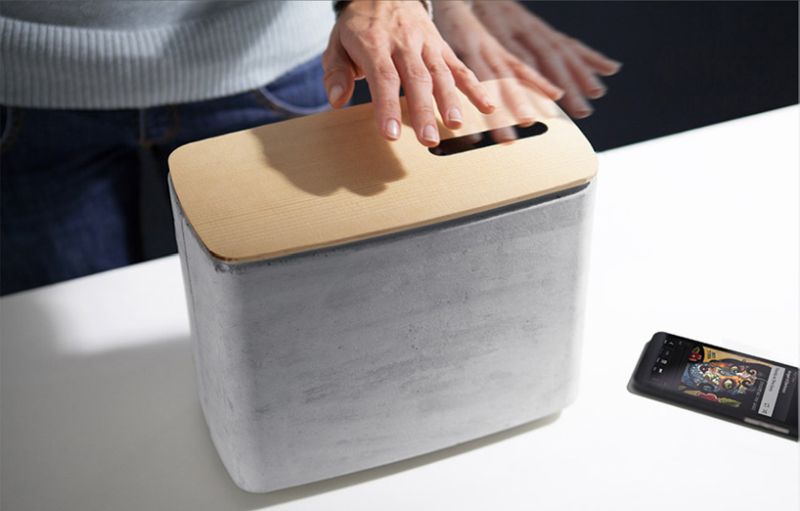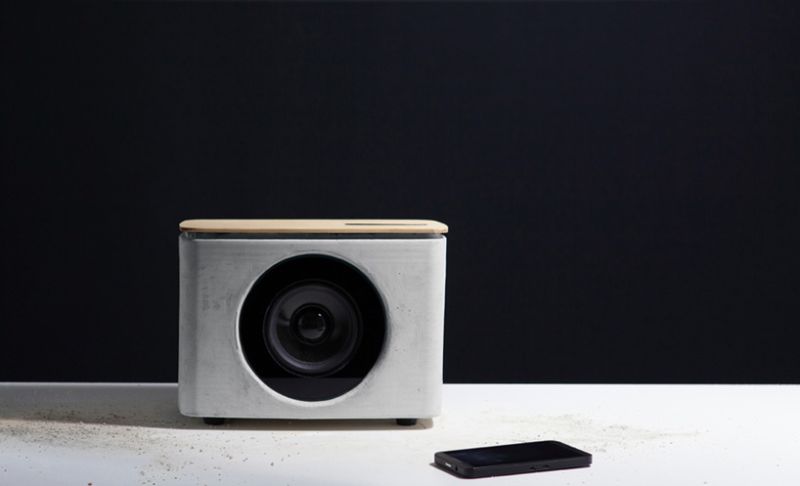 #6 Concrete and beech wood speaker
Looking for a chic speaker for your home theater? Have a look at this stylish speaker by James Garrad. The handmade concrete and beech wood speaker is manufactured from a long exploration of material hybrids. The wood he used to build is organic, soft and sleek to give the speaker a timeless look.
Features: The single speaker features one woofer on the front that offers loud and clear acoustic experience. As it is a wired audio speaker, you can only use it with your wired multimedia devices.
Price and availability: N/A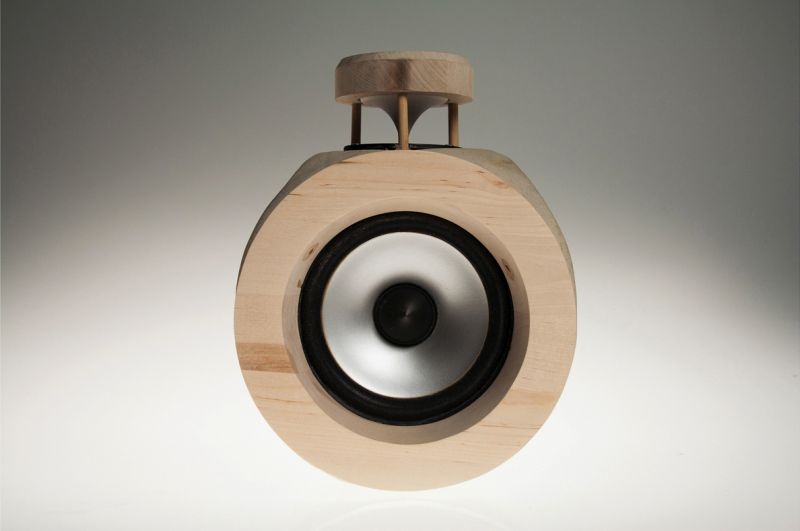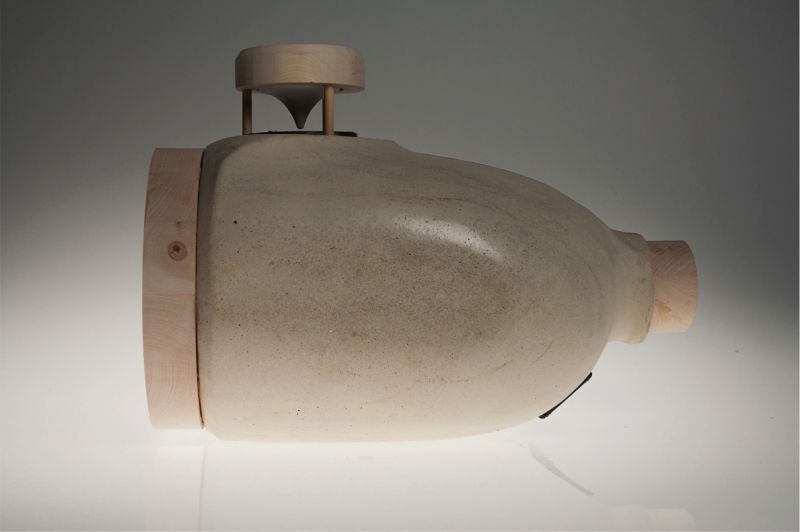 #7 Spherical concrete speakers
The spherical concrete speakers by Neaberklok suits all type of interiors, whether traditional or modern. Entirely made from concrete, the round speakers look amazing when placed appropriately on the tabletop.
Features: The fine pair of round speakers features high-quality woofers with heavy bass and great voice clarity. They use 1974 Philips drivers to allow you to connect them with wired devices for a theatrical experience.
Dimensions and weight: Each speaker weighs around 25 kg and has a 20cm diameter.
Pricing and availability: N/A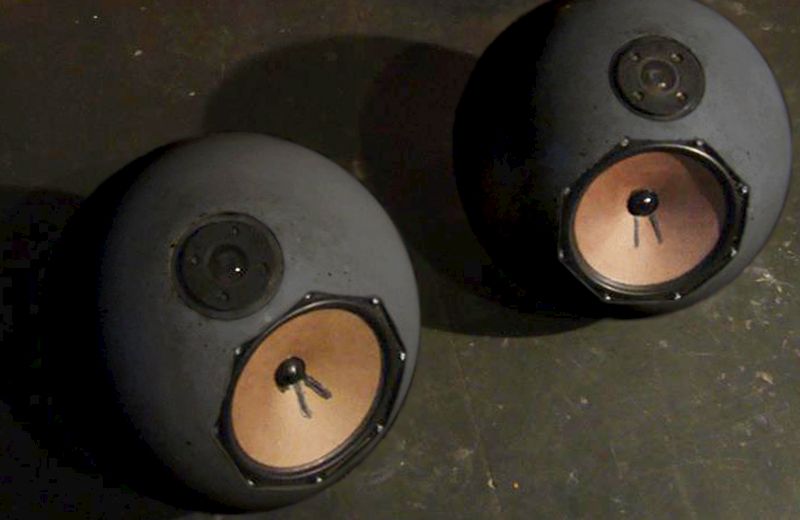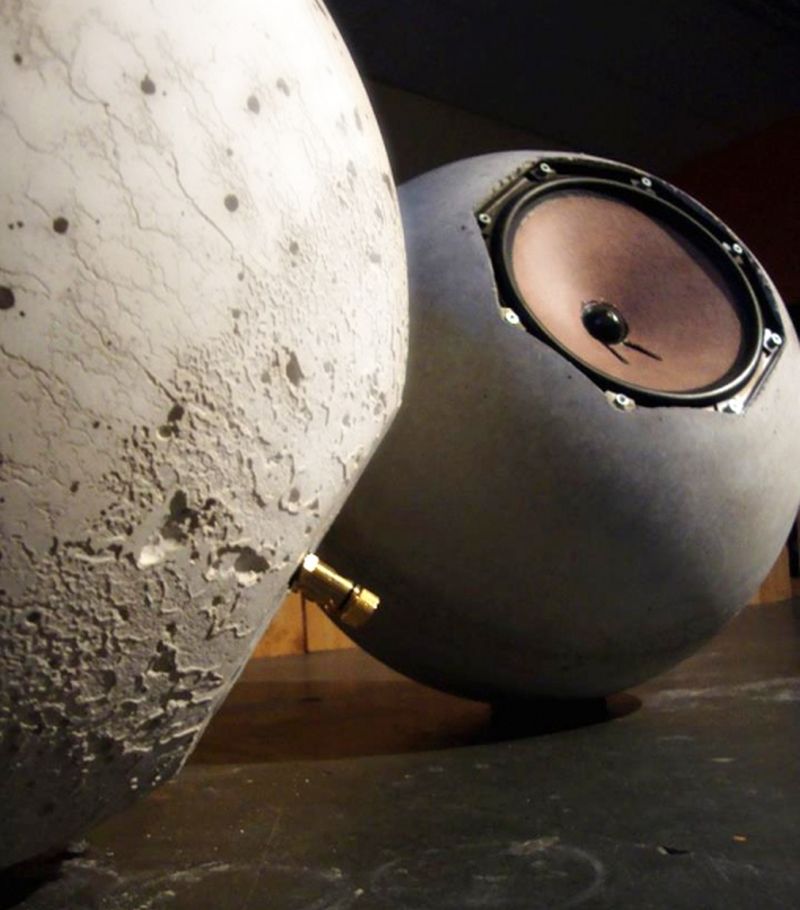 #8 VSpeak Concrete speaker by Marlen Häselbarth
Marlen Häselbarth has kept its design very traditional. If we talk about its appearance, the gorgeous concrete cube sits on a rectangular wooden base. The speaker also ensures loud and excellent audio experience with timeless design.
Features: Since it has a high-quality subwoofer, the portable speaker has low resonance enclosure and focused bass output.
Dimensions and weight: The cubic speaker measures 12:12 cm and weigh 10 kg. 
Pricing and availability: N/A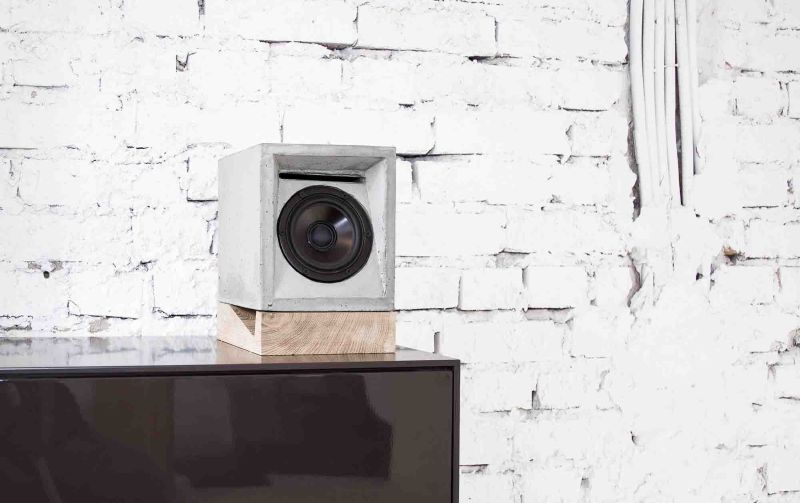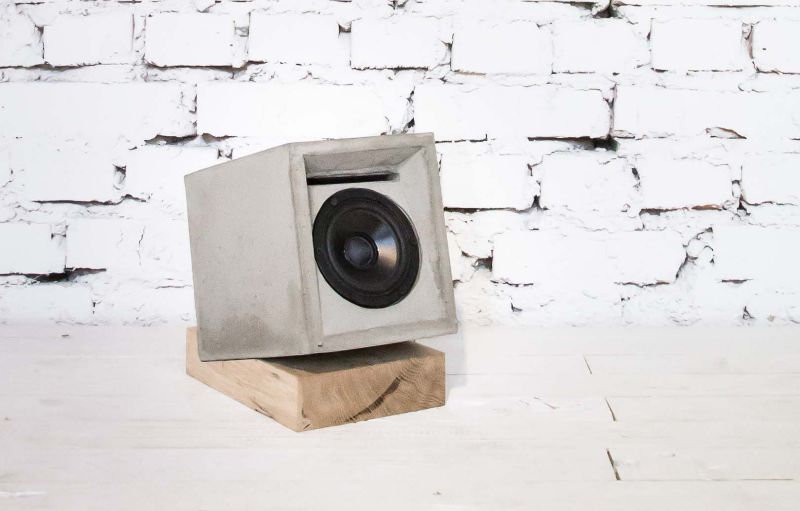 #9 Geometric concrete speaker
Have a look at this pair of speakers designed by The Maker Age, which is constructed using fiberglass, wood, and concrete. The building material is not completely concrete, but a hybrid material prepared after mixing fiberglass with concrete. The DIY wireless speaker has a wooden facet that flawlessly complements its geometrical base.
Features: Each speaker features a titanium cone full-range speaker, and can handle 50w max.
Pricing and availability: N/A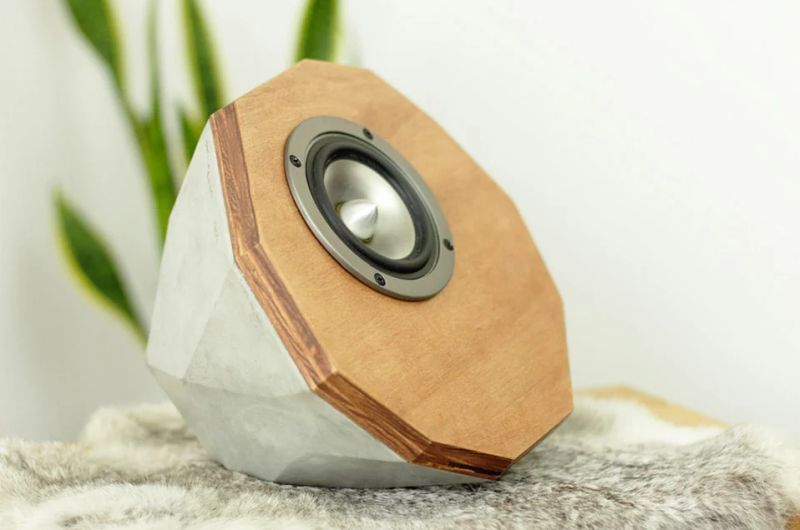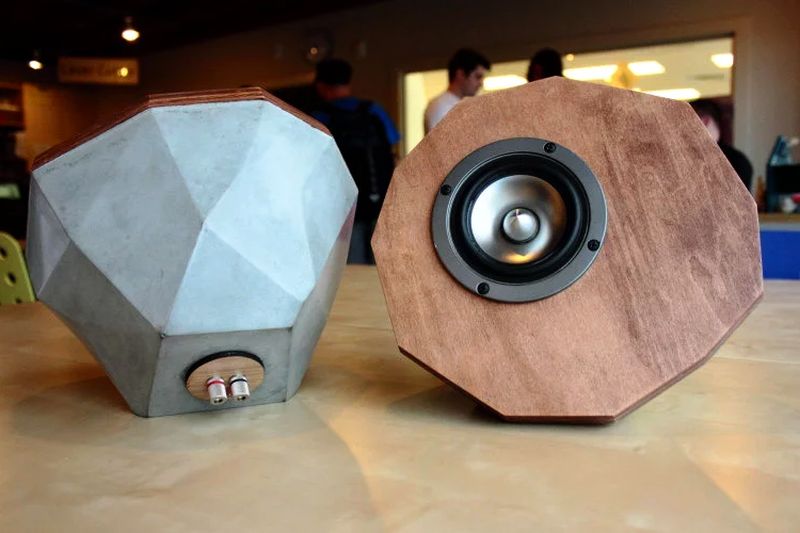 #10 Jack speaker by Ben Wahrlich
Made by Australian designer Ben Wahrlich, the concrete Jack speaker looks simple and subtle at first sight, but on closer inspection, it reveals a highly technical construction method. The speaker is a great tabletop accessory that blends perfectly with contemporary living spaces.
Features: Don't worry about the great acoustics, the speaker will ensure smooth and best music experience with its premium subwoofer.
Price and availability: N/A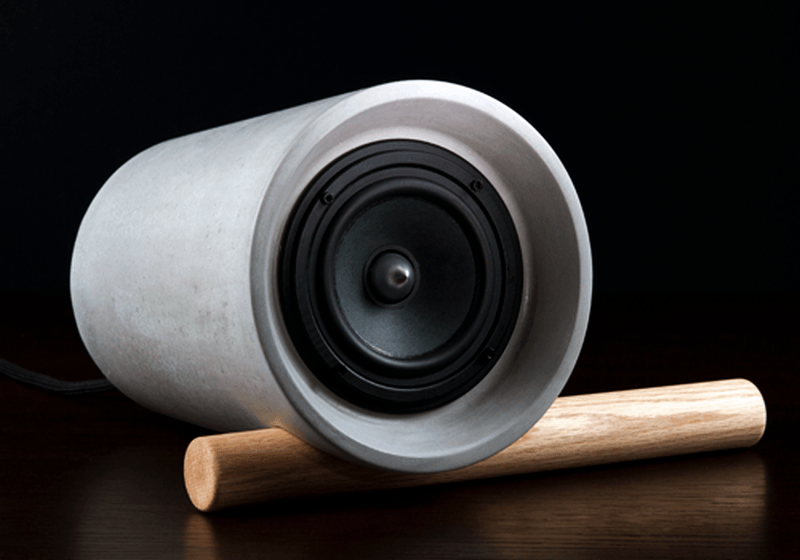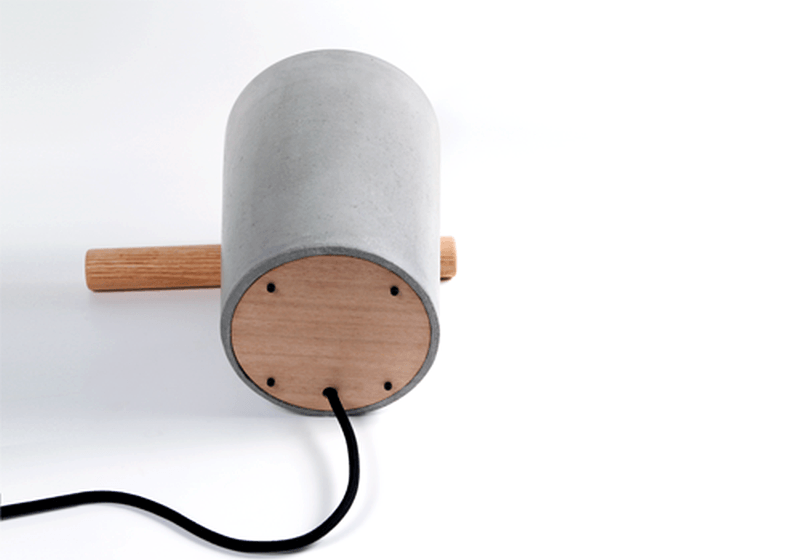 #11 Concrete speaker by Shmuel Linski
Shmuel Linski, an Israeli designer, has handcrafted an amazing pair of speakers using concrete and plaster paint. Integrating the best sound system, this elegant pair of speakers looks like a horn mouth.
Features: The drivers of the speaker are located at the top and provides phenomenal audio quality and focused bass to audiophiles.
Dimensions and weight: Each piece is 96 cm long and weighs 56 kg.
Price and availability: N/A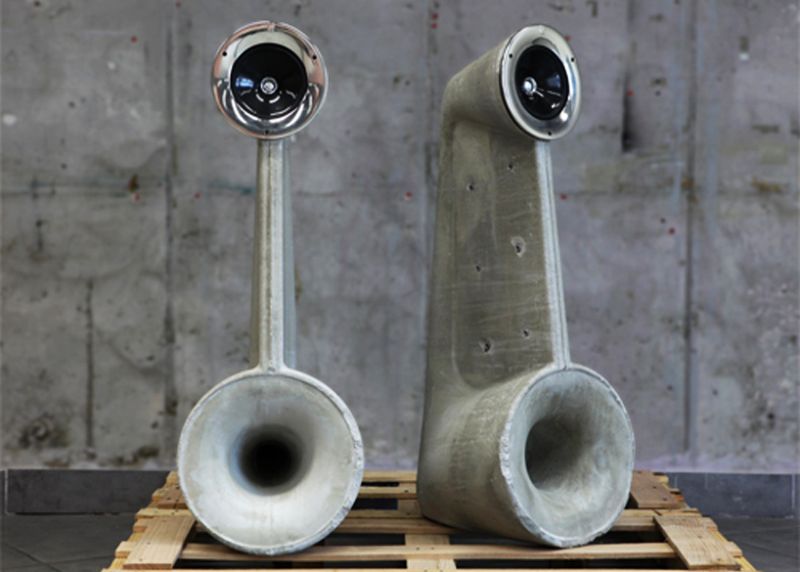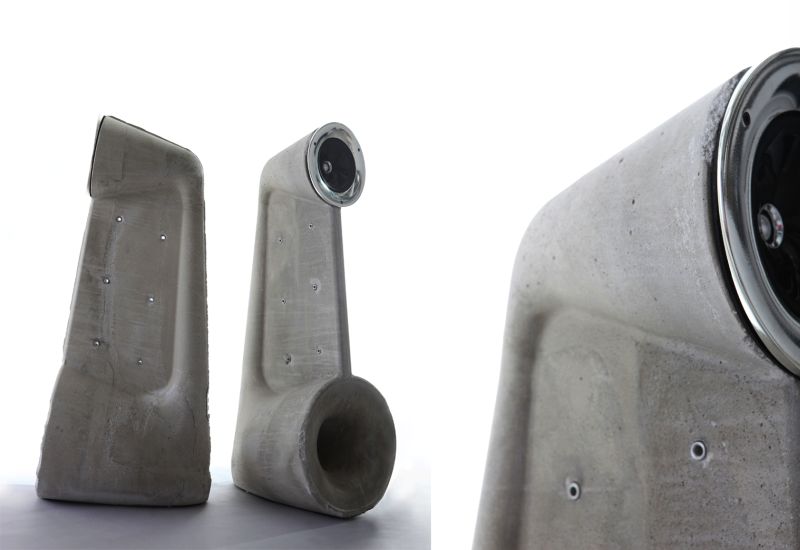 Also Read: 22 Modern Concrete Planters Built to Last
#12 Concrete Audio B1 speaker
Concrete Audio (an award-winning company) has designed a pair of concrete speakers with very fine lines and curves. The speaker makes for a great tabletop accessory and looks great with the home theater setup.
Features: The B1 speaker is a wireless speaker boasting excellent subwoofers and drivers to provide crystal clear acoustic experience.
Price and availability: Available on request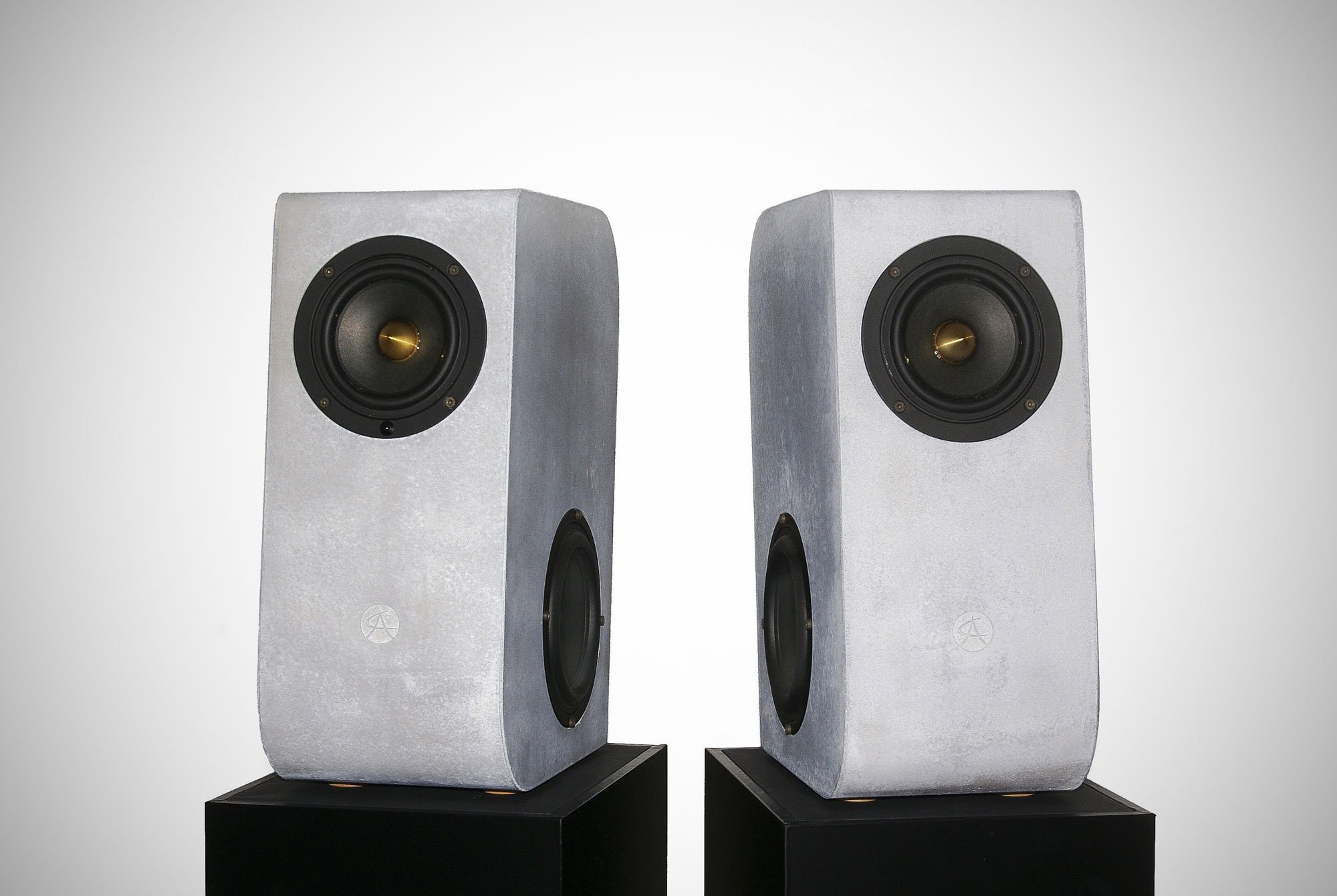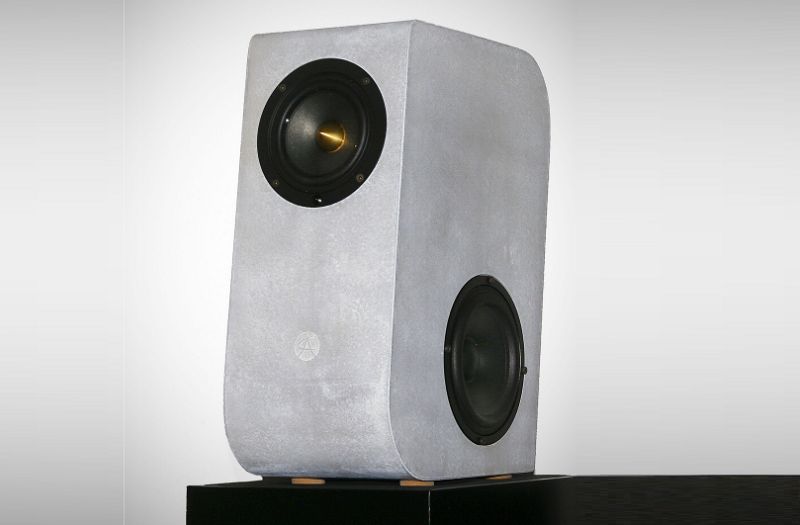 #13 Dodecahedron concrete speaker 
Bring this stylish concrete desktop speaker with the powerful sound system and geometric design to your workstation and feel the beat of a dozen speakers in your workplace. The hexane-shaped wired-speaker has a very classic appeal with a suspended design inspired from the tabletop globe.
Features: This DIY concrete speaker has 12 faces, and each face has a powerful sound speaker, which means you will get a power of twelve premium speakers in such a small sound box.
Dimensions and weight: The finished speaker measures 150 mm and weighs 1.75 kg.
Price and availability: N/A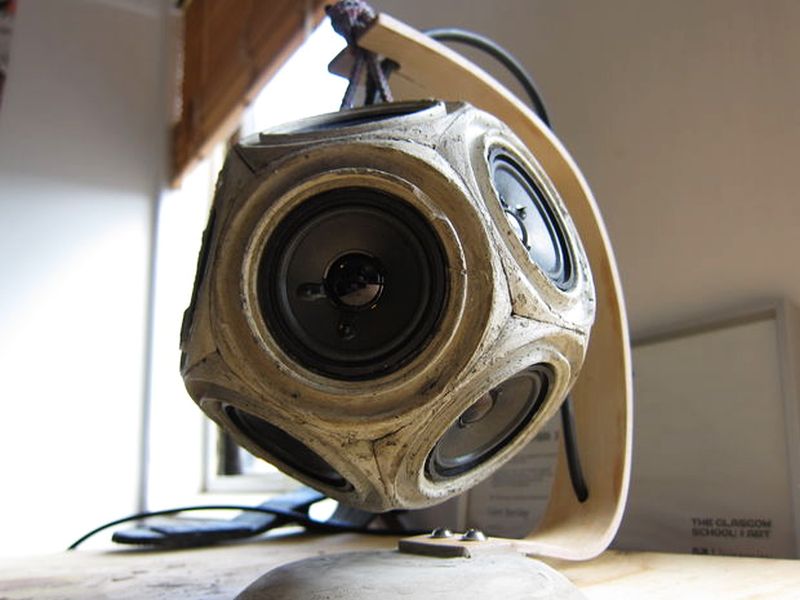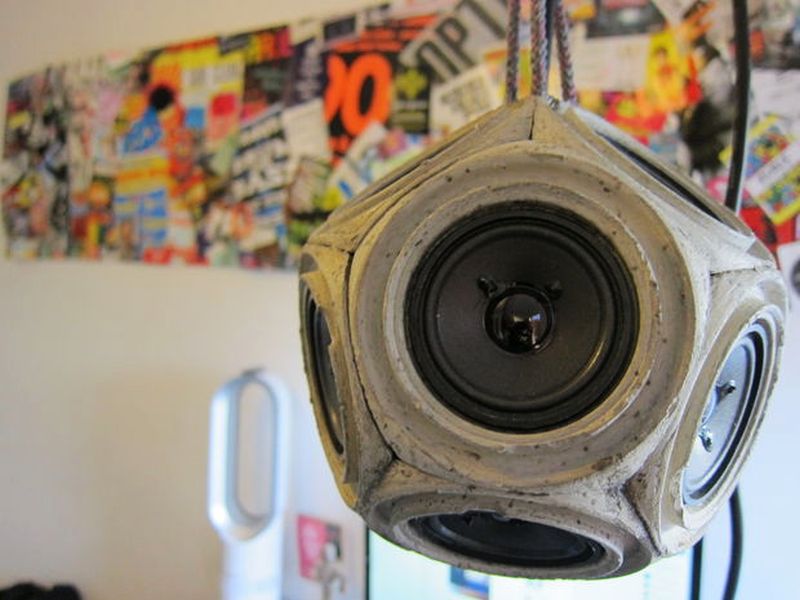 #14 Geometrical concrete speaker 
These handmade elegant speakers are made by pouring concrete into a geometric mold. The humble and solid sound system has an edgy yet smooth appeal that blends perfectly with geometric home decors.
Features: The Bluetooth-enabled speakers offer powerful audio quality with two premium drivers that ensure great bass effect in the room.
Price: N/A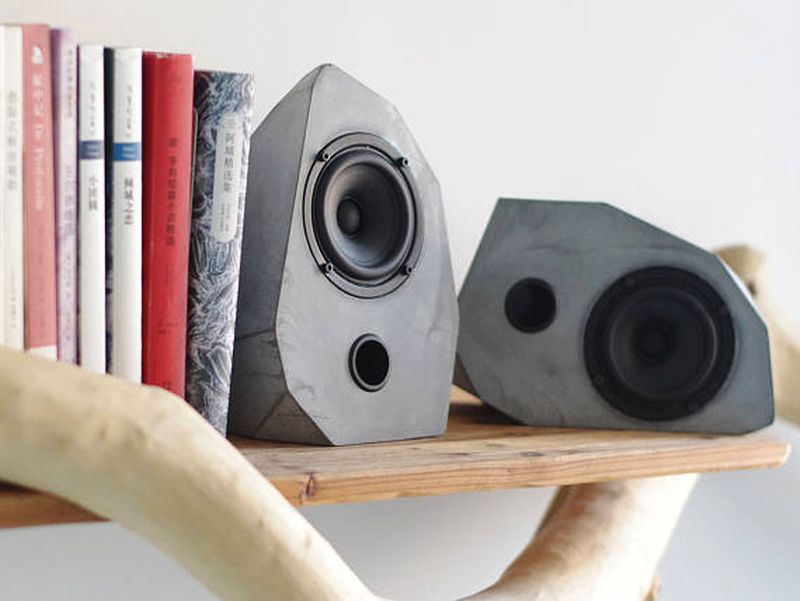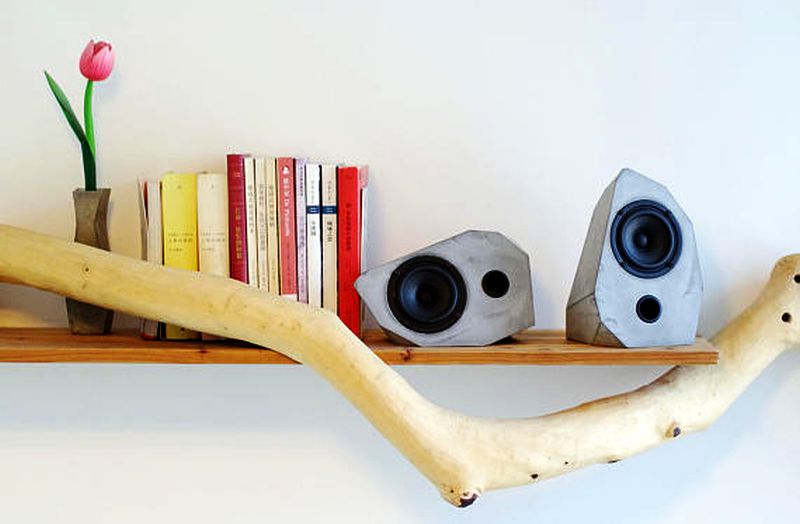 #15 N1 concrete loudspeaker by Concrete Audio
If you are looking for speakers for your underground home theater, there is nothing better than this pair of concrete speakers designed by Concrete Audio. Concrete Audio N1 is specially designed to be installed in theaters and auditoriums to provide great acoustics and low resonance. The geometric-shaped vertical speakers have a smooth surface that looks fantastic in the concert lighting.
Features: Intended to offer heavy bass and clear audio quality in theaters, concerts and live music shows, the pair of speakers is loaded with three premium-quality drivers, with 100-watt amplification and 34Hz-40HZ transmission. The Bluetooth-enabled speakers allow music streaming from both wired as well as wireless devices.
Dimensions and weight: The 80 kg speaker is 110 cm tall and 23 cm wide.
Pricing and availability: Price on request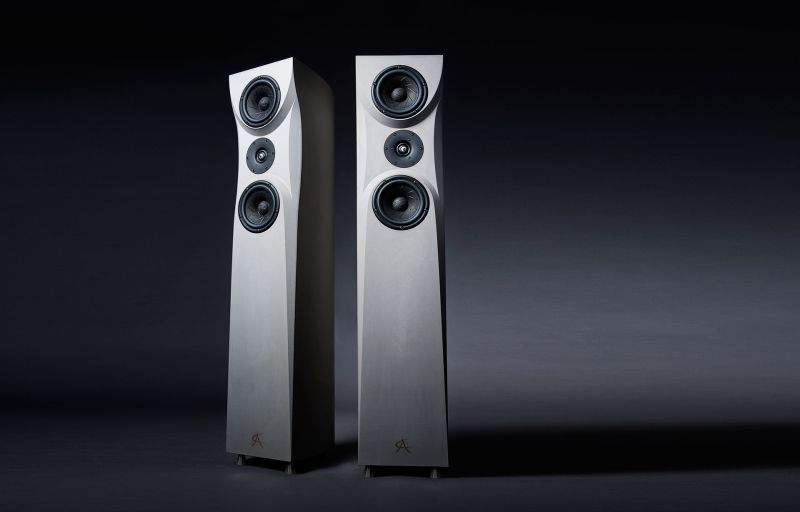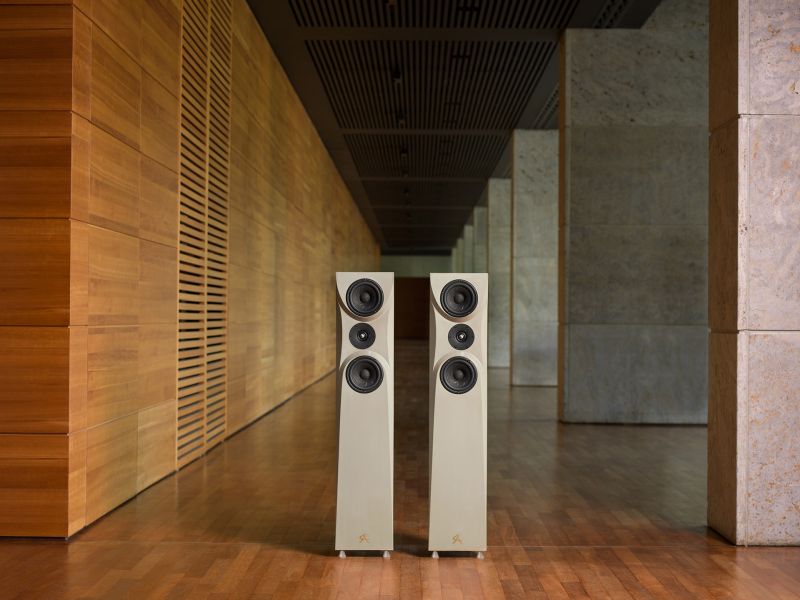 Also Read: 16 Concrete Items to Gift Your Loved Ones
#16 Speaker made of concrete cloth
If you don't want to bring in heavy speaker but still want a concrete finish, here is a great alternative for you. This chic speaker is not entirely a concrete block but a cabinet wrapped in concrete cloth. Wood panel and lightweight metal are other building materials.
Features: The speaker is driven by a pair of Fostex FE83En, an excellent subwoofer with a diameter of 8 cm. The speaker has a very strong bass and produces frequencies of 70 Hz and above.
Price: N/A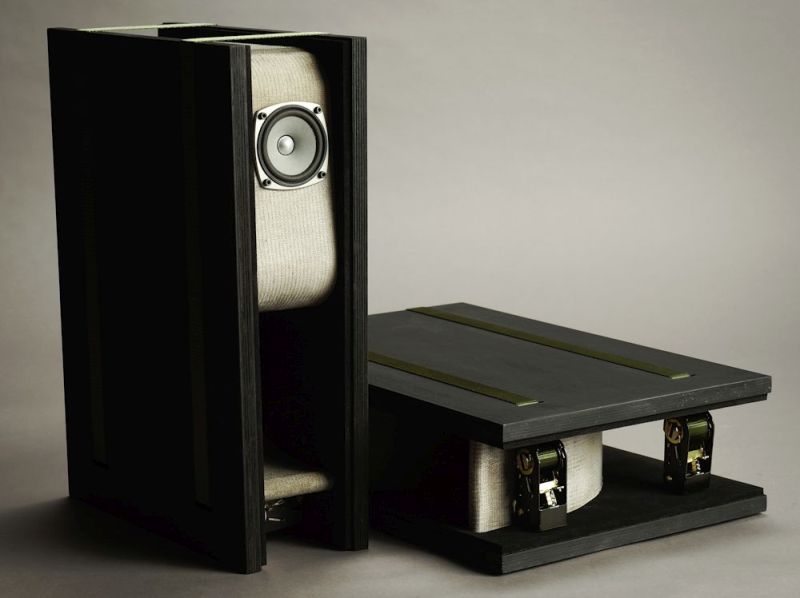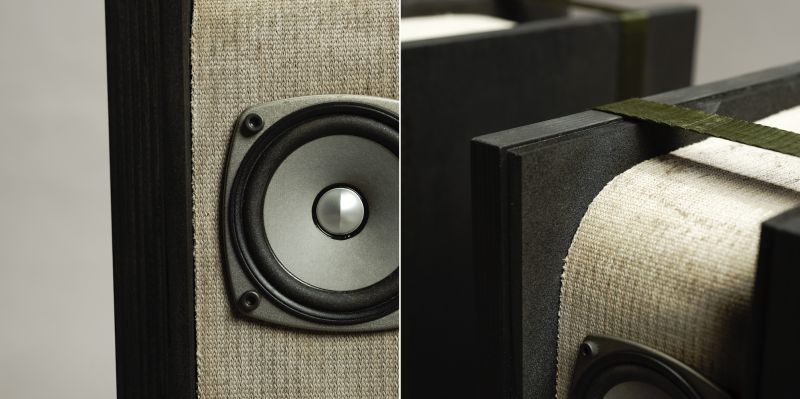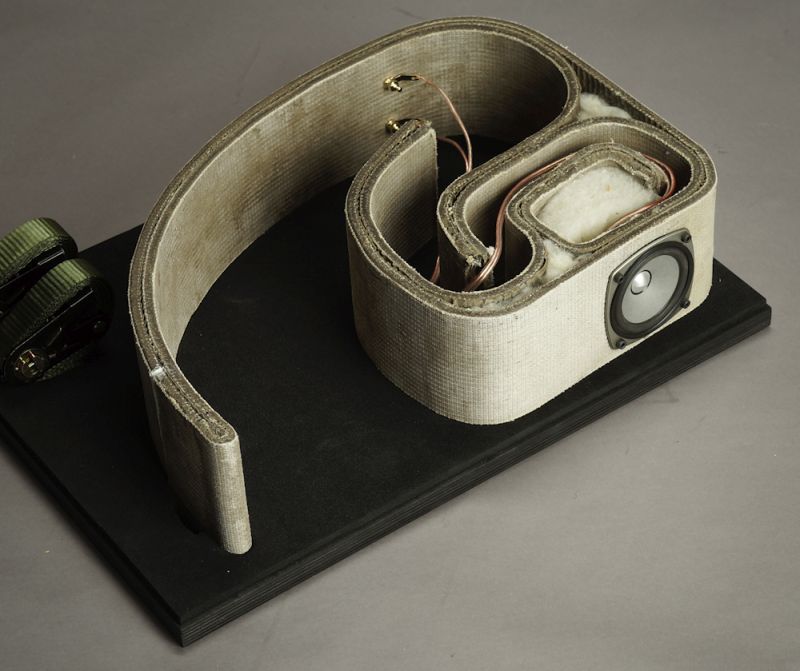 #17 StoneBjelk concrete speakers
Handcrafted using concrete, StoneBjelk concrete speakers have a timeless appeal and non-geometric design. The wired-speakers deliver quality output and looks appealing. These graceful speakers are great for music buffs who want great acoustics and elegant appeal in one unit.
Features: Each sound box has two drivers that produce premium quality acoustics.
Pricing: N/A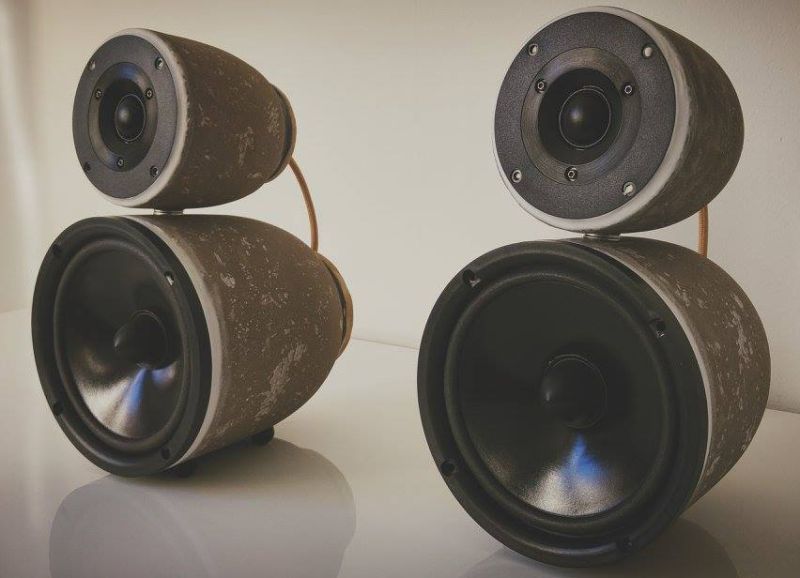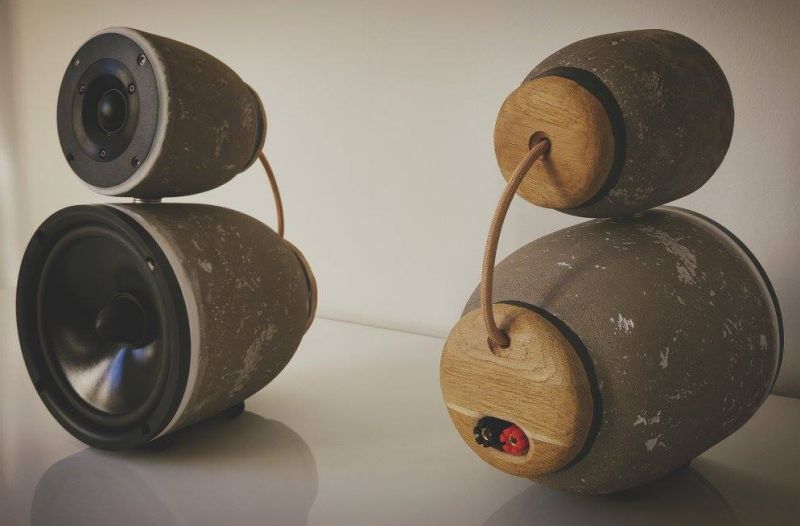 #18 Cinder speaker by Daniel Ballou
Want to keep it simple but stylish? Have a look at this set of old-fashioned stereo speakers by Daniel Ballou. The elegant speakers let you connect to other multimedia devices via a data cable or USB port. Since it comes with an awesome sound system and powerful bass, this pair of speaker is ideal for desktops and home theaters.
Features: It comes with an awesome sound system and focused bass.
Pricing: N/A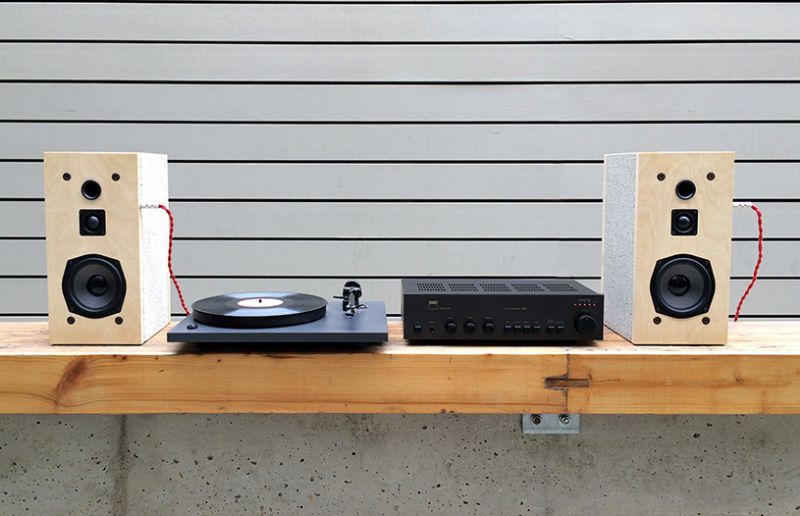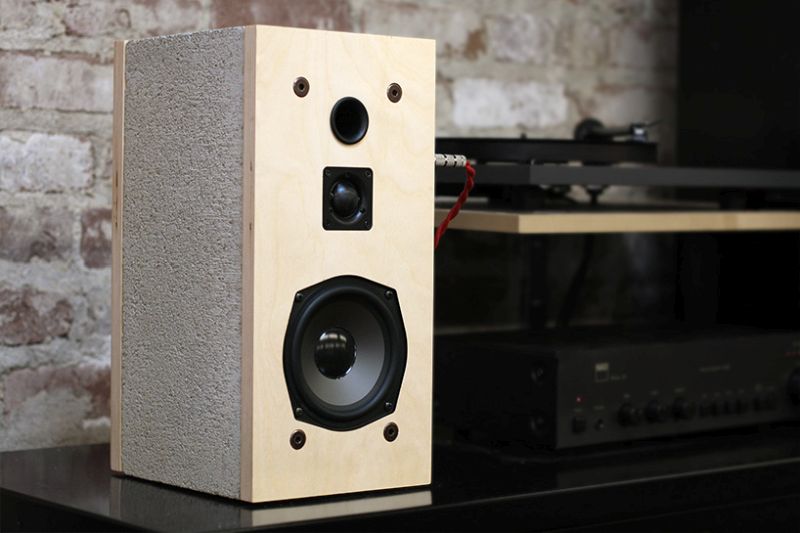 #19 Pavilion wireless speaker
Have a look at this small cylindrical wireless speaker that you can set on your side table to experience premium music while relaxing in your bedroom. The speaker is made entirely of concrete and spiral copper bass and white oak top featuring control buttons.
Features: 20W full-range peerless transducer and D-spiral acoustic are responsible for quality output and focused bass. Since it comes with Bluetooth and Wi-Fi connectivity, it can be placed on your desk or carried wherever you go. Built-in rechargeable battery ensures uninterrupted acoustic experience on the go.
Dimensions and weight: It is 10.22 inches tall and 3.95-inch wide, and weighs 1.5 kg.
Pricing and availability: N/A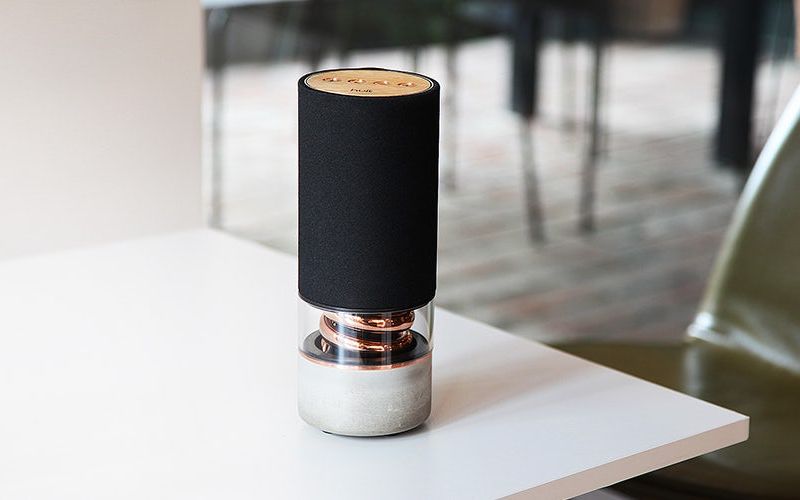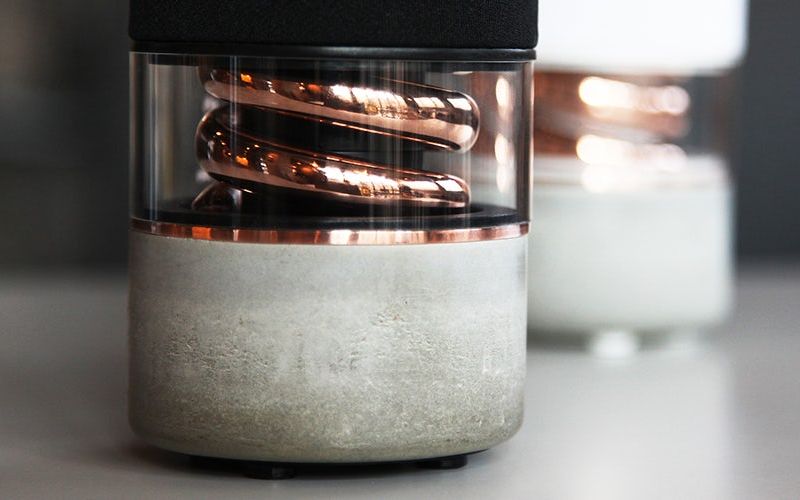 #20 Concrete speaker by Vonschloo
Vonschloo has designed a single speaker to offer music buffs a sophisticated sound system and timeless design. The L242 speaker is a great example of amazing craftsmanship. Made using materials like composite cement, wood, metal, and fabric, the speaker has a very attractive design. The timeless speaker can be placed on a bookshelf or mounted on a sleek metal stand to maintain a minimalist approach.
Features: The wired-speaker comes with a single power woofer that produces great acoustics with amazing voice clarity and low resonance. Gold-plated connectors, point source, two-way coaxial drivers with a frequency range of 73 – 22'000 Hz make it one of the best concrete speakers out there.
Pricing and availability: N/A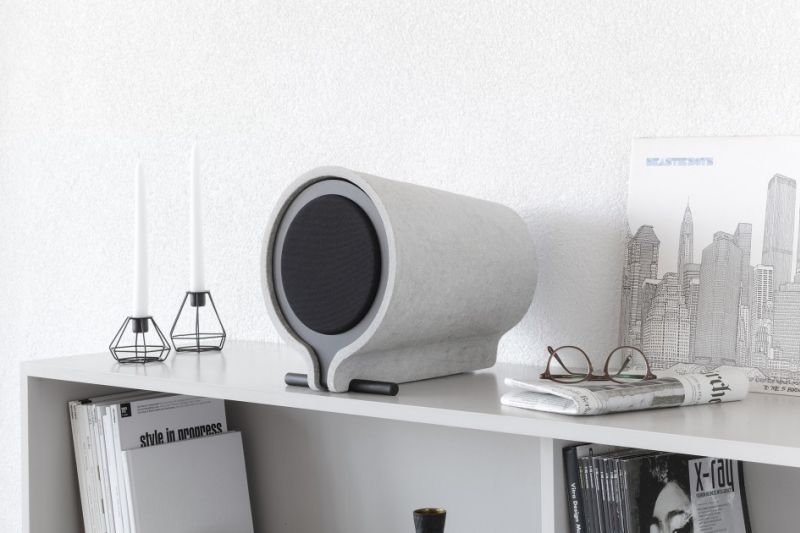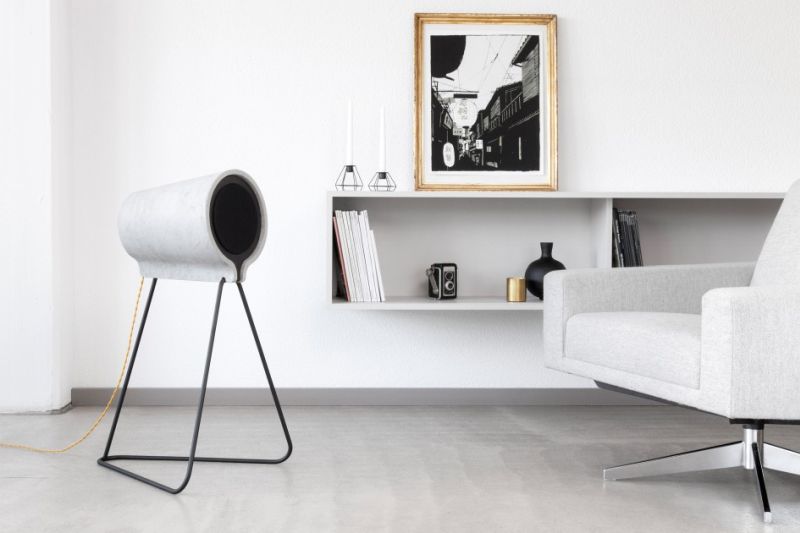 #21 Good old stereo speaker by Pesch Concrete
You will not find a more elegant concrete speaker for your home theater than this one by Pesch Concrete. The floor-standing concrete speaker has a minimalist design and sleek look perfect for contemporary interiors. Music enthusiasts will fall in love with its amazing sound quality and timeless look. Each piece is individually developed by Christoph Pesch.
Features: The wired-speaker has three power speakers and one bass speaker at its front. The second bass speaker is at the left side of the speaker for rich surround sound effect.
Dimensions and weight: The GOS speaker weighs about 80 kg and is 120 cm tall and 4o cm wide.
Pricing and availability: N/A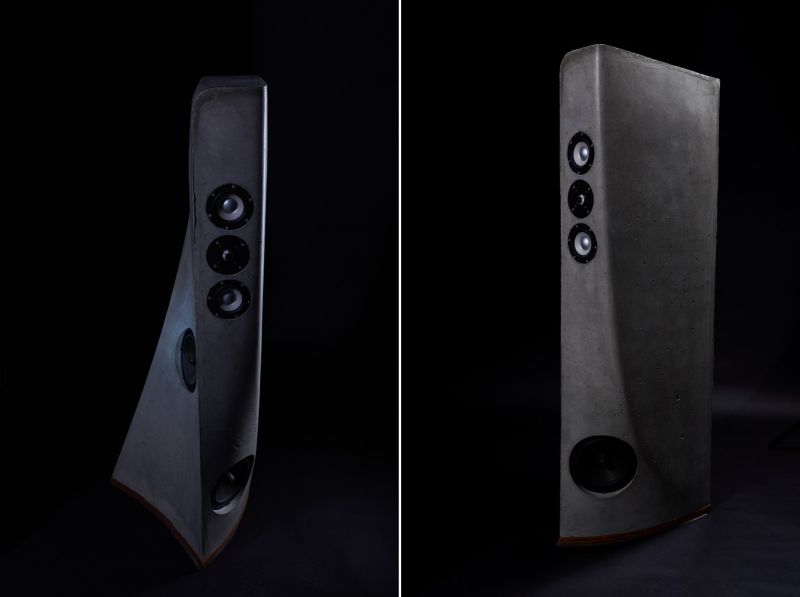 #22 Concretus concrete speaker by Gražina Bočkutė
Designed by Satori & Scout, the Concretus concrete speaker is a great desktop accessory. This compact speaker sporting a rough surface has Bluetooth connectivity and controls to perform and deliver unique audio experience via its sturdy design when placed against a concrete wall.
Features: This chic concrete speaker comes with  USB, Aux mode, Bluetooth, and Wi-Fi compatibility to offer wired as well as wireless connectivity.
Pricing and availability: N/A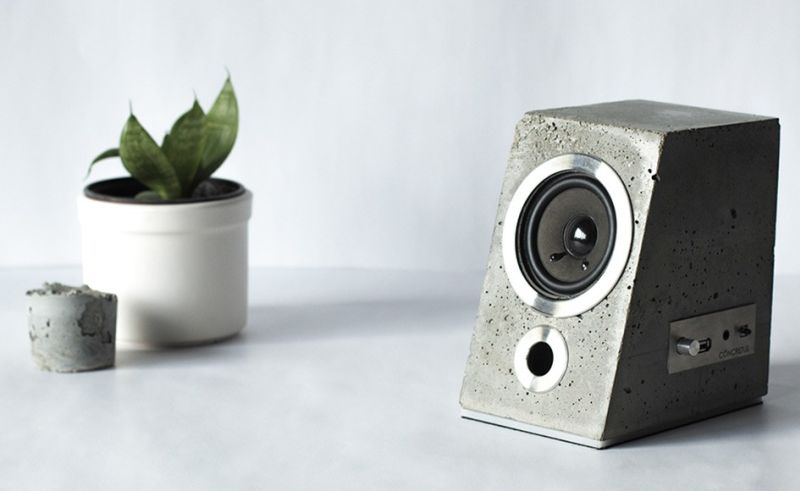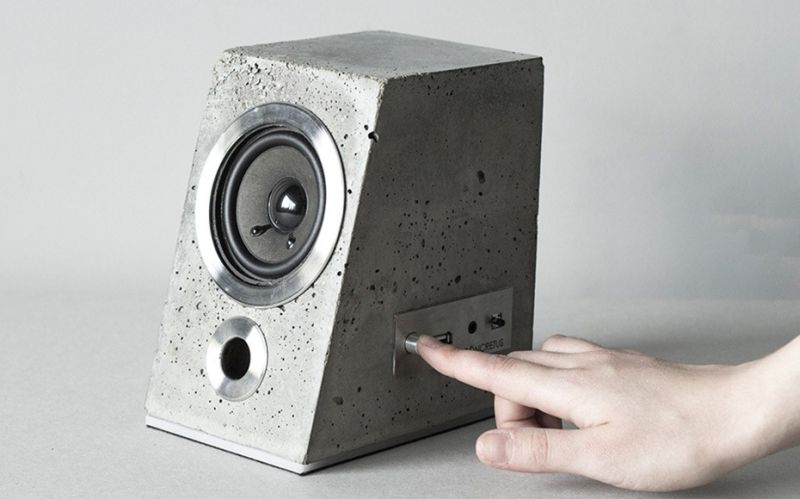 #23 Rappi concrete speaker
Rappi concrete speaker is an ideal pick for people looking for a speaker with a unique appearance and great sound quality. The Rappi looks unique because it gives you the visual appeal of a fish and looks incredible when placed in spacious living rooms.
Features: N/A
Pricing and availability: N/A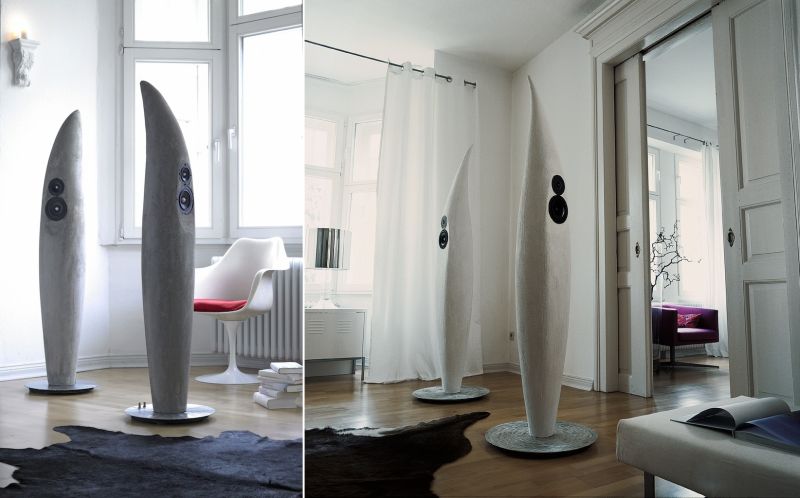 #24 Hevi concrete modular speaker
Hevi modular speaker by Mindaugas Petrikas is one of the most stylish speakers for people who love flexible designs. Made using rough concrete and hardwood, the modular speaker is a great deal to bring home cuteness, stability, and longevity. The speaker comes with Wi-Fi and Bluetooth connectivity so that you can rock and roll on the go.
Features: The structure integrates a mid-low frequency speaker at the bottom and a mid-high frequency speaker at the top to provide rich, high-quality sound. Two speakers facing the organically curved plastic plate directs the sound outwards, creating a perfect 360° coverage.
Pricing and availability: Concept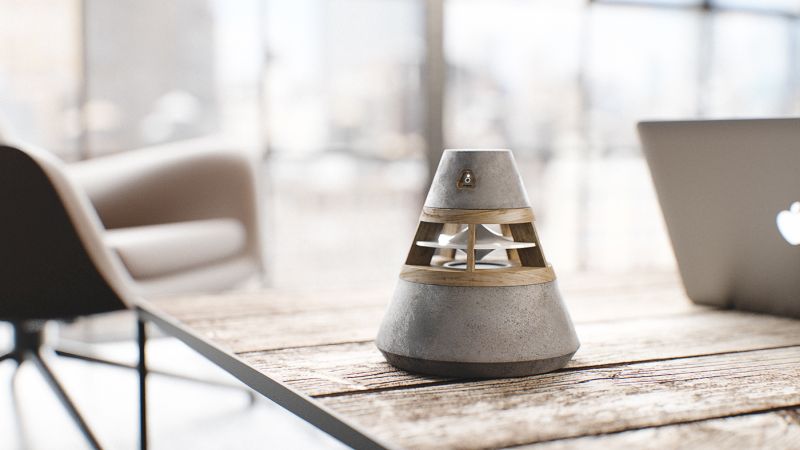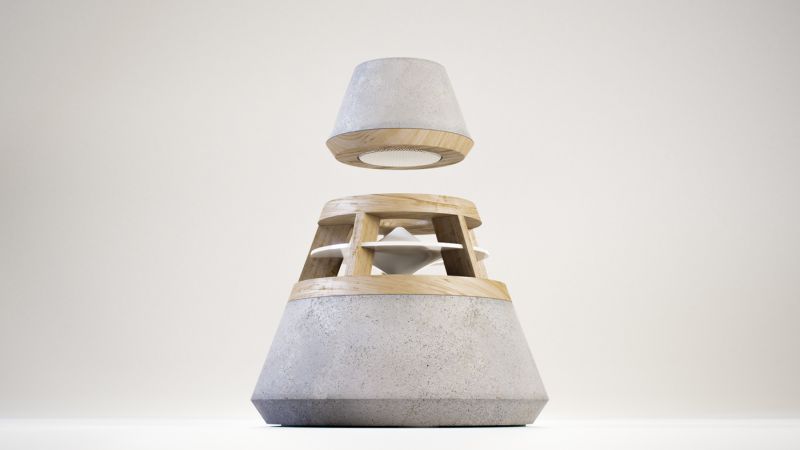 #25 Jambox by Yves Béhar
Jambox by Yves Béhar is an appealing wireless speaker that is beautifully handcrafted in a geometric shape. This portable speaker can be a great addition to small living spaces.
Features: Designed to complement a music enthusiast's life, the wireless speaker comes with high-quality drivers that produce crystal clear audio with low resonance.
Price and availability: N/A