Living in a smaller home or an apartment makes you realize the importance of floor space. The layout of the house becomes a real pain for many since filling it up with furniture makes it look cluttered. This is where multifunctional furniture makes an entry with the idea to allow homeowners to make the most of the available space. These furniture with multiple uses can literally be termed as the best furniture for small spaces.
You will find thousands of furniture that serves multiple purposes including sofas that convert into beds, stools with storage, coffee tables with built-in fridges, etc. These clever furniture designs take up less space but can be used for more than one purpose, making them perfect for small-space living. They can cater to two – or even more – purposes in one design. Listed below are a few most innovative examples of multifunctional furniture:
Flow Wall Desk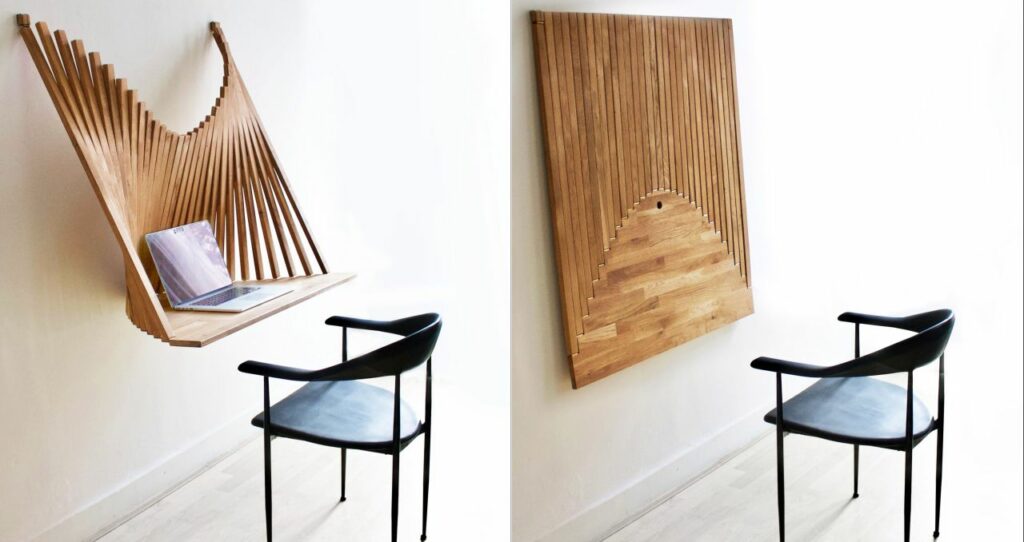 Designed by Robert van Embricq, it is a mesmerizing furniture piece that unfurls from wall art into a wall desk. The desk has brass hinges to facilitate the transformation. Robert told Homecrux that "A single turn by hand around its axis creates a tabletop supported by wooden slats." The wooden slats ensure privacy while working on the Flow desk.
Outlaw Bike by Denis Cardoso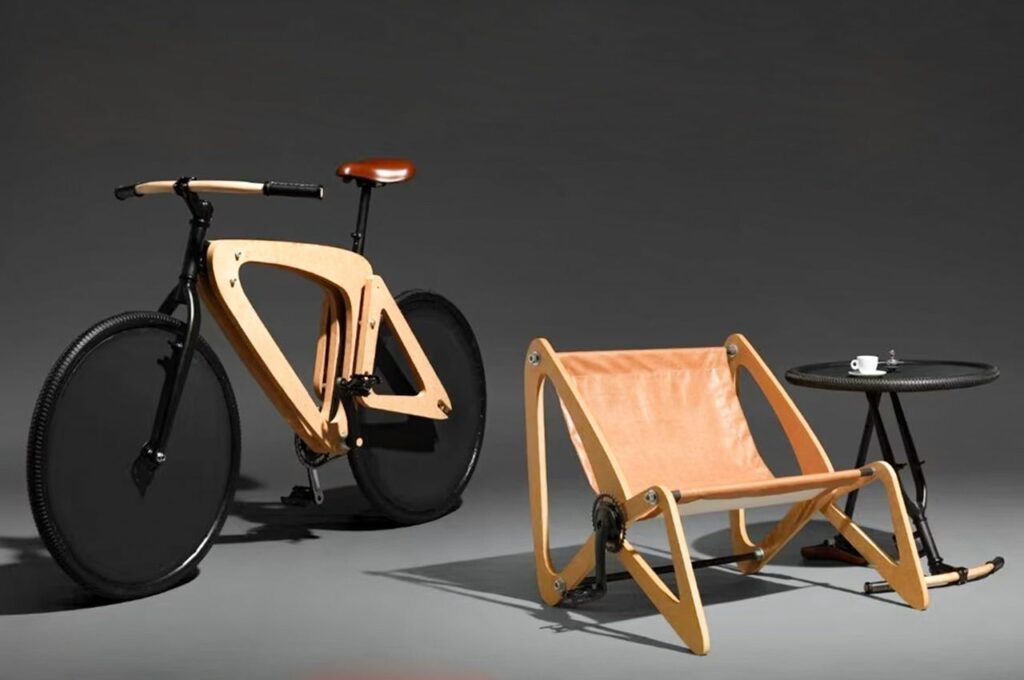 With an idea to raise the issue of high bike taxes, a South American biking enthusiast has come up with this quirky furniture design that can turn into a bike. As visible in the picture below, the wheels and handle form a side table while the bike frame turns into a chair with leather upholstery. When the bike becomes furniture, the additional tax on bikes can be saved smartly.
Qbit Furniture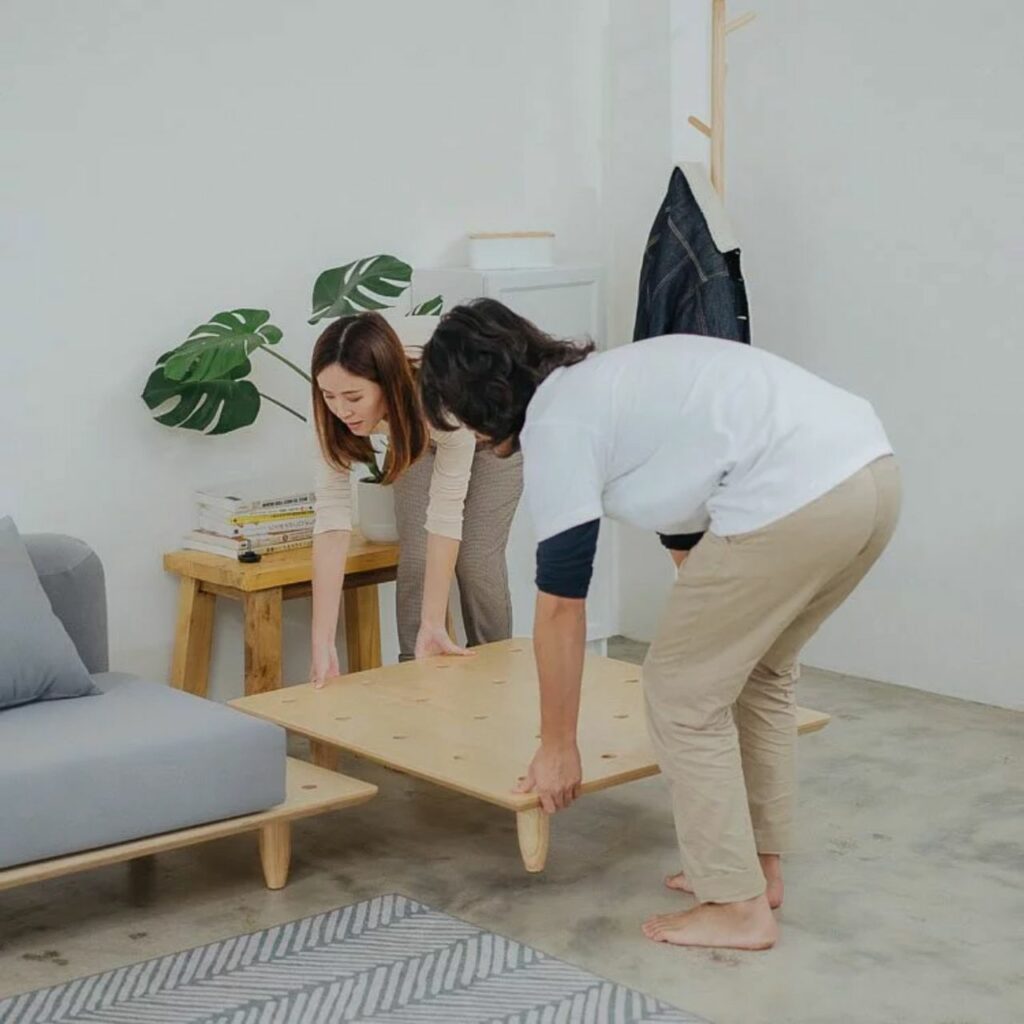 Taiwanese company Qbit has come up with furniture that can be repeatedly used over its lifetime, even in a different form. Each furniture piece is made of several bottom plates and cushions that can be used to reconfigure the unit.
The bottom board of the sofa and bed becomes the tabletop – you just need to replace the legs to form a dining table, desk or coffee table. Inspired by LEGO bricks, the Qbit furniture is highly customizable, repairable, and can be assembled without tools. You can use it as a living room furniture or even in the bedroom.
Tatami Multimedia Bed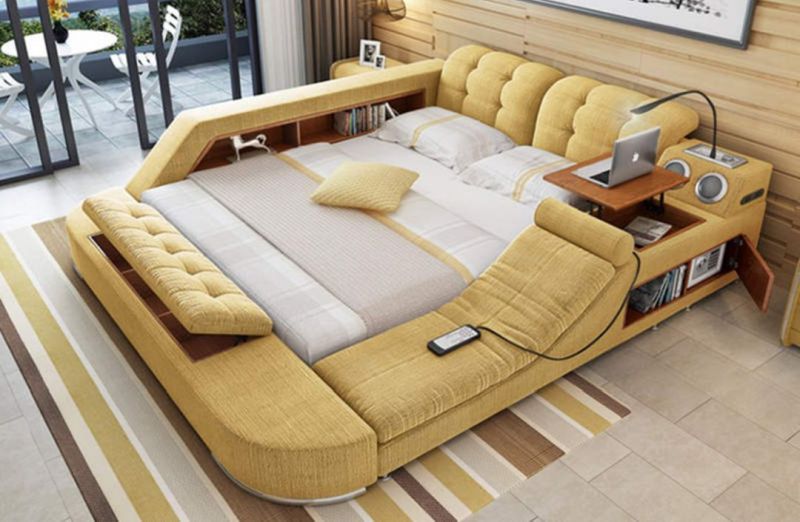 It is a multimedia bed that includes a number of features like a massage chair, bookshelf, speakers, USB ports, and a safe. There is even a pop-up table to work from the bed. It allows you to make the most of a small bedroom. Made of wood and finished in leather, the bed will suit any interior setting.
Igloo Coffee Table by Joao Teixeira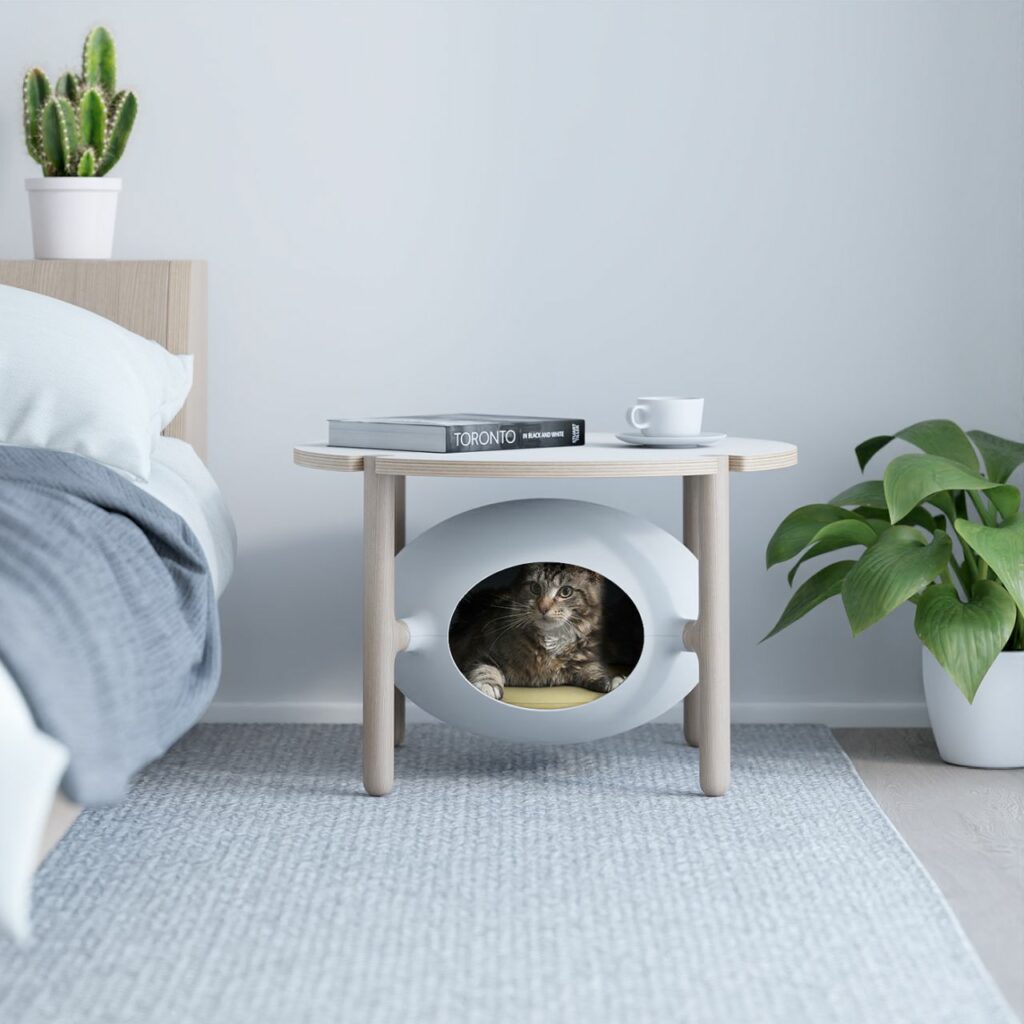 Pet parents looking for furniture that can serve them as well as their pets, meet the Igloo coffee table by Joao Teixeira. Poised on four wooden legs, it is a round coffee table integrated with a plastic shelter for pets. The rounded corners and legs are a fantastic design element that enhances its look.
Also Read: Furniture Designed for Pets and Humans Lets Both Live in Utmost Synergy
Sobro Multifunctional Coffee Table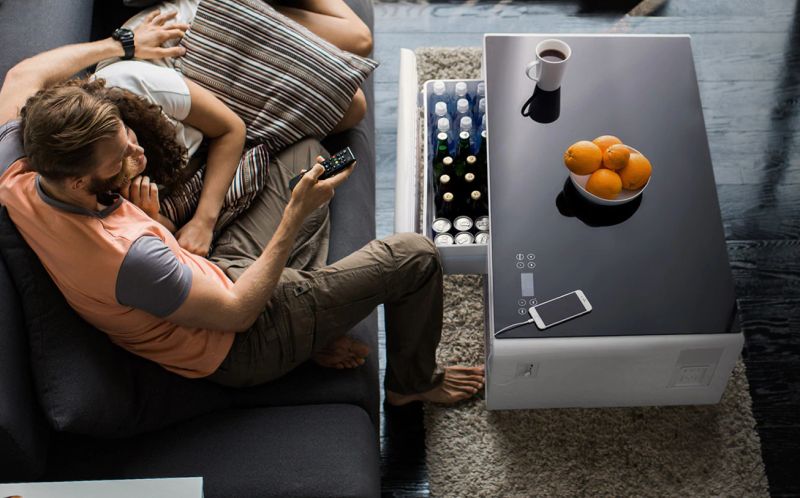 This coffee table with a built-in fridge, charging ports, Bluetooth speakers, and LED lights is the best entrant in our list of multifunctional furniture. The table has a tempered glass top with a touch control panel for easy operation. It includes features one would require in the living room while watching their favorite TV series.
Tiny Home Bed by Yesul Jang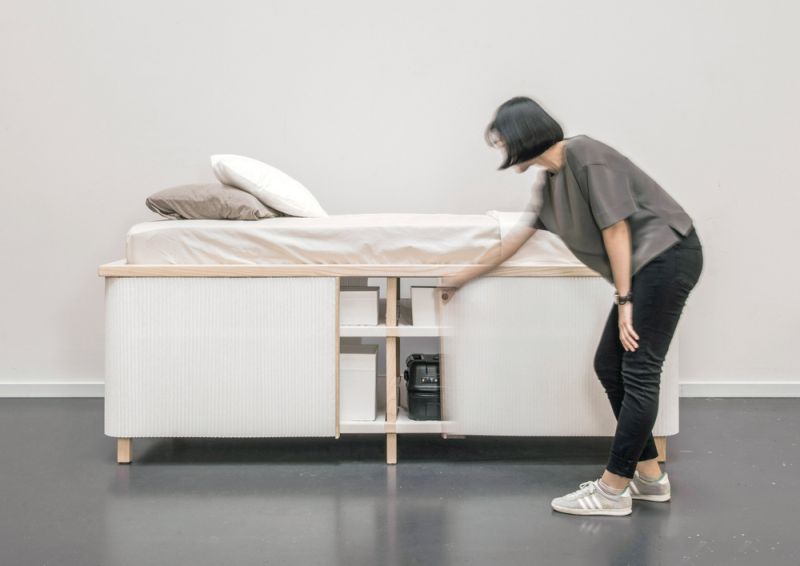 It is a raised bed designed to provide storage underneath while also maintaining a clutter-free look. The storage space can be covered up with a curtain. Suitable for tiny houses, it is made of a light wood frame for easy handling and portability.
Summit Sofa by Stelios Mousarris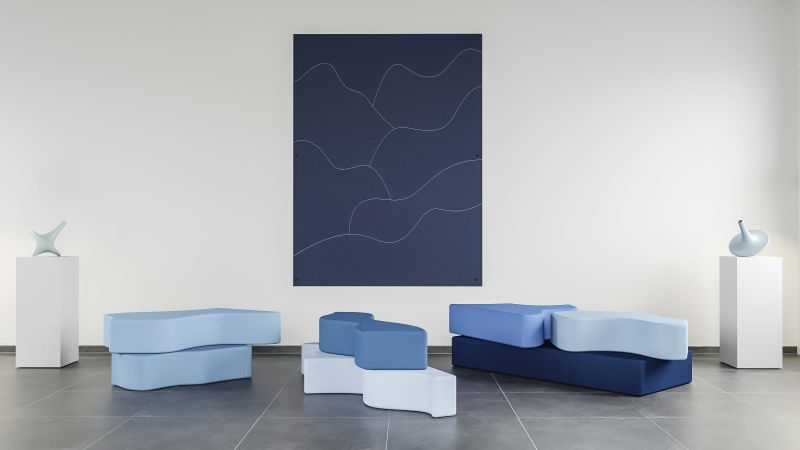 Ever imagined a piece of furniture hanging on the wall of your home? Yes, it's possible only with the Summit Sofa comprising magnetic cushions. It makes a unique kind of seating that can be hung on the wall after use as wall art.
Stepladder Chair by Stephen Kenn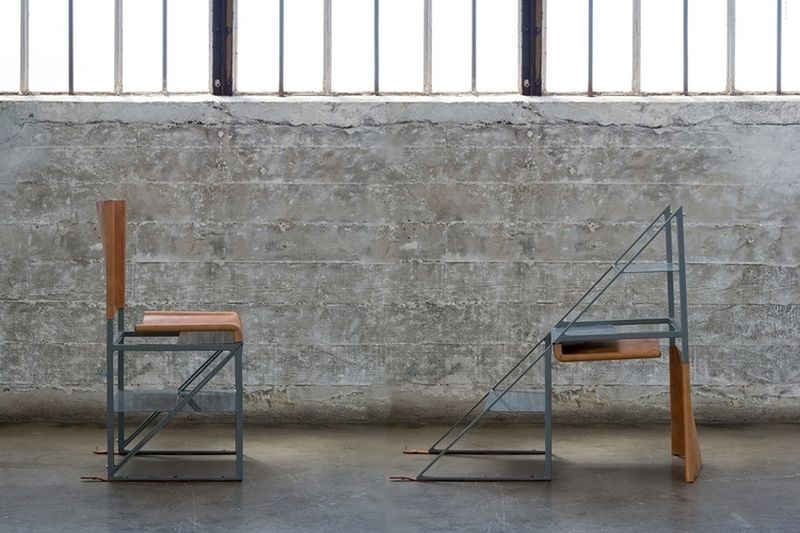 Want a stepladder that can be concealed from plain sight? You are definitely looking for something like the multifunctional Stepladder Chair designed by Stephen Kenn for the renowned Swiss brand Victorinox. At first sight, it looks like a chair with a leather seat but can be turned into a stepladder with a simple movement of the backrest.
ChairPF by Daniel Dieremeir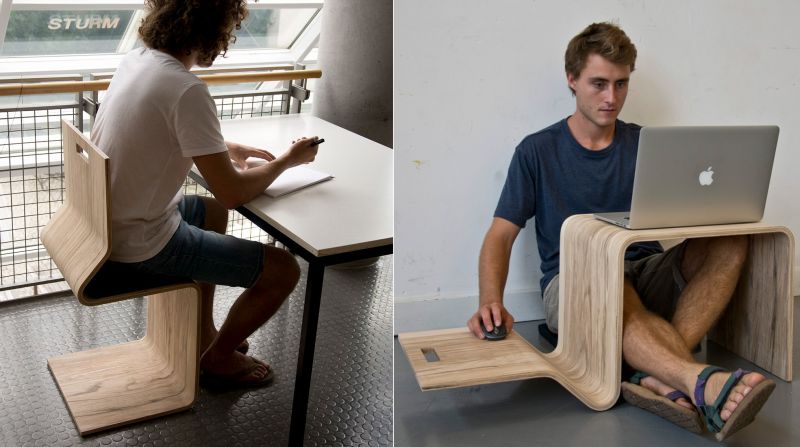 Appearing as a flat, curved slab of wood; the ChairPF is designed with multiple applications in mind. The placement and position of the chair define its purpose. Besides serving as a seat, it can also be used as a table, standing desk, or stool.
Spring Chair by NG Architects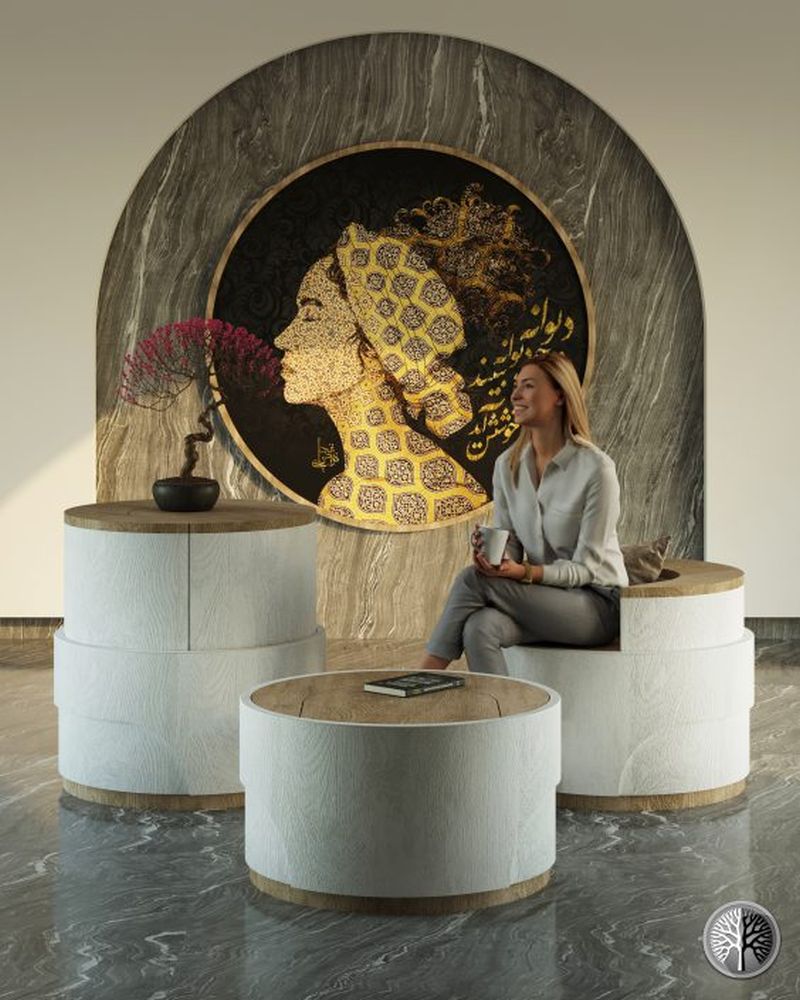 Also Read: Top Furniture Designs of 2022, We Hope Will Endure in 2023
This wooden chair transforms into a table with a gentle push all thanks to built-in compression springs at the back. It can be set as two chairs and also a small rounded table. The chair is made by gluing wooden layers on top of each other and cutting them in a circle, which is finally covered with oak wood veneer in natural and white.
Swing Table by Smart Living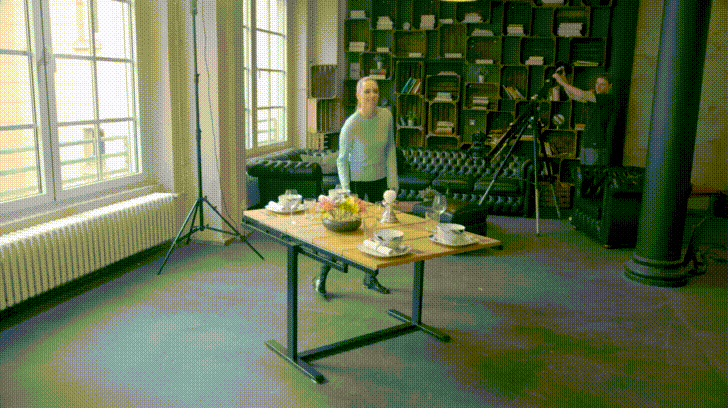 It is a large dining table that converts into a shelving unit in a jiffy. This innovative piece of furniture allows you to make the most out of the available space. There are castors in the unit for easy movement around the home. It is available in wall and floor-standing versions.
Ori Cloud Bed Table Edition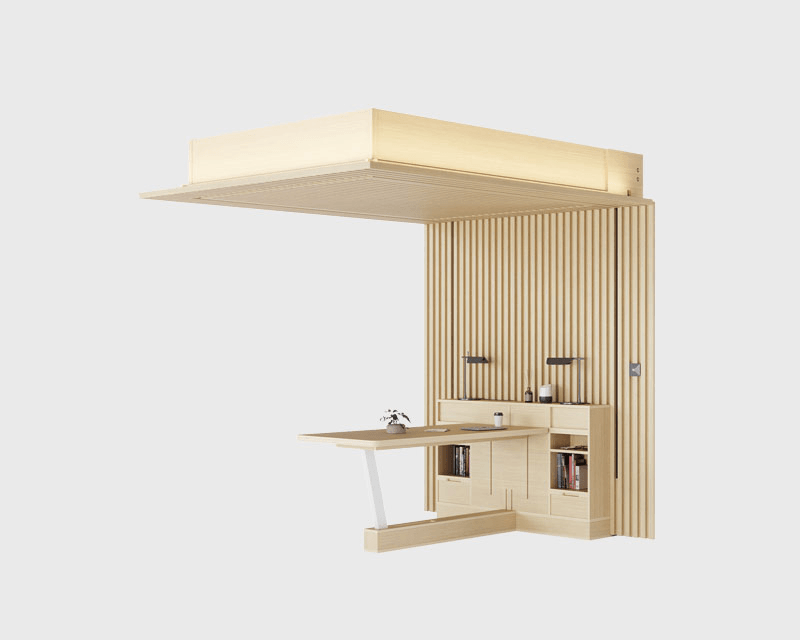 Turn your small bedroom into your home office with this innovative bed from Ori Living, a company known for transforming robotic furniture. It is a space-saving bed that retracts to the ceiling, leaving a small home office with a desk underneath. It is a perfect work-from-home furniture solution for small living spaces.
Le Coeur Side Table by Mizuno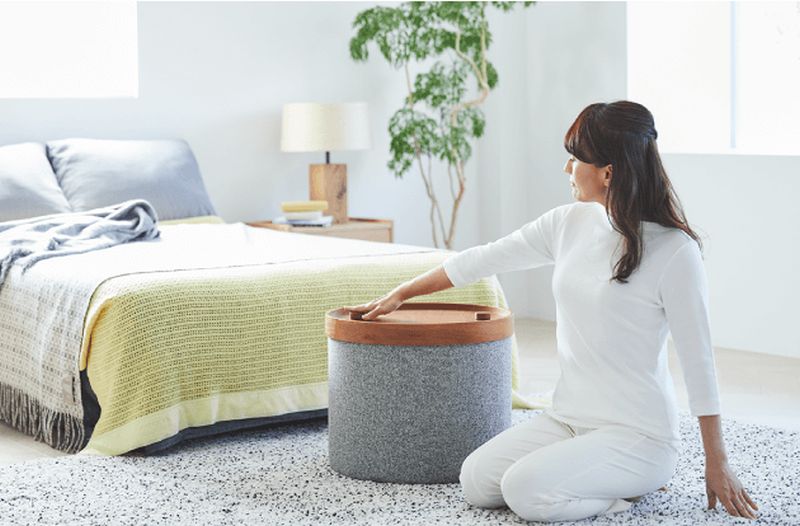 It is a circular side table that also provides users with a way to stretch the body. There are two knobs on the wooden top that can be rotated for basic shoulder exercises and stretches. It can even be used as a seat.
1.285 Lounger by Sofia Alexiou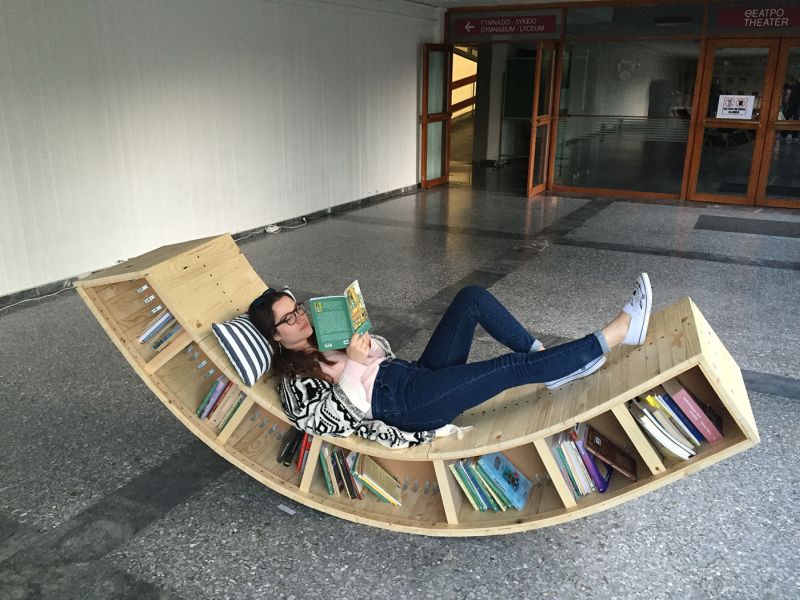 This DIY wooden lounger with book storage was made by a student designer for her final project at the University. Perfect for daydreaming, it features a curved shape and has shelves for book storage under the lounger.
Milano Bed by ITALform design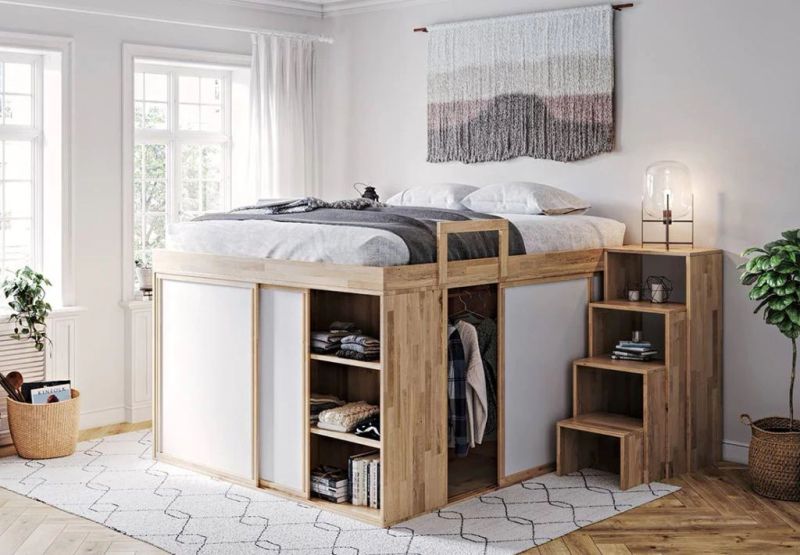 It is a high bed with plenty of storage space, which also includes a wardrobe. There are six drawers on the front and sliding doors on both sides to access the storage space. It will realize all the storage needs in the kid's room of your small apartment.
Dimdim Rocking Chair by Lisse Van Cauwenberge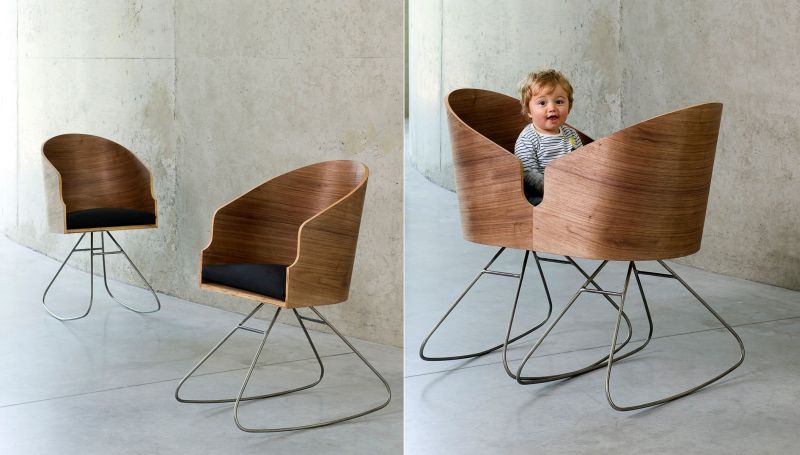 This creative multifunctional furniture piece is designed for new parents. It comprises two rocking chairs that double up as a cradle when combined together. Each rocking chair is made up of wood with steel supports and finished in a walnut veneer. It provides a creative alternative to random baby furniture.
Multifunctional Furniture by cat life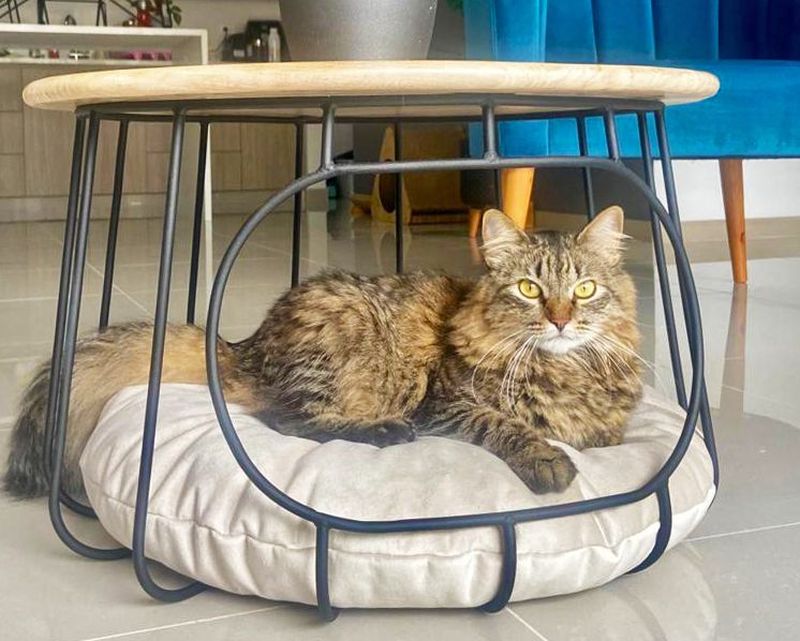 If you are a cat owner, this unique round-shaped coffee table may be just right for you. It will not only serve as a functional centerpiece but also provide a cozy hideout for cats. You just need to place a soft cushion in the table base and the cat bed is ready.
Swyft Flat-Pack Sofa Bed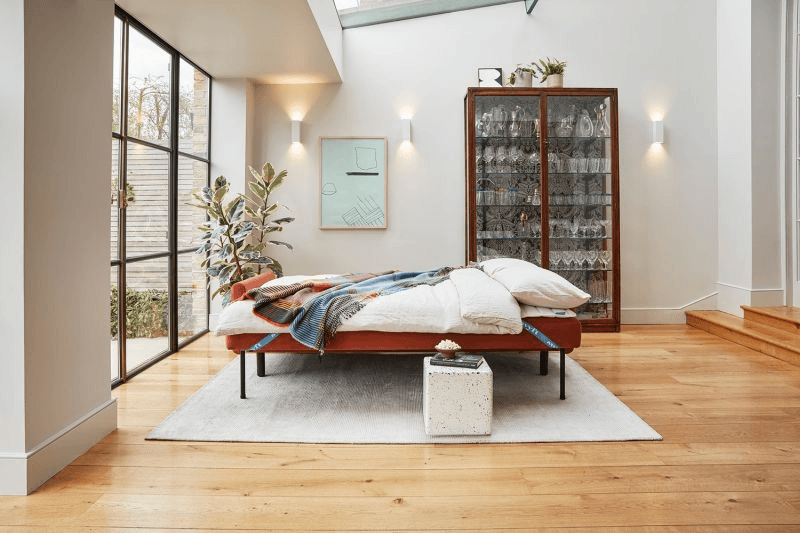 Proclaimed as the sofa-in-a-box, it is flat-pack-style furniture that can be moved around the home easily. It transitions from a 3-seater sofa into a spacious bed thanks to onboard hinged Swyft-locks, making it ideal for small bedrooms. It also has a dedicated storage space, which is a rare feature in a sofa bed.
Sensei Transformable Chairs by Claudio Sibille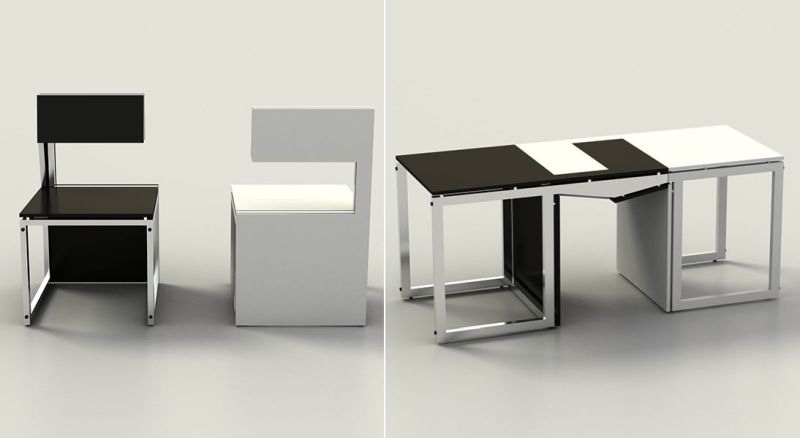 The Sensei chair by Uruguayan Industrial designer Claudio Sibille is unique multifunctional furniture for small spaces. It comprises two chairs that can be combined together in order to create a console table. This furniture is characterized by straight lines and neutral colors such as black and white.
Multifunctional Table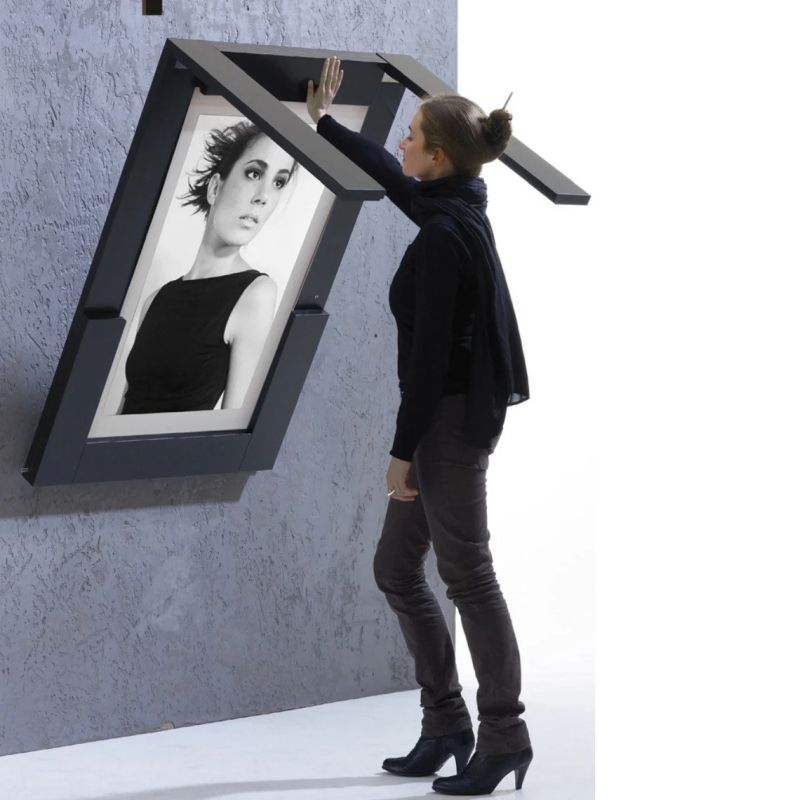 If your apartment doesn't have enough space to accommodate a traditional dining table, you might need something like this drop-down table by HmDcrtnsArt that can retract back to the wall to save floor space when not being used. On the wall, the table can doubles as wall art. a picture, a mirror or even a chalkboard, and with a gentle touch, it becomes a table for your dining.
UTÅKER Stackable Bed by IKEA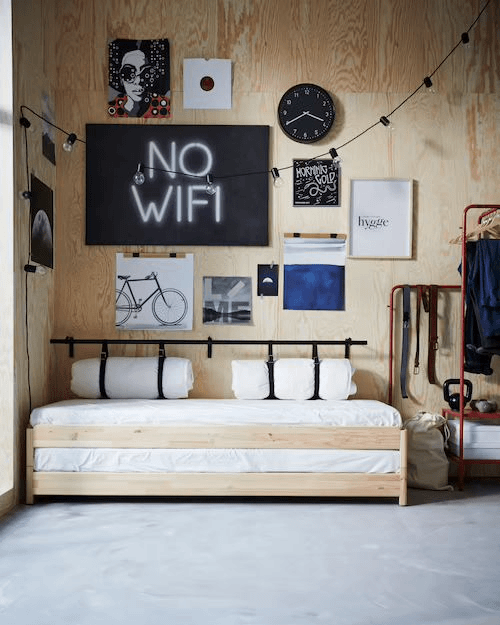 This list cannot be deemed complete without IKEA's multipurpose furniture. Here are then these stylish wooden beds from the Swedish furniture designer that are designed to be used in multiple ways. You can quickly convert the stacked beds into a double bed, a twin bed or a sofa. It is suitable for a child's room, living room, or a bedroom with a low ceiling.